As of February 15, 2018, Indiana now has its first US National Park with Indiana Dunes National Park being reclassified. Indiana National Parks now includes the newest US National park a National Historic Park, and a National Memorial.
Have you been to any of these parks? What did you think of them?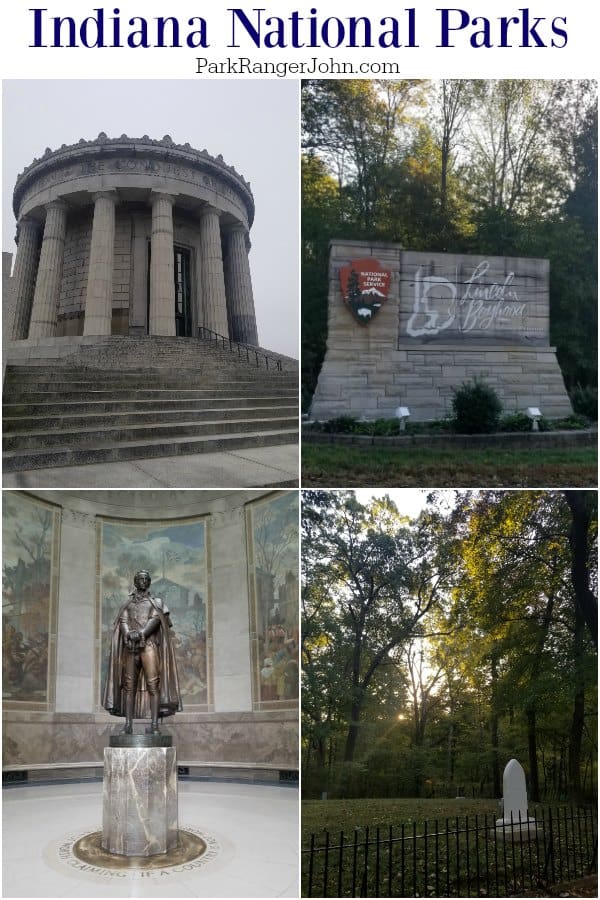 National Parks in Indiana
George Rogers Clark NHP is located in southwestern Indiana in the town of Vincennes approximately 50 miles north of Evansville. The park is open year-round and offers the opportunity to visit the memorial and watch a park film.
In February 1779 George Rogers Clark let an 18-day trek in frigid weather to Vincennes. He led 170 American and French militiamen through rough conditions until they were able to surround Fort Sackville.
The capture of Fort Sackville by George Rogers Clark on Feb. 25, 1779, assured the United States claims to the frontier. The frontier was an area as large as the original 13 states. The battle was hard-fought but the American soldier aided by French residents in Illinois country prevailed over the British troops.
Visitors can see the George Roger Clark Memorial monument built to commemorate George Rogers Clark along with seeing where Fort Sackville was located.
Indiana Dunes National Park is located in Northern Indiana approximately 15 miles from Gary. The park is open year-round and offers swimming, camping, hiking, bird-watching along with winter activities.
Indiana Dunes National Lakeshore became Indiana Dunes NP as of 2/15/19. Becoming the 61st National Park site managed by the National Park Service. This is a great site to explore 15 miles of the southern shore of Lake Michigan.
Now that the park is designated as a national park we can expect to see new signage and hopefully additional programing.
The park includes 15,000 acres of sand dunes, biodiversity and places to enjoy the beach. The park has over 1,100 flowering plant and fern species. Along with 352 species of birds, 46 mammals, 18 amphibians and 23 reptiles.
One thing to know is Indiana Dunes National Park is right next to Indiana Dunes State Park which protects 2,100 acres adjacent to the national park.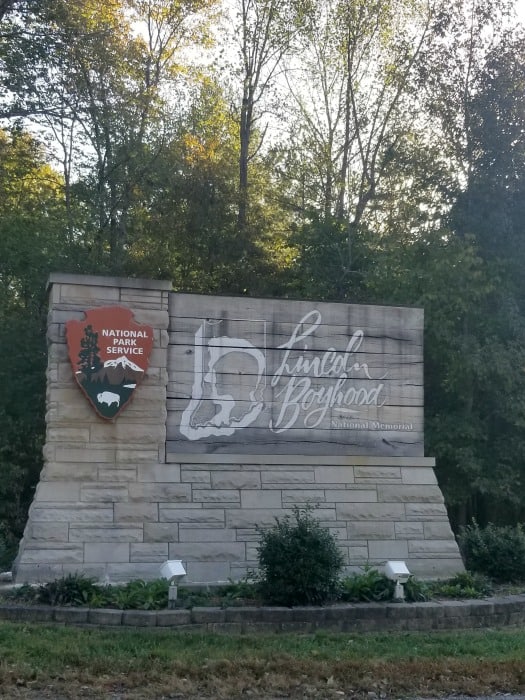 Lincoln Boyhood National Memorial is located in Lincoln City, Indiana. The park is open year-round and offers the opportunity to explore a living historical farm, hiking, and see where Nancy Lincoln is buried.
At this site, you can learn more about Lincolns life from boyhood to manhood. You can visit the visitor center to see the park film about President Lincoln's early life. Visit the pioneer cemetery to see Nancy Hanks Lincoln Gravesite who passed away in 1818. Nancy Hanks Lincoln was Abraham Lincoln's mom.
The front of the visitor center has five sculptured panels depicting Lincoln's life created by artist E.H. Daniels. These panels were carved from Indiana limestone.
You can also visit the Lincoln Living Historical Farm which is a working farm including livestock, field crops and more. Rangers dress in period costumes from the 1820s and perform farm duties. The living Historical Farm is normally open from Mid-April until September depending on the weather.
List of Indiana National Parks
There are 3 National Parks found in Indiana which receive over 2 Million Visitors. These parks produce over $115 million in economic benefit from park tourism.
Indiana park sites include 42 National Historic Landmarks, 30 National Natural Landmarks, 486 places recorded by the Heritage Documentation Program, and 199,999 objects in the Indiana National Park Museum Collections.
There are 230 Archaeological Sites in the National Parks you can visit in Indiana.
National Parks in neighboring states
Do you know how many National Parks you have visited? Check out this printable list of US National Parks in Alphabetical Order to count how many you have visited.
If you want to go in for all 419 national park sites check out this printable checklist of all 419 US National Parks, Historic Sites and more!