There are 5 great national parks in Michigan.
I would think there would be more considering the Mitten State is known for so many recreational opportunities.
After all, Michigan has over 10,000 Lakes, 40,000 miles of rivers and streams, and has the second-longest coastline in the country only behind Alaska!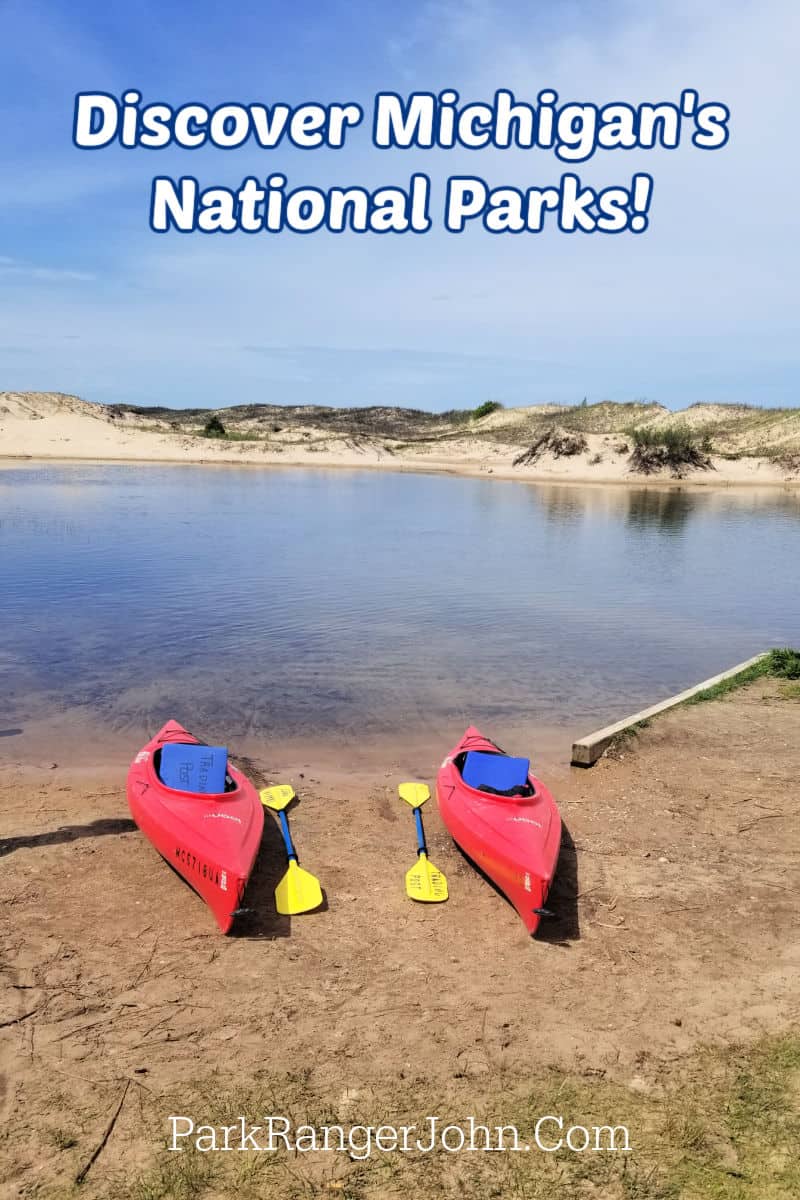 National Parks in Michigan
Michigan also has over 19 million acres of forestland covering half of the state.
​Michigan is also the Lighthouse capital of the world with over 115 lighthouses along its shores!
I personally fell in love with Michigan on my first visit and can't wait to get back and explore more of this incredible area!
Top Things to do - Wildlife Viewing, Hiking, Backpacking and camping, Bikepacking, Boating, Canoeing and kayaking, Fishing, Scuba Diving, Guided Tours, Junior Ranger Program, Wilderness Ranger Program
Lodging - Enjoy lodging available in Rock Harbor Lodge and Windigo Camper Cabins.
Camping- Isle Royale has several campgrounds where you can set up tents. These campgrounds have basic amenities, including pit toilets and water sources. Some popular campgrounds include Rock Harbor, Three Mile, and Daisy Farm. You'll need a backcountry camping permit to stay in these campgrounds.
Camping on Water: If you have access to a boat or kayak, you can camp on the water. There are designated sites for boaters and paddlers around the island.
Park Address -
Park Headquarters:
800 East Lakeshore Drive
Houghton, MI 49931
Isle Royale is a 207-acre island in the northwest section of Lake Superior and is accessible only by boat from Copper Harbor or seaplane. Portions are designated wilderness. As the only island National Park, and very remote, it has become a highly popular destination for hikers, paddlers, and scuba divers who explore shipwrecks.
One must plan ahead to visit, as permits are required for any overnight stay. Geologically it is related to Pictured Rocks as another outcropping of the same rock strata. The island also is home to Michigan's primary moose population, which has been intensively studied since 1934.
All the National Park sites in Michigan, except Motor Cities, have limited use in winter. The Lakeshores and the North Country Trail are good locations for quiet winter sports such as skiing and snowshoeing. However, Isle Royale has no ferries running after October 31, and Keweenaw tours are closed in winter.
Keweenaw National Historic Park
Top Things to do - Explore interactive exhibits while you learn what life was like during Calumet's heyday at the Visitor Center, Discover the mineral heritage of the Keweenaw at the A.E. Seaman Mineral Museum, Experience the underground, Explore Archives, See the Lighthouses
Lodging - Keweenaw National Historical Park doesn't have lodging within the park itself, but you can find lodging options in nearby towns like Houghton, Hancock, Calumet, and Copper Harbor.
Camping- The Keweenaw National Historical Park does not have camping facilities within the park itself.
Camping options near Keweenaw National Historical Park include Ft. Wilkins State Park and Bewabic State Park, offering both modern and rustic campsites. Additionally, there are national forest campgrounds and private campgrounds in the area.
Park Address - 25970 Red Jacket Road
Calumet, MI 49913
Keweenaw NHP is located in northwestern Michigan on the upper peninsula approximately 200 miles east of Duluth, Minnesota. The park is open from mid-April through October. The park offers the opportunity to tour former large-scale copper mines.
The Keweenaw Historic Park celebrates the history of copper mining. High-quality ore has been extracted from this area for over 7,000 years and was transported around the world. Here one can take an underground tour of Quincy Mine, visit several local museums, and also see the Delaware Copper Mine.
The National Park Service works with local Keweenaw Heritage Sites to preserve, commemorate, and interpret the importance of the copper mines.
Motor Cities National Heritage Area - Affiliated Site
Top Things to do - Visit Automotive Museums, Take guided tours of historic sites like the GM Renaissance Center in Detroit, the birthplace of General Motors, Vintage Car Shows
Lodging - In the MotorCities National Heritage Area, you can find a variety of lodging options, including hotels, boutique hotels, bed and breakfasts, vacation rentals, casino resorts, campgrounds, and extended-stay hotels.
Camping- For camping within the MotorCities National Heritage Area, there are campgrounds available in the surrounding natural areas. Consider options like state parks and private campgrounds for tent and RV camping.
Park Address - 2937 E. Grand Blvd.
Detroit, MI 48202
A National Heritage Area is meant to preserve the cultural legacy of an area that has national significance. Motor Cities is designed to showcase the rise of the automobile and labor industries. The organizational address is in Detroit, but the area includes a diverse collection of sites spread over sixteen counties in southeast Michigan.
Included are museums, historic homes, gardens, factory tours, self-guided driving tours, libraries and archives, and even cemeteries. The Automotive Hall of Fame, Henry Ford Estate, Michigan Fire House Museum, and Greenfield Village are just a sampling of the many included sites.
North Country National Scenic Trail - Affiliated Site
Top Things to do - Hiking, Backpacking, Fishing, Bird Watching, Wildlife Viewing, Thru-Hiking,
Lodging - Along the North Country National Scenic Trail (NCT) in Michigan, you'll find various lodging choices in the towns and communities it intersects.
Camping- Camping options along the North Country National Scenic Trail (NCT) in Michigan include designated campsites, state parks, and primitive camping in certain sections, providing choices for outdoor enthusiasts.
Park Address - 318 East Main Street, Suite K
Lowell, MI 49331
National Scenic Trails, which are now number ten, are long hiking trails designated to showcase the best of the American backcountry. The 4600-mile North Country Trail (NCT) is the longest, spanning seven states, from New York to North Dakota, with Michigan having the most miles, about 1200.
The NCT enters the lower peninsula from Ohio south of Hillsdale and angles west until it turns north near Grand Rapids. It passes through National Forests, State Forests, many parks, and public lands, and also crosses some private land through agreements with owners.
The Mackinac Bridge is a part of the trail, although it can only be walked on Labor Day. The trail crosses the upper peninsula, past the spectacular Tahquamenon Falls, reaches Lake Superior, and turns west. It traverses Pictured Rocks and continues west until entering Wisconsin at Ironwood.
Pictured Rocks National Lakeshore
Top Things to do - Hiking, Backcountry Camping, Boating, Bicycling, Swimming, Kayaking. Lighthouse Tours, Visit the Visitor Centers, See the Waterfalls, Visit Maritime sites, Beaches, Beaver Basin Wilderness
Lodging - Lodging options near Pictured Rocks National Lakeshore in Michigan include hotels, motels, cabins, vacation rentals, and campgrounds in the town of Munising and nearby areas. The park itself offers camping options at several campgrounds, backcountry camping, and camping along Lake Superior's shoreline for those with watercraft.
Camping- Pictured Rocks National Lakeshore has three rustic drive-in campgrounds: Little Beaver Lake (8 sites), Twelvemile Beach (36 sites), and Hurricane River (21 sites).
There are 13 designated backpacking camping areas. These small remote campgrounds each have 3 to 6 individual sites. In addition, there are eight separate group sites. All of these sites are only accessible to campers by foot and some by boat. (Also, there is one boat-in-only site, at Grand Sable Lake on the park's east end. Campers must supply their own boat.)
Park Address -
Munising Falls Visitor Contact Station
1505 Sand Point Road
Munising, MI 49862
Pictured Rocks National Lakeshore is located in northern Michigan on the Upper Peninsula approximately 130 miles west of Sault St. Marie. The park is open year-round and offers the opportunity to enjoy hiking, kayaking, boat tours, and winter activities.
Anyone intent on seeing the natural wonders of the upper Midwest should visit Pictured Rocks. The rocks are the angled edge of a layer of pre-Cambrian stone which has thrust through the surrounding sand, producing sandstone cliffs.
Due to the various bands of rock that erode at different rates, fantastic formations have been sculpted by wind and water. The different rocks also contain minerals that leach colored stains, from which the named "pictured" is derived.
One can drive to many areas, with access to the Lake Superior Shore, and inland lakes as well. Backpacking through the park is allowed, with a permit. The park's 70,000 acres are located between Grand Marais and Munising.
The most spectacular section of the park is bracketed by the formations known as Chapel Rock and Miner's Castle. To best see the rocks themselves, take a commercial boat tour from Munising.
River Raisin National Battlefield Park
Top Things to do - See the New Visitor Center, Self-Guided Tours - Walking, Battlefield Tour, Picnicking, Junior Ranger Program, hike/bike the Heritage Trail, Visit Kentucky Memorial Place, The Macon Reserve, Plum Creek, Springwells, Hull's Trace, The Wayne Stockade, Soldiers Monument, River Raisin
Lodging - River Raisin National Battlefield Park has no lodging facilities within the park itself, you'll find a variety of lodging options in Monroe and the surrounding areas.
Camping- There are no campgrounds
Park Address - 333 N. Dixie Hwy.
Monroe, MI 48162
River Raisin NBP is located in southeastern Michigan approximately 30 miles south of Detroit. The park is open year-round and offers the opportunity to tour the National Park Service visitor center and check out the interpretive walking trails.
During the War of 1812, US troops fought against the combined forces of British and American Indian forces for control of the western Great Lakes region. The British army had control of Detroit early in the war.
American army forces headed north in January 1813 with 1,000 troops to try and recapture Detroit. The January 1813 battles were a terrible defeat for the American forces on the bank of the River Raisin. Of the 1,000 troops that went into battle, only 33 escaped death or capture.
In October 1813, "Remember the Raisin" became the rally cry for American troops as they counterattacked and finally took control of the region.
This is the only National Park site dedicated to the conflicts from the War of 1812.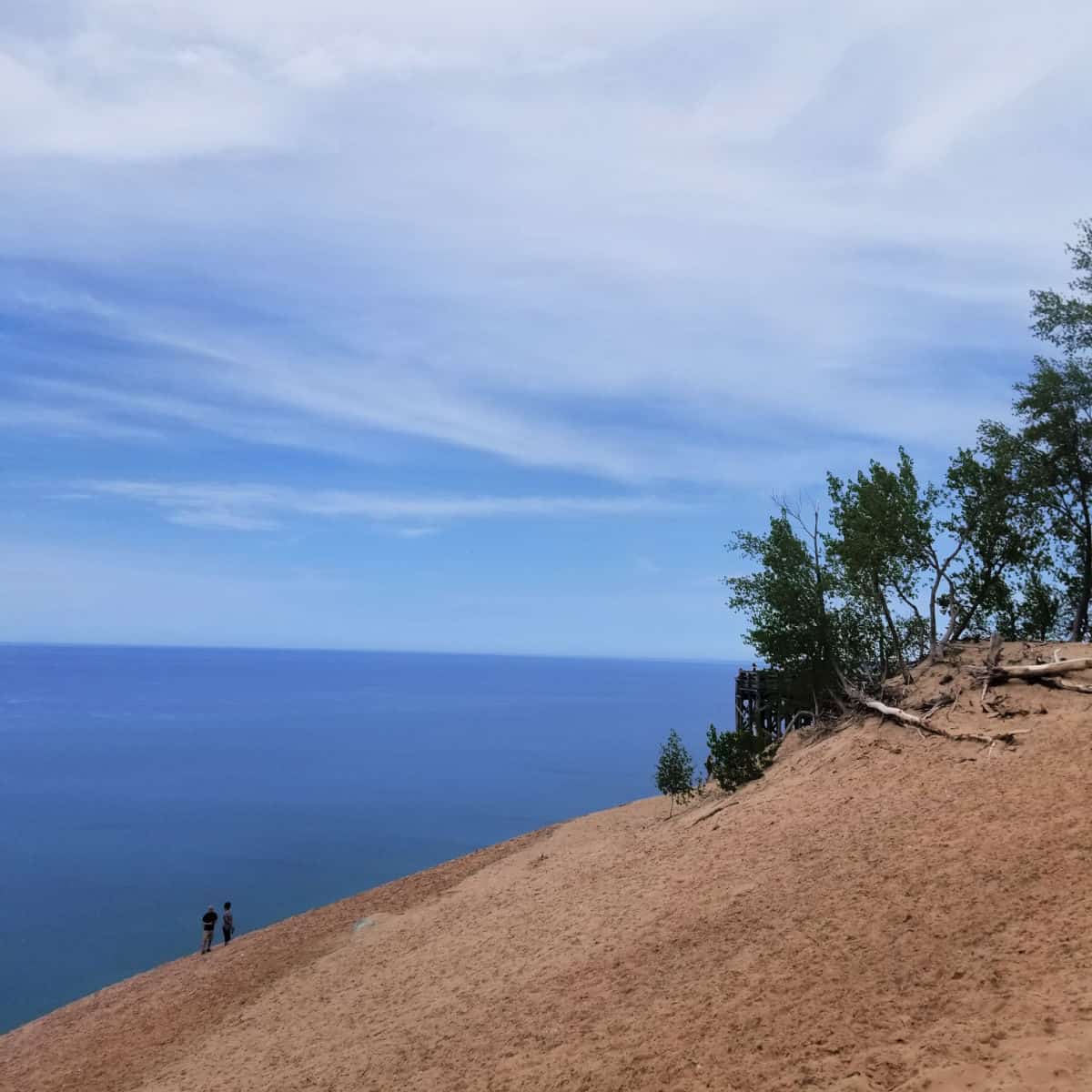 Top Things to do - visit Phillip A. Hart Visitor Center, Attend a ranger-led program, Walk or bike the Sleeping Bear Heritage Trail, Paddle a river, Explore Port Oneida, Hike a trail, Take a drive on the 7-mile drive Pierce Stocking Scenic Drive, Trek up the Dune Climb-or watch the kids enjoy the sand., Explore Glen Haven and the Maritime Museum, Dip your toes in the tranquil Loon Lake
Lodging - Sleeping Bear Dunes National Lakeshore primarily offers camping options, but if you prefer lodging, nearby towns like Empire, Glen Arbor, and Traverse City provide various choices, including hotels, motels, bed and breakfasts, vacation rentals, and resorts.
Camping- Sleeping Bear Dunes National Lakeshore offers camping options, including the popular Platte River Campground and the rustic D.H. Day Campground suitable for tents and RVs. Backcountry camping is available with permits for a primitive experience. Group camping is also an option.
Park Address - 9922 Front Street
Empire, MI 49630
Sleeping Bear Dunes NL is located in northwestern lower Michigan approximately 25 miles west of Traverse City. The park is open year-round and offers the opportunity to explore sand dunes, hiking, camping, biking, and more
Sleeping Bear Dunes National Lakeshore is home to the largest moving sand dune on earth. Its impressive size defies description until one sees it. The park stretches along 35 miles of Lake Michigan coast.
One can follow the scenic drive, explore the visitor center, hike, camp, or climb the 400-foot-high dune. In winter, skiing is popular. Nearby attractions include lighthouses and a maritime museum.
A portion of the dune appeared, from the water, like a sleeping bear to Native Americans. The 71,000-acre park includes North and South Manitou Islands, visualized as her cubs. The nearest town is Glen Arbor.
List of National Parks in Michigan
Keweenaw National Historical Park
Pictured Rocks National Lakeshore
River Raisin National Battlefield Park
Affiliated Sites
Motor Cities National Heritage Area
North Country National Scenic Trail (New York to North Dakota MI, MN, ND, NY, OH, PA, WI)
Michigan National Parks include 5 National Parks bringing in over 2.6 million visitors producing over $235 million in economic benefit.
National Parks in Michigan include 1 National Heritage Area, 1 National Trail managed by the park service, 1,902 National Register of Historic Place Listings, and 42 National Historic Landmarks.
Michigan National Parks also include 12 National Natural Landmarks, and 633 places recorded by the Heritage Documentation Program. There are over 2.7 million objects in the Michigan National Park Museum Collections.
If you have dreamed of working in the National Parks make sure and check out our article on How to Become a Park Ranger. Working in the parks is one of the most amazing jobs you can find. There is just something special about waking up and knowing you are going to work in a beautiful park.
Planning a National Park vacation? America the Beautiful/National Park Pass covers entrance fees for an entire year to all US National Park Sites and over 2,000 Federal Recreation Fee Sites.
The park pass covers everyone in the car for per-vehicle sites and for up to 4 adults for per-person sites.
Buy on REI.com and REI will donate 10% of pass proceeds to the National Forest Foundation, National Park Foundation, and the U.S. Endowment for Forestry & Communities.
Free Entrance Days -Mark your calendars with the five free entrance days the National Park Service offers annually.
For a fun adventure, check out Escape Campervans. These campervans have built-in beds, kitchen area with refrigerators, and more. You can have them fully set up with kitchen supplies, bedding, and other fun extras. They are painted with epic designs you can't miss!
Escape Campervans has offices in Vancouver, Seattle, Portland, San Francisco, Las Vegas, Los Angeles, Phoenix, Salt Lake City, Denver, Chicago, New York, and Orlando
National Parks in neighboring states
National Parks in Pennsylvania
For an entire list of US National Parks head over to our list of US National Parks in Alphabetical Order. We also have a printable checklist of all 417 National Park properties in the United States available.