Tuskegee Institute National Historic Site in Alabama provides visitors the opportunity to learn more about Tuskegee Institute built by Booker T. Washington in 1881.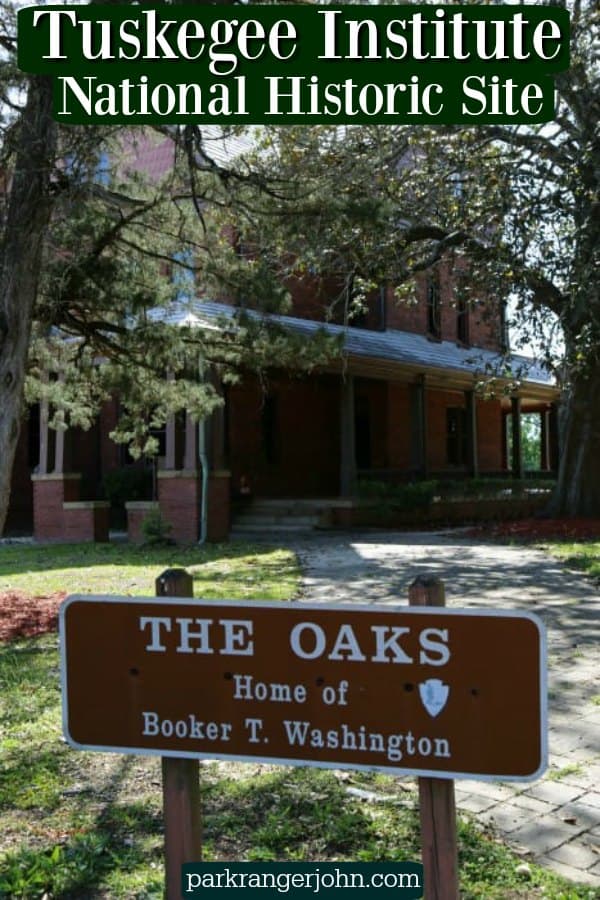 Tuskegee Institute National Historic Site
The Tuskegee Institute National Historic Site is located on the campus of Tuskegee University.
About Tuskegee Institute National Historic Site
The Tuskegee Institute NHS is open 6 days a week and offers the opportunity to tour Booker T. Washington's house, visit the George Washington Carver Museum and tour the campus of Tuskegee University.
One thing to know when planning a visit to Tuskegee Institute NHS is the university is a working university.
There is a designated parking spot for the National Park outside of campus near the Booker T. Washington house.
You will need to walk onto the campus to visit the visitor center and the George Washington Carver Museum.
The historic site is also closed on Sundays! You can see the outside of the buildings but will not be able to visit the visitor center or tour any of the museums or houses.
The Tuskegee Institute was created after the civil war in 1880 by a former slave and a former slave owner. They worked together to create a school in Alabama that would provide opportunities for people who had been denied access to an education.
The pair hired the school's first president 25-year-old African American Booker T. Washington. One of the first things done to establish the school was Mr. Washington purchased 1,000 acres of an abandoned plantation in Alabama.
Mr. Washington hired the best teachers and educators he could including famed botanist George Washington Carver.
The Tuskegee Institute trained African American pilots at the start of WWII who went on to be part of the Tuskegee Airman.
You can visit the Tuskegee Airmen National Historic Site a few miles down the street from the university.
Is Tuskegee Institute National Historic Site worth visiting?
Yes but we do suggest not showing up on graduation weekend like we ended up doing if you can possible skip that weekend.
We had no idea it was graduation weekend and you can imagine how busy the campus was with graduation.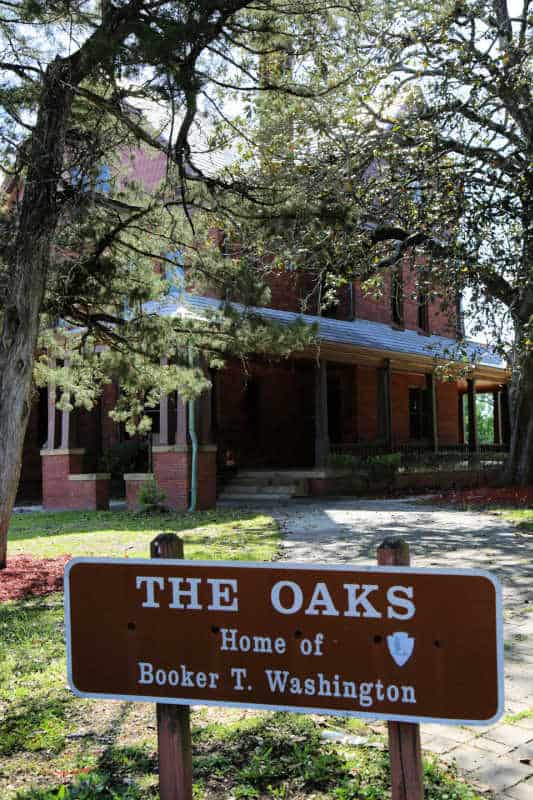 History of Tuskegee Institute
The Tuskegee Institute National Historic Site is located in Tuskegee, Alabama. This site is located on the campus of Tuskegee University (formally known as Tuskegee Institute), which is a private, historically black university with a deep history and significance to African American successes.
The site also commemorates the two men whose legacies live on through their contributions to the institute – Booker T. Washington and George Washington Carver.
In 1880, Wilbur F. Foster, then an Alabama senator, sought the help of a man named Lewis Adams, a former slave who had risen to an influential business owner in Macon County, Alabama.
Foster knew that with the support of Adams he could gain votes from the African American community in Macon County. Lewis Adams agreed but asked that, if reelected, Foster set aside funds for an African American school.
In 1881 the school was opened in Tuskegee and was named the "Tuskegee Normal School for Colored Teachers." A man named Booker Taliaferro Washington was named as the school's first president.
Booker T. Washington was born into slavery in Virginia. His mother was a cook for the plantation owner and his father was a white man whom Washington never met.
After the Civil War, Washington, his mother, and his siblings were freed. At a young age, Washington yearned for an education and heard talk of a southeastern school in Virginia for formerly enslaved people.
It was called the Hampton Institute and it was the product of efforts for Reconstruction after the Civil War. Union activists and influential African Americans were trying to grant freed slaves all the success they so rightly longed for.
In 1872, Washington walked the 500 miles to enroll at Hampton Institute; he excelled immediately. By 1879, Washington was 23 years old and was offered a job as a teacher at the Hampton Institute.
It was his tenacity and intelligence that led to this teaching job, and the same qualities that led to him being referred for the job of President at the Tuskegee Institute.
In 1881, Washington became Tuskegee Institute's first president. The school focused on industrial and agricultural vocations, believing that freedmen would improve their social and economic success by studying these practices.
The first classes, consisting of 30 African American students was held on July 4, 1881. The initial space for the school was a rundown building donated by the Zion Church.
Soon the school was moved to a nearby abandoned plantation. Washington led the school through its first 34 years.
Washington was an ardent supporter and advisor for his students, but he also traveled frequently.
Washington promoted the school all over the country, bringing a voice to African American education.
He soon became an important figure in the phase of uplifting freed slaves to a life of success and was even an advisor to Presidents on the issues that mattered to freed slaves.
Twenty years before Washington's death, he hired George Washington Carver to head the institute's new Department of Agriculture.
Carver worked at the Tuskegee Institute for 47 years and became one of the foremost African American scientists in history. Carver was born into slavery with his mother in Missouri.
During the Civil War, Carver and his mother were kidnapped by soldiers from the plantation they worked on, set to be sold off. The plantation owner eventually found Carver, but never found his mother.
A motherless Carver worked on the plantation until age 12 when he was finally freed. At that time Carver set off on his own, working different physical jobs and longing for an education.
Carver was always interested in plants, flowers and art. After being denied entrance by white colleges, Carver was admitted and graduated from Iowa State Agricultural College (now Iowa State University) where he graduated with his masters in 1896.
It was then that Carver left Iowa to work at the Tuskegee Institute in Alabama. Carver's work with peanuts led to over 300 different products being invented.
Carver is also credited with the invention of crop rotation, or planting different crops in one area every year to ensure soil health and restoration. His studies and inventions greatly helped agriculture in the south, and further into history, to flourish.
Booker T. Washington passed away in 1915. Washington's funeral took place at the Tuskegee Institute's chapel and was attended by 8,000 people.
Washington is buried in a brick tomb on the campus. Thanks to Washington's goal of attracting successful scholars to the institute, the school flourished in leadership and notoriety long after his death.
Carver stayed on as the head of the Agriculture Department until his death in 1943. Carver was buried next to Washington on campus. Carver never married and was known to be frugal with his money, so upon his death $60,000 was donated to the Tuskegee Institute.
Written on his grave was the words: "He could have added fortune to fame, but caring for neither, he found happiness and honor in being helpful to the world."
The Tuskegee Institute lives on in what is now the Tuskegee University. Visitors to the site, which was recognized by the National Park Service in October of 1974, can see the buildings of the original school on the University campus.
The George Washington Carver Museum is housed in a building that was built in 1915. It was built as a laundry for the campus and was later used by Carver for his laboratory.
In 1941, it was dedicated as the official Carver Museum after donations were made by Henry Ford.
Another point of interest is The Oaks, which was the family home of the Washington's, built in 1900. It was the first house in Macon County with steam heating and electricity.
The Tuskegee University is proud of its rich heritage and history, especially pertaining to the two men who worked so hard to make it known and respected.
Other famous African Americans who have since graduated from the school include musician Lionel Richie, novelist Ralph Ellison, politician Al Green, chemist Bettye Washington Greene, and Cornelia Browne, who was in the first graduating class at the school and went on to open a colored institute as well.
Tuskegee Institute National Historic Site, 40 miles east of Montgomery, Alabama, was authorized as a unit of the National Park Service on October 26, 1974.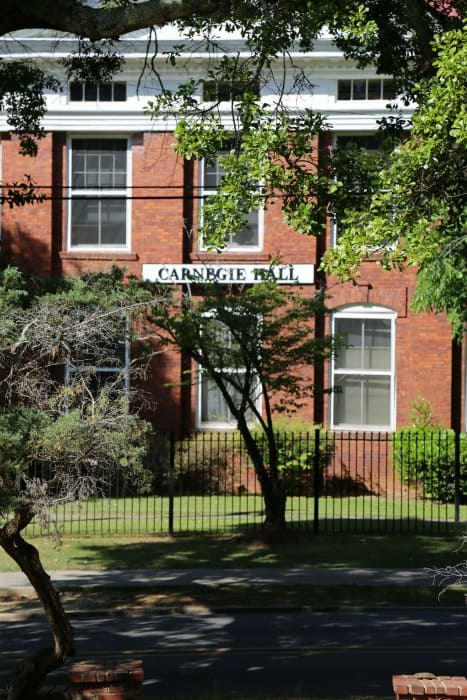 Things to know before your visit to Tuskegee Institute National Historic Site
Entrance fee
$0.00 - There is no entrance fee to visit the park.
Planning a National Park vacation? America the Beautiful/National Park Pass covers entrance fees for an entire year to all US National Park Sites and over 2,000 Federal Recreation Fee Sites.
The park pass covers everyone in the car for per vehicle sites and for up to 4 adults for per-person sites.
Buy on REI.com and REI will donate 10% of pass proceeds to the National Forest Foundation, National Park Foundation and the U.S. Endowment for Forestry & Communities.
Learn more about National Park Passes for parks that have an entrance fee.
Free Entrance Days -Mark your calendars with the five free entrance days the National Park Service offers annually.
Time Zone
CST - Central Standard Time
Pets
Pets are allowed at the park but must be on a leash at all times. Pets are allowed on the Tuskegee University campus but are not allowed inside buildings.
Cell Service
We had cell service while visiting the park.
Park Hours
Open Monday-Saturday, 9:00 am - 4:30 pm CST. The site is closed Sundays, Thanksgiving Day, Christmas Day, and New Year's Day.
Insect Repellent
Insect repellent is always a great idea when outdoors, especially if you are around any body of water.
We use Permethrin Spray on our clothes before our park trips.
Water Bottle
Make sure to bring your own water bottle and plenty of water with you. Plastic water bottles are not sold in the park.
Parking
There is designated marked parking for the historic site.
Food/Restaurants
There are several restaurants located close to the university.
Gas
There are no gas stations available within the park. There are multiple gas statins located nearby or in Auburn, Alabama.
Drones
Drones are not permitted within National Park Sites.
National Park Passport Stamps
National Park Passport stamps can be found in the visitor center.
Make sure to bring your National Park Passport Book with you or we like to pack these circle stickers so we don't have to bring our entire book with us.
Electric Vehicle Charging
The closest EV Charging Stations are in Auburn or Montgomery, Alabama.
Accessibility
The George Washington Carver Museum is accessible on both the ground level and the rear of the museum.
There are accessible restrooms available on the lower level of the museum. The park has wheelchairs available free at both the museum and at the The Oaks.
The parks films and videos have open caption.
There are tactile images and Braille text on the front entrance of the George W. Carver Museum and the restrooms within the park.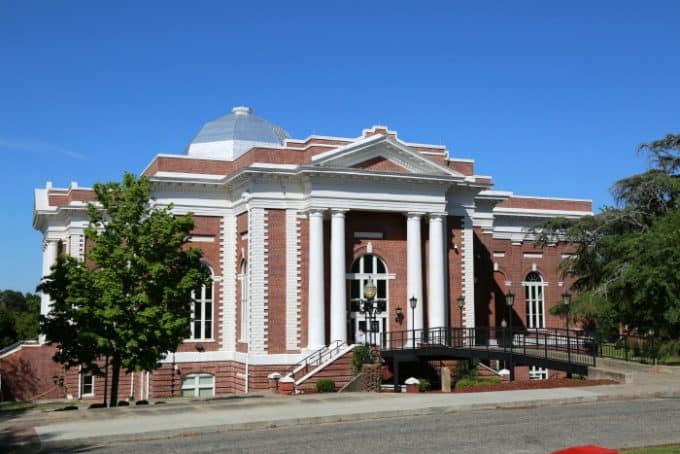 Details about Tuskegee Institute National Historic Site
Size - 50 acres
Check out how the park compares to other National Parks by Size.
Date Established
October 26, 1974
Visitation
In 2021, Tuskegee Institute NHS had 5,629 park visitors.
In 2020, Tuskegee Institute NHS had 4,737 park visitors.
In 2019, Tuskegee Institute NHS had 36,395 park visitors.
Learn more about the most visited and least visited National Parks in the US
National Park Address
1212 West Montgomery Road
Tuskegee Institute, AL 36088
National Park Map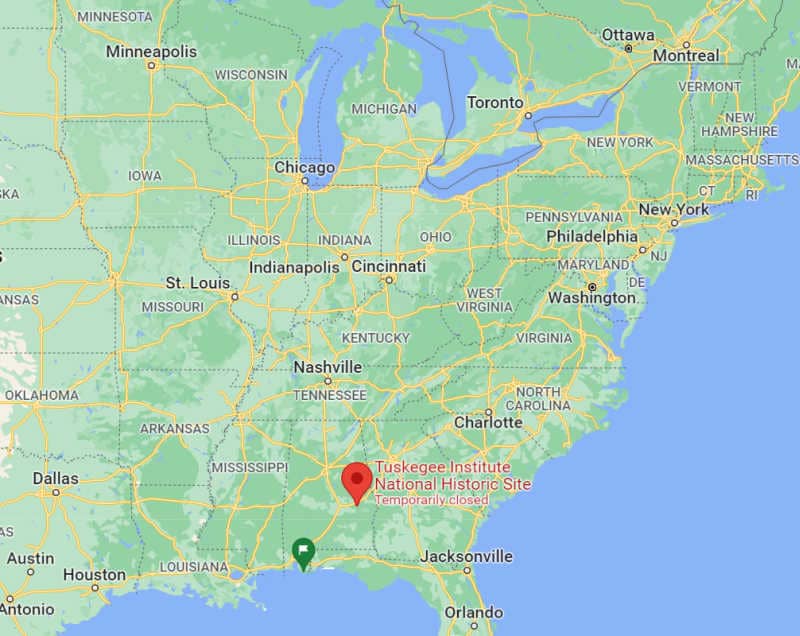 Where is Tuskegee Institute National Historic Site?
Tuskegee Institute NHS is located on the campus of Tuskegee University in central Alabama.
Estimated distance from major cities nearby
Birmingham, AL - 130 miles
Atlanta, GA - 124 miles
Nashville, TN - 320 miles
Jacksonville, FL - 334 miles
New Orleans, LA - 348 miles
Memphis, TN - 373 miles
Charlotte, NC - 369 miles
Tampa, FL - 444 miles
St. Petersburg, FL - 467 miles
Orlando, FL - 426 miles
Estimated Distance from nearby National Park
Great Smoky Mountains National Park - 290 miles
Congaree National Park - 348 miles
Mammoth Cave National Park - 413 miles
New River Gorge National Park - 575 miles
Everglades National Park - 643 miles
Biscayne National Park - 684 miles
Where is the National Park Visitor Center?
The visitor center is located inside the George Washington Carver Museum on the Tuskegee University Campus.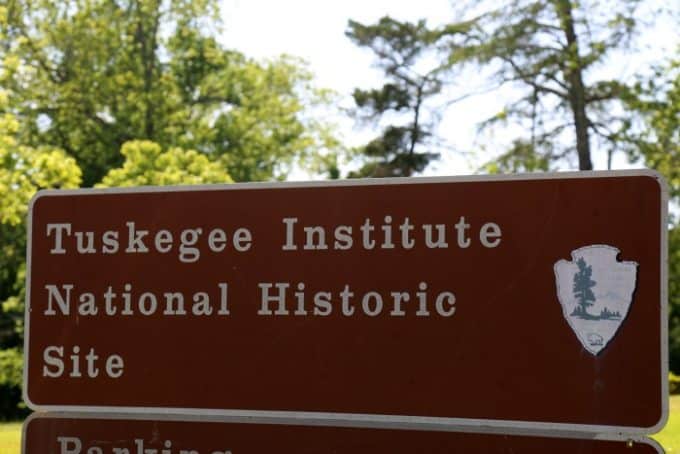 Getting to Tuskegee Institute National Historic Site
Closest Airports
Montgomery Regional Airport (MGM)
International Airports
Hartsfield Jackson Atlanta International Airport (ATL)
Birmingham Shuttlesworth International Airport (BHM)
Regional Airports
Columbus Metropolitan Airport (CSG)
Dothan Regional Airport (DHN)
Driving Directions
From Atlanta - Follow I-85S towards Montgomery, AL Take Exit 32 and turn left on the overpass onto Pleasant Springs Dr. Travel approximately 2 miles and turn left on Franklin Rd. (Co. Rd. 30). Follow Franklin Rd. for 3 miles to the traffic light. Park headquarters on the left corner..
Best time to visit Tuskegee Institute National Historic Site
The best weather is in Spring and Fall when the temperatures are cooler and the humidity is not as strong.
Weather and Seasons
Tuskegee, Alabama experiences long hot summers along with short cold winters.
The hottest months are from May 23 to September 21st with an average daily high of over 85 degrees Fahrenheit.
The coldest months are from November 29 to February 23 with an average daily temperature below 64 degrees.
The muggiest weather is from May 9th to October 11th with July having the muggiest days.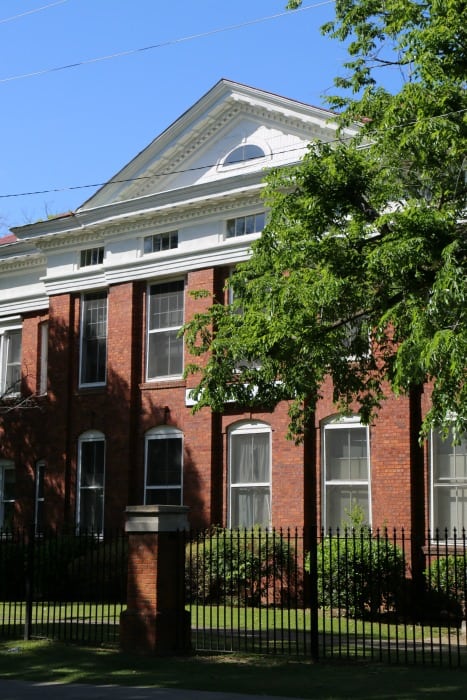 Best Things to do in Tuskegee Institute National Historic Site
I would plan for a minimum of a few hours to visit the park and enjoy a tour of "The Oaks".
Your visit can include wandering the campus and learning more about the historical buildings, visiting the visitor center and George Washington Carver Museum, and/or taking a guided tour of Booker T. Washington's home "The Oaks".
"The Oaks" Home of Booker T. Washington
Free Ranger-guided tours of "The Oaks", are available Tuesday through Saturday at 9:30 a.m., 10:30 a.m., 1:30 p.m., 2:30 p.m. and 3:30 p.m. Tours begin at the George W. Carver Museum on the campus of Tuskegee University and are limited to 25 people.
George Washington Carver Museum
The museum has exhibits, interpretive programs and a great book store.
The Junior Ranger program is a great way for visitors of all ages to learn more about the park.
Tour Tuskegee University Campus
Explore buildings that were built by Tuskegee Institute students and designed by Robert R. Taylor, the first African American graduate of the Massachusetts Institute of Technology.
You can pick up a map of the campus and historic buildings at the visitor center.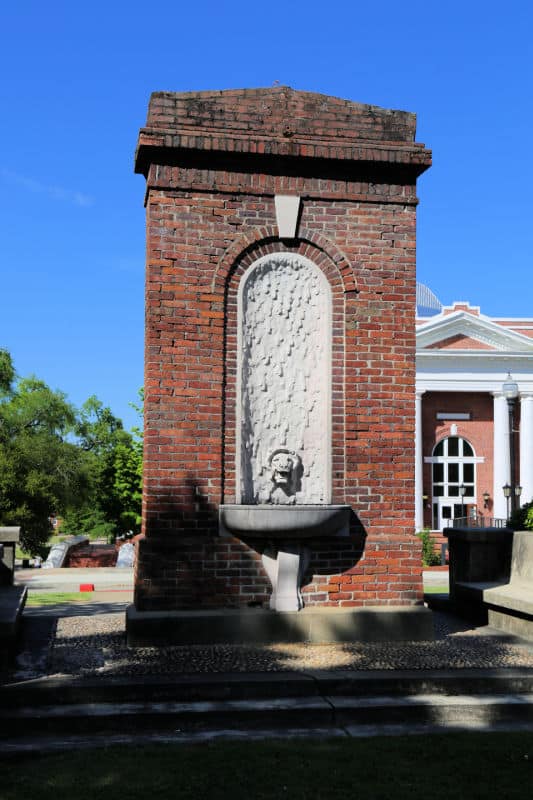 How to beat the crowds in Tuskegee Institute National Historic Site?
Our best suggestion is to not visit the park on graduation weekend.
Where to stay when visiting Tuskegee Institute National Historic Site
There are no National Park Lodges within the park.
The closest lodging options are in Auburn, Alabama.
The Hotel At Auburn University - We stayed in this hotel and it was fantastic. Super comfortable beds and a great restaurant. The onsite restaurant, Ariccia, features Italian cuisine. Stay connected with free in-room WiFi, and guests can find other amenities such as dry cleaning/laundry services and a bar.
Holiday Inn Express Hotel & Suites Auburn - University Area - Take advantage of free full breakfast, dry cleaning/laundry services, and a 24-hour gym at Holiday Inn Express Hotel & Suites Auburn. In addition to a 24-hour business center, guests can connect to free in-room Wi-Fi.
Courtyard by Marriott Auburn- Take advantage of a terrace, shopping on site, and a firepit at Courtyard by Marriott Auburn. The onsite bistro, The Bistro, features American cuisine. Free in-room WiFi is available to all guests, along with a coffee shop/cafe and dry cleaning/laundry services.
Click on the map below to see current rates for vacation rentals and hotels near Tuskegee, Alabama.


Camping
There are no National Park Campgrounds within the park.
For a fun adventure check out Escape Campervans. These campervans have built in beds, kitchen area with refrigerators, and more. You can have them fully set up with kitchen supplies, bedding, and other fun extras. They are painted with epic designs you can't miss!
Here are a few campgrounds that can be found in the area:
Eagles Landing RV Park - Auburn, AL
This campground offers lodging and RV Sites
Camp Sherrye on the Coosa - Wetumpka, AL
This campground offers RV Sites
Branching Pines RV Park - Fort Mitchell, AL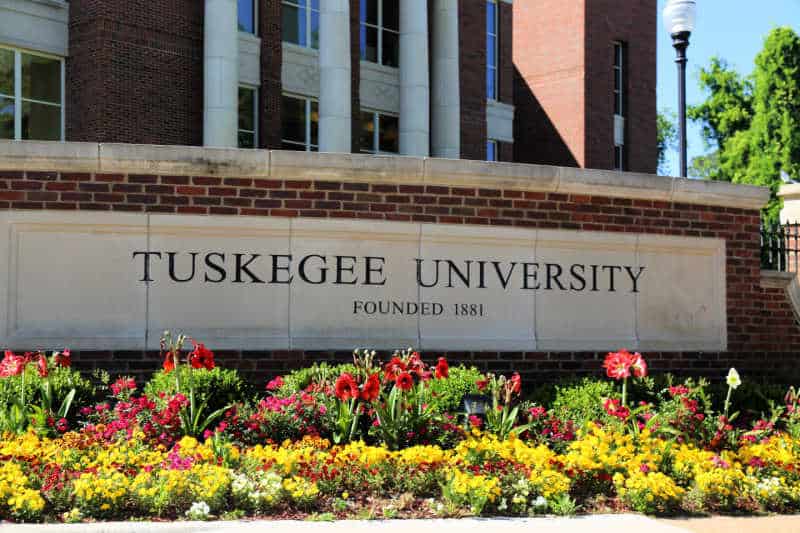 Additional Resources
Up from Slavery by Booker T. Washington
The African American Heritage Cookbook: Traditional Recipes and Fond Remembrances from Alabama's Renowned Tuskegee Institute
Tuskegee University Cemetery Stories: The Lives That Built a Great American Educational Institution
Booker T. Washington: Volume 2: The Wizard Of Tuskegee, 1901-1915
Parks Near Tuskegee Institute National Historic Site
Selma to Montgomery National Historic Trail
Horseshoe Bend National Military Park
Gulf Islands National Seashore
Jimmy Carter National Historic Site
Andersonville National Historic Site
Check out all of the National Parks in Alabama along with neighboring Florida National Parks, Mississippi National Parks, Georgia National Parks, and Tennessee National Parks
Nearby Alabama State Parks include Chewacla State Park, Blue Springs State Park, Lakepoint State Park, and Frank Jackson State Park.
Check out all of the US National Historic Sites.