Complete Guide to Jimmy Carter National Historical Park in Georgia including things to do, history, directions, hours, and so much more.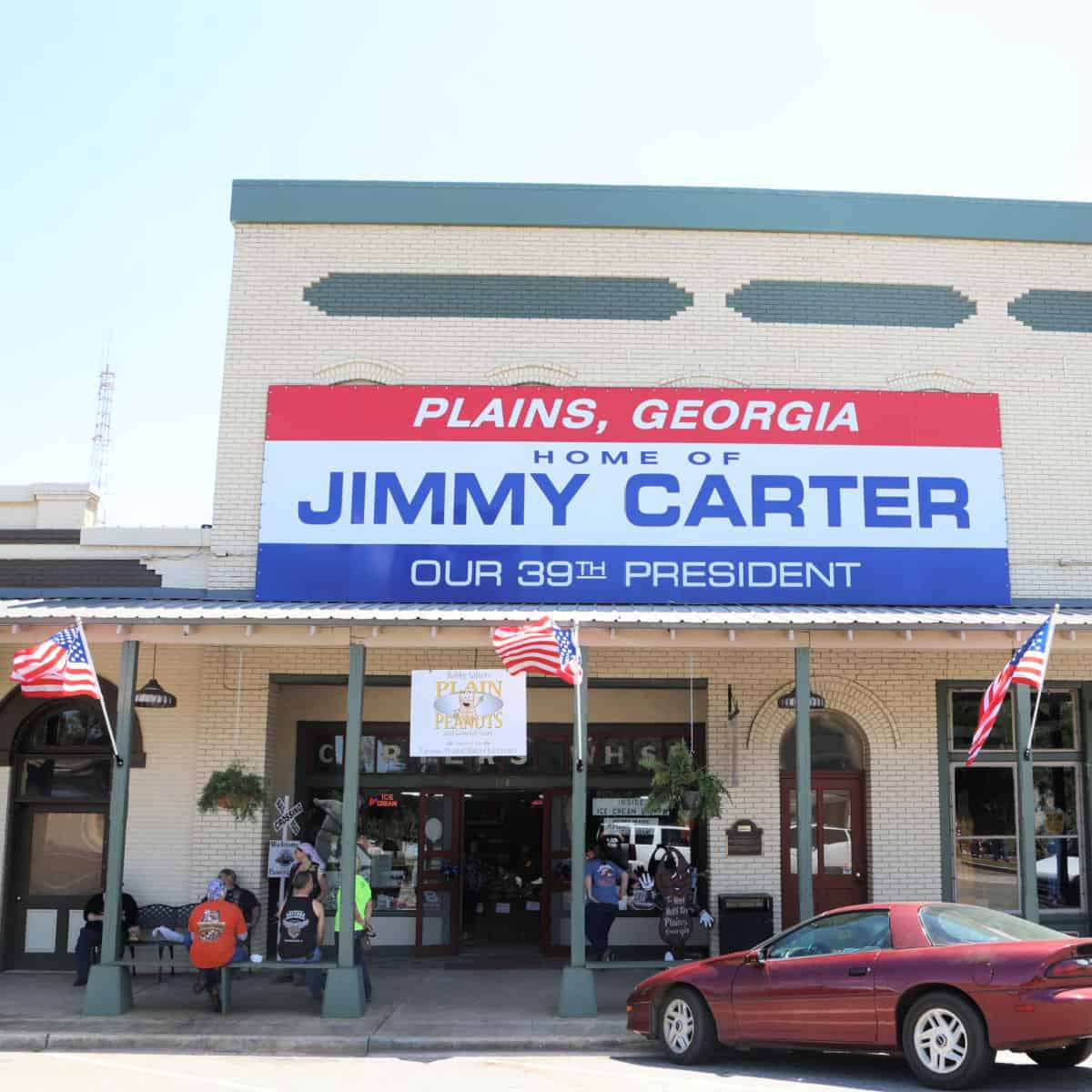 Jimmy Carter National Historical Park
Jimmy Carter was the 39th President of the United States and continues to be a leader in international affairs. He grew up in the town of Plains, Georgia, and had his election headquarters at the local train depot.
The Jimmy Carter National Historical Park is dedicated to celebrating the life and work of Jimmy Carter.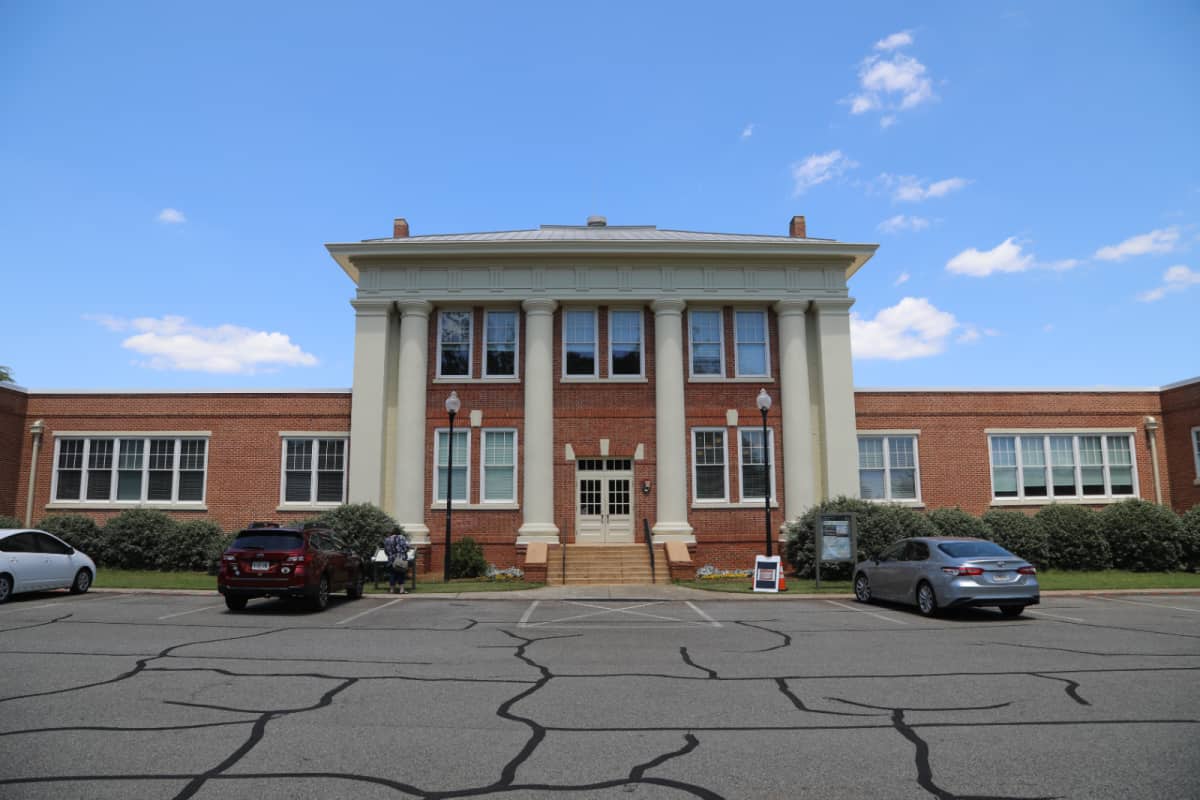 About Jimmy Carter National Historical Park
In January 2021, the Jimmy Carter National Historic Site was upgraded to a National Historical Park to reflect better the full scope of the natural, historical, recreational, and cultural resources the park has to offer.
One of the cool things about this site is you have the potential to meet Mr. Carter during your visit. The Carters still live in Plains, Georgia, and teach Sunday school every weekend. Mr. Carter hosts book signings at the visitor center.
The town of Plains, Georgia, may not be big in size but it is big in heart and pride for Mr. Carter. You can't miss the love that the town has for Mr. Carter and what he has brought to the city.
Give yourself at least a couple of hours to explore the historic site and town during your visit. Make sure and try the local peanut butter ice cream and watch the butterflies in the Rosalynn Carter Butterfly Trail.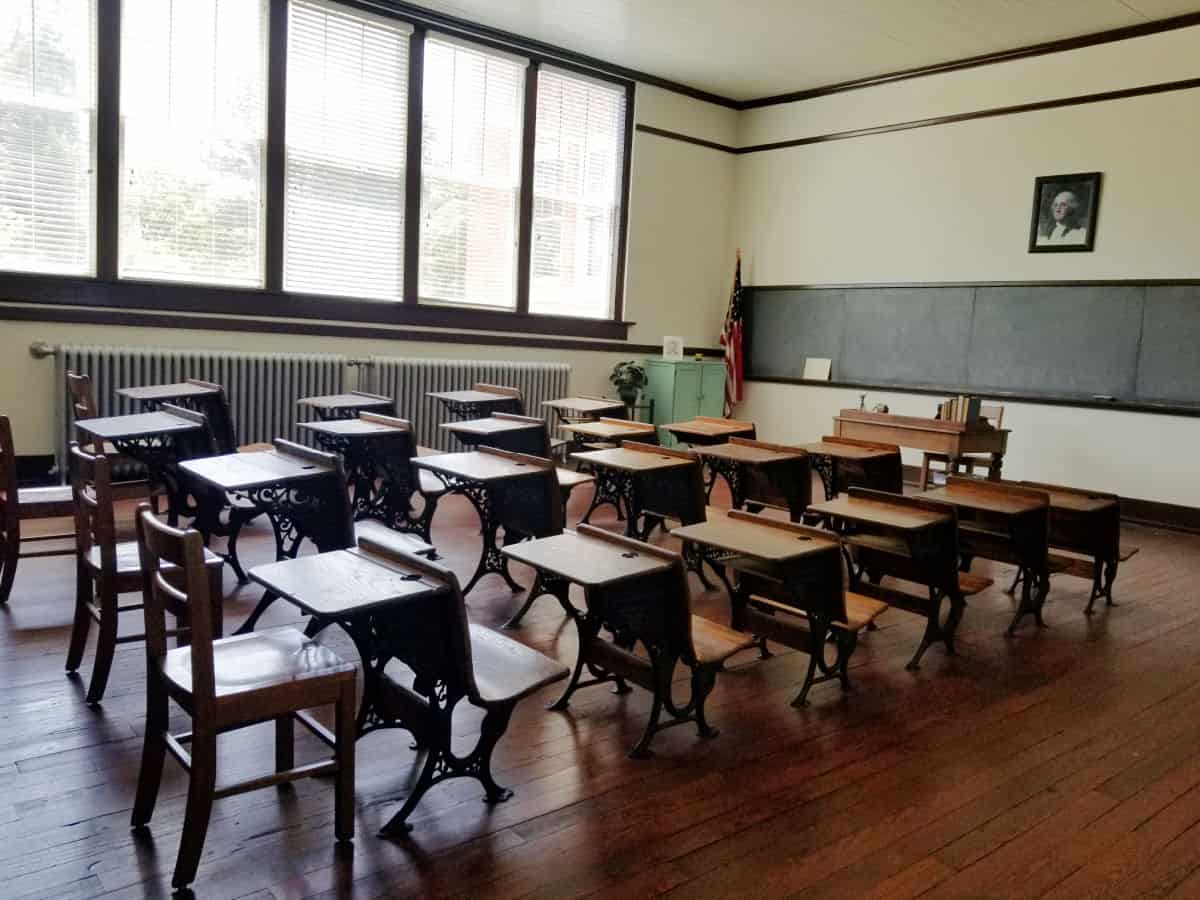 Is Jimmy Carter National Historical Park worth visiting?
Yes, The park offers the opportunity to learn about Jimmy and Roslyn Carter along with finding out more about Plains, Georgia.
History of Jimmy Carter National Historical Park
The Jimmy Carter National Historical Park preserves several sites in the small rural town of Plains, Georgia, related to America's 39th president, James Earl 'Jimmy' Carter.
Jimmy Carter served as the President of the United States from 1977 to 1981 and is a Nobel Peace Prize-winning humanitarian.
Jimmy Carter National Historical Park is home to Jimmy Carter's childhood home, his campaign headquarters, and the old Plains High School. The High School serves as the park's visitor center and museum. Jimmy Carter was born and raised in Plains and still lives there today.
The park explores Jimmy Carter's formative years, which impacted him greatly. His time living on the rural farm in Archery helped shape many policies Carter introduced while in office.
Carter continued his work promoting human and civil rights when he left the White House. In 2002 Jimmy Carter won the Nobel Peace Prize for his humanitarian work. He is one of four presidents to have received the prize but the only one who was not in office when he received it.
The Early Life of James Earl 'Jimmy' Carter
James Earl Carter was the first president to be born in a hospital on October 1st, 1924, in the small rural community of Plains, Georgia. Jimmy Carter and his family moved to the farm in Archery when Carter was four years old.
It was during his time living in Archery that Carter witnessed first-hand the toll of segregation on African American families. It was this experience with segregation that shaped Carter's stance on the matter (Carter supported integration). While living in Archery, Carter attended Plains High School from 1937 to 1941.
Carter joined the U.S Navy and graduated from the United States Naval Academy in 1946. Carter served in the Navy until 1953 when he returned to Plains where he grew his family's peanut growing business.

Jimmy Carter's Entry Into Politics
While focusing on expanding his family's business, Carter became increasingly concerned with the human rights issues surrounding segregation. Carter entered the political scene in 1962.
Initially, Carter kept his views concerning racial tolerance and integration to himself, even when became a state senator in Georgia in 1963. Carter served as a state senator from 1963 until 1967. When his second term as a state senator was up, Carter set his sights on Congress.
Carter won his second campaign for governor of Georgia by claiming to support segregation. In his first speech as governor in 1971, he promptly announced to the crowd that the time of racial discrimination was over.
As governor, Carter passed many reforms that aimed to improve the lives of the poorer communities in the state. He introduced prison reform programs, created a Civil Rights Council, and many more. When his term was up, Carter aimed for the White House.
Jimmy Carter, the 39th President of America
In 1976 Jimmy Carter ran for the presidency of the United States of America. Carter created a media frenzy during his campaign, which helped him to win the popular vote. In 1977 James Earl 'Jimmy' Carter was sworn in as the 39th President of the United States.
During his years as president, America was in the midst of an ongoing recession. The inflation rate increased to double digits by 1980. America experienced an energy crisis that Carter attempted to aid. Carter tried to get Congress to pass an energy reform bill that he believed would ease the energy crisis in America.
The energy reform bill drafted by Carter proposed the use of non-fossil fossil fuels. Failing this, Carter submitted an emergency gasoline ration plan to Congress. Congress refused to pass either bill. Carter had issues with Congress which he commented on publicly.
Despite his issues with Congress, while in office, Carter created the Department of Energy and the Department of Education.
Several international issues arouse during Jimmy Carter's time in the presentational office and much of his foreign policy was dominated by the ongoing Cold War with the Soviet Union. Carter's focus was on human rights, global poverty, and global armament with nuclear weapons.
Carter attempted to help bring peace to the Arab-Israeli Conflict in 1978 by mediating between the two sides. The Camp David Accords were the outcome of this endeavor and had a polarizing effect. Carter's intervention in the matter ended the war between Egypt and Israel but alienated the Palestinians.
The End of Carter's Presidency
Carter's presidency came to an end amidst a hostage crisis in Iran at the U.S Embassy in Tehran. In November 1979 a group of Iranian students took control of the Embassy and held fifty-two American diplomats, hostage, for 444 days.
The Iranian students supported the Iranian Revolution Carter supported the ousted Shah (king). The hostages were released when Carter was no longer president.
Post-Presidency
Carter lost the presidential election in 1980 to Ronald Reagan. After losing the election, Carter continued his global diplomatic efforts. In 1994, Carter was asked by Bill Clinton to help negotiate peace with North Korea.
In 2017 Carter offered his diplomatic services to the Trump administration during a particularly turbulent period between the United States and North Korea.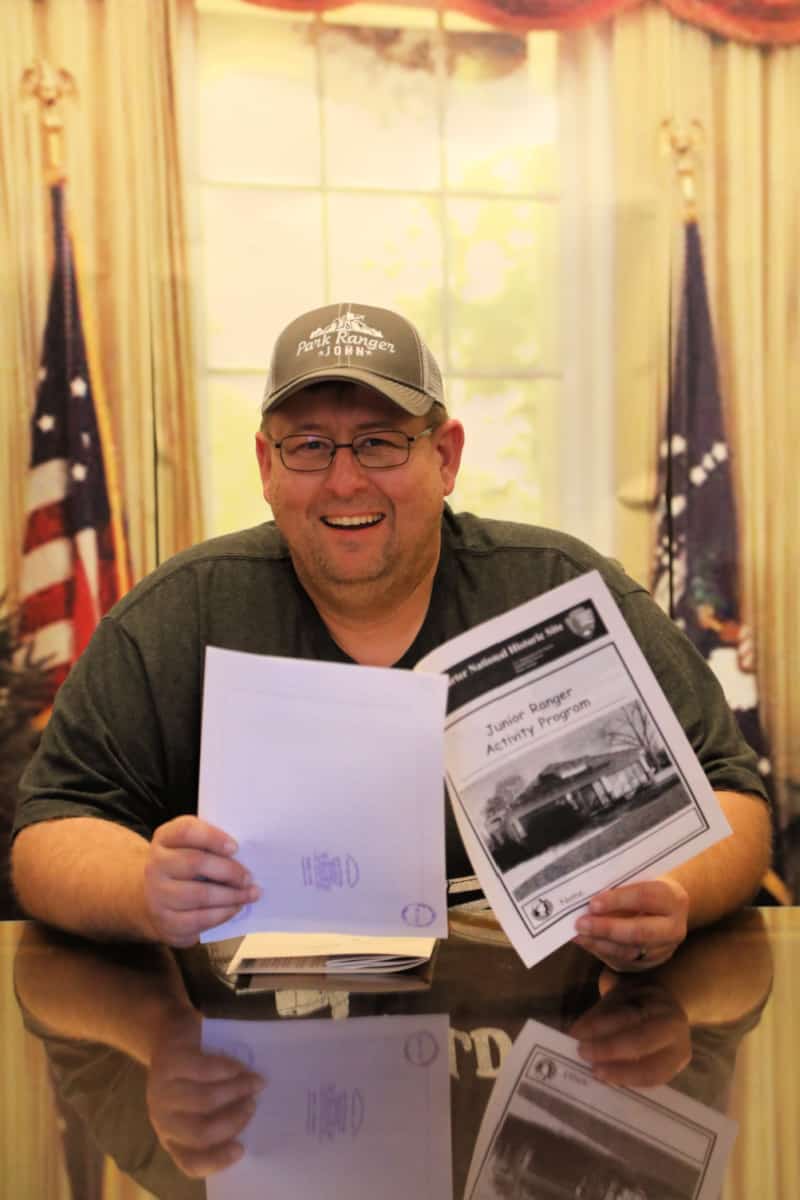 Things to know before your visit
Entrance fee
$0.00 - There is no entrance fee to visit the park.
Planning a National Park vacation? America the Beautiful/National Park Pass covers entrance fees for an entire year to all US National Park Sites and over 2,000 Federal Recreation Fee Sites.
The park pass covers everyone in the car for per vehicle sites and for up to 4 adults for per-person sites.
Buy on REI.com and REI will donate 10% of pass proceeds to the National Forest Foundation, National Park Foundation and the U.S. Endowment for Forestry & Communities.
Learn more about National Park Passes for parks that have an entrance fee.
Free Entrance Days -Mark your calendars with the five free entrance days the National Park Service offers annually.
Time Zone
Eastern Time Zone
Pets
Pets are not allowed in the Carter Home, the Clark House, inside Plains High School, and Plains Depot.
Pets are permitted on the grounds and walkways but must be kept on a leash no longer than 6 feet.
Cell Service
We had great cell service in the park
Park Hours
The park is open from 9 AM to 5 PM but is closed during Christmas, New Year, and Thanksgiving.
Wi-Fi
Free Wi-Fi is available in the lobby of Plains High School, in the lobby of the Plains Depot, and in the porch area of the comfort station at the Jimmy Carter Boyhood Farm.
Insect Repellent
Insect repellent is always a great idea when outdoors, especially if you are around any body of water.
We use Permethrin Spray on our clothes before our park trips.
Water Bottle
Make sure to bring your own water bottle and plenty of water with you. Plastic water bottles are not sold in the park.
Parking
The Jimmy Carter National Historical Park offers free parking at Plains High School, Plains Depot, and the Jimmy Carter Boyhood Farm.
Large vehicles and RVs can be parked at all locations, though parking at Plains Depot is limited. Downtown Plains has visitor parking spots, but no overnight parking is allowed at any park locations.
Food/Restaurants
There are no restaurants within the park. There are restaurants in Plains, Georgia.
A 5-minute walk from the park will take you to Bonita's and The Buffalo Cafe` at the Old Bank. These two restaurants offer a variety of food choices.
Make sure to try the peanut ice cream.
Gas
There are gas stations available in Plains, Georgia
Drones
Drones are not permitted within National Park Sites.
National Park Passport Stamps
National Park Passport stamps can be found in the visitor center.
Make sure to bring your National Park Passport Book with you or we like to pack these circle stickers so we don't have to bring our entire book with us.
Jimmy Carter National Historic Site is part of the 2020 Passport Stamp Set.
Electric Vehicle Charging
There is currently 2 electric vehicle (EV) charging stations within a 10-mile radius of the center of Plains, GA. The nearest station is located near the Visitor Center.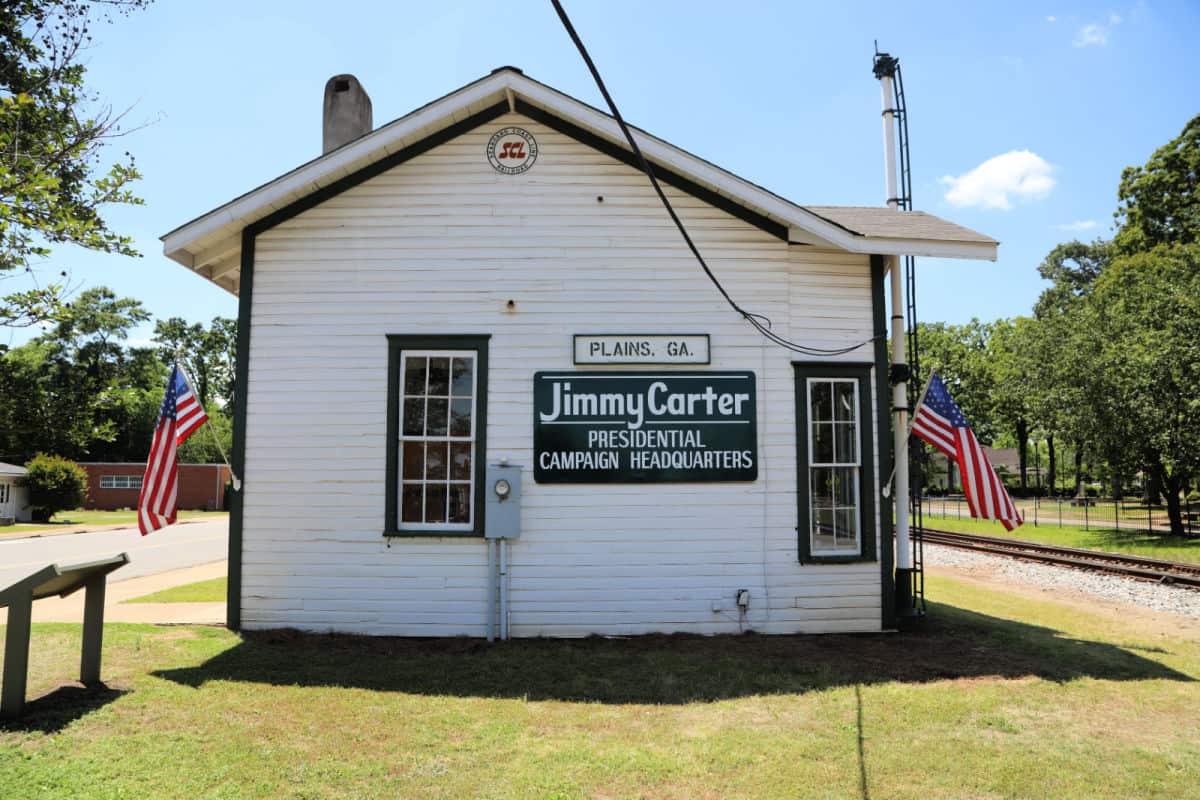 Details about Jimmy Carter NHP
Size - 71 acres
Check out how the park compares to other National Parks by Size.
Date Established
December 23, 1987
Visitation
In 2021, Jimmy Carter National HP had 27,615 park visitors.
In 2020, Jimmy Carter National HP had 14,267 park visitors.
In 2019, Jimmy Carter National HP had 50,789 park visitors.
Learn more about the most visited and least visited National Parks in the US
National Park Address
300 North Bond Street, Plains, GA 31780
National Park Map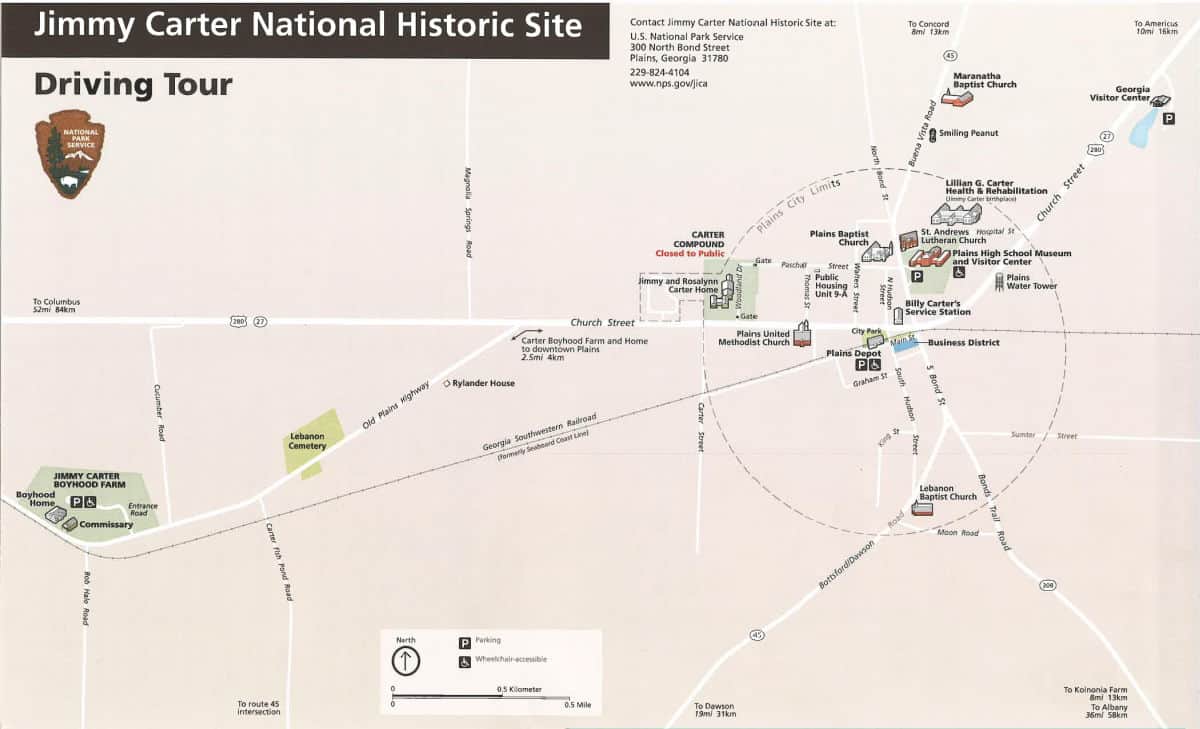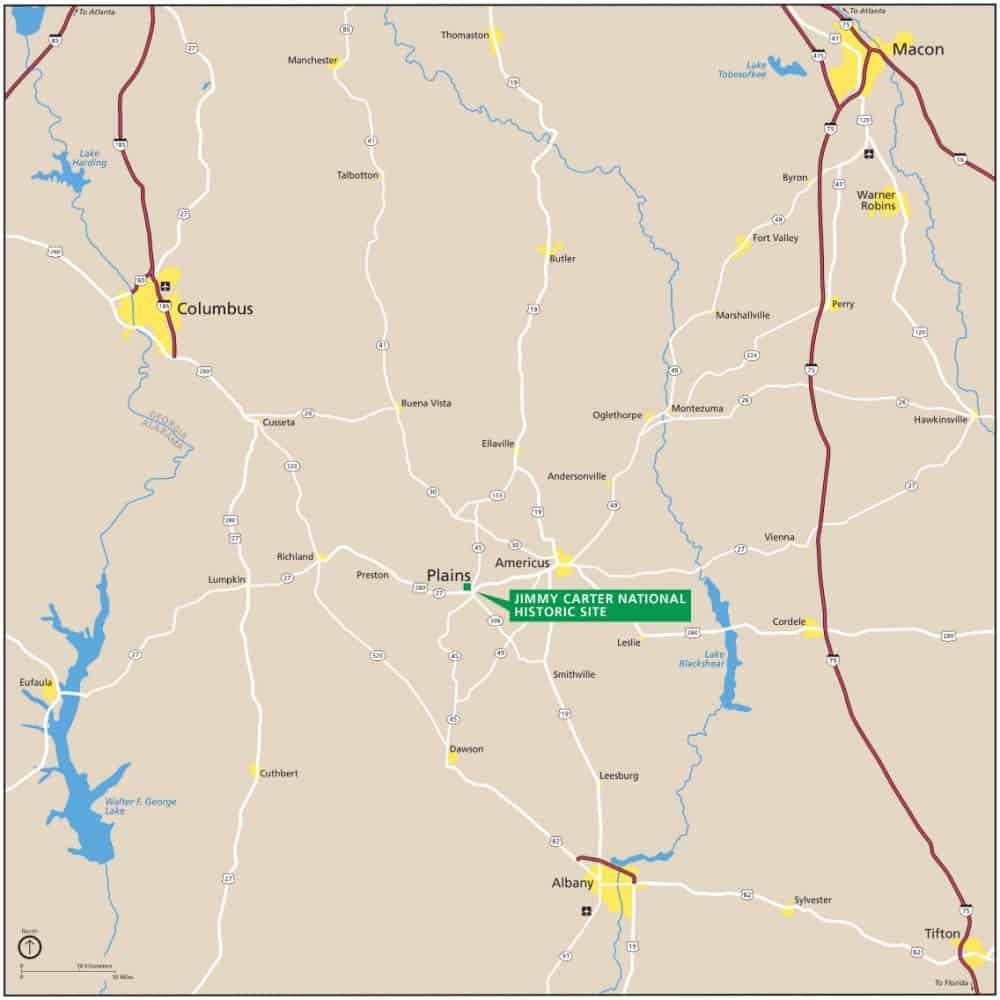 Where is Jimmy Carter National Historical Park?
Jimmy Carter National Historical Park is located in Plains, GA, 10 miles west of Americus on US 280.
This National Park near Columbus, Georgia is well worth visiting!
Estimated distance from major cities nearby
Atlanta, GA - 135 miles
Birmingham, AL - 215 miles
Jacksonville, FL - 225 miles
Charlotte, NC - 345 miles
Nashville - 375 miles
Greensboro, NC - 440 miles
Raleigh, NC - 480 miles
Lexington, KY - 490 miles
Louisville, KY - 500 miles
Indianapolis, IN - 620 miles
Estimated Distance from nearby National Park
Congaree National Park - 297 miles
Great Smoky Mountains National Park - 329 miles
Mammoth Cave National Park - 490 miles
New River Gorge National Park - 583 miles
Biscayne National Park - 595 miles
Everglades National Park - 605 miles
Dry Tortugas National Park - 721 miles + a ferry ride
Where is the National Park Visitor Center?
Plains High School is the main visitor center for the Jimmy Carter National Historical Park.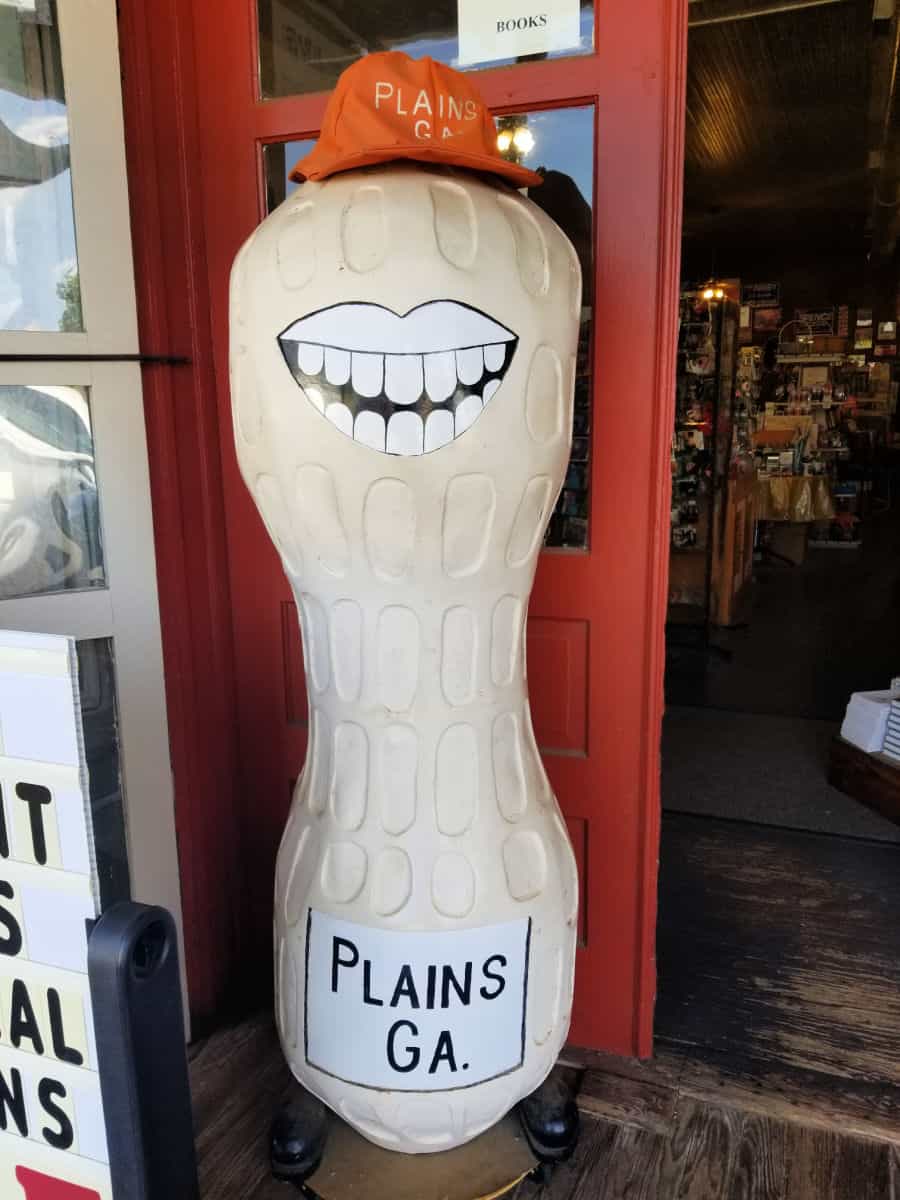 Getting to Jimmy Carter NHP
Closest Airports
Jimmy Carter Regional Airport - 20 miles
International Airports
Hartsfield-Jackson Atlanta International Airport - 130 miles
Birmingham-Shuttlesworth International Airport - 220 miles
Nashville International Airport - 375 miles
Charlotte Douglas International Airport - 345 miles
Regional Airports
Middle Georgia Regional Airport - 75 miles
Asheville Regional Airport - 300 miles
Southwest Georgia Regional Airport - 45 miles
Driving Directions
From Atlanta (North):
Take I-75 South towards Macon. Take exit #177 onto I-475 South towards Valdosta. I-475 will bypass Macon and reconnect with I-75 South.
Take I-75 to exit #112 (GA-27) towards Vienna. Continue NW on GA-27 (Union Street) for 1.1 miles then turn left on GA-27 and continue for 25 miles to Americus.
In Americus, GA-27 connects with US-280 West and becomes a three lane one-way road. Move into the center lane and stay there until the road ends at US-19.
Turn left onto US-19 South/280 West and travel in right hand lane. At the second traffic light turn right onto US-280 West/GA-27 West and proceed 10 miles to Plains.
At the first intersection, turn right onto North Bond Street (Hwy 45 North).. The Plains High School (Visitor Center/Museum) will be on your right.
From Atlanta on Interstate 85:
Take I-85 South and bear right onto ramp at exit 21 to I-185 South (GA-411 S, Chet Atkins Pkwy). Continue on I-185 S (GA-411 S, Chet Atkins Pkwy) and bear right onto off-ramp at exit 1A to US-27 S (US-280 E, GA-520 E). See directions from Columbus to Plains below.

Best time to visit
Visit Jimmy Carter National Historical Park in the spring because it is the perfect time to see the park's beautiful natural surroundings.
The park's gardens and fields are in full bloom, with a variety of flowers and plants adding color and beauty to the landscape.
You can take a leisurely walk through the park's trails and gardens, taking in the sights and sounds of nature as you go.
Weather and Seasons
The hot weather is from May 20 to September 19, when the average daily high temperature exceeds 85 degrees.
The cool weather is from November 29 to February 26, when the average daily high temperature is below 65 degrees.
The coldest month is January, when the average low is 38 degrees and the average high is 58 degrees.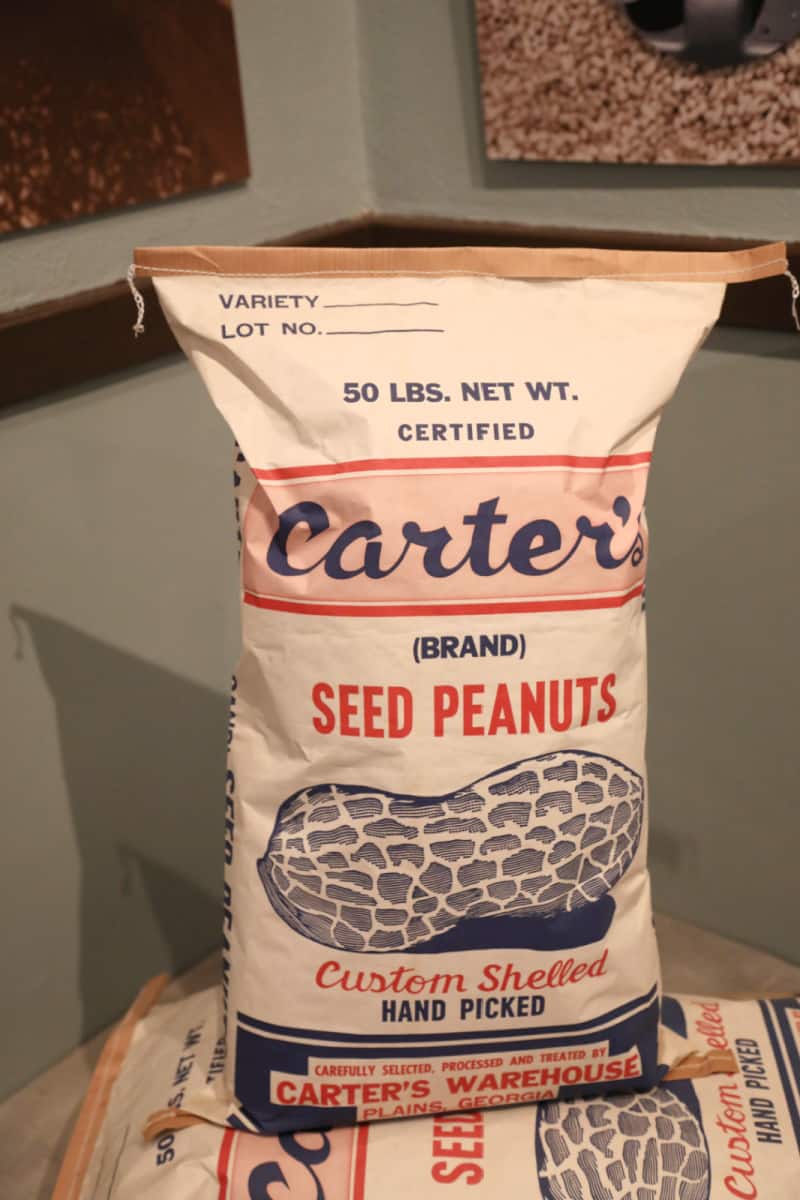 Best Things to do in Jimmy Carter National Historical Park
We suggest planning a minimum of a few hours for exploring the park and Plains, Georgia.
Visitor Center at the Plains High School
The visitor center is the perfect place to start your visit to the Jimmy Carter National Historic Site. The visitor center houses a museum, exhibits, maps of the area, video, and bookstore.
Learn more about Jimmy Carter growing up in Plains, what life was like on the farm, the importance of teacher Miss Julia L. Coleman in Jimmy and Rosalynn Carter's Life and so much more.
The Junior Ranger program is great at this site! You have the chance to learn a ton about Jimmy Carter and the site plus they have quite the package for Junior Rangers.
It will take at least 30 minutes in the museum and visitor center along with a trip to the farm to complete the Junior Ranger Book. The rangers on site were great about helping to point us in the right direction to find answers and make sure we knew what we were looking for.
You can also download the booklet ahead of time if you want to start working on it before your trip.
Take your picture sitting in the Oval Office
Have you ever wanted to feel presidential? You can have your chance to sit in the Oval Office and make proclamations all day long if you like at the Jimmy Carter National Historic Site.
Visit the Plains Train Depot
Plains Train Depot is located in the heart of Plains, Georgia on the main street. You have the opportunity to see the depot which was completed in 1888.
The current building was restored to its 1976 appearance as President Carters campaign headquarters.
Visit Jimmy Carter's boyhood home and farm
While visiting the park, one of the Park Rangers told us that he feels that the farm is one of the most important stops we could make during our visit.
He reminded us that not so long ago our relatives were living without electricity and working on farms just like this one. Two generations back from us had a much different life from our cell phones and constantly being connected.
Ranger-led tours are available on Saturdays and Sundays at 11:30 a.m. and 3:00 p.m. and start in front of the comfort station at the Jimmy Carter Boyhood Farm. The talks are weather permitting so stop by the visitor center to confirm the times.
Enjoy the Cell Phone Audio Tour of the park
You can enjoy a narrated tour of many key parts of the park with the audio tour.
If you are not sure you will be at the park during the hours they are open you can print this audio tour map ahead of time so you know which sites are available.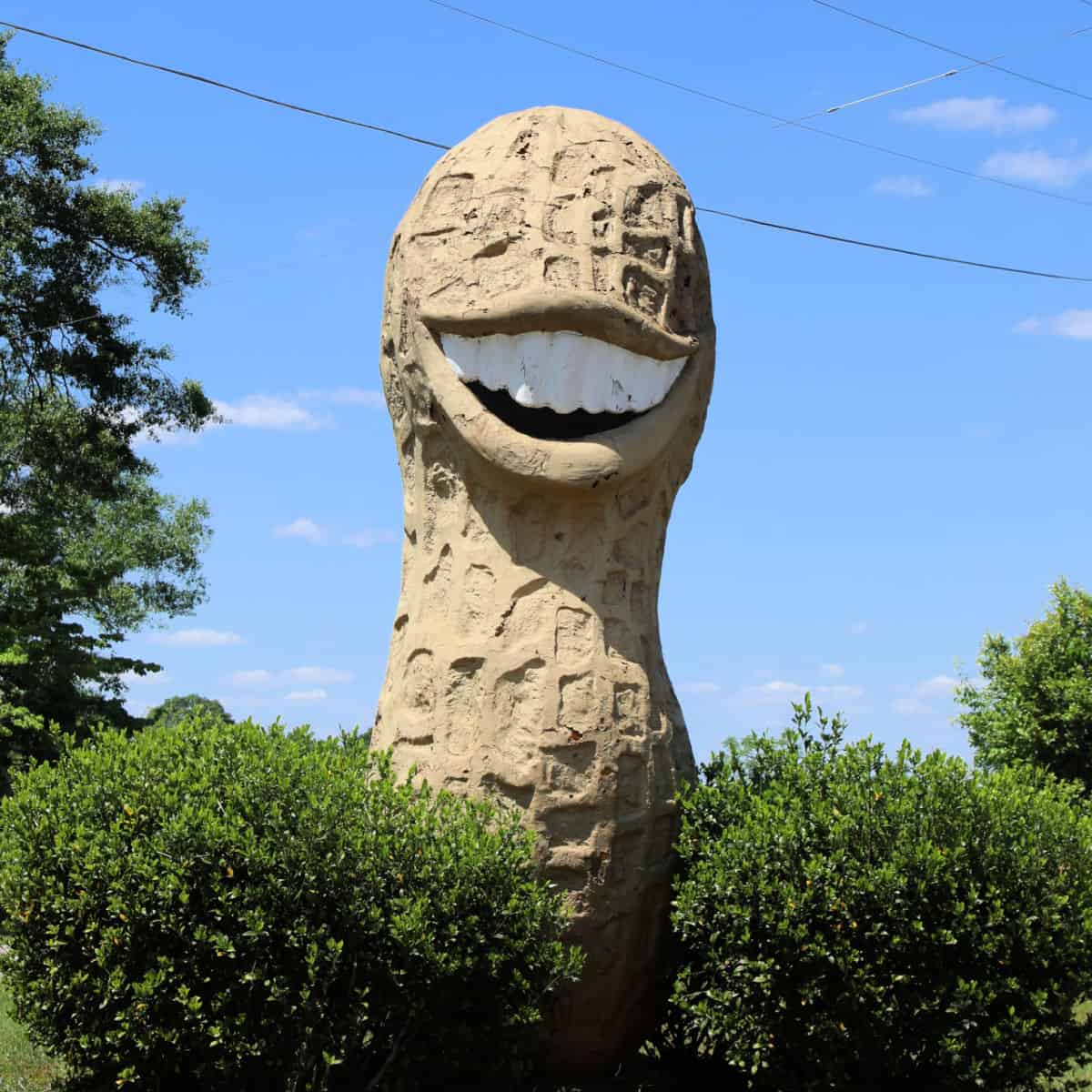 Giant smiling peanut from Jimmy Carter's presidential race
Located a ½ mile down the street from the visitor center the giant 13-foot smiling peanut was originally created for a 1976 visit by Jimmy Carter.
The giant smiling peanut has gone through a few different restorations and is now sitting in the gas station parking lot smiling at residents and visitors alike.
Try a scoop of Peanut Butter Ice Cream
When in Plains you have to try the world-famous peanut butter ice cream at Plain Peanuts and General Store.
They offer delicious samples when you enter the store of the ice cream and boiled peanuts. After one sample trust me you are going to want a cup of this delicious ice cream, especially on a hot Georgia afternoon.
Spending time in Plains is a great way to experience a rural southern culture which had a large influence in molding President Carter who was born and raised in Plains.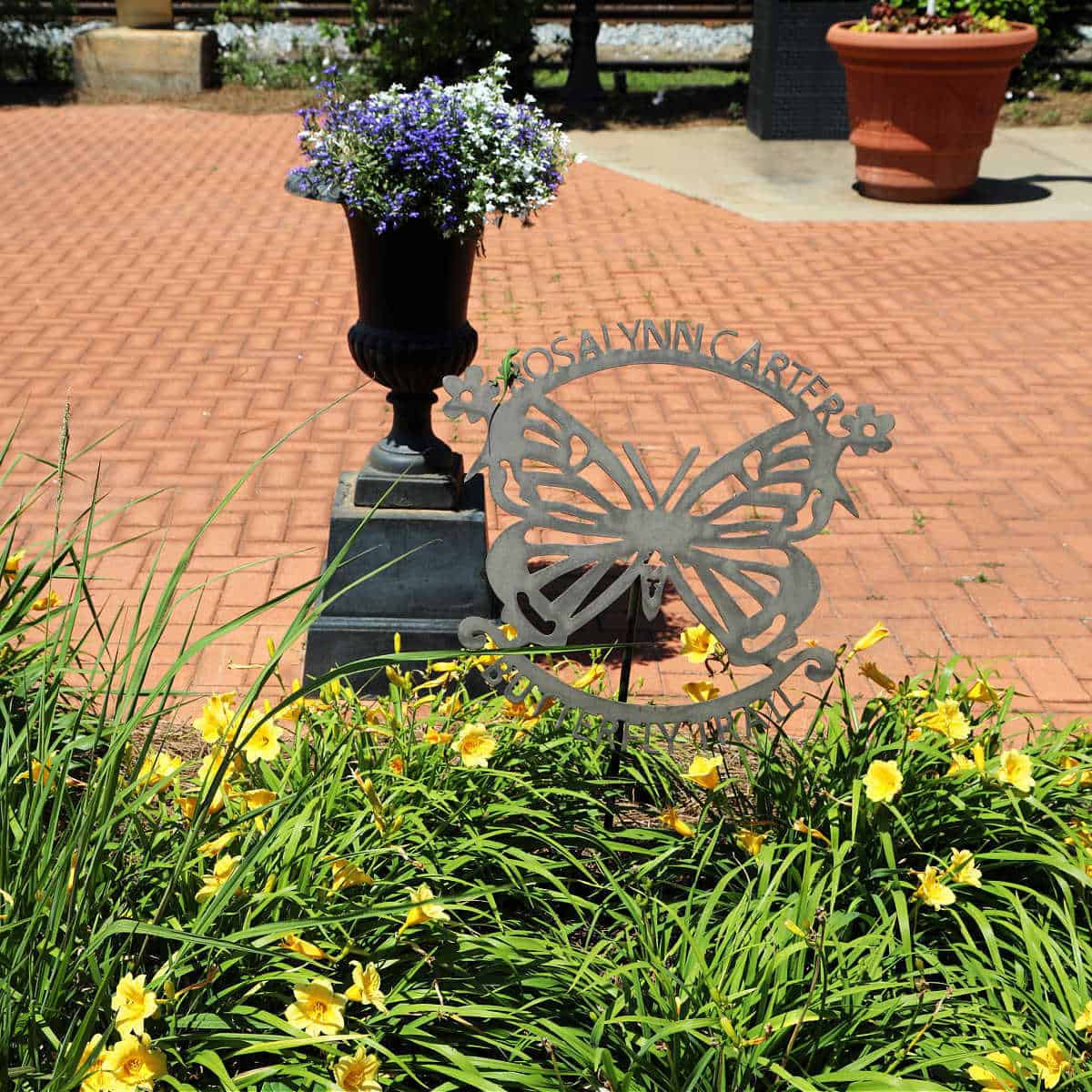 Rosalynn Carter Butterfly Trail
Located on the main street of Plains, Georgia the Rosalynn Carter Butterfly Trail was created to help encourage the conservation of butterflies.
The Rosalynn Carter Butterfly Trail was established by Annette Wise with the Georgia Department of Education in April 2013. While we were there we had the chance to see birds, lizards, and multiple butterflies. This is a great area to enjoy your peanut butter ice cream cone.
The Carter Private Residence and Compound
The Carter's have donated their current residence and compound to the National Park Service so it is protected. The home and grounds are not open to the public as the Carter's still live here.
The Carter's purchased this 2.4-acre lot in 1960 and built their ranch home here. This is the only home they have ever owned.
Hiking
Always carry the 10 essentials for outdoor survival when exploring.
There are no real hiking trails within the park. You can walk along the Rosalynn Carter Butterfly Trail and explore the historic town of Plains, Georgia.
How to beat the crowds
We did not experience any crowds while visiting the park. There is so much to see you can easily wander in a different direction.
Where to stay when visiting
There are no National Park Lodges within the park.
Nearby Lodging includes:
Hampton Inn Americus - free breakfast, dry cleaning/laundry services, and a bar at Hampton Inn Americus. For some rest and relaxation, visit the hot tub. In addition to a gym and a business center, guests can connect to free in-room Wi-Fi.
Days Inn by Wyndham Americus - free to-go breakfast, a terrace, and laundry facilities. Free in-room Wi-Fi is available to all guests, along with a gym and a 24-hour business center.
La Quinta Inn & Suites by Wyndham-Albany GA - free breakfast buffet, a 24-hour gym, and a business center at La Quinta Inn & Suites by Wyndham-Albany GA. Stay connected with free in-room Wi-Fi.
Courtyard by Marriott Albany - a coffee shop/café, and dry cleaning/laundry services at Courtyard by Marriott Albany. In addition to a bar and a health club, guests can connect to free in-room Wi-Fi.
Fairfield Inn & Suites by Marriott Albany - grocery/convenience store, dry cleaning/laundry services, and a fireplace in the lobby at Fairfield Inn & Suites by Marriott Albany. Free Wi-Fi in public areas is available to all guests, along with a 24-hour gym and a 24-hour business center.
Click on the map below to see current vacation rentals and lodges near the park.


Camping
For a fun adventure check out Escape Campervans. These campervans have built in beds, kitchen area with refrigerators, and more. You can have them fully set up with kitchen supplies, bedding, and other fun extras. They are painted with epic designs you can't miss!
Escape Campervans has offices in Vancouver, Seattle, Portland, San Francisco, Las Vegas, Los Angeles, Phoenix, Salt Lake City, Denver, Chicago, New York, and Orlando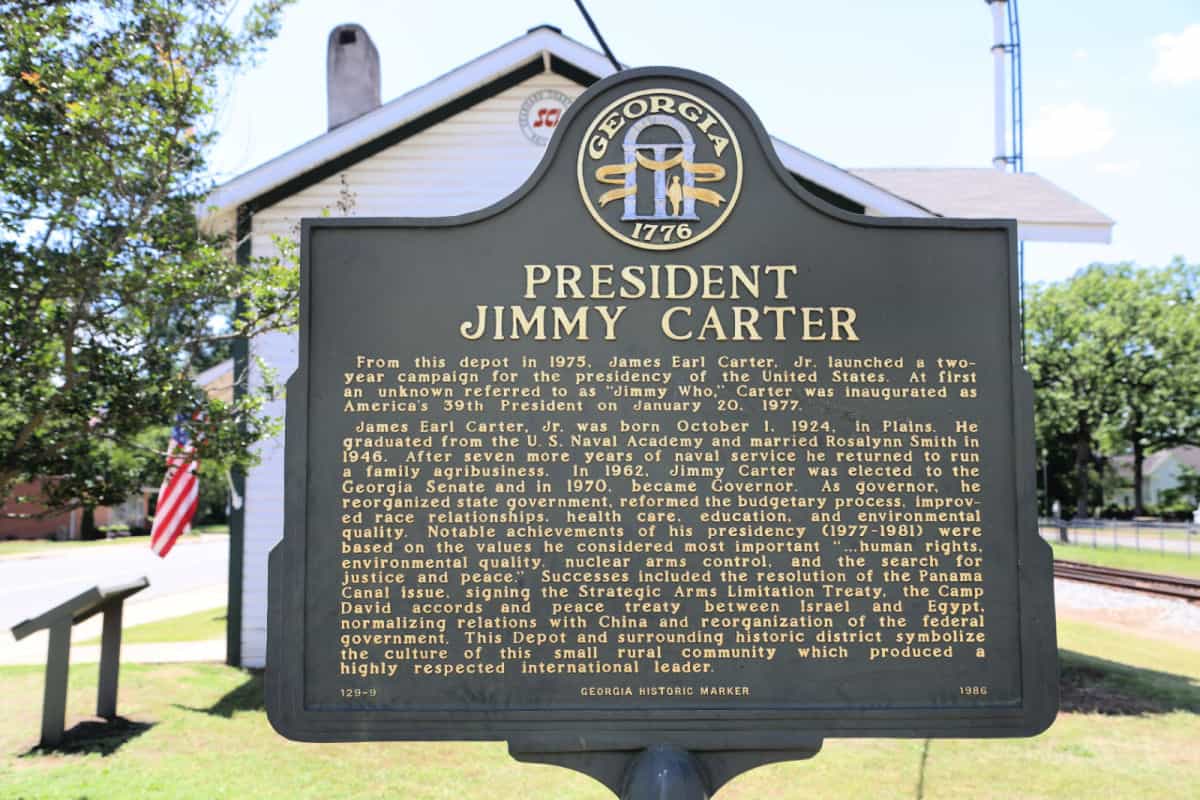 Parks Near Jimmy Carter National Historical Park
Andersonville National Historic Site - 20 miles away
Ocmulgee National Historic Site - 80 miles away
Tuskegee Institute National Historic Site - 98 miles away
Tuskegee Airmen National Historic Site - 98 miles away
Martin Luther King Jr. National Historical Park - 133 miles away
Horseshoe Bend National Military Park - 118 miles away
Check out all of the Georgia National Parks along with neighboring National Parks in Tennessee, North Carolina National Parks, Alabama National Parks, National Parks in South Carolina, and National Parks in Florida