Florida is one of the most popular vacation destinations in the United States. While Orlando and Walt Disney World may account for a lot of that, there is much more to Florida than just the mouse. There are sparkling white beaches, great museums and lots of history.
When you are considering Florida as your next vacation destination, why not visit some of the national parks and other things to see what the state has to offer! So let's begin by checking out these great National Parks in Florida!
Florida National Parks include some of our favorite parks to visit as often as we can. Everglades National Park is one of the best parks for bird watching and photography.
A trip to Dry Tortugas National Park is a day you will never forget! From the gorgeous water to the amazing variety of birds and things to see and do.
Key Biscayne National Park is a park that has a ton of boat tours and things to do that are not always the first thing visitors think about.
Plus Florida National Parks give you the chance to get up close and personal with an alligator. OK, maybe not too personal with a gator but you can easily get some great photos during a visit to one of the parks.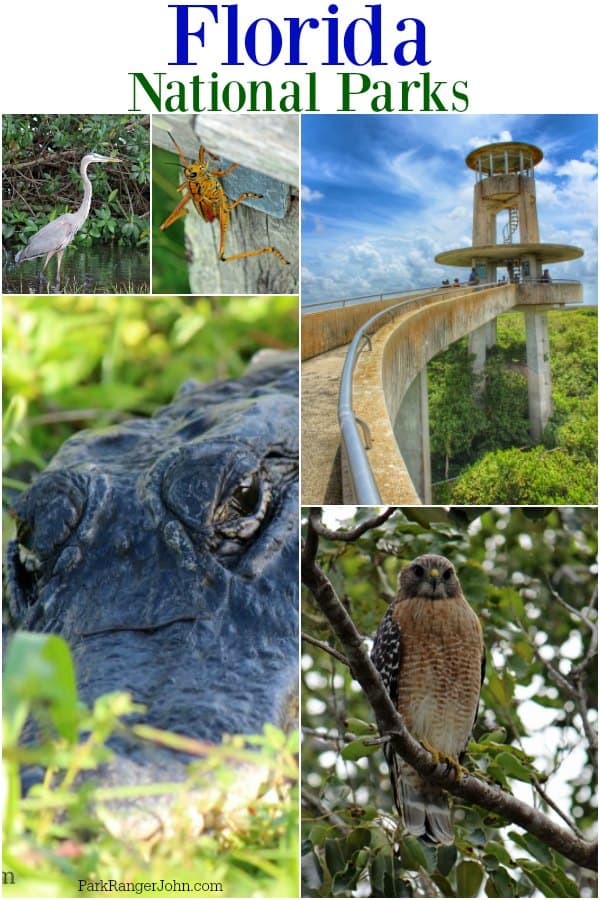 National Parks in Florida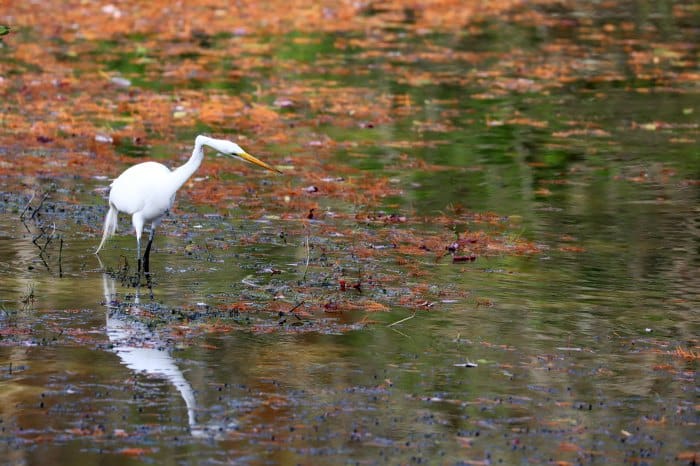 Big Cypress National Preserve is located in Southern Florida approximately 50 miles west of Miami. The park is open year-round and offers amazing bird watching, hiking, camping, and scenic drives.
Big Cypress is similar to Everglades National Park with having wet prairie, hardwood hammocks, mangrove forests, and stands of bald cypress. If you are a bird watcher you will love spending time in Big Cypress.
There are two scenic drives within the park. The 27-mile Loop Road gives you the opportunity to explore a forest of dwarf bald cypress trees. The 17-mile loop includes the Turner River, Wagonwheel and Birdon Road takes you through grasslands and along waterways that can be filled with wading birds.
December through May is the best time to see large groups of alligators but they may be seen year-round.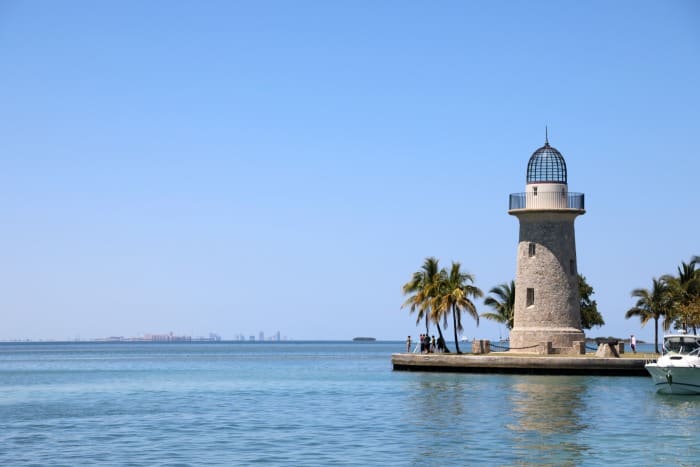 Biscayne National Park is located in Southern Florida approximately 20 miles south of Miami. The park is open year-round and offers a ton of water-based activities including scuba, snorkeling, kayaking, swimming and boat tours.
The park has lovely grounds for fishing or for a barbecue picnic surrounded by water. Investigate the ranger-guided programs. You can also rent a canoe or kayak to view the shoreline.
There is also a short boardwalk that allows you to look over the side for the marine life of South Florida. On weekends, rangers may take you out to hike on Elliott key or paddle the shore.
Biscayne National Park has battled many obstacles to preserve an area coveted by developers and stressed by population and pollution. The rangers at Biscayne are friendly, knowledgeable, proud of their park and have a great story to tell.
You can take a guided boat tour out to Elliot Key or Boca Chita Kay with a view of the Miami Skyline.
One thing to remember about Biscayne NP is the majority of the park is water. The visitor center is only the first part of the park. The majority of the park you need a boat or a guided boat tour to really see everything.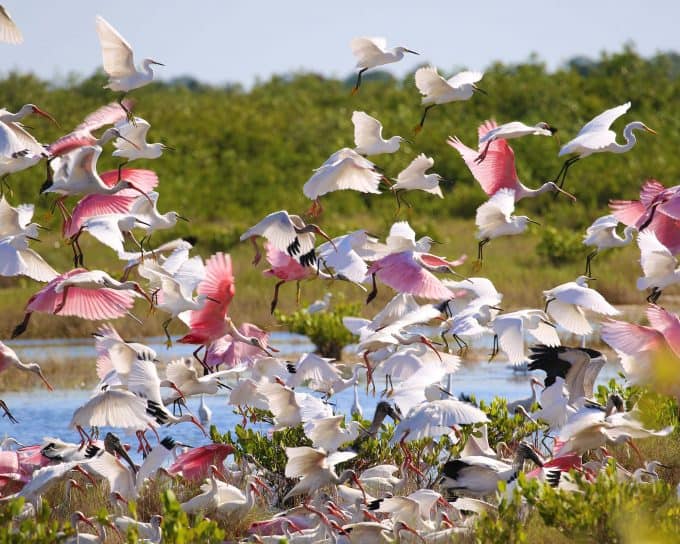 Canaveral National Seashore is located in Northeastern Florida off of Cape Canaveral. The park is open year-round and offers epic bird watching, hiking, backcountry camping and more.
You can explore 24-miles of undeveloped barrier island beaches, dunes, and wetlands. Most of the visitors to the park explore the beautiful beaches. This is a great place to hit the water, sunbathe, and relax.
If you venture farther into the park you can enjoy a wetland that's part mangrove and part salt marsh. This diverse habitat draws in a large number of birds. The Black Point Wildlife Drive is one of our favorite places in the park.
Every time you drive the loop you can see different birds and wildlife. You can see a ton of wading birds including wood storks, roseate spoonbills, egrets, and herons. Plus bald eagles and the Florida scrub-jay.
Haulover Canal has a manatee viewing platform that is pretty amazing. We saw 12 manatees during our last visit to the park.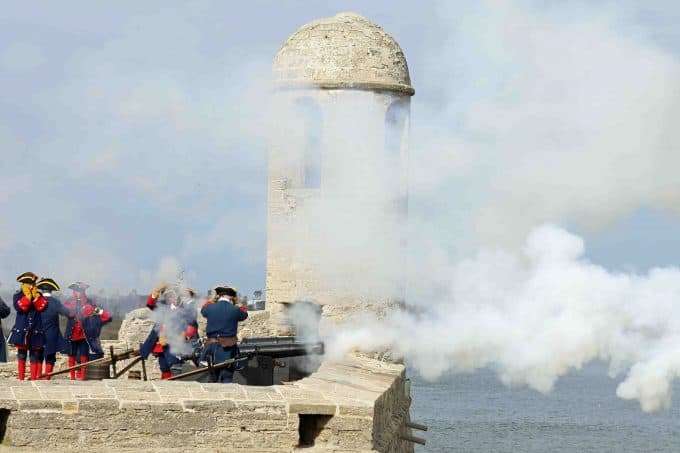 Castillo de San Marcos NM is located in Northeastern Florida in St. Augustine. The park is open year-round and offers the opportunity to explore a historic Spanish fort.
Castillo de San Marcos protects the historic fort and shares the history of what went into protecting this vital city. Definitely check for when the park is hosting historic weapons demonstrations. It is amazing to see the cannons being fired and feel the vibration from the cannons.
The fort is the only 17th-century military structure still standing in the United States. Construction began in 1672 on the Castillo (Castle). It was built as a star-shaped fort using coquina which is a mixture of broken shells and sand bound by calcium carbonate.
Coquina absorbs cannonballs instead of shattering when hit with them. This has allowed the Castillo to survive being hit by cannons during the period when Spain and England were at war to take control of the region.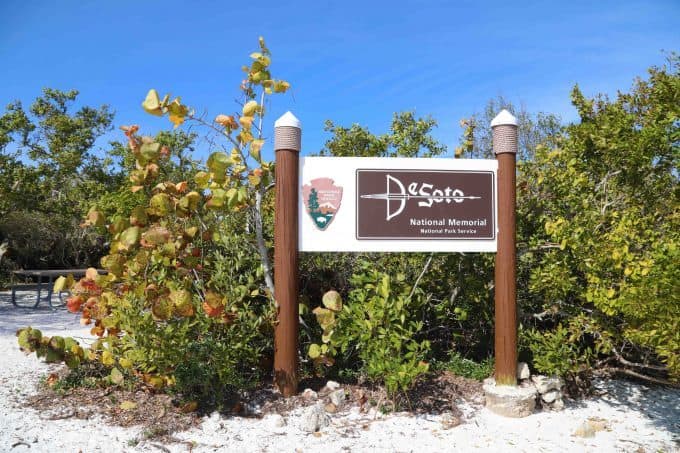 De Soto National Memorial is located near Tampa on the Gulf of Mexico. The park is open year-round and offers hiking and living history demonstrations.
The site commemorates the landing of Conquistador Hernando de Soto's army of soldiers, hired mercenaries, craftsmen, and clergy making landfall in May 1539. de Soto's goal was to find gold and conquer new territories.
For three years he led an expedition wandering around the southeast fighting Native Americans and failing to find wealth. He passed away on May 21, 1542.
The remaining members of his group made their way to Mexico City. The expedition never found gold or wealth.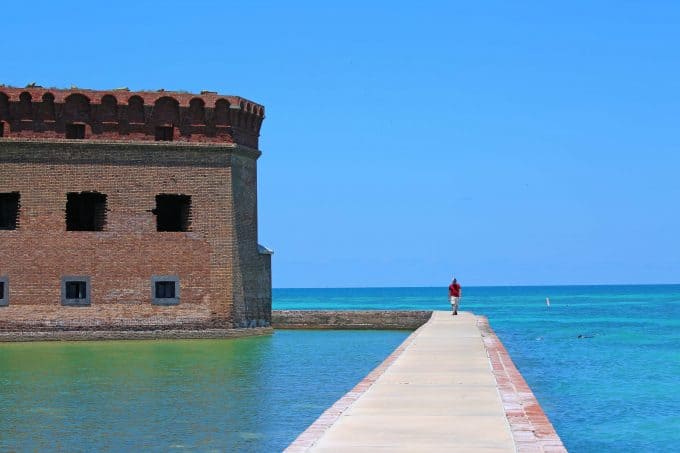 Dry Tortugas NP is located a mere 67 miles (108 km) west of Key West, Florida and consists of a small group of seven islands.
The Dry Tortugas islands, first discovered in 1513 are now a 100 square mile national park and home to Fort Jefferson. This remote area boasts an unmatched array of tropical marine life, coral reefs, and crystal clear blue waters.
More than 99% of the park is composed of water in the Gulf of Mexico. The only dry land is the seven islands of coral and sand that rise up only a few feet above sea level.
Fort Jefferson is located on Garden Key. The fort is a massive 19th-century U.S. Fortification. Construction of the fort began in 1846. Sixteen million bricks were used to build the fort.
This secluded paradise is only accessible by boat or seaplane. You will want to make reservations early to make sure you can visit the park during your trip to the National Parks in Florida.
Everglades NP is located in Southern Florida approximately 30 miles southwest of Miami. The park is open year-round and offers wildlife viewing, hiking, boat tours, tram tours and epic bird watching.
Everglades National park is home to many rare and endangered species including the Florida Panther. It has been deemed an important reserve and wetland!
Everglades National Park covers over 1.5 million acres. It has definitely earned its spot as one of America's largest parks. Florida Bay and the Ten Thousand Islands, make up about one-third of the park's acreage. If water is your thing, you should feel right at home here! You can find mile after mile of beautiful waters to kayak and canoe.
While you visit, check out some of the park's hiking trails.
-Anhinga Trail
-Pinelands Trail
-Pahayokee Overlook
-Gumbo-Limbo Trail
-Mahogany Hammock Trail
-West Lake Trail
-Dirt Road Trails
The History of the Everglades
The safety of the Everglades was threatened because of the hunting of all the beautiful animals. As people were trying to control floods, they diverted the waters flowing from Lake Okeechobee. In the 1900's Napoleon Bonaparte, who was a governor at the time, promised drainage of the wetlands.
In 1909, the Miami Canal that connected Lake Okeechobee to the Miami area was completed. In 1930, a dam on the south side of the lake was completed. The completion of the dam and canal brought a much-needed relief of the flooding waters.
As the glades began to change, there was more attention being attracted to the area. Still, there were threats to the resources. Due to problems with oil drilling and lumbering of the trees, The National Park Service Director asked to make the Everglades a national park in 1923.
Finally, a bill was passed which allowed for the creation of the park in 1934. It was the first park to be founded only to protect animals and resources.
Not only is the park a wonderful place to visit, but it has a wonderful history. The glades are known as an endangered park because they are still facing troubles today.
We can only hope that this park will be around for ages to come, but we do not have a guarantee. Everyone should visit this beautiful park, and soak up some historical information while enjoying the scenic views of the beautiful Everglades.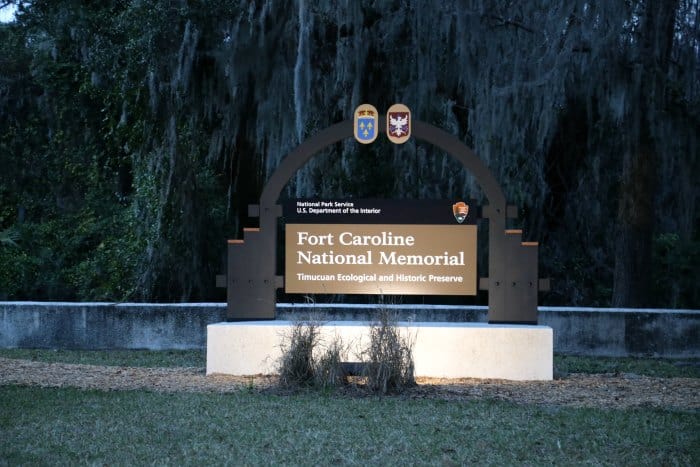 Fort Caroline National Memorial
Fort Caroline NM is located in Northeastern Florida in Jacksonville. The park is located on the same property as the Timucuan Ecological and Historic Preserve.
There is a ⅓ scale reconstruction of Fort Caroline next to the Timucuan Preserve Visitor Center.
Fort Caroline memorializes the short-lived French presence in sixteenth-century Florida.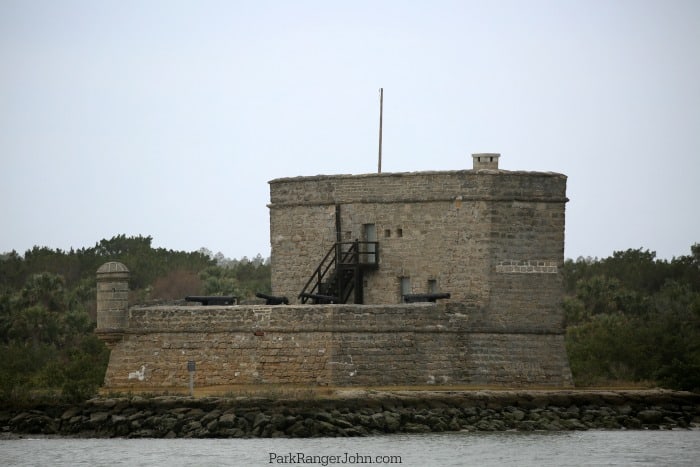 Fort Matanzas NM is located in Northeastern Florida approximately 14 miles south of St. Augustine. The park is open year-round and offers the opportunity to explore a historic watchtower fort, hiking, beachcombing and bird watching.
Fort Matanzas was built in 1672 to guard against English troops trying to reach St. Augustine via the Matanzas Inlet. The fort was built with coquina similar to Castillo de San Marcus.
During construction, the British attacked to stop the work but the Spanish ships repelled them. The fort only saw action once in 1742 when British ships sailed into the inlet but turned around when they were faced with cannon fire.
Boat tours are required in order to reach the fort. The boat ramp for the tours received hurricane damage recently and is under construction. Boat tours may not be running until the docks are completely repaired.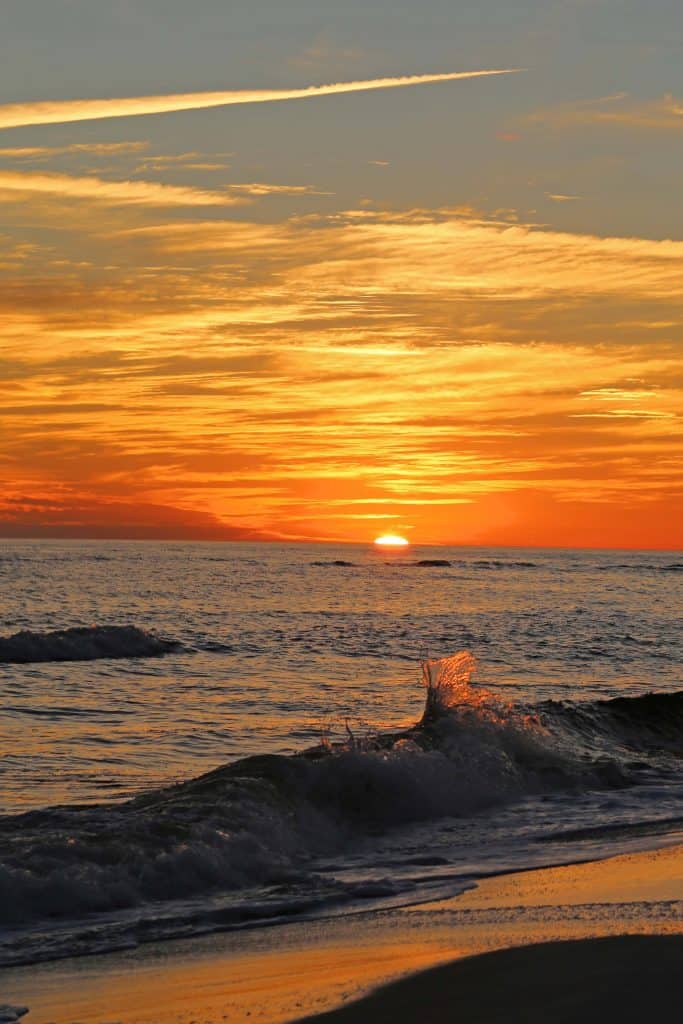 Gulf Islands National Seashore is located along the Florida panhandle and southern Mississippi coastline. There are twelve units within the park that offer swimming, beach exploring, fishing, bird watching and more.
You are about to enter one of the most magical places on Earth. Florida's Gulf Islands National Seashore are worldwide renowned beach destinations and you will soon discover why. The beaches are the perfect place to watch the sunset!
Visitors can spend their day enjoying the soft white and gorgeous Gulf of Mexico views. If you are interested in history there are multiple forts that can be explored. There are four visitor centers within the park.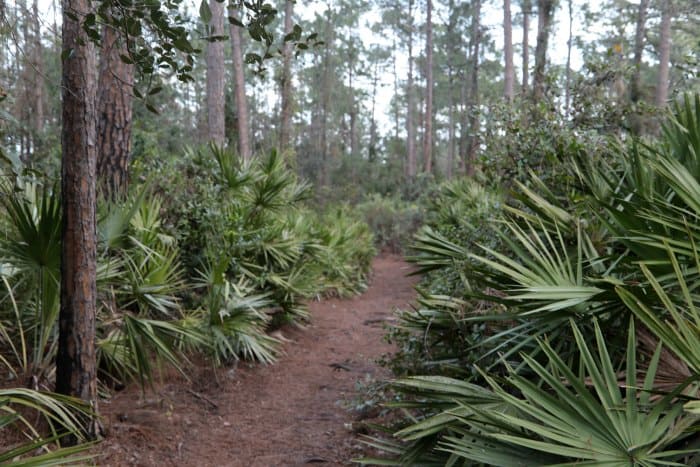 Timucuan Ecological and Historic Preserve are located in Northeastern Florida in Jacksonville. The park is open year-round and offers great hiking, kayaking, and bird-watching.
The heart of the park is the Timucuan Preserve Visitor Center which focuses on educating visitors on human interaction with the natural world. The exhibits take you through history from the Timucua Indians to current times.
The Theodore Roosevelt Area has miles of hiking trails that wander through pine flat woods, hardwood hammocks, and marshy wetlands.
Kingsley Plantation is a 1798 plantation that is the oldest surviving plantation house in Florida. The plantation had enslaved workers who grew and harvested Sea Island cotton. You can see the slave cabins, barn, kitchen and gardens during a visit.
List of National Parks in Florida
Fort Caroline National Memorial
Timucuan Ecological and Historic Preserve
Affiliated Sites
Gullah/Geechee Cultural Heritage Corridor (FL, GA, NC, SC)
There are 11 National Parks in Florida that have over 9.7 million visitors. The National Park Service estimates that this produces over $782 million dollars in economic benefits.
Florida National Parks include 1 National Heritage Area, 2 wild and scenic rivers managed by the National Park Service, 1,778 National Register of Historic Place listings, 46 National Historic Landmarks and 18 National Natural Landmarks. There is also 1 World Heritage Site in Florida National Parks.
The National Parks in Florida protect 10,677,076 objects in the National Park Museum collection along with 1,181 archeological sites.
Have you dreamed of becoming a Park Ranger and working in our gorgeous national parks? Check out How to Become a Park Ranger for information on what you need to do to become a park ranger.
National Parks in neighboring states
Do you know how many National Parks you have visited? Check out our printable list of all 417 National Park properties so you can check them off as you visit.
If you are focused on the 61 US National Parks check out this printable alphabetical list of the US National Parks.