Complete guide to Castillo de San Marcos National Monument in St. Augustine, Florida including things to do, history, parking, nearby lodging and camping, and so much more.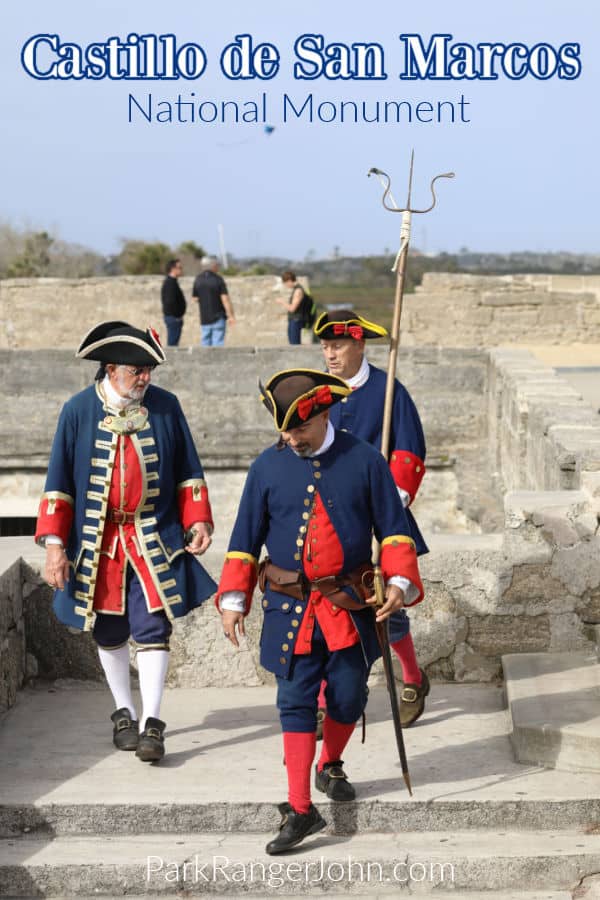 Castillo de San Marcos National Monument
Castillo de San Marcos National Monument is the only 17th century structure still standing in the United States.
The Castillo (castle) has had quite a history including withstanding bombardments during the period of time when Spain and England warred for possession of the region.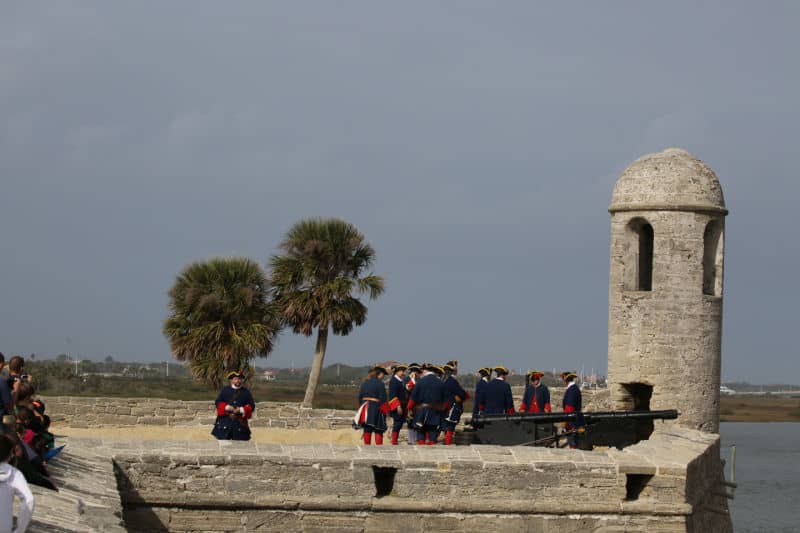 About Castillo de San Marcos National Monument
The Castillo was built with coquina which is a mixture of broken shells and sand used to build the masonry fortification. This mixture is bound by calcium carbonate and becomes a compressible material.
This compressibility has allowed the Castillo to absorb the impact of cannonballs instead of having the walls shatter.
One thing to know is Castillo de San Marcos NM is located in the heart of St. Augustine, Florida. The park can be incredibly busy!!!
Parking can be a total pain and you may end up needing to walk a while to get from a parking spot back to the park.
Be prepared for Florida weather, sunshine, and make sure you have shoes on that are comfortable.
Is Castillo de San Marcos National Monument worth visiting?
Yes! The historic weapons demonstrations is one of the most amazing experiences we have seen in a National Park.
A total National Park Bucket List moment seeing the cannons being fired.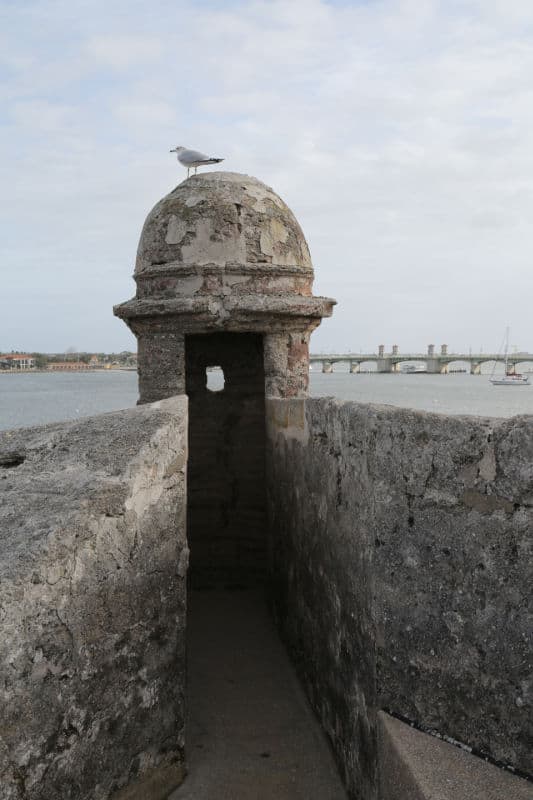 History of Castillo de San Marcos National Monument
Castillo de San Marcos National Monument is located in St. Augustine, Florida on the banks of the Matanzas River. Castillo de San Marcos (Spanish for "St. Mark's Castle") showcases the oldest masonry fort in the continental United States.
Fifty five years before the Pilgrims settled at Plymouth Rock, the Spanish established at St. Augustine, Florida.
In 1565, a Spanish soldier named Pedro Menendéz de Avilés made St. Augustine his home. The spot is named as such because Menendéz first spotted it on the feast day of St. Augustine.
Menendéz's primary goal when first coming to the area was to wipe out French explorers who were determined to stake claim to Spanish land.
The French had already established a site at Fort Caroline. Menendéz and Spanish empire forces eventually annihilated the Protestant French as the Catholic Spanish Emperor had instructed Menendéz to do.
Fort Caroline was destroyed and the St. Augustine Spanish became the power force in Florida.
By 1670, Charles Town (now Charleston, South Carolina) was established by English colonists.
Because of the English's British forces advancing movements towards the Spanish and because Charles Town was a short sail from St. Augustine the Spanish decided they needed a fort.
In 1668, an English privateer raided St. Augustine, ravishing the town and nearly destroying the wooden fort that was in place.
It was in 1672, that the first coquina stones were laid. Native to the area, coquina stones were a type of sedimentary rock similar to limestone.
The name coquina means "small shells." It took years to complete the project and by 1695, the core of the fort was finally completed. St. Augustine had a number of escaped slaves from Charles Town residing there.
The Spanish were willing to help and employ the slaves if they converted to Catholicism. With the help of these African Americans, and Native Americans from the nearby missions, the Spanish built Castillo de San Marcos.
The masonry star fort is the oldest of its kind still existing in the United States. Masonry refers to a structure that is built by individual units bound together.
A "star fort" was innovative during the time when the canon was the top strategy in battle. These forts were designed with bastions at the corner of each wall.
These spots protected "dead zones" of the fort and allowed firing to happen from positions protected from direct fire.
Each bastion at the Castillo had a name – San Pedro, San Agustin, San Carlos, and San Pablo. The fort was surrounded by a moat which was kept dry, but could be flooded by seawater in a hurry if needed.
The two century time period of 1700-1900 held the most comprehensive changes to America and created the country it is today.
These changes affected the Castillo between 1702 and 1821. The fort was tested in 1702, during what was referred to as Queen Anne's War.
The English intended to capture St. Augustine. Approximately 1,500 citizens were holed in the fort for over two months. The coquina structure proved strong as cannonballs could not puncture it.
Spanish troops from Cuba arrived to assist and in the end, the town of St. Augustine was destroyed. The fort however, remained intact.
Over the next 25 years, modifications were made and features were added. In 1740, the British attempted to destroy the Castillo.
Once again, townspeople and soldiers were barricaded in the fort, this time for 27 days. When the British realized their cannons were no match for the coquina walls, they were forced to retreat.
In 1763, after the Treaty of Paris was signed, the British took control of St. Augustine. They renamed the fort St. Mark.
By the end of the Revolutionary War, a set of treaties in 1783 transferred the fort back to Spain and the Spanish returned back to St. Augustine.
Throughout the changing times that created the history of the United States of America, the area eventually and permanently came to U.S. control as Florida was transferred to the ownership of the United States in 1821.
The U.S. renamed the fort Fort Marion after Revolutionary War hero Francis Marion. Fort Marion was involved in the Seminole Wars and even imprisoned famed Seminole chief Osceola in 1837.
During the Civil War, most of the artillery and equipment kept at For Marion was moved to more strategic forts in the south by the Confederacy.
By 1862, the city and the fort were surrendered to Union forces.
During the 1870s, the fort was mainly used as a location to keep Native American prisoners during wars in the West.
During 1886-1887, nearly 500 Apaches were held prisoner here, most being women and children, among them were members of Geronimo's tribe, including his wife.
By 1898, deserters of the Spanish-American war were kept prisoner at the fort.
This act of military service is the last recorded use of the fort which at that time had been established for over 200 years and had been under the direction of multiple countries.
In 1924 the fort was designated as a National Monument and in 1942, Congress reinstated the historical name of Castillo de San Marcos.
The walls of the Castillo, which still stand today, are a remembrance of the Latino and other cultures' determination in staking a claim in the New World.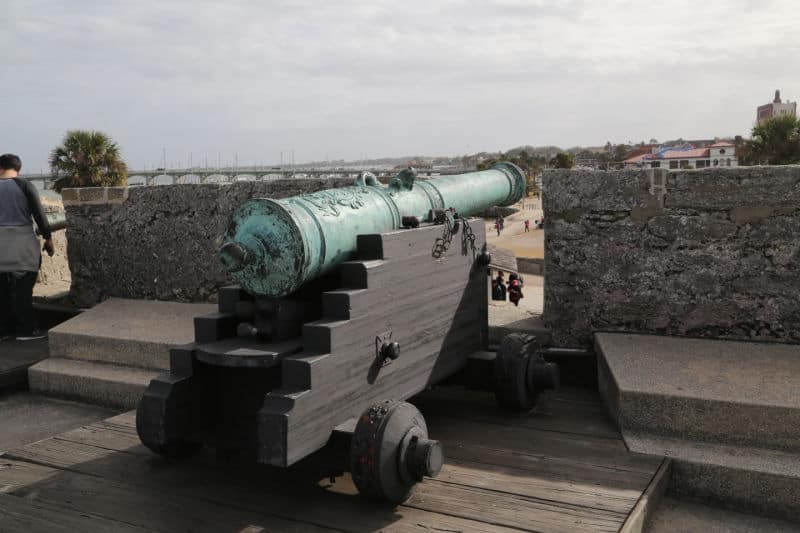 Things to know before your visit to Castillo de San Marcos National Monument
Entrance fee
Entrance fees are valid for 7 consecutive days.
Per Adult - $15
Per Child age 15 and under - $0
Annual Park Pass - $
Valid for one year through the month of purchase. Admits one private, non-commercial vehicle or its pass holder.
Learn more about National Park Passes for parks that have an entrance fee.
Free Entrance Days -Mark your calendars with the five free entrance days the National Park Service offers annually.
Time Zone
Eastern Time Zone
Pets
Pets are not allowed inside the structure of the Castillo de San Marcos. Pets must be kept on a leash at all times on the outside sections of the park.
Cell Service
We had great cell service while in St. Augustine, Florida.
Park Hours
First admission is at 8:45 am and the last admission is at 5:00 pm with the Castillo closing at 5:15 pm.
The park grounds are closed from midnight until 5:30 am.
Thanksgiving Day and Christmas Day, December 25
Wi-Fi
Public WiFi is not available at the Castillo.
Insect Repellent
Insect repellent is always a great idea when outdoors, especially if you are around any body of water.
We use Permethrin Spray on our clothes before our park trips.
Water Bottle
Make sure to bring your own water bottle and plenty of water with you. Plastic water bottles are not sold in the park.
Parking
Long-term (all day) parking is available for a fee in the city of St. Augustine parking garage just behind the Visitor Information Center which is located on the corner of West Castillo and South Castillo Drives, across from the Castillo headquarters building.
Parking in St. Augustine can be a bit of a mess. I had to walk 20 to 30 minutes from the parking spot I was able to find to the park
Larger vehicles can be parked at the corner of West Castillo Drive and Riberia Street. This lot is 3 blocks from the Castillo.
Food/Restaurants
There are no restaurants within the park. If you are looking for a place to eat while visiting check out these restaurants in St. Augustine
Gas
There are no gas stations within the park.
Drones
Drones are not permitted within National Park Sites.
National Park Passport Stamps
National Park Passport stamps can be found in the visitor center.
Make sure to bring your National Park Passport Book with you or we like to pack these circle stickers so we don't have to bring our entire book with us.
Castillo De San Marcos NM is part of the 1992 Passport Stamp Set
Electric Vehicle Charging
There are currently 23 EV Charging Stations within 10 miles of Saint Augustine, Florida.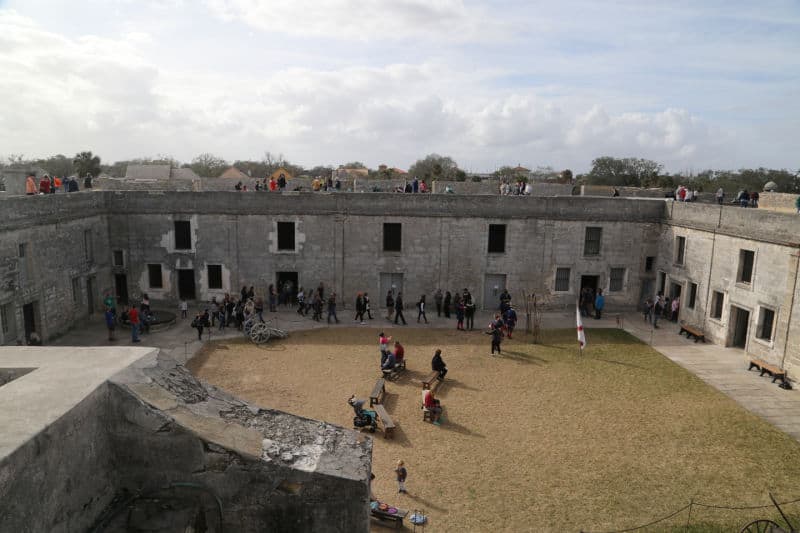 Details about Castillo de San Marcos National Monument
Size - 20.48 acres
Check out how this US National Monument compares to other National Parks by Size.
Date Established
Dedicated as a National Monument in 1924
Visitation
In 2021, Castille de San Marcos NM had 498,623 park visitors.
In 2020, Castille de San Marcos NM had 251,061 park visitors.
In 2019, Castille de San Marcos NM had 673,395 park visitors.
Learn more about the most visited and least visited National Parks in the US
National Park Address
11 South Castillo Drive
Saint Augustine, FL 32084
National Park Map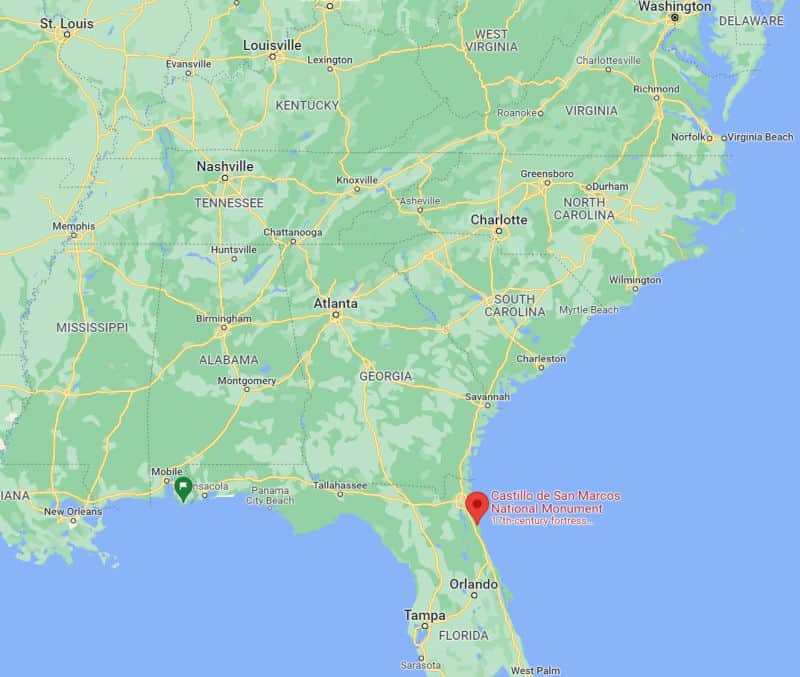 Where is Castillo de San Marcos National Monument?
Castille de San Marcos NM is located in St. Augustine, Florida
Estimated distance from major cities nearby
Jacksonville, FL - 41 miles
Orlando, FL - 105 miles
Tampa, FL - 188 miles
Miami, FL - 310 miles
Atlanta, GA - 385 miles
Charlotte, NC - 421 miles
Estimated Distance from nearby National Park
Biscayne National Park - 341 miles
Everglades National Park - 351 miles
Dry Tortugas National Park - 468 miles with a ferry ride
Congaree National Park - 316 miles
Mammoth Cave National Park - 723 miles
Where is the National Park Visitor Center?
There is no visitor center for the park. The park is primarily an outdoor park.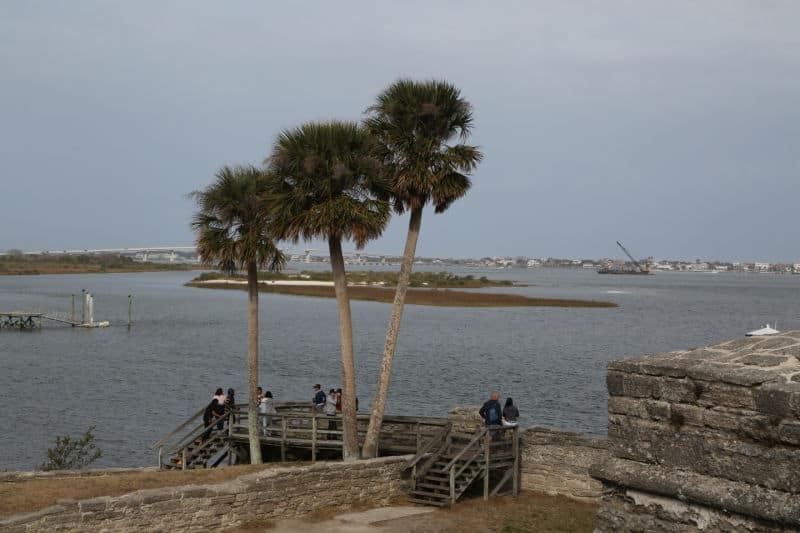 Getting to Castillo de San Marcos National Monument
Closest Airports
Jacksonville International Airport (JAX)
Daytona Beach International Airport
International Airports
Orlando Sanford International Airport
Orlando International Airport (MCO)
Regional Airports
Gainesville Regional Airport
Driving Directions
From I-95
Take the exit for St. Augustine Historic Sites and Downtown (State Road 16, Exit 318). Follow 16 to US 1; turn right and follow US 1 for approximately one mile to West Castillo Drive.
Turn left and follow West Castillo to the traffic light at San Marco Avenue. Turn right at the light, and the Castillo and parking lot are ahead on the left.
From US A1A
The Castillo is located on A1A in downtown St. Augustine.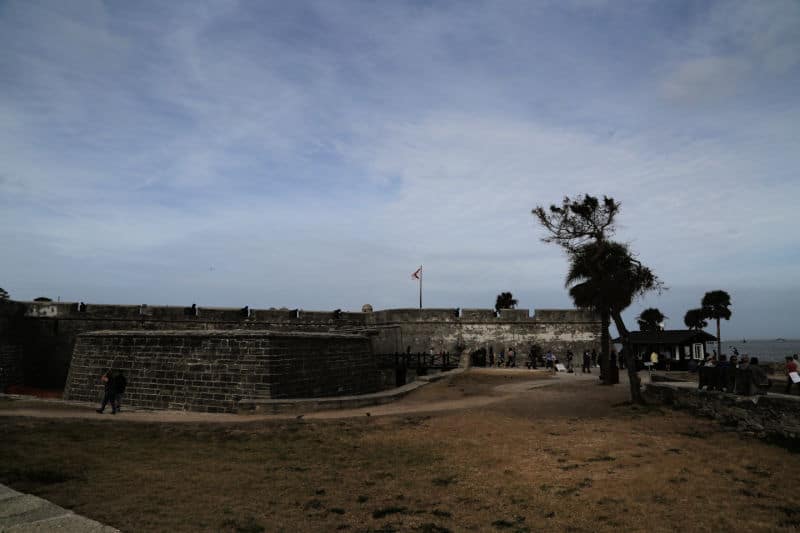 Best time to visit Castillo de San Marcos National Monument
The best time to visit the park to escape the crowds and heat of the summer is from mid-September to mid-November.
Weather and Seasons
Saint Augustine, Florida experiences hot summers and cool winters.
The hottest weather is from May 29th to September 23rd with an average daily temperature above 85 degrees.
The coldest weather is from December 5th to March 5th with an average daily temperature below 71 degrees.
The rainiest month is September with an average of 5.4 inches.
The muggiest weather is from April 26th to November 14th with August having the muggiest weather.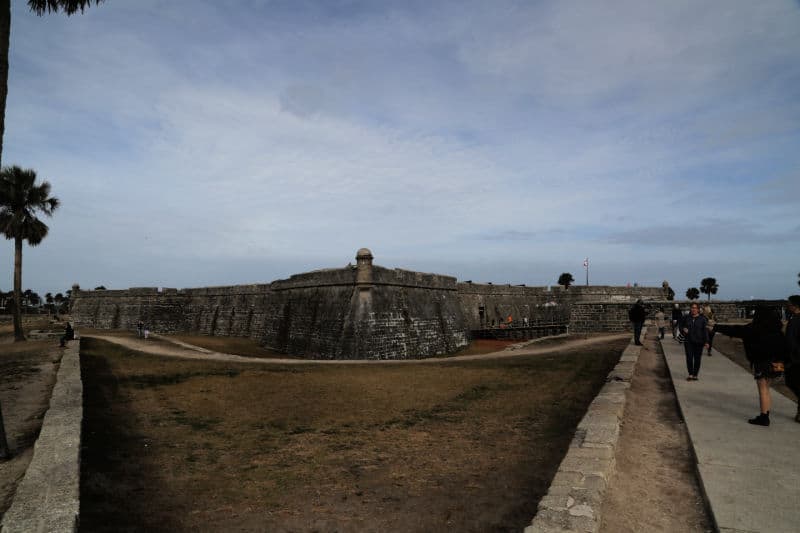 Best Things to do in Castillo de San Marcos National Monument
We suggest planning at minimum a few hours to explore the park and find parking.
Historic Weapons Demonstrations
Watch a demonstration of the weapons and hear about the experiences of the colonial Spanish soldier of 1740s St. Augustine.
Performed every Friday, Saturday, and Sunday at 10:30 AM, 11:30 AM, 1:30 PM, 2:30 PM, and 3:30 PM. The demonstration times may be changed due to weather or staffing.
You will want to give at least an hour to complete the Junior Ranger booklet. You can find the answers by watching the park video, checking out the park brochure, and exploring the fort.
Explore the Fort
Explore the forts casements and exhibits while soaking in the views.
Guided Tours
2 day history tour - If you want to learn more about the history of St. Augustine check out this history tour.
Private guided cart tour of St. Augustine - Enjoy a local guided tour of the 450 year history of St. Augustine
St. Augustine Boat and Walking Tour - Enjoy the unique opportunity of seeing St. Augustine from the water.
Check out all of the epic St. Augustine Tours on Viator.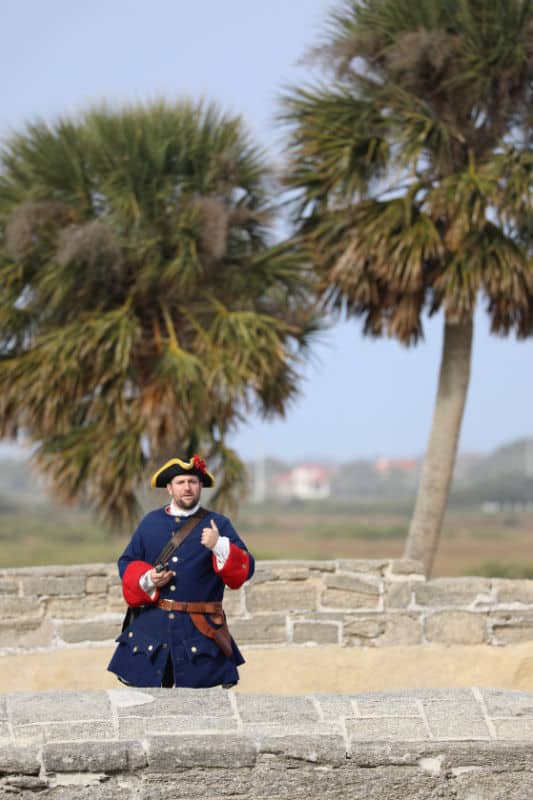 Hiking in Castillo de San Marcos National Monument
Always carry the 10 essentials for outdoor survival when exploring.
There is no real hiking at the fort but we want to remind you to bring water, sunscreen, and a hat with you!
Walking outside on the grounds of the park can get super hot!
How to beat the crowds in Castillo de San Marcos National Monument?
The best months to visit for low crowd levels is mid-September through mid-November. The park is incredibly busy from Christmas to New Years, during spring break, and winter breaks.
A busy Saturday can average over 3,500 visitors at the park. Visiting mid-week during the off-season is your best way to beat the crowds.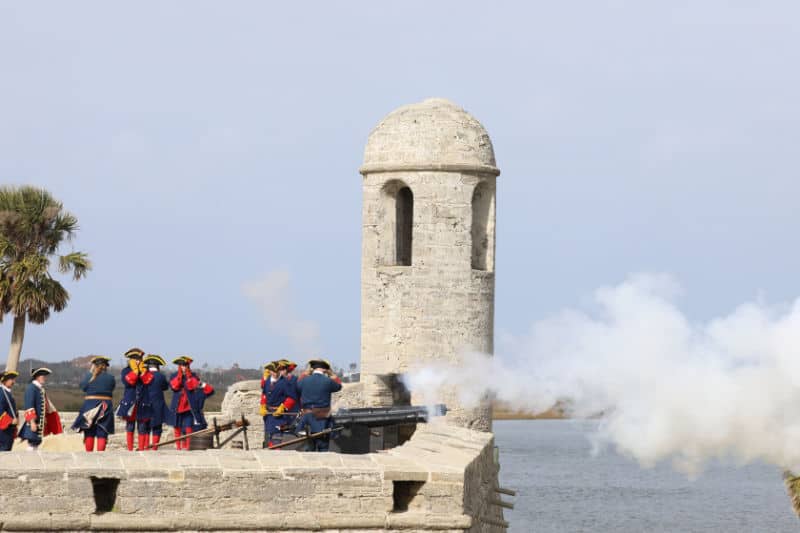 Where to stay when visiting Castillo de San Marcos National Monument
There are no National Park Lodges within the park.
There is a ton of different lodging and vacation rentals in St. Augustine.
Nearby hotels include
St George Inn - This hotel is a 2 minutes' walk from the iconic Castillo De San Marcos.
Villa 1565 - located adjacent to the "Old Senator," which is a 600-year-old live oak tree.
Southern Oaks Inn - This hotel offers A courtesy shuttle takes guests to the historic St Augustine.
For additional lodging options click on the map below to see rates for hotels and vacation rentals in the area.


St. Augustine Camping
There are no National Park Campgrounds within the park. There is camping available nearby including:
Sun Outdoors St. Augustine - St. Augustine, Fl
This campground offers lodging and RV sites, a pool, hiking, and more.
Ocean Grove RV Resort - St. Augustine, FL
This campground offers lodging, rv and tent sites, waterfront, a pool, and more.
333 Fish Camp - Crescent City, FL
This campground offers lodging, RV and tent sites, waterfront, pool, and more.
Check out additional campgrounds in the area on CampSpot.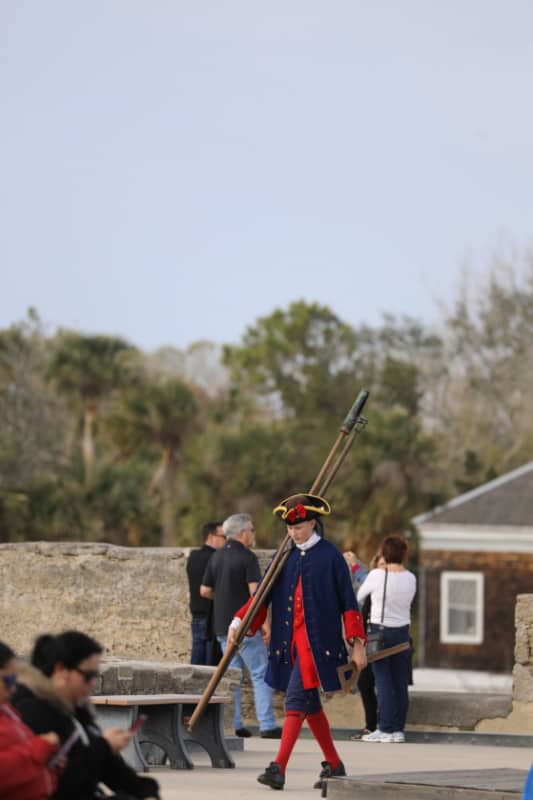 Parks Near Castillo de San Marcos National Monument
Fort Matanzas National Monument
Fort Caroline National Monument
Cumberland Island National Seashore
Timucuan Ecological and Historic Preserve
Gullah/Geechee Cultural Heritage Corridor
Check out all of the amazing things to do in St. Augustine with kids!
Check out these great hotels in St. Augustine
Check out all of the National Parks in Florida along with neighboring National Parks in Alabama and Georgia National Parks