Are you wondering what National Parks are near Miami, Florida? Don't worry we have you covered with all of the National Parks near Miami and some State Park suggestions too.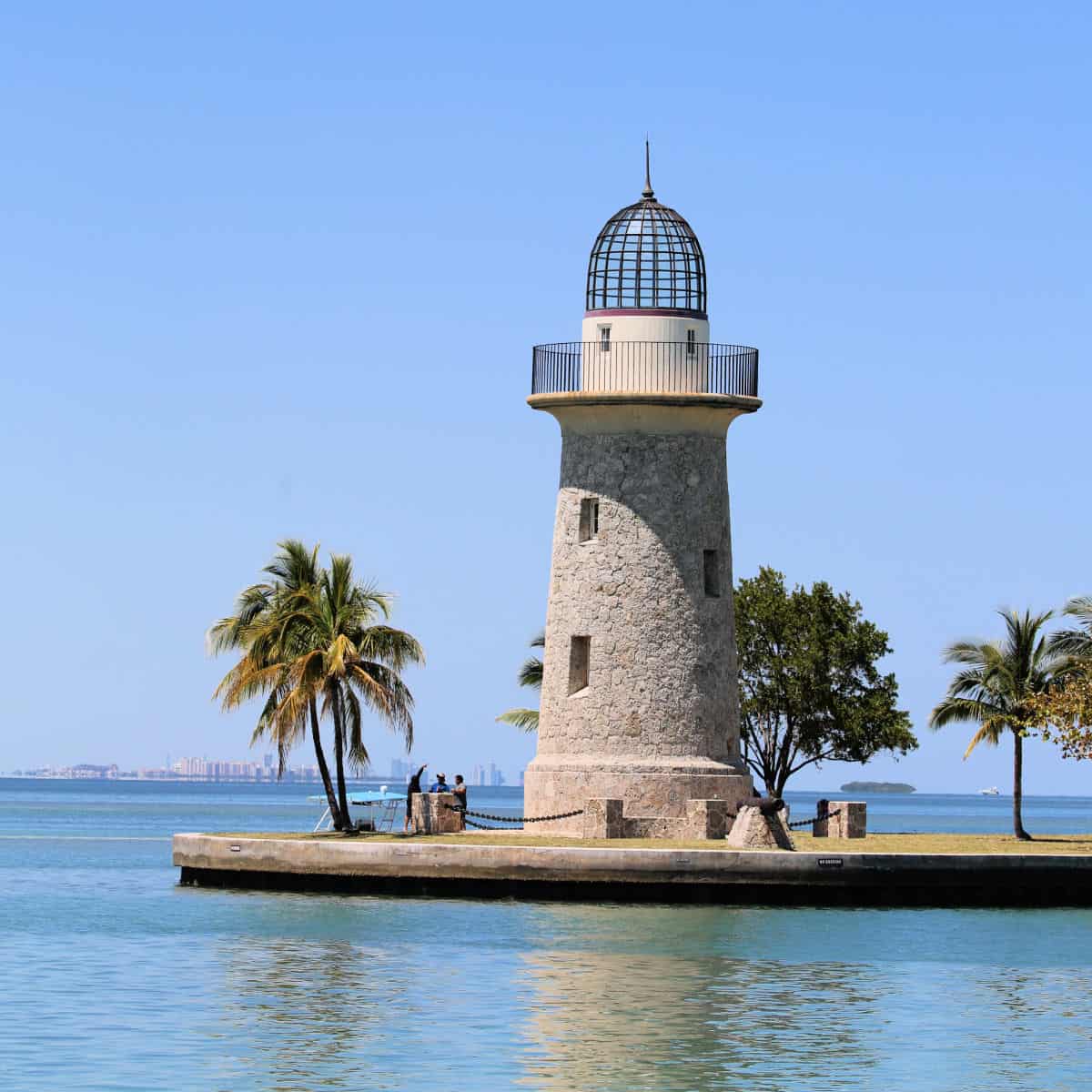 National Parks near Miami
Miami Dade County is home to Biscayne National Park along with some great Florida State Parks.
From Downtown Miami you can reach a National Park pretty quickly and be in one of our national treasures.
Each of these South Florida parks is within a days drive of Miami-Dade County area.
Miami is known for South Beach, great food, epic clubs, and beach time but some of the best parks in the National Park System can be reached easily.
If you are visiting the City of Miami area, Fort Lauderdale, Florida City, or surrounding communities these national parks are near you!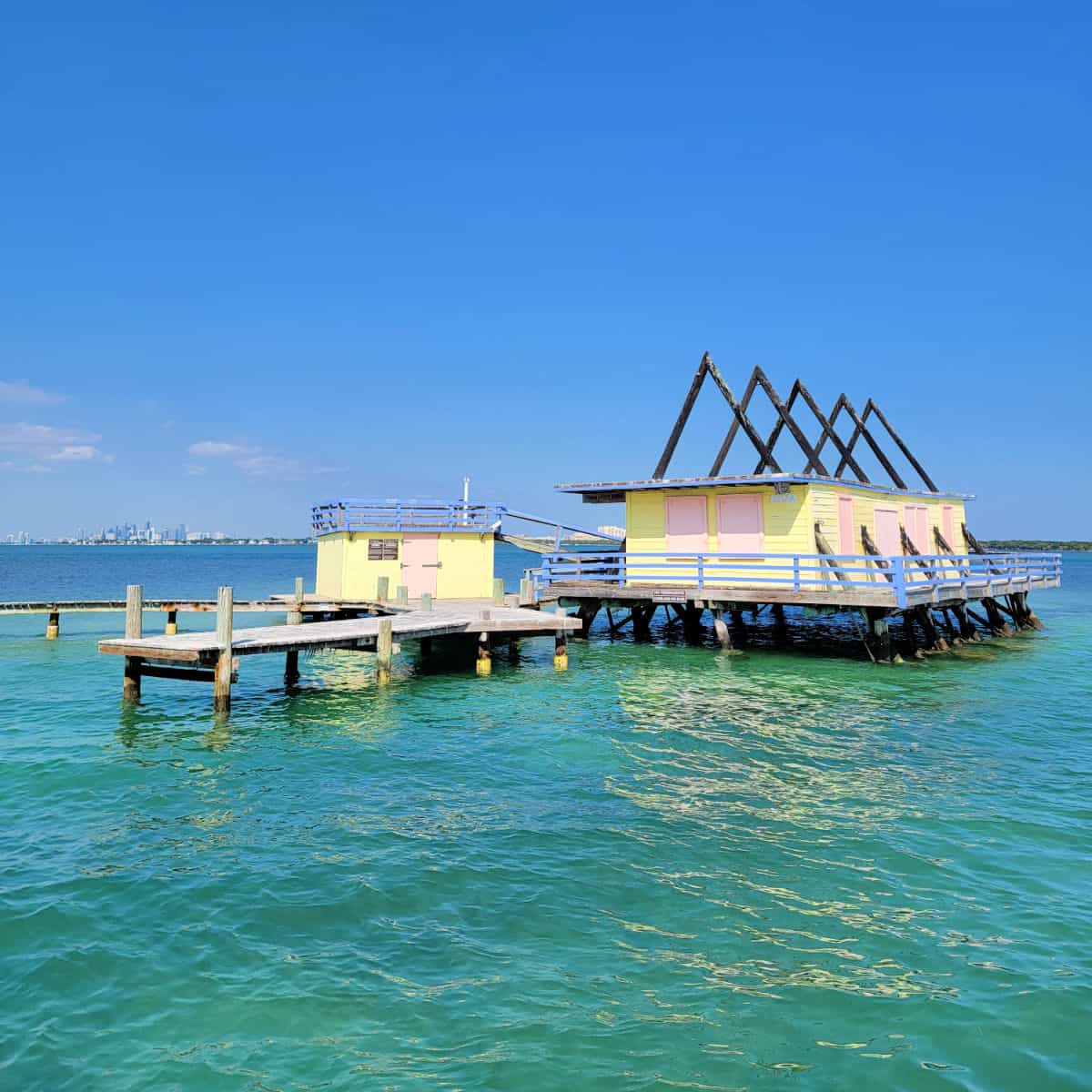 Distance from - 38 miles
Top Attractions - Maritime Heritage Trail, hiking trails, white sand beaches, Elliott Key, swimming, snorkeling, scuba diving, boat tour, and fishing
Lodging - There are no National Park Lodges in Biscayne National Park
Camping- There are two campgrounds in Biscayne National Park; both are on islands.
Park Address - 9700 SW 328th Street Sir Lancelot Jones Way Homestead, FL 33033
One of the most exciting things to do here is to check out the Maritime Heritage Trail, a snorkeling and diving trail that showcases six shipwrecks and an abundance of colorful marine life. And don't forget to explore the park's mangrove forests, which are home to all kinds of cool birds and wildlife.

The park is teeming with a variety of plant and animal species, and its clear blue waters make it an excellent place for all kinds of water activities, including swimming, snorkeling, scuba diving, and fishing.
You can take a guided boat tour to get the lay of the land, or if you prefer to keep your feet on dry ground, walk along the trails or relax on the white sand beaches.
Head out on a Stiltsville Boat Tour in the shallow waters of Biscayne Bay to see these historic buildings. Look for West Indian Manatee and more in one of the largest marine parks.
Take a Boca Chita Key boat tour to see the light house and epic views of Miami in the distance.
Scuba dive the coral reefs and coastal waters looking for sea turtles, manatees, and tropical fish.
Whether you're an adrenaline junkie or just looking for a chill escape from the hustle and bustle of city life, Biscayne National Park has got you covered. Come on down and experience the beauty of this amazing destination for yourself!
The Dante Fascell Visitor Center is the perfect place to start your visit.

Distance from - 48 miles
Top Attractions - wildlife viewing, bird watching, boat tours, fishing, hiking trails, kayaking, and a World Heritage Site.
Lodging - Apart from the camping grounds and Flamingo Lodge, the Everglades do not provide any other options for overnight lodging.
Camping- Camping is a year-round activity in Florida, and inside Everglades National Park, there are two options: Flamingo and Long Pine Key campsites
Park Address - 40001 State Road 9336, Homestead, FL 33034
Everglades National Park is a premier attraction in Florida, drawing millions of visitors every year. Spanning over 1.5 million acres, the park provides visitors with a rare opportunity to explore a distinct landscape featuring an impressive diversity of flora and fauna.
Numerous hiking trails, boardwalks, and waterways throughout the park offer opportunities to observe indigenous wildlife. Visitors can also engage in a range of activities such as kayaking, boating, and fishing.
Make sure to walk along the Anhinga Trail to see alligators, birds, and more! This is one of the best National Parks for wildlife watching.
Everglades Boat Tours are a fantastic opportunity to explore different areas of the park.
The Shark Valley Tram Tour takes you out into the park and provides the opportunity to learn more about one of the largest subtropical wilderness areas. The guided tour is relaxing and a great way to learn more about the park.
If you are really lucky you may see the elusive Florida Panther.
For history enthusiasts, the park houses several archaeological sites that offer a glimpse into the lifestyles of the Calusa Indians who once inhabited the area.
Everglades NP is the third largest National Park in contiguous United States after Death Valley and Yellowstone.
Overall, Everglades National Park is a must-see destination for its unique, unparalleled experience that is unmatched by any other location worldwide.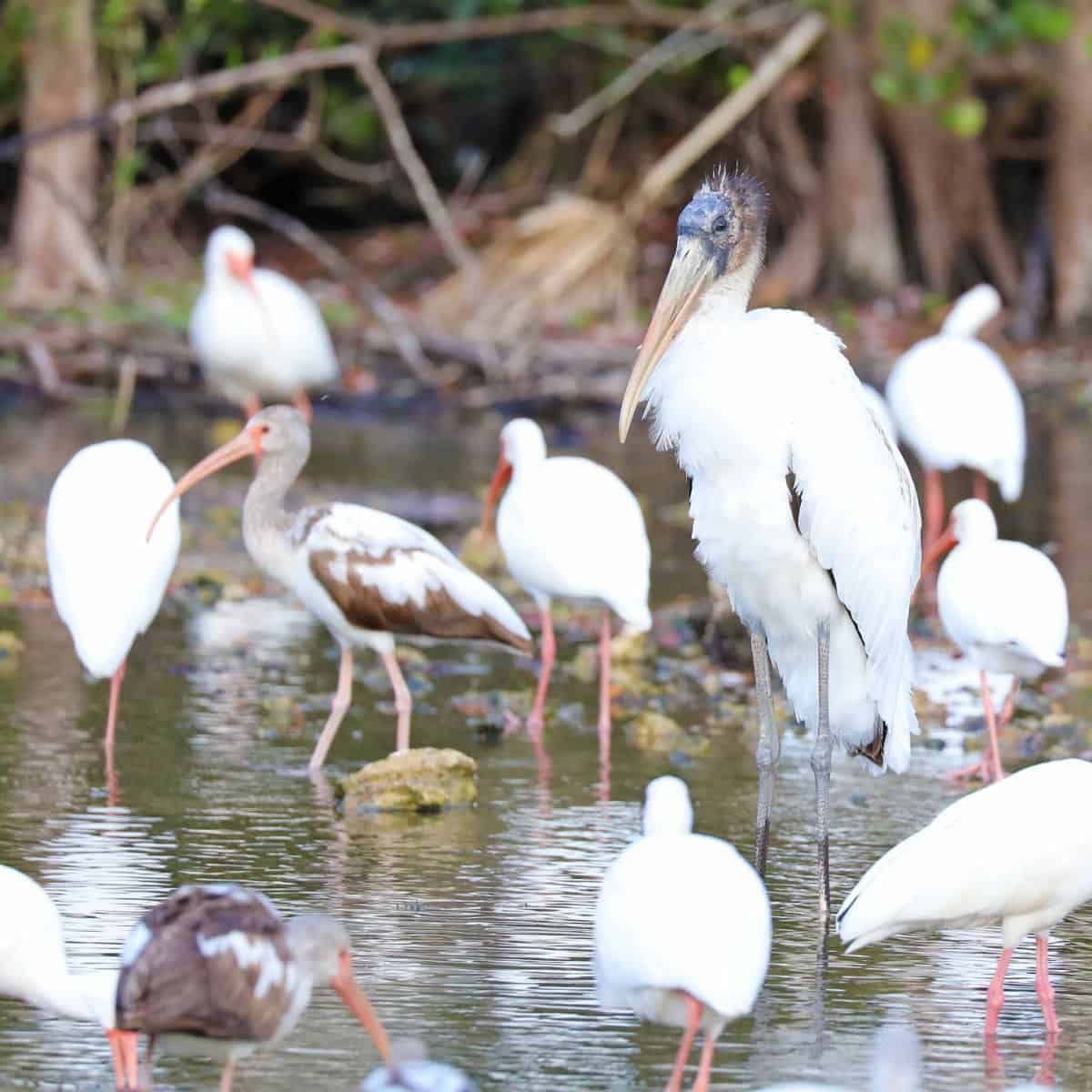 Distance from - 58 miles
Top Attractions - a scenic drive along the Tamiami Trail, hiking trails, The Loop Road, fishing, airboat rides, kayaking, and wildlife viewing
Lodging - There are no National Park Lodges within the park
Camping- There are eight front country National Park Service campgrounds available at Big Cypress National Preserve.
Park Address - Nathaniel P. Reed Visitor Center 33000 Tamiami Trail East, Ochopee, Florida 34141
Big Cypress National Preserve in southern Florida is a breathtaking natural treasure that both nature enthusiasts and adventurers should explore.
The Loop Road is also well-liked and offers the chance to witness black bears and Florida panthers. Explore the marshes, prairies, and woodlands along the Tamiami Trail, go on a hike in the swamp, or spot alligators and many bird species in this amazing habitat.
Fishing, airboat rides, and kayaking are available to water sports lovers. If you want to see Florida's wildlife up close and personal, this place should be at the top of your list.
Big Cypress National Preserve is the ideal location whether you're looking for adventure or simply want to take in the breathtaking beauty of nature.
Big Cypress is one of our favorite National Parks near Miami. It is so worth spending time exploring.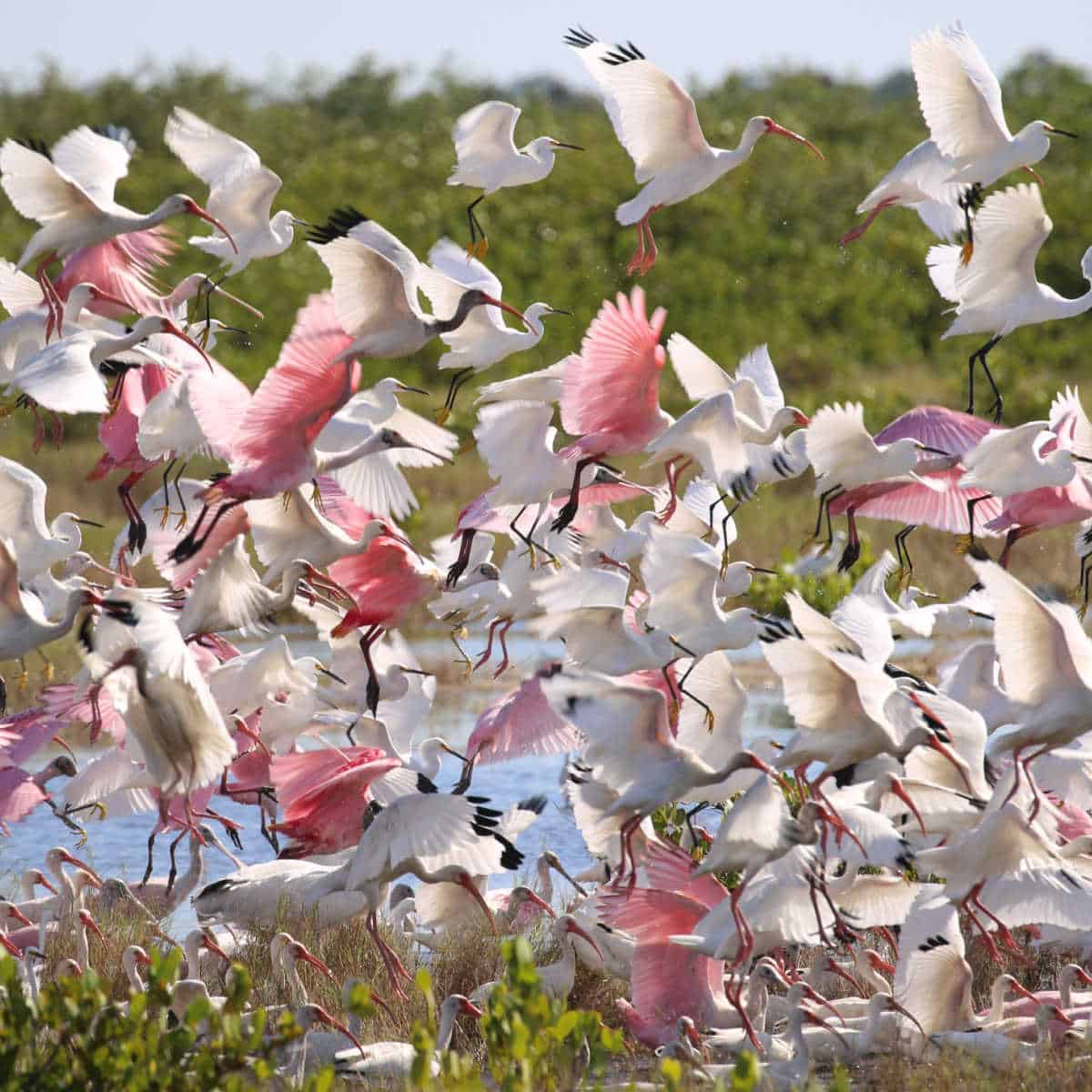 Distance from - 210 miles
Top Attractions - lagoons and wildlife. swimming, fishing, hiking, surfing, birdwatching and wildlife viewing
Lodging - There are no National Park lodges within the park
Camping- Primitive camping can be found on an island in Mosquito Lagoon, which can be reached through the Apollo Beach District or through nearby boat ramps.
Park Address - 212 S Washington Ave, Titusville, FL 32796, United States
Canaveral National Seashore, located on Florida's east coast, is a breathtaking nature reserve sprawling over 57,000 acres, home to beautiful beaches, serene lagoons, and thriving wildlife.
The reserve offers diverse activities, including swimming, fishing, hiking, surfing, bird watching, and wildlife spotting, catering to everyone's interests.
The habitats are unique, preserving soft ocean beaches, rolling dunes, marshes, mangrove forests, and hardwood hammocks, giving a safe haven to many endangered plant and animal species.
This ecological destination is significant, attracting visitors to observe and appreciate the natural environment. Exploring the Canaveral National Seashore will undoubtedly be a memorable and educational experience for all visitors enjoying Florida's magnificent coastline.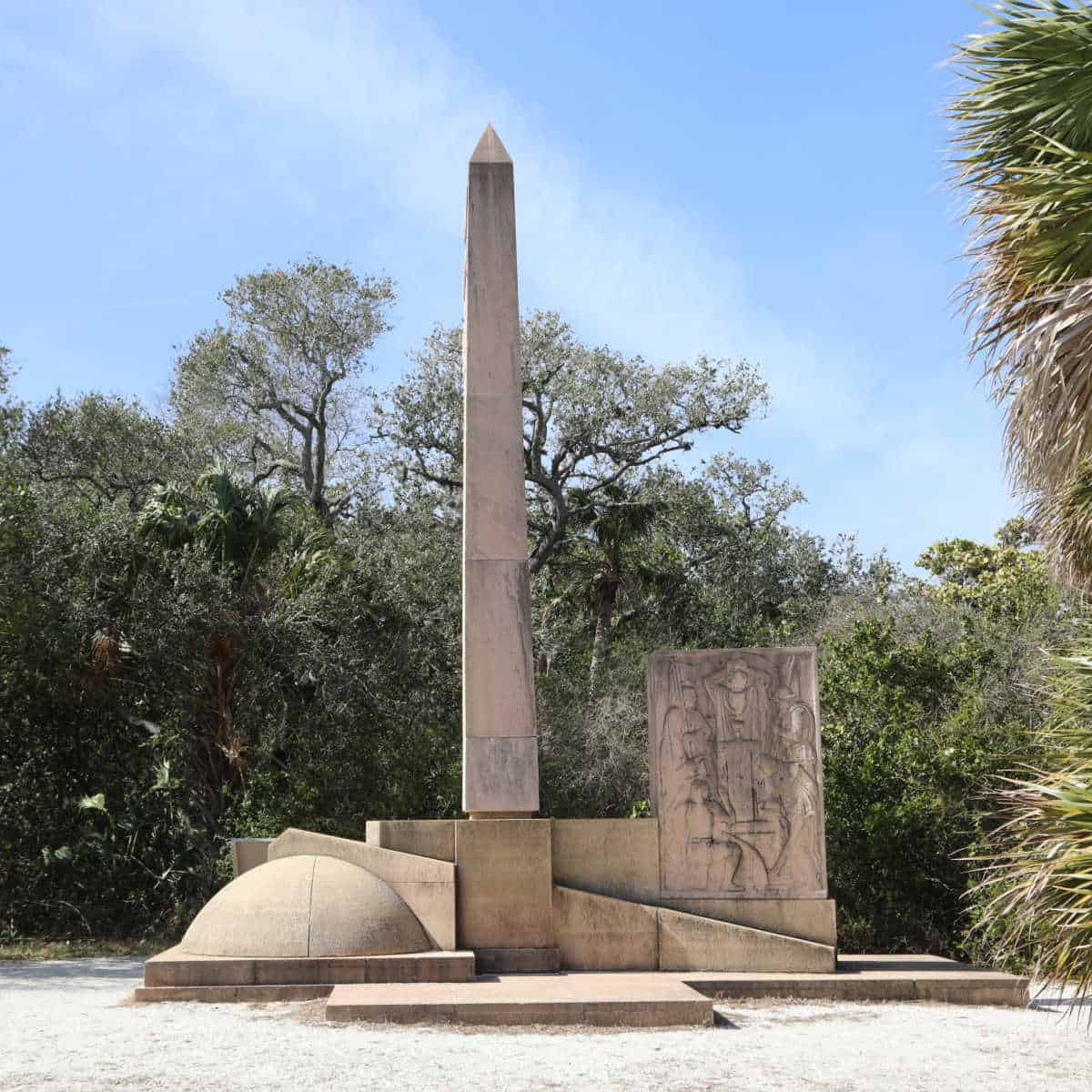 Distance from - 248 miles
Top Attractions - archaeological exhibits, educational programs, and hiking trails
Lodging - De Soto National Memorial does not offer any lodging within its site.
Camping- Camping facilities are not available at De Soto National Memorial. The park premises are off-limits to the public during nighttime hours, from sunset to sunrise.
Park Address - 8300 Desoto Memorial Hwy, Bradenton, FL 34209, US
The De Soto National Memorial in Bradenton, Florida, pays homage to the first organized European exploration of the United States led by Spanish explorer Hernando de Soto in 1539.
Established in 1948, this national monument is a tribute to de Soto's incredible journey through the Southeastern United States.
The visitor center features fascinating archaeological exhibits and an indoor theater, while the reconstructed 16th-century village provides a vivid glimpse into the daily lives of the native people who crossed paths with the Spanish.
Guided tours, educational programs, and hiking trails with picturesque views of the surrounding area are also available for visitors to enjoy.
By celebrating the cultural and historical significance of the people encountered by de Soto, the De Soto National Memorial offers a unique perspective on this important period in American history.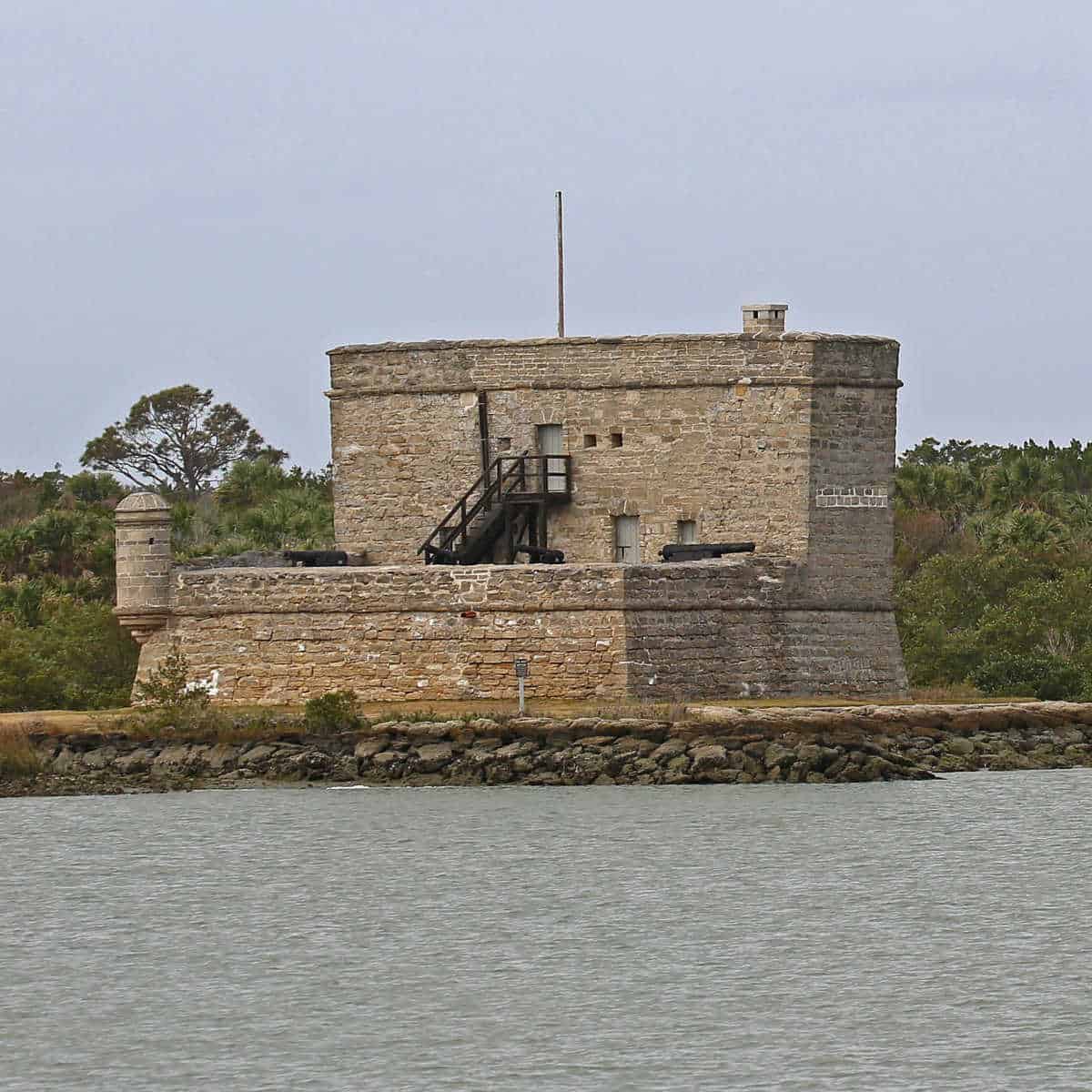 Distance from -- 298 miles
Top Attractions - living history, fishing, nature trails, boat tour, stunning views and coastal wildlife
Lodging - There are no National Park lodges within the park
Camping- Fort Matanzas National Monument does not offer camping within the park grounds. However, there are several camping grounds located nearby for those who wish to explore the park and its surrounding areas.
Park Address - 8635 A1A South, St. Augustine, FL 32080
Fort Matanzas National Monument is a must-see attraction for history buffs and nature enthusiasts alike. Located on Florida's east coast, visitors can explore the fort and learn about its role in defending the city of St. Augustine during the 18th and 19th centuries.
The fort itself is a unique example of Spanish colonial military architecture and features stunning views of the surrounding salt marshes and coastal wildlife.
Visitors can also take a boat tour to nearby Rattlesnake Island to explore the pristine beaches and natural beauty of the area.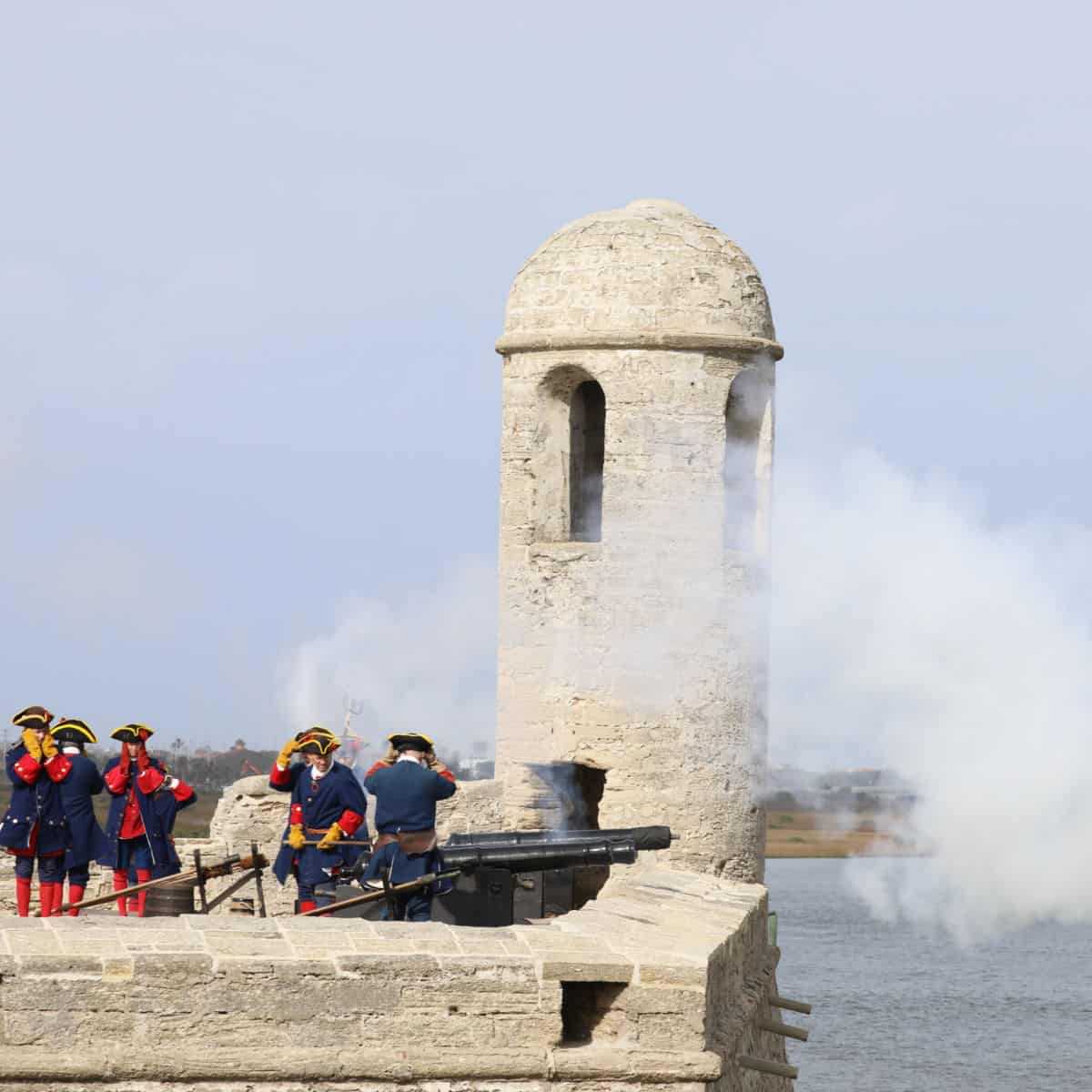 Castillo De San Marcos National Monument
Distance from -- 312 miles
Top Attractions - historic weapons and demonstrations, stunning views and amazing sunsets
Lodging - There is no lodging available within the Castillo De San Marcos National Monument
Camping- The Castillo de San Marcos does not have any designated camping areas
Park Address - 11 S Castillo Dr, St. Augustine, FL 32084, USA
The Castillo De San Marcos National Monument in St. Augustine, Florida is a popular spot for those who love history and architecture. Built in the late 1600s using coquina, a local sedimentary rock, this impressive construction boasts multiple rooms and corridors that visitors can explore. Interesting features include the gun deck and chapel.
Throughout the year, the fort offers demonstrations and reenactments that give guests a chance to experience life as it was for soldiers and civilians during its active years.
Not only is the fort historically significant, but visitors can also enjoy stunning views of the marshland and waterfront.
If you're looking for an unforgettable experience full of history and architecture, consider adding the Castillo De San Marcos National Monument to your itinerary.
Distance From - 165 miles to Key West, then you will need to take the Dry Tortugas Ferry or a float plane to the island.
Top Attractions - Historic Fort Jefferson, Snorkeling, Dry Tortugas Ferry, Bird Watching.
Lodging - There are no National Park Lodges in the park.
Camping - Dry Tortugas Camping offers the opportunity to camp on a remote island. It is a bucket list experience.
Park Address - The park address is the main park office not the location for the visitor center which is located on Garden Key.
Dry Tortugas National Park is located almost 70 miles from Key West. The park includes 100 square miles of water and seven small islands.
The only way to reach the park is via seaplane or a boat (private or the Dry Tortugas Ferry). While it can be an adventure to reach the park it is well worth it!
Seeing Fort Jefferson in the distance from the ferry is awe inspiring. Once you reach the island it is amazing to think of people living so far away from the mainland of Florida.
This park is the polar opposite of the hustle and bustle of downtown Miami and South Beach. Here you can enjoy a peaceful day wandering the fort, snorkeling, and soaking in epic views.
Florida State Parks near Miami
There are quite a few Florida State Parks near Miami that are well worth visiting.
Marjory Stoneman Douglas House
The Barnacle Historic State Park
Oleta River State Park
Bill Baggs Cape Florida State Park
Hugh Taylor Birch State Park
Collier-Seminole State Park
A little farther south heading towards Key West you will find the following Florida State Parks
Dagny Johnson Key Largo Hammock Botanical State Park
Bahia Honda State Park
John Pennekamp Coral Reef State Park
Florida Keys Overseas Heritage Trail
Windley Key Fossil Reef Geological State Park
Lignumvitae Key Botanical State Park
Long Key State Park
Curry Hammock State Park
Frequently Asked Questions about Miami National Parks
What is the closest National Park to Miami?
The closest National Park near Miami is Biscayne National Park. A close second is Everglades National Park located near the city of Homestead, Florida.
What activities are available in Miami National Parks?
The epic National Parks near Miami offer the opportunity to enjoy guided boat tours, hiking, wildlife and bird watching, snorkeling and scuba diving, beach time, and so much more.
Are there entrance fees to visit Miami National Parks?
Yes and No, Biscayne National Park does not have an entrance fee and is free to visit.
Everglades National Park along with Dry Tortugas National Park both have an entrance fee.
Planning a National Park vacation? America the Beautiful/National Park Pass covers entrance fees for an entire year to all US National Park Sites and over 2,000 Federal Recreation Fee Sites.
The park pass covers everyone in the car for per vehicle sites and for up to 4 adults for per-person sites.
Buy on REI.com and REI will donate 10% of pass proceeds to the National Forest Foundation, National Park Foundation and the U.S. Endowment for Forestry & Communities.
Free Entrance Days -Mark your calendars with the five free entrance days the National Park Service offers annually.
What is the best time of year to visit these national park sites?
We all know summer in South Florida means hot humid days. These can be the perfect day for taking a boat tour or heading out snorkeling or scuba diving.
If you are interested in wildlife we suggest visiting in the early morning so the weather is cooler and the wildlife is more abundant.
Winter is a fantastic time to visit. There are less mosquitoes and the weather is cooler. That being said winter is the busiest time of year for tourism so the parks may be crowded.
We hope you enjoy visiting these amazing National Parks near Miami, Florida! Let us know your favorite park to visit.