Fort Matanzas National Monument is located 14 miles south of St. Augustine, Florida. St. Augustine is also home to another famous fort and National Park site, Castillo De San Marcos National Monument.
Castillo De San Marcos was constructed in 1695 and was Spain's military outpost. The Matanzas inlet was the only weakness to Castillo De San Marcos and St. Augustine so Fort Matanzas was constructed in 1740-1742.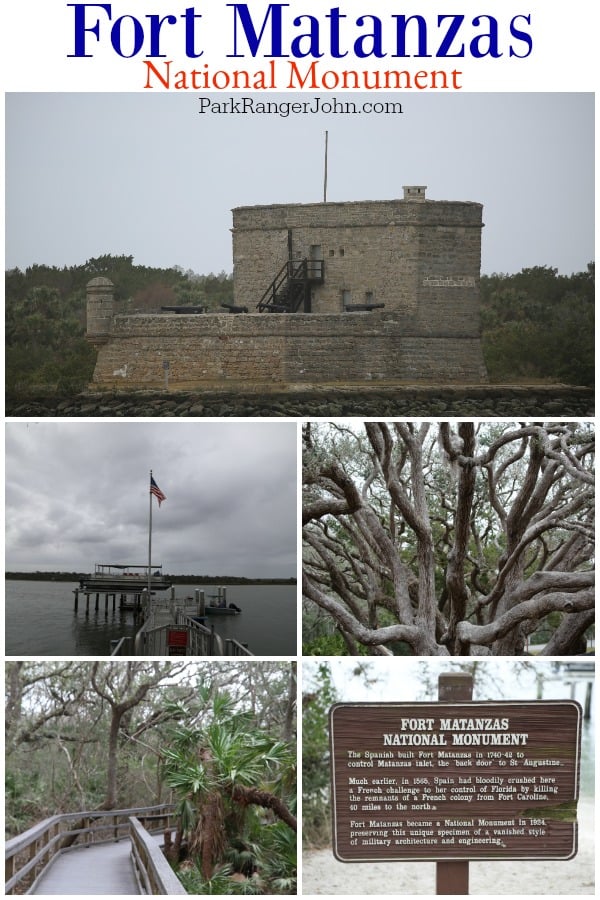 Fort Matanzas National Monument
Fort Matanzas was built with coquina which is a limestone-like mix of shells and sand naturally cemented with calcium carbonate. The fort was attacked while under construction by the British but were repelled by Spanish ships.
After the fort was completed it only saw action once in 1742 when British ships sailed into the inlet but turned back once they face cannon fire.
Included within the National Monument are the 300 acres of barrier island salt marsh, forest, and dunes. Fort Matanzas is located on Rattlesnake Island and you will need to be on an NPS ferry from Anastasia Island.
Things To Do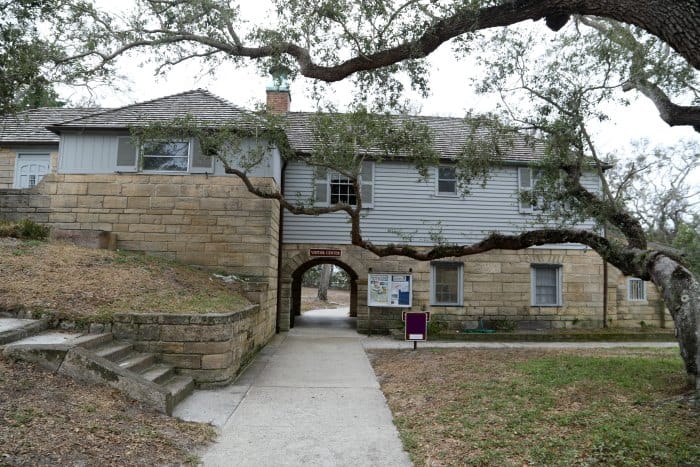 Visitor Center
Stop by the parks visitor center and watch the 8-minute video about the park's history. This will definitely lead to a much better understanding of the area and the importance of these forts.
This is also the place to get your boarding pass to catch the park's ferry across the river to Fort Matanzas. The boarding passes are free but you must have a boarding pass to ride the ferry.
Don't forget to ask the ranger or park volunteer in the visitor center about birdwatching opportunities in the area. I was given all kinds of great information and ended up seeing lots of birds!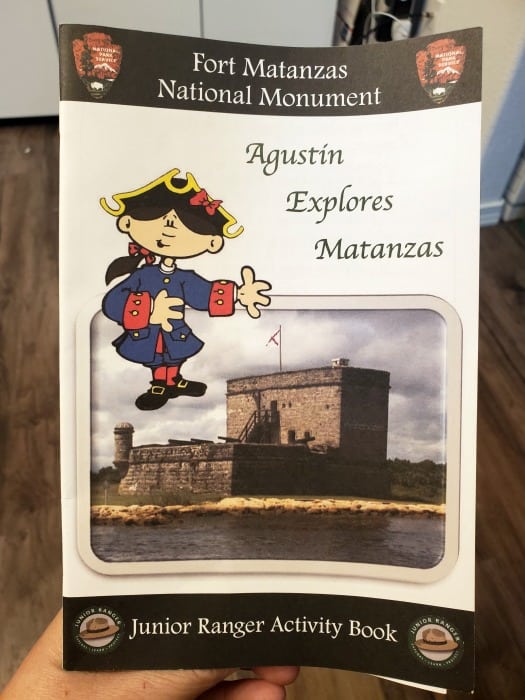 Become a Junior Ranger
You can pick up a Fort Matanzas Junior Ranger packet at the visitor center. The booklet is divided into activities for ages 4 to 7 and then ages 8 to 14. Adults and older kids can become Master Junior Rangers by completing all of the booklet and specific bonus pages within the book.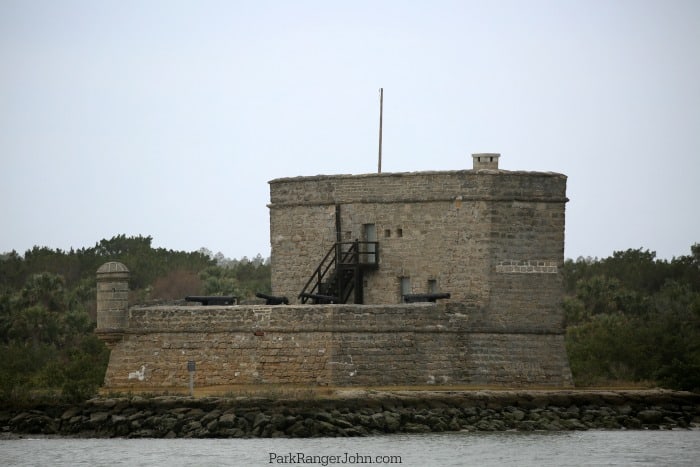 Take the Boat Ride to the Fort
The ferry ride is operated on a first-come-first-served basis and can hold 35 passengers per trip. The only place to get your boarding pass is the park's visitor center and there are 8 daily departures depending on the weather.
Departure times are: 9:30am, 10:30am, 11:30am, 12:30pm, 1:30pm, 2:30pm, 3:30pm and 4:30pm.
Make sure and get your boarding pass from the National Park Service Fort Matanzas visitor center and not from the city of St. Augustine visitor center.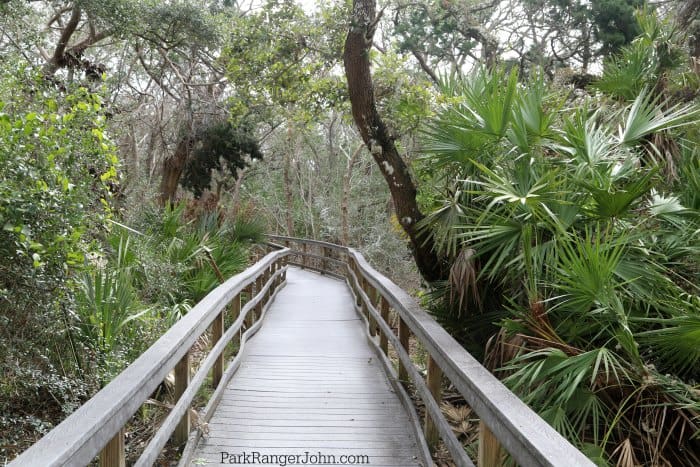 Hike the 1/2 mile nature trail
This is a very relaxing 1/2 mile boardwalk nature trail!
You get to enjoy a leisurely stroll through the maritime forest while listening to the birds and enjoy the shade from the Florida sun.
Go Birdwatching
Fort Matanzas is a great place to go birdwatching! You have the Atlantic nearby, the Matanzas River and the Maritime forest to attract all sorts of birds from Herons, Egrets and many other shorebirds to owls, doves, Tanagers and buntings!
There is much more than this so make sure to get their bird list and see how many you can find.
Things to know when planning a trip to Fort Matanzas
Park Address: 8635 A1A South, St. Augustine, Florida, United States
Park phone number: (904)471-0116
GPS Coordinates: 29.7152° N, 81.2392° W
Park Hours: 9 am through 5:30 pm daily.
Fort Matanzas is closed on Thanksgiving Day and Christmas Day.
Fort Matanzas Visitor Center is open from 9 am through 4:30 pm daily
Entrance Fee: $0.00, There are no fees to enter the park or to take the ferry to the fort.
Alcohol and Metal Detecting is prohibited.
Do not climb or sit on fort walls.
Pets must be on a leash at all times.
Safety Tips
The fort was built for war, not safety! You will want to watch out for uneven and slippery surfaces.
Do not climb, sit or stand on cannons, cannon carriages, or the shell stone walls of the fort.
Beware of slippery rocks and sharp oyster shells along the river banks.
Lightning can happen without warning. Seek shelter if a storm is coming.
Wear bug spray! Mosquitos and gnats are present.
Wear sunscreen and drink plenty of water. The Florida sun is no joke!
Watch out for but do not pet, feed, or touch deer, birds, raccoons, spiders, snakes or crabs.
National Park sites near Fort Matanzas
Castillo De San Marcos National Historic Site
Fort Caroline National Memorial
Timucuan Ecological and Historic Preserve
Check out all of the Florida National Parks and neighboring National Parks in Georgia
Here are some tips for planning an epic scenic drive in Florida to see more of this beautiful state!