Complete Guide to Fort Matanzas National Monument in Florida, including things to do, history, nearby lodging and camping, directions, and so much more.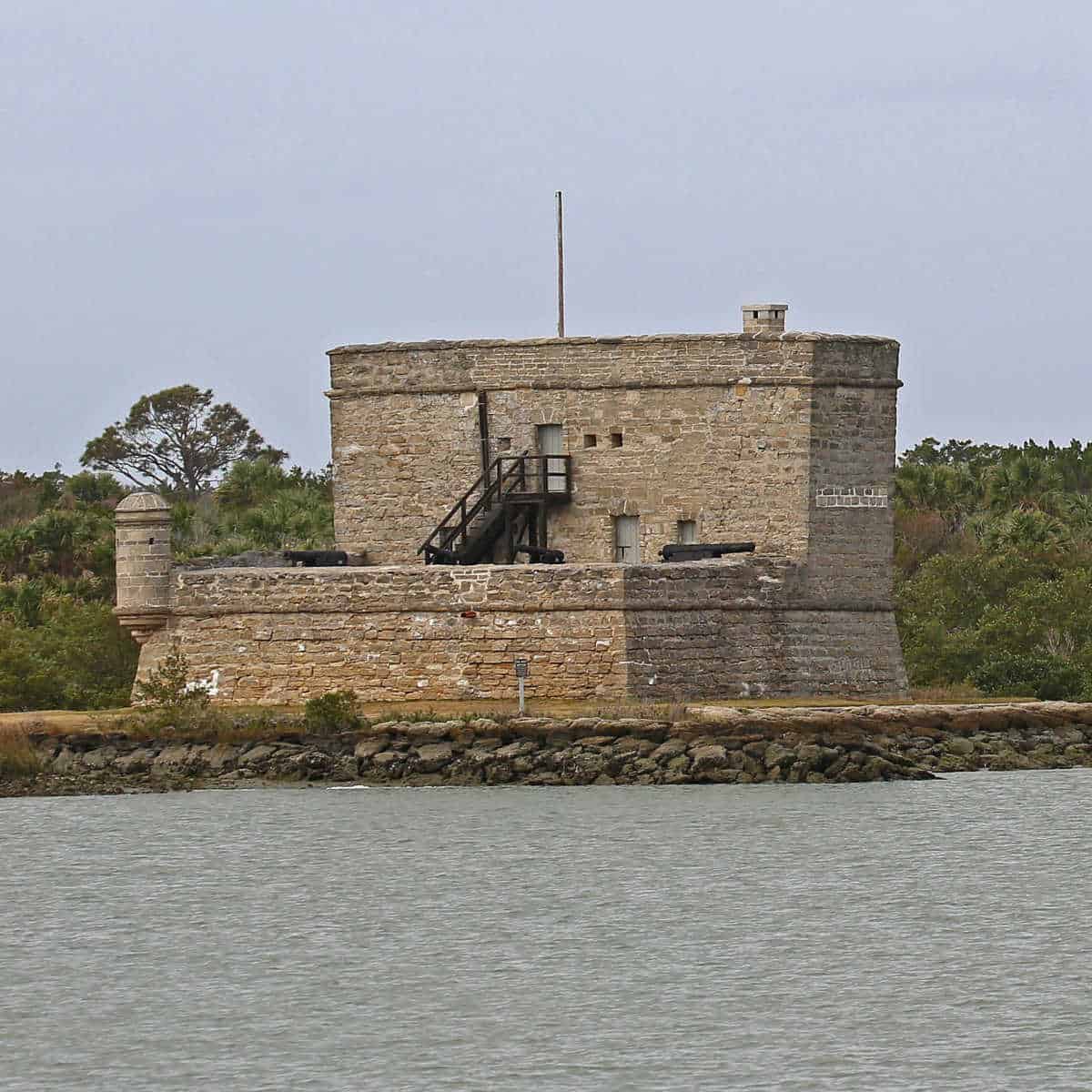 Fort Matanzas National Monument
Fort Matanzas National Monument is located 14 miles south of St Augustine, Florida.
St. Augustine is also home to another famous fort and National Park site, Castillo De San Marcos National Monument.
About Fort Matanzas National Monument
Castillo De San Marcos was constructed in 1695 and was Spain's military outpost.
The Matanzas inlet was the only weakness to Castillo De San Marcos and St. Augustine so Fort Matanzas was constructed in 1740-1742.
Fort Matanzas was built with coquina which is a limestone-like mix of shells and sand naturally cemented with calcium carbonate.
The fort was attacked while under construction by the British but were repelled by Spanish ships.
After the fort was completed, it only saw action once in 1742, when British ships sailed into the inlet but turned back once they face cannon fire.
Included within the National Monument are the 300 acres of barrier island salt marsh, forest, and dunes.
Fort Matanzas is located on Rattlesnake Island, and you will need to be on an NPS ferry from Anastasia Island.
Is Fort Matanzas National Monument worth visiting?
Fort Matanzas National Monument is a truly unique and must-visit destination for everyone. Not only is it budget-friendly, but it also offers an unparalleled opportunity to experience a piece of history in a serene and natural setting.
Whether you are a history buff, bird watcher, or want a great day out with the whole family you will love Fort Matanzas.
One of my favorite things about being a Park Ranger is getting to share my love of parks, beautiful nature trails, and national treasures with everyone and this park definitely fits the list.
History of Fort Matanzas National Monument
Fort Matanzas National Monument is located on the Matanzas River on the northern Atlantic coast of Florida.
It was designated a National Monument in 1924 and has a direct historical connection to nearby Castillo de San Marcos National Monument at St. Augustine, Florida.
Fort Matanzas was built by the Spanish in 1742. In 1565, almost 200 years before Fort Matanzas was built, the Matanzas Inlet was the site of a brutal battle between French and Spanish forces.
King Phillip II of Spain had ordered his New World admiral, General Pedro Menéndez de Aviles, to wipe out the French colonists in Florida.
Having settled in St. Augustine, the Spanish fleet of 500 soldiers led by Pedro Menéndez de Avilés, traveled north and attacked the very weak French colony at Fort Caroline.
The Spanish completely destroyed Fort Caroline and killed many of the French settlers. Over 100 French soldiers were killed. Two weeks later, the same events unfolded with the French again surrendering.
This time 134 of them were killed near the inlet. It was at this time that the river was referred to as the Matanzas River or "Slaughters River" in Spanish.
To understand the need and origin for Fort Matanzas 200 years later, you must understand the history of Castillo de San Marcos.
In 1668, an English privateer raided the Spanish territory of St. Augustine, Florida, ravishing the town and nearly destroying the wooden fort that was in place.
The Spanish knew it was necessary to build an impressive fort to protect St. Augustine. It was in 1672, that the first coquina stones were laid. Native to the area, coquina stones were a type of sedimentary rock similar to limestone.
The name coquina means "small shells." It took years to complete the project and by 1695, the core of the fort was finally completed.
St. Augustine had a number of escaped slaves from Charles Town residing there.
The Spanish were willing to help and employ the slaves if they converted to Catholicism. With the help of these African Americans, and Native Americans from the nearby missions, the Spanish built Castillo de San Marcos.
The fort was tested in 1702, when Gov. James Oglethorpe of Georgia used the southern mouth of the Matanzas River, called the Matanzas Inlet, to blockade St. Augustine.
This route allowed the attackers to enter St. Augustine from the rear and avoid direct contact with the Castillo.
The siege lasted nearly two months with the Spanish holed up in the Castillo. The strong, fortified fort withstood the battle, but the town of St. Augustine was nearly destroyed.
The Spanish knew a strategy needed to be in place for protecting the Matanzas Inlet. In 1742, Fort Matanzas was built for this purpose.
The Spanish called the site Torre de Matanzas (Matanzas Tower). This structure was also made of coquina, as the Spanish knew how successful a resource this was in building their military structures.
Soldiers on duty at the Castillo took their rotations at Fort Matanzas – a standard shift at any normal time was one head soldier, four infantrymen and two gunmen.
Five cannons were brought to Fort Matanzas. The only time Fort Matanzas saw military action was shortly before its construction was completed in 1742.
Oglethorpe returned to the inlet with numerous ships which were fired upon by Spanish cannons. Oglethorpe was forced to retreat without making it near the Castillo or St. Augustine.
The rule of the area of St. Augustine was ever changing from the 1700s to the early 1800s.
From Spanish rule, to British, back to Spanish and then finally owned by the United States when Florida was established in 1821.
By the early 1900s, the fort was badly deteriorated. The U.S. War Department took to restoring the fort, stabilizing the structure and repairing the walls. In 1924, the site was designated as a National Monument.
The headquarters and visitor center to this National Monument was built in 1936. This building sits on Anastasia Island, which is a short boat ride from Fort Matanzas.
The building boasts a rustic architectural style and was listed in 2008 on the National Registry of Historic Places.
The walls of the first floor are made of the historic coquina block masonry which is seen in the centuries old Fort Matanzas and Fort Cabrillo de San Marcos.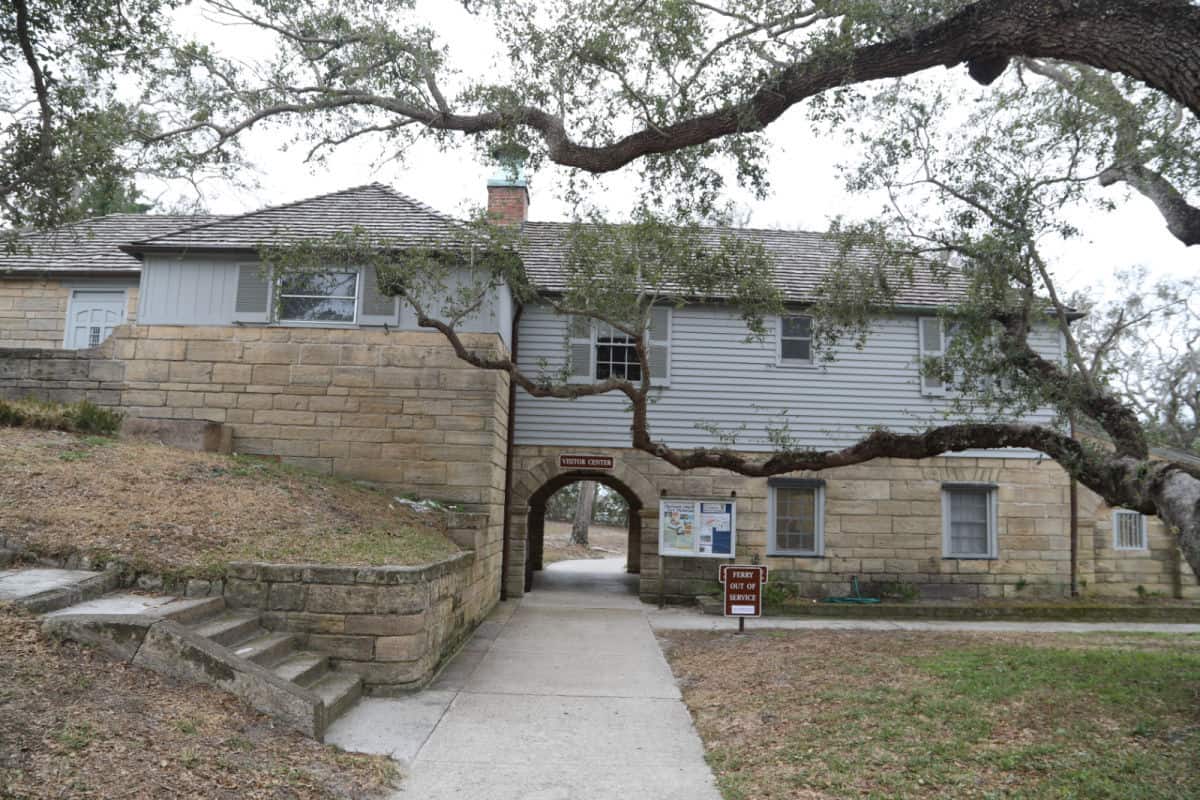 Things to know before your visit to Fort Matanzas National Monument
Entrance fee
$0.00, There are no fees to enter the park or to take the ferry to the fort.
Learn more about National Park Passes for parks that have an entrance fee.
Free Entrance Days -Mark your calendars with the five free entrance days the National Park Service offers annually.
Time Zone
Eastern Time Zone
Pets
The park allows leashed pets (6-foot length) along the beach and trails, but not in the visitor center, on the boat, or at the fort.
Cell Service
It can be difficult to get a good signal in remote areas of the park.
Park Hours
9 am through 5:30 pm daily.
Fort Matanzas is closed on Thanksgiving Day and Christmas Day.
Fort Matanzas Visitor Center is open from 9 am through 4:30 pm daily
Wi-Fi
There is public Wi-Fi inside and around the Visitor Center and the ferry dock waiting area.
Insect Repellent
Insect repellent is always a great idea when outdoors, especially if you are around any body of water.
We use Permethrin Spray on our clothes before our park trips.
Water Bottle
Make sure to bring your own water bottle and plenty of water with you. Plastic water bottles are not sold in the park.
Parking
There is plenty of parking available for visitors, while the parking lot for RVs is limited.
Food/Restaurants
There are no restaurants within the park. There are great restaurants in St. Augustine, Florida.
Gas
There are no gas stations in the park.
Drones
Drones are not permitted within National Park Sites.
National Park Passport Stamps
National Park Passport stamps can be found in the visitor center.
We use the Explorer Edition Passport Book that can be expanded and updated. This is a great way to track all of the parks you have visited over time.
Make sure to bring your National Park Passport Book with you or we like to pack these circle stickers so we don't have to bring our entire book with us.
Electric Vehicle Charging
There are 21 electric vehicle (EV) charging stations within a 10-mile radius of the center of Saint Augustine, FL.
Accessibility
The Visitor Center, restrooms, dock, nature trail, and boat are wheelchair accessible. The fort itself is not accessible; there is a stairway of fifteen steps up into the fort.
Handicapped parking is available in the parking area. Service animals are allowed in the Visitor Center, on the boat, and at the fort.
Safety Tips
The fort was built for war, not safety! You will want to watch out for uneven and slippery surfaces.
Do not climb, sit or stand on cannons, cannon carriages, or the shell stone walls of the fort.
Beware of slippery rocks and sharp oyster shells along the river banks.
Lightning can happen without warning. Seek shelter if a storm is coming.
Wear sunscreen and drink plenty of water. The Florida sun is no joke!
Watch out for but do not pet, feed, or touch deer, birds, raccoons, spiders, snakes or crabs.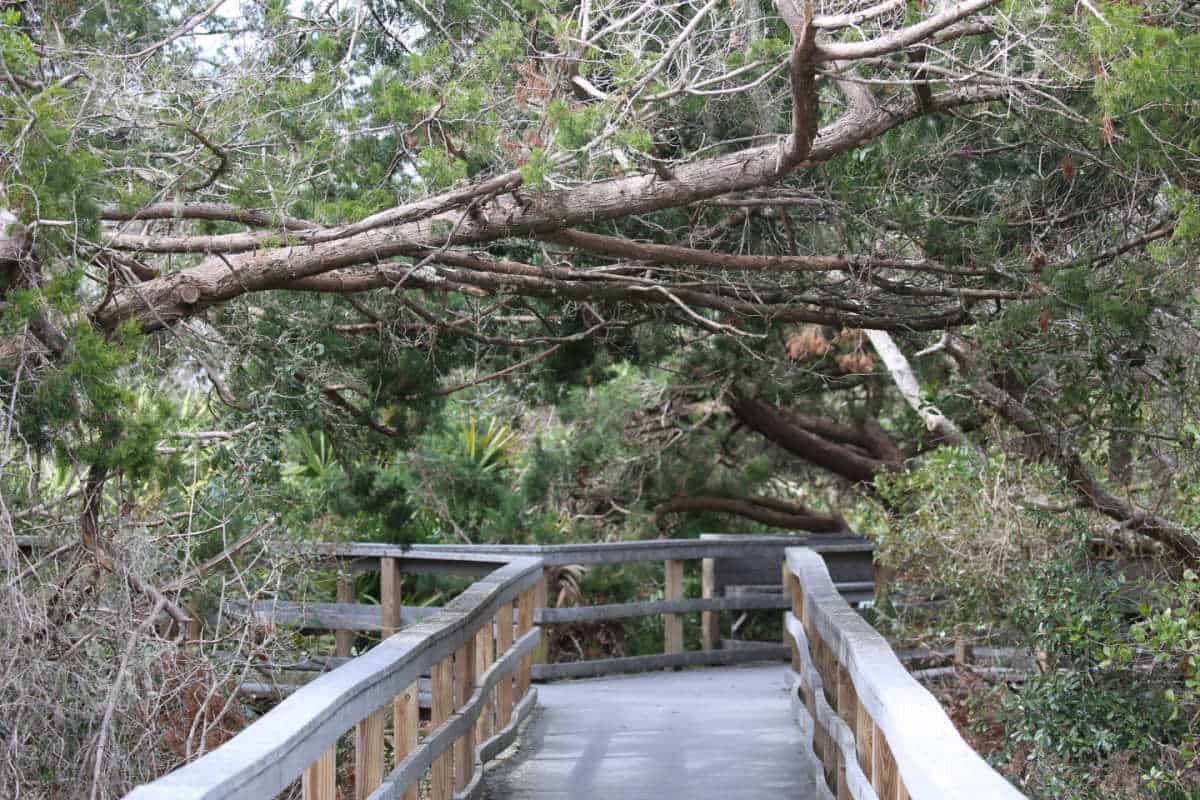 Details about Fort Matanzas National Monument
Size - 300 acres
Check out how the park compares to other National Parks by Size.
Date Established
Fort Matanzas National Monument was built in 1742 and was designated a United States National Monument on October 15, 1924.
Visitation
In 2022, Fort Matanzas NM had 698,895 park visitors.
In 2021, Fort Matanzas NM had 593,788 park visitors.
In 2020, Fort Matanzas NM had 543,590 park visitors.
In 2019, Fort Matanzas NM had 593,788 park visitors.
Learn more about the most visited and least visited National Parks in the US
National Park Address
8635 A1A South, St. Augustine, Florida, United States
Phone Number - (904)471-0116
GPS Coordinates: 29.7152° N, 81.2392° W
National Park Map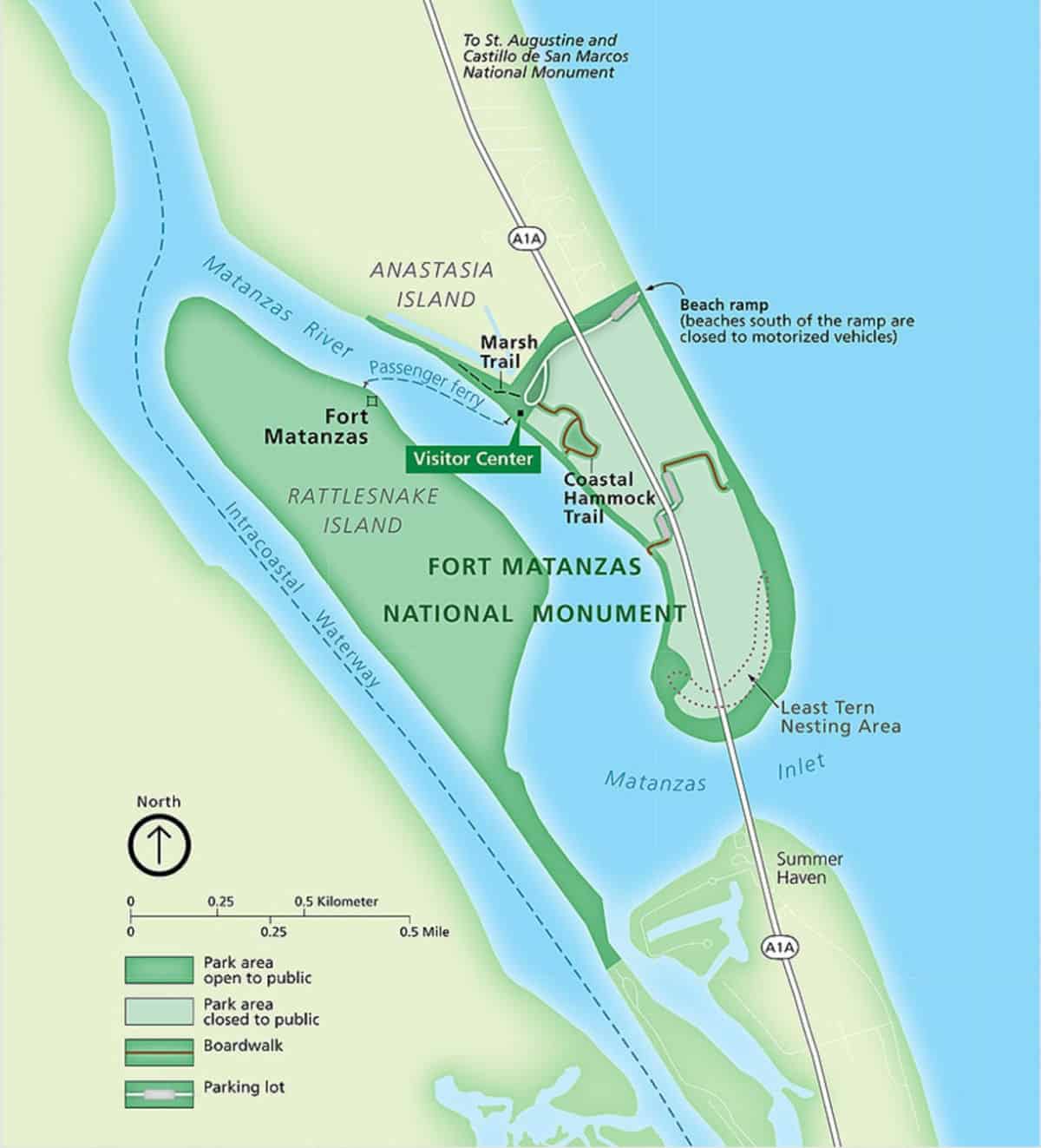 Where is Fort Matanzas National Monument?
Fort Matanzas is 14 miles south of Saint Augustine on State Route A1A. St. Augustine is located on Florida's Northeastern Atlantic coast about midway between Jacksonville and Daytona Beach.
The park visitor center and parking are on the southern tip of Anastasia Island while the fort is on Rattlesnake Island.
Estimated distance from major cities nearby
Jacksonville, FL - 60 miles
Orlando, FL - 90 miles
Tampa, FL - 180 miles
Miami, FL - 320 miles
Atlanta, GA - 420 miles
Charlotte, NC - 440 miles
Birmingham, AL - 500 miles
Estimated Distance from nearby National Park
Congaree National Park - 340 miles
Great Smoky Mountains National Park - 520 miles
Biscayne National Park - 520 miles
Everglades National Park - 330 miles
Dry Tortugas National Park - 460 miles
Where is the National Park Visitor Center?
The visitor center is located inside the park, near the picnic area.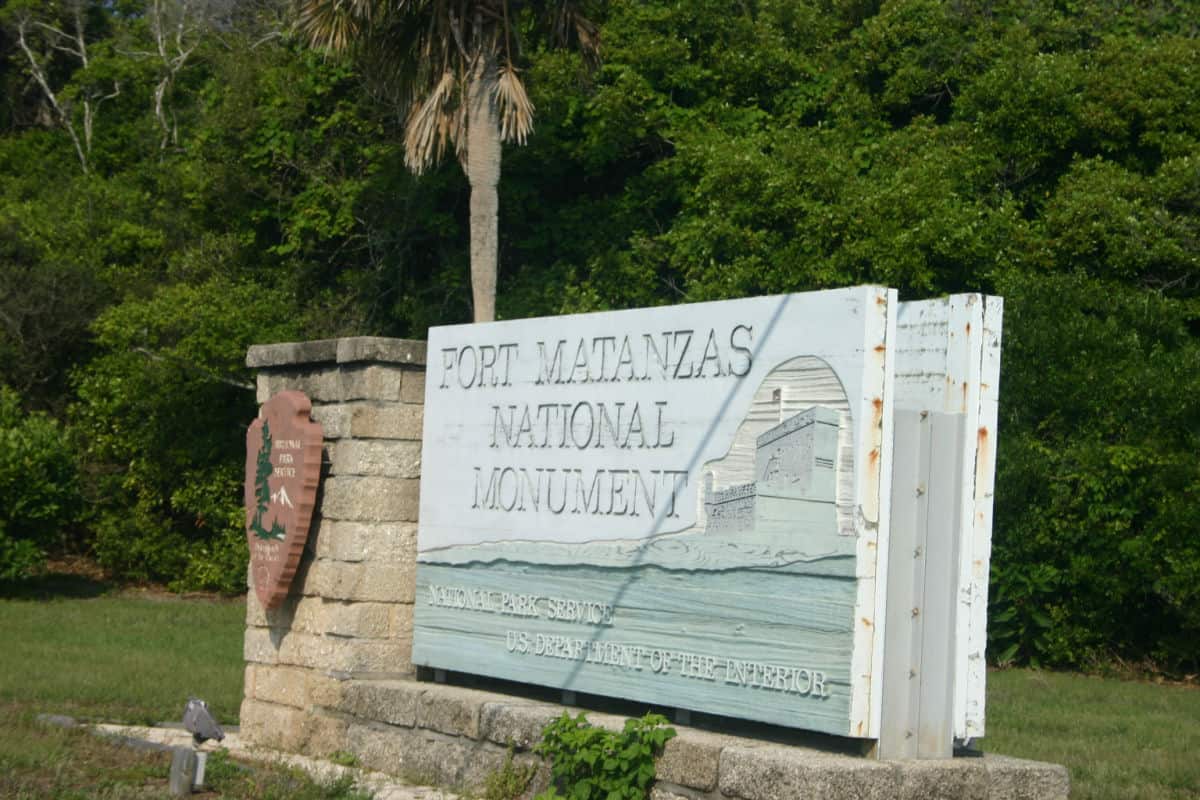 Getting to Fort Matanzas National Monument
Closest Airports
Jacksonville International Airport (JAX)
Daytona Beach International Airport (DAB)
International Airports
Orlando Sanford International Airport (SFB)
Orlando International Airport (MCO)
Regional Airports
Gainesville Regional Airport (GNV)
Driving Directions
From I-95: Take exit 305 (Route 206). Follow Route 206 east about 6 miles to Highway A1A. Turn right and follow A1A south for 4 miles to the park entrance on the right side of the road.
From St. Augustine: Follow Highway A1A south for approximately 14 miles to the park entrance on the right side of the road.
From Daytona Beach via A1A: Follow Highway A1A about 40 miles north. The park entrance is on the left about ½ mile north of the Matanzas Inlet bridge.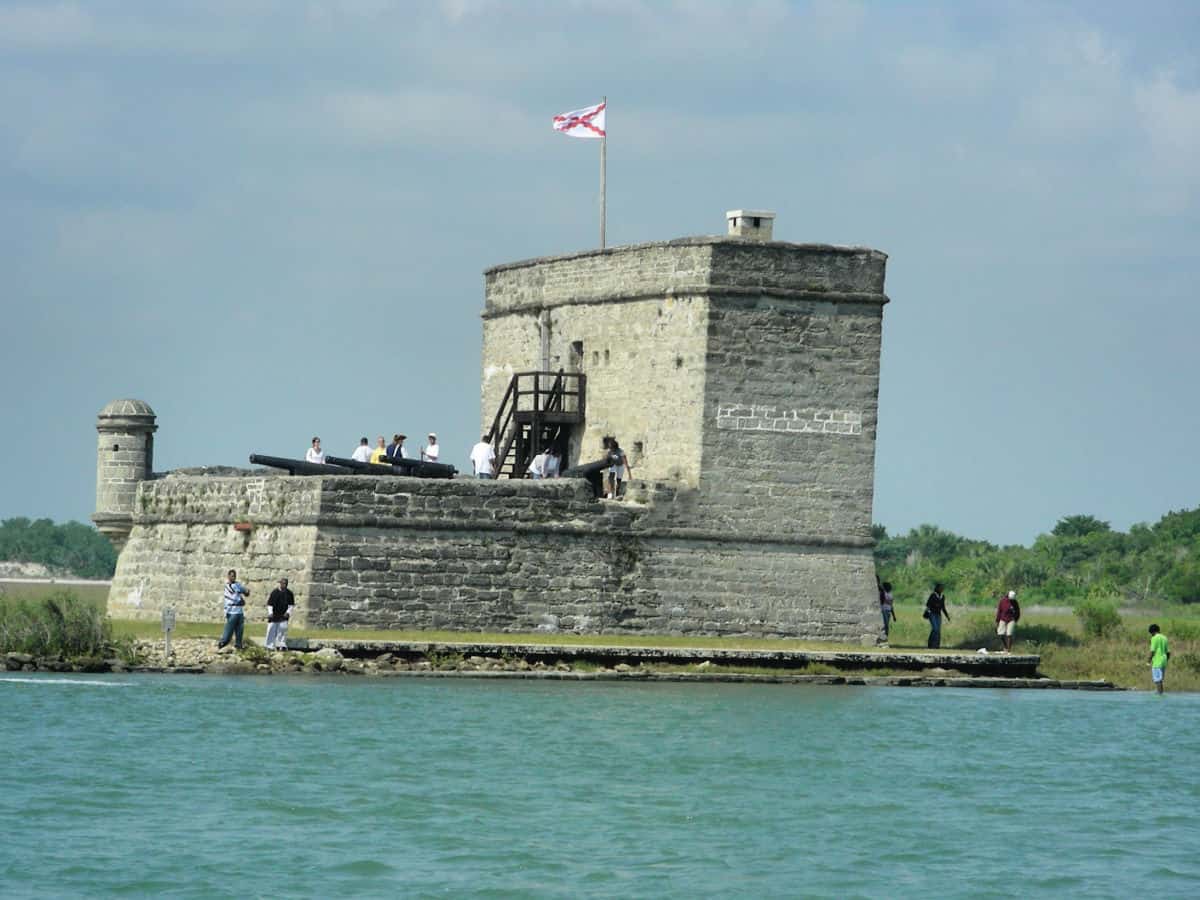 Best time to visit Fort Matanzas National Monument
Spring and fall are considered the best seasons to visit Fort Matanzas National Monument because the weather is mild and comfortable, making it perfect for outdoor activities such as hiking and exploring.
Weather and Seasons
The hottest weather is from May 29th to September 23rd, with an average daily high temperature above 85 degrees.
The coldest weather is from December 5th to March 5th, with an average daily high temperature below 71 degrees.
The coldest month is January, with an average low of 48 degrees and high of 66° degrees.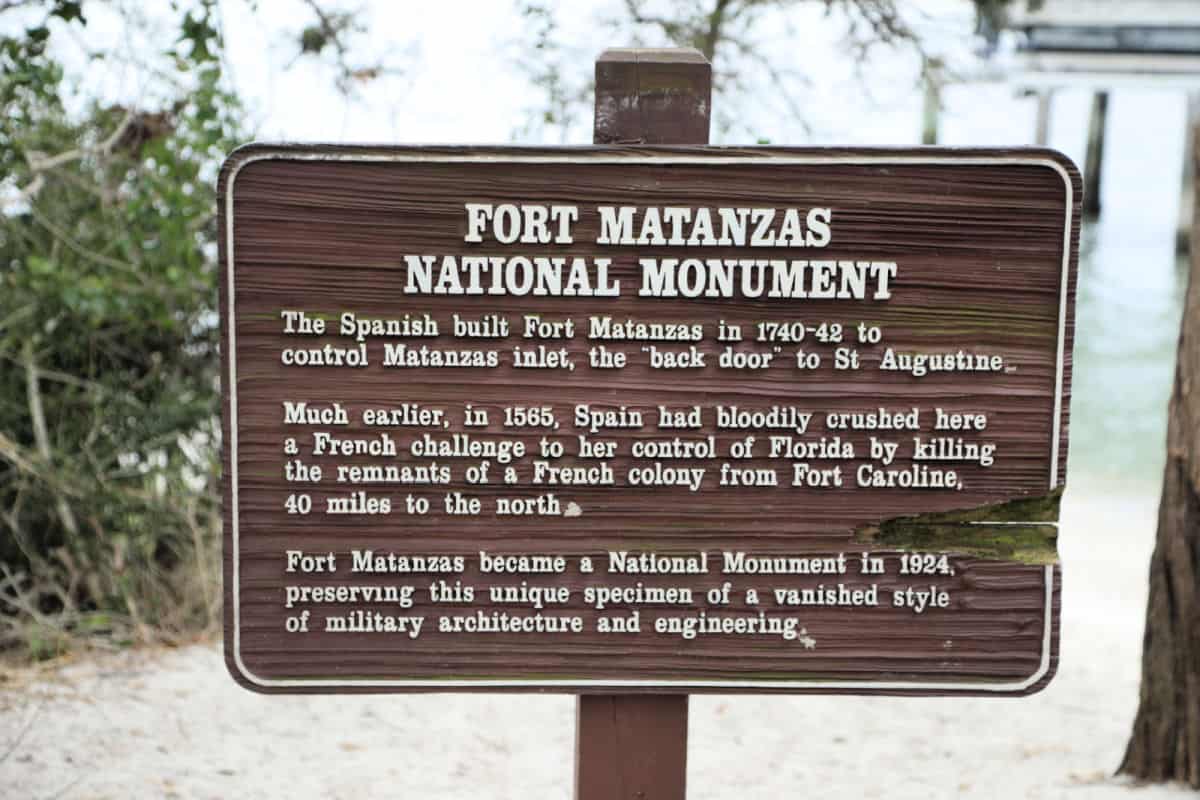 Best Things to do in Fort Matanzas National Monument
We suggest planning at minimum a half a day to explore the park and take the free ferry ride over to the fort.
Visitor Center
Stop by the parks visitor center and watch the 8-minute video about the park's history. This will definitely lead to a much better understanding of the area and the importance of these forts.
This is also the place to get your boarding pass to catch the park's ferry across the river to Fort Matanzas. The boarding passes are free but you must have a boarding pass to ride the ferry.
Don't forget to ask the ranger or park volunteer in the visitor center about birdwatching opportunities in the area. I was given all kinds of great information and ended up seeing lots of birds!
You can pick up a Fort Matanzas Junior Ranger packet at the visitor center. The booklet is divided into activities for ages 4 to 7 and then ages 8 to 14.
Adults and older kids can become Master Junior Rangers by completing all of the booklet and specific bonus pages within the book.
Free Ferry Ride to the Fort
The passenger ferry ride is operated on a first-come-first-served basis and can hold 35 passengers per trip.
The only place to get your boarding pass is the park's visitor center and there are 8 daily departures depending on the weather.
Shuttle Boat Departure times are: 9:30am, 10:30am, 11:30am, 12:30pm, 1:30pm, 2:30pm, 3:30pm and 4:30pm.
Make sure and get your free tickets/boarding pass from the National Park Service Fort Matanzas visitor center and not from the city of St. Augustine visitor center.
Bird Watching
Fort Matanzas is a great place to go birdwatching! You have the Atlantic nearby, the Matanzas River and the Maritime forest to attract all sorts of birds from Herons, Egrets and many other shorebirds to owls, doves, Tanagers and buntings!
There is much more than this so make sure to get their bird list and see how many you can find. The Florida Coast is one of our favorite places for bird watching.
Living History Demonstrations
Park staff and Park Rangers demonstrate how soldiers once lived during the 18th century and share the history of the fort. Visitors can get a close up look at a flintlock musket demonstrations, cannon demonstration, and historic weapons.
Check the park calendar for events and re-enactments.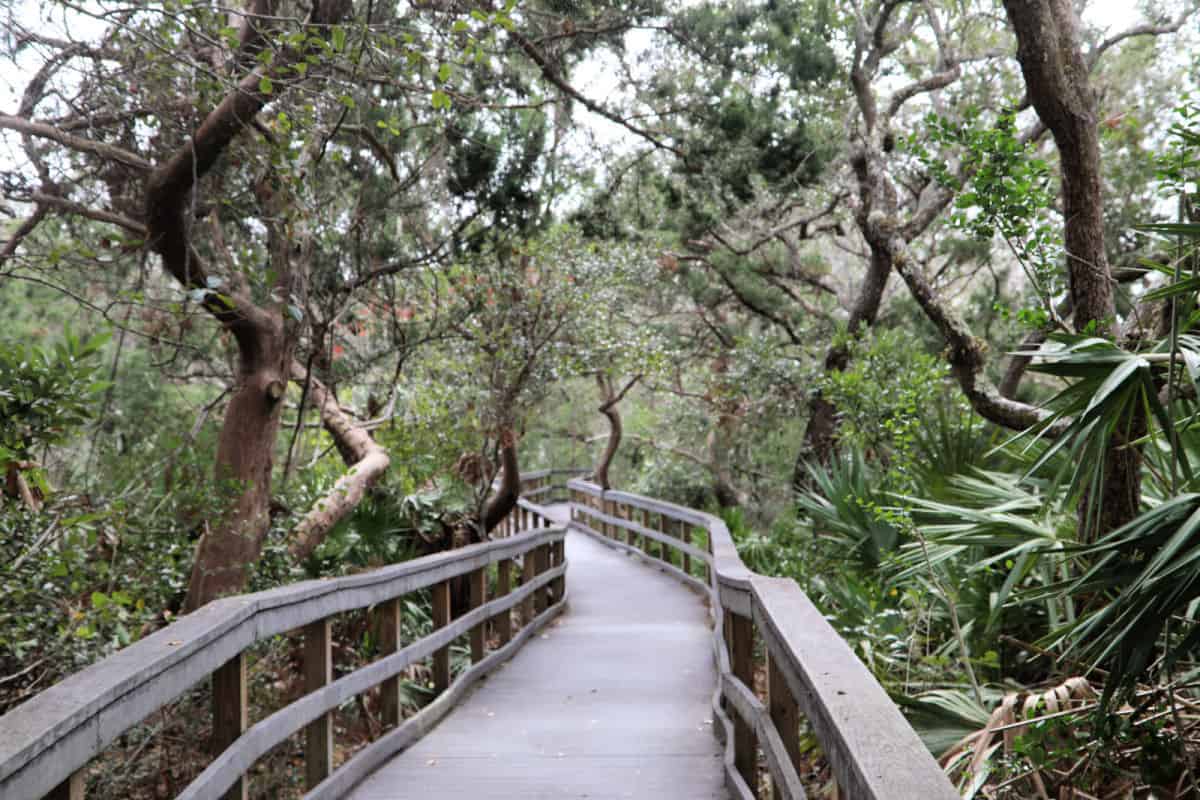 Hiking in Fort Matanzas National Monument
Always carry the 10 essentials for outdoor survival when exploring.
Nature Trail
Distance - .5 mile
This is a very relaxing ½ mile boardwalk nature trail!
You get to enjoy a leisurely stroll through the maritime forest while listening to the birds and enjoy the shade from the Florida sun.
How to beat the crowds
We have not experienced any large crowds while visiting the park. We suggest arriving early in the day or during the week to skip most of the crowds in parks.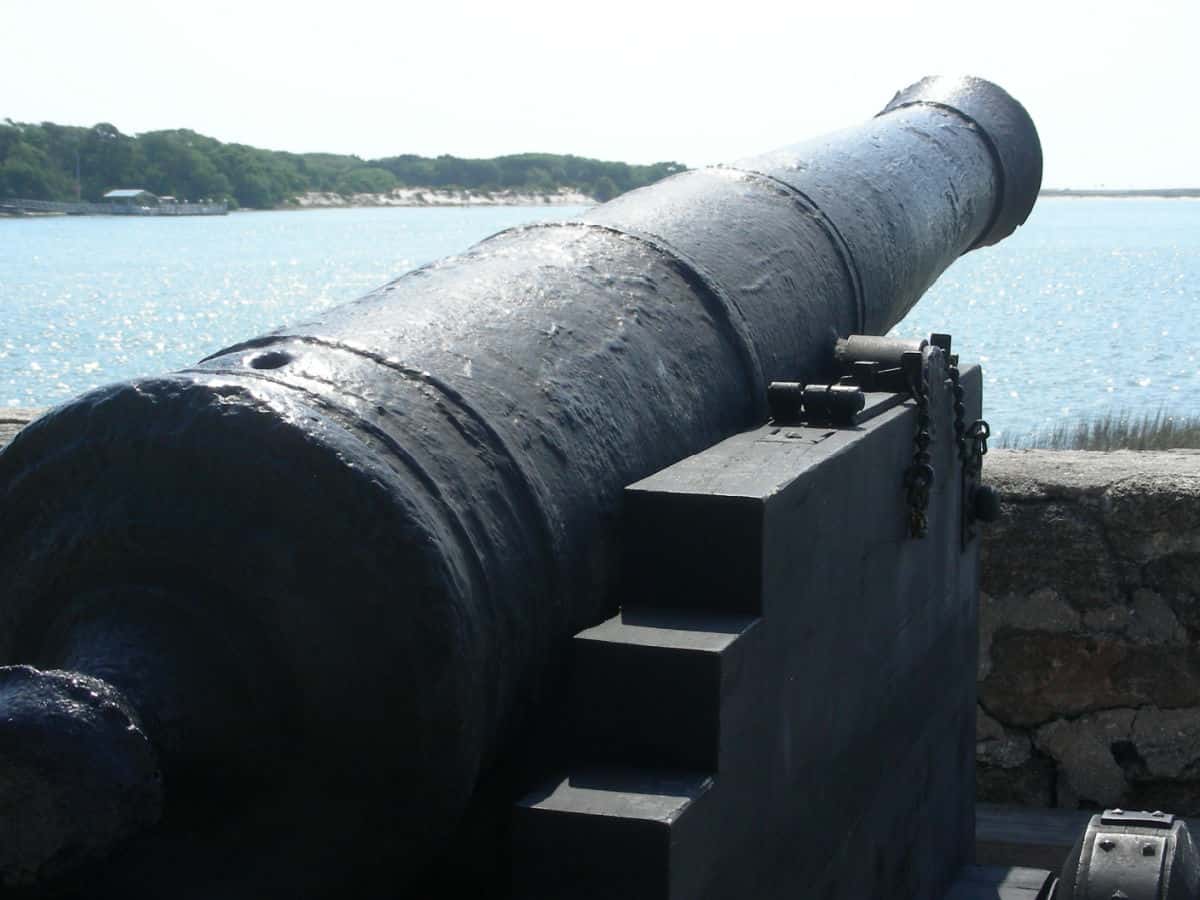 Where to stay when visiting St. Augustine
There are no National Park Lodges within the park.
Nearby Lodging includes:
Ocean Village Club - An outdoor pool, a fitness center, and a convenience store are available at this smoke-free condo building. Each condo provides a kitchen with a refrigerator, a stovetop, a microwave, and a dishwasher. For a bit of entertainment, a TV comes with cable channels, and guests can also appreciate conveniences like a washer/dryer and a dining area.
Americas Best Value Inn Ocean Inn - Americas Best Value Inn Ocean Inn provides amenities like a terrace and laundry facilities. Guests can connect to free in-room Wi-Fi.
Hammock Beach Golf Resort & Spa - 4-star family-friendly resort. Consider a stay at Hammock Beach Golf Resort & Spa and take advantage of a golf course, free water park access, and a poolside bar. This resort is a great place to bask in the sun with a private beach, beachfront dining, and fishing. Treat yourself to thalassotherapy, a facial, or aromatherapy at The Spa at Hammock Beach, the onsite spa. Be sure to enjoy a meal at any of the 5 onsite restaurants, which feature seafood and ocean views. The 24-hour gym offers Pilates classes and aerobics classes; other things to do include hiking/biking, volleyball, and rowing/canoeing. Stay connected with free in-room Wi-Fi, and guests can find other amenities such as a terrace and shopping on site.
Click on the map below to see current vacation rentals and lodges near the park.
Camping
There are no National Park Campgrounds within the park.
For a fun adventure check out Escape Campervans. These campervans have built in beds, kitchen area with refrigerators, and more. You can have them fully set up with kitchen supplies, bedding, and other fun extras. They are painted with epic designs you can't miss!
Escape Campervans has offices in Vancouver, Seattle, Portland, San Francisco, Las Vegas, Los Angeles, Phoenix, Salt Lake City, Denver, Chicago, New York, and Orlando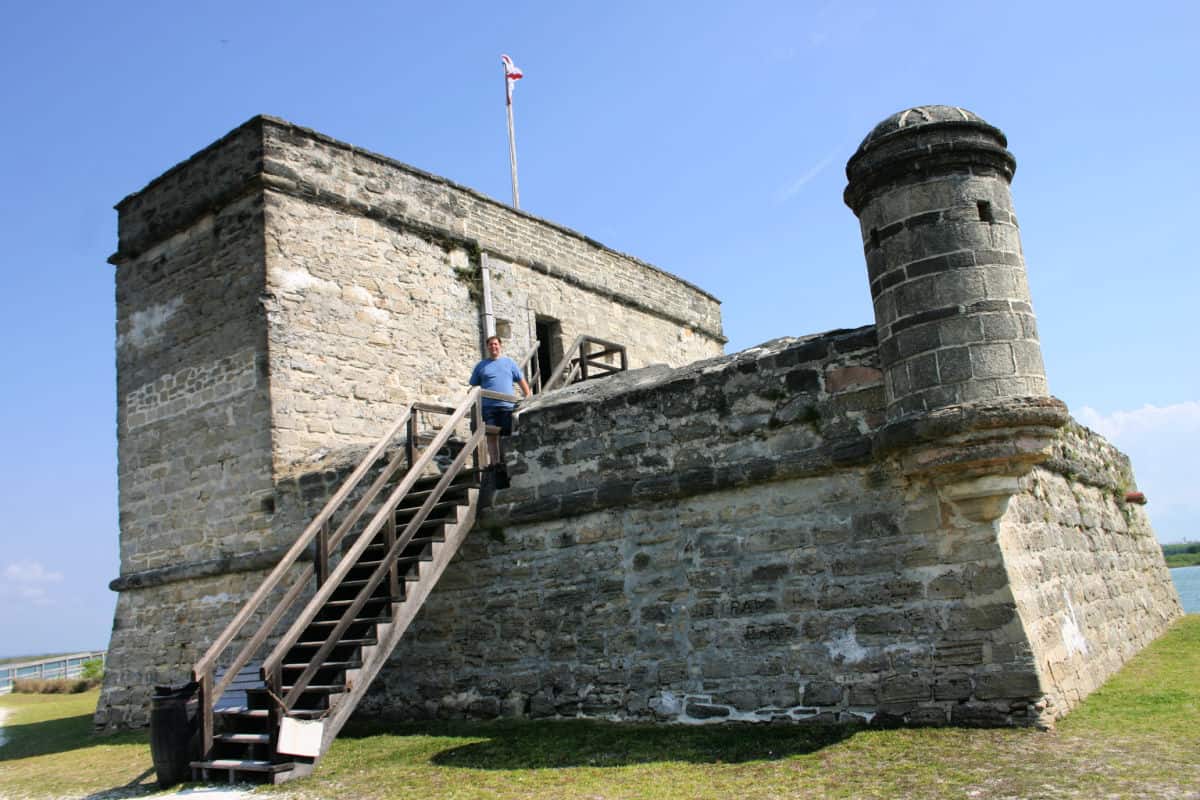 Parks Near Fort Matanzas National Monument
Castillo De San Marcos National Historic Site
Fort Caroline National Memorial
Timucuan Ecological and Historic Preserve
Cumberland Island National Seashore
Fort Frederica National Monument
Check out all of the National Parks in Florida along with neighboring National Parks in Alabama and Georgia National Parks
Here are some tips for planning an epic scenic drive in Florida to see more of this beautiful state!