Complete Guide to Fort Frederica National Monument in Georgia including things to see and do, history, nearby camping and lodging, and so much more.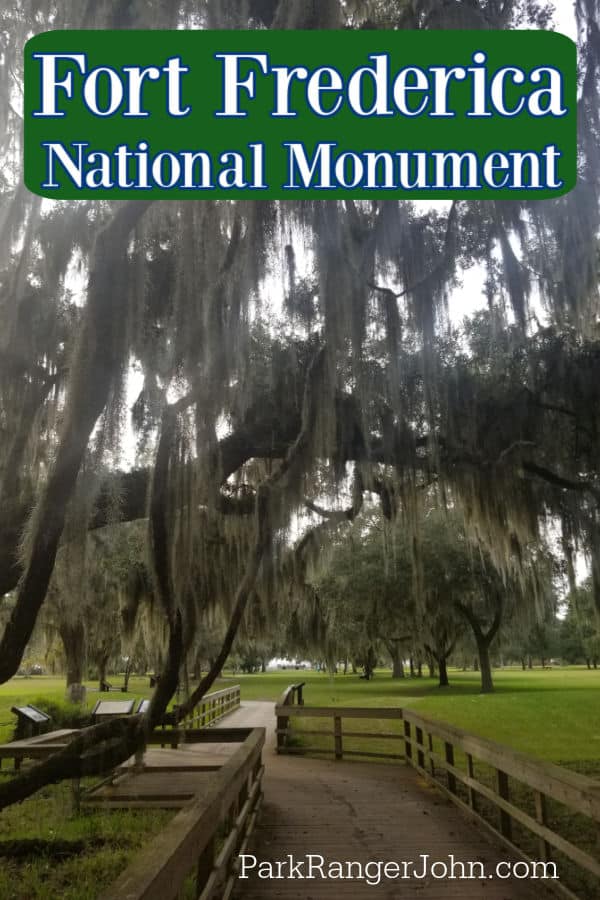 Fort Frederica National Monument
Fort Frederica National Monument is located in Southwestern Georgia. The park is 250 acres of Spanish moss and oak trees located on the St. Simon Island. This park is absolutely gorgeous and well worth visiting!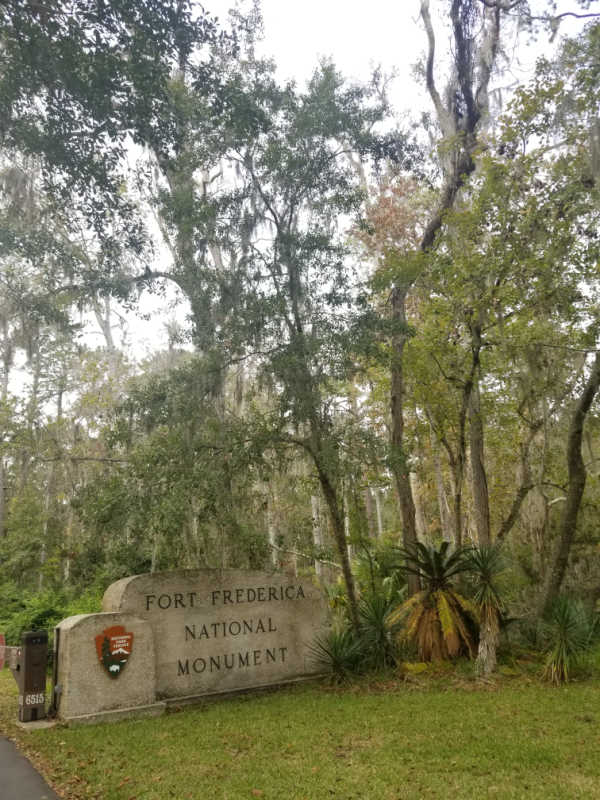 About Fort Frederica National Monument
Fort Frederica combined military, residential and commercial functions while the area was fortified with a palisade and an earthen rampart.
The population of Fort Frederica ranged from 800 to 1000 residents during the peak period. The fort was also the home of John Wesley, a visiting minister who founded the Methodist Church.
Fort Frederica National Monument preserves the remnants of the fort and historical town. You can see foundation markers and streets from the original town along with the fort near the water.
One really cool aspect of the park is being able to see the buildings that were built using Tabby.
If you are wondering what Tabby is don't worry I wasn't sure until I visited this great park. Tabby is a mixture of oyster shells, lime, sand and water that was used to create structures.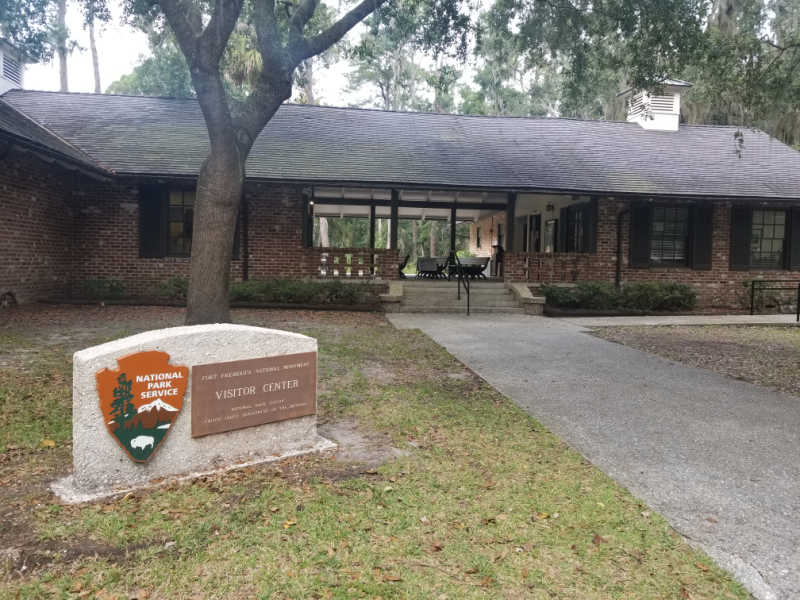 Is Fort Frederica National Monument worth visiting?
Yes! The park is not only beautiful but it provides an amazing opportunity to walk back in time.
This was the first park we learned about Tabby and how buildings were made with it. The Junior Ranger program is honestly amazing.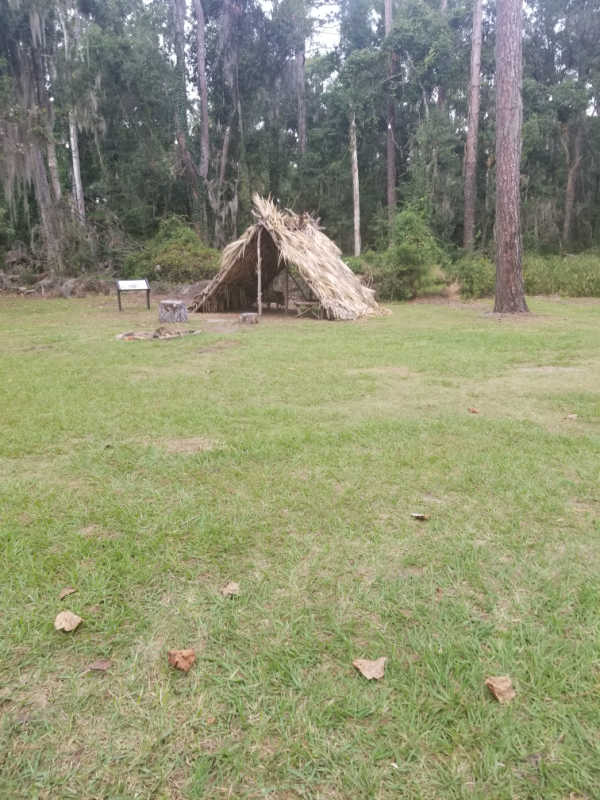 History of Fort Frederica National Monument
Fort Frederica National Monument is located on St. Simon's Island, Georgia. The national monument preserves the fort built in the 18th century in what is now Georgia.
Early in the 18th century, Europeans called the land between British controlled South Carolina and Spanish controlled Florida the "Debatable Land."
James Edward Oglethorpe was born in 1696 in London, England. In 1729, a friend of James Oglethorpe's who was sent to prison for debt, died in the prison system for his inability to pay for sanitary conditions in the prison.
Oglethorpe went on a crusade and was nationally recognized in trying to expose the prison injustices in England. He was soon revered as one of the most active humanitarians in the country.
Oglethorpe and his colleagues knew that "worthy poor" prisoners could make an earnest living if given the chance. He began to think that creating a colony in the New World was a worthy idea.
In 1732, King George II granted Oglethorpe a charter to the New World for the creation of the new land, Georgia. Oglethorpe now had large plans for the area.
He was interviewing candidates for colonists to move there, thinking about the land and climate and how perfect it was for growing different resources, even planning out housing and government in the new town he envisioned.
In 1733, Oglethorpe established the colony of Georgia in what was near present-day Savannah, Georgia, in the eastern section of Georgia along the Atlantic.
Eventually, colonists from England, Scotland, and Germany came to settle here and in 1736, Fort Frederica was built to protect their new colony.
It was named after Frederick, Prince of Wales. The name was changed to Frederica to distinguish it from a Fort in South Carolina built by the British. Oglethorpe chose a spot high on a bluff which offered a strategic view of the waterways and marshes, defending the colony from a surprise attack.
The town of Frederica was the fort military support town and was divided into two wards with a 75-foot main corridor separating the wards.
The sections within the wards were considered political subdivisions.
By March of 1736, forty-four men and seventy women and children lived in Frederica. Less than ten years later, that number would grow to 1,000.
The next seven years were strategic and bloody in the relationship between the British and the Spanish in the "Debatable Land."
In 1740, Oglethorpe assembled a force with the goal of taking the Spanish fort at St. Augustine, Florida. The large, masonry star fort Castillo De San Marcos was built strong and was no match for Oglethorpe's cannons.
Although the Spanish were holed up in the fort for almost a month, Oglethorpe was forced to retreat back to Fort Frederica.
In the summer of 1742, the counterattack by the Spanish arrived at the colony of Georgia. Two brief but bloody battles took place called The Gully Hole Creek Battle, and The Battle of Bloody Marsh, both near Fort Frederica.
The events were a major victory for England and greatly improved their relationship with the local natives after defending the land. It was the last time the Spanish would attempt to take over the colony of Georgia.
One year later, Oglethorpe attempted one more unsuccessful attack on St. Augustine. Soon after, Oglethorpe returned to London, as the unhappy war office was not happy with his actions in the New World.
The town of Frederica had historically been successful due to the military benefit it offered the British in Georgia. After the treaty between Britain and Spain was signed in 1748, Fort Frederica was no longer needed and was disbanded.
Subsequently, the town slowly fell into ruin as the economy fell apart and many citizens moved to settle elsewhere. Those that stayed could only stay until 1758 when a massive fire destroyed the city. Nothing of the town of Frederica was left.
In the 1900s, local citizens took an interest in researching and preserving the American colonial history of the area. Fort Frederica National Monument was established in 1945.
After years of archeological excavations, evidence of a bustling town and fort were evident. The town of Frederica had not survived, but the National Monument reminds visitors of the history of British determination in defending their "colony of Georgia."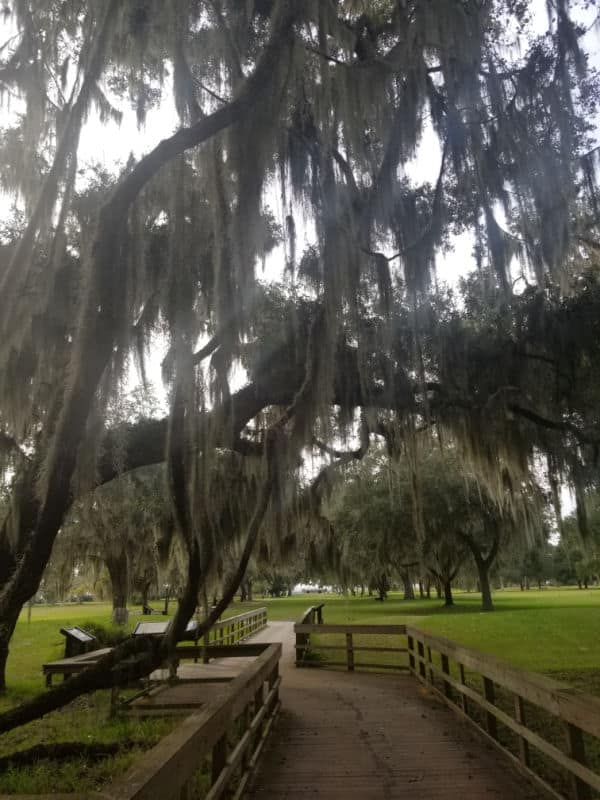 Things to know before your visit to Fort Frederica National Monument
Entrance fee
$0.00 - There is no entrance fee to visit the park.
Planning a National Park vacation? America the Beautiful/National Park Pass covers entrance fees for an entire year to all US National Park Sites and over 2,000 Federal Recreation Fee Sites.
The park pass covers everyone in the car for per vehicle sites and for up to 4 adults for per-person sites.
Buy on REI.com and REI will donate 10% of pass proceeds to the National Forest Foundation, National Park Foundation and the U.S. Endowment for Forestry & Communities.
Learn more about National Park Passes for parks that have an entrance fee.
Free Entrance Days -Mark your calendars with the five free entrance days the National Park Service offers annually.
Time Zone
Eastern Time Zone
Pets
Pets are allowed within the National Monument on a 6-foot leash.
Cell Service
Cell service is available throughout the park but there are dead zones.
Park Hours
The park is open from 9 am to 5 pm.
The park and grounds are closed on Thanksgiving, Christmas Day, and New Year's Day.
Wi-Fi
Free WiFi is available at the visitor center.
Insect Repellent
Bug spray is your friend! Fort Frederica NM is located right on the water and there are ample gnats and mosquitos that enjoy this area.
We treat our clothes with this permethrin spray before our national park trips to help with bugs.
The treatments last through multiple washes so we know we have some bug spray on at all times.
Water Bottle
Make sure to bring your own water bottle and plenty of water with you. Plastic water bottles are not sold in the park.
Parking
There is a nice size parking area in front of the visitor center.
Food/Restaurants
There are no restaurants within the park.
Gas
There are no gas stations within the park.
Drones
Drones are not permitted within National Park Sites.
Accessibility
The walk to the fort is longer than it looks from the visitor center.
If you have mobility concerns the park does have a golf cart that they use to drive people around the fort. Just ask at the visitor center for assistance.
The walk is on grass and semi-rough grounds. There are tree roots and some divets in the ground so you definitely want to be careful and aware of where you are walking.
Bring a hat, sunscreen, and water with you. There is shade from the gorgeous trees but it is still hot and humid along the walk.
National Park Passport Stamps
National Park Passport stamps can be found in the visitor center.
Make sure to bring your National Park Passport Book with you or we like to pack these circle stickers so we don't have to bring our entire book with us.
Fort Frederica NM is part of the 2011 Passport Stamp Set.
Electric Vehicle Charging
There are 33 EV Charging Stations within 10 miles of St. Simon Island, Georgia.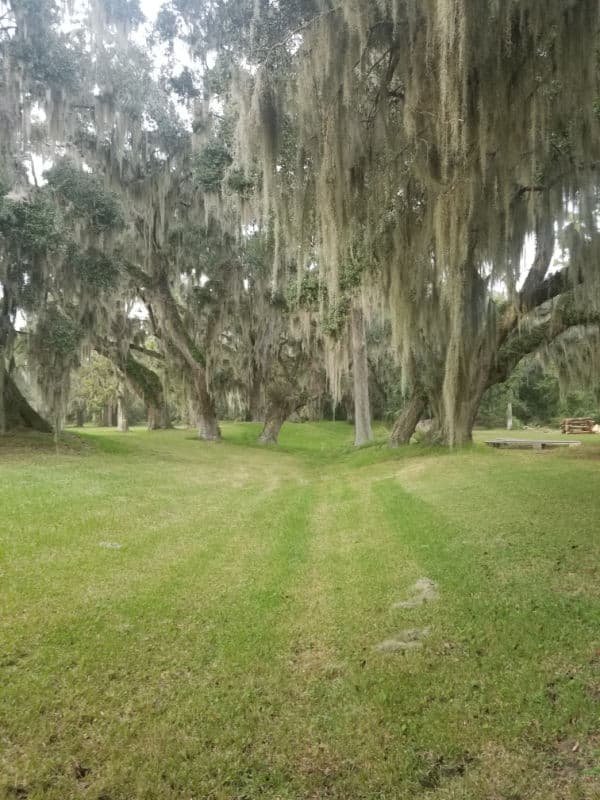 Details about Fort Frederica National Monument
Size - 284 acres
Check out how the park compares to other National Parks by Size.
Date Established
May 26, 1936
Visitation
In 2021, Fort Frederica NM had 84,860 park visitors.
In 2020, Fort Frederica NM had 210,892 park visitors.
In 2019, Fort Frederica NM had 212,330 park visitors.
Learn more about the most visited and least visited National Parks in the US
National Park Address
Fort Frederica National Monument
6515 Frederica Rd.
St. Simons Island, GA 31522
National Park Map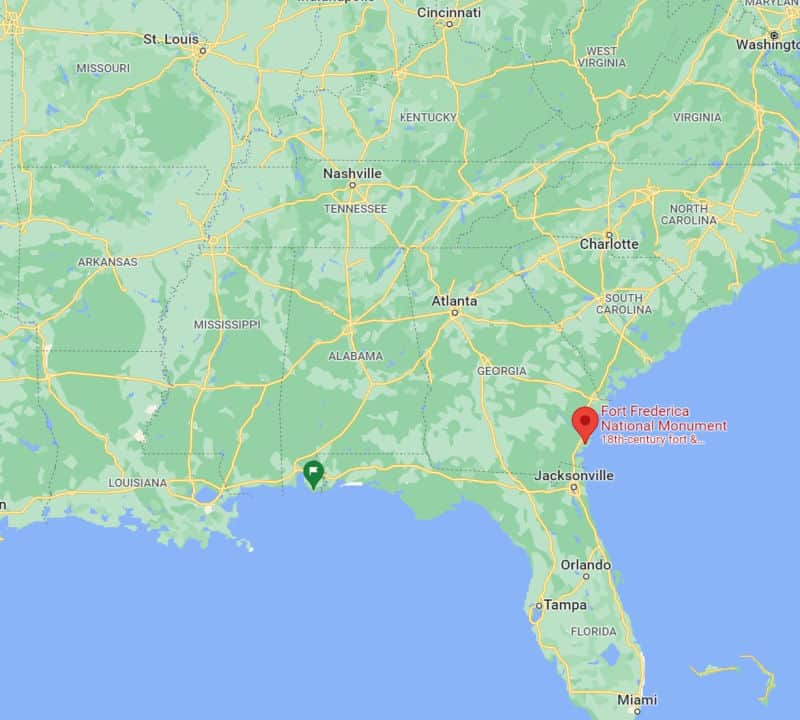 Where is Fort Frederica National Monument?
Fort Frederica NM is located in southeastern Georgia
Estimated distance from major cities nearby
Jacksonville, FL - 80 miles
Orlando, FL - 220 miles
Tampa, FL - 276 miles
St. Petersburg, FL - 298 miles
Atlanta, GA - 316 miles
Charlotte, NC - 332 miles
Greensboro, NC - 397 miles
Raleigh, NC - 402 miles
Estimated Distance from nearby National Park
Congaree National Park - 227 miles
Biscayne National Park - 456 miles
Everglades National Park - 466 miles
Dry Tortugas National Park - 585 miles (ferry ride needed)
Great Smoky Mountains National Park - 416 miles
Mammoth Cave National Park - 649 miles
Where is the National Park Visitor Center?
The park visitor center is located near the main entrance to the park.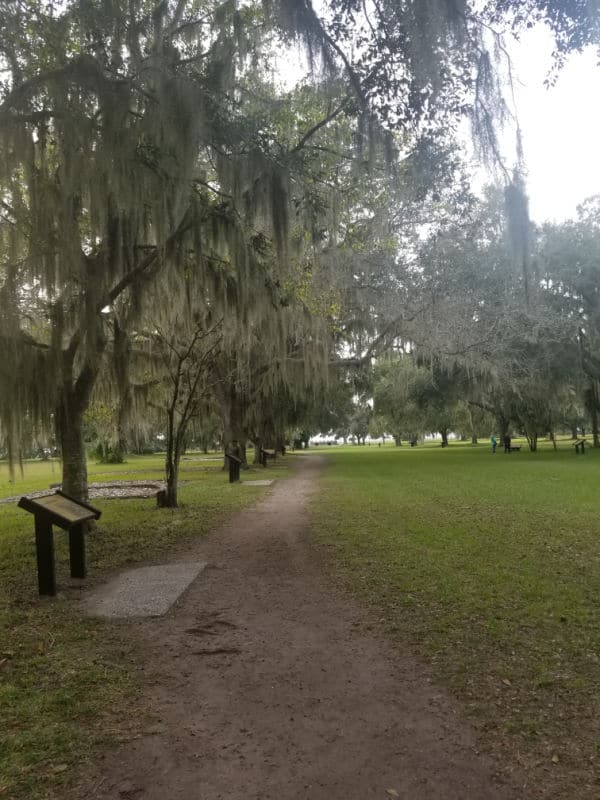 Getting to Fort Frederica National Monument
Closest Airports
Jacksonville International Airport (JAX)
Daytona Beach International Airport (DAB)
Charleston International Airport (CHS)
Orlando Sanford International Airport (SFB)
Orlando International Airport (MCO)
Driving Directions
From Torras Causeway
At end of the causeway, get in the left lane. Follow the left lane to the traffic light.
Go straight at the light. Follow Sea Island Road to Frederica Road. Turn left at the traffic light onto Frederica Road.
Follow Frederica to the roundabout. Take the second exit off the roundabout (still on Frederica).
Go approximately 1 mile. Turn left onto the park entrance road. Across from Wesley United Methodist Church.
Best time to visit Fort Frederica National Monument
The best time to visit the park is early spring and late fall. The park is gorgeous year round but does have seriously muggy weather in the summer.
Weather and Seasons
Saint Simon Island, Georgia experiences hot summers and cold cloudy winters.
The hottest weather is from May 27th to September 19th with an average daily high above 83 degrees.
The coldest weather is from December 2 to March 2nd with an average temperature below 66 degrees.
The muggiest weather is from April 21st to November 4th when the muggy weather may be muggy, oppressive, or miserable.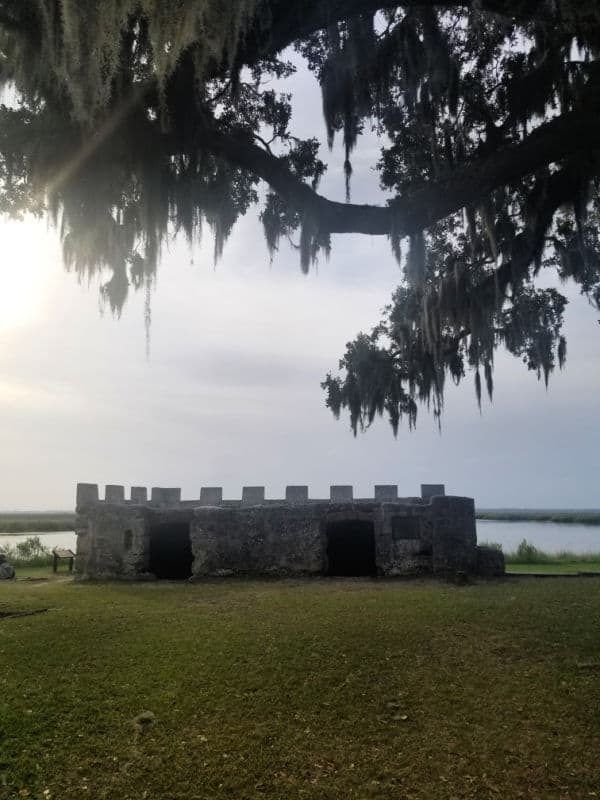 Best Things to do in Fort Frederica National Monument
We suggest planning a minimum of a few hours to visit the park. Between the visitor center and walking the grounds, you will want to have more than enough time to enjoy it all.
Visitor Center
The visitor center is filled with really cool exhibits. You can see some of the artifacts that have been found at the fort by archaeologists and also 8th graders during an archaeology camp held at the fort.
The park has a ton of brochures and information on the history of the park, who lived at the park and so much more.
Watch the Park Film
The 23-minute park film "History Uncovered" does a wonderful job of explaining the history of Fort Frederica and why it was important.
Because of the uniqueness of this program, Fort Frederica's Junior Ranger Badge can only be earned at the site itself.
The Junior Ranger program at Fort Frederica is unlike any that we have seen at other parks.
It is truly amazing! I can't imagine the hours that go into making them! You can pick up a Fort Frederica NM Junior Ranger program and bag at the visitor center. Get ready to head out and explore the fort in a really fun and unique way.
Become a master junior ranger
Complete Fort Frederica's Junior Ranger Challenge plus the Underwater Explorer and Junior Archaeologist Programs and you will receive three badges plus a Fort Frederica Master Junior Ranger Patch.
Explore Fort Frederica
The grounds of Fort Frederica are absolutely beautiful! Definitely, plan to spend time walking through the townsite and out to the original fort.
The walk is longer than it looks so be prepared with water, sunscreen, bug spray, and a hat. We visited in December and it was still warm and muggy.
You can see the oyster shells that were used to make the tabby walls of Fort Frederica.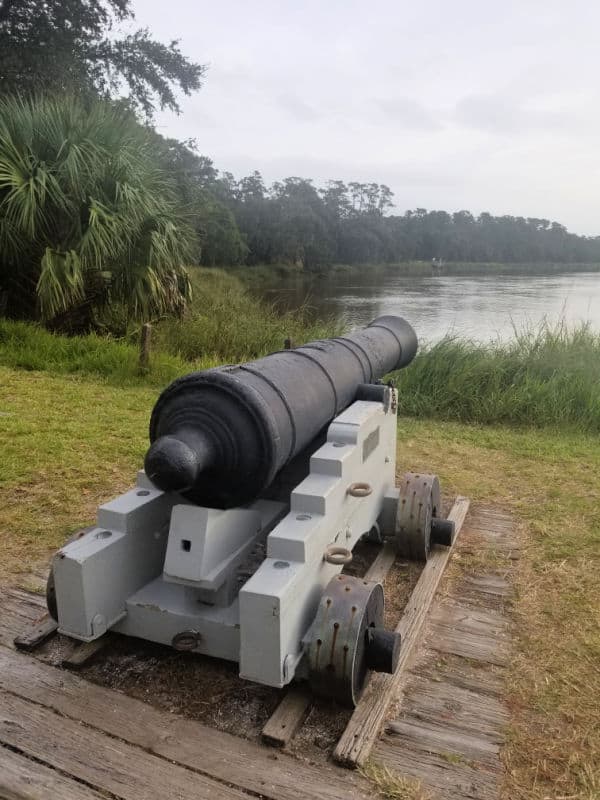 Hiking in Fort Frederica National Monument
Always carry the 10 essentials for outdoor survival when exploring.
Fort Frederica NM has several trails visitors can enjoy through the maritime forest surrounding the historic town site.
How to beat the crowds in Fort Frederica National Monument?
We did not experience any crowds during our visit. There is a lot of outdoor space making it easy to move around people.
Where to stay when visiting Fort Frederica National Monument
There are no National Park Lodges within the park.
There is quite a few options for places to stay on St. Simons Island including vacation rentals and hotels.
Click on the map below to see current rates.


Camping
There are no National Park Campgrounds within the park.
There are campgrounds nearby including:
The McIntosh Manor - Townsend, GA
This campground offers Lodging and TV sites.
GA Coastal RV Park - Waynesville, GA
This campground offers RV and Tent Sites, canoeing/kayaking, and more.
Huck's RV Park - Woodbine, GA
This campground offers RV sites, a dog park, and more.
Check out additional campgrounds in the area on CampSpot.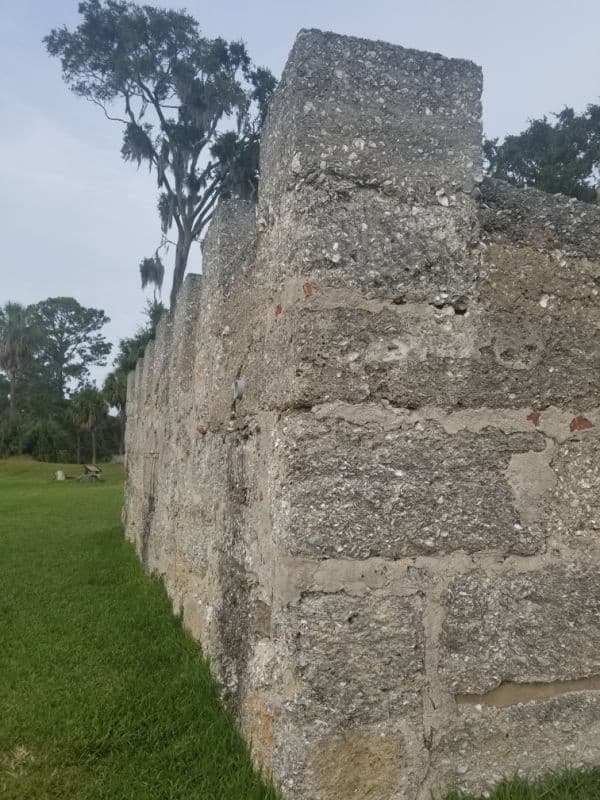 Parks Near Fort Frederica National Monument
Cumberland Island National Seashore - 30 miles
Fort Caroline National Monument - 50 miles
Timucuan Ecological Preserve - 50 miles
Fort Pulaski National Monument - 60 miles
Castillo de San Marcos National Monument - 115 miles
Check out all of the National Parks in Georgia along with neighboring National Parks in Alabama, Florida National Parks, National Parks in North Carolina, South Carolina National Parks, and Tennessee National Parks