Redwood National Park in California is known for big trees but there is so much more to this park! From wildlife to the Pacific Ocean check out the top things to do in Redwood National Park.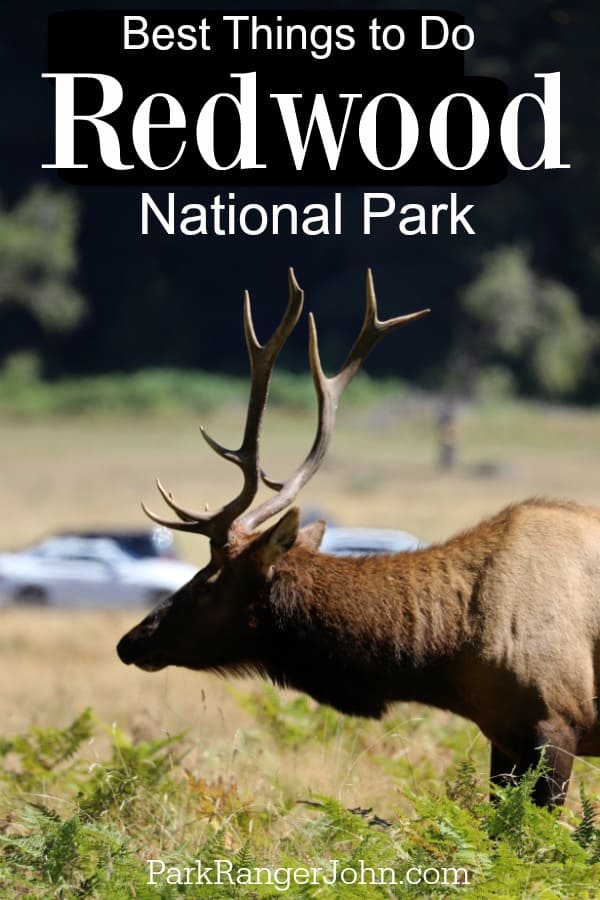 Things to do Redwood National Park
There are so many things to do in Redwoods National Park! I can honestly say that I was pretty overwhelmed when I started doing research.
It was not really clear to me what was Redwood National Park, what was one of the several State Parks in the area and what was private property. Most importantly where was the drive-thru tree?
Quite honestly, I was way overthinking everything! The best tip I can give you is that you are planning a trip to the "Redwoods" not just a national park or a state park.
The area is co-managed between the National Parks Service and California State Parks and quite often you will not know which one you are in.
Make sure to focus on planning which campsite you want to stay at or which trail you want to hike and it will be much easier. Having said that, here is my list of things to do Redwood National Park.
Visit the Redwood National Park Visitor Center
There are actually 5 visitor centers; Hiouchi Visitor Center, Jedediah Smith Visitor Center, Crescent City Information Center, Prairie Creek Visitor Center and Thomas H. Kuchel Visitor Center.
Stopping at one or more of the visitor centers gives you the opportunity to pick up a park brochure and visitor guide, both of which have park maps and lots of great visitor information.
Make sure to pick up your Junior Ranger book so you can complete it while visiting the park and become a Junior Ranger. Park staff and volunteers are available to assist you in planning your trip and very knowledgeable about the park.
Make sure to take a few minutes to look around and read the interpretative displays while you are here and see if there will be any ranger-led interpretative programs that you can attend.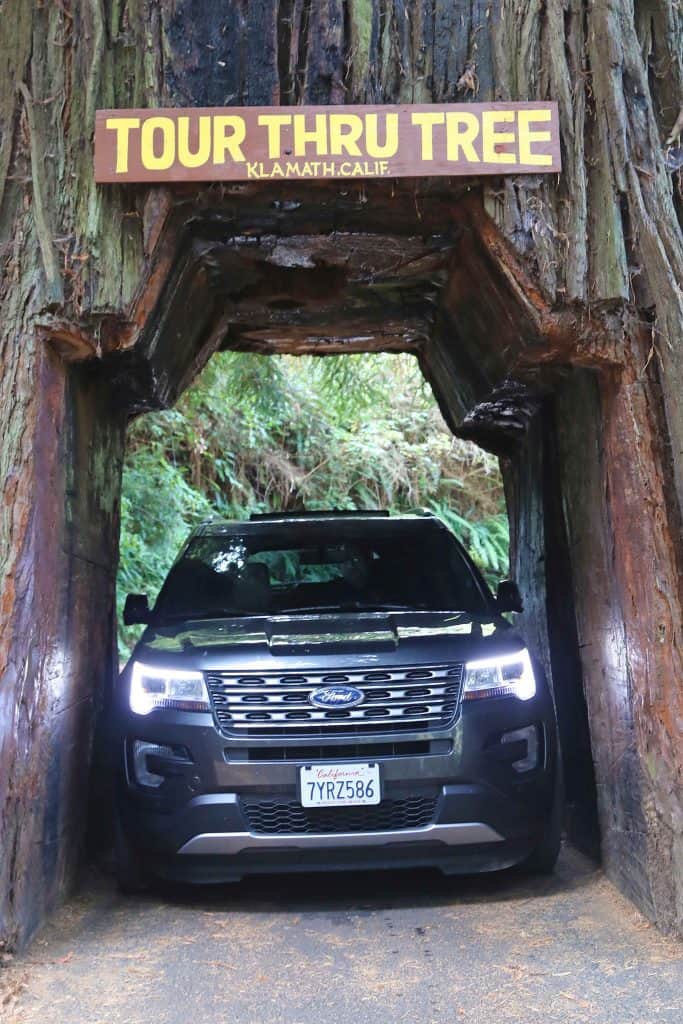 Drive-Thru Tree Redwood National Park
I can still to this day remember making one of my very first life's dream goals. I was a young kid looking at a magazine and saw a picture of something I never thought of as possible, I was staring at a photo of a car driving through a tree!
I was mesmerized by this photo and I still remember saying to myself that one day I will do this! This day finally came last year (2017) and I am pretty sure I was a kid all over again! I was absolutely giddy with excitement as I paid the $5 fee and made my way up the road and around the corner.
There it was! Fortunately, it was slow when we arrived because I took several times driving thru while my wife took one terrifying drive-thru cursing profusely thinking she was either going to get stuck or the tree was going to come crashing down on her!
Where is the drive-thru Redwood Tree?
To get here simply take exit 769 (Terwer Valley off-ramp to State Route 169). It is only ¼ mile off US 101! The opening of the tree is 7'4" wide by 9'6" high. The tree itself is 17' wide at eye level!
The opening is big enough for standard cars, vans, and pickups to pass through.
It is up to you to make it through safely! We have a friend who after completed this had brand new "racing stripes" on both sides of their vehicle! Trailers and motorhomes will have to stay in the parking lot below and hike up to see the tree.
I do want to mention that the Drive Thru-Tree is a tourist activity that started from years past before people fully understood the impact/ damage done to these trees. For this reason, you will not find any drive-thru trees in the National Park itself. There are 3 in the area including Klamath, Myers Flat, and Leggett, California.
The first 2 tunneled trees were actually in the Mariposa Grove in Yosemite National Park; Yosemite's famous Wawona Tree was cut in 1881 & fell in 1969 and a dead tree that still stands today.
In the early years of the parks, they thought it would be a great idea to cut tunnels through sequoia trees as a way to popularize the parks and gain support for their protection.
Tunnel trees like the one pictured above represent an activity that has their place in the early history of our national parks but now we know that these trees are far more valuable as part of a healthy ongoing forest.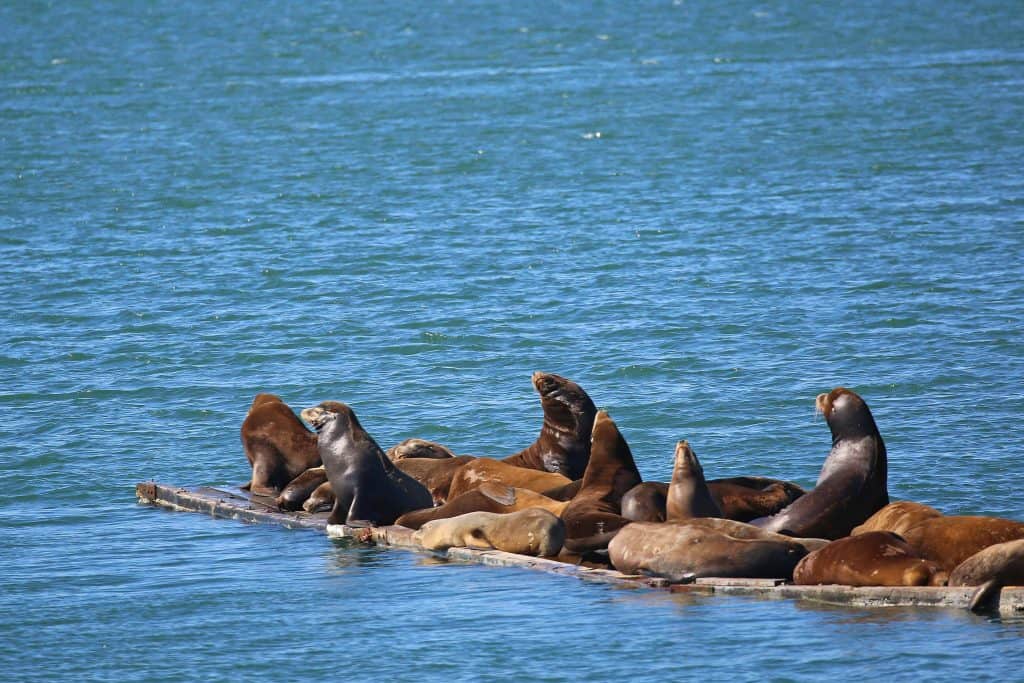 Explore Crescent City
We started our trip to the Redwoods in Crescent City. We stopped at the information center and gathered as much information as possible before heading out.
We decided to stop into the North Coast Grill and Cafe to fuel up on our way out of town as we heard they had pretty good food. We had a great lunch and was also pleasantly surprised by being next to the beach on one side then saw tons of seals on the other side!
You can also get great views of the Battery Point Lighthouse. Lunch turned out to be much longer than planned as we ended up taking a walk on the beach then watched the seals!
We knew that we had already changed our planned itinerary but we were also already having a great time too. We finally got back into the car and headed south on Hwy 101 in search of big trees.
Drive the Newton B Drury Scenic Parkway
The Newman B Dury Parkway is a 10-mile stunning scenic drive amongst the old-growth redwood forest in Prairie Creek Redwoods State Park.
The drive itself is 30 minutes but plan for much longer, especially if the elk are out at Elk Prairie Campground! We had so much fun watching the elk that we came back the second day to see them again.
There are also several trailheads along the way, the Big Tree Wayside, and Prairie Creek Visitor Center & Campground. I also really enjoyed the Revelation Loop Trail near the Visitor Center. It was a short .3 mile trail surrounded by large trees!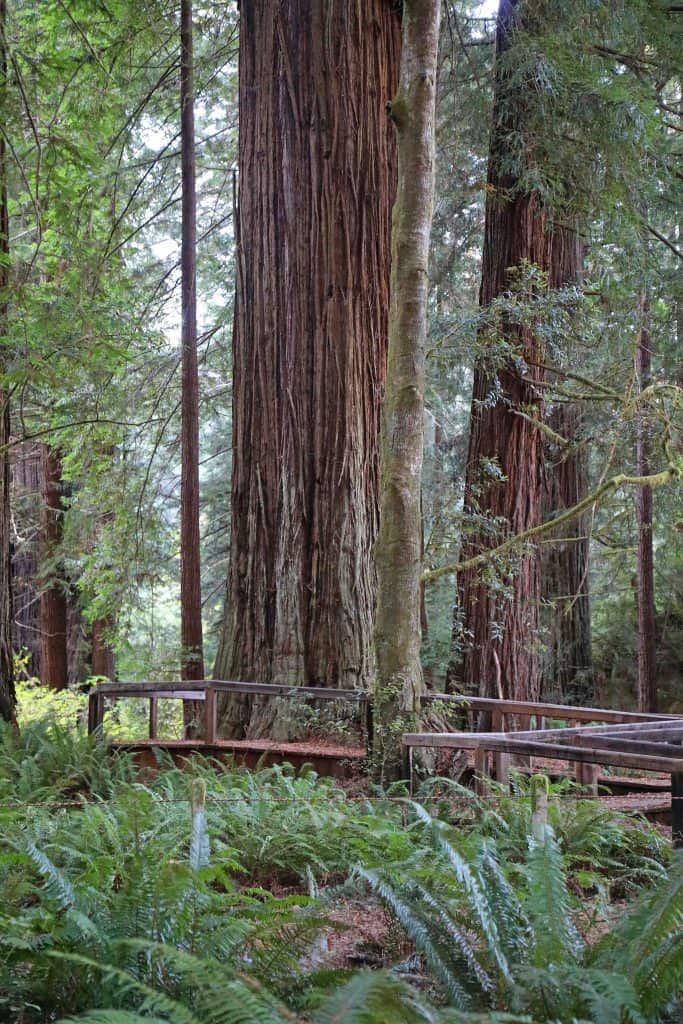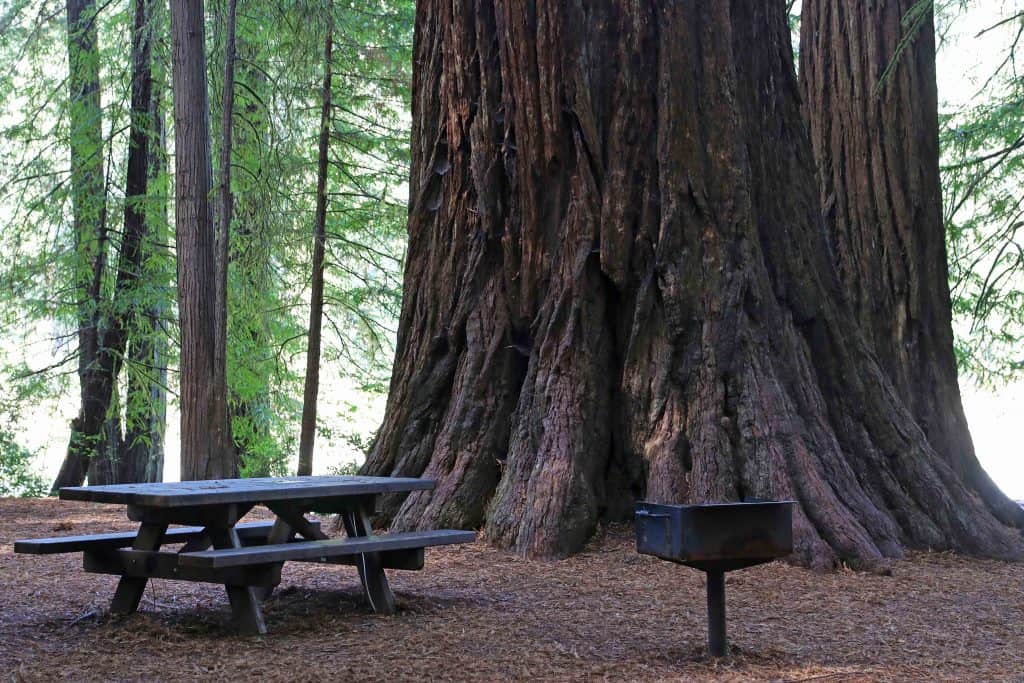 Have a Picnic in Jedediah Smith Redwoods State Park
Jedediah Smith Redwoods State Park is at the North end of the Redwoods and has some incredible trees! There is a campground and a picnic area surrounded by MASSIVE trees and a stream nearby.
You will seriously have the best of the Redwoods with a picnic under this tree! If you are in a car make sure to take the Howland Hill Road towards Crescent City. (RV'S, Motorhomes & Trailers are not allowed) You will get to drive amongst Massive Old Growth Redwoods and have several pullouts and trailheads to get that intimate experience with these trees.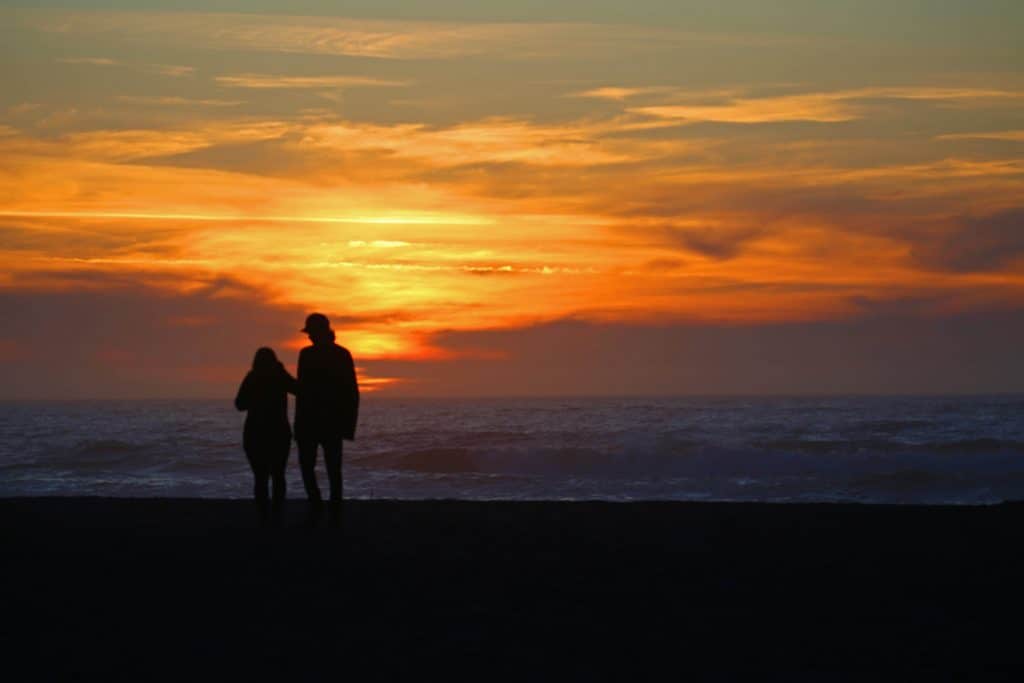 Watch Sunset at Gold Bluffs Beach
Part of the adventure of Gold Bluffs Beach is just getting there! Simply take Davison Rd off Hwy 101. The road starts off paved but quickly turns into a rough dirt road (Trailers Prohibited).
This road is cut through a dense forest and almost seems dark in the daytime. You will find yourself going about 10MPH due to road conditions and as you stare out at the trees!
Once you arrive at Gold Bluffs Beach don't expect many services, there is a small campground and a small day-use area. The bright side is this keeps the number of visitors down and you can really enjoy the beach and not have to fight for your little piece of sand.
Park Ranger John Pro Tip: California should be the epic destination for any National Parks/outdoors enthusiasts!
There are 9 National Parks, 7 National Monuments, 6 National Historic Sites, 4 National Historic Trails, 3 National Recreation Areas, 1 National Seashore, 1 National Preserve, and 1 National Memorial and this is just the National Park Service!
Most of these parks are easily accessible and did I mention the hundreds of miles of coastline with epic sunsets! There is a reason that I keep finding myself in California! Check out all of the National Parks in California
Bald Hills Road Scenic Drive
This 17-mile scenic drive takes you on a steep 15% grade through Old Growth Redwoods before entering several open prairies. Elk, black bear and wildflowers make this a breathtaking drive.
This is also the place for a couple outstanding hikes; Lady Bird Johnson Trail and the Tall Trees Trail. The Lady Bird Johnson Trail is a beautiful 1.5-mile loop trail that takes you through old growth redwoods and the site where Lady Bird Johnson dedicated Redwood National Park in 1968.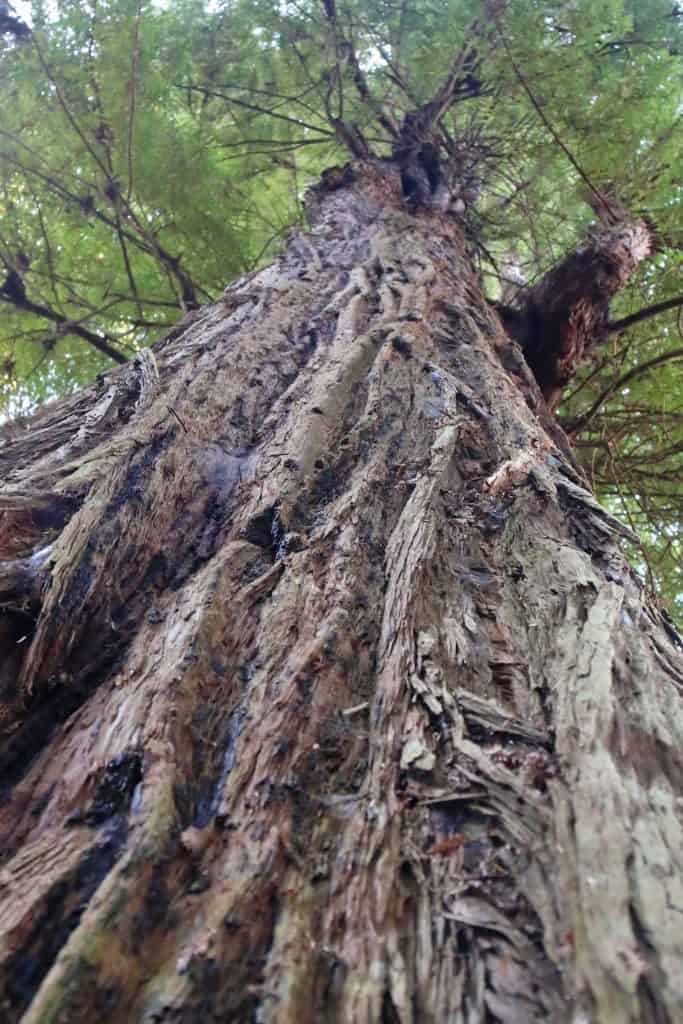 There are so many more things to do at Redwood National Park! You could easily spend weeks discovering this place but the best thing to do is simply go and see it for yourself.
I did all kinds of research before going and found myself completely relaxed listening to the waves at both Crescent City and Gold Bluffs Beach and just taking my time enjoying the massive Redwood trees that grow throughout the area.
Throw in some incredible Elk sightings and well the itinerary was thrown completely out the window. This was perfectly fine and I would not change a thing as we both came back completely relaxed and filled with incredible memories.
Pack a few road trip games to help pass the time as you move from one part of the park to another.
Explore National Parks Near Redwood National Park
Oregon Caves National Monument
Whiskeytown National Recreation Area
Don't miss all of the National Parks in California along with neighboring Oregon National Parks, Nevada National Parks and Arizona National Parks