Golds Bluff Beach Campground is located in Prairie Creek Redwoods State Park near Fern Canyon. This gorgeous campground is located next to the Pacific Ocean right on the beach.
Gold Bluffs Beach Campground
There is a TON of day-use visitors in this part of the park. Please make sure you secure your property and keep it safe. While we were in the campground we saw tons of bikes, radios, and other items left out in campsites. After being a law enforcement park ranger for 20 years I can't tell you how many thefts we saw in campgrounds.
These sites do not have a ton of shade but a lot of times this campground can be really foggy with marine mist. Make sure to pack lots of layers of clothes to fight off the chill.
Sites are pretty flat with a fair amount of space between them.
Getting to this campground can be a process. While we were there we saw 22 cars lined up at 2 pm trying to get on the road towards the campground and beach access.
Prairie Creek Redwoods State Park is managed cooperatively by the National Park Service and the California Department of Parks and Recreation. The park offers the best of both ocean camping and Redwood National and State Park access for hiking and exploring.
Don't miss our
Redwood National Park Camping
Guide.
Season: Year-Round
Number of Sites: 24
Location in the park: Located on the beach within Prairie Creek Redwoods State Park
Campsite Cost: $35.00
Reservations: Yes, up to 6 months in advance
Latitude/Longitude:
Elevation: sea level
Accessible Sites:
Pets Allowed: Pets are allowed but they must be on a leash less than 6 feet long.
Pets are not allowed inside park buildings or on specific trails.
Campground Reservations
Are campground Reservations Available? Yes
Phone Number? (800) 444-7275
(TTY 800-274-7275)
Online? https://www.reservecalifornia.com/CaliforniaWebHome/
How Far Ahead can you make a reservation? 6 months
First Come, First Served?

Campground Amenities
Flush Toilets: Yes
Showers: Yes
Payphone: ?
Is wifi Available? No
Is cellular Phone Service Available? No
Is the camp host available on site? yes
Is firewood available for purchase? Firewood is currently not available in the park. Please purchase firewood locally.
Closest Visitor Center - Located within Elk Prairie Campground.
Amenities at each campsite:
Firepit in the site? Yes
Picnic Table in the site? Yes
Bear Box in site/area? Yes
Potable Water? Yes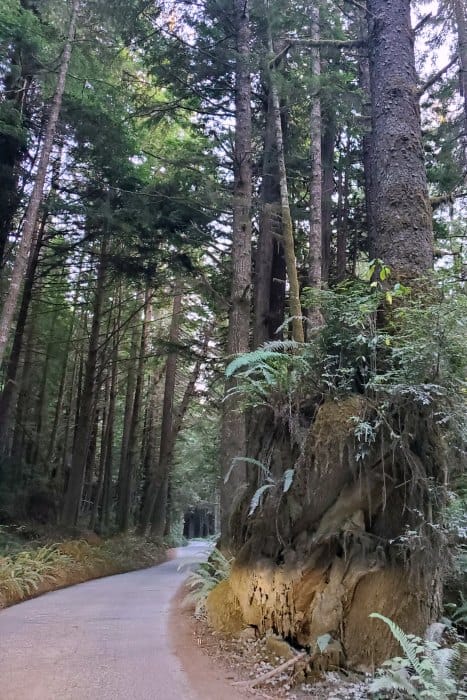 RV Camping at Gold Bluffs Beach Campground
Vehicles may not exceed 24 feet in length and or 8 feet in width. No trailers are allowed in the campground.
Generators may be used from 10 am to 8 pm.
Gold Bluffs Beach is a dry campground: meaning no electricity, water, or sewage connections for RVs.
How to get to Campground
Located six miles off Hwy 101 at the end of unpaved, Davison Rd.
This unpaved road travels through Coast Redwoods that are amazing! The dirt road is not large so you will want to be prepared to yield to oncoming traffic. This is not a road you want to speed down.
The Redwood forest you drive through is absolutely gorgeous.
Campground Regulations
The maximum number of people in a campsite: 8
The number of cars per campsite: 2
Check-in time: 2 pm
Checkout time: 12 pm
Quiet Hours: Quiet hours are from 10 pm to 6 am
Maximum Stay:
Golds Bluff Beach Campground Map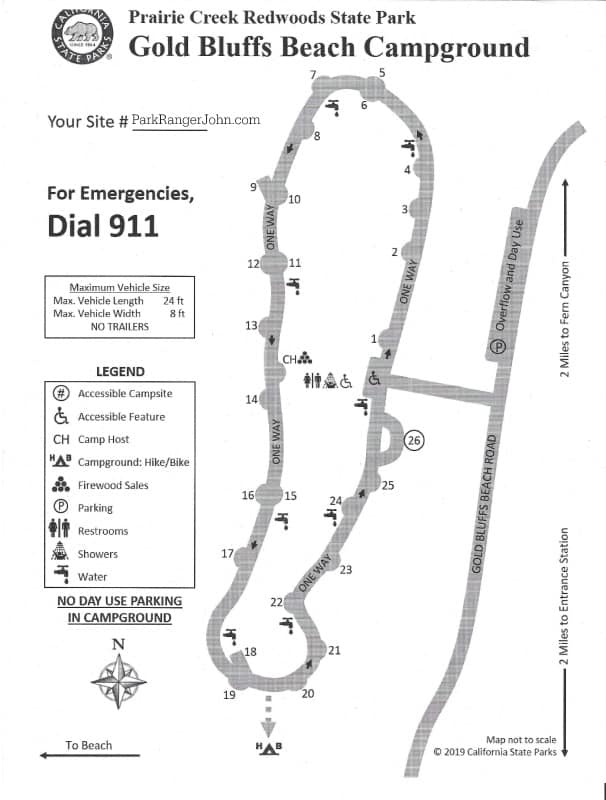 Photos of Gold Bluffs Beach Campground
Additional California Park Articles
Stout Grove Trail - Jedediah Smith Redwoods State Park
Calaveras Big Trees State Park
Things to do at Redwoods National Park
Avenue of the Giants - Humboldt Redwoods State Park