Totem Bight State Park is located in Ketchikan Alaska in Southeast Alaska. It is one of the top tourist destinations in Ketchikan, especially from the large number of cruise ship passengers they receive each summer.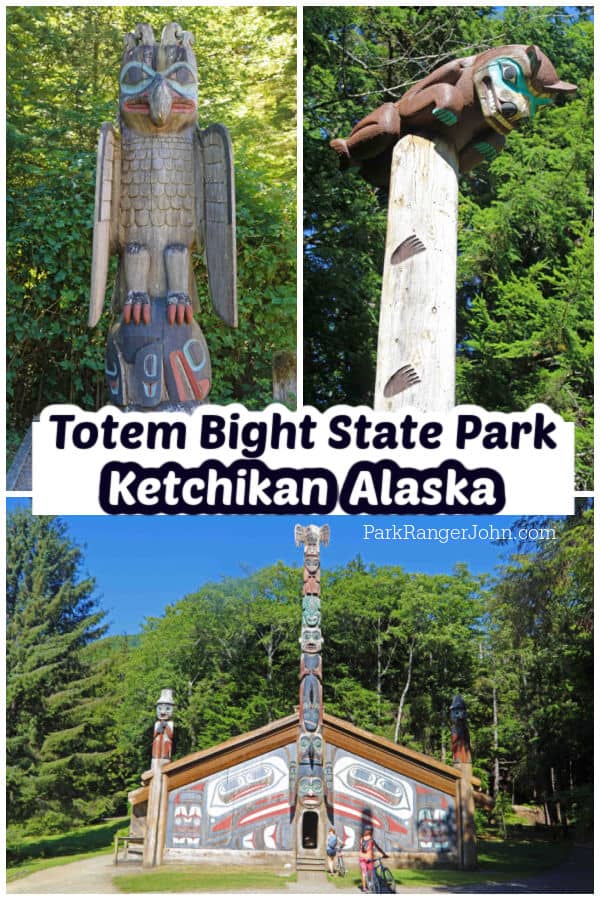 Totem Bight State Park
Totem Bight State Historical Park is a 33-acre day-use park with a visitor center that is open in the summer. The park features a one-way ADA accessible trail that leads you to see 14 totem poles and a clan house.
Alaska became the 49th state in the United States and received its statehood in 1959.
Totem Bight State Historical Park was added to the National Register of Historic Places in 1970.
Visitors have the opportunity to walk along a one-way guided path that leads you past 14 totem poles. Make sure to grab a visitor guide that explains the history of each pole and the clan house. Each of these poles is a replica of poles that were found in villages within Alaska.
One thing to be prepared for always in Alaska is changing weather. You will want to dress in layers since the park is along the water. Ketchikan is known for getting rain year-round. The temperature in Ketchikan rarely reaches above 72 degrees.
Keep an eye out as you travel through Ketchikan heading to the park for the totem pole that is pictured inside of US Passports.
Totem Bight State Park History
In the early 1900s, native villages were on the decline as people moved towards cities for work. Small villages were left abandoned and the weather of Southeast Alaska was quickly eroding these sites.
In 1938. the U.S. Forest Service began salvaging sites like Totem Bight through the Civilian Conservation Corps (CCC).
This program hired skilled carvers from a small group of older natives as well as some younger artisans to carry the tradition forward.
Carvers tried to copy the poles as much as possible, used original tools for carving totem poles, as well as using natural materials for the project.
By the end of World War 2, they had managed to duplicate 15 Totem Poles and the Clan House (community House).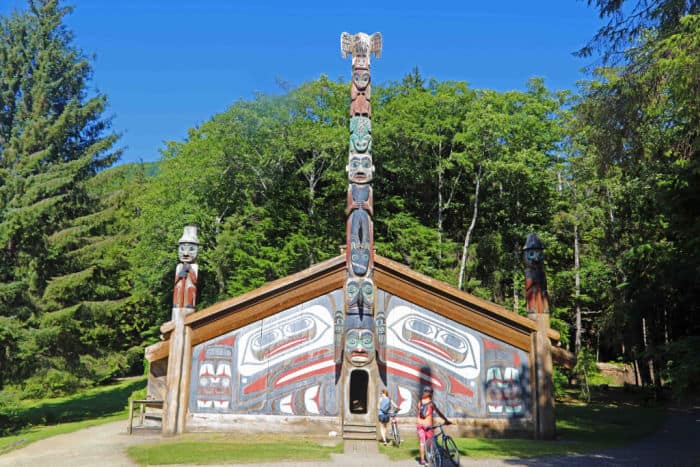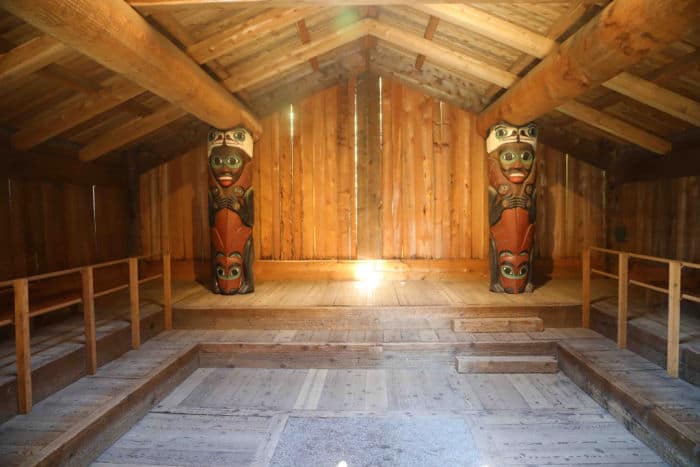 The Clan House
The Clan House at Totem Bight State Historical Park is representative of what you would have found in Tlingit or Haida villages built in the early 19th century.
The Clan House was built to hold 30-50 people. They served as the living quarters for several families of a specific lineage.
The families had their own area but would share a central fire.
Visiting Totem Bight through a Cruise Ship Excursion
Cruise ship excursions make visiting Totem Bight simple. Simply meet at your designated time and you will board a bus just outside the cruise ship.
The bus will go through town and show a few highlights to Ketchikan then take you north for a short drive (approximately 15-20. minutes).
The bus stops in front of a gift shop with restrooms and the park entrance is just around the corner.
You will have time here to look at a couple of totems at the entrance of the park while the bus driver goes and gets the entrance tickets for everyone on the bus.
You will be then led to the entrance of the park and hike down a nice trail into the park.
After visiting the park, you will have time to wander the gift shop and use the restroom before heading back to town.
I recommend this restroom break and then you can go explore Ketchikan when you get back. Ketchikan is small and easy to navigate.
If you feel lost, just look up and find your cruise ship and head back that way. Yes, Ketchikan is that small!
If you like cheeky fun things, I would also recommend the Great Alaskan Lumberjack Show.
Everyone from little kids to senior citizens gets excited to cheer on their teams, half of which are rooting for the Canadians and the other half cheering on the Americans in a fun game of timber sports.
It is educational, fun, humorous, and guaranteed that you will leave here smiling!
Park Ranger John Pro Tip:
If You are heading south from Ketchikan, one of the best times to watch out for whales is shortly after your cruise ship heads out of the port in Ketchikan.
You will also be leaving the inside passages protected waters and back into the Pacific Ocean. We saw more Humpback Whales here than anywhere else on our week-long cruise.
Totem Bight State Park Information
Entrance Fee - Totem Bight has a $5/person entry fee between May 1-September 30. There is no admission in the off-season between October 1-April 30.
Park Hours - The park is open year-round from 7:00 am-6:00 pm
Park Address - 9883 N Tongass Hwy, Ketchikan, AK 99901
Phone Number - (907) 247-8574
ADA Accessible - Yes
You may hear Totem Bight also called the Alaska Totem Pole Park.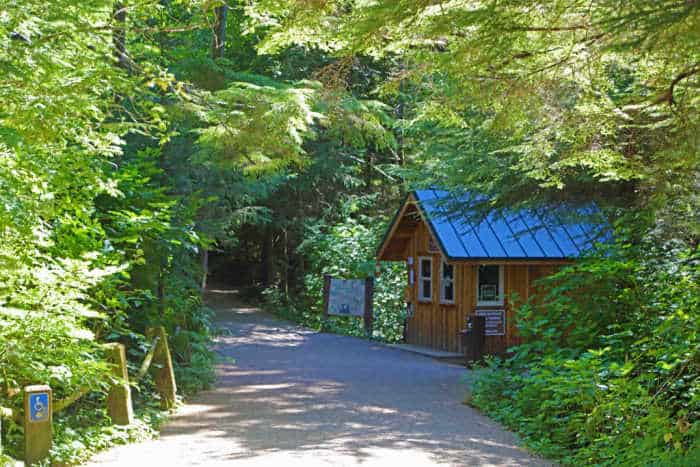 Nearby Attractions in Ketchikan, Alaska
Top things to do in Ketchikan Alaska on a cruise
The Great Alaskan Lumberjack Show
For more information on Alaska National Parks and cruising, check out my article on Cruising to America's National Parks- Alaska Ports of Call
Attractions in Skagway Alaska
Klondike Gold Rush National Historical Park
Things to do in Skagway Alaska
Bear Watching in Haines, Alaska
National Parks near Anchorage Alaska
Wrangell St Elias National Park
Check out all of the amazing Alaska National Parks