Alaska National Parks are a must-see for any National Park fan! There is just something about Alaska and the wild beauty of this gorgeous state. National Parks in Alaska include Denali National Park, Katmai National Park, and so many other gorgeous parks.
One of the best things about Alaska National Parks is how big they are and the opportunities they provide to see amazing wildlife and scenery. From seeing the bears of Katmai to the big 5 in Denali there is something amazing to see in each park.
Alaska National Parks
If you have been wondering how many National Parks in Alaska you can visit we have the answer for you!
Alaska is a land of rugged beauty and full of wilderness areas. The United States has set aside many acres of land as Alaska national parks to preserve the state's unique environments and natural splendor.
All of these national and state parks are havens for outdoor enthusiasts, and you will have no shortage of healthful outdoor activities, wildlife viewing, spectacular views, untouched wilderness and natural beauty to fill your trip.
The best time to come is in the summer, when temperatures are mild, snow fall briefly ceases or decreases, and all parks and services are open. Travel to many Alaskan parks in other seasons can be difficult or impossible.
Wrangell-St. Elias National Park & Preserve
Wrangell-St. Elias National Park, in the eastern part of south-central Alaska, is the largest national park in the state--and the nation--covering more than 13 million acres.
It contains numerous picturesque peaks, such as Mt. St. Elias, the nation's second tallest peak, and plenty of things to do. Paddle down one of the rivers for incredible views, sea kayak in the Gulf of Alaska, where you can see humpback whales, sea otters, sea lions and other types of wildlife or you can go mountain biking across the stunning terrain.
Hiking, fishing, and mountaineering are also popular within the park, which is about a day's drive from Anchorage. You can bring your own vehicle to get around in the park if you don't mind gravel roads.
Alternatively, arrange for an air taxi or arrive by boat via the Gulf. There are no lodges inside the park, so plan to camp or stay outside its borders. In winter temperatures can dip to -50 degrees Fahrenheit, but June and July, the warmest months, may even see a few 80-degree days.
Lake Clark National Park and Preserve
Lake Clark National Park, in the southwestern part of the state, just north of the Aleutian Island chain, seems to have at least one of every natural attraction in Alaska, from glaciers and volcanic peaks to waterfalls and meandering wild rivers.
Go canoeing, kayaking, rafting, power-boating, or fishing for salmon, northern pike, and lake trout on one of the park's waterways or take a hike along the shore.
The park is only accessible by air, but there are many air taxi services, and it is only a one- or two-hour flight from major cities such as Anchorage, Homer, and Kenai.
There are more than a dozen lodges in the park, the majority of which are in the Port Alsworth region. Average summer temperatures range between 50 degrees and 65, and even in January, lows are usually above 0 degrees.
Gates of the Arctic National Park
Gates of the Arctic National Park is the state's northernmost park, inside the Arctic Circle, and certainly one of its least developed. You'll love this destination if you cherish solitude, striking out on your own, and unspoiled natural vistas of mountains, rivers, and valleys.
Camping, bird- and wildlife watching and backpacking are all available in this rugged landscape, but keep in mind that you'll be making your own paths as you hike, so bring a compass and map.
In the winter temperatures in the park can dip as low as -40 degrees. In summer days rarely get above 70, and nights can still dip below freezing.
Snow can fall any month of the year, so you should be prepared for travel delays. The only way into the park is by air, but the nearby towns of Anaktuvuk Pass, Bettles, and Coldfoot have air taxi services. These towns also have the only area lodging.
Denali National Park and Preserve
Denali National Park, in central Alaska, is home to Mt. McKinley (or Denali), North America's tallest mountain. You can raft on the park's waterways and also hike, bike, fish, and view the abundant wildlife.
Experienced hikers can tackle the challenge of Mt. McKinley and it's highest peaks, with advance permission from the park. The park is just under 250 miles from Anchorage, and there is one car entrance to the park, along Route 3.
In summer, bus service is common to this remote location; you can also take one of the state-owned railroad's trains to the entrance.
In winter temperatures regularly dip as low as -40, but there are still activities like dog sledding, snowshoeing, and cross-country skiing.
Summers sometimes see 75 degree weather--and a rare snowfall. Lodging is scarce in the park, but nearby communities of Cantwell and Healy have hotels.
Kenai Fjords National Park, along the Gulf of Alaska coast, is filled with otherworldly beauty, thanks to its fjords and glaciers.
Paddle amid the ice-filled waterways, hike, fish, or test your mountaineering mettle in the Harding Icefield. Park Ranger-led guided hikes explore some of the park's most interesting attractions.
The town of Seward, Alaska, is just outside the park's borders, and it is much easier to get around by car in Kenai than other parks in the state.
Seward also has a number of hotels, or you can stay in the park at the Kenai Fjords Glacier Lodge. Weather varies a great deal in the park--a summer day can see highs in the 40s or the 70s whereas in winter temperatures may be above freezing or -20 degrees.
Katmai National Park and Preserve
The Katmai National Park and Preserve is another place that you and the group that you are traveling with will enjoy yourselves.
Whether you are looking for adventure or just a relaxing time, this site will allow you to do and see a lot. Make sure that you get whether and road condition updates so that you can be prepared when you are visiting.
This site is open all year round for your convenience. You will not have to pay a fee to visit this park. You will have to pay a park entrance fee if you are planning to go backcountry camping in the area.
Always come well prepared with all of the supplies that you will need for your entire group. You will want to make sure that you have suntan lotion and bug spray along for the time that you will be staying.
There are great brown bears viewing times of the year when visiting this site. The months of July and September are the best times to view them. Be sure that you have your binoculars and your camera with you so that you can watch them.
Many people enjoy this pastime, so be sure that you consider going during those months of the year and see if you will see any bears when you are there. You are surely in for a fantastic time when you are staying at the site for several days.
You will want to make sure that you follow the rules and regulations of the park and that you clean up before you leave. With good preparation you will have a great time at this site.
Glacier Bay National Park and Preserve
Glacier Bay National Park in Alaska boasts snow-capped mountain ranges, fjords, glaciers and freshwater streams.
Located 60 air miles west of Juneau in southeast Alaska, nature did not make it easy to reach. No roads lead to Glacier Bay, and visitors can gain access only by boat or small plane.
Most people arrive by cruise ship or through the only airport in the area at the tiny town of Gustavus, the "Gateway to Glacier Bay National Park".
The summer months see the population of Gustavus burgeon tenfold as thousands of visitors arrive to take in the breathtaking scenery and delve into Alaska's history and geological past.
Glacier Bay National Park and Preserve is headquartered in Bartlett Cove, ten miles by paved road from Gustavus. Bartlett Cove hosts the large commercial Glacier Bay Lodge, restaurant and bar, a walk-in only campground and hiking trails.
A 40-mile day-cruise to the glaciers leaves from here in the summer. Glacier Bay National Park encompasses over 3 million acres of dramatic scenery and wildlife and 11 tidewater glaciers, which can be experienced on the myriad boat or air tours that service the park.
List of National Parks in Alaska
Many of the Alaska National Parks include a park and a preserve. I have combined these onto the same line even though they count as two parks towards the 419 US National Parks.
Affiliated Areas
Aleutian World War II National Historic Area
Alaska Public Lands
Inupiat Heritage Center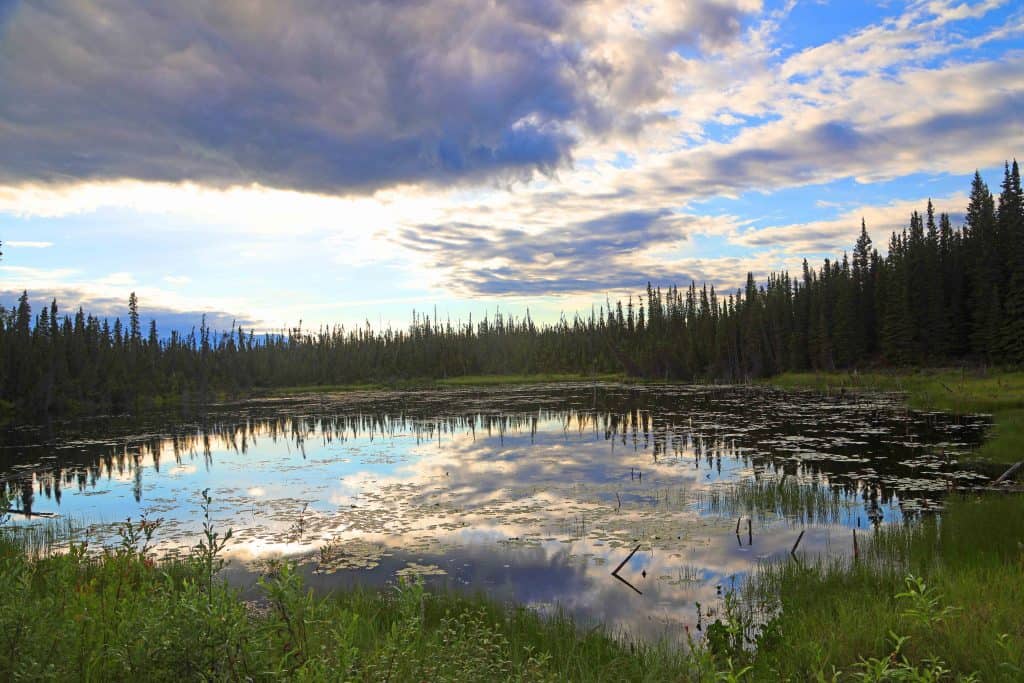 There are 24 National Parks found in Alaska with over 2.9 million visitors each year. The National Park Service estimates that there are over $1.9 billion dollars in economic benefits from National Park Tourism in Alaska.
Alaska National Parks include 1 National Heritage Area, 13 wild and scenic rivers managed by the National Park Service, 430 National Register of Historic Places listings, 50 National Historic Landmarks, 16 National Natural Landmarks and 1 World Heritage Site (Wrangell St. Elias National Park).
There are 10 threatened or endangered species found in the Alaska Parks.
For an entire list of US National Parks head over to our list of US National Parks in Alphabetical Order. We also have a printable checklist of all 417 National Park properties in the United States available.
If you have dreamed of working in the National Parks make sure and check out our article on How to Become a Park Ranger. Working in the parks is one of the most amazing jobs you can find. There is just something special about waking up and knowing you are going to work in a beautiful park.
Resources:
Alaska National Parks on the National Park Website
National Geographic Guide to Alaska parks Book
Fodor's Alaska Guide Book
Check out our post on Cruising to Alaska's National Parks