Located in the northwest of Alaska, about 25 miles north of the Arctic Circle, the Kobuk Valley National Park is a national park in the United States which protects the migration routes of the caribou and the Great Kobuk Sand Dunes.
Kobuk Valley National Park
If you've ever wanted to experience the great Alaskan wilderness, keep reading to discover the ultimate guide to Kobuk Valley National Park.
About Kobuk Valley National Park
The park is located in a transitional zone between the boreal forest and arctic tundra. The best-known animal species are elk, salmon, and especially caribou.
The caribou herd, with more than 400,000 strong migrate each year between their breeding grounds in the winter and calving grounds in the summer.
They have always been an important traditional source of livelihood for the Inupiaq people (Inuit people inhabiting northern Alaska), who live in the area.
Wildlife also includes wolves, black bears, brown bears, red foxes, lynx, otters, and Dall sheep.
The park protects a section of the valley of the Kobuk River, more or less the central section of the river that ends up in the Kotzebue Sound, an arm of the Chukchi Sea.
The Kobuk River has a total length of 174 miles, of which 110 miles are considered a national preserve. The valley is bordered by the Waring Mountains, in the south, and by the Baird Mountains, in the north.
This park is the center of a vast protected ecosystem also composed of the Selawik National Wildlife Refuge ( 2,149,817 acres), the Noatak National Preserve ( 6,569,790 acres), located to the north and the Gates of the Arctic National Park and Preserve, located about 31 miles west, adjoining Noatak (8,472,502 acres).
No road leads to the park. It is accessible by foot, dog sledding, snowmobiles, and by air taxis chartered from Nome and Kotzebue all year round.
The northern lights are often visible, in the winter nights when solar activity is high.
Is Kobuk Valley National Park worth visiting?
Alaska's national parks are nothing short of a genuine adventure, and Kobuk Valley is no exception. This park is a true bucket list item, but it's no secret that crossing this one off your list is no easy feat.
Getting to the park alone is no walk in the, well, park, and once you're there, the elements and lack of amenities make it a difficult yet rewarding experience.
Those who want to visit this remote park shouldn't hesitate to do so, but be prepared for what you are getting into and make sure to plan ahead for this once in a lifetime trip.
History of Kobuk Valley National Park
It was first established as a national monument in 1978 and then as a national park in 1980. It protects an area of 1,669,691 acres, making it the sixth-largest national park in Alaska and the ninth in the entire United States.
Kobuk Valley National Park was founded as one of the 15 new properties of the National Park Service.
It was first declared by President of the United States, Jimmy Carter, as a national monument on December 1, 1978, using the powers vested in him by the Antiquities Act when negotiations with Congress about the proposed ANILC law were stalled.
ANILCA was finally accepted in 1980 and Carter signed it on December 2 of that year. Unlike most parks in the National Park Service System in Alaska, the whole area of Kobuk Valley has the status of a national park, and hunting and fishing is permitted only to people who inhabit it and only for survival.
Things to know before your visit to Kobuk Valley National Park
Entrance fee
$0.00 - There is no entrance fee to visit the park.
Planning a National Park vacation? America the Beautiful/National Park Pass covers entrance fees for an entire year to all US National Park Sites and over 2,000 Federal Recreation Fee Sites.
The park pass covers everyone in the car for per vehicle sites and for up to 4 adults for per-person sites.
Buy on REI.com and REI will donate 10% of pass proceeds to the National Forest Foundation, National Park Foundation and the U.S. Endowment for Forestry & Communities.
Learn more about National Park Passes for parks that have an entrance fee.
Free Entrance Days -Find the five free entrance days the National Park Service offers annually.
Time Zone
AKT - Alaska Time
Pets
Pets are technically allowed inside the park, though it is recommended that you leave your four-legged friend at home.
Potential pet hazards include extreme weather and temperatures, prickly plants, predatory animals and insect bites (including tick), and more.
If you do decide to bring your pet, they must be kept on a leash at all times and they are not allowed in park buildings
Cell Service
The park is extremely remote. Cell service may be available in Kotzebue but out in the park it is rare.
Park Hours
The park is open 24 hours a day
Wi-Fi
Public Wi-Fi is available at the Northwest Arctic Heritage Center.
Insect Repellent
Insect repellent is always a great idea when outdoors, especially if you are around any body of water.
We use Permethrin Spray on our clothes before our park trips.
Water Bottle
Make sure to bring your own water bottle and plenty of water with you. Plastic water bottles are not sold in the park.
Parking
The park is not reachable by vehicle, so no need to worry about parking!
Food/Restaurants
There are no restaurants available in the park.
Gas
There are no gas stations within the park.
National Park Passport Stamps
National Park Passport stamps can be found in the Kotzebue visitor center. Make sure to bring your National Park Passport Book with you or we like to pack these circle stickers so we don't have to carry our passport book with us on every trip.
Kobuk Valley NP is part of the 2021 Passport Stamp Set
Details about National Park
Size - 1,750,716
Kobuk Valley NP is currently ranked at 9 out of 63 National Parks by Size.
Date Established
December 2, 1980 - by the Alaska National Interest Lands Conservation Act
Visitation
In 2021, Kobuk Valley NP had 11,540 park visitors
In 2020, Kobuk Valley NP had 11,185 park visitors.
In 2019, Kobuk Valley NP had 15,766 park visitors.
Learn more about the most visited and least visited National Parks in the US
National Park Address
171 3rd Ave
Kotzebue, AK 99752
Kobuk Valley National Park Map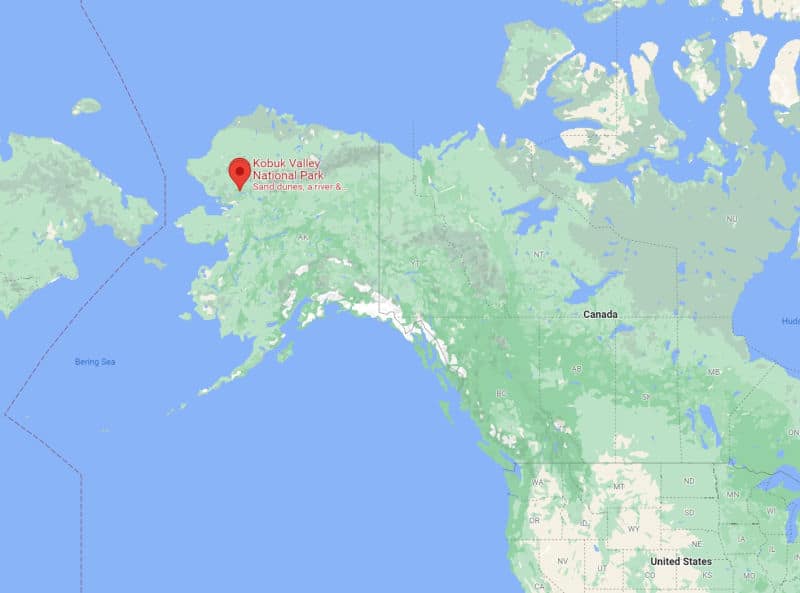 Where is Kobuk Valley National Park?
Kobuk Valley NP is located in remote western Alaska above the Arctic Circle.
Estimated distance from major cities nearby
All major cities have to be reached via commercial flights. There are no major cities within driving distance of the park.
Estimated Distance from nearby National Park
These Alaska National Parks can be reached by flying to them from Kobuk Valley
Gates of the Arctic National Park
Wrangell St Elias National Park
Where is the National Park Visitor Center?
The park visitor center is located in Kotzebue, Alaska as part of the Northwest Arctic Heritage Center.
The Northwest Arctic Heritage Center serves as the visitor center for the Western Arctic National Parklands: Kobuk Valley National Park, Cape Krusenstern National Monument, and Noatak National Preserve.
Getting to Kobuk Valley National Park
Closest Airports
Kotzebue Airport (OTZ)
Bettles Airport (BTT)
International Airports
Anchorage International Airport (ANC)
Fairbanks International Airport (FAI)
Air taxis
To access the park, you'll need to catch a flight to either Kotzebue (by way of Anchorage) or Bettles (by way of Fairbanks).
From there you will need to take an air taxi into the park.
During the summer, scheduled air taxis are available from these two cities from a variety of authorized providers.
The two most popular places to land in the park are on the Kobuk River (via floatplane) or the Great Kobuk Sand Dunes (via bush plane outfitted with tundra tires).
Air Taxi rates vary but be prepared to pay a few hundred dollars an hour. The good news is that the flight offers scenic views of the area below, so you'll definitely get your money's worth!
Driving Directions
There are no roads to the park.
Best time to visit Kobuk Valley National Park.
The weather in Kobuk National Park is extreme and oftentimes unpredictable. Flights will be canceled if the forecast poses any threats, so it's important to plan your trip for the right season.
National Park Weather and Seasons
Spring
Although spring is often just an extension of the arctic winter, this can be a good time to visit the park if you are well prepared.
You can see the park's rare flora beginning to bloom, and if you're lucky, you may even spot the ginormous Western Arctic caribou herd traveling north to its summer calving grounds to the north.
Summer
Summer is the best time to visit, as this is when temperatures are most agreeable. That being said, weather patterns are often unpredictable, and temps can range from the low 60s all the way up past 100 degrees in some parts of the park. For this reason, dressing in layers is highly recommended!
Summer visitors should also note that Kobuk Valley is located close to the Arctic Circle, so daylight hours are stretched much further here than in other parts of the world.
In early June, there are days when the sun doesn't set at all! This is great if you want to spend as much time exploring as possible, but it may take some getting used to if you hope to catch some sleep at your usual bedtime.
One of the downfalls of visiting in the summer months is that the mosquitos come out in hoards. In addition to insect repellent, many park visitors also bring bug jackets and head nets to keep the mosquitos away - they really are that bad!
Autumn/Fall
Fall is another great time to visit the park. This is when the Wester Arctic caribou herd migrates back to the park's southern region to their winter breeding grounds, usually around September.
You don't want to visit too late in the autumn, as cold temperatures and hefty snowfall begin well before true winter sets in.
Winter
Arctic winters are no joke, and temperatures can often dip down to the negative 50s!
Visiting the park in the winter is only recommended for those who have extensive knowledge and experience in Arctic survival skills and possess the appropriate equipment.
For most visitors, this is out of the question. If you REALLY want to experience winter at Kobuk Valley National Park but lack the skills to do so, consider hiring an experienced guide.
Aside from being quite beautiful, winter in Kobuk Valley is a great place for snowmobiling, aurora-viewing, skiing, and dog mushing.
Those who visit in the winter will need to arrange their own transportation. There are no scheduled air taxis during the winter, but you can still access the park via charter plane, snowmobile, or dogsled.
Just as the summer gets extra hours of daylight, the park sees extra hours of darkness in the winter due to its proximity to the Arctic Circle. Some days you won't get more than a few hours of useable daylight!
Best Things to do in Kobuk Valley National Park
Wildlife viewing
Twice a year, the Western Arctic caribou herd migrates through the park from the northern slopes to the southern edge of the Brooks Mountain Range.
There are between 200,000 and 500,000 caribou in this herd, making it one of the largest in Alaska.
The herd travels around 600 miles between their seasonal habitats, making this one of the world's few remaining great migration routes.
Head to Onion Ridge for your best chance for spotting this incredible herd. Even if you never get to lay eyes on a caribou, you'll see signs of their existence all over the park, including trampled vegetation, hoof prints, and discarded antlers.
Other animals that call the park home include wolves, grizzly bears, moose, foxes, wolverines, porcupines, and more.
There are also millions of migratory birds nesting in the park during the summer, including cranes, swans, geese, ducks, and arctic terns, among others.
The parks Junior Ranger program is a great way to learn more about Alaska. You can pick up a Junior Ranger program at the Northwest Arctic Heritage Center or print one at home.
The park offers Junior Ranger programs at the Northwest Arctic Heritage Center in Kotzebue on Thursday and Friday afternoons in the summer.
Flight Seeing
Because the park is so big, flightseeing is one of the best ways to experience all of its splendor.
You'll be able to take in a bird's eye view of the incredible landscape, and if you're lucky, you may even see some wildlife from above, including the Western Arctic caribou herd.
If you'd like to take a closer look at this amazing area, there are also options for landing in the park so you can explore it for yourself.
Bush planes can usually hold up to four people and can be chartered for a few hours or the entire day. Flightseeing excursions are provided by various air charter companies in Kotzebue and Bettles.
Boating/Floating
Floating along the slow-moving Kobuk River is another great way to experience the park. The river ambles through boreal forests teeming with wildlife.
You could also take on the Salmon River at its headwaters before it empties into the larger Kobuk River.
Since you will need to pack your flotation device onto a plane, collapsible canoes, collapsible kayaks, and packrafts are recommended.
Great Kobuk Sand Dunes
While Kobuk Valley isn't the only national park that houses impressive sand dunes, it is unique in the fact that it is the only park that can say it has Arctic sand dunes.
The dunes were created by the grinding of glaciers over the span of tens of thousands of years, and the tallest ones can rise as high as 100 feet!
These massive piles of sand look quite out of place amongst the rest of Kobuk Valley's wild landscape, which may be why so many visitors flock to the dunes. This area is a fun place to play, hike, and photograph.
It's also incredible just to look at! In addition to giant piles of sand, you'll also see some unique vegetation in this area, including wild rye, sedges, sprouting grasses, and wildflowers.
The Great Kobuk Sand Dunes are located on the southeastern side of the park, and you can even arrange for your pilot to drop you off right on the sands.
You could also hike in from the Kobuk River, though this will take some great orienteering skills and an additional couple of hours. Visitors should also note that in the summer, this area of the park can see temperatures over 100 degrees Fahrenheit.
Hiking in Kobuk Valley National Park
Always carry the 10 essentials for outdoor survival when exploring.
There are no designated hiking trails inside Kobuk Valley National Park, but that doesn't mean you should leave the hiking boots at home!
Backcountry hiking is one of the most popular pastimes in the park, though it is no easy feat. You'll need to be confident in your orienteering skills and pack plenty of water to get you through.
The most popular area for backcountry hiking in the park is the Great Kobuk Sand Dunes. You can explore these giant piles of sand by yourself or with a guide, but be sure not to miss them.
You can hike in from the Kobuk River, or save some time and energy and ask your bush pilot to land right on the sands.
Hiking in the mountains is actually easier than most of the other areas of the park because the terrain is more solid and less spongy.
You'll likely need to ask your pilot to land near the base of the peaks you plan to ascend, as the mountains are from the other most frequented areas of the park.
Of course, you could always blaze your own trail, but this will take up valuable time and dip into your resources - remember, there are very few amenities in the park, so you'll need to pack in water, food, and any other necessities.
How to beat the crowds in Kobuk Valley NP?
Kobuk Valley is one of the few national parks where you won't have to worry about crowds. In fact, you might go your whole trip without seeing another individual!
This is actually the least visited national park in the entire nation, mostly due to its extremely remote location and limited resources.
Where to stay when visiting Kobuk Valley National Park
There are no National Park Lodges within the park. Visitors may choose to stay in Kotzebue for a day or two to explore.
Kobuk Valley National Park Camping
There are no designated campgrounds inside of Kobuk Valley National Park. Backcountry camping is allowed without a permit, and we've listed some of the most popular areas below.
Note that Kobuk Valley is pure wilderness, and backcountry camping comes with risks. For this reason, it is important that you come prepared.
You should have a firm grip on orienteering, dress in lots of layers, pack plenty of water, and store food out of reach of wildlife.
You can borrow animal-resistant food containers from the Northwest Arctic Heritage Center in Kotzebue if you do not have your own.
Great Kobuk Sand Dunes
The dunes are a popular backcountry area for day hikers and campers alike. There are plenty of level surfaces to pitch your tent, and it's even possible for aircraft with wheels to land right on the sand.
You could also hike in from Kobuk River if you are arriving by floatplane. The dunes are about two miles from the river, and since there are no trails, good orienteering skills are a must.
Onion Portage
Onion Portage is another favorite spot for backcountry camping. This narrow peninsula juts out into the Kobuk River along the park's eastern boundary.
Twice a year, large hoards of Caribou migrate through this area, and hunters have been camping in Onion Portage for over 8,000 years.
Visitors are not allowed to hunt inside of the park, but this remote area is still an incredible place to set up camp and become one with nature.
Parks near Kobuk Valley National Park
Cape Krusenstern National Monument
Noatak National Preserve
Bering Land Bridge National Preserve
Yukon Charley Rivers National Preserve
Klondike Gold Rush National Historical Park
Sitka National Historical Park
Check out all of the Alaska National Parks along with National Parks in Washington, California National Parks, and National Parks in Hawaii