If you're looking for the ultimate guide to Lake Clark National Park and Preserve, you've come to the right place.
Below you'll find everything you'll need for planning a trip to the park, including how to get there, when to visit, what to do, and more.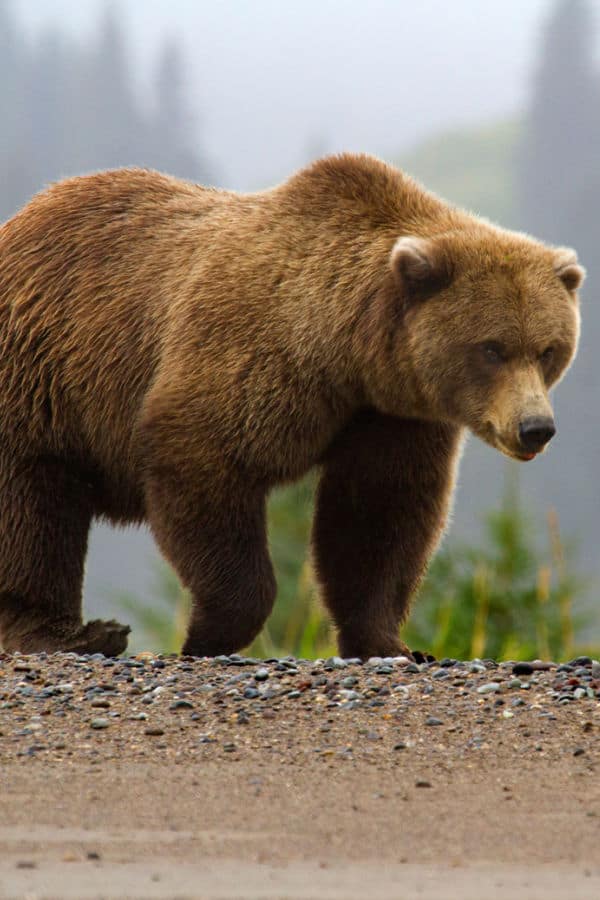 Lake Clark National Park
Lake Clark National Park and Preserve is a protected natural area composed of a United States National Park and a preserve located in southern Alaska, which protects numerous streams and lakes of vital importance for the Bristol Bay and Sockeye Salmon fishing.
It was first established as a national monument in 1978 and then as a national park in 1980.
The park allows a wide variety of recreational activities throughout the year.
The Lake Clark National Park and Preserve, as it concentrates on a relatively small area of the Alaska Peninsula, southwest of Anchorage, it's called "the essence of Alaska" because of a variety of features that do not occur in any of the other national parks of Alaska.
The union of three chains of mountains (to the north - the Alaska mountain range , to the south - the Aleutian mountain range, and the Chigmit mountains ).
There are two active volcanoes, the Redoubt and Iliamna ; in the east - a coastal line with rainforests (similar to southeastern Alaska), washed by the waters of Cook Inlet.
In the west, an alpine tundra plateau (similar to the Arctic Alaska); and several turquoise lakes.
The variety of the park's ecosystems means that almost all of Alaska's major animals, whether terrestrial or marine, are found there.
The largest mammals are the grizzly bear, the black bear, the moose, the Dall sheep and caribou. There are also wolves, coyotes, lynxes, wolverines , martens, red foxes, beavers and otters.
The most prominent birds are the bald eagle, the golden eagle and the peregrine falcon.
The park is also best known for its salmon populations, including the Kvichak River sockeye salmon, one of the largest populations in the world, accounting for 16% of US production.
Marine mammals living along the coast of the park are sea lions, white whale (or beluga whale), and seals.
About Lake Clark National Park
Lake Clark National Park and Preserve is one of Alaska's hidden gems, and perhaps no other park in the state encapsulates the beauty and diversity of the 49th state so well.
This remote park is undeveloped wilderness at its finest, with soaring mountain peaks, thundering waterfalls, glaciers, rugged coastlines, and the state's biggest lake all coexisting inside park borders.
Located about 100 miles southwest of Anchorage, Lake Clark National Park and Preserve stretches from the shores of the Cook Inlet and encompasses a wide variety of terrain, including the Chigmit Mountain Range, two active volcanoes, tundra-covered hills, glacier-carved valleys, and boreal forest.
There are also three National Wild and Scenic Rivers running through the park: Chilikadrotna, Mulchatna, and Tlikakila.
Of course, the park's centerpiece is the lake for which it is named - the spectacular Lake Clark, with its turquoise blue waters surrounded by imposing mountain peaks.
This rugged expanse is home to a wide variety of creatures, including shorebirds, moose, wolves, caribou, and lots and lots of bears. Bear viewing is one of the most popular activities at the park, in addition to hiking, camping, and fishing.
Is Lake Clark National Park worth visiting?
Lake Clark lacks the same recognition as some of the other more famous Alaskan national parks, but it over-delivers when it comes to splendor.
If you prefer rugged wilderness to convenience, then Lake Clark National Park is definitely worth visiting.
That being said, it will take careful planning to cross this one off your bucket list, so keep reading to find out everything you'll need to know about visiting this fantastic park.
History of Lake Clark National Park
Sometime after the end of the last ice age (around 10,000 years ago), the first human settlers made their way to the Lake Clark area.
The abundant waterways and vegetation made it a great place to settle down, and the Athabascan people, also known as Dena'ina, have called this place home for thousands of years.
Although the area of the park today is poorly inhabited, there has been a continuous presence of people for about 10,000 years.
After the survey conducted by Captain James Cook in 1778, the number of immigrants grew steadily.
The Russians, along the Peninsula of Kenai, established settlements and stores dealing with the purchase of fur. There is evidence that in 1791 Rus Bocharov reached the Iliamna lake and established a trade station there.
During Russian rule, the Russian Orthodox Church's missionary activities spread. The Americans came to this area in about 1890, and the park was named after John W. Clark, head of the Nushagak trade center and settlement.
Until the early 1900s, almost all people lived on the northern edge of Iliamna Lake.
There are countless sites with ancient and historic remains within the park, many of which are listed on the National Register of Historic Places.
In more recent history, a permanent settlement was established on the shores of Lake Clark, and in 1930 the first plane touched down at Tanalian Point.
One of the area's most famous inhabitants was Dick Proenneke, an engineer unsatisfied with a 50-hour workweek who felt called to Alaska's wilderness.
Proenneke built himself a cabin with just a small collection of hand tools on the shores of Upper Twin Lake and lived in almost complete isolation in the wild for over 30 years.
The cabin still sits near the lake, and visitors can take a tour for free in the summer months.
The area was proclaimed a National Monument in 1978 and designated a National Park and Preserve shortly after in 1980.
Things to know before your visit to Lake Clark National Park
Entrance fee
$0.00 - There is no entrance fee to visit the park.
Learn more about National Park Passes for parks that have an entrance fee.
Free Entrance Days -Mark your calendars with the five free entrance days the National Park Service offers annually.
Time Zone
Alaska Time
Pets
Leashed pets are allowed in the park BUT the park service recommends not bringing a pet with you.
Cell Service
Cellular service (calls only) is available only through GCI and is limited to the Port Alsworth area.
Park Hours
The park is open 24 hours a day. Visitor Services are limited Labor Day through Memorial Day.
Wi-Fi
There is no public Wi-Fi
Insect Repellent
Insect repellent is always a great idea when outdoors, especially if you are around any body of water.
We use Permethrin Spray on our clothes before our park trips.
Water Bottle
Make sure to bring your own water bottle and plenty of water with you. Plastic water bottles are not sold in the park.
Parking
Parking will be at the flight seeing office and not within the park.
Food/Restaurants
The only restaurants within the park are at private lodges. If you are not staying at a private lodge you will need to bring your own meals with you or ask if your tour operator provides them.
Gas
There are no gas stations within the park.
Drones
Drones are not permitted within National Park Sites.
National Park Passport Stamps
National Park Passport stamps can be found in the visitor center.
Make sure to bring your National Park Passport Book with you or we like to pack these circle stickers so we don't have to bring our entire book with us.
Lake Clark NP is part of the 2013 Passport Stamp Set.
Details about Lake Clark National Park
Size - 4,030,006 acres or about 6,297 square miles
National Park - 2,619,713 acres or about 4,093 square miles
National Preserve - 1,410,293 acres or about 2,204 square miles
Lake Clark NP is currently ranked at 7 out of 63 National Parks by Size.
Date Established
December 1, 1978 - Designated as a National Monument by President Carter
December 2, 1980 - Redesignated a National Park and Preserve by the Alaska National Interest Land Conservation Act (ANILCA)
Visitation
In 2021, Lake Clark NP had 18,278 park visitors.
In 2020, Lake Clark NP had 4,948 park visitors.
In 2019, Lake Clark NP had 17,157 park visitors.
Learn more about the most visited and least visited National Parks in the US
National Park Address
Field Office
1 Park Place
Port Alsworth, AK 99653
Lake Clark National Park Map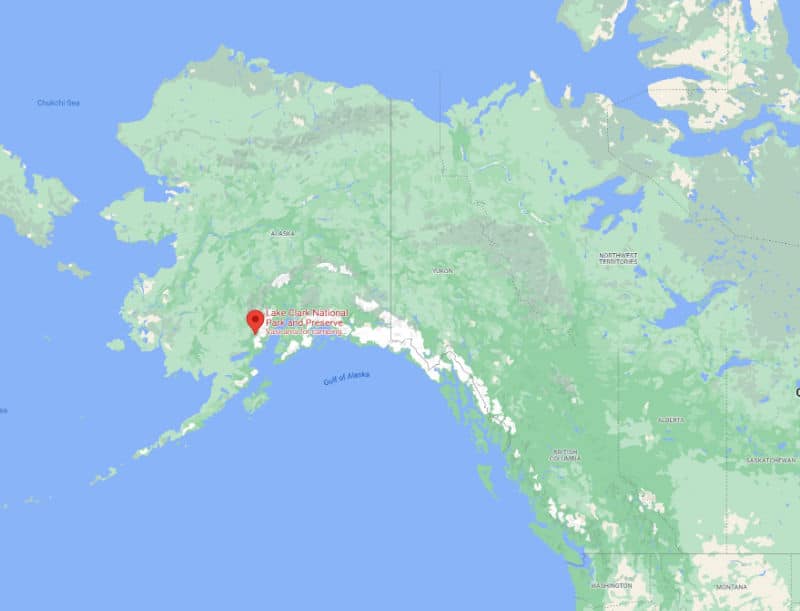 Where is Lake Clark National Park?
Lake Clark NP is located on the Alaska Peninsula.
Estimated distance from major cities nearby
All major cities will need to be reached via plane or boat ride. There are no roads into the park.
Estimated Distance from nearby National Park
These Alaska National Parks can be reached via plane or boat ride.
Wrangell St Elias National Park
Gates of the Arctic National Park
Where is the National Park Visitor Center?
Port Alsworth Visitor Center
The visitor center is located midway up the easternmost runway and has maps of Port Alsworth and the Tanalian Trails that originate from town.
The visitor center is only open in the summer.
Getting to Lake Clark National Park
Closest Airports
It is worth noting that you will still need transportation from these airports to the park.
Anchorage International Airport (ANC)
Kenai
Homer
Driving Directions
There are no roads to the park. You have to visit via plane or boat.
Best time to visit Lake Clark National Park
The best time to visit the park is between June and October, when the weather is at its best.
There are also more activities and tours available between these months, along with convenient lodging options.
Weather and Seasons
Because the park covers such a massive and diverse area, the weather changes drastically depending where you are in the park.
The coastal areas are often foggy and receive more precipitation than the inland areas, though winters are a bit more mild.
Weather conditions can also change rapidly, so it's a good idea to dress for all types of conditions no matter which season you visit the park.
Spring
As the snow begins to melt, the park once again begins to come alive.
This can be a good time to visit, if not a bit brisk. Snow can occur in the park at any time, and it's not uncommon for spring to see dustings.
Some years snow continues to fall as late as June, so be prepared for a cold icy climate if you visit in the spring.
Summer
Early summer is a great time to visit for those seeking sunny skies and warm weather. This is also when the bears start venturing out, so your chances for bear viewing are great.
Late June is perfect for wildflower viewing, though many prefer to visit the park in August, as this is when the park's natural beauty is said to be at its finest.
Other perks of visiting later in the season include ripe berries and excellent fishing opportunities.
Fall
An early autumn trip to Lake Clark will reward visitors with one of the most amazing color shows in the world.
Fall foliage usually peaks between early and mid-September, depending on which area of the park you are visiting.
However, by late September, temperatures begin to plummet by late September, so be prepared for cold weather and the possibility of snow if you visit later in the season.
Winter
Although the park is open year-round, winter is not an ideal time to visit. Temperatures sit well below freezing, and there are fewer flights and activities available.
Additionally, the park's remote location and lack of amenities make it essential that winter visitors know how to survive in the arctic's extreme conditions and are confident in their skills.
Best Things to do in Lake Clark National Park
Bear viewing
Lake Clark National Park has an abundance of brown bears. In fact, this area supports one of the largest brown bear populations in the world.
These magnificent animals are known to gather along the coastline, creeks, and lakes hunting for salmon and clams.
The best way to safely view the bears in the park is by taking a guided tour.
Tours are available seasonally and depart from Anchorage, Kenai, and Homer. The best time for bear viewing is between June and September.
The Junior Ranger program is a great opportunity for visitors of all ages to learn more about the park. When you complete your program you will receive a Junior Ranger Badge.
Wildlife Watching
Aside from the large population of brown bears, the park is also home to black bears, moose, Dall sheep, and wolves.
There is also a massive herd of about 100,000 caribou that meanders the area. Along the coast there you may spot Stellar sea lions, beluga whales, harbor seals, sea otters, and a wide variety of seabirds.
Fishing
Alaska is a world-class fishing destination, and the waters of Lake Clark National Park are especially prosperous.
Anglers from near and far journey to the park for their chance to reel in a variety of species from the numerous lakes and rivers in the area.
Common catches include salmon, arctic char, northern pike, Dolly Varden, Arctic Grayling, lake trout, and rainbow trout.
You can fish these waters on your own, or hire an exprienced guide. If you're staying at one of the lodges inside the park, you'll likely be able to book expeditions through your accommodation - just be sure to do so in advance as spots fill up quickly!
Hiking in Lake Clark NP
Although it is often thought of as a trail-less wilderness, there are actually about seven miles of established hiking trails inside of Lake Clark National Park.
In addition, there are also endless miles of terrain to be traversed along lakes and rivers and through mountain passes and forests.
Below we've highlighted some of the best places for hiking in Lake Clark National Park, including established trails, multi-day routes, and day-hikes.
Always carry the 10 essentials for outdoor survival when exploring.
Telaquana Route - Moderate - 50 miles - Point to Point
The Telaquana Route is a historic trail that follows an ancestral Dena'ina Athabascan route.
This 50-mile route is one of the most popular backpacking trails in the park, and depending on your pace, it will take anywhere from five to seven days to complete.
There is no definitive trail, so hikers will need to rely on their wayfinding and map reading skills to stay on course.
The general path sits between Telequana Lake to Kijik Villiage, located on Lake Clark.
This route showcases some of the park's most scenic expanses, though there are risks that come with hiking it. You'll need to cross through some seriously rough terrain, including three rivers, dense brush, and steep drop-offs.
Tanalian Falls - Moderate - 7.5 miles - Out & Back
This is one of the only designated trails in the park, which makes it easily accessible for hikers of all skill levels. The trailhead is also conveniently located in Port Alsworth, so there's no need to worry about arranging a separate flight to hike this scenic trail.
The route features views of both the upper and lower Tanalian Falls, and you if you're lucky, you may even spot some wildlife along the way.
You can also add a detour along Beaver Pond if you want to extend the hike - but be warned that this area is extremely buggy!
Kontrashibuna Lake - Moderate - 5.5 miles - Out & Back
If you continue on beyond Tanalian Falls, you'll run into Lake Clark's designated wilderness, and eventually Kontrashibuna Lake.
This serene body of water is a mountain gem, and though you will need some wayfinding skills to get there and back, it's not as intense as hiking some of the other areas backcountry in the park.
Beaver Pond Trail - Easy - 3.2 miles - Loop
Beaver Pond Trail is another one of the most traversed treks in the park, and if you're looking for a relaxing stroll, this is about as close as you'll get.
You'll wander past an old beaver pond and through quiet birch forests.
There are several benches located around the pond where you can rest and search for shorebirds nesting in early summer.
Beaver Pond Trail acts as a connection to many other hiking areas in the park, making it a great place to start your hiking expedition.
Tanalian Mountain - Hard - 8.6 miles - Out & Back
Hiking up to Tanalian Mountain is a great way to spend a day at Lake Clark, and you should plan on spending at least eight hours for the entire hike.
From the summit, you'll be treated to some of the best views in the park, spanning across Lake Clark and the majestic mountains surrounding it.
Ascending the steep terrain is no easy feat, however. In addition, you'll need to rely on your own wayfinding and map reading skills, as this is not an established route.
Portage Creek Trail - Moderate - 3.25 miles - Point to Point
Portage Creek Trail is the last established trail in the park. The route starts near Joe Thompson Public Use Cabin and travels north through a thick birch and spruce forest and eventually into alpine tundra.
To access the trailhead, you will need to take a boat or floatplane to the beach in front of the cabin.
Alternatively, you may be able to find a water taxi from Port Alsworth, depending on the season you are hiking the trail.
The first mile or so is relatively flat, but once you reach Portage Creek, you're in for a challenge. From here, you'll ascend higher via a series of switchbacks.
While it may be tempting to shortcut this steep section, it's important to stick to the designated trail to protect it from erosion.
When the designated trail ends, you can either continue into the uncharted wilderness of the tundra or head back the way you came.
How to beat the crowds in Lake Clark National Park?
The best way to beat the crowds is to plan ahead and make sure you have your tour lined up months in advance if possible.
Where to stay when visiting Lake Clark National Park
There are no National Park Lodges within the park.
There are private lodging facilities that operate on private property within the park.
Camping
There are no designated campgrounds within the park, just one primitive camping area near Hope Creek. There are also two public-use cabins situated along Lake Clark.
Backcountry camping is also possible with a permit, and one of the most popular areas for setting up camp is along the shores of the lovely Turquosie Lake.
Not only is this a beautiful and serene area to spend a few nights, but it's also conveniently located just a hop skip and a jump (or a short plane ride) away from the park headquarters in Port Alsworth.
Parks Near Lake Clark National Park
Klondike Gold Rush National Historical Park
Sitka National Historical Park
Cape Krusenstern National Monument
Yukon-Charley Rivers National Preserve
Bering Land Bridge National Preserve
Aniakchak National Monument and Preserve
Check out all of the National Parks in Alaska along with Hawaii National Parks, Washington National Parks, and National Parks in California.