Epic Guide to Glacier Bay National Park in Alaska! Everything you need to know about visiting the park via an Alaska Cruise or by heading to Bartlett Cove.

Glacier Bay National Park
A visit to Glacier Bay National Park should be on everyone's travel bucket list. The opportunity to see the glaciers up close and personal is so awe-inspiring.
The majority of visitors to Glacier Bay National Park arrive via cruise ship. This is how we visited the park and it was truly amazing. We have cruised to Alaska a couple of times and each time we fall more and more in love with the area.
There is just something about Alaska that draws you in.
Glacier Bay National Park is a national park in the United States, and also a Preserve, located on the coast of Alaska and it is located about 95 miles from the capital, Juneau.
The most striking part of the park is a bay in the southeastern part of Alaska. It extends from north to south and from northwest to southeast by about 65 miles and has a width between 3 and 18 miles.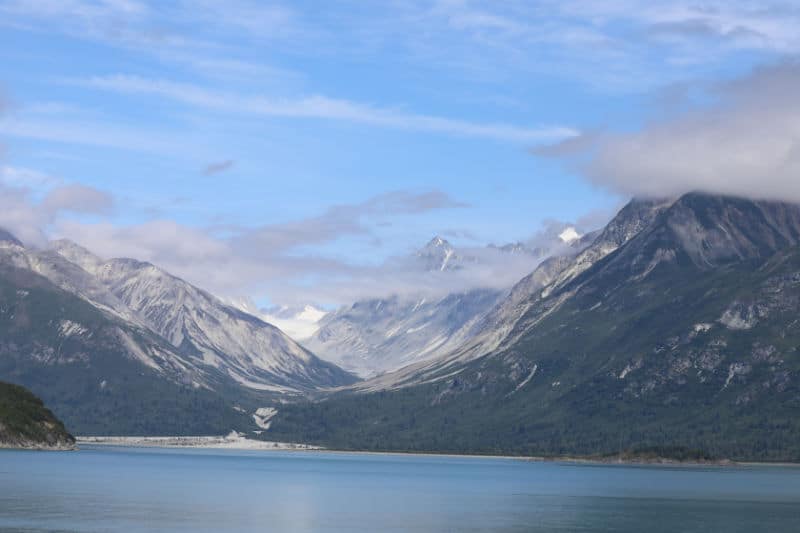 About Glacier Bay National Park
The area around Glacier Bay, southeast of Alaska, was proclaimed a National Monument on February 5, 1925, and later, in 1980 it received the name Glacier Bay National Park and Preserve through the approval by Congress of the "Alaska National Interest Lands Conservation Act".
In 1986, UNESCO proclaimed the area as a Biosphere Reserve, and in 1992 it was declared a UNESCO World Heritage Site, within the area known as Kluane / Wrangell-St Elias / Glacier Bay / Tatshenshini-Alsek.
The park covers an area of 3,283,289 acres, of which 2,664,784 is considered wild area.
Glacier Bay has sixteen glaciers, eleven of which reach the coastline and detach, forming icebergs.
The descent of the glaciers from the snowy peaks to the bay creates one of the best landscapes in the world to observe the creation of these types of icebergs.
The most famous glacier in the bay is the Muir glacier which is about 2 miles long and 260 feet thick.
The fjords of Glacier Bay and the rest of southeast Alaska are simply U-shaped valleys that became flooded with saltwater when the glaciers receded. Along with their sides, waterfalls tumble from so-called hanging valleys gouged out by smaller tributary glaciers.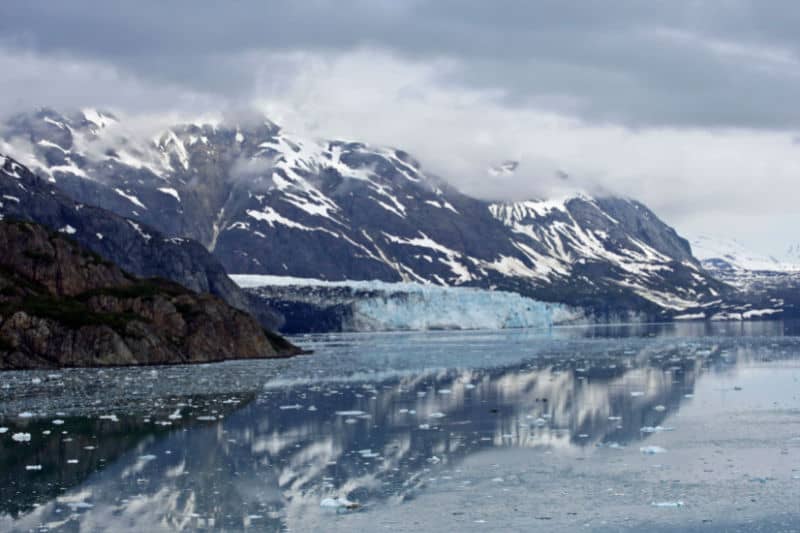 Is Glacier Bay National Park worth visiting?
YES!!! Glacier Bay NP is a bucket list national park to visit! The views are truly awe-inspiring and there is always a potential for seeing wildlife.
History of Glacier Bay National Park
The explorer George Vancouver discovered the Icy Strait, in the south part of the bay, when hitting an ice sheet in 1794.
At that time, Glacier Bay was covered in ice completely. In 1879, the naturist John Muir discovered that the ice had retreated from the bay.
In 1916 the Grand Pacific Glacier was 62 miles away from the mouth of the bay and in 1992 it joined with Margerie Glacier.
Since then, the Grand-Pacific slowly receded. The lateral edge of the glacier is dry at low tide and the western two-thirds of the ice front (originated from the Ferris Glacier) have an ice speed of 1475 feet per year.
By contrast, the eastern third has a speed of only 145 to 180 feet per year (estimate from 1998/1999) and the middle part has an annual withdrawal rate of 33 feet.
The remaining glaciers continue to recede and may eventually disappear altogether. Scientists are investigating the relationship between climate change and the retreat of the glaciers.
Alaska is one of the few places in the world where tidewater glaciers - glaciers that have advanced far enough to reach the sea - exist so it's well worth taking the time to explore this spectacular wilderness.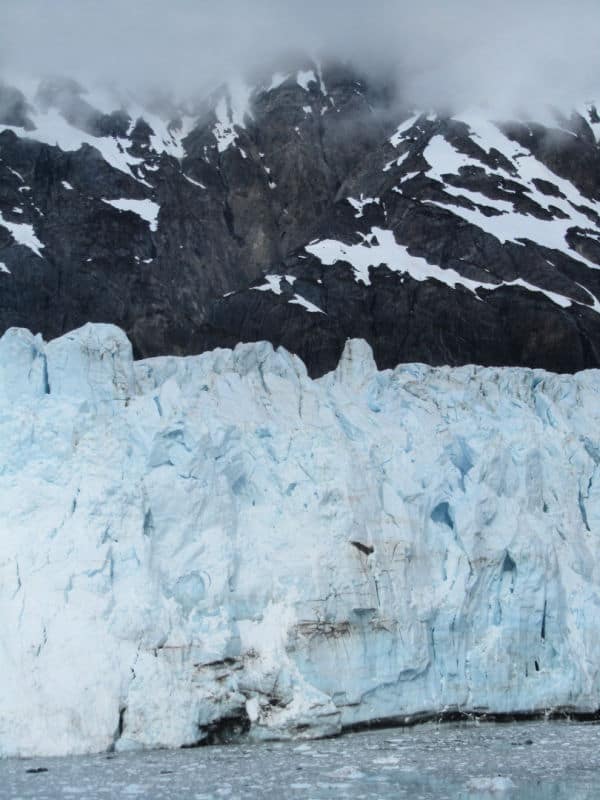 Things to know before your visit to Glacier Bay National Park
Entrance fee
$0.00 - There is no fee to visit the park.
Planning a National Park vacation? America the Beautiful/National Park Pass covers entrance fees for an entire year to all US National Park Sites and over 2,000 Federal Recreation Fee Sites.
The park pass covers everyone in the car for per vehicle sites and for up to 4 adults for per-person sites.
Buy on REI.com and REI will donate 10% of pass proceeds to the National Forest Foundation, National Park Foundation and the U.S. Endowment for Forestry & Communities.
Free Entrance Days -Find the five free entrance days the National Park Service offers annually.
Time Zone
AKST - Alaska Standard Time
GMT -10
Pets
Pets are allowed:
On the Bartlett Cove Public Use Dock
On the beach between the Bartlett Cove Public Use Dock and the National Park Service Administrative Dock
Within 100 feet of Bartlett Cove Developed Area park roads or parking areas unless otherwise posted
On a vessel on the water
Your pet must be leashed or physically restrained at all times.
Cell Service
There is no cell service within the park.
Park Hours
The park is technically open 24 hours a day.
That being said services are limited depending on the time of year.
Wi-Fi
Free Wi-Fi is available at Glacier Bay Lodge and at the Visitor Information Center.
Insect Repellent
Insect repellent is always a great idea when outdoors, especially if you are around any body of water.
We use Permethrin Spray on our clothes before our park trips.
Water Bottle
Make sure to bring your own water bottle and plenty of water with you. Plastic water bottles are not sold in the park.
Food/Restaurants
There is a restaurant at the Glacier Bay Lodge.
Gas
Marine gas is available in Bartlett Cove.
Drones
Drones are not permitted within National Park Service Sites.
National Park Passport Stamps
National Park Passport stamps can be found in the visitor center or on your cruise ship.
Make sure to bring your National Park Passport Book with you or pack these circle stickers so you don't need to carry your book.
Glacier Bay NP is part of the 2000 Passport Stamp Set.
Details about Glacier Bay National Park
Size - 3,223,383 acres
Glacier Bay NP is currently ranked at 6 out of 63 National Parks by Size.
Date Established
1925 - Glacier Bay National Monument established.
December 2, 1980 - President Jimmy Carter signed the Alaska National Interest Lands Conservation Act that created Glacier Bay National Park and Preserve
Visitation
In 2021, Glacier Bay NP had 89,768 park visitors.
In 2020, Glacier Bay NP had 5,748 park visitors.
In 2019, Glacier Bay NP had 672,087 park visitors.
Learn more about the most visited and least visited National Parks in the US
National Park Address
1 Park Road
Gustavus, AK 99826
Glacier Bay National Park Map
For a more detailed park, we like these National Geographic Trails Illustrated Maps available on Amazon.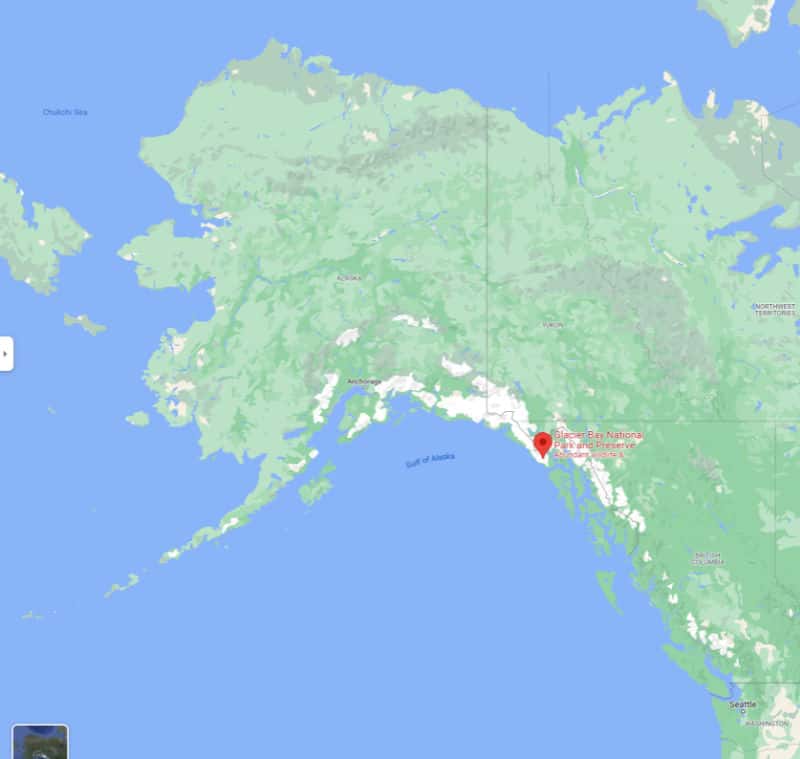 Where is Glacier Bay National Park?
Glacier Bay NP is located in southeastern Alaska.
Estimated distance from major cities nearby
Juneau is a short flight via jet or air taxi.
Estimated Distance from nearby National Park
Each of these National Parks would need to be reached via a plane flight.
Wrangell St. Elias National Park
Where is the National Park Visitor Center?
The Glacier Bay National Park Visitor Center is located upstairs in the Glacier Bay Lodge.
Open daily from Memorial Day through Labor Day. Exhibits open 24-hours, desk 11:00 am - 8:00 pm.
If you are traveling to Glacier Bay via cruise ship the park will normally set up a pop-up visitor center on the ship with information on the park and a park stamp.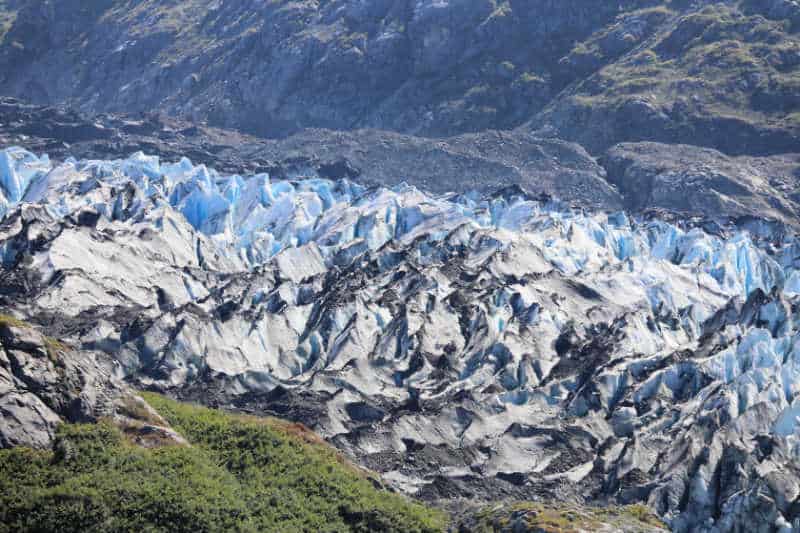 Getting to Glacier Bay National Park
The only way to reach Glacier Bay National Park is via plane or boat.
The only road connects the small town of Gustavus and its airfield to the park headquarters at Bartlett Cove.
Closest Airports
Gustavus Airport (GST)
Driving Directions
There are no roads that lead into the park and the easiest way to access it is through the ferries of the Alaska Marine Highway System (AMHS)- which arrive through the Cross Sound or the Icy Strait, or you have another option by plane from places like Skagway or Haines.
Private Boat
If you plan to visit Glacier Bay NP via a private boat you will need to get a free private boat permit.
Private boat permits are required to enter the park by boat from June 1 through August 31
The private boat permits are limited each day and can be reserved up to 60 days in advance
Juneau-Gustavus Ferry
Ferry service is available aboard the ferry Le Conte. Gustavus receives ferry service two days per week most of the year.
To check sailing schedules and make arrangements, visit www.dot.state.ak.us/amhs or call 1-800-642-0066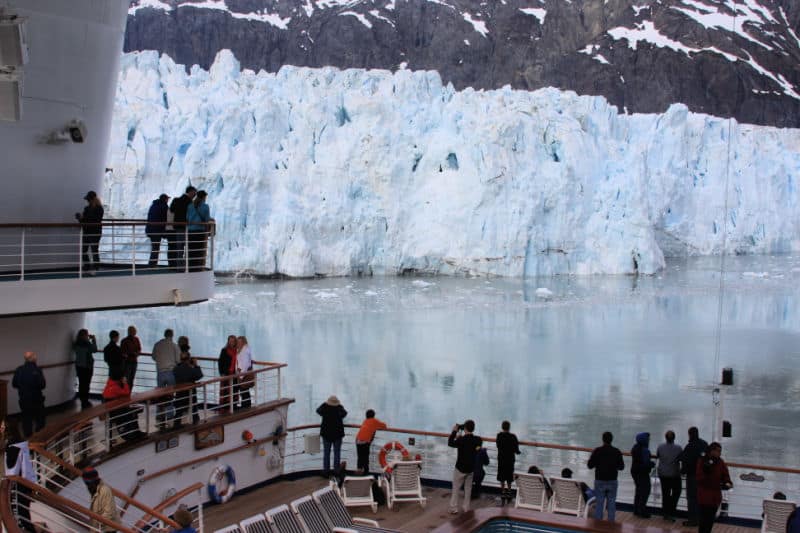 Visiting Glacier Bay by Cruise Ship
Cruise ships do not dock anywhere in Glacier Bay National Park.
Rangers will have the park's passport stamp available!
Plan your viewing spots early. Walk around the cruise ship and pick out your top 3 places to get the best photos of Glacier Bay.
Be prepared for crowds and weather.
The early bird gets the worm or in this case the whale. The highest concentration of whales on our last cruise was right before we entered Glacier Bay super early in the morning.
The average temperature in Glacier Bay is 55 degrees! Be prepared with a lot of layers
Bring Binoculars with you! Have a couple of pairs depending on how many people are in your group. It is easier to have extras than to fight over who has control of them.
Most cruise ships spend a full day in the park, traveling over 120 miles, and enjoy a full hour at the face of a tidewater glacier. Most ships do a full 360 degree spin giving all the passengers on the ship a chance to see the glacier.
Best time to visit Glacier Bay National Park
The best time to visit Glacier Bay is from late May through early September when visitor services are available.
Weather and Seasons
Summer temperatures in Glacier Bay NP average in the '40s and 50's and the temperature rarely reaches 60 degrees!
Rain is common throughout the year, in fact, it rains an average of 233 days per year so you have a 64% chance of seeing rain.
It is typically very humid as the yearly average for humidity averages between 84% to 89%
It can also be foggy in Glacier Bay and averages 42 days of fog each year or almost 12% chance of fog
During the winter (November-April) it snows on average of 81 days a season, a 45% chance it will snow each day in the winter
There is an average of 6 hours of daylight each day throughout the year in Glacier Bay! Being in Alaska the daylight hours definitely change from summer to winter.
Dressing for the weather is something very important to consider when visiting Glacier Bay. You can expect the weather to be much cooler than where you come from, no matter what time of year you visit.
I would recommend wearing much warmer clothes, or at least bring warm clothing with you, as everyone is typically cold when visiting this park.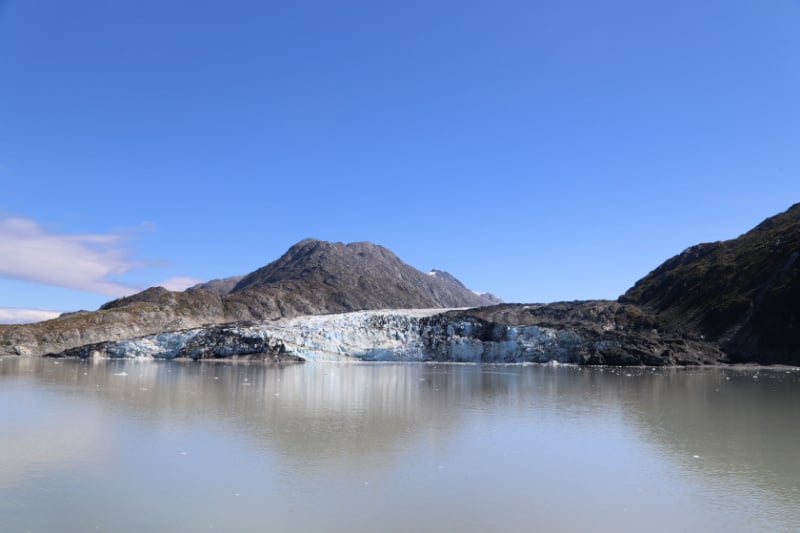 Best Things to do in Glacier Bay National Park
The top things to do in Glacier Bay NP are going to depend on how you are visiting the park.
If you are on a cruise ship the main things to do will be wildlife viewing, photography, and scenic cruising.
If you are visiting the park via Bartlett Cove you can also enjoy a few hiking trails, Glacier Bay Lodge, camping, boat tours, and wildlife watching.
There are over 50 companies that provide access to the park.
Wildlife viewing
Glacier Bay is a wildlife viewers' dream as this park is home to many typical Alaskan animals, including grizzly bears, brown and black bears, bald eagles, caribou, Dall sheep, wolves, elk, red foxes, wolverines, marmots, lynx, cougars, and mountain goats.
The marine fauna is also very rich, including sea otters, harbor seals, sea lions, salmon, humpback whales, and orcas.
Yes! You can even download the brochure from home. Check out the Glacier Bay National Park become a Junior Ranger page to learn more.
Cruise ship children's centers also offer a special Junior Ranger Program over the course of the cruise. While in Glacier Bay, park rangers present a special program to aspiring Junior Rangers.
Sea Kayaking
Kayaking is a great way to see the park up close.
Kayaking trips can start in Bartlett Cove or you can take the Glacier Bay Lodge boat tour and they drop off kayers.
You will want to make reservations well in advance for a kayak and boat tour.
River Rafting
The Alsek River runs through a portion of Glacier Bay NP and Preserve. Permits are required if taking a private rafting trip on the Tatshenshini-Alsek River.
For more information call 907-784-3370
Fishing
Glacier Bay offers sportfishing opportunities for both saltwater and fresh fish.
An Alaska State fishing license is required. All Alaska state fishing regulations apply.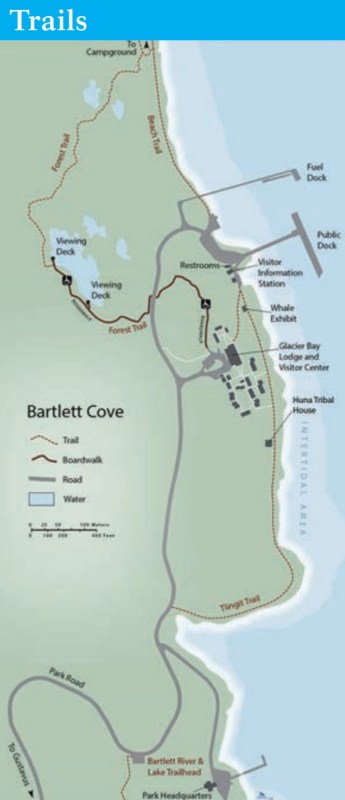 Hiking in Glacier Bay National Park
Always carry the 10 essentials for outdoor survival when exploring.
There are four trails in the Bartlett Cove area. In addition to the four trails, you can hike along the shore while looking for whales, sea otters, and the many varieties of coastal seabirds. They tend to be wet and muddy so be prepared with good hiking boots.
Hiking Trails include:
Forest Trail
Distance: .7 miles one way out and back hike or a 1.0-mile loop trail by following the beach back after completing the Forest Trail
Difficulty: easy
Time to complete: Between 30 minutes to 1.5 Hours
Hike through a lush forest. The first portion of this trail is an ADA boardwalk up to the two viewing decks. The two viewing decks overlook a beautiful pond.
Tlingit Trail
Distance: .5 miles one way
Difficulty: easy
Time to Complete: 30 minutes to an hour
Hike along the shore and see the Healing pole, a traditional Tlingit canoe, a complete whale skeleton, the Raven and Eagle totems, and the exterior of the Tribal House.
Bartlett River Trail
Distance: 4 Miles Round trip
Difficulty: moderate
Time to complete: 4-5 Hours
Enjoy hiking through a dense forest of hemlock and spruce trees. The trail ends at the mouth of the river where each summer the spawning salmon attract everything from bears to eagles, seals, and otters.
Bartlett Lake Trail
Distance: 8 Miles Round Trip
Difficulty: Moderate
Time to Complete: 7-8 Hours
The Bartlett Lake Trail starts off on the Bartlett River Trail. After ¾ of a mile in you will see a trail branch off and climbs the moraine. It turns into a rugged day hike that eventually leads to Bartlett Lake.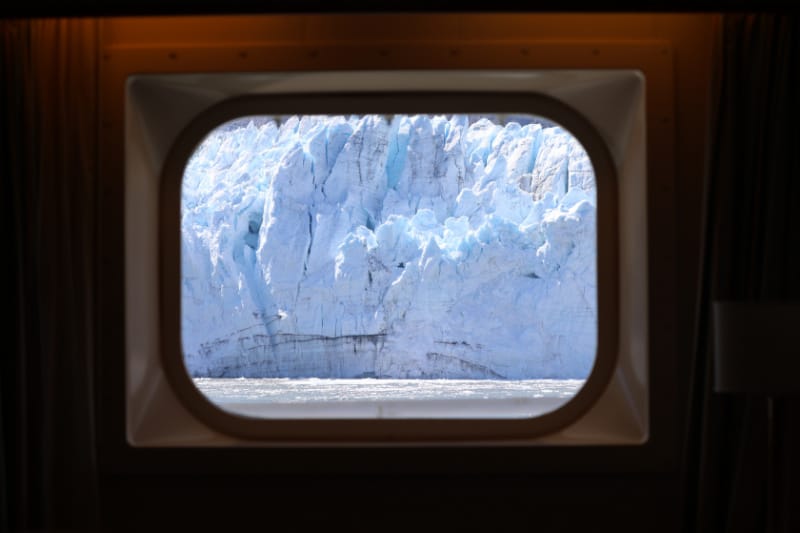 How to beat the crowds in Glacier Bay National Park?
The busiest season for Glacier Bay NP is July. Cruise ships fill up early so you will want to book a reservation as soon as you know when you want to visit the park.
If you are traveling to Bartlett Cove you will want to book a reservation for the lodge or a place to stay in Gustavus, Alaska.
Where to stay when visiting Glacier Bay National Park
Glacier Bay Lodge is the only lodge within the park. It is located about 11 miles from Gustavus, Alaska.
The 49 room lodge overlooks Bartlett Cove with majestic views of the Fairweather Mountain Range. The lodge offers tour boat trips to the glaciers.
The only established campground within Glacier Bay National Park is at Bartlett Cove.
The campground is a walk-in campground located about ¼ miles from the main dock in Bartlett Cove. Campsites are available on a first-come-first-serve basis.
NO camping fees are required at Glacier Bay National Park.
Campers in the Bartlett Cove Primitive Campground are required to attend a camper orientation at the Visitor Information Station.
A free backcountry permit is required for overnight campers/kayakers.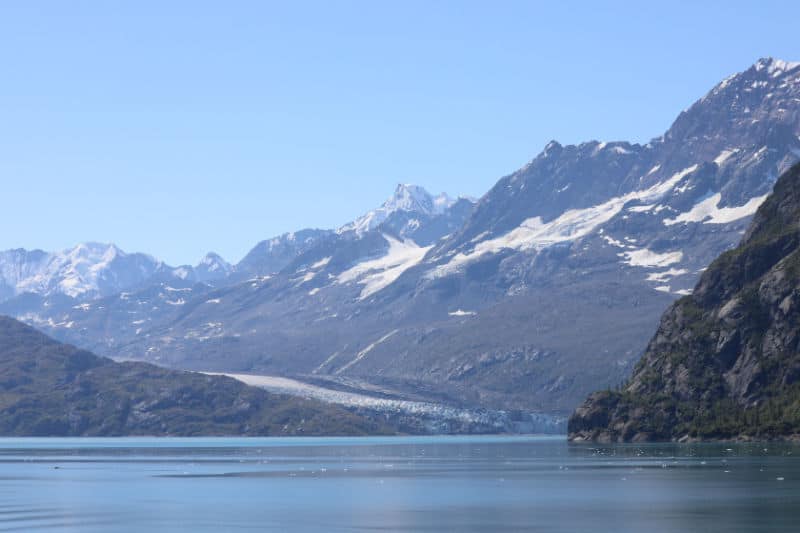 Travel Tips
Boating permits are required to visit the park in June, July, and August. Permits can be reserved up to 60 days ahead of time. Permits are valid for seven days.
Dress in layers! More layers than you think you are going to need for a day out looking at the glaciers. We thought we were prepared for the cold but ended up buying more layers on the ship and a few spiked coffees to stay warm.
The wind coming off the glaciers is frigid! Trust me you are going to want to be out taking pictures not worrying about how cold it is.
Bring extra camera batteries. The cold can drain the charge from your batteries much quicker than under normal conditions. It is a great idea to have more than one battery fully charged before starting your day in Glacier Bay. After all, you will want to make sure you can get as many pictures as possible.
Glacier Bay National Park Facts
Glacier Bay National Park was established in 1925 as a National Monument.
There are an estimated 1,045 glaciers in the park that cover 27% of the park.
Glacier Bay National Park sees on average 150 inches of rainfall a year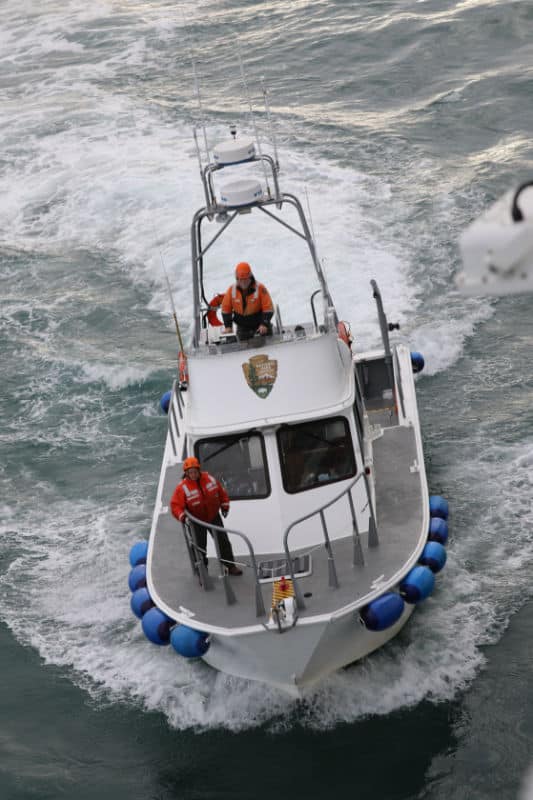 Additional Resources
A few posts my wife Tammilee has written on her blog Tammilee Tips
Tips for viewing Alaska Wildlife
Cruising Glacier Bay on a Cruise Ship
What to pack for an Alaska Cruise
Parks near Glacier Bay National Park
Each of these parks can be reached via air flight.
Klondike Gold Rush National Historical Park
Check out all of the Alaska National Parks along with National Parks in Washington, California National Parks, and National Parks in Hawaii
National Park Service Website