If you dream of visiting a quiet, secluded campground and being one with nature, then the Bartlett Cove Campground should be on your list! Bartlett Cove is a free walk-in campground and in my opinion, one of the prettiest and most picturesque campgrounds in the National Park Service!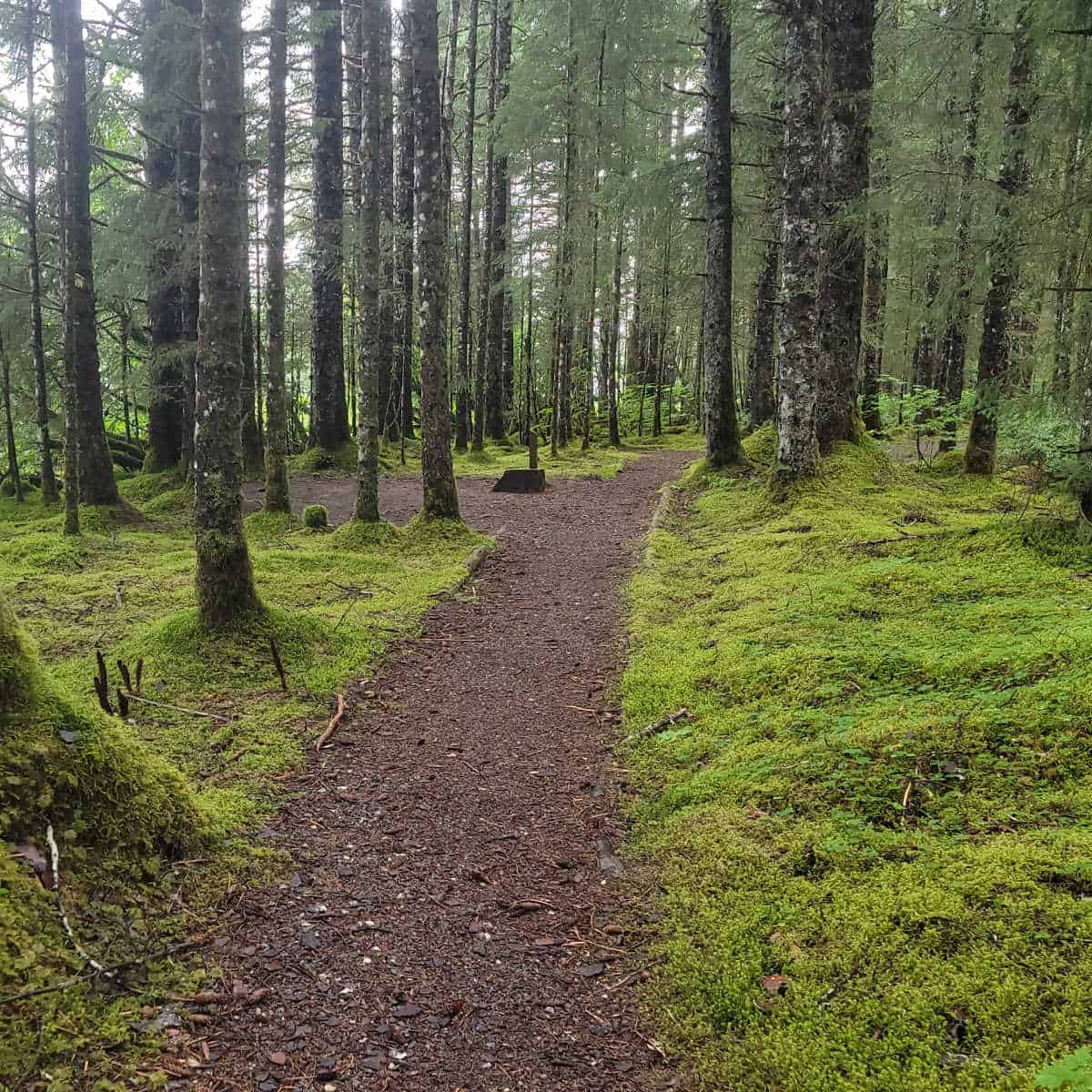 Bartlett Cove Campground - Glacier Bay National Park
There is a short quarter-mile hike along Bartlett Cove but the hike went by fast as I was entertained looking out into the cove watching see sea otters play and humpback whales coming up for air as I made my way to my site.
Bears are also frequent visitors so make sure to follow all rules for your own safety. There are numerous posting on the bulletin boards reminding you to be bear aware also!
The campground lies in the temperate rainforest ecosystem found in the Pacific Northwest. Here you will find Alaska's state tree, the Sitka Spruce. This incredible tree can reach heights of 300 feet tall and live for 700 years!
Rain is common here but I have to say that even with the rain, I had a spiritual connection to this park. I found the sound of the rain soothing as the forest air filled my lungs. I felt completely at peace as I felt one with nature. There is no medicine a doctor can prescribe to give you this type of healing.
Number of Sites: 35
Location in the park:
Located in a scenic rainforest setting along the shore, ¼-mile south of the Bartlett Cove dock. The main dock is a great spot to look for wildlife and whales!
Campsite Cost:
No camping fees are required
Campers in the Bartlett Cove Primitive Campground are required to attend a camper orientation at the Visitor Information Station.
A free backcountry permit is required for overnight campers/kayakers.
Senior/Access Camping Fee: $0.00
Payments accepted: n/a
Reservations: Reservations are not accepted. Camping is first come, first serve
Campground Address:
Latitude/Longitude: 58° 27' 2.8116" N 135° 53' 39.8400" W
Accessible Sites:
Pets Allowed: Pets are not allowed in the campground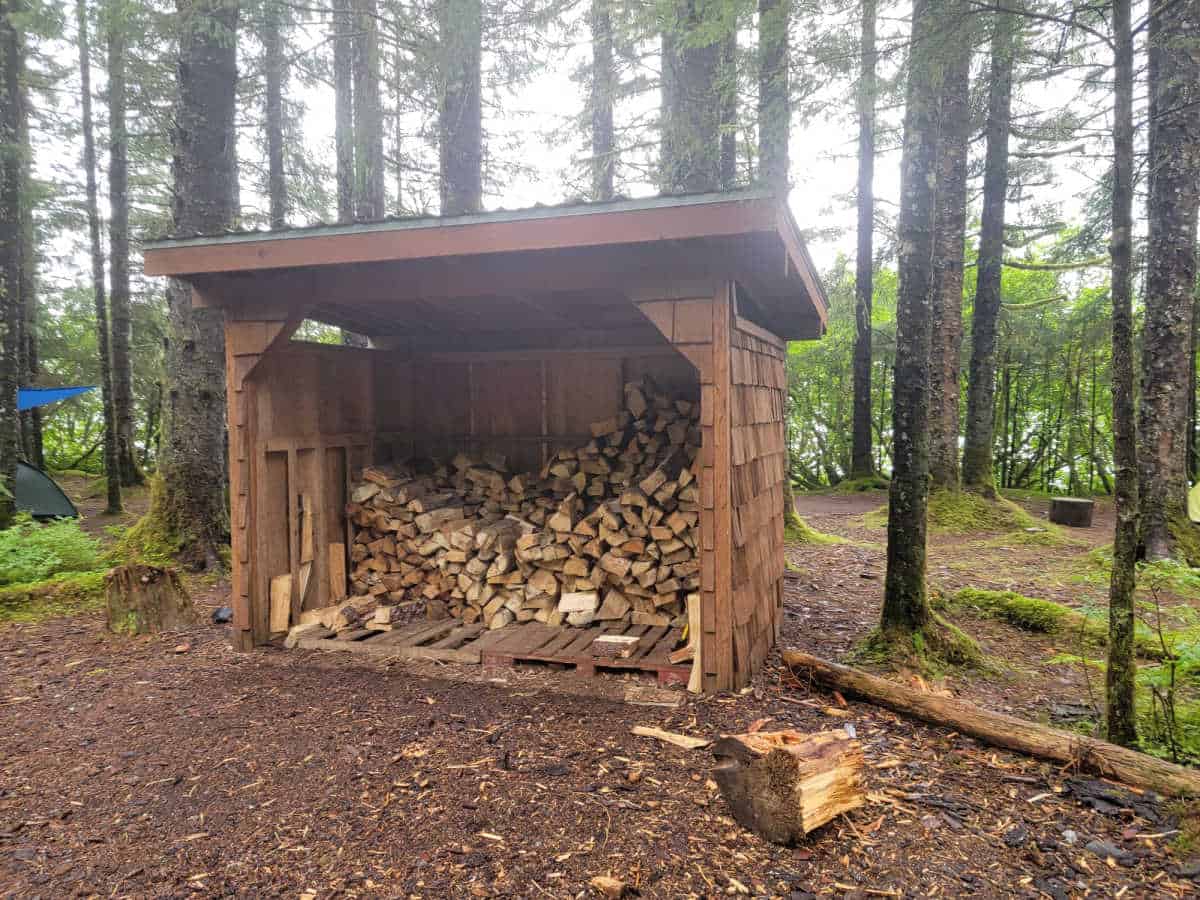 Campground Reservations
Are Campground Reservations Available?
No
Phone Number? (907) 697-2627 you may call this number about space availability prior to arrival.
Online? No
First Come, First Served? Yes. The campground is first come first served basis only

Campground Amenities
Dump Station: No
Bear Boxes: Yes, There are beer-proof food caches for not only food but toiletries and anything with a scent.
Flush Toilets: No (Compost vault toilets only)
Payphone: No
Is wifi available? No
Is Cellular Phone Service Available? No
Is firewood available for purchase?
Firewood is free. Fires are only allowed in the designated fire ring by the bay
Amenities at each campsite:
Fire pit in the site?
No, the only fire ring is across the campground by the bay (It is very easy to see as you arrive at the campsite.
Picnic Table in the site?
No
Potable Water?
Drinking water is provided outside the Bartlett Cove Visitor Information Station.
Garbage and Recycling
Garbage and Recycling are located at the parking lot at the Visitor Information Station
RV Camping at Bartlett Cove Campground
There is no RV Camping in Glacier Bay National Park
RV Length: No RV's allowed
Generators: No Generators

How to get to Campground
There are only two ways to get to Glacier Bay.
The first is to fly into Gustavus, Alaska. Alaska Airlines provides seasonal commercial flights and there are also several air taxis that will also take you. Our personal experience is to take the commercial jet as they are better equipped to take off and land in the weather conditions that often happen here.
The second option is to take the Alaska Marine Highway. This is the Alaska ferry system and the only to get a motor vehicle onto the island. Make sure to check out their website for ferry schedules.
Cruise Ships do not visit Gustavus or the Bartlett Cove Campground. They travel along the Inside Passage but do not make it to the park headquarters, Glacier Bay Visitor Center, or Glacier Bay Lodge.
If you are traveling on an Alaska Cruise you will get to enjoy having park rangers board your cruise ship and tell you about the marine life including brown bears, Stellar sea lions, mountain goats, and of course all of the Humpback Whales.
If you are looking to experience Glacier Bay NP up close we suggest booking a trip to Gustavus and taking the Glacier Bay Boat Tour to see the park on the parks tour boat.
Southeast Alaska is worth visiting as often as possible during the summer season. Between the abundant wildlife and the very scenic setting, it is hard not to fall in love with the area.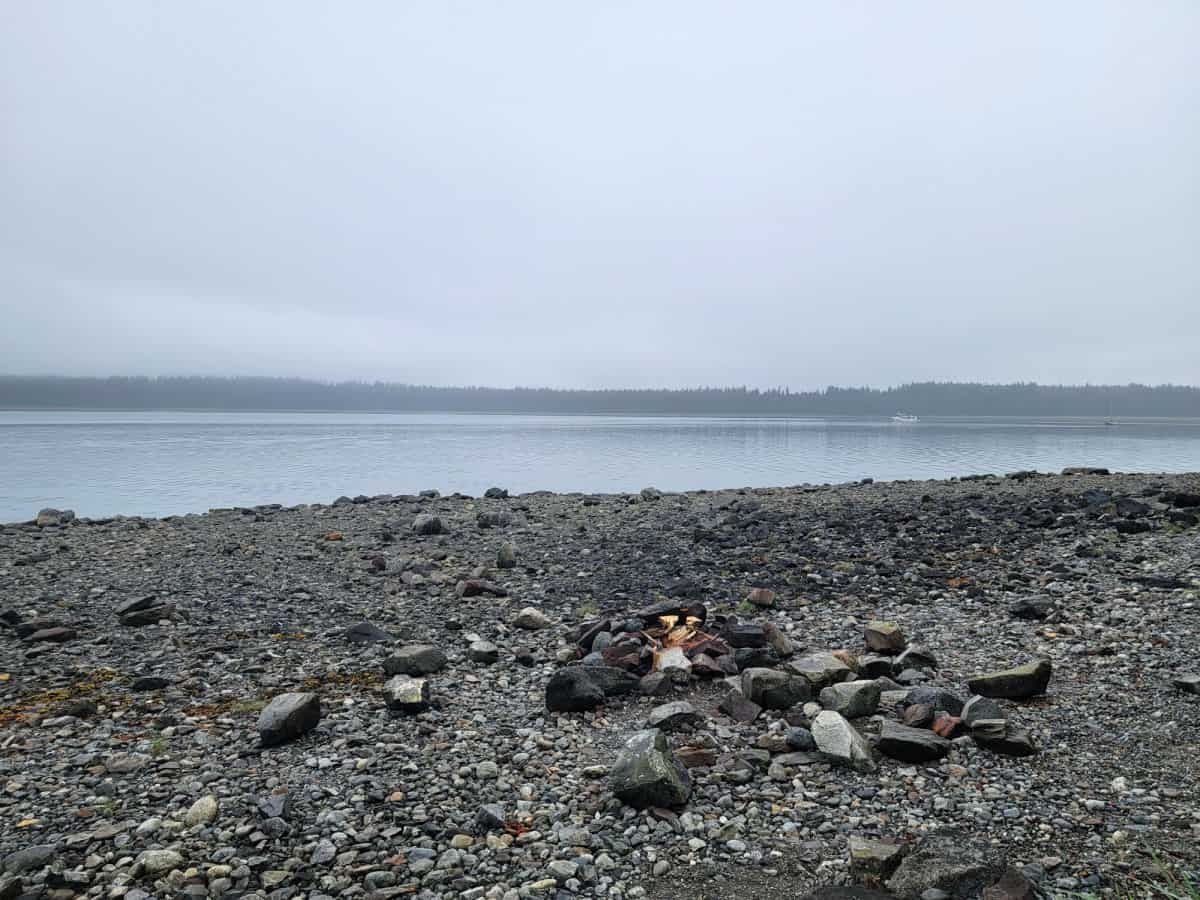 Important Dates for Campground
You must obtain a free campground permit from the visitor information station between May 1 and September 30.
Campground Regulations
Please note that campers are required to attend a camping orientation at the Visitor Information Center.
The 30-minute orientation at the Bartlett Cove Visitor Information Center is just down the trail from the campground. This is a great opportunity to ask questions about the park and the area.
All food must be, including cooking and eating must be done within the intertidal zone and not in the campground and the warming shelter area. All food must also be contained in bear-proof food storage containers, along with all scented items, and placed in the food caches
The maximum number of people in a campsite: 12
The number of cars per campsite: This is a hike-in campground
Things to do in Glacier Bay National Park
There are some activities in Glacier Bay but it is by no means like visiting Yosemite or Yellowstone National Parks! Then again, the magic of Glacier Bay is its remoteness and it forces you to actually stop and be one with nature. I personally found this to be the most rewarding part.
There are 5 trails in Glacier Bay National Park ranging from a short ¼ mile to a 10-mile roundtrip to Bartlett Lake. Trails include:
Beach Trail .25 miles one way that takes you to the campground
Forest Trail is a 1 mile that starts off at the visitor center and has boardwalks, and two viewing decks that overlook a pond. The Trail makes its way to the campground and then back along the beach trail.
Tlingit Trail is an easy half-mile one-way trail that follows along the intertidal area of Bartlett Cove. Trail highlights include the Huna Tribal House and Whale Exhibit.
Bartlett River Trail is a 4-mile round-trip that takes you through a dense Sitka Spruce and hemlock forest that ends at the mouth of the river.
Bartlett Lake Trail is a 10-mile roundtrip trail that takes you out to Bartlett Lake. This trail does allow bicycles for the first 1.7 miles from the Towers Road Trailhead to wards Bartlett Lake.
The Glacier Bay National Park Visitor Center is located on the second floor of the Glacier Bay Lodge. The visitor center is open seasonally and hours vary depending on the time of the season. There are several exhibits that talk about the park's natural and cultural history, an information desk, a fireplace, and an Alaska Geographic bookstore.
The Visitor Information Station (VIS) is where all required orientations happen for boaters and campers. It is open seasonally from April through September. Hours vary in the shoulder season which is April through May (8a-5p) and then (7a-7p) during the busy season.
Contact the visitor information station at 907-697-2627 for more information on boating and campground information.
If you ask me, the best way to see Glacier Bay National Park is to take the Glacier Bay Day Boat Tour right from the dock at Bartlett Cove! This tour leaves at 7:15 am and lasts 8 hours as you leave Bartlett Cove and travel into the heart of Glacier Bay National Park! Here you will see many of the park's iconic tidewater glaciers and have a great likelihood of seeing lots of wildlife.
I enjoyed taking this tour on the catamaran as it gets you so much closer to wildlife than a large cruise ship can and it just felt much more in touch with nature. On our trip, we saw, bears, seals, Sea lions, humpback whales, sea otters, Horned Puffins, Tufted Puffins, Bald Eagles, and numerous other bird species!
Glacier Bay Lodge is perhaps one of my favorite lodges I have experienced in the National Parks! They are rustic-style cabins with metal roofs that were perfect for the rain to bounce off of and put me right to sleep! The main lodge has the park's visitor center upstairs, a dining room downstairs with really good meals (especially the Halibut), and a large sitting area inside with a fireplace. There is plenty of seating outside also giving great views of Bartlett Bay where we watched Humpback Whales breaching in the bay!
Make sure to read my Complete Guide to Glacier Bay National Park.
Bartlett Cove Campground Map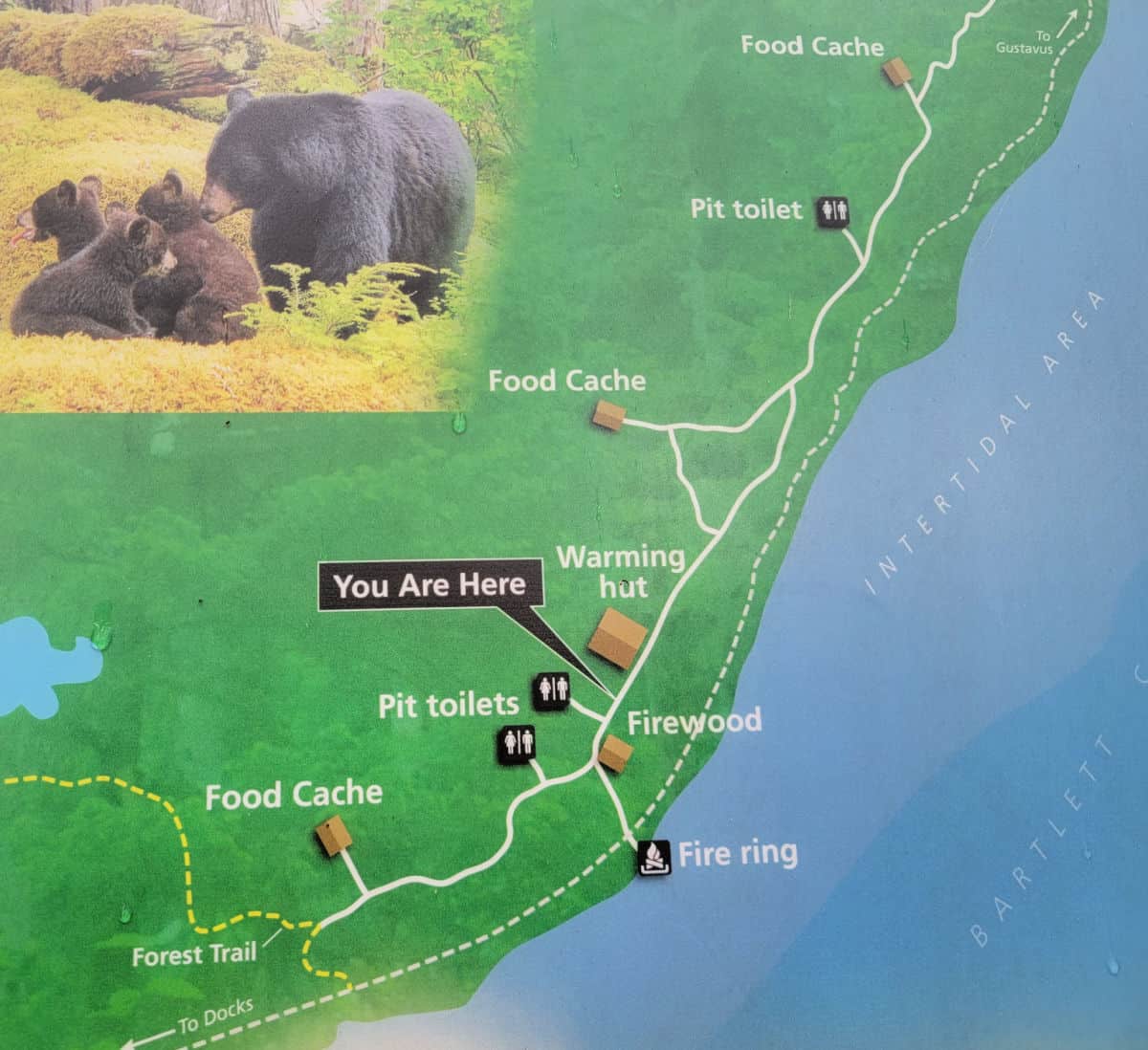 Photos of Campground