Epic Guide to Glacier Bay Lodge in Glacier Bay National Park, Alaska including room tour and video, restaurant review, booking, check-in, airport shuttles, and more.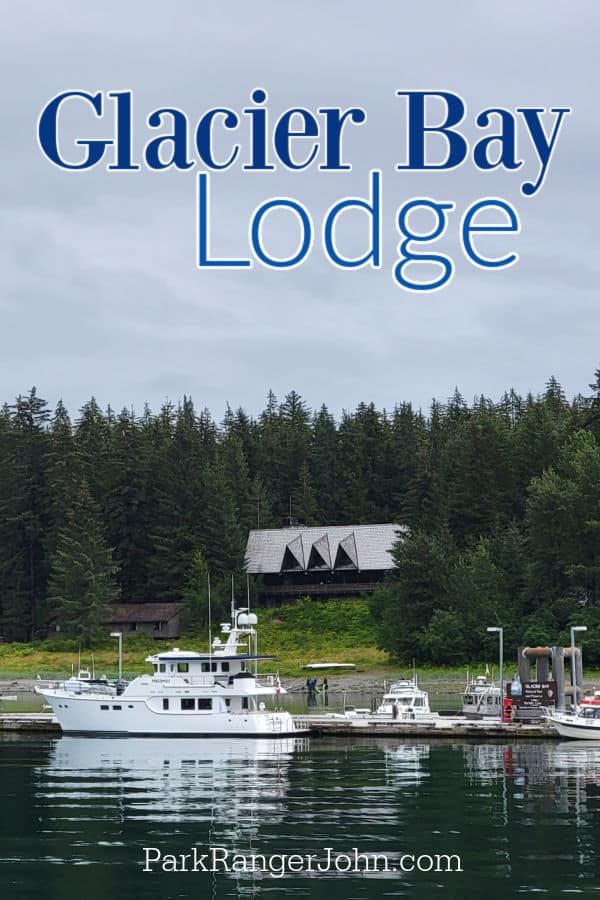 Glacier Bay Lodge
Staying at the Glacier Bay Lodge was a big goal on our National Park Bucket List. We have been talking about trying to make a trip to this epic National Park Lodge happen for years.
We finally made it happen and now we want to book a return trip asap. The lodge far exceeded our expectations and we would happily return for another stay.
As I type this sitting in the lodge restaurant waiting for the airport shuttle there are multiple humpbacks feeding in Bartlett Cove right in front of the lodge.
So far today we have seen multiple humpback whales and sea otters in Bartlett Cove right in front of the lodge. We are honestly in awe of the wildlife we have been able to see while walking the beach trail to the Glacier Bay Bartlett Cove Campground.
We watched a humpback slap its tail in the water for a few minutes and then breach out of the water. Everyone on the lodge deck gasped and was so excited. We had been watching the whales swim back and forth in the bay when all of a sudden one jumped.
This lodge is a whale-watching dream come true. You can hear the whales in the morning from the room. We could hear them puffing out air and breathing when we woke up.
The cabins at Glacier Bay Lodge are super comfortable. We had to set an alarm so we didn't sleep through breakfast the bed was so comfortable.
If you are looking for an epic experience in Glacier Bay National Park we highly suggest staying in the Glacier Bay Lodge. The lodge is the only hotel located within Glacier Bay National Park, Alaska!
Glacier Bay Lodge offers tours of Glacier Bay via an epic boat tour, Park Rangers on-site to answer questions and on the boat tour, shuttle service from the airport, and so much more.
Booking/Reservations
Season - Late May to early September. The lodge is only open during the summer months typically from Memorial Day to Labor Day.
Reservations can be made online or by calling 888.229.8687
Getting to Glacier Bay Lodge
The lodge is located 10 miles from Gustavus, Alaska.
There are a couple of ways to get to Glacier Bay Lodge - Air or Sea.
You can fly to Gustavus/Glacier Bay via Alaska Air which is how we reached the lodge.
Alaska Seaplanes offers 6 flights a day from Juneau to Gustavus/Glacier Bay. I will say that during our stay there were a few days that the seaplanes were unable to travel due to the fog and weather in the area.
With that being said we had to attempt landing a few times before landing on the 3rd attempt due to low-lying fog in Gustavus. One thing to know when traveling to Glacier Bay NP and Gustavus is weather can definitely impact your trip.
The Alaska Ferry travels to Gustavus on a daily route that travels from Juneau → Gustavus → Hoonah. Find out more about booking Alaska ferry tickets on the Alaska Marine Highway Website.
Airport Transportation
There is a free shuttle bus from Gustavus Airport to the Glacier Bay Lodge. It is an old school bus that we found parked at the side of the airport when we arrived.
We didn't see it at first but realized it was just down from the airport. Don't worry the airport is TINY so you don't have to travel far.
Check-In
We arrived on the airport shuttle bus directly to the lodge. A lodge employee came onto the bus and gave us a few safety rules and explained where things were at the lodge. They had our keys and a map ready when each party got off the bus.
Within a couple of minutes, we were heading to our cabin to drop off our luggage and start exploring.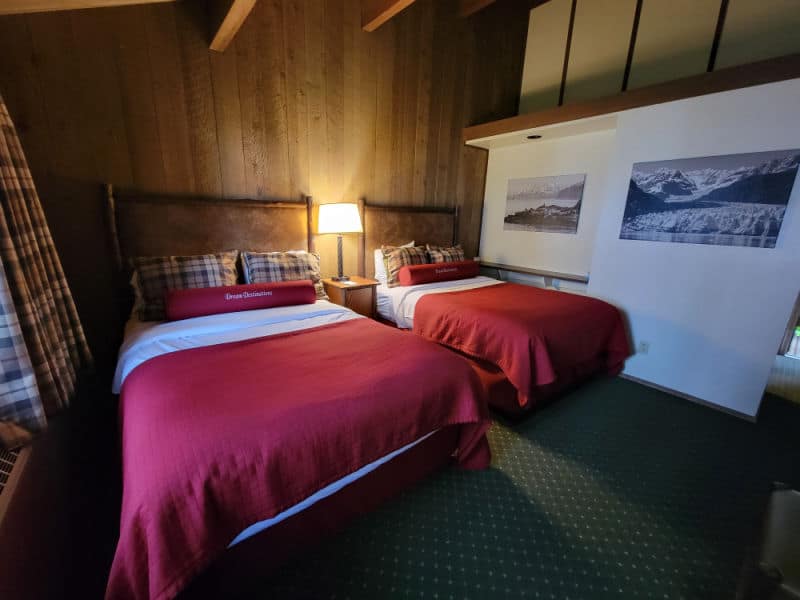 2 Double Bed Deluxe Room
We stayed in cabin #35 which includes 2 double beds, a table with 2 chairs, a private bathroom with shower/tub, toilet, a sink, and a small closet.
The room has a partial view of Bartlett Cove through a few trees.
We found the double beds to be extremely comfortable. The windows open with screens on them so we had fresh air coming into the room which was amazing.
We had to force ourselves out of bed so we could get breakfast before our 8-hour Glacier Bay Boat Tour.
The nightstand has a lamp with 2 electrical plug-ins for charging phones. You will need to bring a cord and adaptor to plug into the lamp. There are no USB plug-ins.
The bathroom has small bottles of shampoo, conditioner, and lotion along with a small bar of soap.
Free Wi-Fi is only available in the main lodge lobby.
There are two types of rooms available at the Glacier Bay Lodge - Lodge Rooms (Standard and ADA Standard) and Deluxe Rooms.
Standard Rooms have 2 double beds or 1 king or 1 double and 1 bunk bed, and private bathrooms.
ADA Standard Rooms are located on ground level and include roll-in showers, grab bars, a lowered sink bathroom in the private bathroom, and 1 double bed, and can accommodate 3 guests.
Deluxe Rooms have either 2 double beds or 1 king bed, a Bartlett Cove View, a private bathroom, and easy access to the main building.
All of the rooms have easy access to the main lobby, shores of Bartlett Cove, Glacier Bay Day Tour daily boat excursions, laundry facilities, and customer service.
The cabins are spread out among the towering Sitka Spruce Trees. There are boardwalks and stairs connecting the cabins to the main building.
The 49-room lodge overlooks Bartlett Cove with majestic views of the Fairweather Mountain Range.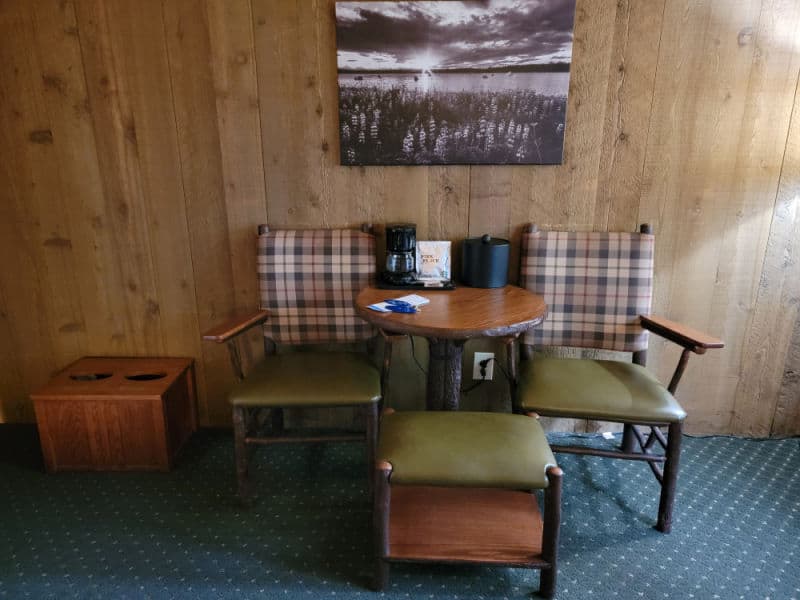 We found the room to be incredibly comfortable. It is not large but has everything you need for the time you spend in the room.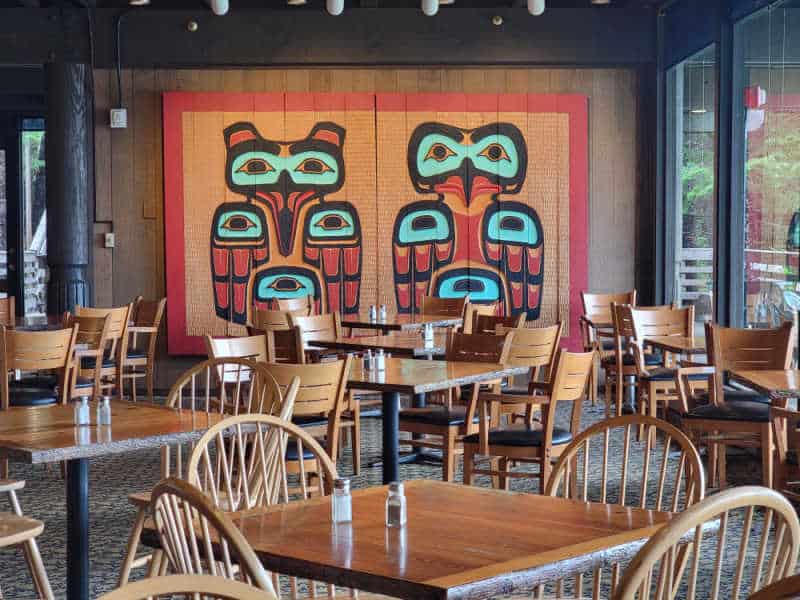 Fairweather Dining Room Restaurant
The restaurant is open for breakfast and dinner. The restaurant is located in the main lodge building. Reservations are requested for dinner and can be made at the front desk.
Breakfast is a buffet that included scrambled eggs, breakfast potatoes, bacon, sausage, biscuits and gravy, French toast, bagels, and cereal. They also have coffee, tea, and water available during breakfast.
The dinner menu has quite a wide variety of dishes including halibut fish and chips, baked halibut, chicken, steak, and an impossible burger for vegetarians. We highly suggest getting the spinach dip it was amazing.
Our dinners averaged $110 a night for 2 people with 2 iced teas, an appetizer, and 2 entrees with tips. When we booked our room, we were able to find a deal with the boat tour and breakfast included in the rate.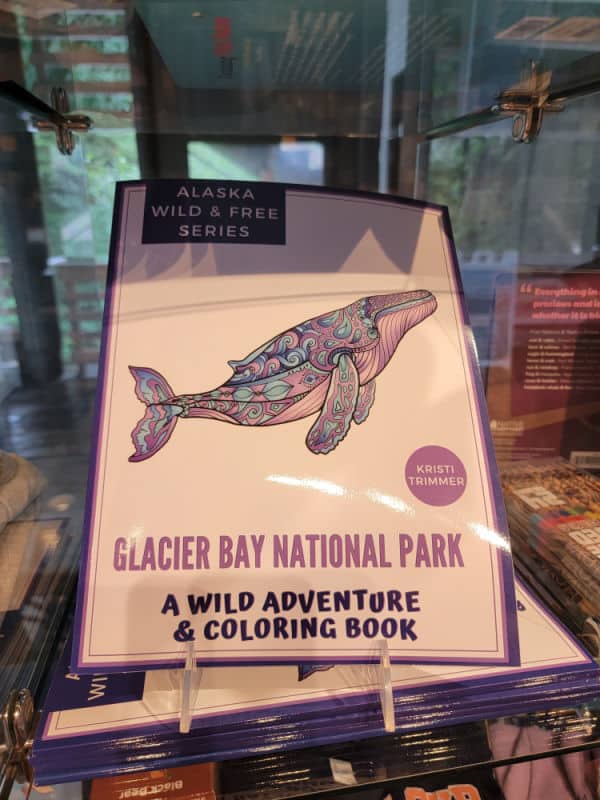 Gift Shop
There is a really nice gift shop open all day in the main lodge building. They have a great variety of Glacier Bay-themed souvenirs. They also offer snacks and some pre-made sandwiches for lunch.
The gift shop has some local Alaskan beer available by the can, some soda, and bottled water. They also have a variety of trail snacks.
Make sure to pick up a Glacier Bay National Park Coloring Book designed by our friend Kristi Trimmer. They sell them in the gift shop and they are amazing.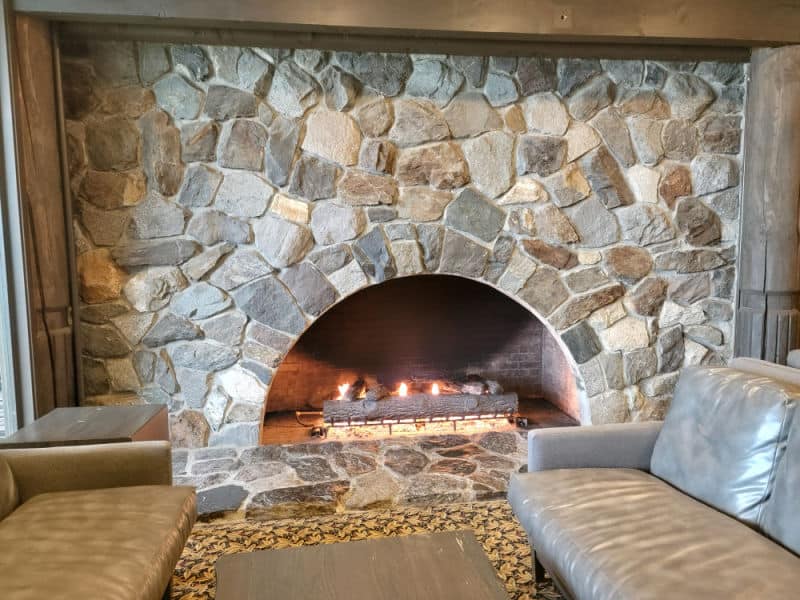 Lobby
The lodge lobby has a gorgeous stone fireplace with comfy couches and chairs. It is the place to relax while waiting on the airport shuttle back to Gustavus Airport. With only one flight out a day, you have the opportunity to relax for a few hours in comfort.
There is free WiFi so it is the perfect place to check emails and social accounts while warming up by the fire.
The large windows offer dramatic views of Bartlett Cove. We spent a lot of time in front of the fireplace relaxing and talking with other guests.
After a full day of exploring the lobby is the perfect place to relax.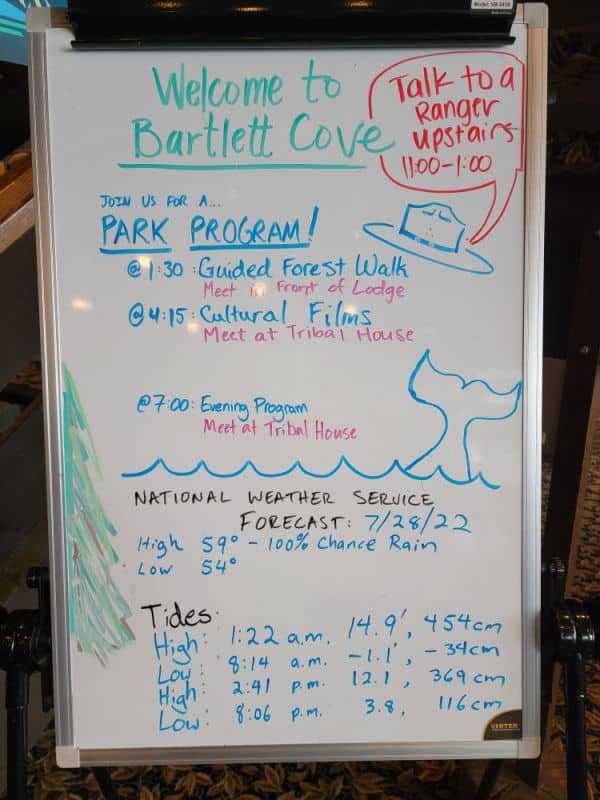 National Park Service Visitor Center
The Glacier Bay NP Visitor Center is located upstairs in the main lodge. There are stairs to reach the visitor center. A ranger is on duty 2 hours a day from 11 am to 1 pm.
The visitor center can be visited during the day at any time to check out the great interpretive displays.
National Park Service Programs are offered daily and rotate to provide new programs nightly.
Grounds
The grounds surrounding Glacier Bay Lodge are beautiful and well worth exploring. There is a .25-mile trail along the coastline to the Glacier Bay Campground. There is also a forest trail that is 1.5 miles round trip and guides you through a temperate rainforest.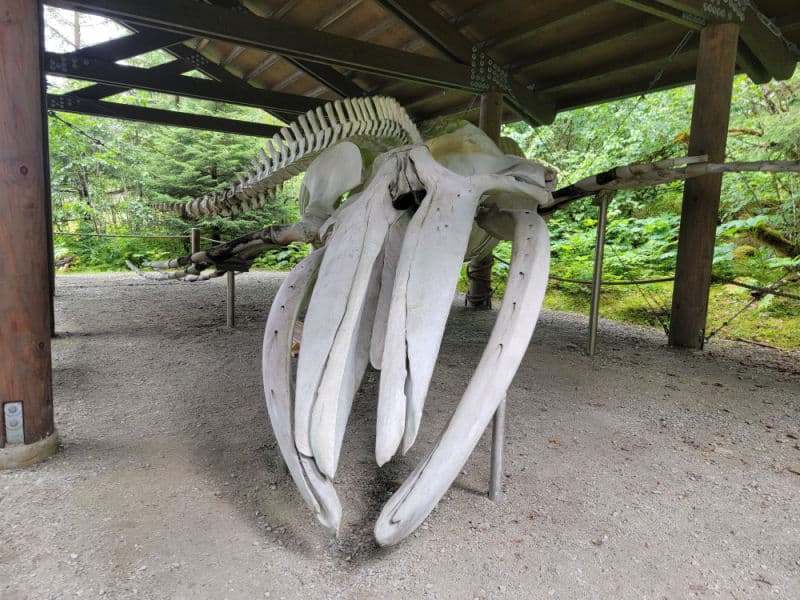 The Tlingit trail travels from the boat dock to the clan house and passes by multiple cool exhibits. You can see a Tlingit Canoe, the skeleton of "Snow" a famous humpback whale, and information about the flora and fauna of the area.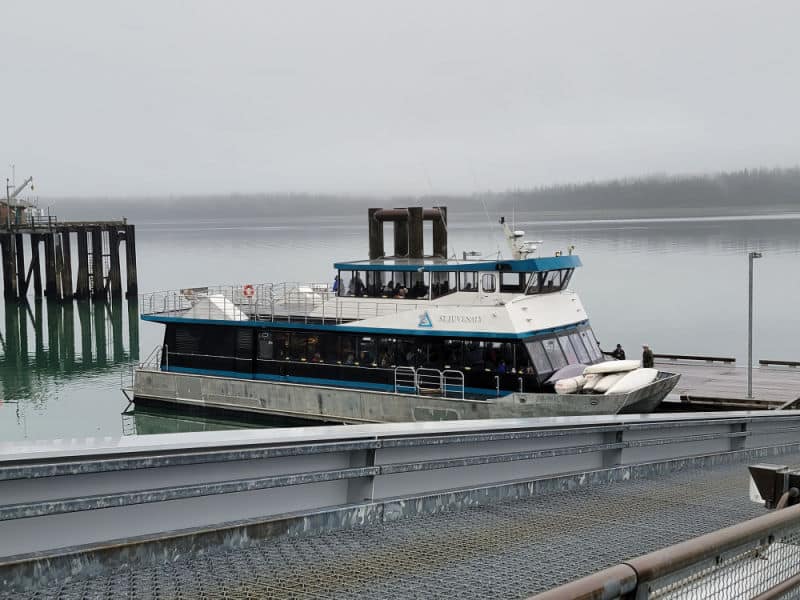 Glacier Bay Boat Tour
An eight-hour tour is offered directly from the Bartlett Cove Marina for guests of the lodge and day visitors.
The boat tour travels up to Margerie Glacier and includes dramatic views of deep fjords, the summer feeding grounds of Humpback Whales, coastal mountains, and Southeast Alaska.
During our Glacier Bay Boat Tour, we saw humpback whales, killer whales, mountain goats, harbor seals, stellar sea lions, grizzly bears also called coastal bears, migratory birds, and so much more!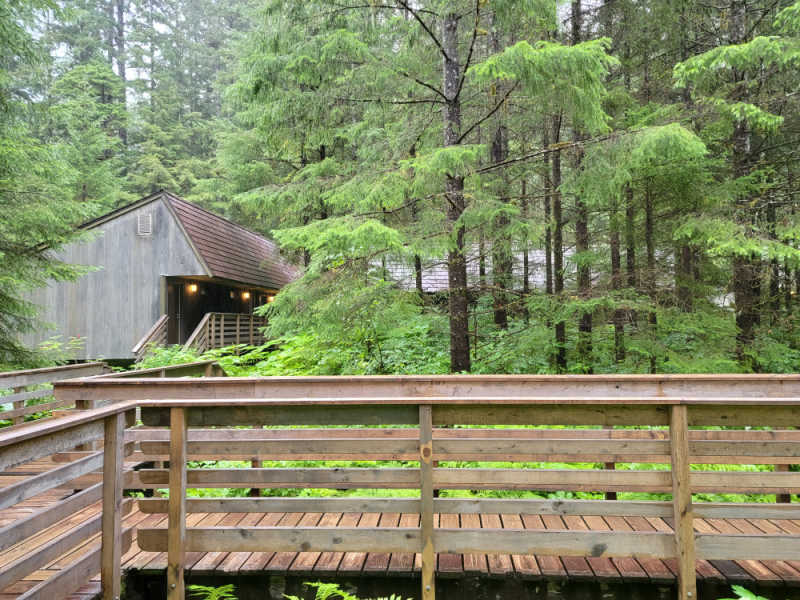 Things to know when planning a trip to Glacier Bay Lodge
Cancellation Policy
Reservations made 30 or more days prior to arrival have a 10-day grace period to change or cancel the itinerary at no charge from the time of booking.
Reservation cancellations or changes made outside of 72 hours prior to arrival will receive a refund less a 10% change or cancellation fee.
Canceling within 72 hours prior to arrival will result in full payment forfeiture.
Payment Policy
Advanced payment is required at the time of booking reservations. Payment may be made by credit card only.
Glacier Bay Lodge and Tours is an authorized concessioner of the National Park Service.
We did not have cell phone service during our stay at the lodge.
Glacier Bay Lodge History
The lodge was designed by Seattle architect John Morse to include a blend of rustic architecture with 1960s modernism.
The lodge was part of the National Parks Mission 66 project to welcome and accommodate many generations of park visitors.
John Morse also designed the visitor center at Sitka National Historical Park in Sitka, Alaska.
For the Glacier Bay Lodge, John Morse designed a complex that heavily employed heavy timber posts, asymmetrical pitched roof, triple triangular dormers, and expansive windows to showcase the views of Bartlett Cove.
The boardwalks between the main lodge building and the cabins were created to immerse visitors in the temperate rainforest.
The lodge was completed in 1966 and is a showcase of Park Service Modern Architecture.
Park Ranger John Pro-Tip
Mission 66 was a 10-year project proposed to Congress in 1955 by Conrad Wirth, the Director of the National Park Service. The goal behind this proposal was to modernize the National Park Service and its facilities in time for the park's 50th anniversary.
This was a vital step forward for the park service as the US had developed the modern highway system. The automobile was becoming more and more affordable leading to the unprecedented increase in auto tourism to the National Parks
Projects outlined in mission 66 included building lodges, campgrounds, visitor centers, and trails that continue to serve guests today. Most notably about the Mission 66 program was the implementation of park visitor centers, a central part of almost every park visit today!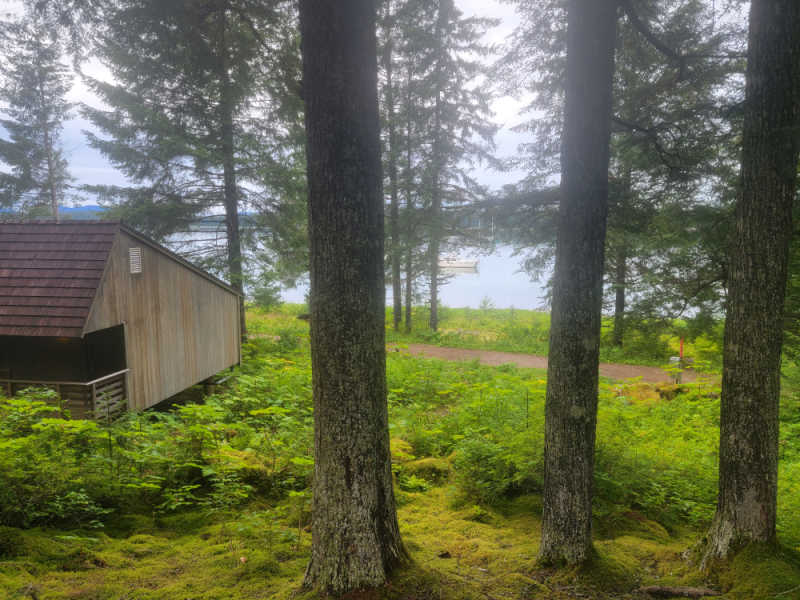 Additional Alaska National Park Resources
Check out our 3 Alaska National Park Trip including Denali, Kenai Fjords, and Glacier Bay NP!
Each of these National Parks would need to be reached via a plane flight.
Wrangell St. Elias National Park
Klondike Gold Rush National Historical Park
Check out all of the Alaska National Parks along with National Parks in Washington, California National Parks, and National Parks in Hawaii
Planning a National Park vacation? America the Beautiful/National Park Pass covers entrance fees for an entire year to all US National Park Sites and over 2,000 Federal Recreation Fee Sites.
The park pass covers everyone in the car for per vehicle sites and for up to 4 adults for per-person sites.
Buy on REI.com and REI will donate 10% of pass proceeds to the National Forest Foundation, National Park Foundation and the U.S. Endowment for Forestry & Communities.