Check out our week-long 3 Alaska National Parks Trip report including Denali National Park, Kenai Fjords National Park, and Glacier Bay National Park. Where we stayed, how we got to the park, and so much more.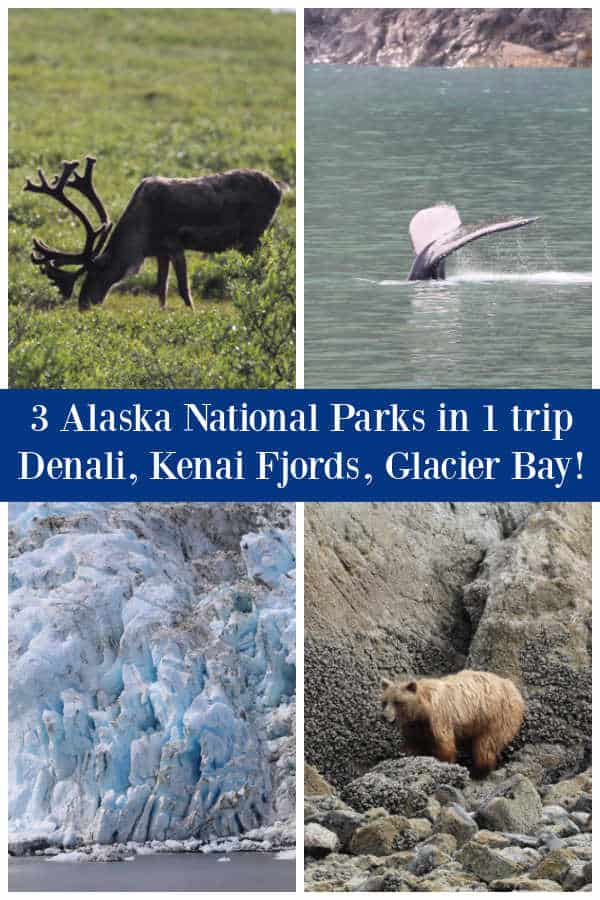 3 Alaska National Parks Trip Report
Day 1 - Travel to Fairbanks and Denali NP
We flew Alaska Airlines from Spokane to Seattle and then took a 4-hour flight up to Fairbanks.
One bonus when we were about an hour from landing Fairbanks was realizing we were flying over Wrangell St Elias National Park.
Fairbanks is the perfect airport to fly into to head to Denali National Park.
We grabbed our rental car quickly and headed out the door as fast as we could.
We found out the day before that our Denali Bus Tundra Wilderness Tour left at 1:50 pm which was earlier than we had hoped it would be.
Especially since we didn't land in Fairbanks until 11 am.
Thankfully it is a quick and easy drive from the airport to the Parks Highway.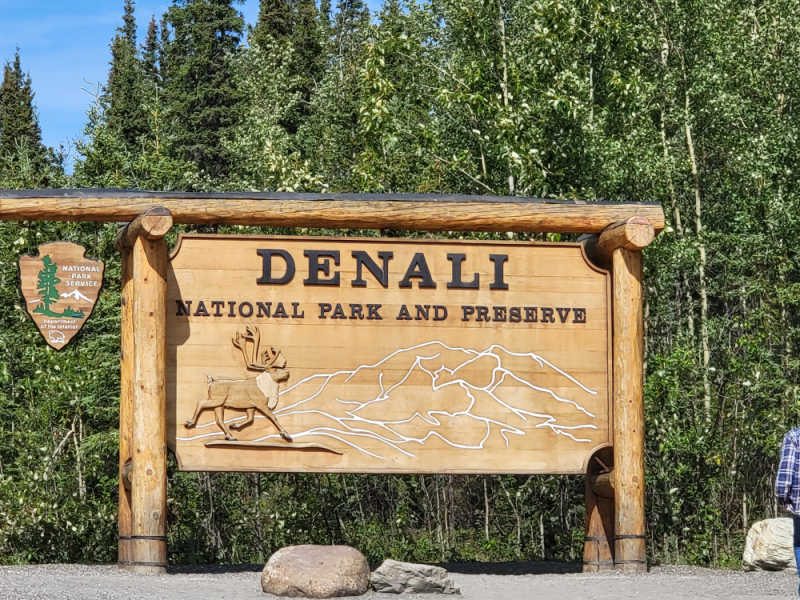 The drive is gorgeous heading from Fairbanks to Denali NP.
We made it to our tour with a few minutes to spare.
The tours are held on modified school buses. Make sure to dress in layers and be comfortable because you will be sitting for a while.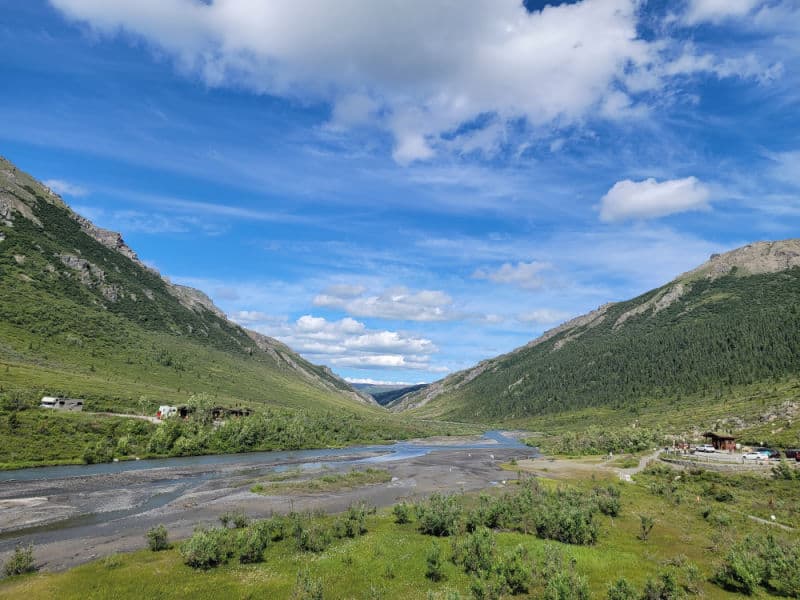 We were barely 20 minutes into the tour when we saw a moose!
This kicked off an epic tour seeing multiple Caribou, moose, Dall Sheep, Willow Ptarmigan, ground squirrels, and more.
Sadly no bears or wolves but that just means we need to do the tour again.
We also saw Denali mountain clearly for the 1st part of the tour which was spectacular.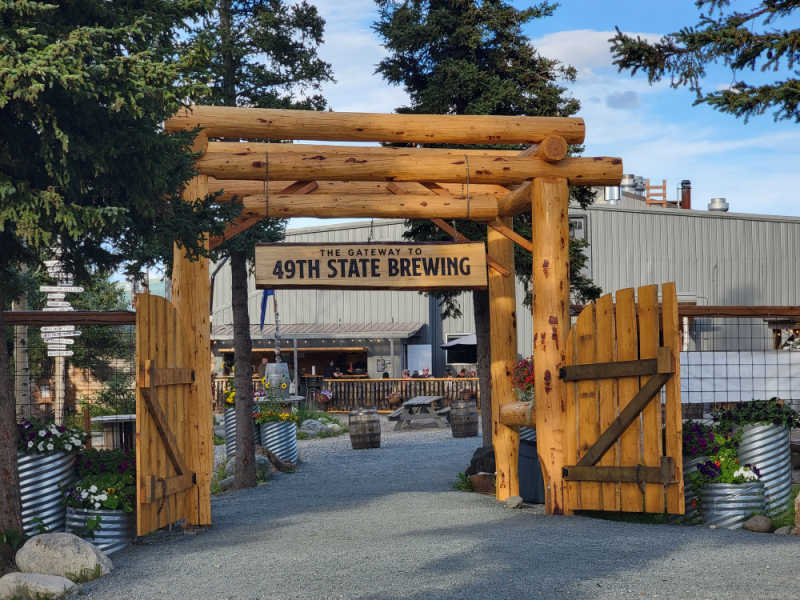 After the tour we headed to 49th State Brewery in Healy, Alaska about 10 to 16 minutes from the park entrance.
We had seen the sign for the restaurant on our way to the park and looked up the menu and it looked amazing.
The 49th State Brewery is honestly fantastic! We really enjoyed the eclectic atmosphere and great food.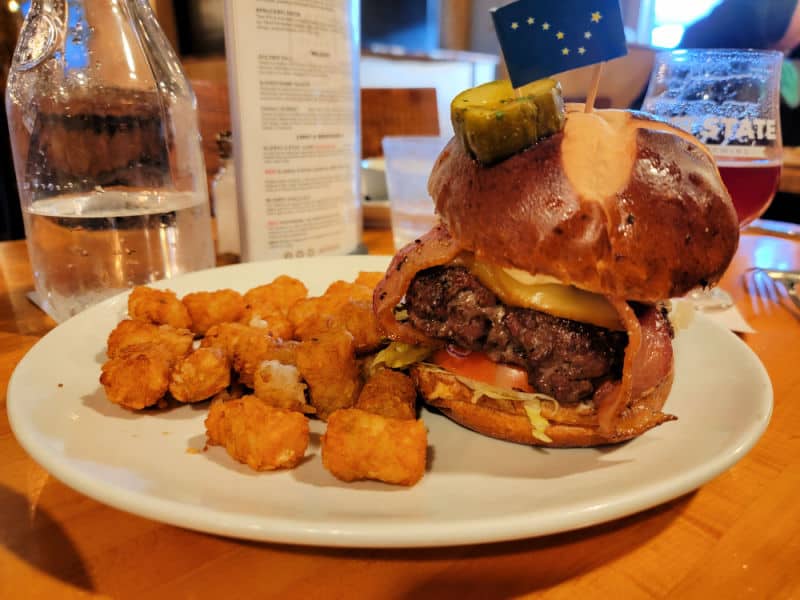 I tried Yak for the 1st time in a ½-pound Yak Burger and the thing was massive! It was just what my stomach was waiting for after a full day.
Oh, and did I mention the jokes that have come from it?
It was so big I started to reach for my knife to cut this monster in half.
The table of 6 women next to us started laughing and teasing me about not being man enough to handle the full burger.
Even my wife started laughing at how much the other girls were teasing me.
Right then I knew what I had to do. That's right. I went in and squished down that burger to a more manageable size while the juices ran down my arm I dug into my first bite.
I'm not sure what I enjoyed more, the quality of the burger or the fact that there were 7 women admiring my ability to take down the Yak.
This was my second highlight of the trip already as the Mountain was out today also. I Had to finish this great day with a really good local brew.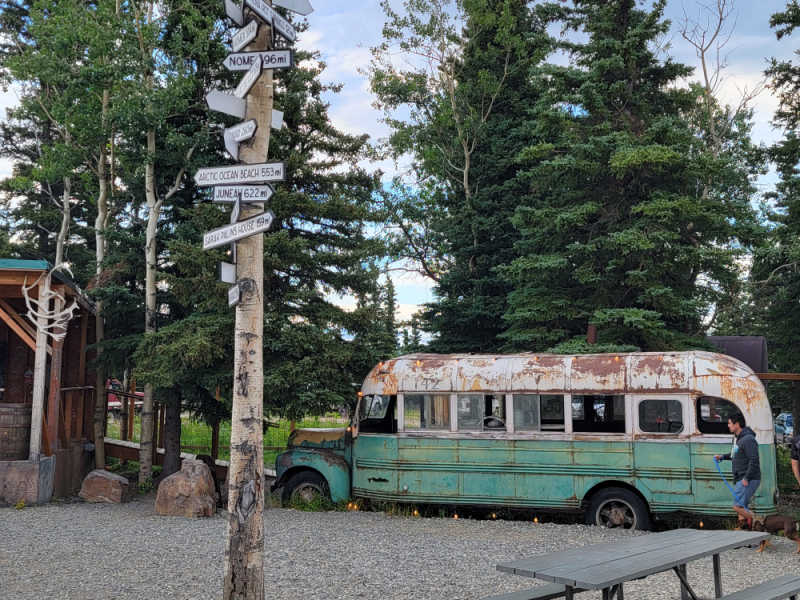 The restaurant has the Into the Wild Bus which makes for great photos.
We stayed at the Grande Denali Lodge and it worked great.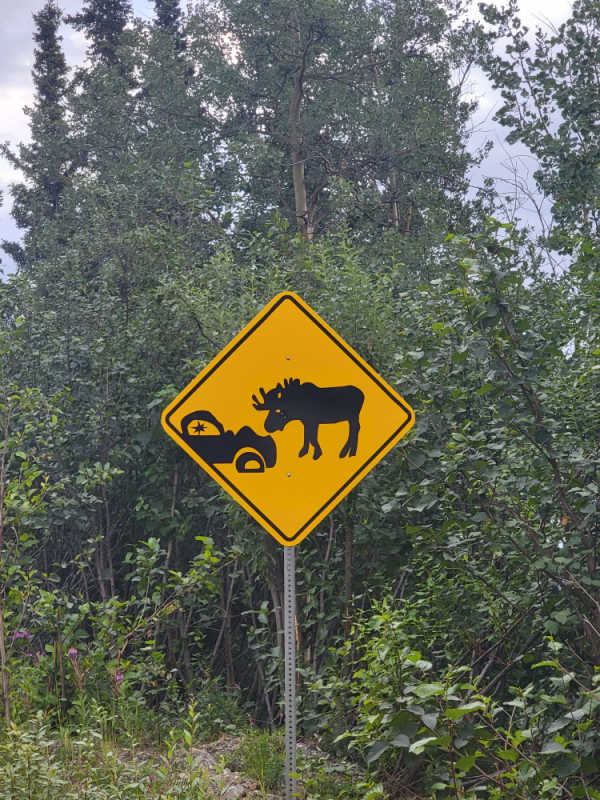 You have to see the warning signs leading up to the lodge. So funny and truly Alaska!
Day 2 - Denali to Kenai Fjords
We woke up early to hit the road and drive to Seward, Alaska to visit Kenai Fjords National Park.
The drive along the Parks Highway is gorgeous most days. We ended up driving in torrential rain and wind so we didn't see the views we hoped for.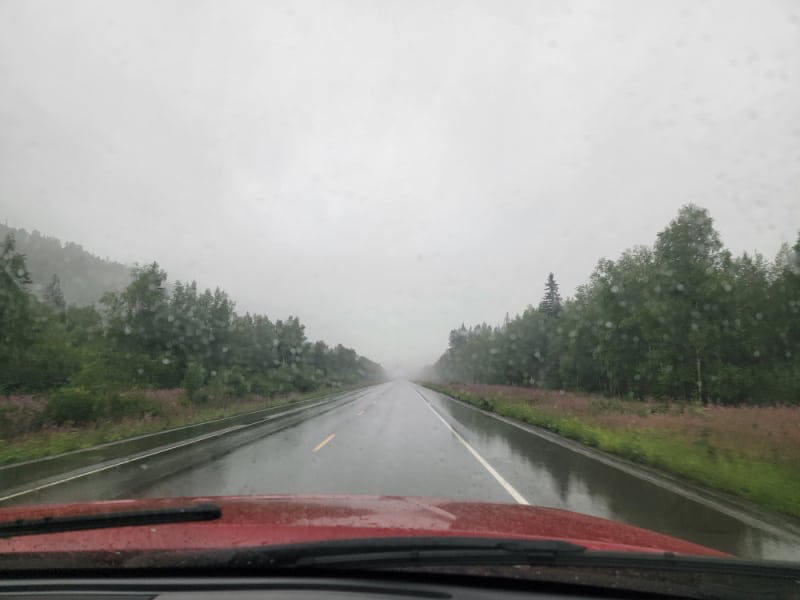 It was quite the drive but so worth it.
By the time we got to Seward the storm had broken up so we were hopeful we would be able to take the Kenai Fjords dinner cruise we had booked.
Sadly when we went to check in for the cruise they let us know it was canceled due to rough water and weather.
We found ourselves with a free afternoon in Seward with nothing planned.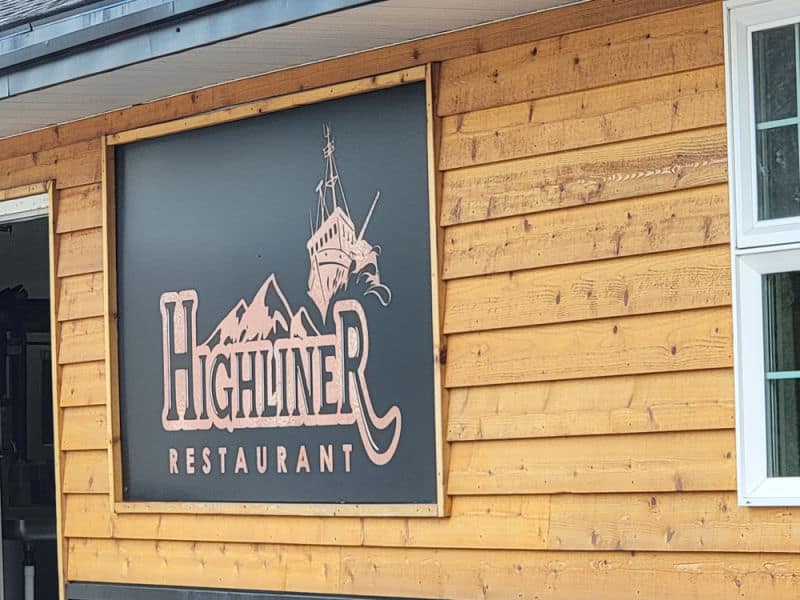 We ended up having an amazing lunch at the Highline Restaurant.
I would recommend this restaurant to anyone visiting Seward.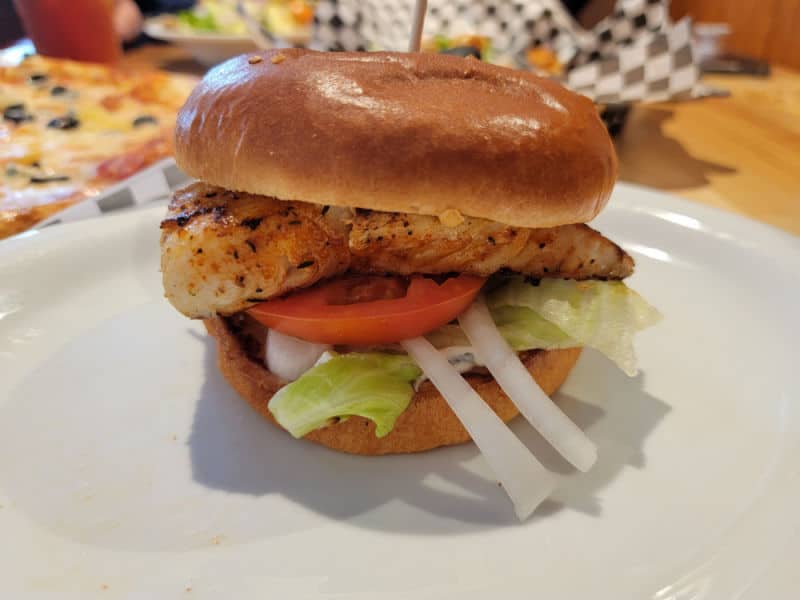 The grilled halibut sandwich was unbelievable and the clam chowder was one of the best I have ever had.
We really enjoyed relaxing while enjoying an epic lunch.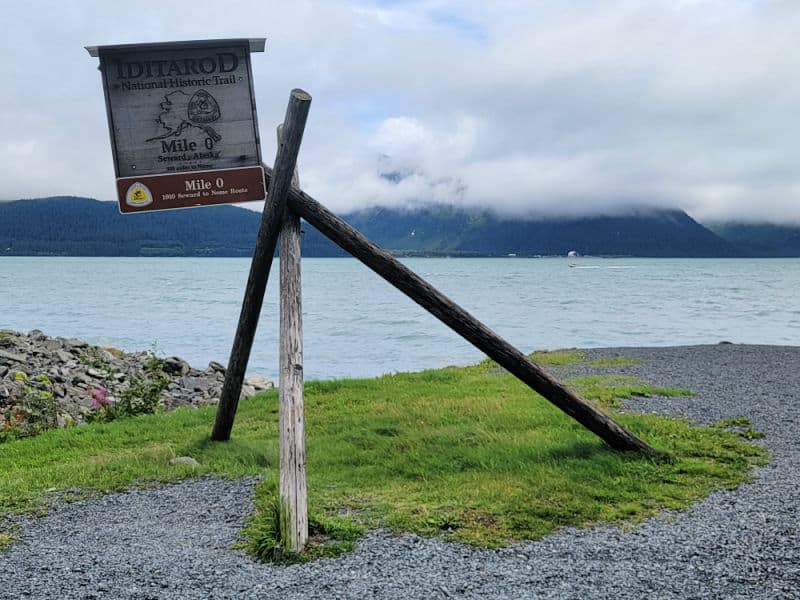 Since we had time we explored Seward and found mile 1 of the Iditarod National Historic Trail.
We stopped by the Kenai Fjords visitor center to pick up the park brochure and junior ranger program before heading to Exit Glacier.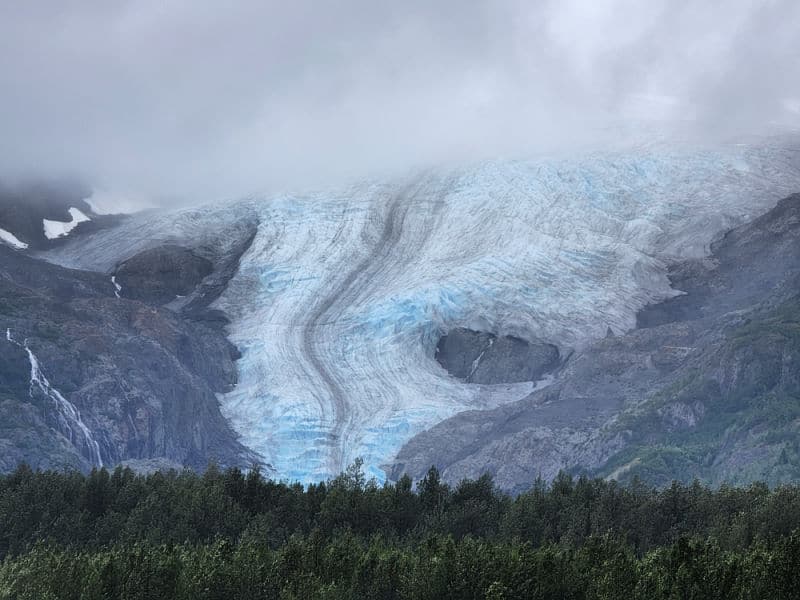 Did you know there is an Exit Glacier Campground for tents only? It is really nice and offers the opportunity to camp in Kenai Fjords.
After exploring Exit Glacier we headed to our hotel for the night.
We booked a room at Angels Rest which has cabins and rooms.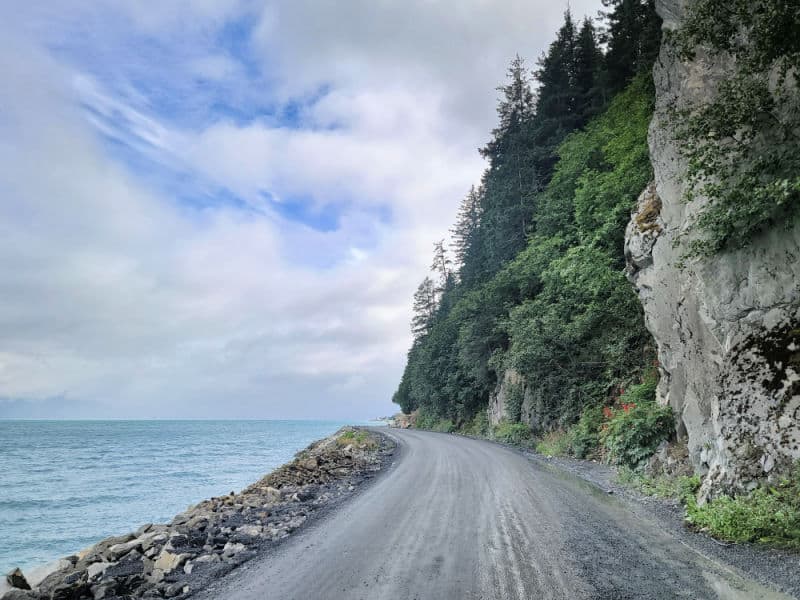 The hotel is located outside of Seward along the coastline offering epic views of the water.
We stayed in the Herons roost which had 2 rooms on the 2nd floor.
Being able to relax with views of the water was the perfect way to end a crazy day of storms and driving 6+ hours.
Day 3 - Kenai Fjords NP Boat Tour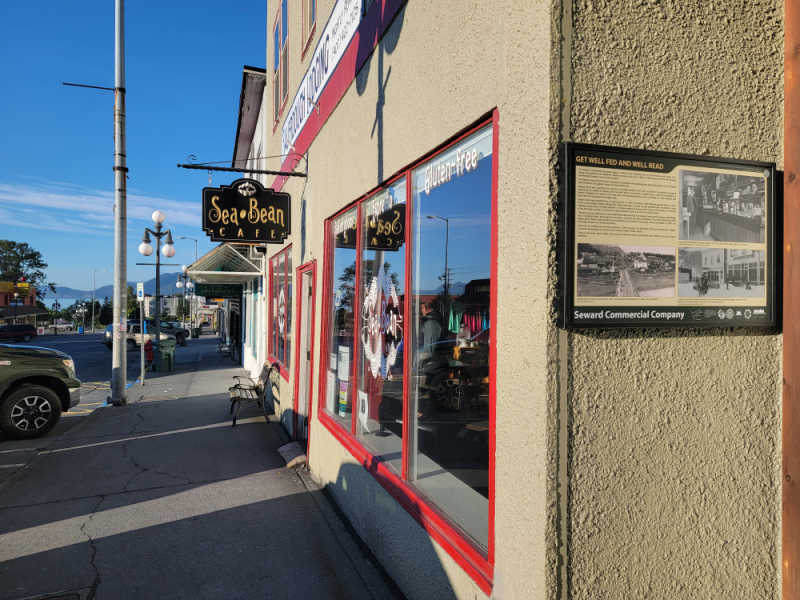 We started the morning at the Sea Bean Café in Seward. They have a great breakfast menu and were open early.
The Blackbeard mocha was amazing with vanilla and caramel.
After breakfast, it was time for our boat tour. We booked the 7.5-hour Kenai Fjords tour.
Our hope was to have epic weather and killer wildlife views.
It has been 13+ years since we did this tour so we were crazy excited to do it again.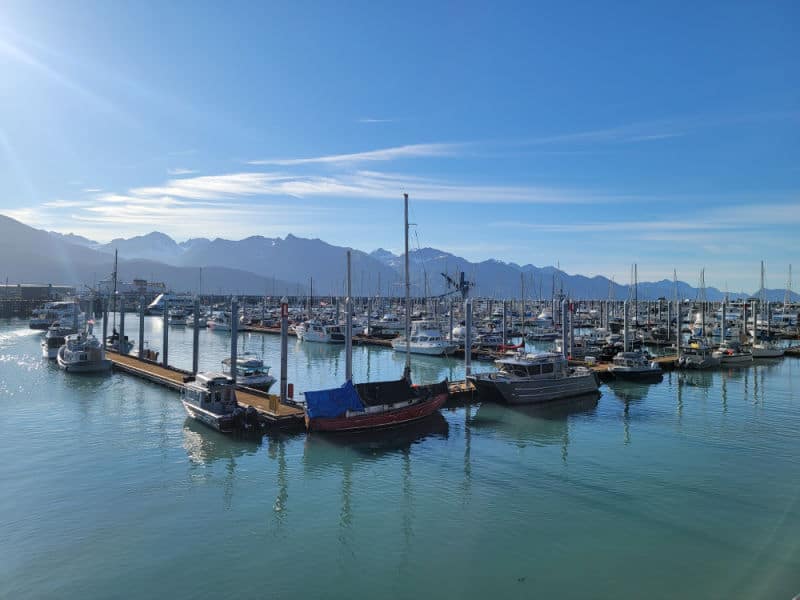 The boat tour leaves from right in Seward making it really easy to find paid parking nearby.
Check-in was quick and easy and we were boarding the boat heading out to sea.
I have to admit leaving Resurrection Bay into the Gulf of Alaska was a bit rough.
There were leftover storm waves that made it a bit rocky for a good 30 minutes.
Unfortunately, a few passengers lost their breakfast while others were having problems finding their sea legs.
Once we were back in a protected bay the waters calmed down quickly and the trip became much more pleasant.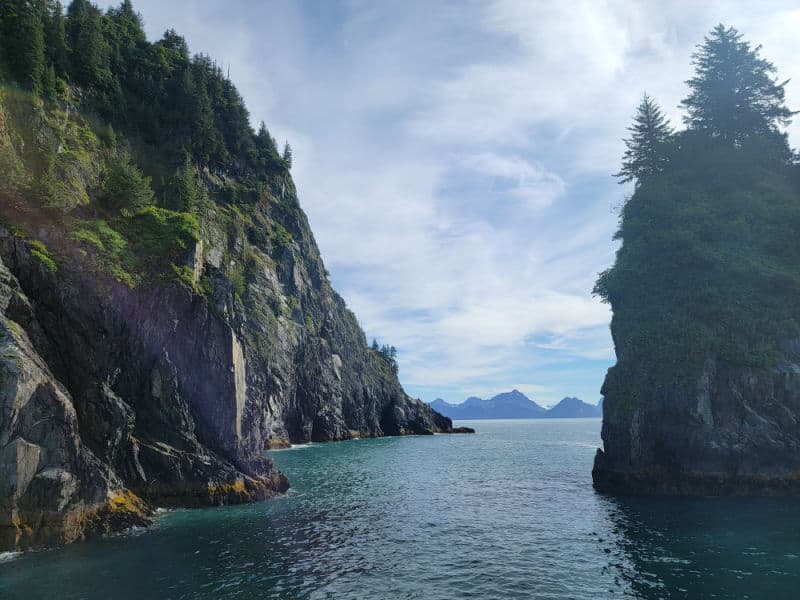 Our first wildlife sighting was tufted puffins!!!! They were flying all around due to a Peregrine Falcon being in a tree nearby.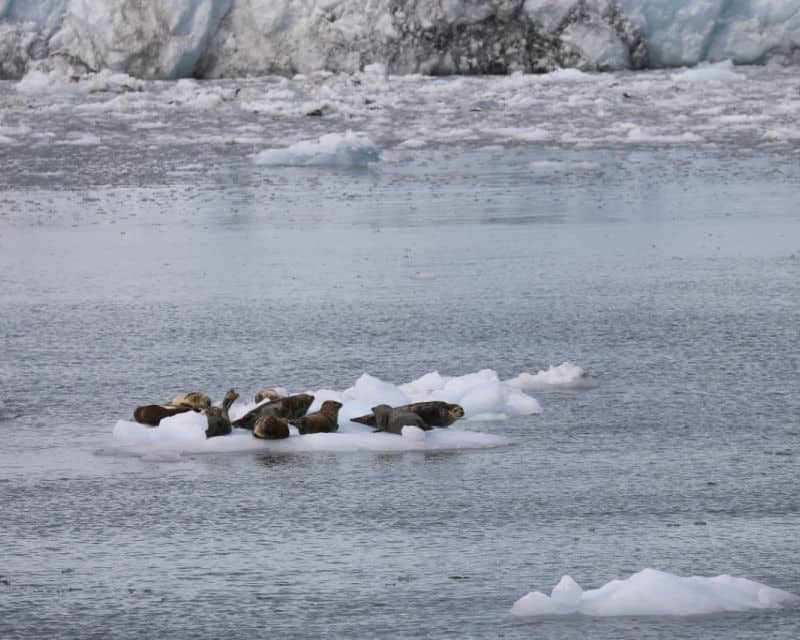 The day continued with more epic wildlife including multiple Humpback Whales, sea otters, harbor seals, horned puffins, and even a fin Whale.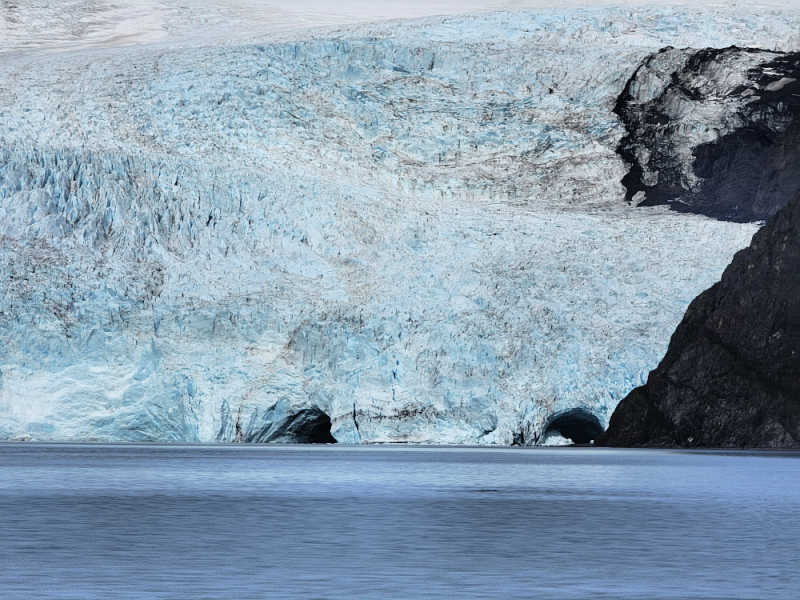 We saw 2 tidewater glaciers during the cruise and the weather turned out amazing.
They said about 70% of boat tours experience rain during the tour and we didn't have any.
It was so sunny we came off the ship a bit sunburned from spending the entire 7.5-hour cruise on the top deck.
There is inside seating but we didn't want to miss a single thing during the cruise.
After the cruise, it was time to drive up to Anchorage for the night.
The drive up the Seward Highway is amazing. It passes by Chugach State Park which we really want to explore on our next trip.
The Alaska State Park looks amazing with tons of overlooks looking out over the water.
Next time we need to plan more time to explore the Kenai Peninsula and finally make it to Homer, Alaska.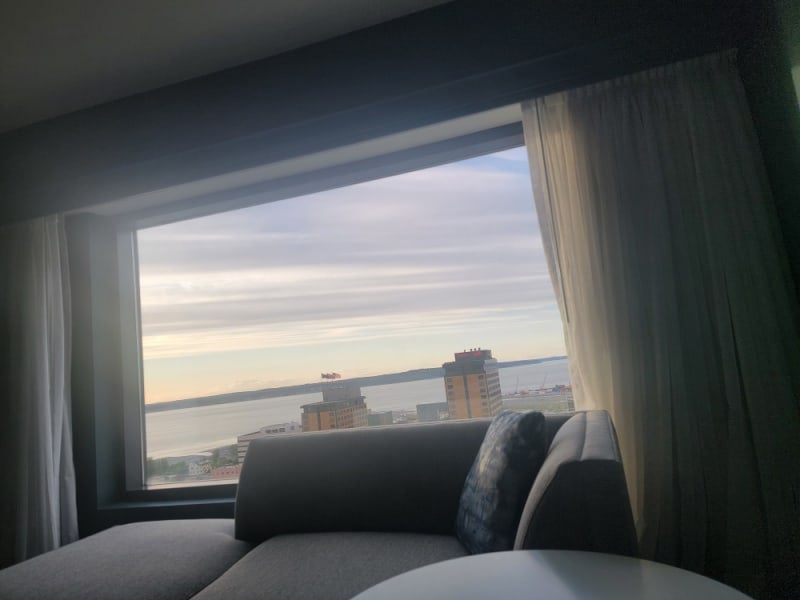 We stayed at the Downtown Anchorage Marriott for the night and it was fantastic.
Our room had a view over the water and it was so crazy seeing the sunset at 10:30 pm over the water.
Day 4 - Anchorage to Denali to Fairbanks
We had planned to get up super early and leave for Denali but the Marriott bed was so comfortable we ended up sleeping in.
The drive from Anchorage to Denali is about 4 hours.
The views between Anchorage and Wasilla are epic! We didn't see any moose on the drive but have seen huge bull moose nearby on prior trips.
The Parks Highway is a direct link between Anchorage to Denali and onto Fairbanks making it really easy to explore this part of Alaska.
We did see a momma moose and baby near a river when we were almost to Denali.
They were so perfectly posed they looked fake. Sadly traffic was too busy to safely pull over to take a photo.
We had so much fun driving around Denali NP. We finally saw the Ranger Program about the sled dogs and it was amazing.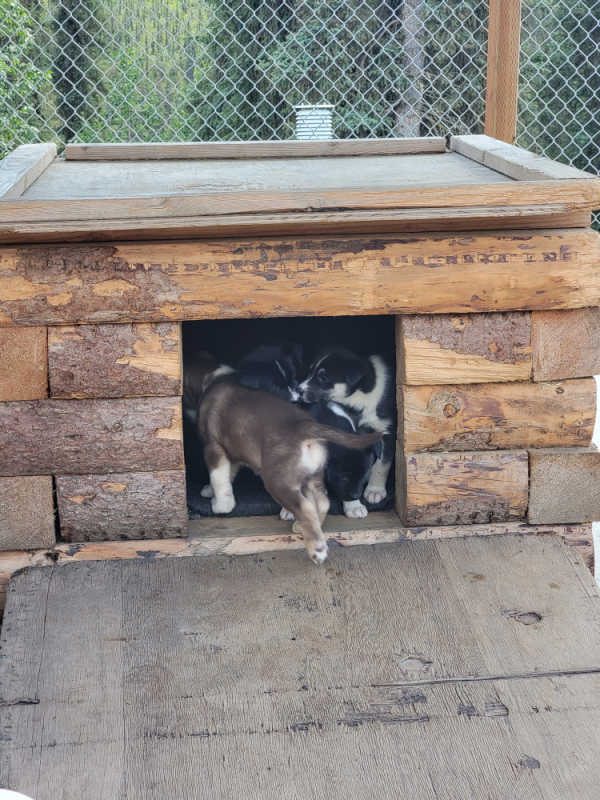 The 2022 Sled Dog puppies are beyond cute and cuddly. We watched them put on a mini race that had 100+ park visitors swooning over the little pups!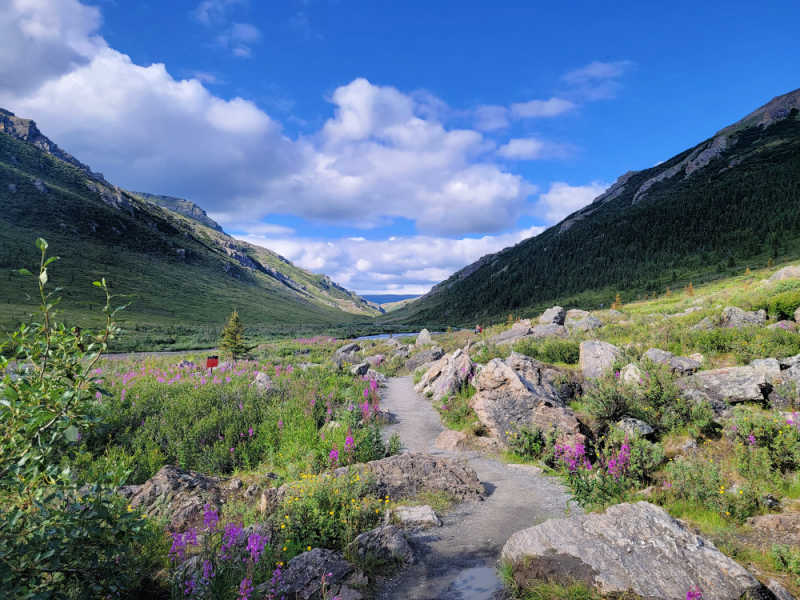 We drove up to Savage River to the cut-off for personal vehicles. There are a ton of epic Denali Hiking Trails in this part of the park.
We did see 2 caribou along the way. The weather was fantastic.
It still amazes me to see the sun go down at 11:35 pm in Fairbanks.
We stayed at the Marriott Springhill Suites in Fairbanks. We have stayed at this hotel a few times and really enjoy it.
Day 5 - Fairbanks to Glacier Bay National Park
Today was a big travel day. We had to leave the hotel early to get to our flight from Fairbanks to Anchorage.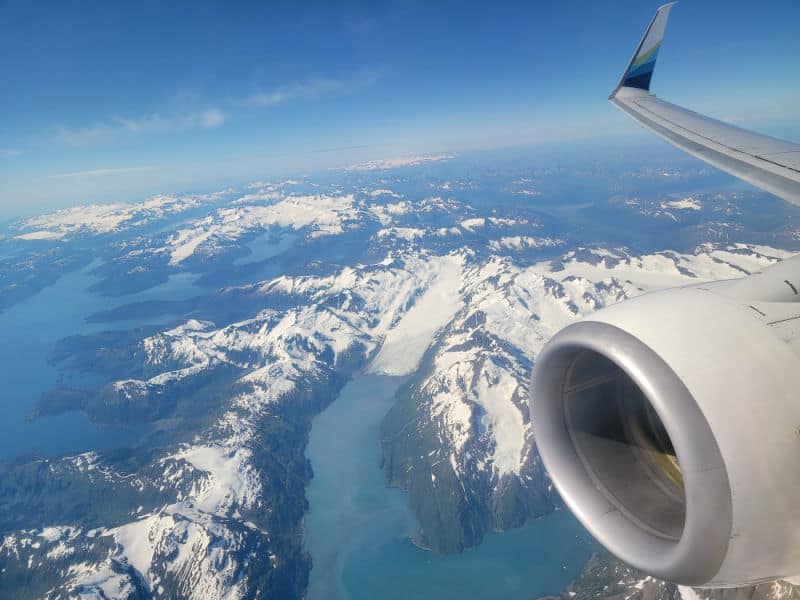 We then flew from Anchorage to Juneau and relaxed in the tiny airport for 4 hours before our flight to Gustavus. We highly suggest having a window seat on the flight from Anchorage to Juneau!

We had epic views of tidewater glaciers and mountains during our flight.
The flight from Juneau to Gustavus is supposed to be 20ish minutes.
We ended up having 2 missed landings and finally were able to land on the 3rd attempt.
The Gustavus Airport is not large. LOL!
We are staying at the Glacier Bay Lodge, one of my top bucket list National Park Lodges that I have not been to before!
I have been dreaming of staying in the lodge for years.
The lodge offers a free shuttle from the airport to the lodge.
Thank goodness since it was absolutely pouring rain when we arrived.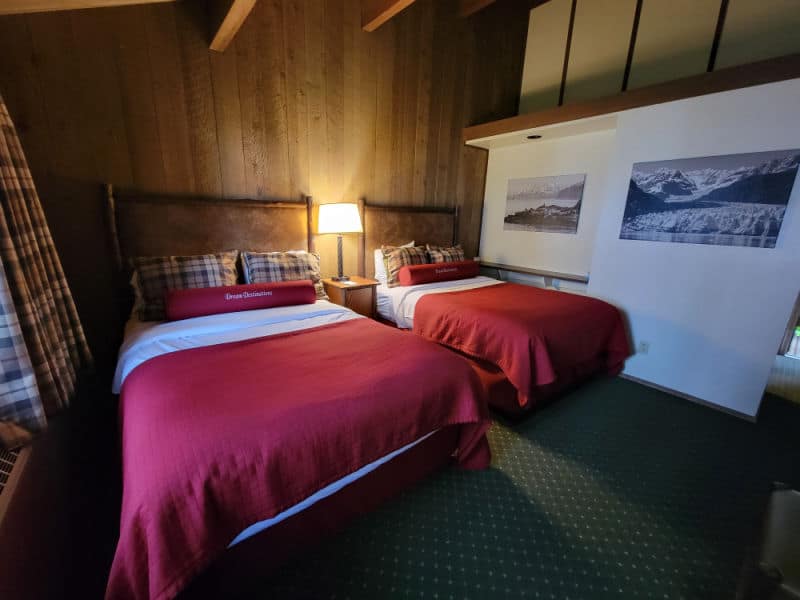 We stayed in a 2 double bed cabin with a view of Bartlett Cove.
The room is small but fantastic. It has everything you need for enjoying time in Glacier Bay National Park.
They offer breakfast and dinner at the main lodge building.
The halibut fish and chips were fantastic.
We spent the rest of the evening relaxing and getting a great night's sleep.
Day 6 - Glacier Bay National Park Boat Tour
The Glacier Bay Lodge offers a great breakfast buffet.
We were so excited to spend our day on the Glacier Bay Boat Tour.
Before we even left Bartlett Cove we saw multiple Humpback Whales.
We also saw Stellar sea lions, Tufted puffins, Pelagic cormorants, and glaucous-winged gull near South Marble Island.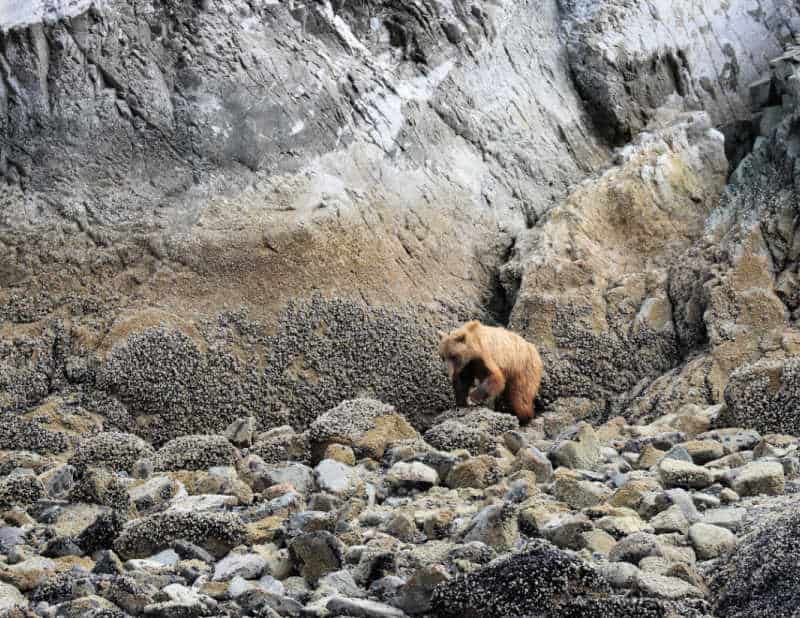 When we got to Gloomy Knob we saw an epic Coastal brown bear walking along the tidal zone.
There were Mountain goats way up high that we could barely see.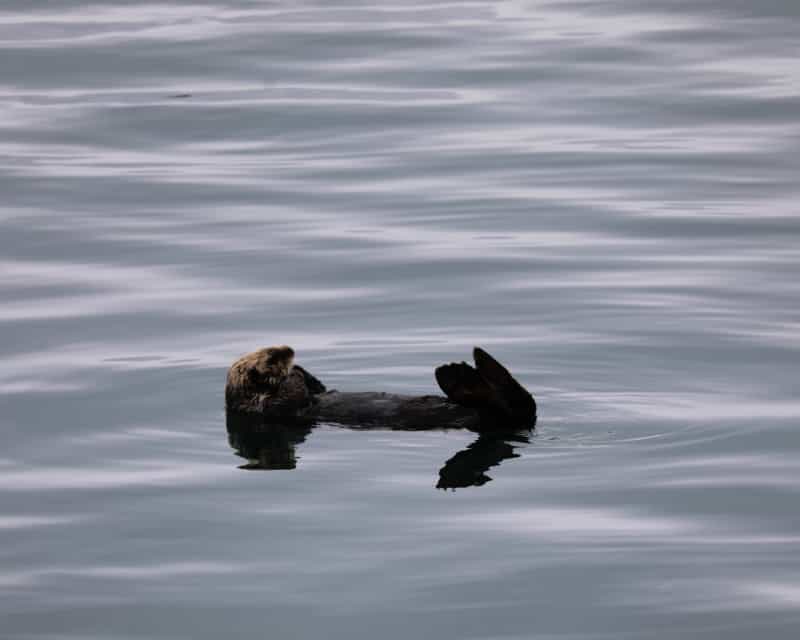 The day was filled with unbelievable wildlife! As we headed back to the lodge we saw an Orca Whale in the distance.
It was sad to see the boat tour come to an end but we were so happy to have another night at the Glacier Bay Lodge.
Dinner was epic! We had to have the spinach dip again. It was that good.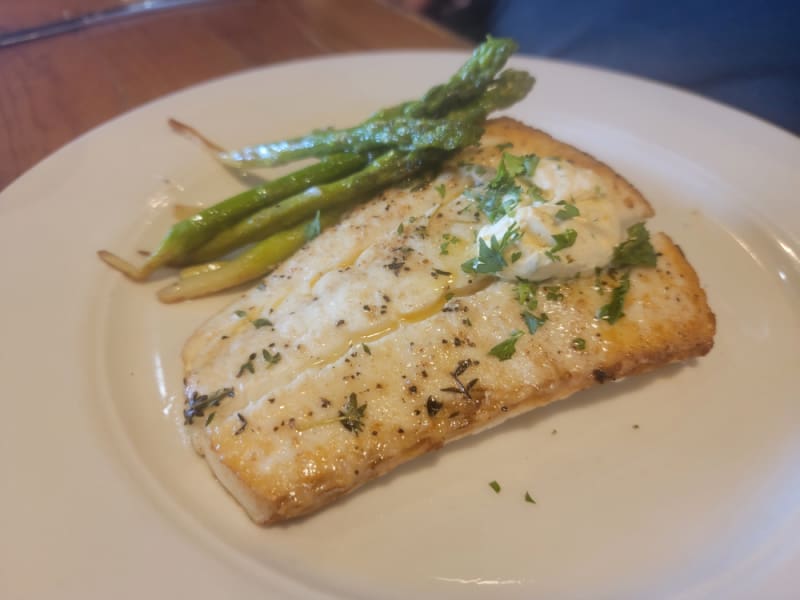 I had the baked halibut and it was delicious.
After dinner, we relaxed and savored the quiet of Glacier Bay.
Day 7 - Glacier Bay to Seattle
We slept so well in the Glacier Bay Lodge. I am thankful we set an alarm so we didn't sleep through breakfast.
The room was so comfortable and the light sound of rain was amazing.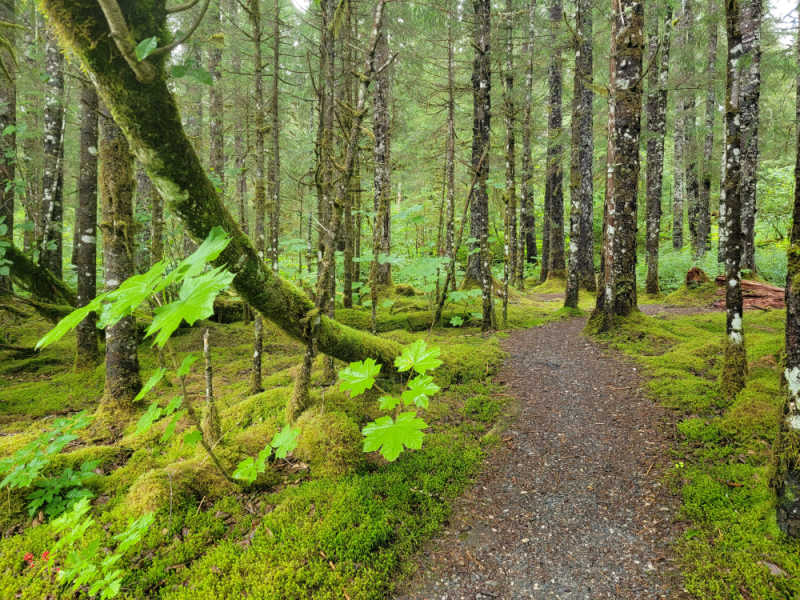 After a fantastic breakfast, we decided to check out the coastal trail to the Glacier Bay Campground.
We could hear multiple Humpback Whales in Bartlett Cove as we walked the trail.
This is one of the most amazing national park lodges we have stayed in.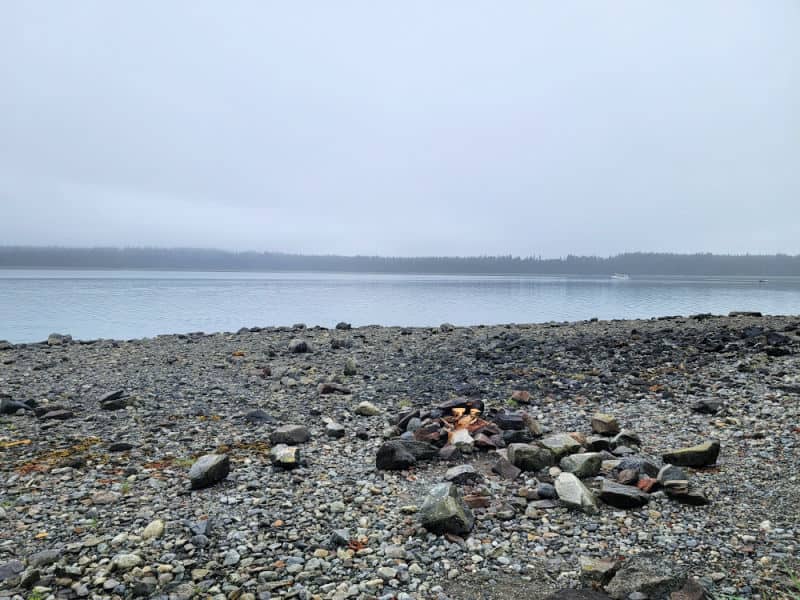 The campfire circle is on the beach with views of sea otters and humpback Whales.
We spent a couple of hours wandering the lodge grounds and watching the Whales.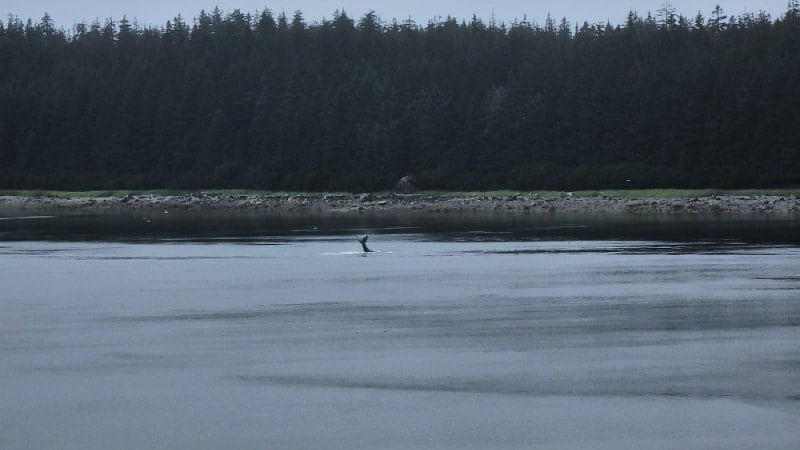 There are a few hours between checkout and the shuttle to the airport. We spent it watching Humpback Whales from the deck of the lodge.
We even saw one do multiple tail slaps and breach right in front of us.
This Alaska National Park trip has been amazing. It is hard to think about heading home when we are watching humpback Whales right near the lodge.
I wish I could say our departure from Glacier Bay was as epic as the rest of the week has been.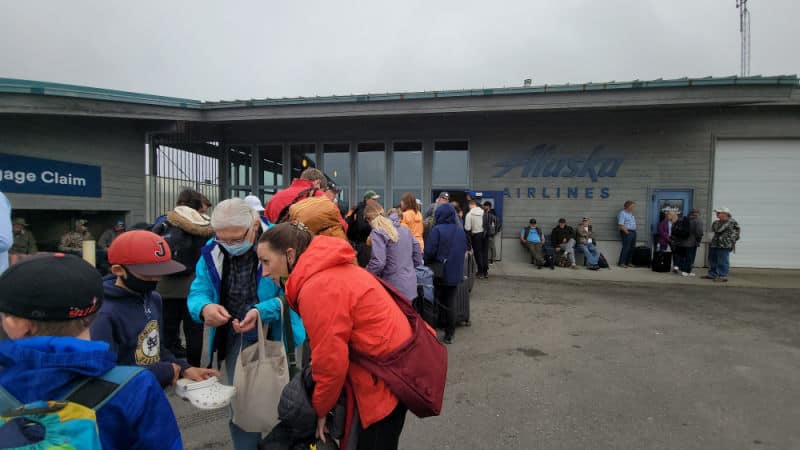 When we arrived at the Gustavus Airport the line was outside the building.
We had to stand in the misty rain for over an hour to get into the building.
Once we were checked in and on the flight, we found out they needed to burn off some fuel onboard the plane so we were delayed arriving in Juneau.
By the time we arrived in Juneau our original flight to Seattle had already departed.
We also found out it is the weekend of the Juneau Ironman so there were no hotels in town.
We spent the night sleeping on benches inside the airport.
One travel tip is to make sure you pack lots of snacks with you.
The Juneau snack shop was closed when we arrived so we were unable to get dinner. Snacks got us through the night.
After a lovely night of little sleep, we finally boarded our flight to Seattle and on to Spokane.
Additional Alaska National Park Resources
Wrangell St. Elias National Park
Klondike Gold Rush National Historical Park
Check out all of the Alaska National Parks along with National Parks in Washington, California National Parks, and National Parks in Hawaii
Planning a National Park vacation? America the Beautiful/National Park Pass covers entrance fees for an entire year to all US National Park Sites and over 2,000 Federal Recreation Fee Sites.
The park pass covers everyone in the car for per vehicle sites and for up to 4 adults for per-person sites.
Buy on REI.com and REI will donate 10% of pass proceeds to the National Forest Foundation, National Park Foundation and the U.S. Endowment for Forestry & Communities.