Epic Guide to Wrangell-St. Elias National Park in Alaska including things to do, where to stay, history, and so much more.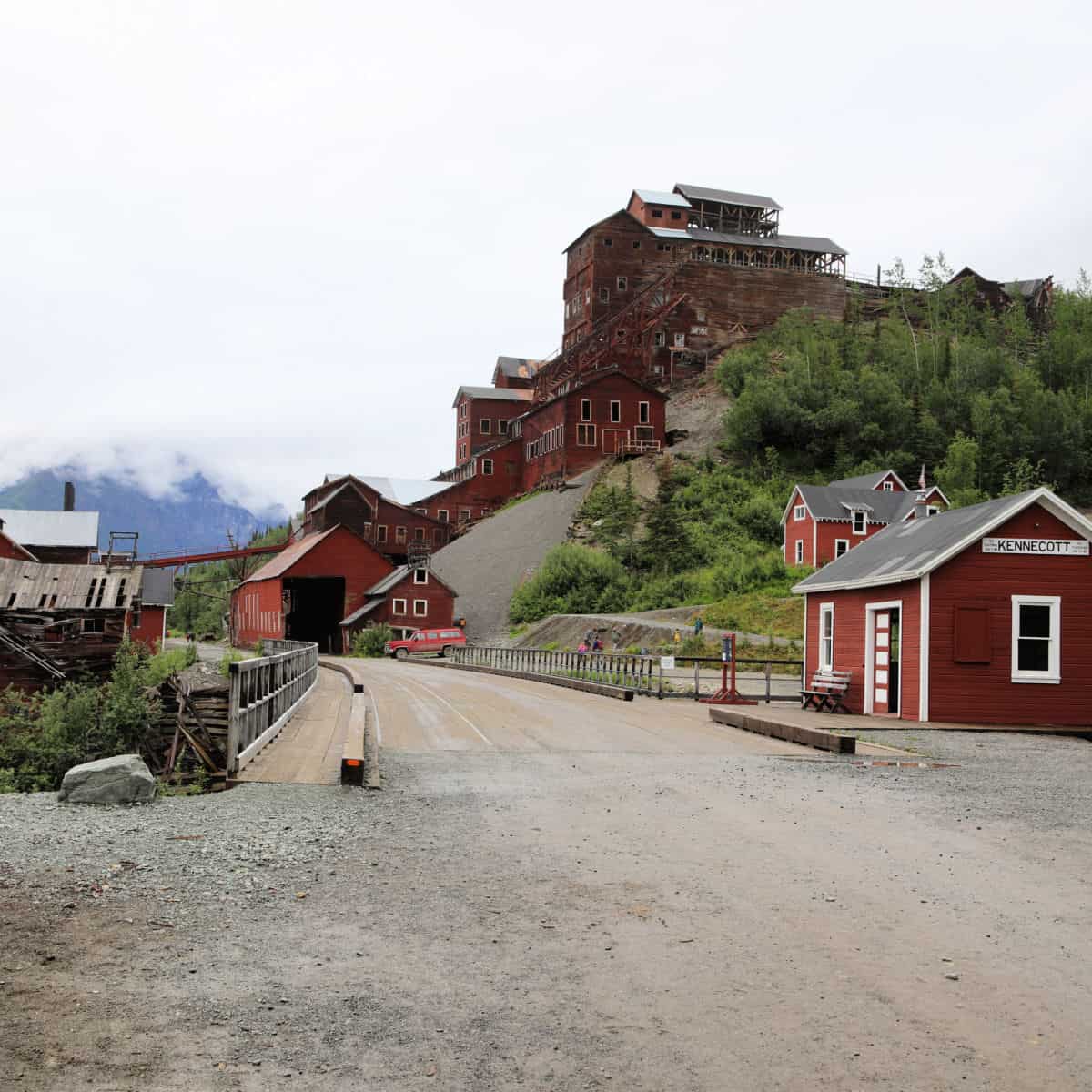 Wrangell-St. Elias National Park
At over eight million acres, Wrangell-St. Elias is the largest national park in the United States - this protected area stretches over a whopping 13 million acres if you include the preserve!
Wrangell-St. Elias National Park is located in southeastern Alaska and boasts four mountain ranges, massive glaciers, an abundance of wildlife, and large swaths of untouched wilderness.
One thing I can say about Wrangell St. Elias is make sure you give yourself plenty of time to explore this huge park!
There are two main roads that can be traveled the Nabesna Road and the McCarthy Road. Both of these roads are mainly compacted dirt roads that can get a bit bumpy during your drive.
We traveled both of these roads during our visit and enjoyed them for different reasons.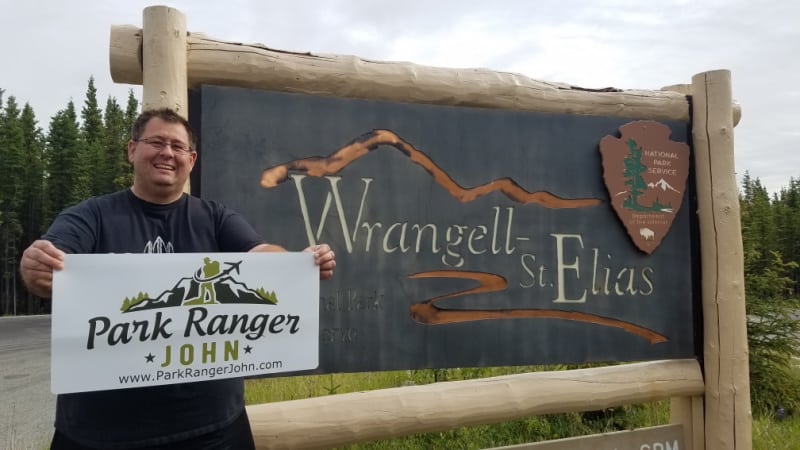 About Wrangell-St. Elias National Park
There are only 100 miles of road in the park, meaning that most of it is only accessible by foot or plane. That being said, there are two small towns located in the center of the park - McCarthy, and Kennecott (also spelled Kennicott).
These make a great home base for exploring and no trip to Wrangell-St. Elias National Park would be complete without visiting these historic outposts at least once.
Trudging into the backcountry is another great way to get a feel for the park, and true adventurers will find plenty to keep them busy.
From rafting and hiking to ice-climbing and glacier trekking, there's so much to see and do at Wrangell-St. Elias.
The park's remote location and absolutely massive size can make it intimidating to plan a trip, but below you'll find the ultimate guide to Wrangell-St. Elias State Park.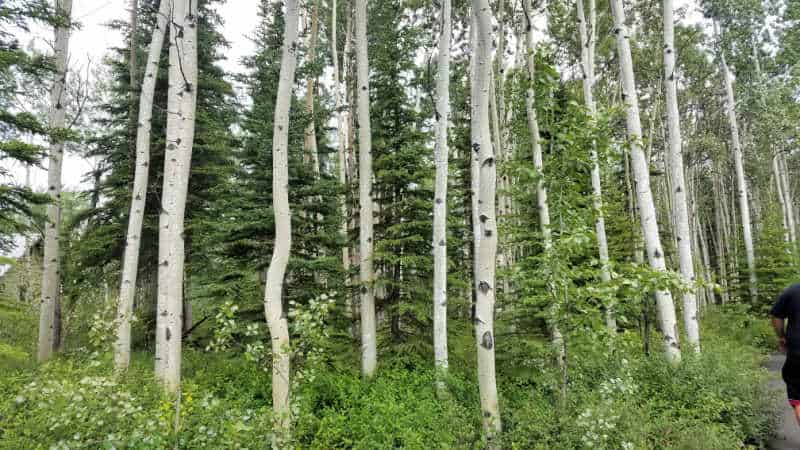 Is Wrangell-St. Elias National Park worth visiting?
Although quite remote, Wrangell St. Elias National Park is worth visiting. It's actually one of the more accessible Alaskan Parks, and whether you're looking to stay in the comfort of a quaint guest house or the absolute wilderness of the backcountry, you've got options.
History of Wrangell-St. Elias National Park
The human history of Wrangell-St. Elias National Park is a long one. Small tribes have lived in the area since about 1000 AD, and the first Europeans arrived in the mid-1700s.
Although it was known that the native tribes used copper tools and weapons, it wasn't until the 1880s that the mining boom really took hold of the area.
The Yukon Gold Rush sparked an interest in the Wrangell-St. Elias area, and in the early 1900s, railroads connected the mining town of Kennecott to the outside world.
The boom peaked and ended rather quickly, but a few of the buildings from this era still stand in Kennecott and McCarthy.
The area was dubbed a UNESCO World Heritage Site in 1979, and the following year it became a national park.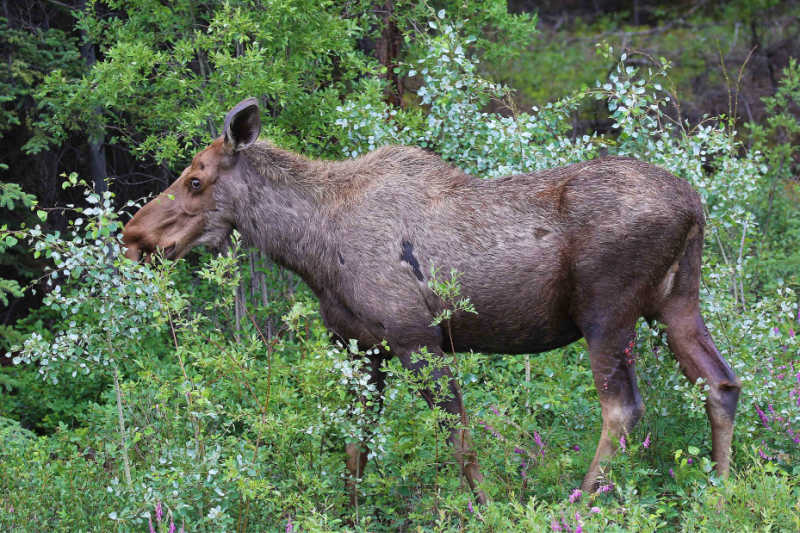 Things to know before your visit to Wrangell-St. Elias National Park
Entrance fee
$0.00 - There is no entrance fee to visit the park.
Planning a National Park vacation? America the Beautiful/National Park Pass covers entrance fees for an entire year to all US National Park Sites and over 2,000 Federal Recreation Fee Sites.
The park pass covers everyone in the car for per vehicle sites and for up to 4 adults for per-person sites.
Buy on REI.com and REI will donate 10% of pass proceeds to the National Forest Foundation, National Park Foundation and the U.S. Endowment for Forestry & Communities.
Learn more about National Park Passes for parks that have an entrance fee.
Free Entrance Days -Mark your calendars with the five free entrance days the National Park Service offers annually.
Time Zone
Alaska Time Zone
Pets
Pets must be on a leash at all times. They are allowed on the trails and in the backcountry.
Cell Service
Cell Service is available randomly in the park along the Richardson, Glenn and Tok Cutoff Highways.
There is no cell service on the Nabesna Road.
Park Hours
The park is open year round. Visitor services hours depend on the time of year you are visiting.
The majority of services are open from Late-May to late September.
Wi-Fi
Free public Wi-Fi is available at the Copper Center, Slana and Chitina Visitor Centers during the summer.
Insect Repellent
Insect repellent is always a great idea when outdoors, especially if you are around any body of water.
We use Permethrin Spray on our clothes before our park trips.
Bug Spray is your friend! Liberally apply it, reapply it and then say a prayer to the mosquito gods that you do not mauled.
I know this sounds extreme but at one point we watched swarms of mosquitos literally surround the car.
It looked like the air was filled with a black mass of bugs. Not pretty! Tammilee has started treating our clothes with this bug spray at the beginning of the summer.
It lasts for 6 washes before we re-apply it. I feel like it is really helping with not getting swarmed by as many bugs.
Water Bottle
Make sure to bring your own water bottle and plenty of water with you. Plastic water bottles are not sold in the park.
Parking
There is a large parking lot at the end of McCarthy Road. There is also a nice size parking area at the visitor center.
Kennecott Mines - All visitors have to park at the Kennicott River Footbridge. No vehicles are allowed access to Kennecott Mill Town.
During the summer, there is a private shuttle that transports visitors between McCarthy and Kennecott for a fee of $5 one way.
Once you cross the first footbridge over the Kennicott River, there is a private shuttle that takes passengers into the town of McCarthy and/or to Kennecott Mill Town.
The shuttle schedule is usually posted at the footbridge and other locations around town. Typically, the shuttle runs once or twice an hour during the summer, although shuttle times may vary.
Food/Restaurants
There are a few restaurants located in the town of McCarthy in the southern region of the park. There are also some eateries in Copper Center, located just outside of the park.
Gas
There is no gas available within the park. Make sure and get gas whenever you see a gas station! There are no gas stations along either road in the park.
I would suggest filling up right before you head out.
You never know what will happen and having a full tank of gas is one less thing to worry about.
Drones
Drones are not permitted within National Park Sites.
National Park Passport Stamps
National Park Passport stamps can be found in the visitor center.
Make sure to bring your National Park Passport Book with you or we like to pack these circle stickers so we don't have to bring our entire book with us.
Wrangell St Elias NP is part of the 1995 Passport Stamp Set.
Electric Vehicle Charging
There are no electric vehicle charging stations inside the park.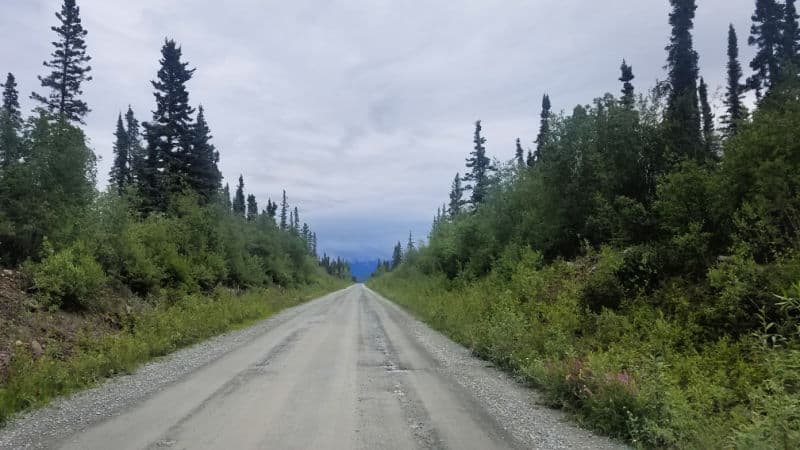 Details about Wrangell-St. Elias National Park
Size - 8,323,146 acres
Wrangell St Elias NP is currently ranked at 1 out of 63 National Parks by Size.
Wrangell St Elias NP is the largest of all US national parks (larger than countries such as Slovakia, Bosnia and Herzegovina or Costa Rica).
Date Established
December 2, 1980 - Part of the Alaska National Interest Lands Conservation act.
Founded in 1980 by the Alaska National Interest Lands Conservation Act (ANILCA), the park is nearly six times the size of Yellowstone National Park.
Visitation
In 2021, Wrangell St Elias NP had 50,189 park visitors.
In 2020, Wrangell St Elias NP had 16,655 park visitors.
In 2019, Wrangell St Elias NP had 74,518 park visitors.
Learn more about the most visited and least visited National Parks in the US
National Park Address
Main Visitor Center - Mile marker 106.8 Richardson Highway (Hwy 4), Copper Center, AK
Wrangell St. Elias National Park Map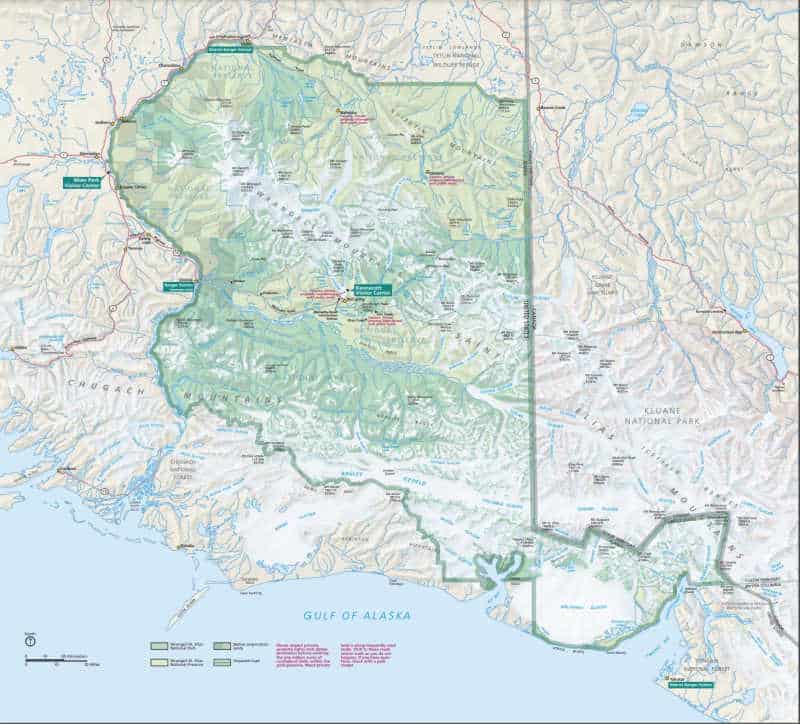 For a more detailed map we like the National Geographic Topographic Maps available on Amazon.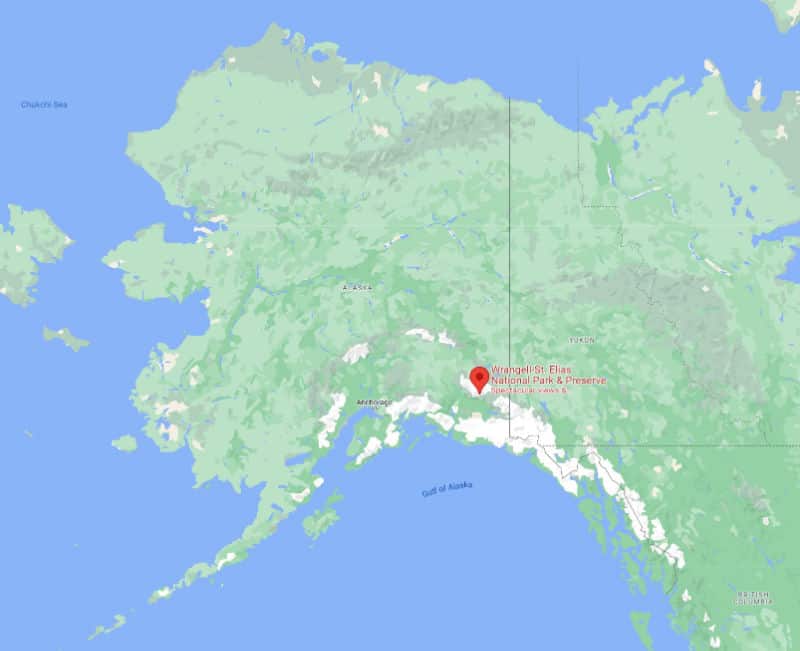 Where is Wrangell-St. Elias National Park?
Wrangell St Elias NP is located in the State of Alaska along the eastern border with Canada.
The park borders the Canadian Kluane National Park.
Estimated distance from major cities nearby
Distance calculated to the visitor center in Copper Center, Alaska
Valdez, AK - 110 miles
Anchorage, AK - 190 miles
Fairbanks, AK - 254 miles
Estimated Distance from nearby National Park
Denali National Park - 239 miles
Kenai Fjord National Park - 313 miles
These parks can be accessed via planes or tours
Gates of the Arctic National Park
Where is the National Park Visitor Center?
Copper Center Visitor Center - Main visitor center
Location - 10 miles south of Glenallen
Copper Center Visitor Center includes a bookstore, an exhibit hall, a theater, restrooms, picnic tables and a picnic shelter, an amphitheater, the Ahtna Cultural Center, scenic overlooks and short hiking trails.
Kennecott Visitor Center - Housed in Kennecott's historic general store
Historic Kennecott Mill Town (5 miles north of McCarthy) 907-554-1105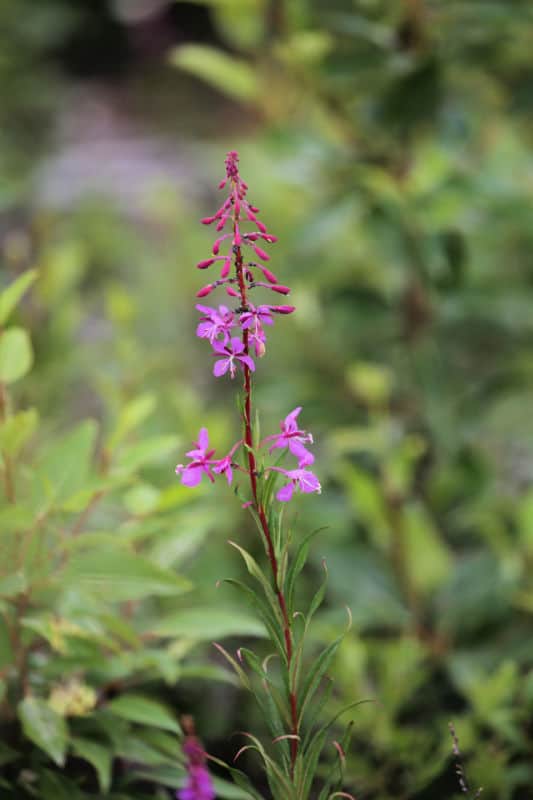 Getting to Wrangell-St. Elias National Park
International Airports
Ted Stevens Anchorage International Airport (ANC)
Fairbanks International Airport (FAI)
There are three improved public airstrips within the park but they do not have any services.
McCarthy Airstrip (pdf format 472 KB)
May Creek Airstrip (pdf format 528 KB)
Chisana Airstrip (pdf format 565 KB)
Driving Directions
For the millions of acres that constitute the park, there are just over 100 miles of roads.
Nabesna Road stretches for 42 miles on the northern side of the park, and McCarthy Road traverses 59 miles further south and connects visitors to the small towns of McCarthy and Kennecott.
Both roads are gravel, and McCarthy is notorious for causing flat tires.
Although conditions have improved in recent years, some rental car companies do not allow their vehicles on this road, so be sure to call ahead and make sure you are allowed to drive this rocky route.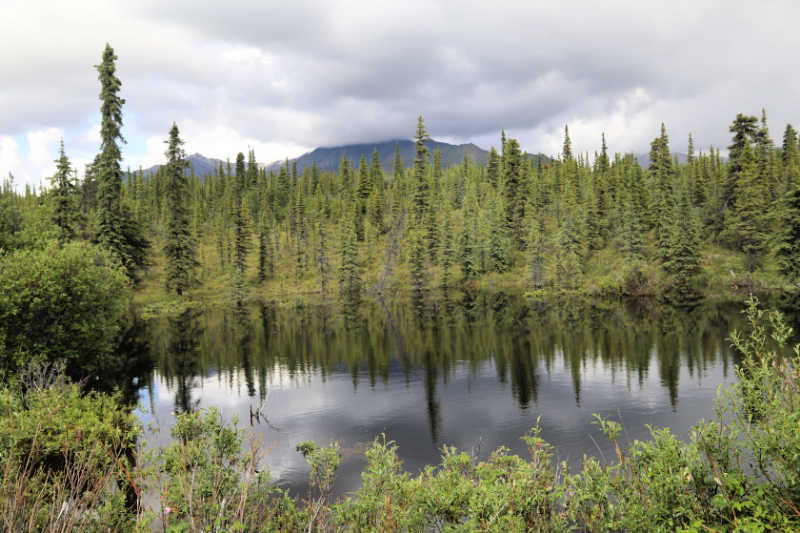 Best time to visit Wrangell-St. Elias National Park
The best time to visit the park is between late May and mid-September. Temperatures are at their best during this time and the days also stretch further.
Weather and Seasons
Spring
Snow is often still present in the park until late May, when the temperatures begin to rise. Late spring can be a great time to visit the park, and you may be able to avoid some of the larger "crowds" that visit during the sunnier summer months.
Summer
Summer is the most popular time to visit Wrangell-St. Elias, thanks to the warm temperatures and dry climate. June and July are particularly nice, and rainy days are much less likely during these months. July is the busiest month at the park, so try to visit in June or August if you want great weather without all the extra people.
Fall
September is the last month of the year that sees decent weather. By the end of the month, there is often snowfall at the park, and the visitor centers and lodges begin to shut down for the season.
Winter
The park is open year-round, so if you really want to, you could visit in the winter. However, this is not recommended, as much of the park will be covered in snow and mostly inaccessible.
Those who want to brave harsh winter weather can enjoy fun winter activities, including snowmobiling (or snow machining to locals), snowshoeing, and cross country skiing.
Note that there are no park services available at this time, so be prepared to take on the rough conditions all on your own.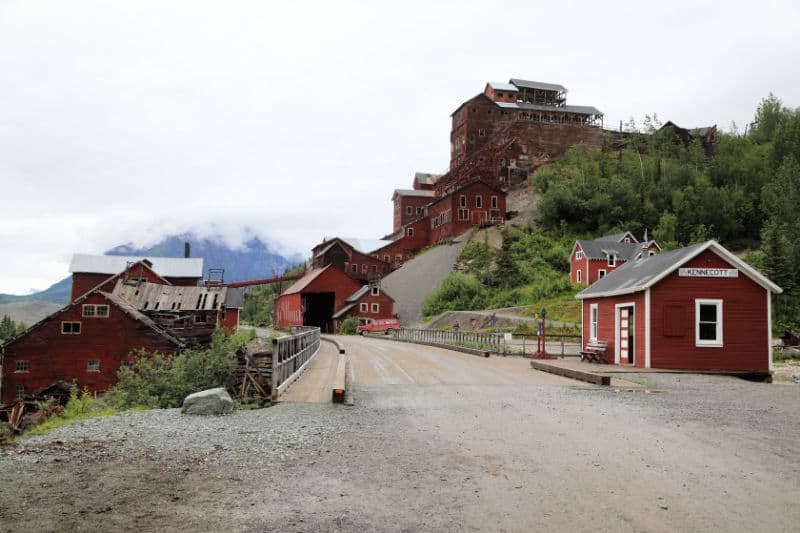 We suggest planning a minimum of a few days to explore Wrangell St. Elias NP. Part of the adventure is just reaching some areas of the park.
Wildlife viewing
It's not surprising that the largest national park in the system would be home to a wide array of wildlife.
Wrangell-St. Elias encompasses a variety of landscapes and ecosystems, meaning that the critters who live here are as varied as the topography.
In the alpine region, you might see Dall sheep and mountain goats.
The northern Wrangell mountains are home to caribou, and moose reside in the bogs and brushy area of the lowlands.
There are also black and brown bears throughout the park and bison herds around the Chitna River and Copper River Valley.
Smaller mammals of the National Park include the red fox, north American otter, beaver, snowshoe hare, arctic ground squirrel, flying squirrel, red squirrel and various small rodents such as lemmings.
The Junior Ranger Program is a fun, hands-on way to learn more about the park's history, wildlife, plant species, and more.
Both the young and young at heart can participate in this in-depth program, and at the end, you'll get a badge to commemorate your time at the park.
Bird Watching
Thanks to the large swaths of boreal forests that cover parts of Wrangell-St. Elias National Park and Preserve, there are TONS of unique bird species to be seen.
From trumpeter swans and Canadian geese to thrushes and warblers, the park comes alive in the spring and summer with bird song from a myriad of nesting species.
As the winter sets in, only the hardiest stick around, including redpolls, chickadees, and pine grosbeaks, among others.
Flightseeing
The best way to see as much of this massive park as possible is by taking a flightseeing tour.
Not only will you get a feel for just how big this area really is, but you'll be able to take in some jaw-dropping views along the way, too.
Tours vary, but you'll likely fly over active volcanoes, ginormous ice fields, record-breaking mountain peaks, and more.
Most flightseeing tours depart from Chitina, McCarthy, Kennecott, or Tok. Be sure to book in advance!
McCarthy Road
Driving along McCarthy Road is one of the most popular and best ways to explore the park.
Along the way, you'll encounter tons of scenic lookouts, and if you're lucky, you might even spot some of the park's full-time residents, including bison, moose, deer, and bald eagles.
At the end of McCarthy Road, you can park and take the footbridge into the town of McCarthy.
This charming village dates back to the early 1900s and has a museum, a few small guesthouses, restaurants, and a general store.
While you're in the area, don't miss the nearby town of Kennecott. This abandoned mining town is on the National Register of Historic Places and boasts incredible views from the old mill.
You can tour the mill, hike some of the trails around the area, or simply amble around the ghost town and take in the scenery.
Kennecott Mining Area
Kennicott, an abandoned mining village for five copper mines nearby.
The Kennecott Corporation began in 1908 with the construction of the mine, which was put into operation in 1911 and quickly attracted large numbers of workers. In 1938, the last mines were shut down.
From there, the so-subsidized copper was transported to McCarthy through the Copper River and Railway to Cordova on the Gulf of Alaska.
After the decommissioning of the copper mines and the train traffic stopped, McCarthy became a ghost town.
It was not until the 1970s when the region around Kennicott became accessible and people began to settle again.
The ruins of Kennecott Mines have survived to this day and are listed on the National Register of Historic Places. In addition to copper mining, gold was mined at Nabesna in the north.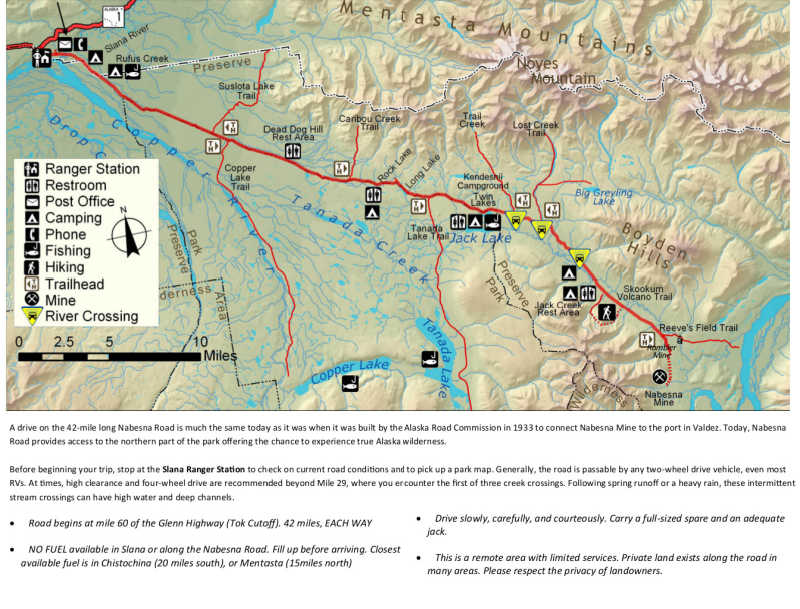 Nabesna Road
Nabesna Road is Wrangell St. Elias's road less traveled. But there is plenty to see and do along this scenic stretch if you have the time.
This is especially true for hikers, as there are tons of trails that start just off of Nabesna Road.
Note that this route is only partially paved, and there are several creek crossings that may be impassable after heavy rains.
Rafting
The man-made roads can only take you so far into the park, so if you'd like to see more, take one of nature's pathways.
River rafting is a great way to explore the inner depths of Wrangell-St. Elias, and you can do it solo or with a guide.
Popular rafting areas include Kennecott Glacial Lake and the Kennecott River. If you want to embark on a multi-day rafting excursion, the Nizina, Copper, and Chitina rivers are all great options.
You can also take an epic Glacier Lake kayaking adventure!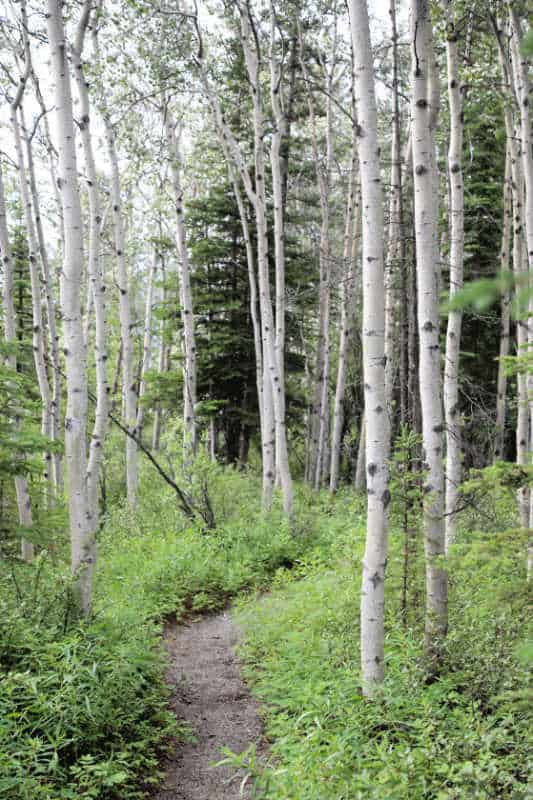 Hiking in Wrangell-St. Elias National Park
Always carry the 10 essentials for outdoor survival when exploring.
There are a few maintained trails in the park, but most hikers take to the backcountry to put on their mileage.
The park has a cornucopia of old mining roads, historic horseback trails, and game trails around the interior.
Many of these trails are impossible to reach by foot and require a bush plane, though some are conveniently located off the main access roads (McCarthy Road and Nabesna Road).
There are also a few routes located around the small towns of Kennecott and McCarthy. Keep reading to discover a few of the park's most popular trails.
McCarthy Road Trails
Crystalline Hills Trail - Moderate - 2.8 miles - Loop - Average trip time: 1 hour 25 min
McCarthy Trails
West Kennecott Glacier Trail - Easy - 2.4 miles - Out & Back - Average trip time: 1 hour 7 min
McCarthy Creek Trail - Moderate - 13 miles - Out & Back - Average trip time: 6 hours 3 min
Kennecott Trails
Bonanza Mine Trail - Hard - 8.3 Miles - Out & Back - Average trip time: 5 hours 24 min
Erie Mine Trail - Hard - 8 miles - Out & Back - Average trip time: 7 hours
Jumbo Mine Trail - Hard - 10 miles - Out & Back - Average trip time: 9 hours
Root Glacier Trail - Hard - 5.7 miles - Out & Back - Average trip time: 2 hours 28 min
Nabesna Road Trails
Caribou Creek Trail - Moderate - 7 miles - Out & Back - Average trip time: 3 hours 7 min
Copper Lake Trail - Moderate - 5.2 miles - Out & Back - Average trip time: 2 hours 12 min
Lost Creek to Lost Creek Loop - Easy - 23.8 miles - Average trip time: 10 hours 47 min
Skookum Volcano Trail - Hard - 4.2 miles - Out & Back - Average trip time: 2 hours 19 min
How to beat the crowds in Wrangell-St. Elias National Park?
Summer is the busiest time of year at Wrangell-St. Elias National Park, so plan your visit for a shoulder season if you want to avoid the crowds.
Late May and early September are both great times to visit, and you'll likely have the park mostly to yourselves during these times.
July is the busiest month at the park, so if you want the sunny weather without the crowds, plan your visit for June or August.
We visited on 4th of July weekend which is the busiest weekend in the park. We maybe saw a total of 25 people the entire time we were in the park.
Busy in Wrangell St. Elias is very different from what you may find in other parks.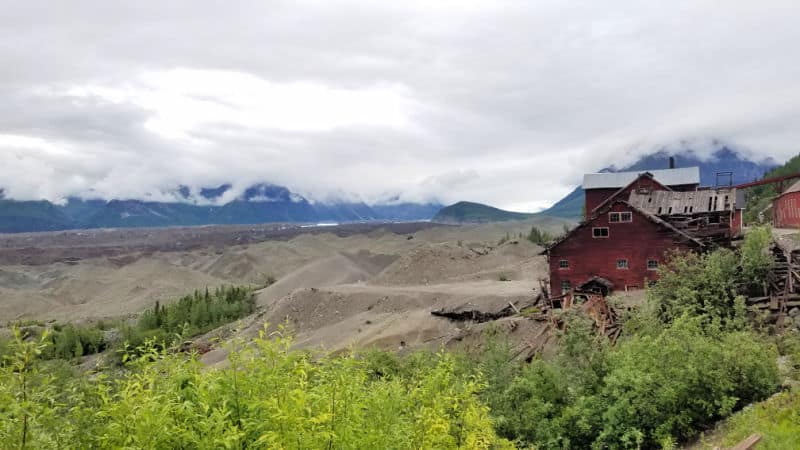 Where to stay when visiting Wrangell-St. Elias National Park
Kennecott Glacier Lodge is located next to the historic Kennicott Copper Mine off of the McCarthy Road.
There are a few private lodging options available inside the park, specifically in McCarthy. There are also accommodation choices in Chitina, Glennallen, and Copper Center.
Ma Johnson's Hotel - Take advantage of free breakfast (local cuisine), a grocery/convenience store, and a terrace at Ma Johnson's Hotel. Adventurous travelers may like the ecotours and hiking/biking at this hotel. Be sure to enjoy a meal at any of the 3 onsite restaurants, which feature American cuisine and al fresco dining. Free Wi-Fi in public areas is available to all guests, along with an art gallery on site and 2 coffee shops/cafes.
Wrangell Mountain Lodge - This cabin has a private bathroom and shower, free Wi-Fi, and is located in McCarthy.
Kennicott Copper Cottages - This 2 bedroom cottage is located in the heart of Kennicott near the historic mining area.
Bonzana Cabin, Fireweed Mountain Lodge - This 1 bedroom cabin is on the west side of McCarthy at mile 59.
Click on the map below for additional lodging and vacation rental options.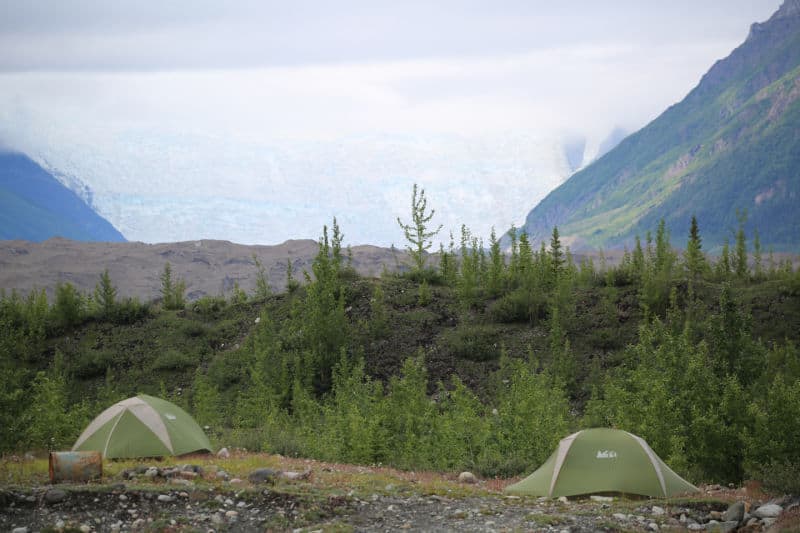 Camping
If you're looking for a traditional national park camping experience while in Wrangell-St. Elias, you'll have a few options to choose from.
The park's only designated campground is located along Nabesna Road in the northern section of the park.
The Kendesnii Campground features ten designated sites with fire rings and picnic tables along with two vault toilets. Sites can accommodate small RVs and are available on a first-come-first-served basis.
There are also various pullout spots along Nabesna Road that are suitable for small RVs and vehicles.
Some have luxuries like vault toilets and picnic tables, while others are equipped with little more than the serene solitude that comes with being this far out in nature. Sites are available on a first-come-first-served basis.
Backcountry camping is allowed throughout the park, and there are also 14 public use cabins situated in remote areas.
Most of these are available on a first-come-first-served basis, but some require reservations in advance.
Check out additional campgrounds in the area on CampSpot.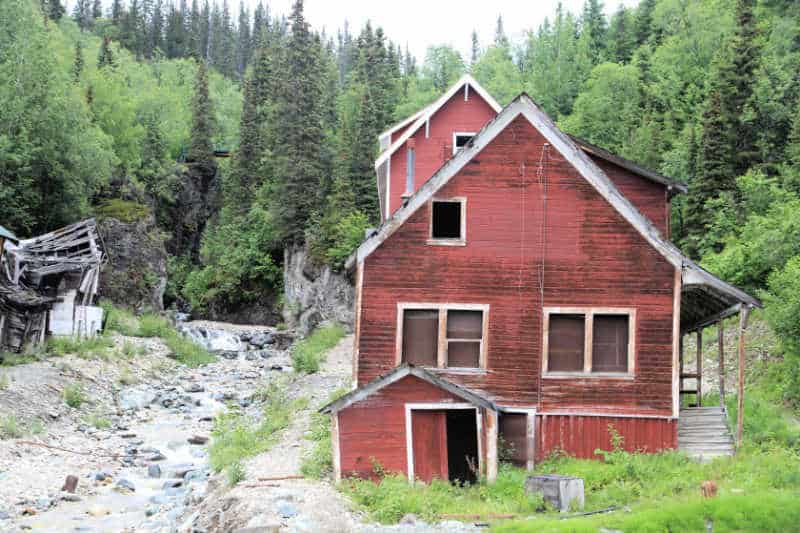 Travel Tips
Top tip - Bring toilet paper with you! LOL! There are pit toilets along the way but not all of them had toilet paper. We were very happy that Tammilee had last minute grabbed a roll of TP from the hotel just in case.
Bring water and snacks with you. There are no real stops on the dirt roads to get snacks or water. We brought peanut butter, jelly, and bread from a local store along with snacks with us. This worked great for making quick meals while enjoying the park.
2nd biggest tip -the dirt roads are not as scary as they are made out to be. Sure they are bumpy in spots but the roads in Spokane are bumpy too.
There are some wash boarded spots and areas you need to be careful but you are not going on a deep off road adventure that will leave you bruised and freaked out. Just go slow and carefully.
Plan for a full day to do the McCarthy road minimum!
We wished we would have taken an extra day or two to stay at the Kennecott lodge or in McCarthy to check out the towns and have more time in the park. Also, they do take credit cards in McCarthy. We had heard that it was cash only and were not prepared for it but then when we got there they took cards so it wasn't a problem.
Wear shoes that can get muddy.
ATMs and banking facilities can be found in Glennallen. There is an ATM in McCarthy, but it is not always reliable.
There are no public showers or laundry facilities within the park.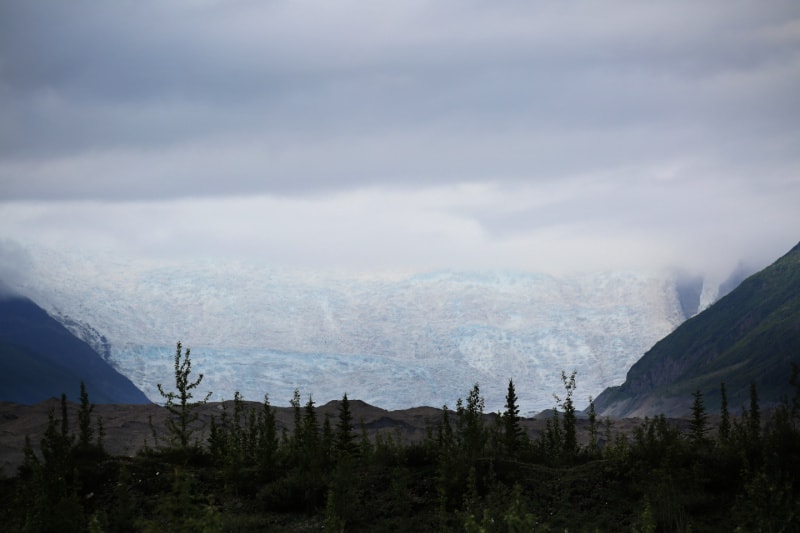 Wrangell St. Elias National Park Facts
Malaspina Glacier, larger than the state of Rhode Island, is the largest non-polar piedmont glacier in North America.
Nabesna Glacier, at approximately 80 miles (128km), is the longest non-polar valley glacier.
Hubbard Glacier which is in the National Park is one of the largest and most active tidewater glaciers in North America.
December 1, 1978 Designated National Monument
October 24, 1979 Designated World Heritage Site
December 2, 1980 Designated National Park and Preserve
Wrangell-St. Elias sprawls across 13.2 million acres
Within the park's borders are nine of the 16 highest peaks in the country, including the second highest, Mount St. Elias (18,008 feet), Mt Bona (16,421 feet), Mount Blackburn (16,390 feet) and Mount Sanford (16,237 feet).
Mountain Ranges within the park:
Alaska Mountain Range
Chugach Mountain Range
Wrangell Mountain Range
St. Elias Mountain Range (highest coastal range in the world)
The greatest concentration of glaciers in North America. About 25% of Wrangell-St. Elias is covered by glacial ice.
Together with the Kluane National Park and Reserve in the Yukon Territory, the Glacier Bay National Park & Preserve in the extreme southeast of Alaska, and the Tatshenshini-Alsek Provincial Park in British Columbia (Canada), the park has been a World Heritage Site since 1994. With a total area of 23,999,863 acres, this protected area is one of the largest in the world.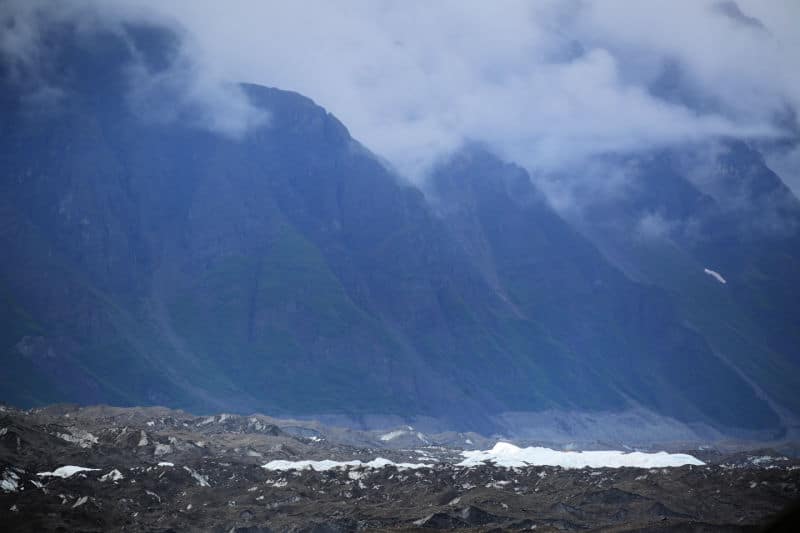 Parks Near Wrangell St. Elias National Park
Klondike Gold Rush National Historical Park - Skagway
Sitka National Historical Park
Aniakchak National Monument and Preserve
Bering Land Bridge National Preserve
Cape Krusenstern National Monument
Yukon-Charley National Preserve
Check out all of the National Parks in Alaska along with Hawaii National Parks, Washington National Parks, and National Parks in California.