Wrangell St Elias is the largest and one of the most remote National Parks in America. It's so large that you can fit six Yellowstone National Parks inside this one incredible park!
The big difference is that Wrangell St Elias receives 98% less visitation than Yellowstone!
Needless to say that this is a place where solitude and pristine wilderness can still be found. This brings the question of what to do in such a large park.
Here is my list of things to do Wrangell St Elias National Park and Preserve.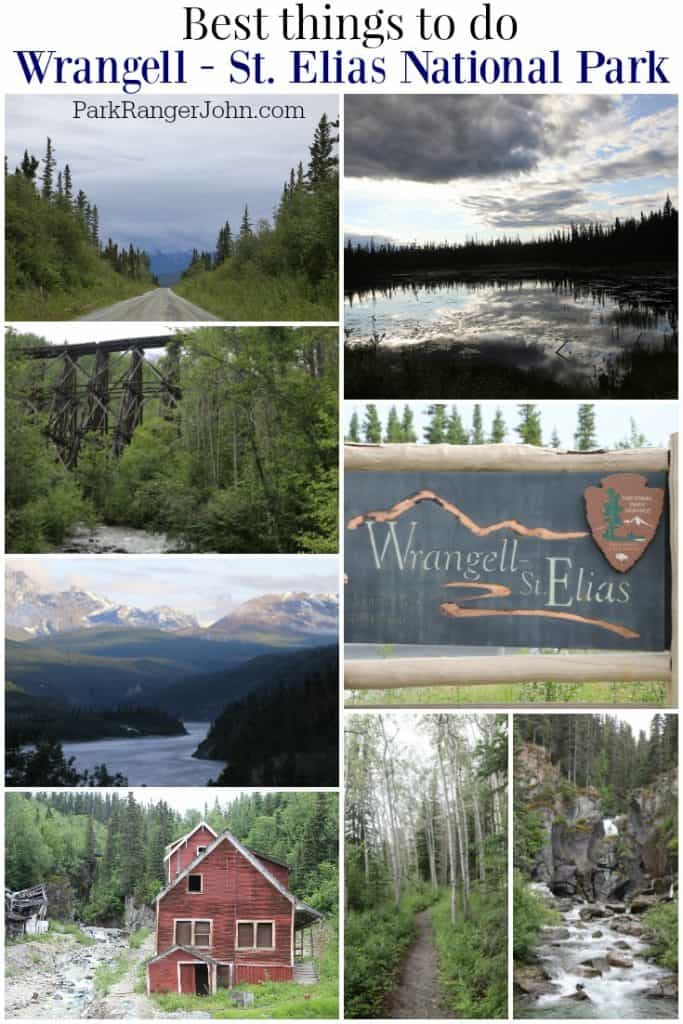 Things to do Wrangell St Elias National Park
One thing to remember is there are 13 million acres of park to explore! This is truly the largest North America National Park!

Explore Copper Center
Copper Center is a great starting point when visiting this park. It is also the easiest point to get to and is right off the main road coming in from Anchorage or Fairbanks.
Here you can plan your trip and plot out your daily activities. You can also learn about the park's history, feel touch displays and see a small scale fish wheel that native people used to catch the famous Copper River Salmon.
The short ½ mile hike through the Boreal Forest and was incredible and needed after traveling so far to get here. Just remember to fuel up in town before going out.

Liberty Falls
Liberty Falls is on the main road from Copper Center to Chitina before getting on the McCarthy Road. Liberty Falls is operated by a concession for Alaska Department of Natural Resources.
There is a $5-day parking fee and has camping, picnic area, hiking, toilets, and water. We stopped long enough to see the waterfall, go to the restroom and continue towards the McCarthy Road and Wrangell St Elias.
Drive the McCarthy Road
This is one of the most scenic drives I have ever taken! It is literally 59 miles of one spectacular view after another and will have you taking more photos than you ever imagined possible.
This road originated in 1909 as a railway to support the Kennecott Copper Mines. Mining stopped in 1938 and in 1971 a new bridge was constructed over the Copper River and gravel placed over the railbed creating today's McCarthy Road.
This road takes you to the heart of what Alaska is all about! Just come prepared as this is not your typical paved road. It starts with a chip sealed surface which basically means that it's hard, has massive potholes and places with broken off road shoulders. It eventually gives way to a beautifully wash boarded, pothole-filled dirt road.
Did I mention that you also have to watch out for wild animals? Animals like moose and bear will just step out of the woods right in front of you and are bigger than your rental car.
Remember that not paying attention to this road can easily cause an accident and leave you explaining to the rental car company how you broke your contract driving on this road thus voiding that $15.99/day insurance policy you paid for.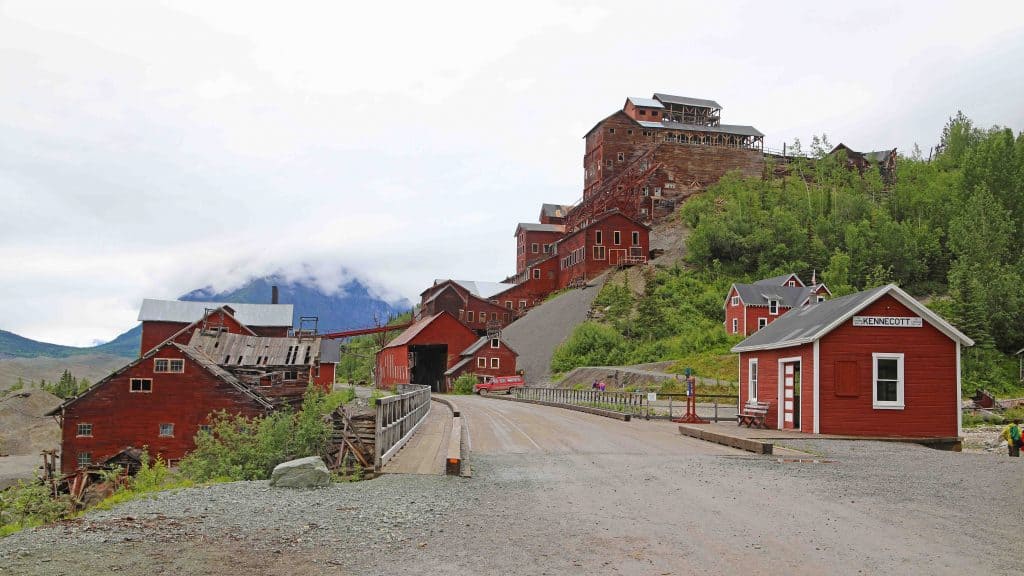 Visit the towns of McCarthy and Kennecott
You have a few choices when you approach the end of the McCarthy Road. Remember that you are still 5 miles away from Kennecott! You can then park your car at the information center and walk about a half mile down to the bus shuttle pickup just past the bridge crossing the river.
There is no public roadway from this point which means you are either hiking or buying a bus shuttle pass at $5/per person each way at the information center which will take you to McCarthy & Kennecott. Day use and overnight parking are available for a fee in one of the private parking lots located close to the end of the road and closer to the bridge.
The town of Kennecott is a must see when visiting Wrangell St Elias. It is listed on the National Register of Historic Places, designated as a National Historic Landmark and is considered the best remaining example of the early 20th Century Mining.
You can easily spend an afternoon here checking out the buildings, going for a hike, touring the visitor center and can even get something to eat.
The only way to see the famous 14 story Kennecott Mill building is via tour by the St Elias Alpine Guides on a two-hour tour. Also check out their main page for many other activities offered in the Kennecott area including rafting, glacier hikes, ice cave exploration, and ski trips.
Did you know you can go kayaking at Kennicott Glacier Lake? Enjoy an out of this world kayak tour in remote Alaska.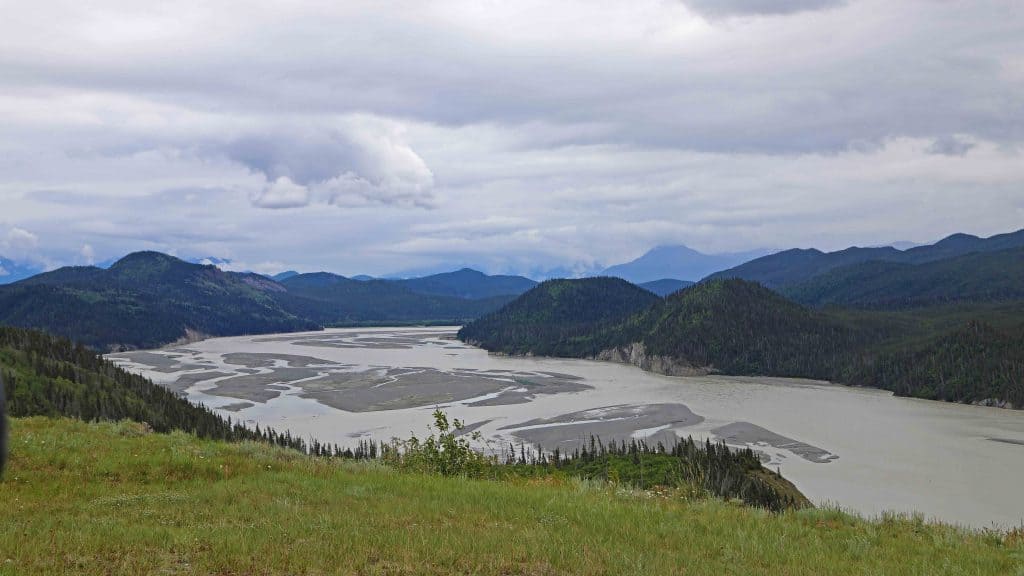 Take a flightseeing tour
Wrangell St Elias is massive and has very little development. This can make it hard to get into the heart of this park. Perhaps the best way to do this is by taking a flightseeing tour.
This will give you a bird's eye view of glaciers, wildlife, and massive mountain peaks. I don't have a particular recommendation but know there is Wrangell Mountain Air located in the town of McCarthy. They have several tour types to fit your needs and from everyone I talked to, it will be the highlight of your trip.

Drive the Nabesna Road
I assume most people miss out on the Nabesna Road. I say this because we were there on their busiest weekend of the year, July 4th, and saw maybe a dozen cars all day.
It is located on the Northern portion of the park beginning at the Slana Ranger Station and is a 42-mile-long gravel one lane road (Remember the description of the McCarthy Road?).
The Slana Ranger Station is approximately 2.5 hours north of Copper Center so make sure to give yourself time to explore and drive this road as it will take 2-3 hours each way for the remaining 42 miles. You may not be able to drive past milepost 29 as you may have to cross the river in three different places depending on snowmelt and rainfall.
Remember that that rental car insurance you paid for will not cover your Prius as it went floating away as you attempted to fjord a river!
Park Ranger Pro Tip: Stop by one of the park's Ranger Stations and get an audio CD for both the McCarthy Road and the Nabesna Road. The CD's play in your car giving you a mini interpretative program telling you about the area you are at. It's like having an Interpretative Ranger in the car with you as you explore the park! The best part is that you can stop back by at the Ranger Station on your way out and return the CD so another person can enjoy the same experience.
Driving this road gives you great examples of the Taiga, also known as the Boreal Forest or snow forest. The Taiga is the world's largest biome apart from the oceans and is mainly made up of pines, spruces, and larches. The Taiga is primarily above the 50 Degree Parallel on the earth (Alaska, Canada, and Russia) and is frozen for most of the year.
The short summer months are cool and swampy in nature so make sure to stay on the road or face getting stuck. The Taiga is swampy in nature which brings mosquitoes.
When I say mosquitoes, I mean they are the size of hummingbirds attacking you! Maybe not quite this size but if you forget your bug spray you will quickly become a 2-pint donor after rushing back to your car and plan the remainder of your trip from inside your vehicle.
At milepost 21.8 is the Rock Lake wayside and access to the Viking Lodge Cabin. The cabin requires a ¼ mile hike into and requires advance reservations that can be made by calling the Wrangell St Elias Visitor Center at (907)822-7253.
At milepost 27.8 is the Kendesnii Campground. There are 10 first-come-first serve campsites available and have easy access to lakes and short hiking trails. This is a great spot to drop a canoe or kayak and have that iconic moment in this park just like the postcard. Shortly past here is the first river crossing.
We opted to turn around at this point as it had been raining constantly for two weeks and the river was running. Maybe next time.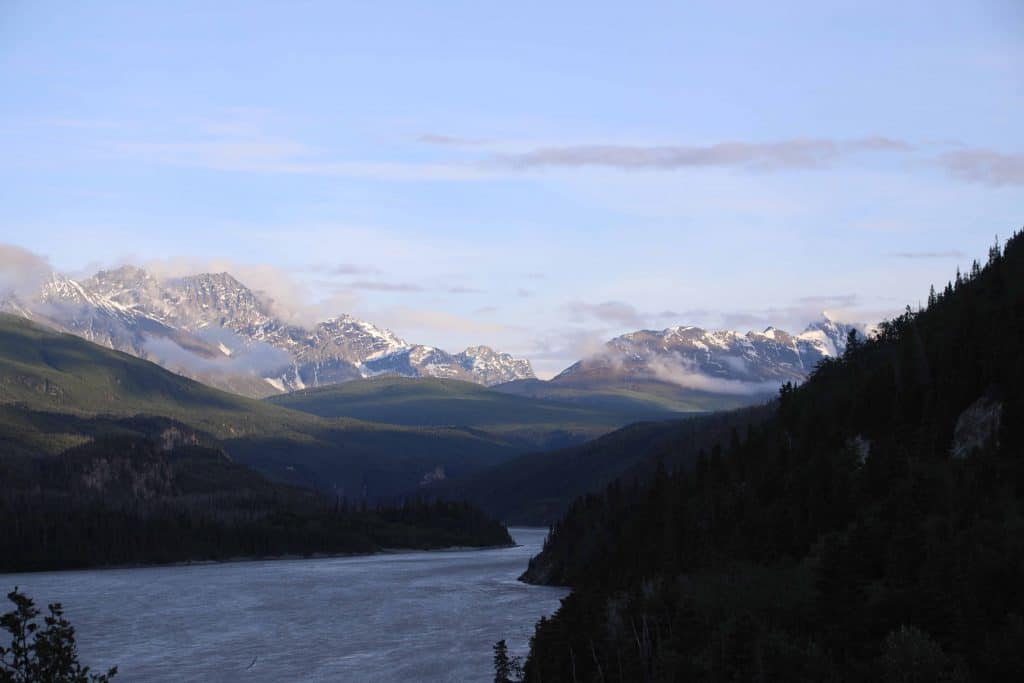 Most of the time we felt like we were the only ones out exploring this park! This is something you don't get in the Continental U.S. Just remember that the effort you put on getting here is going to be worth every minute!
Why? It's Alaska! It's home to 9 of the 16 highest mountain peaks in the U.S. including Mt Elias, the second highest mountain peak in the U.S. at 18,008 feet.
It is also home to several glaciers including the Nabesna Glacier which is approximately 80 miles long!
Throw in some epic wildlife viewing and you have the makings of an unforgettable National Park Visit. What are you waiting for? It's time to start planning your epic vacation to Alaska and Wrangell St Elias National Park!
Check out this list of all Alaska National Parks to see how many you have been to! Have you ever dreamed of being a Park Ranger? Check out our post on How to Become a Park Ranger!
You can also check out this list of all US National Park Sites to count how many you have been to!