Kenai Fjords National Park is a national park in the United States located on the coast of Alaska, which protects the glaciers of the Kenai Peninsula.

Kenai Fjords National Park
Kenai Fjords NP is a bucket list national park to visit! During our first trip to the park we stared in awe at the glaciers and jumped for joy at the wildlife we saw on our boat tour.
Hiking out to see Exit Glacier was amazing. It is crazy to see how much Exit Glacier has changed since our first visit to the park around 2007.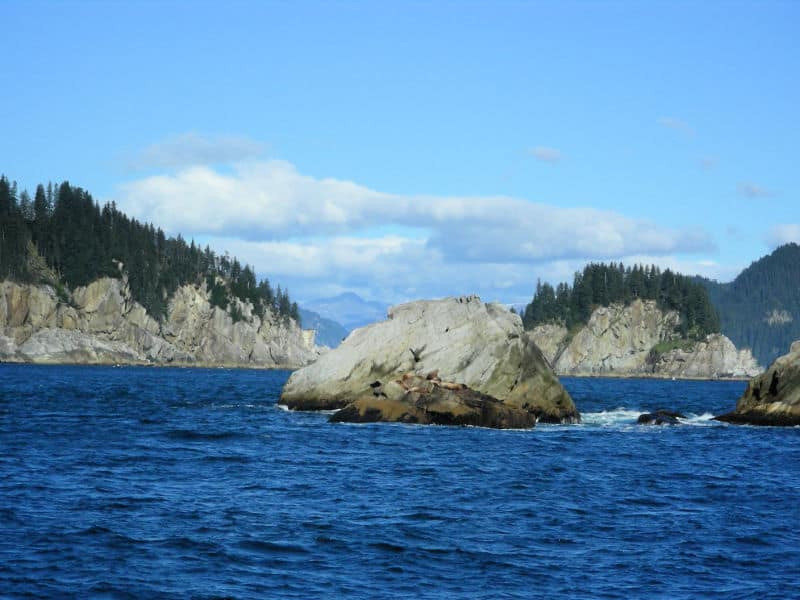 About Kenai Fjords National Park
On December 1, 1978, President Jimmy Carter, signed a proclamation making Kenai Fjords part of a group of 15 natural areas in Alaska new national monuments.
Kenai Fjords Became a national park in 1980. The park protects an area of 434,905 acres, making it the smallest of the eight national parks in Alaska.
After that, the Congress of the United States had postponed a large purchase of Alaskan lands that had strong state opposition.
Congress passed the Alaska National Interest Lands Conservation Act in 1980, which incorporated most of those national monuments into national parks and nature preserves, but also limited the future use of the presidential prerogative in Alaska.
In the park, there is the Harding Icefield (named after US President Warren G. Harding), one of the largest ice fields in the United States (119,352 acres ).
The park is named after the numerous fjords that have sculpted the glaciers descending the mountains. The field is made of at least 38 glaciers, the largest being the Bear Glacier.
A glacier cross was repeatedly attempted, but only in the spring of 1968, a group of climbers succeeds.
The departure was at Homer on April 17 and after eight days they finally arrived at the Exit Glacier (Seward). During the crossing, they also made the first ascent on the Truuli Peak (6611 feet high).
The main glaciers found in Kenai Fjords National Park are: Tustumena, Exit, Aialik, Bear Glacier, and McCarty but the most accessible is the Exit Glacier, from Seward.
The Harding ice field is one of the four large ice caps in the United States and it is a remnant of the great masses of ice that have covered Alaska in the Pleistocene.
The glacial landscape of the Kenai Fjords National Park retreats more and more.
The glaciers shrink and the ice releases new land that can be colonized by plants and animals.
In the park, you can see large land mammals such as grizzly bears, black bears, moose, and mountain goats, but also smaller mammals such as North American otters and beavers.
In the area of the national park, there are also sea mammals such as sea otters, seals, and sea lions.
On the coast of the Gulf of Alaska, you can also find various whale species, including orcas, fin whales, humpback whales, and minke whales. The white-striped dolphin is also found in these waters.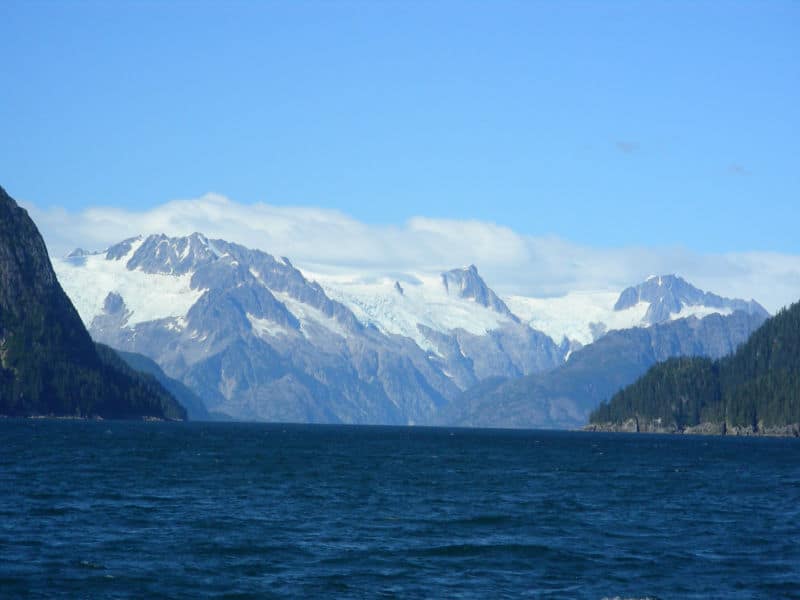 Is Kenai Fjords National Park worth visiting?
YES! First off, Alaska is incredible, second Kenai Fjords is breathtaking! We saw so much wildlife including puffins, bears, orca whales, humpback whales, otters, sea lions, and much more!
We saw glaciers calving, fall-colored leaves, and even hiked to a glacier. Basically, this was everything you could dream of when visiting Alaska.
History of Kenai Fjords National Park
Named after former President Warren G Harding, the Harding Ice Field is the major story at Kenai Fjords National Park!
The 700 square mile Harding Ice Field is hundreds, if not thousands of feet thick. It receives up to 400 inches of snowfall each year adding to this glacier.
The icefield has 40 glaciers to help shed its weight (1,100 square miles including the glaciers). The movement of these glaciers helps carve the granite rock valleys from the Kenai Mountains.
Today, the Harding Ice Field is one of only four Icefields in the entire U.S. and is the largest one that is completely in the U.S.!
Kenai Fjords National Park was created beginning from the end of the last Ice Age.
Temperatures have risen, causing the glaciers to start melting back and glacier scour the mountains creating the amazing scenery that we see today.
The scenery we see today is surrounded by the Pacific Ocean, incredible mountains, and incredible wildlife make this an amazing National Park.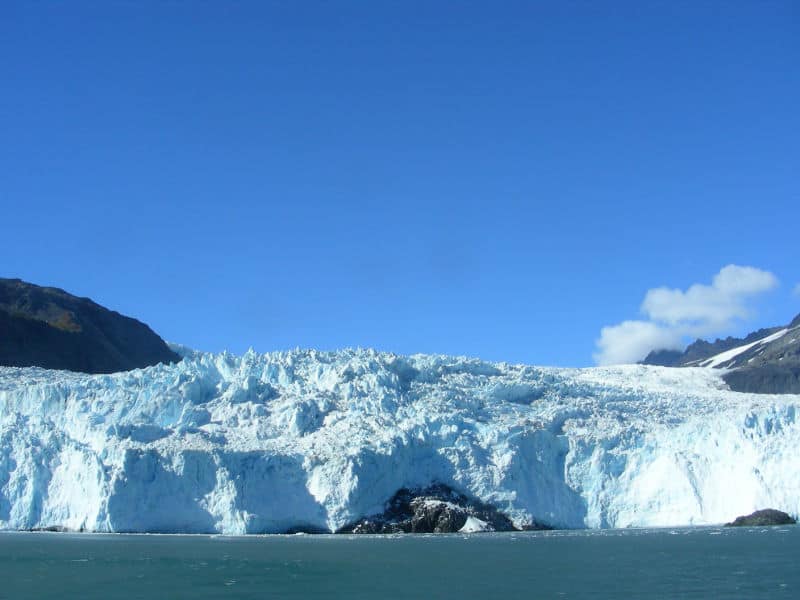 Things to know before your visit to Kenai Fjords National Park
Entrance fee
$0.00 - There is no fee to visit the park.
Planning a National Park vacation? America the Beautiful/National Park Pass covers entrance fees for an entire year to all US National Park Sites and over 2,000 Federal Recreation Fee Sites.
The park pass covers everyone in the car for per vehicle sites and for up to 4 adults for per-person sites.
Buy on REI.com and REI will donate 10% of pass proceeds to the National Forest Foundation, National Park Foundation and the U.S. Endowment for Forestry & Communities.
Learn more about National Park Passes for parks that have an entrance fee.
Free Entrance Days -Mark your calendar with the five free entrance days the National Park Service offers annually.
Time Zone
AKST - Alaska Time Zone
Pets
Pet must be leashed or physically restrained at all times.
Pets are allowed:
on the road to Exit Glacier (the Herman Leirer Road).
in the parking lot of the Exit Glacier Nature Center.
Pets are not allowed:
on trails, such as the trails of the Exit Glacier area or the Harding Icefield Trail.
in the coastal backcountry.

Pets are not allowed along the coast in an area extending from the mean high tide line to ¼ mile inland from 5/30 - 11/1.

in any building, regardless of the season.
Cell Service
There is no cell service at Exit Glacier.
Park Hours
The park is open year-round.
That being said the primary months to visit are June, July, and August.
Reduced services are available during May and September.
Wi-Fi
During the summer there is free Wi-Fi available at the visitor center.
There is no Wi-Fi at Exit Glacier.
Insect Repellent
Alaska is known for mosquitoes and these mosquitoes love greeting park visitors!
You will often hear locals talking about seeing bird-sized mosquitoes. In reality, they are for the most part average-sized although the snow mosquito is a bit larger and can reach the size of a honey bee.
Here's the scary part, Alaska is home to well over 17 trillion mosquitoes! If you plan on showing up during mosquito season, you have been warned! Show up prepared.
Insect repellent is always a great idea when outdoors, especially if you are around any body of water.
I would suggest reading my article on how to avoid mosquito bites before spending time in Alaska in the summer.
In addition to insect repellent, we use Permethrin Spray on our clothes before our park trips.
Water Bottle
Make sure to bring your own water bottle and plenty of water with you. Plastic water bottles are not sold in the park.
Parking
The parking lot at Exit Glacier can fill quickly, especially during the middle of the day.
Food/Restaurants
There are no restaurants within the park however there are several dining options in the nearby town of Seward.
Gas
There are no gas stations within the park but you can find gas in Seward.
Drones
Drones are not allowed to be flown within National Park Sites.
National Park Passport Stamps
National Park Passport stamps can be found in the visitor center. Make sure to bring your National Park Passport Book with you or we like to bring these circle stickers with us so we don't have to pack our Passport Books with us.
The park was featured in the 1994 Passport stamp set.
Electric Vehicle Charging
EV Charging Stations are available in Homer and Soldotna, Alaska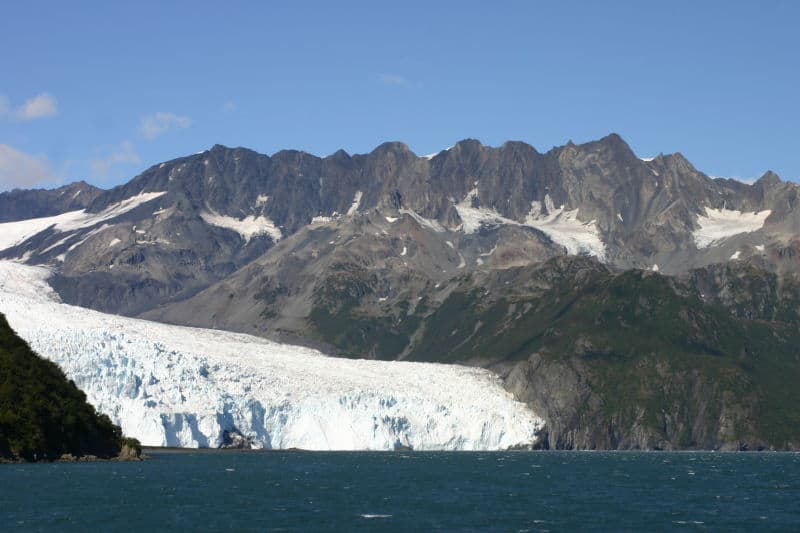 Details about Kenai Fjords National Park
Size - 669,650 Acres
Kenai Fjords NP is currently ranked at 17 out of 63 National Parks by Size.
Legislative boundary 669,983 acres or ~ 1047 square miles
Managed by NPS 603,130 acres or ~ 940 square miles
Eligible Wilderness 569,000 acres or ~ 889 square miles
Date Established
December 1, 1978, Designated as a National Monument by President Carter
December 2, 1980, Designated as a National Park through the Alaska National Interest Lands Conservation Act (ANILCA).
Kenai Fjords National Park was established in 1980 by the Alaska National Interest Lands Conservation Act (ANILCA).
Visitation
In 2021, Kenai Fjords NP had 411,782 park visitors.
In 2020, Kenai Fjords NP had 115,882 park visitors.
In 2019, Kenai Fjords NP had 356,601 park visitors.
Learn more about the most visited and least visited National Parks in the US
National Park Address
Winter Visitor Center (Park Headquarters) address
Kenai Fjords National Park
411 Washington Street
Seward, AK. 99664
Kenai Fjords National Park Map
For a more detailed map, we like the National Geographic Trails Illustrated Maps on Amazon.
Where is Kenai Fjords National Park?
The park can be accessed from Seward, 80 miles south of the city of Anchorage at the southern end of the Seward Highway. It is one of the only three national parks in Alaska that can be reached by road.
Another point easily reached by car is the Exit glacier. A few miles before Seward a fork to the right leads about 6 miles to the parking lot from which some easy paths lead to glacier observation spots.
Estimated distance from major cities nearby
Seward, AK - .9 miles
Homer, AK - 167 miles
Anchorage, AK - 126 miles
Fairbanks, AK - 484 miles
Estimated Distance from nearby National Park
Wrangell St Elias National Park
Denali National Park & Preserve
Where is the National Park Visitor Center?
Address to the visitor center that is open May-September
Kenai Fjords National Park
1212 4th. Ave.
Seward, AK. 99664
Seward Visitor Center
The visitor center has a park film, a park store, and information about the park.
Exit Glacier Nature Center
The Exit Glacier Nature Center has interpretive panels about Exit Glacier and Harding Glacier, a park store, and rangers available to answer questions.
There is limited parking at Exit Glacier, especially during the hours of 10:30 - 3:30. Please consider the hours you come, carpooling, or taking a shuttle or taxi, when you plan your trip.
Getting to Kenai Fjords National Park
Closest Airports
Ted Stevens Anchorage International Airport (ANC)
Alaska Railroad
Excursion tours to Kenai Fjords are offered with the Alaska Railroad.
Best time to visit Kenai Fjords National Park
The best time to visit the park to enjoy the most services is during the summer.
There is some winter recreation but most services and tours are during the summer.
National Park Weather and Seasons
Spring
Spring, like fall, can be a great time to visit Alaska. Prices are cheaper, there are not as many visitors, and the mosquitoes are not out in full force. Of course, you may have to search to see what services are available. This could be very weather dependent as winters in Alaska can be long-lasting.
Summer
Summer is the ideal time to visit Alaska. The days are long, the weather is typically fantastic, and is perfect for exploring the parks. This also means that you will be amongst the crowds visiting Alaska in the summer and when everything is very expensive.
Anyone who has been to Alaska before completely understands what I mean. You will quickly find out that everything is very expensive from getting there to hotel stays, rental cars, meals, gas, etc. Be prepared to spend money when visiting Alaska.
Autumn/Fall
Early fall can be a great time to visit as the leaves start to change colors, you can see the snow line start to drop on the surrounding mountains and most of the summer crowds have left. Having said this, there will be a reduction in services available so if there is something youreally want to do, I would first check to see if you could get advanced reservations beforehand.
Winter
Winter is not the ideal time of year to visit Kenai Fjords. The visitor centers are closed, you will be hard-pressed to find any visitor services available and will miss out on what the park is known for. I would highly suggest visiting another part of the year.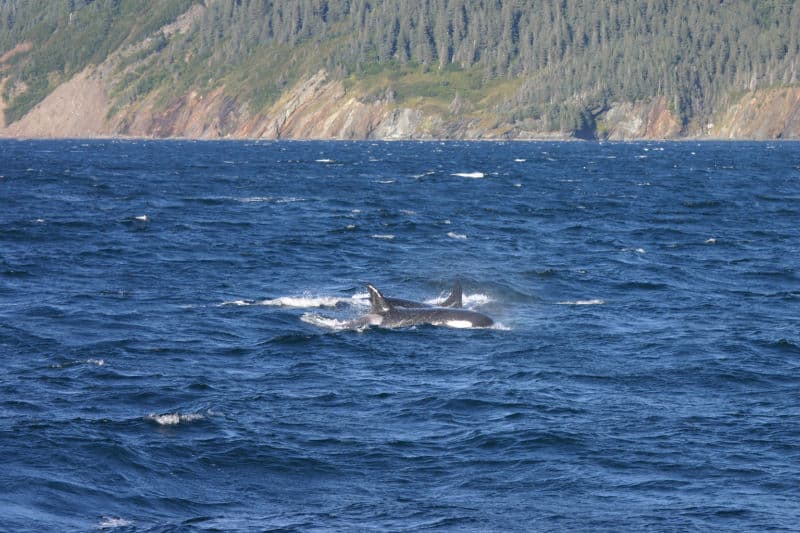 Best Things to do in Kenai Fjords National Park
Boat Tours
Several cruises from Seward also provide access to the park through Resurrection Bay. Several companies offer tours, many guided by the rangers of the national park.
The tours offer observation points of the land and marine fauna but also for the beautiful natural landscapes, fjords and glaciers.
We absolutely loved the whale watching tour we went on. There was abundant wildlife, epic views of tidewater glaciers, all on a half or full-day cruise.
Wildlife and Glacier Boat tours depart from Seward, Alaska during the summer months
Make sure to schedule a reservation in advance.
You can choose from a half day cruise or a full day cruise. There are also Kenai Fjords dinner Cruises.
4 hour wildlife cruise - Watch for whales, puffins, sea otters, and more on a half-day wildlife cruise through Resurrection Bay. Travel to the best whale and wildlife viewing areas in the region.
6 Hour Cruise - Explore the world of whales, wildlife, and glaciers on an incredible cruise through the Kenai Fjords National Park. Enjoy the unparalleled beauty of the pristine Alaskan waters onboard a stable, high-speed catamaran.
Exit Glacier
Exit Glacier is the only part of Kenai Fjords NP that is accessible by road.
At Exit Glacier you can explore trails, walk to an active glacier, enjoy a ranger-guided program, and soak in the beauty of the area.
There is a nature center with interpretive panels about the area.
Wildlife viewing
Wildlife viewing is one of the highlights of visiting Kenai Fjords NP! Being able to see humpback whales, orca whales, sea lions, puffins, and more.
Land mammals: Close to 30 species.
Marine mammals: Around 10 species
Birds: Close to 200 species.
Fish: 40 species (marine and freshwater)
Threatened/endangered species: humpback, sei, gray whale, and Steller sea lion.
Species of special concern / rare species: Kittlitz's murrelet, peregrine falcon, northern goshawk, gray-cheeked thrush, Townsend's warbler, blackpoll warbler, and harbor seal.
You can pick up a Junior Ranger program at the visitor center. The junior ranger program is perfect for all ages to learn more about the park.
During the summer the park also offers Fjord Junior Ranger walks.
Ranger Programs
Park Ranger Programs include interpretive talks, day hikes, or short walks to learn more about the park.
Ranger programs are offered between Memorial Day and Labor Day.
Bird Watching
Kenai Fjords is a birder's paradise. The park is ideal for spotting pelagic (open sea) birds of coastal Alaska.
Almost 200 different species have been identified here, among the best-known bird species in Kenai Fjords National Park are bald eagles, a subspecies of the peregrine falcon, yellow tufted puffin, and Horned puffin.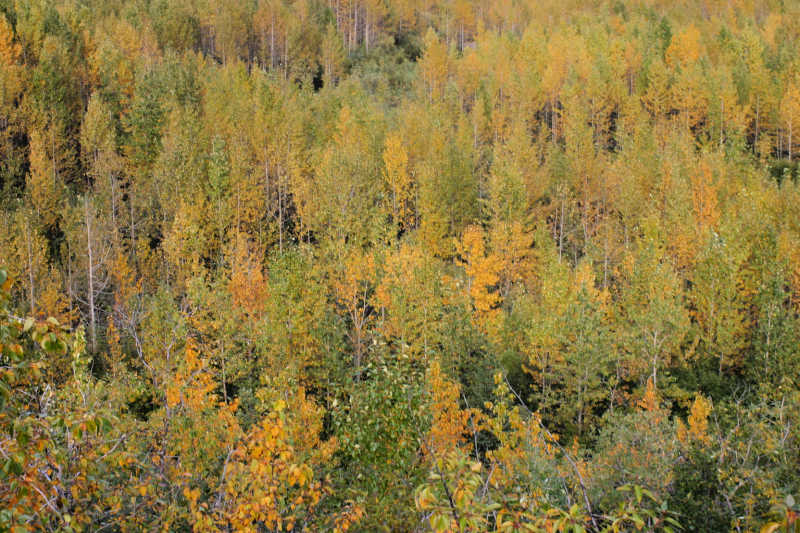 Hiking in Kenai Fjords National Park
Always carry the 10 essentials for outdoor survival when exploring.
The only maintained trails within the park are those in the Exit Glacier area.
Trails to Exit Glacier
These short trails are on the valley floor, range from .5 to 1.5 miles (one-way), and provide views of Exit Glacier.
The Harding Icefield Trail
A strenuous hike with an elevation gain of approximately 3500 feet that ends in a spectacular view of the Harding Icefield (4.1 miles one-way).
You can hire a guide to take you out on the Harding Icefield and guide you through the adventure.
Coastline: Over 545 miles to kayak, camp, and explore without trails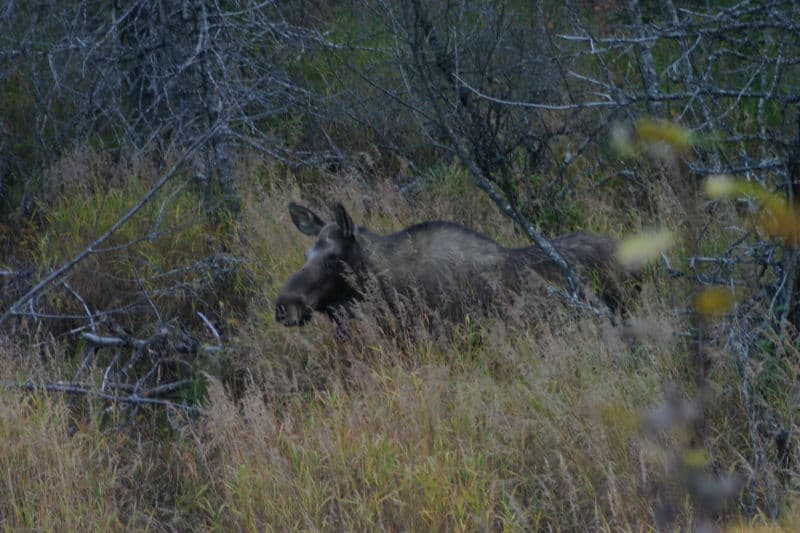 How to beat the crowds in Kenai Fjords National Park?
I would suggest September. It is turning fall and the main group of tourists has left. Some of the visitor services will be reduced but it will be beautiful!
Where to stay when visiting Kenai Fjords National Park
There are a couple of public use cabins within the park.
Aialik and Holgate Coastal Cabins
Cabins are available for reservation during the summer months through Recreation.gov.
Coastal cabins are equipped with a heater (propane fuel is provided), a table and chairs, and wooden bunks.
Cabins do not have electricity or running water.
The Aialik Bay Cabin contains two wooden beds that can sleep up to four people.
Holgate Cabin contains six wooden beds that sleep six people.
Willow Cabin
The Willow Cabin is available during the winter months by contacting the park.
Lodging near Kenai Fjords NP
Exit Glacier Lodge - provides amenities like a bar and a restaurant. Stay connected with free in-room Wi-Fi.
Resurrection Lodge on the Bay - Take advantage of a free breakfast buffet, a terrace, and laundry facilities at Resurrection Lodge on the Bay. With a beachfront location, this lodge is the perfect place to soak up some sun. Guests can connect to free in-room Wi-Fi.
Breeze Inn - Consider a stay at Breeze Inn and take advantage of laundry facilities, a fireplace in the lobby, and a bar. Be sure to enjoy a meal at Breeze Inn Restaurant, the onsite restaurant. Stay connected with free in-room Wi-Fi, and guests can find other amenities such as conference space.
Hotel Seward - Consider a stay at Hotel Seward and take advantage of laundry facilities, a fireplace in the lobby, and a bar. Adventurous travelers may like the fishing at this hotel. The onsite Fusion cuisine restaurant, Ms. Genes Place, features ocean views and al fresco dining. Free in-room Wi-Fi is available to all guests, along with a gym and a business center.
Van Gilder Hotel - An art gallery on site, a shopping mall on site, and a library are just a few of the amenities provided at Van Gilder Hotel. Guests can connect to free in-room Wi-Fi
Click on the map below to see current hotel and vacation rental rates near Seward, Alaska.
Kenai Fjords National Park Camping
There is a 12-site tent-only campground a ¼ mile from the Exit Glacier National Center.
Sites are available first-come-first-served with no reservations or camping fees.
There is a 14-day stay limit for the Exit Glacier Campground.
Two of the campsites are accessible #1 and #12. The paths to the site are on crushed rock or asphalt.
Cooking food or storing food in the campsites is prohibited. There is a central food storage area.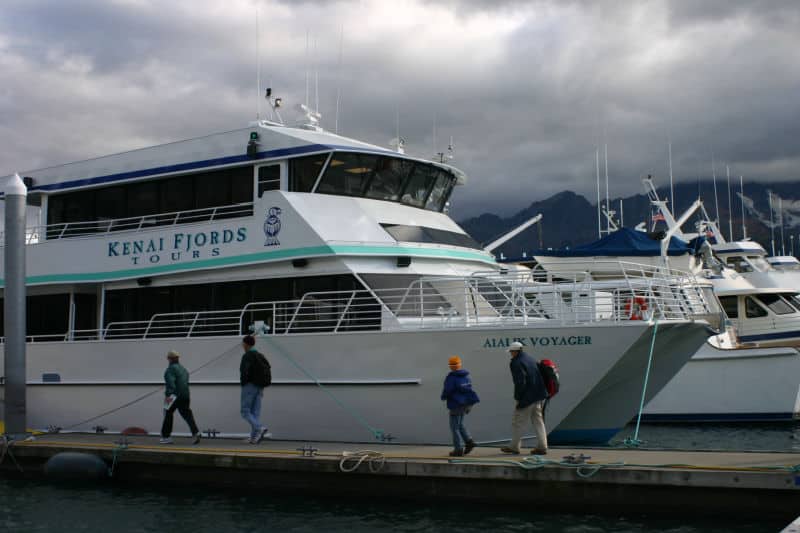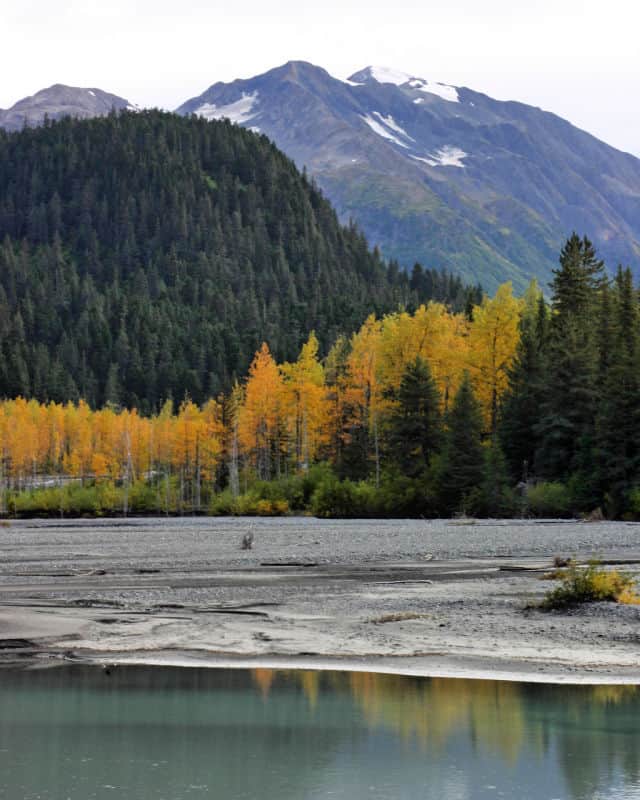 Parks near Kenai Fjords National Park
Klondike Gold Rush National Historical Park
Sitka National Historical Park
Lowell Point State Recreation Area
Caines Head State Recreation Area
Check out all of the National Parks in Alaska along with Hawaii National Parks, Washington National Parks, and National Parks in California.
National Park Service Website