Exit Glacier Campground is a beautiful 12-site walk-in tent site campground in Kenai Fjords National Park just outside Seward, Alaska. It is the only campground in the park and is easily accessible as you approach Exit Glacier.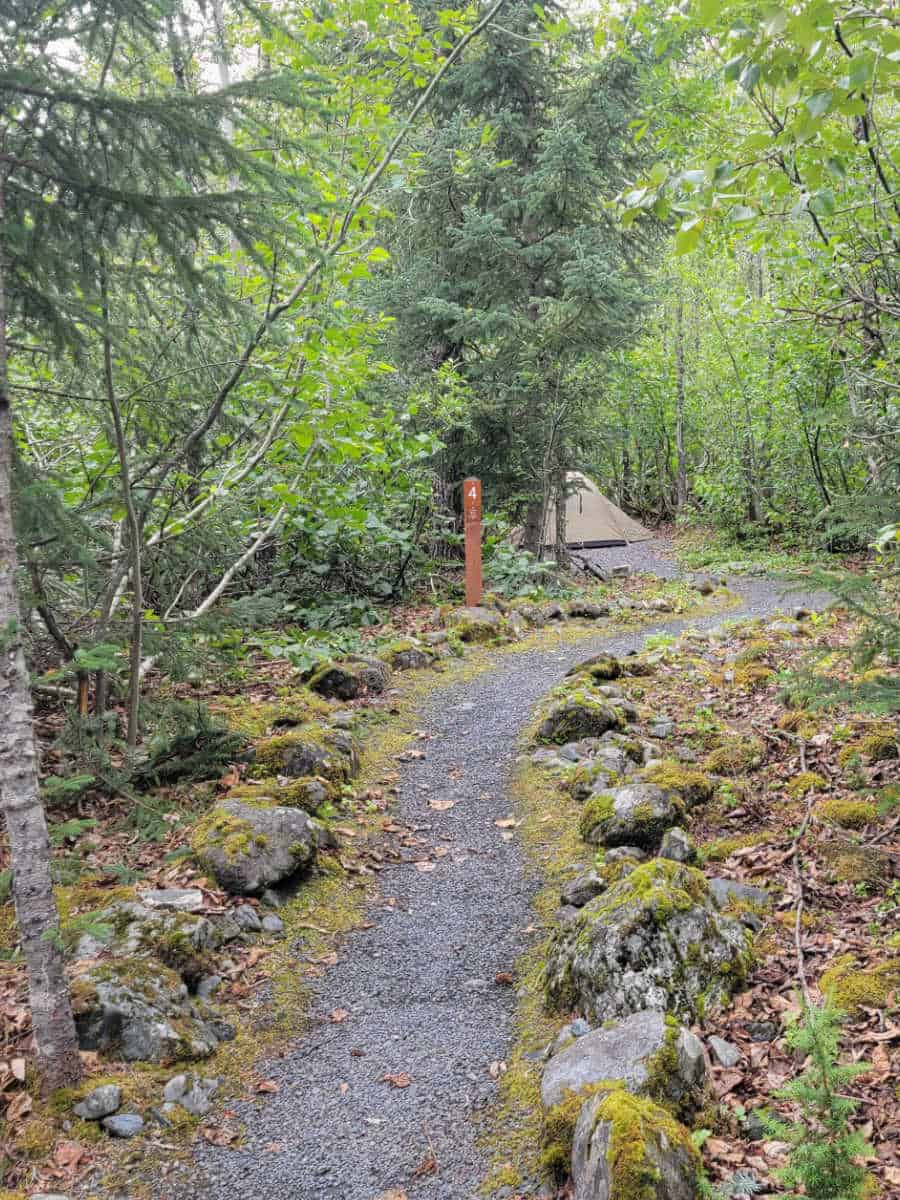 Exit Glacier Campground - Kenai Fjords National Park
Exit Glacier Campground is generally a nice quiet campground located on the Kenai Peninsula of Alaska. The campground does not take reservations or camping fees and the campground frequently fills by early evening in July and August.
At the campground parking lot you will find all the amenities you will need including water and pit toilets, a fire pit, and a central food storage, cooking and dining shelter as food and cooking are not allowed in campsites.
Number of Sites: 12
Location in the park: located about ¼ of a mile before the Exit Glacier Nature Center.
Campsite Cost: $0.00
Senior/Access Camping Fee: $0.00
Payments accepted: N/A
Reservations: No. Sites are available on a first-come, first-served basis.
Campground Address: Exit Glacier Rd, Seward, AK 99664, United States
Latitude/Longitude: 60.1881° N, 149.6316° W
Accessible Sites: Two of the campsites, #1 & #12, are accessible sites
Pets Allowed: Pets are not permitted in campsites.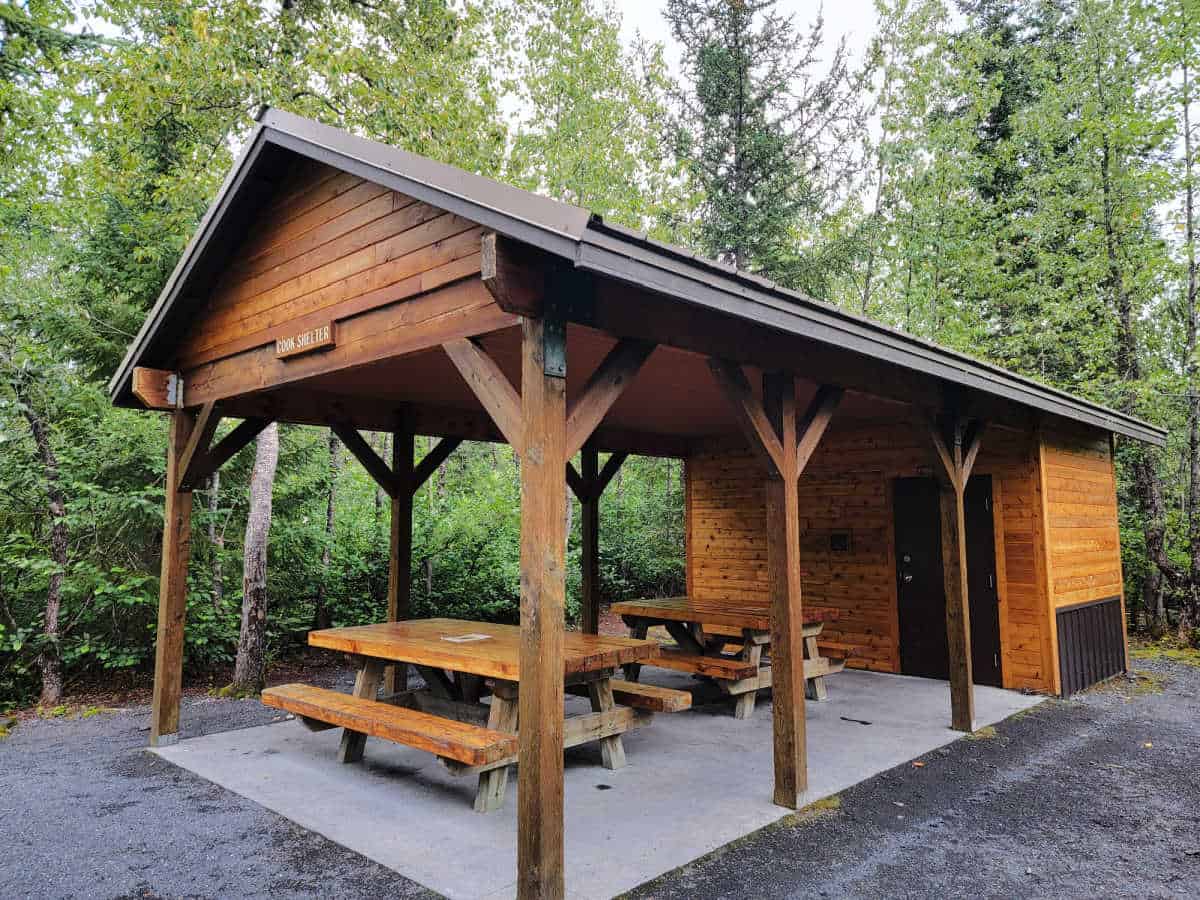 Campground Reservations
Are Campground Reservations Available? No
Phone Number? (907) 422-0500
First Come, First Served? Yes. First-come, first-served basis

Campground Amenities
One thing to know about the Exit Glacier Campground is you will need to park in the parking area and walk your camping gear to your campsite.
Communal cooking is done at the cooking shelter. The park does not allow any cooking at campsites for bear safety.
Kenai Fjords National Park camping is an adventure!
Dump Station: Available at the Exit Glacier Nature Center
Bear Boxes: There is central food storage
Flush Toilets: no (pit toilets/vault toilet only)
Payphone: no
Is Wi-Fi available? no
Is Cellular Phone Service Available? No
Is a camp host available on-site? no
Is firewood available for purchase? N/A
Amenities at each campsite: The campsites themselves are gravel pads. There is a cooking and dining shelter, drinking water, and a pit at the beginning of this walk-in tent campground by the parking lot. Storing food in campsites is illegal and remember that you are in bear country!
Fire pit in the site? There is a central fire pit by the food storage and cooking area at the beginning of the campground.
Picnic Table in the site? Yes. There is a dining shelter provided which has picnic tables
Potable Water? There is a pump for drinking water

RV Camping at Exit Glacier Campground
RV Length: No RVs
How to get to Campground
Located just before the parking lot of the Exit Glacier Nature Center. Turn on to Herman Leirer Road (commonly called "Exit Glacier Road") at mile 3 of the Seward Highway - AK-9. Proceed 8 miles. The campground will be the first turn on the left, after crossing into the park, about ¾ of a mile after the park's entrance sign.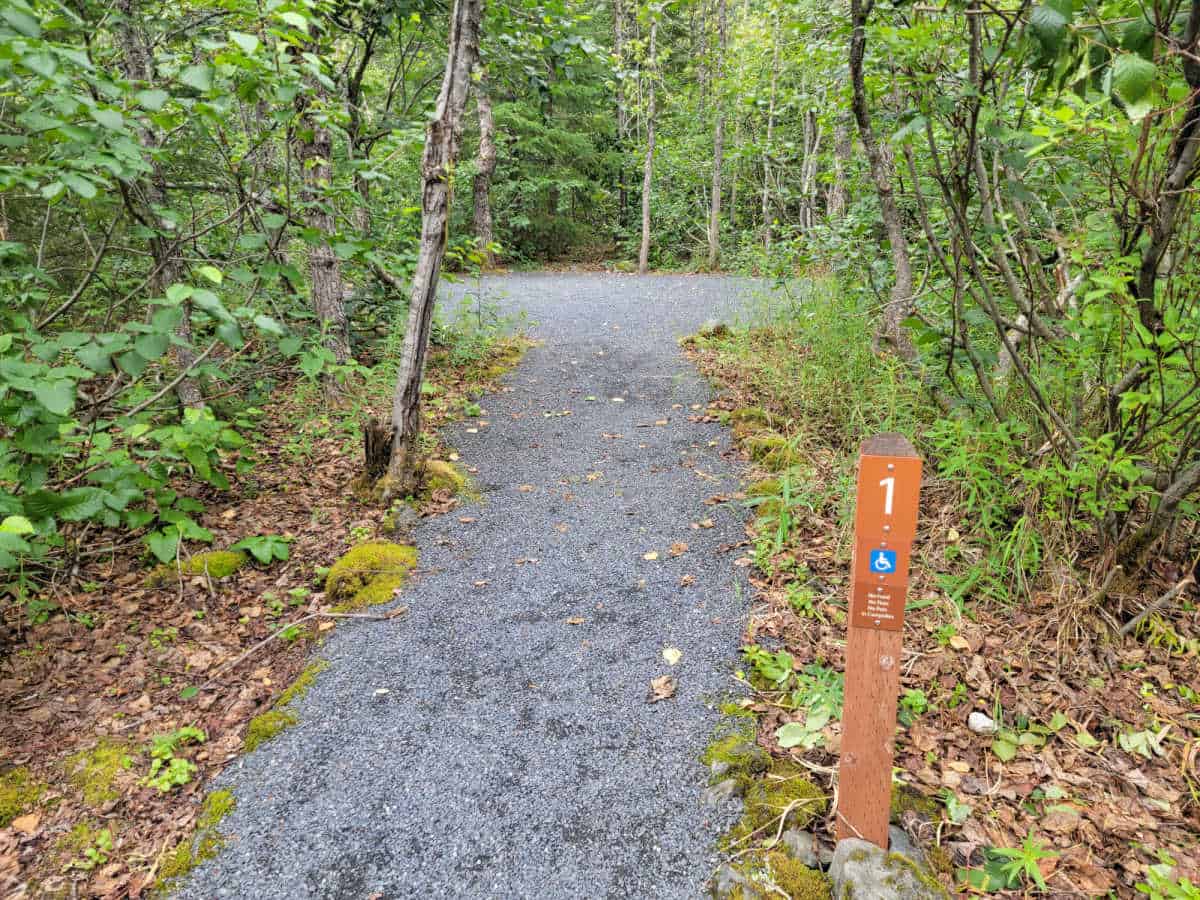 The maximum number of people in a campsite: 8 people (2 tents)
Stay: Fourteen-Day Stay Limit
The number of cars per campsite: No cars allowed
Quiet Hours: 10:00 PM- 6:00 Am Daily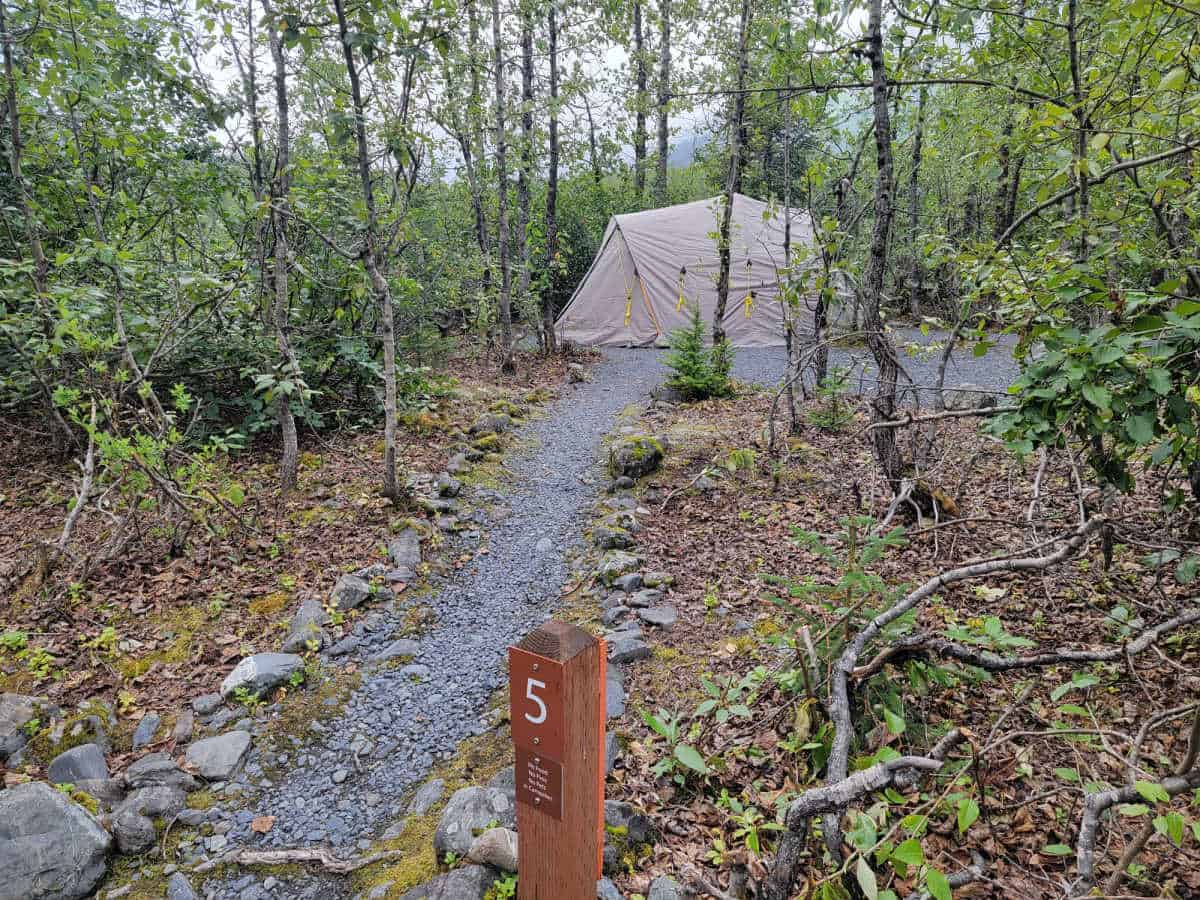 For more information about Kenai Fjords National Park
Complete Guide to Kenai Fjords National Park
For more information on Alaska National Parks
Complete Guide to Denali National Park
Denali Bus Trips
Riley Creek Campground - Denali National Park
Savage River Campground - Denali National Park
Complete Guide to Wrangell St Elias National Park
Best Things to do Wrangell St Elias National Park
Kendesnii Campground Wrangell St Elias National Park
Complete Guide to Glacier Bay National Park
Bartlett Cove Campground Glacier Bay National Park
Glacier Bay National Park by Cruise Ship
Glacier Bay Day Tour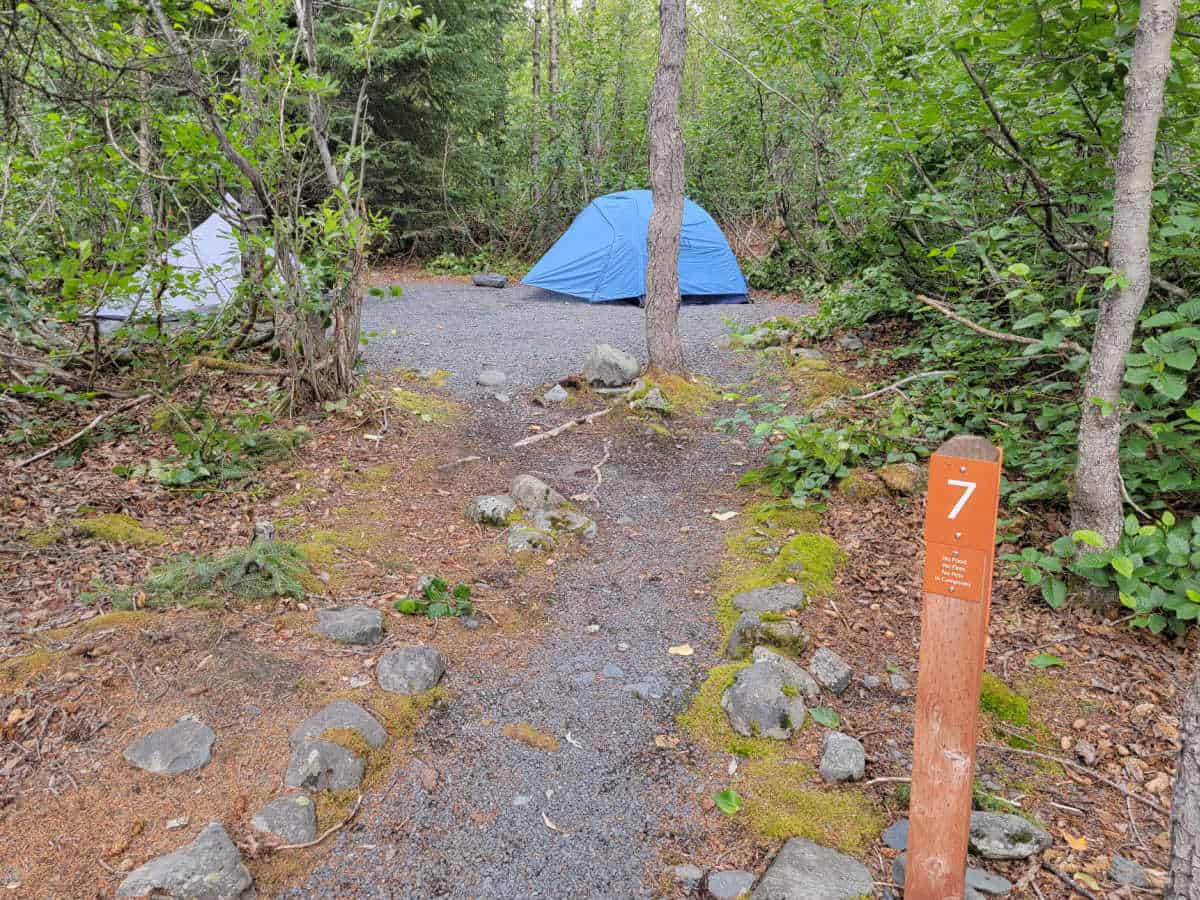 Area Attractions
Seward, Alaska: I personally think that the city of Seward is one of the prettiest locations in America! This port town is the beginning of the Iditarod and is surrounded by massive mountains that were cut out by the massive surrounding glaciers.
In Seward, you will find great restaurants that serve the best-tasting fish you will find anywhere. My personal favorite was the Highliner Restaurant!
Other must-dos is the Alaska Sea Life Center which is Alaska's only permanent marine mammal rehabilitation facility and taking a boat tour into Kenai Fjords National Park where you will see Glaciers, sea otters, bald eagles, sea lions, puffins, Fin whales, (Orca) Killer Whales, and Humpback whales to name a few!
Many people show up each year as their cruise ships either start or end their Alaska Cruise from Seward. The easiest way to get here is to fly into Anchorage Alaska then drive down the Kenai Peninsula on the Seward Highway
Alaska Wildlife Conservation Center: Follow Alaska Highway 1 (The Seward Highway) for approximately 47 miles south of Anchorage and you will see the Alaska Wildlife Conservation Center on your right as you head to Kenai Fjords National Park. I really enjoyed coming here as I got a good close-up look at several animals at the sanctuary which is dedicated to preserving Alaska's Wildlife. Animals the sanctuary has helped include the Wood Bison, Wolves, Muskox, Reindeer, lynx, elk, coyote, Black Bears, Brown Bears, Moose, and Bald Eagles.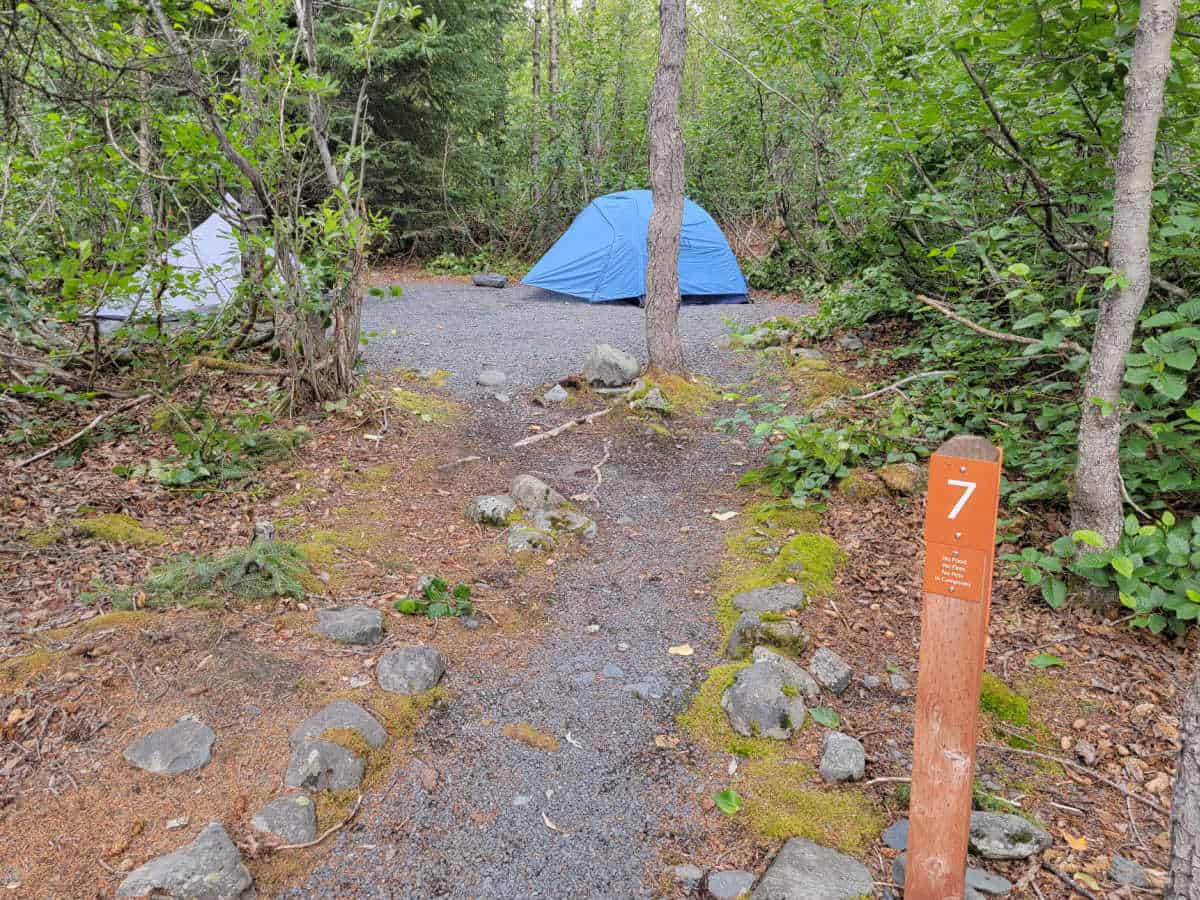 Nearby Park Attractions
The Exit Glacier Area is the only part of the park that is accessible by road. Here you will find the Exit Glacier Campground, the Exit Glacier Nature Center, Exit Glacier, and several hiking trails.
The most famous trail is the Harding Icefield Trail which is a strenuous 8-mile round trip from the nature center to the Harding Ice Field and back.
This trail climbs approximately 1000 feet per mile (3000 feet total) and is wildly popular with black bear as you pass through thickets of salmonberries, a bear local favorite! I also saw numerous mountain goats!
You can book a guided tour of the Harding Ice Field from Seward to make sure you have the best experience.
The Downtown Seward Alaska Visitor Center is close by and is a great pit stop before doing what I think is the highlight of any trip to Kenai Fjords National Park, A trip to Kenai Fjords National Park would not be complete without taking a Tour Boat out of Seward Alaska.
The tour will take you out into Resurrection Bay where we saw sea otters, Stellar Sea Lions, and perigone falcons! This took us out to the Gulf of Alaska where we saw Humpback Whales, Orca (killer) Whales, and even Fin Whales! Did I mention the Horned and tufted puffins?!!!
The tour quickly turns out of the open water and into Aialik Bay Where you see several glaciers including Aialik Glacier with icebergs floating in the water, some with harbor seals just chilling out on top of them.
Make sure to keep your eyes open throughout the trip as you never know what you may see! We even saw Black Bears on the shoreline!
Photos of Exit Glacier Campground