Riley Creek Campground in Denali National Park is the largest campground of the six denali campgrounds located throughout the park.
This is the ideal place to make a home base when exploring the park as you have easy access to the Riley Creek Mercantile, the Denali Visitor Center, and the Denali Bus Depot where you can take buses to get anywhere else in the park.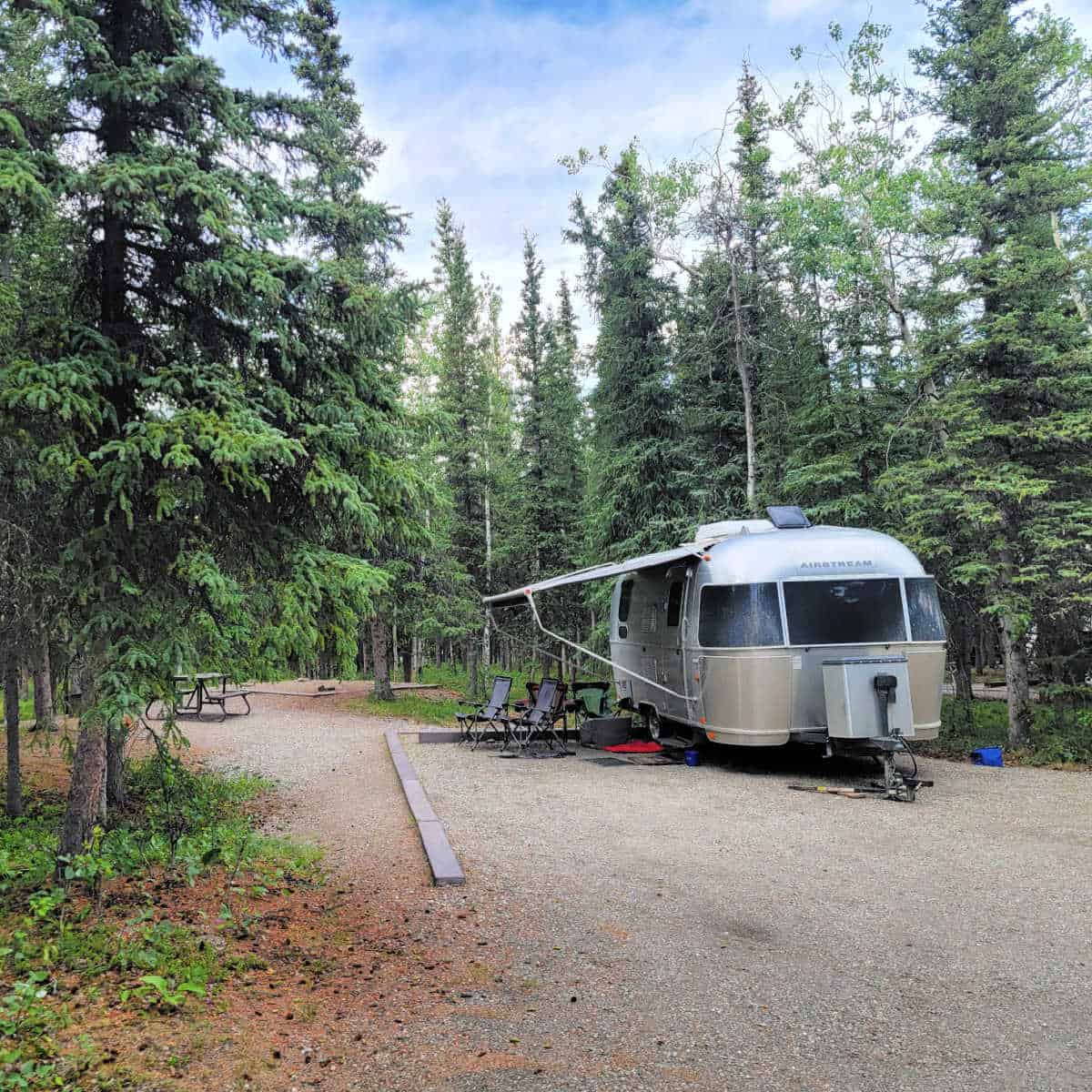 Riley Creek Campground - Denali National Park
The Riley Creek Campground is located just past the Denali Park entrance. No sites have electricity or water hookups but you can operate generators between 8:00 AM to 10:00 AM, and again between 4:00 PM to 8:00 PM.
Some of the park amenities at Riley Creek include a post office, hot showers, plenty of trees between sites, a tent site pad, cell service, laundry, a dump station, potable water, an Amphitheater, Ice for sale, a camp store, food storage lockers, garbage services, and more.
There is also a nice biking trail that leaves from the campground entrance to the small town just outside the entrance of the park.
The National Park Service made the Riley Creek Campground a great choice for a visitor's first trip to Denali.
Visitors will have access to all the areas of the park including a visitor center, the dog kennels where the sled dogs call home, bus tours and even going for a hike on a hiking trail or two.
For the more adventurous, try one of the popular campgrounds that only have access by taking a bus like the Wonder Lake Campground.
Here campers take the bus all the way to mile 85 on the Denali Park Road.
The bus ride itself can give passengers great views of wildlife while passing through some of the most scenic surroundings the park has to offer.
This campground has 28 tent sites and on a clear day, you will be treated to one of the most iconic places in the park, Wonder Lake. Just imagine seeing Denali and the Alaska Range as they reflect in Wonder Lake, my version of heaven on earth!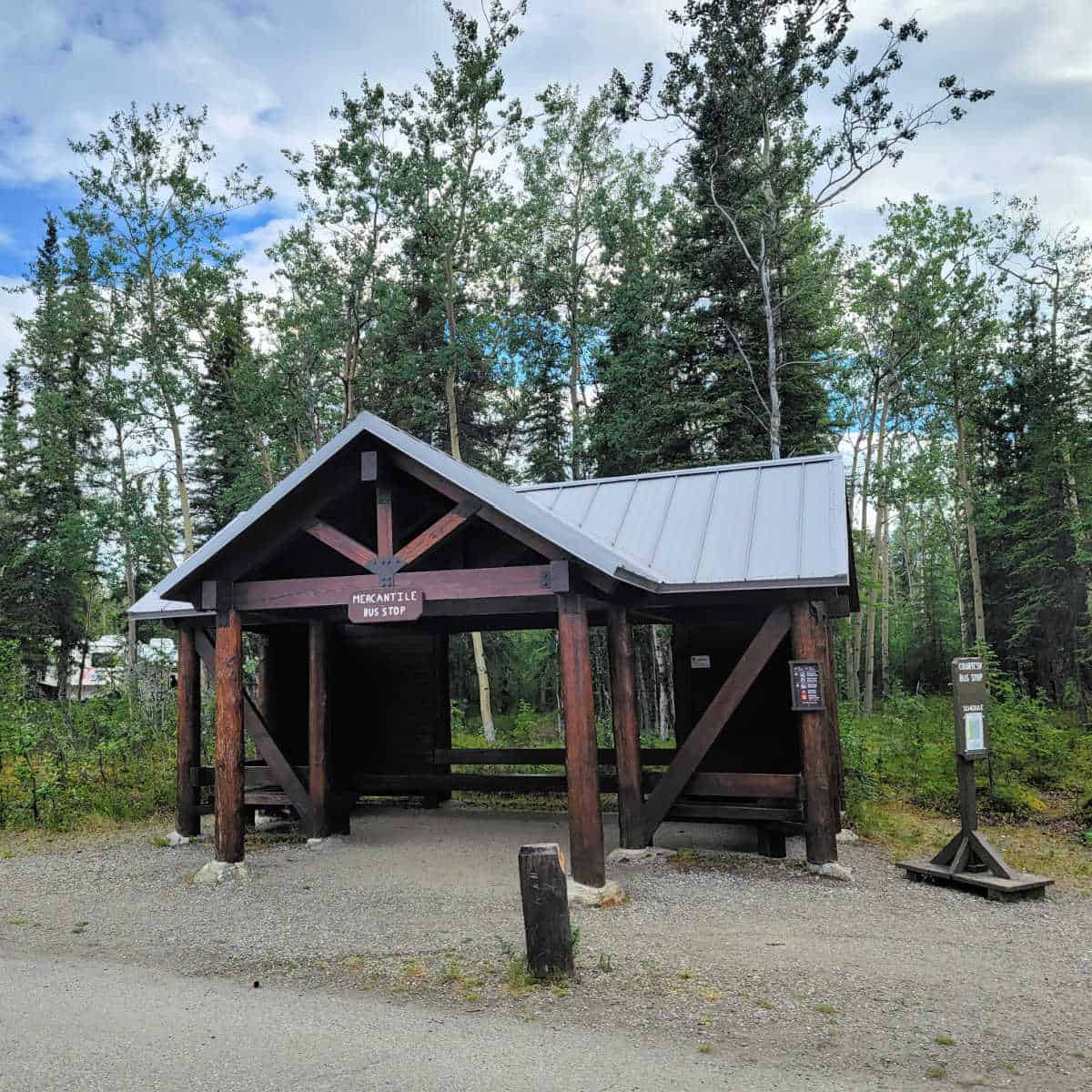 Number of Sites: 142
Location in the park:
Riley Creek Campground is located immediately on the left side of the Denali Park Road after turning off of the Parks Highway (Highway 3).
Campsite Cost:
Winter - Free, $0.00
Camping is free in winter. The winter season begins fifteen days after Labor Day each September and lasts through early May each year.
Summer - Large RV Sites - $45.00
Some sites can accommodate RVs up to 40' in length. These sites cost a bit more per night than the smaller sites, which can accommodate vehicles no larger than 30' long.
Summer - Small RV Sites- $35.25
These sites can accommodate vehicles up to 30' long. If you have a truck and trailer, the total combined length must be less than 30' to use one of these sites.
Summer - Tent Only- $21.75
The tent-only sites at Riley are first-come, first-served, meaning they cannot be purchased before you physically arrive in the park. These sites do not have parking at them, you must park elsewhere and walk into these sites.
Group Site (Tent-only)- $49.00
A group site at Riley Creek Campground has space for up to 12 tents. The group site can only be used by non-commercial groups (including groups like Girl Scouts and Boy Scouts of America, etc). There are no fire rings at the site, and tents must be set up on the established tent pads.
Senior/Access Camping Fee:
Summer - Large RV Sites - $22.50
Summer - Small RV Sites- $17.75
Summer - Tent Only $11.00
Payments accepted:
Reservations:
Yes. Reservations during the summer season are a must
Campground Address:
Mile 0.25, Denali Park Road
Denali Park, AK 99755
Latitude/Longitude:
63.728443, -148.886572
Accessible Sites:
Ranger programs occur in summer and can be presented with American Sign Language if you request it in advance. Area pathways and restrooms are wheelchair accessible
Pets Allowed:
You're welcome to bring your pets along with you. However, be sure to dispose of any pet feces in garbage cans. Additionally, make sure to keep pet food securely stored in either your vehicle or a designated food locker.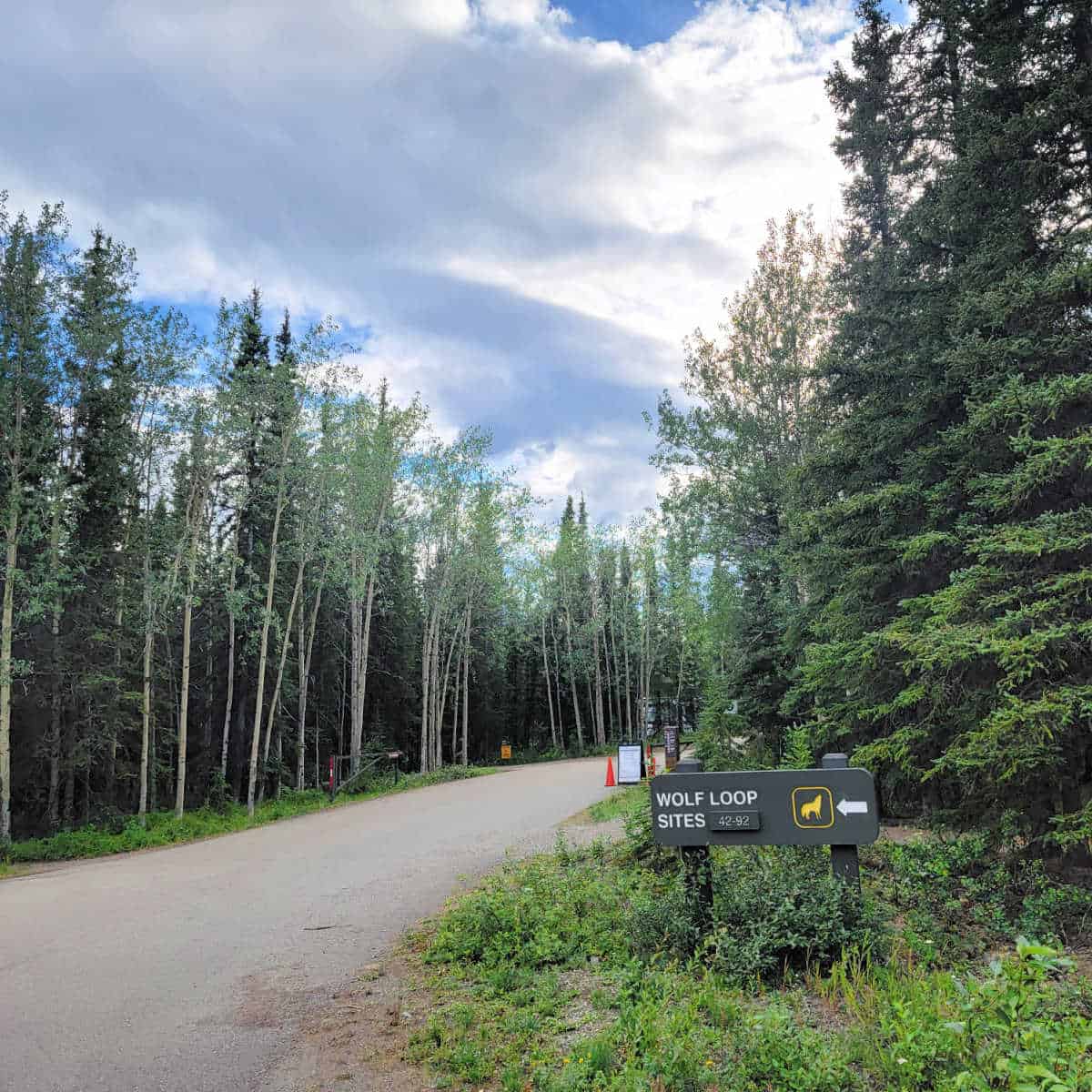 Campground Reservations
Are Campground Reservations Available? Yes
Phone Number? 800-622-7275
Online? https://www.reservedenali.com/
How Far Ahead can you make a reservation?
First Come, First Served?
In winter (mid-September through early May each year), reservations are not necessary.
Campground Amenities
Dump Station: Yes, Seasonal
Bear Boxes: There are food lockers available throughout the campground
Flush Toilets: Yes, seasonal ( Vault Toilets- Year-round)
Payphone:
Is Wi-Fi available? Yes, Seasonal
Is Cellular Phone Service Available? Yes
Is camp host available on-site? Yes, seasonal
Is firewood available for purchase? Yes, Seasonal
Amenities at each campsite:
Fire ring in the site? There are fire grates provided
Picnic Table in the site? Yes
Potable Water? Yes, Seasonal
RV Camping at Riley Creek Campground
RV Length: 40 feet
Generators: 8 am to 10 am, and 4 pm to 8 pm
How to get to Campground
If you're traveling from Fairbanks or Anchorage to reach the park, take Highway 3. Once you reach Mile 237 on the highway, turn west into Denali. Drive a quarter-mile and keep an eye out for signs on your left that point to Riley Creek Campground.
Campground Regulations
The maximum number of people in a campsite: 8 people
The number of cars per campsite: 1
Checkout time: 11:00 am
Quiet Hours: 8 am to 10 am
Additional Information on Denali National Park:
Complete Guide to Denali National Park - Your complete Guide to planning a vacation to Denali National Park
Savage River Campground - Savage River is one of six campgrounds located in Denali National Park with 32 campsites
Denali Bus Tours - Guide to riding the Bus at Denali National Park
Information on other Alaska National Parks
Complete Guide to Wrangell St. Elias National Park - Complete Guide to planning your vacation to Wrangell St. Elias National Park
Things to do in Wrangell St. Elias National Park - List of the most popular activities in Wrangell St. Elias National Park
Kendesnii Campground Wrangell St. Elias National Park - The only campground located in America's Largest National Park by size!
Complete Guide to Kenai Fjords National Park - Complete guide to planning your vacation to Kenai Fjords National Park
Exit Glacier Campground Kenai Fjords National Park - The only designated campground in Kenai Fjords National Park
Complete Guide to Glacier Bay National Park - Complete Guide to planning your vacation to Glacier Bay National Park
Glacier Bay Lodge- Beautiful National Park lodge right on Bartlett Cove
Bartlett Cove Campground Glacier Bay National Park - The only designated campground in Glacier Bay National Park
Glacier Bay Boat Tour - The boat tour goes deep into Glacier Bay National Park and departs from the pier in Bartlett Cove
Photos of Campground