Katmai National Park and Preserve is a natural park and wild reserve of the United States located in the south of Alaska, known as the Valley of Ten Thousand Smokes.
Below you'll find the ultimate guide to Katmai National Park, including how to get there, when to visit, where to stay, and so much more.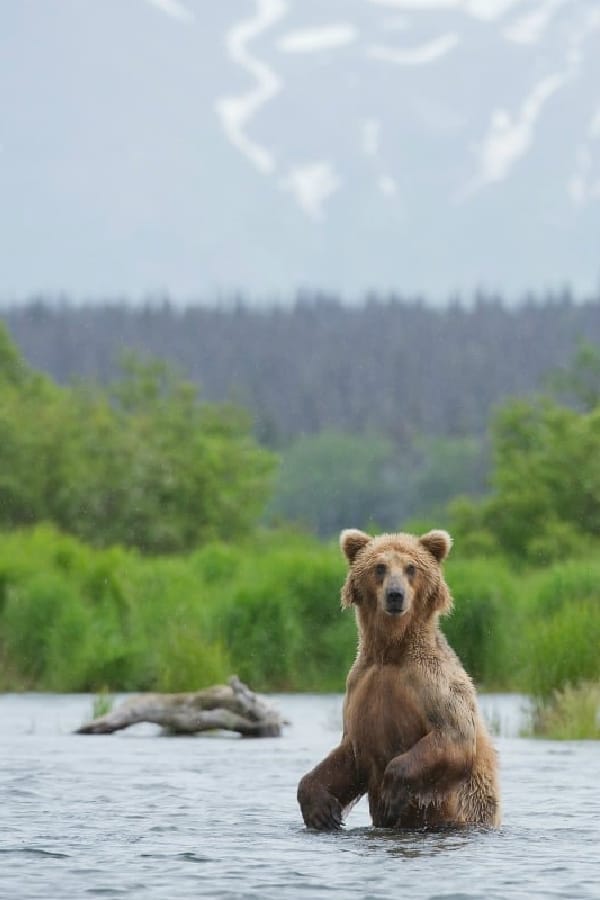 Katmai National Park
Together, the park and preserve cover an area of 4,093,053 acres roughly the size of Wales. The majority of this is an area dedicated to nature and wildlife where hunting is strictly prohibited.
About Katmai National Park
The park was named after the stratovolcano of Mount Katmai.
First, the area was designated as a national monument in 1918 to protect the area created by the great volcanic eruption of 1912 of Novarupta, which formed the Valley with a pyroclastic flow of about 24,710 acres.
The park has 18 individual volcanoes, seven of these volcanoes, since 1900 are still active.
After its designation, the monument was very underdeveloped and not visited by tourists until the 1950s.
Initially designated due to its violent volcanic activity, the monument and its surroundings are now appreciated for their abundance of red salmon, brown bears, which feed on these, and a wide variety of Alaskan wildlife.
Katmai is located on the Pacific Ocean side of the Alaska Peninsula, off Kodiak Island in the Shelikof Strait.
The main features of the park are its coast, the Aleutian mountain range which has a chain of fifteen volcanoes that crosses the southeast region of the park, and a series of large lakes in the western part of the park.
The most significant town closest to the park is King Salmon, where the central offices are located
The Alaska Peninsula Highway connects Lake Naknek, which is near the entrance to the park, to King Salmon continuing to the mouth of the river at Naknek.
The road is not connected to the Alaska highway system. Access to the interior of the park is by boat through Lake Naknek.
There is another road that goes from Brooks Camp to Three Forks, which has a view of the Valley of Ten Thousand Smokes.
The 497 miles of coastline runs from the entrance to Cook Cove in Kamishak Bay to the south of Cape Kubugakali. The mountains go from the southwest to the northeast, about 15 miles inland.
Is Katmai National Park worth visiting?
Katmai National Park is one of the most remote parks in America. That being said, those that make the journey here will no doubt find it to be worth the effort.
To really make the trip worth your while, plan on staying a few days to get the full experience.
History of Katmai National Park
The area is known today as Katmai National Park and Preserve came into modern history with a big bang. In 1912, the Novarupta erupted - one of the largest volcanic eruptions in historical times - forming the Valley of Ten Thousand Smokes.
Before the explosion, the native Alutiiq and Sugpiaq communities called the area home for about 9,000 years. Unfortunately, these groups were forced to resettle after the eruption.
To protect this area, it was declared a National Monument on September 24, 1918.
The national monument was extended three times by presidential proclamation: on April 8, 1942, by Franklin Roosevelt; January 20, 1969, by Lyndon B. Johnson (94,394 acres); and, finally, on December 1, 1978, by Jimmy Carter (1,369,952 acres).
After these series of border expansions, the current park and preserve were established in 1980 under the Alaska National Interest Lands Conservation Act. Finally, by the Congress of the United States.
The oil spill of the Exxon Valdez company in Prince William Sound on March 24, 1989, produced extensive contamination along the coast of Katmai. By the beginning of April, oil had reached Kenai Fjords National Park.
The spilled oil reached Cape Douglas in Katmai on April 26 and places south in the next week. In early May, a variety of oil-removing ships were working in the Shelikof Strait, however, 90% of the Katmai coast was contaminated.
The most affected areas were Cape Cjiniak, Chiniak Lagoon, Hallo Bay Beach and its lagoon, Cape Gull, Kaflia Bay, and Cape Douglas. It is estimated that approximately 8400 birds died due to the spill.
Things to know before your visit to Katmai National Park
Entrance fee
$0.00 - There is no entrance fee
Free Entrance Days -Find the five free entrance days the National Park Service offers annually.
Time Zone
AKST - Alaska Standard Time
Pets
Pets are allowed in the backcountry but must be under physical control at all times.
Pets and service animals are not allowed within the Brooks Camp Developed Area (BCDA), defined as a 1.5-mile radius from the Brooks Falls Platform, between May 1 and October 31
Cell Service
There is no cell phone service available in most of Katmai
Park Hours
Katmai is open 24 hours per day, seven days per week.
Wi-Fi
There is no Wi-Fi service available in Katmai
Insect Repellent
Insect repellent is always a great idea when outdoors, especially if you are around any body of water.
We use Permethrin Spray on our clothes before our park trips.
Water Bottle
Make sure to bring your own water bottle and plenty of water with you. Plastic water bottles are not sold in the park.
Food/Restaurants
There is food service at Brooks Lodge
Gas
Gas is not sold within the park.
Drones
Drones are not permitted to be flown within US National Park Service Sites
National Park Passport Stamps
National Park Passport stamps can be found in the visitor center. Make sure to bring your National Park Passport Book with you or we like to pack these circle stickers so we don't have to carry our passport book with us on every trip.
Katmai is featured in the 1997 Passport Stamp Set.
Details about Katmai National Park
Size - 3,674,529 acres
Katmai NP is currently ranked at 4 out of 63 National Parks by Size.
Date Established
In 1980, Katmai National Monument was expanded to its present size and became Katmai National Park and Preserve.
Visitation
In 2021, Katmai NP had 24,764 park visitors.
In 2020, Katmai NP had 51,511 park visitors.
In 2019, Katmai NP had 84,167 park visitors.
Learn more about the most visited and least visited National Parks in the US
National Park Address
1000 Silver Street
Building 603
King Salmon, AK 99613
Katmai National Park Map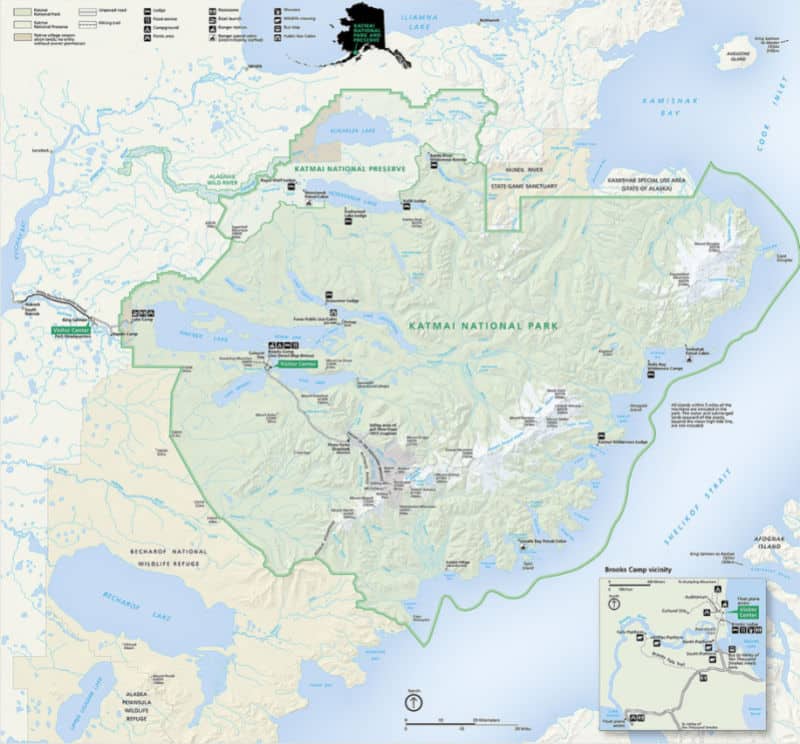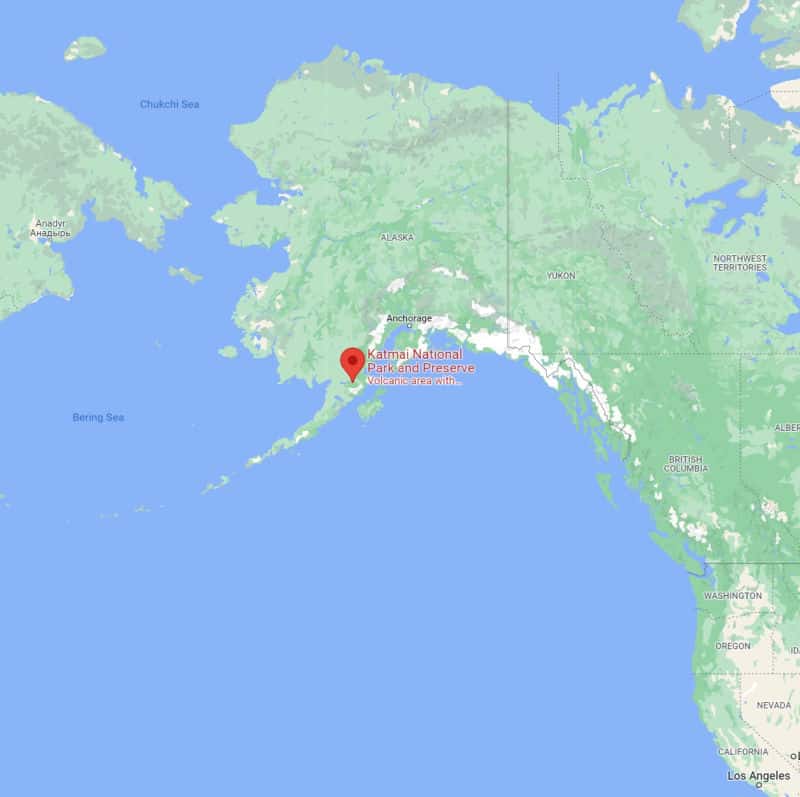 Where is Katmai National Park?
Katmai NP is located on the northern Alaska Peninsula, northwest of Kodiak Island and southwest of Homer, Alaska.
Estimated distance from major cities nearby
Anchorage: 260 miles
King Salmon: 35 miles
Estimated Distance from nearby National Park
Each of these National Parks can be reached via flight. Many of these parks are only accessible via boat or flight.
Wrangell St. Elias National Park
Gates of the Arctic National Park
Where is the National Park Visitor Center?
King Salmon Visitor Center - Located next door to the King Salmon Airport
Brooks Camp Visitor Center - open from June 1 – too late September, is the point of entry for all visitors to Brooks Camp.
Robert F. Griggs Visitor Center - posted hours are estimated because the visitor center is only open during ranger-led Valley of Ten Thousand Smokes tours.
Getting to Katmai National Park
Katmai is one of the most remote parks in the nation and is almost exclusively accessed by plane or boat.
The easiest and fastest way to access the park is via plane, and there are numerous taxi flights departing daily from Anchorage, Kodiak, Homer, King Salmon, Port Alskworth, and other nearby towns.
Brooks Camp will be your final destination if you are flying. Note that flights can be canceled if there is bad weather.
You will likely not be reimbursed if your trip is canceled or postponed due to weather, so purchasing travel insurance is a good idea.
If you are not pressed on time and want a cheaper option than flying, you could also boat into the park or take the ferry from King Salmon.
Closest Airports
Brooks Camp
International Airports
Anchorage International Airport (ANC)
Regional Airports
Kodiak Benny Benson State Airport (ADQ)
Homer Airport (HOM)
King Salmon Airport (AKN)
Port Alskworth Airport -Private use airport
Driving Directions
It is not possible to drive into the park.
Best time to visit Katmai National Park
Although the park is open year-round, most visitors come to catch the iconic bear feeding between June and September.
The summer is also the only time when all park services are in operation, including the main hub at Brooks Camp.
Transportation may also be hard to find during the off-season, but the park remains open for those who make their way here.
Weather and Seasons
Spring
The park begins coming alive again in late May. Temperatures begin to rise, and snowfall continues to melt, but this is still a chilly time to visit and rainy days are not uncommon.
Summer
Summer is undoubtedly the best time to visit Katmai National Park. Early July, in particular, is when most visitors flock here in order to see the bears feeding on salmon from Brooks Falls.
The salmon usually arrive between the end of June and early July, and by August, they are generally far upriver. Summer also tends to have the nicest weather, though it rarely heats up to what most consider hot.
Summer highs usually peak in the low 60s, and nighttime temps often dip below 40 degrees. Pack plenty of layers, and don't forget your rain jacket as afternoon showers are not uncommon in the summer.
You should also pack plenty of insect repellent if you visit during the summer as black flies and mosquitos are abundant - especially in the backcountry.
Autumn/Fall
Early fall is a great time to visit Katmai. September is your best option if you choose to visit in the autumn, as temperatures are still moderate and most services and transportation options are still up and running.
You might even spot some bears meandering around the lower part of the river at this time.
Winter
While it's technically possible to visit the park in the winter, you will likely have difficulty finding a way to get there. In addition, temperatures are freezing, snowfall is hefty, and no services are available during this time of year.
Best Things to do in Katmai National Park
Katmai Bears
Katmai is also well known for the brown bear populations and the sockeye salmon. Katmai has the largest population of protected bears in the world, estimated at about 2200 bears.
Bears usually congregate at Brooks Falls when salmon are spawning and many well-known photographers flock to the visitor's platform to take photographs.
Compared to other rivers, salmon arrive early at Brooks Falls. Between 43 and 70 bears have been documented in the waterfalls in July and the same amount of bears are seen in the lower part of the river in September.
Coastal areas, such as the Hallo, Kukak, Kuliak, Kaflia, Geographic Harbor, and Chiniak bays, also harbor high densities of bears throughout the year, due to the availability of edible clams and Sedges, as well as salmon and other fish.
It is mainly known for its brown bears, the park with the largest population in the world. Brown bears gather in large numbers in Brooks Falls to catch migratory salmon.
Fed by this rich supply of protein, Katmai's brown bears can grow to large sizes: large males exceed 10 feet and weigh up to one ton.
Wildlife Viewing
The park is home to 29 mammal species, 137 bird species, and 24 kinds of freshwater fish.
Many other species that live in the park are elk, wolf, lynx, wolverine, coyote, otter, red fox, porcupine, and marten.
Both the young and the young at heart in your group will have an opportunity to learn more about the park in a fun, hands-on way through the Junior Ranger Program.
This comprehensive program helps you slow down and really enjoy every aspect of the park at your own pace. Once you complete the program, you'll even be rewarded with a cool badge to commemorate your time at the park.
Bird Watching
Avid birders will find Katmai particularly rewarding. There are 137 species that call the park home, and common sightings include bald eagles, great horned owls, ospreys, ravens, black-billed magpies, various woodpeckers, and more.
Fishing
It's not just bears fishing for dinner at Katmai National Park. Anglers also flock to the park to fish from the Alagnak River and Naknek Lake.
These beautiful bodies of water are home to all five species of Pacific Salmon, along with rainbow trout, Arctic grayling, northern pike, and Arctic char.
Hiking in Katmai National Park
Always carry the 10 essentials for outdoor survival when exploring.
There are less than five miles of maintained trail inside of Katmai, but hikers will still have plenty of opportunities to explore.
Backcountry hiking is allowed, so many choose to "pick their own adventure" when it comes to hiking in the park. Below we've highlighted some of the most popular areas and trails.
Brooks Falls Trail - Easy - 1.2 miles - Out & Back
Brooks Falls Trail is perhaps the most trekked mile in the entire park. This flat, easy trail connects Brooks Camp to the bear viewing platforms along Brooks Falls.
You'll likely see bears before you even reach the falls, as they use the trail as well!
If you do encounter bears as you hike, be sure to keep your distance, make noise, and step off the trail to let them pass if necessary. It's also a good idea to hike in groups along this short trail.
Cultural Site Trail - Easy - 2 miles - Out & Back
While much of the park's charm comes from its natural history, its cultural history is also worth noting.
Along this short and easy trail, hikers can learn more about the human history of the park as they stroll past prehistoric camps and a traditional semi-subterranean native dwelling.
Dumpling Mountain Trail - Moderate - 3 miles - Out & Back
This is one of the park's more challenging routes, though the climb up to the overlook is worth the extra effort.
You'll pass through boreal forest and alpine tundra before you reach the summit, and the best part is you'll likely have the trail all to yourself - even in the busy summer months.
The overlook rewards hikers with incredible views of Brooks River, Lake Brooks, and Naknek Lake.
The Valley of Ten Thousand Smokes
If you're looking for a unique experience while in Katmai National Park, don't miss the Valley of Ten Thousand Smokes.
The valley's otherworldly landscape is the result of a volcanic eruption, and the park offers a guided tour to help you get the most out of this extraordinary area.
This is a full-day excursion, and the bus trip alone takes eight hours round trip.
Once you arrive, you'll complete a three-mile hike through the ash and pumice that still cover the valley floor.
Tours leave from Brooks Camp.
Backcountry Hiking
After you've explored all of the park's developed trails, you can head off into the backcountry.
No permits or fees are required for backcountry hiking, though it does take some skill, and hikers should be in good physical fitness.
It is also crucial to know what to do when you encounter a bear (which is extremely likely), so don't miss the bear talk at the visitor center when you arrive.
How to beat the crowds in Katmai National Park?
The park is open year-round, but 99% of visitors come between May and September.
This is mostly due to the fact that this is the only time all the services are up and running, and the Bear Viewing is at its best between late June and early July when the salmon migrate from Bristol Bay into park waters.
Your best chance of beating the crowds at Katmai is by visiting outside of late June and early July, though that also means you'll miss most of the park's main draws.
If you do hope to see the bears but are still wanting some solitude, consider backcountry camping. That way you can still see the main attractions AND revel in the complete wilderness for which the park is known.
Where to stay when visiting Katmai National Park
There are quite a few lodging options located inside Katmai National Park, though most will cost you a pretty penny.
If you prefer modern conveniences like running water, a bed, and a restaurant that serves up tasty meals, then these lodges may just be worth the steep price.
Most lodging options have limited availability, so plan on booking months in advance if you want to snag a spot. Below we've outlined some of the most popular lodging options inside of Katmai.
Brooks Lodge is located in the center of the park near the world-famous Brooks River and the beautiful Naknek Lake.
The lodge was originally a fishing camp in the 1950s, but today it is a beautiful retreat with 16 modern cabins and a main lodge with a large fireplace, restaurant, and bar.
All of the cabins are one-room and feature two sets of bunk beds to accommodate four guests comfortably.
Due to its central location, Brooks Lodge is by far the most sought-after accommodation inside Katmai National Park, making it extremely hard to get reservations.
The lodge is so popular that they use a lottery system for reservations. Applications for the following year are available online each December.
If you're not one of the lucky ones who win the lottery, don't give up.
It's not uncommon for people to cancel their trips, so try calling a few months before your trip to see if any spots have been freed up. Don't be shy - you may need to call a few times before you have any luck!
Kulik Lodge also got its start as a fishing retreat, and it still caters to anglers today.
This historic lodge sits along the beautiful and abundant Kulik River, and you can even book guided fishing tours during your stay.
The lodge has 11 cabins available, all of which are outfitted with modern conveniences like electricity and private bathrooms.
Cabins range in size and layout from one bedroom up to four bedrooms. Guests can also enjoy the main lodge's Wi-Fi, restaurant, and bar, along with the sauna and outdoor hot tub.
The Katmai Wilderness Lodge is an eco-friendly lodge that coexists in harmony with nature thanks to its wind and solar power.
The cedar lodge boasts a series of cozy guest rooms with en-suite bathrooms and hot water - a rare commodity when staying in Katmai!
The lodge also boasts a traditional Alaskan dining room, a living room with books, games, and DVDs, and a multi-level deck for wilderness and sunset viewing.
The Royal Wolf Lodge caters to fly fishermen and women and provides guests with the opportunity to venture out with professional guides and pilots.
Back at the lodge, the two-bed single-room cabins are furnished with modern amenities like heat, running water, and private bathrooms.
The lodge is located along the Kulik River and has a restaurant, a Finnish wood-stove sauna, and an in-house massage therapist.
Katmai National Park Camping
Brooks Camp is the only designated campground in the park. This is the main hub and the park's summer headquarters, so pitching your tent here is extremely convenient.
Not surprisingly, spots fill up very quickly, so be sure to make your reservations well in advance.
The campground does not have any designated campsites, but rather one large communal area that can accommodate up to 60 people.
An electric fence surrounds the area to keep the bears away and also features shelters, storage caches for food, fire rings, vault toilets, and potable water.
Brooks camp is open year-round, though only limited services are available between mid-September and May.
If you couldn't snag a spot at Brooks Camp Campground, or if you're seeking a more rugged experience, backcountry camping is also allowed at Katmai National Park.
No permits or fees are required - but remember that you are in bear country, so food needs to be kept in bear-proof containers at all times.
Parks near Katmai National Park
Aniakchak National Monument and Preserve
Alagnak Wild River
Klondike Gold Rush National Historical Park
Sitka National Historical Park
Check out all of the National Parks in Alaska along with Hawaii National Parks, Washington National Parks, and National Parks in California.