Saratoga National Historical Park is located in Eastern New York about 27 miles from Albany. The park is open year-round offering hiking, scenic driving tour, and interpretation of the Battle of Saratoga.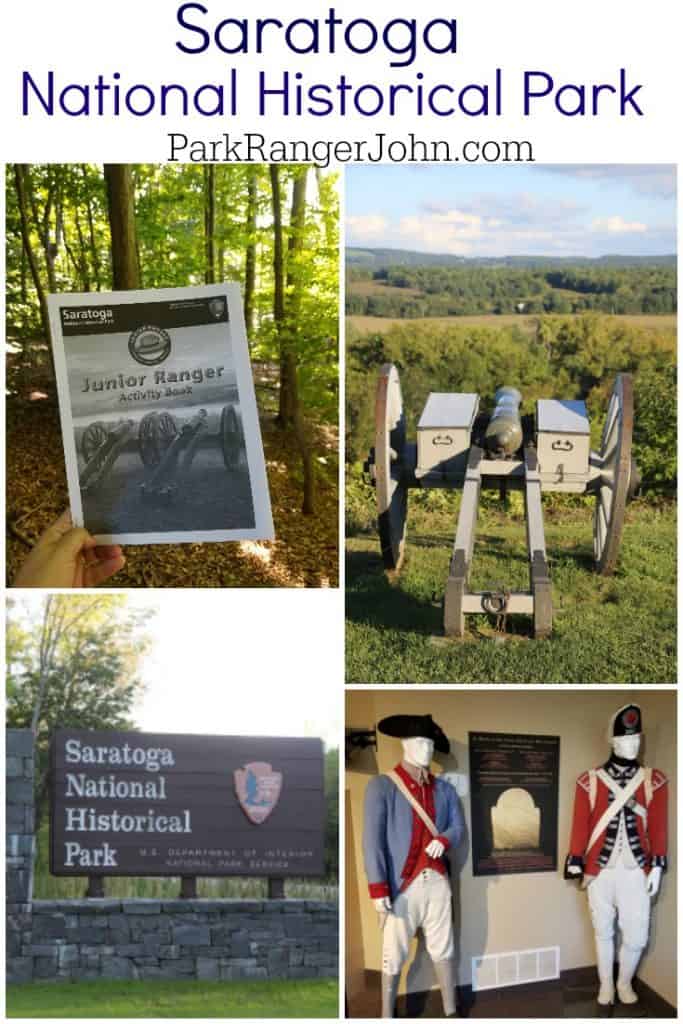 Saratoga National Historical Park
In 1777 British Troops marches south through New York's Hudson River Valley with plans to join forces with other troops in British occupied New York City.
Their goal was to end the American struggle for independence and isolate New England. Saratoga National Historical Park is made up of four locations that were part of the Battles of Saratoga.
The park has a great driving tour that takes you through the battlefields and designates where American and British troops were stationed.
There are also re-enactments done once a year to commemorate the battles.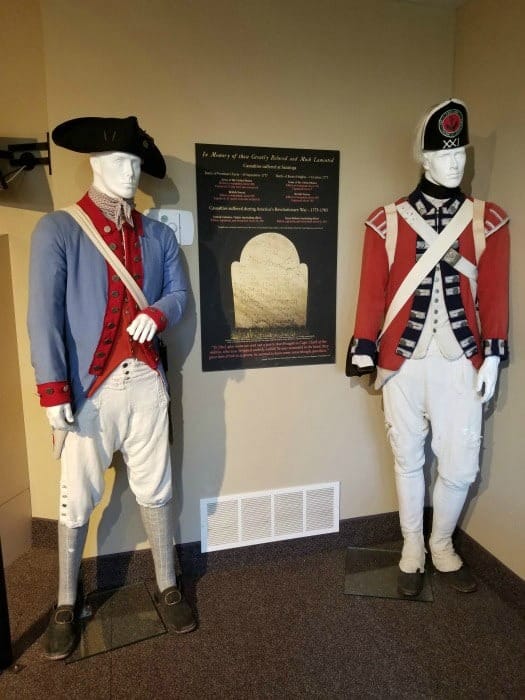 Saratoga National Historical Park Visitor Center
The Saratoga NHP Visitor Center has great displays sharing information about the battle of Saratoga.
There is also a small bookstore/gift shop near the main entrance.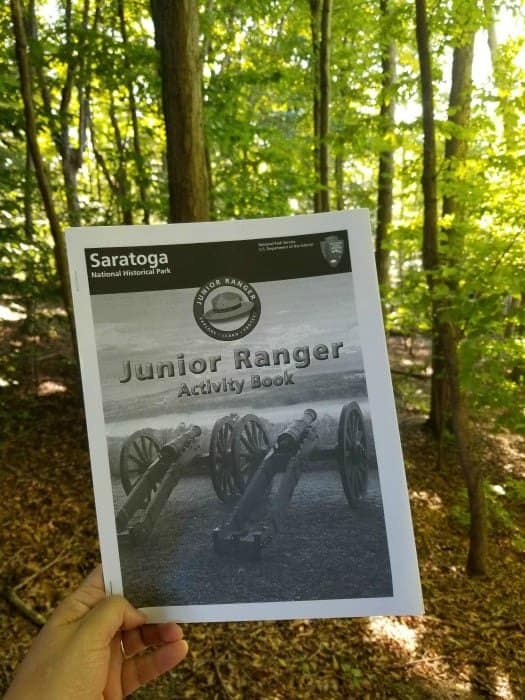 Become a Junior Ranger
The Saratoga NHP Junior Ranger Program can be picked up at the visitor center. The junior ranger program is a great way to learn more about the park!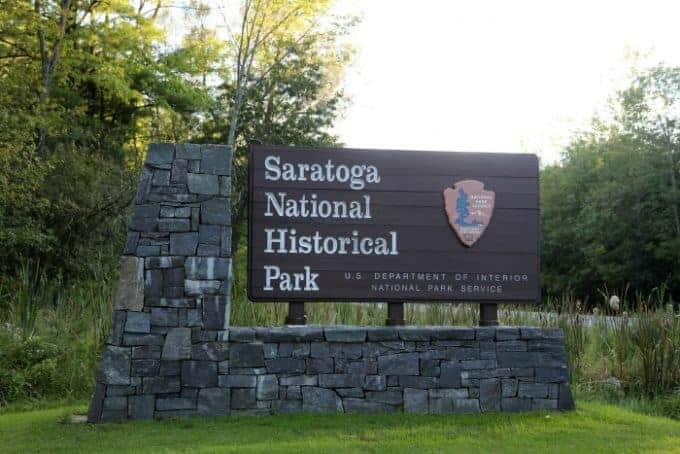 Attend an event at Saratoga National Historical Park
Frost Faire: a winter festival to fight cabin fever and enjoy a day in the Park.
Junior Ranger Day: a day full of exploring and learning about Saratoga National Historical Park!
Memorial Day: a day honoring fallen service members including those who served at Saratoga in 1777.
Nature Walks a series of walks to lesser-known areas of the park led by Biological Technician, Linda White.
4th of July: a day to welcome new American citizens and celebrate independence with dramatic readings of the Declaration of Independence.
History Walks: a series of walks led by Park Rangers and Volunteers discovering lesser-known stories about the Battles of Saratoga.
July Children's Programs: introducing younger visitors to everyday life for people their age during Colonial times.
Army Trades Weekend: a weekend event full of hands-on discovery and learning how things were made in the 18th century.
Bike Tours: a series of leisurely guided bike rides to discover the untold stories of Saratoga.
August Music Series: a lunchtime series of musical performances reflecting American history and culture.
18th-Century Day: a one-day event at the Schuyler Estate where visitors can enjoy demonstrations of 18th-century trades and activities.
Anniversary Living History Event: a weekend event, around September 19th, where individuals portray soldiers and followers from both armies during the Battles of Saratoga.
Candlelight Tour: a unique, candle-lit evening tour of the Schuyler Estate.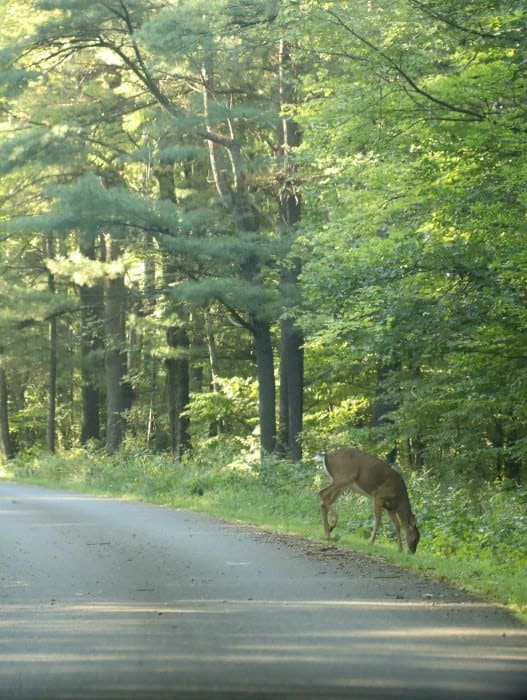 Drive the 9-mile auto tour route
The 9-mile auto tour takes you through the historical park. It is a great way to see where the British and American forces set up camp.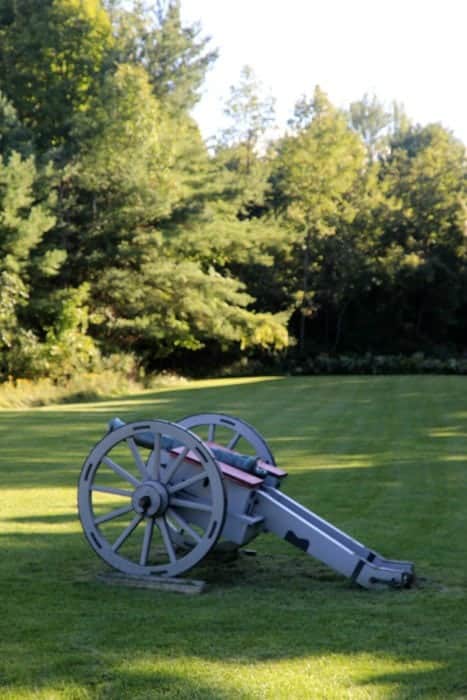 Saratoga National Historical Park Info
Saratoga NHP is a pet-friendly park. Dogs need to be on a leash at all times.
Park Address
648 Route 32
Stillwater, NY 12170
Saratoga National Historical Park is located between U.S. Route 4 and N.Y. Route 32, about 4 miles north of the Village of Stillwater, N.Y.
Park Hours
Park Entrance - Visitor Center
9 am to 5 pm daily
Closed on Thanksgiving, Christmas, and New Year's Days.
May also be closed, or have a delayed opening or an early closure due to inclement weather.
Entrance fees
There is no cost to enter the Monument or the Visitor Center
National Parks near Saratoga National Historical Park
Martin Van Buren National Historic Site
Springfield Armory National Historic Site
Vanderbilt Mansion National Historic Site
Home of Franklin D Roosevelt National Historic Site
Eleanor Roosevelt National Historic Site
Check out the other amazing New York National Parks and neighboring National Parks in Massachusetts , Pennsylvania National Parks, National Parks in Vermont, National Parks in New Jersey, and National Parks in Connecticut