Steamtown National Historic Site preserves the history of steam railroading in America with a focus on the years from 1850 to 1950.

Steamtown National Historic Site
The Steamtown NHS is located within the Scranton, Pennsylvania railroad yard of the Delaware, Lackawanna, and Western Railroad.
The park shares a collection of steam locomotives along with passenger and freight cars.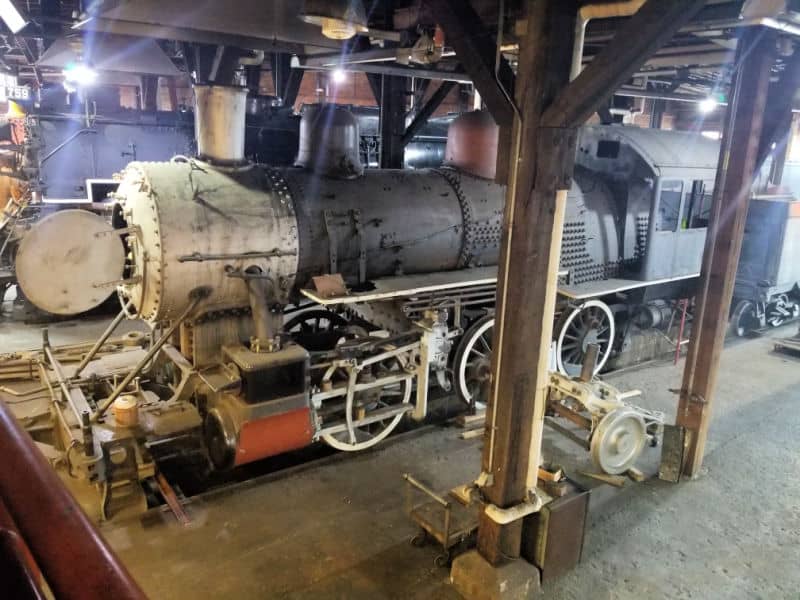 About Steamtown National Historic Site
Locomotives at the park include the Big Boy built-in 1941 for the Union Pacific along with a 1903 freight engine built for the Chicago Union Transfer Railway Company.
We were so impressed with Steamtown NHS and would happily go back again for another visit. If you love trains this is the park for you!
We thought we would only need an hour or two at the park and honestly could have spent 3+ hours in the park and not seen all of the displays and information. If you plan to take a train excursion or you are a train fan I would suggest planning to be at the park all day.
This is one of those parks that feels like it never ends in a good way! Around every corner is a really cool display and you don't want to miss them as you walk around.
The Locomotives in the park range from a 1937 tiny industrial switcher engine built by H.K. Porter Company to a huge 1941 Union Pacific "Big Boy" built by the American Locomotive Company.
The oldest locomotive in the park is a 1903 freight engine built by American Locomotive Company.
Is Steamtown National Historic Site worth visiting?
Yes! Yes! Yes!
Steamtown NHS is one of the sites I tell people surprised me when we visited. I wasn't sure what to expect and ended up being really sad that we had to leave when we did.
This is a park you can easily spend a day wandering around, learning more about steam trains, and having a ton of fun visiting.
History of Steamtown National Historic Site
Steamtown National Historic Site is a railroad museum and heritage railway located in downtown Scranton, Pennsylvania.
A heritage railway is a railway operated for the purpose of living history and education.
These railway lines are often preserved as a way to educate the public about the location's past and importance in railroad transportation.
In 1802, British inventor Richard Trevithick patented a high-pressure engine run by steam. In 1804, that invention came to life and greatly affected the way people and businesses around the world traveled and transported goods.
The invention caused countries like Britain and the United States alike to forge ahead in building railroads accessible to the entire country.
By the 1830s and 1840s, railroads were short stretches of track scattered along the Atlantic coast and a few into the Appalachian Mountains. In the early 1950s, business owners pushed for longer railway tracks to ship their goods. The country's efforts were ongoing.
Europeans found coal in southern Pennsylvania as early as the 1740s. As the settlers moved further north, they found even larger amounts of coal.
The type of coal most prevalent in northern Pennsylvania is called anthracite which is a hard, clean-burning coal.
The mining of this commodity greatly increased the business of the multiple railways running through Pennsylvania.
The largest carrier of anthracite was the Delaware, Lackawanna & Western Railroad. George and Selden Scranton (for which the city of Scranton is named) merged three railroads together to create the DL&W Railroad.
During the Civil War, workers in the coal industry were undoubtedly harder to come by, but coal was in even bigger demand as efficient transportation for vital army supplies was necessary.
The American railroad business was eventually mainly controlled by the larger companies that could handle the wartime demands.
On May 10, 1969, the United States completed the transcontinental railroad when the Golden Spike was driven into the ground to celebrate the marriage of rails for the first transcontinental railway at Promontory Summit, Utah Territory!
By the end of World War I in 1918, the country had expanded the railways even further in all directions and America boasted 254,000 miles of track and 65,000 steam locomotives.
It is no surprise that northeastern Pennsylvania became a leading industry for coal in the last half of the 19th century.
The area drew thousands of families of all different ethnic groups looking to make a living in the prosperous coal-mining region. Men worked in the coal mines, steel mills, and on the railroads.
At the height of the coal boom in Pennsylvania, several thousand were employed in the railroad yards.
By the 1920s, economic growth in the city of Scranton, along with the DL&W Railroad, began to slowly decline as gas and oil were replacing coal in heating homes and businesses.
By this accord, steam locomotives were being replaced by diesel locomotives. In 1949, the steam locomotive shop in Scranton closed.
In the 1960s, DL&W merged with the Erie Railroad and in 1980 the Scranton yard was officially closed.
From there, certain areas of rail and sites were restored for the purpose of the National Park Service educating the public about the history of steam locomotives and railways.
The old Scranton railroad yard is now the location of Steamtown National Historic Site. Congress named it a National Historic Site in 1986 and the restored and recreated the roundhouse, along with a museum, opened to the public in 1995.
The history museum showcases all things steam locomotives in American history. It exhibits timelines of the railways and what life was like on the railroad.
The remaining portion of the original Roundhouse was restored and now displays engines from the Steamtown collection.
This collection was acquired from the estate of F. Nelson Blout after his death. Blout was a New England seafood processor who assembled these steam locomotives in the 1950s and 60s.
The Steamtown Foundation for the Preservation of Steam and Railroad Americana Inc. bought the locomotives after Blout's death and brought them to Scranton.
Once Steamtown became a Historic Site, the collection then belonged to the National Park Service.
The walkway along the locomotives at Steamtown has been constructed for visitors to view the progress on the locomotive.
The oldest locomotive in the collection is a freight engine built in 1903 for the Chicago Union Transfer Railway Company.
Visiting Scranton and the Steamtown site affords you a look into a major piece of transportation history in America.
This site is the only place in the country where the National Park Service showcases and explains the rich history and importance of steam railroading and the people who made it possible.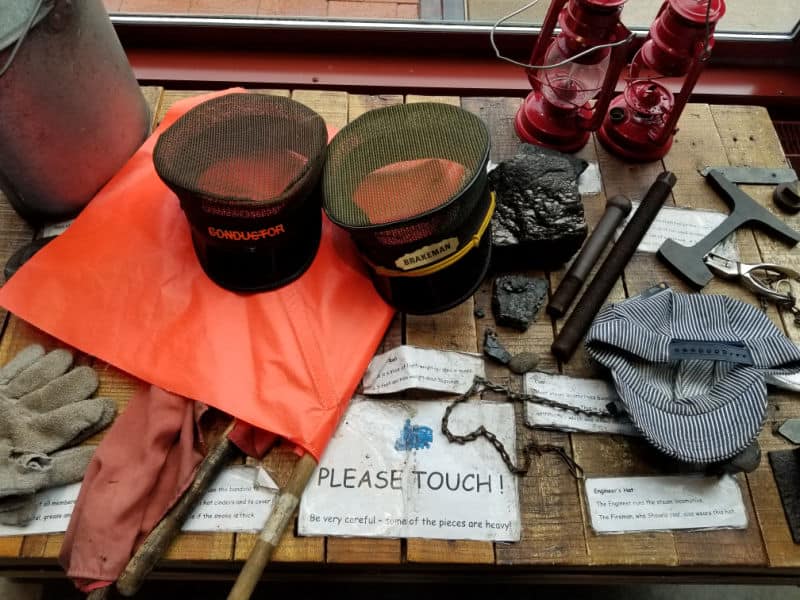 Things to know before your visit to Steamtown National Historic Site
Entrance fee
$0.00 - There is no entrance fee to visit the park.
Planning a National Park vacation? America the Beautiful/National Park Pass covers entrance fees for an entire year to all US National Park Sites and over 2,000 Federal Recreation Fee Sites.
The park pass covers everyone in the car for per vehicle sites and for up to 4 adults for per-person sites.
Buy on REI.com and REI will donate 10% of pass proceeds to the National Forest Foundation, National Park Foundation and the U.S. Endowment for Forestry & Communities.
Learn more about National Park Passes for parks that have an entrance fee.
Free Entrance Days -Mark your calendars with the five free entrance days the National Park Service offers annually.
Time Zone
EST - Eastern Standard Time
Pets
Pets are only allowed in the parking lot and the grassy area near the Theater Building.
Cell Service
We had great cell service in the park.
Park Hours
Visitor Center - 9 am to 5 pm daily
Winter hours are 10 am - 4 pm. January 8 - April 1
Closed on Thanksgiving Day, Christmas Day, and New Year's Day.
Insect Repellent
Insect repellent is always a great idea when outdoors, especially if you are around any body of water.
We use Permethrin Spray on our clothes before our park trips.
Water Bottle
Make sure to bring your own water bottle and plenty of water with you. Plastic water bottles are not sold in the park.
Parking
There is a large parking area near the visitor center.
Food/Restaurants
There are no restaurants within the park.
Gas
There are no gas stations within the park.
Drones
Drones are not permitted within National Park Sites.
National Park Passport Stamps
National Park Passport stamps can be found in the park store which is a separate building from the visitor center.
Make sure to bring your National Park Passport Book with you or we like to pack these circle stickers so we don't have to bring our entire book with us.
Steamtown NHS is part of the 2018 Passport Stamp Set.
Electric Vehicle Charging
There are 78 public charging stations in Scranton.
Accessibility
Steamtown NHS is accessible but there are a few historic locomotives and railroad cars that are not accessible.
Some train rides and excursions are not accessible. Before purchasing train tickets check with the park to make sure the ride will be an enjoyable experience.
There are public use elevators in the visitor center and the museums. There are 2 standard wheelchairs available for visitors use on a first come first served basis.
Open captions are available on all park films. Ubi-Duo technology is available for communicating with deaf visitors.
ASL interpretation is available upon request. Please call (570) 340-5244 at least 14 days prior to your visit to make arrangements.
The park has Braille park brochures available for loan at the visitor center kiosk. With advance notice the park can arrange for a ranger tour to be given with audio description. Please phone (570) 340-5203 at least 14 days prior to your visit to make arrangements.
The park announced in 2019 that new permanent exhibits were created to enhance visitors experiences. These exhibits were funded with the National Park Service's Targeted Accessibility Improvement Program (TAIP).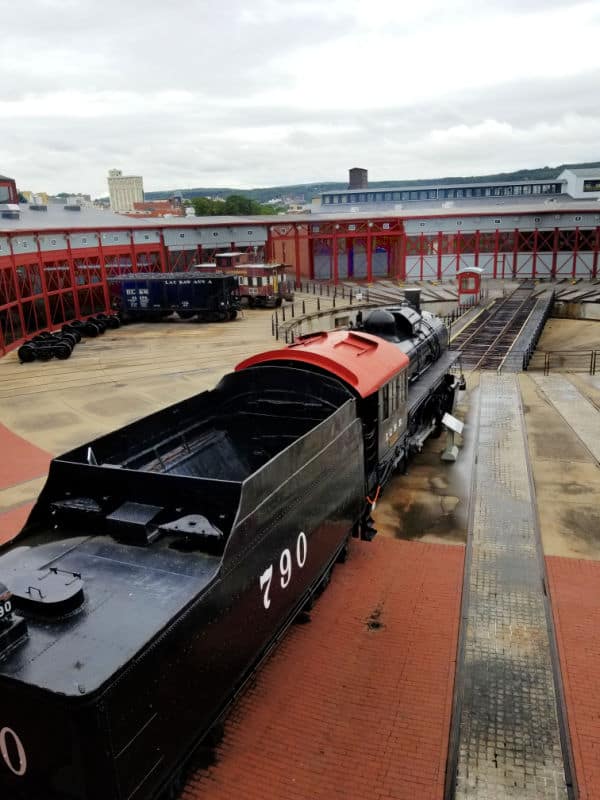 Details about Steamtown National Historic Site
Size - 62.48 acres
Check out how the park compares to other National Parks by Size.
Date Established
October 30, 1986
Visitation
In 2021, Steamtown NHS had 54,433 park visitors.
In 2020, Steamtown NHS had 27,322 park visitors.
In 2019, Steamtown NHS had 105,403 park visitors.
Learn more about the most visited and least visited National Parks in the US
National Park Address
Lackawanna Ave at Cliff St
Scranton, PA 18503
GPS coordinates are: N 41.410730 (latitude), W 75.671329 (longitude)
Steamtown National Historic Site Map
Where is Steamtown National Historic Site?
Steamtown NHS is located in Scranton, Pennsylvania.
Estimated distance from major cities nearby
Newark, NJ - 111 miles
Jersey City, NJ - 119 miles
New York City, NY - 122 miles
Philadelphia, PA - 126 miles
Baltimore, PA - 201 miles
Rochester, NY - 216 miles
Washington DC - 244 miles
Buffalo, NY - 256 miles
Estimated Distance from nearby National Park
Acadia National Park - 561 miles
Shenandoah National Park - 260 miles
Cuyahoga Valley National Park - 354 miles
Indiana Dunes National Park - 660 miles
New River Gorge National Park - 465 miles
Where is the National Park Visitor Center?
The visitor center is next to the main parking lot.
Getting to Steamtown National Historic Site
Closest Airports
Wilkes-Barre Scranton International Airport (AVP)
International Airports
Lehigh Valley International Airport (ABE) - 74 miles
Newark Liberty International Airport (EWR) - 118 miles
Harrisburg International Airport (MDT) - 128 miles
LaGuardia Airport (LGA)
Philadelphia International Airport (PHL) - 133 miles
Syracuse Hancock International Airport (SYR)
John F Kennedy International Airport (JFK)
Regional Airports
Greater Binghamton Airport (BGM)
Lehigh Valley International Airport (ABE)
Williamsport Regional Airport (IPT)
Morristown Municipal Airport (MMU)
Bus Service
Bus service to Scranton is available on Greyhound Bus Line and Mart Trailways. The Central Downtown Bus Terminal is known as the Lackawanna County Intermodal Transportation Center.
The terminal is adjacent to the park's main entrance. There is a walkway from the Mraketplace at Steamtown but the gates do close at 5pm.
Amtrak Service
Rail passenger service is not available in, to or from Northeastern Pennsylvania.
The closest Amtrak location is in New York City, Harrisburg, or Philadelphia.
Driving Directions
Take I-81 to exit 185. At first traffic light turn left on Lackawanna Avenue. Continue on Lackawanna Ave to Cliff St and park entrance.
There is pretty good signage leading to the park from the main highway. We did find using Google Maps to be very helpful in getting to the park.
Best time to visit Steamtown National Historic Site
The best time to visit Steamtown NHS is from mid-June to mid-September.
The weather may be warm but it should be beautiful
Weather and Seasons
Scranton, Pennsylvania has warm and wet summers along with cold snowy winters.
The hottest months are from May 26 to September 16th with an average daily high above 72 degrees.
The coldest months are from December 1 to March 10th with an average daily temperature lower than 43 degrees.
June has the most rainy days with an average of 11.5 days.
The snowy months are from November 8th to April 13th.
Best Things to do in Steamtown National Historic Site
There are quite a few things to do while visiting Steamtown NHS. We suggest planning at minimum a few hours if not an entire day to visit the park.
We spent hours exploring the park and felt like there were still things we wanted to see at the end of our visit.
Activities and things to do vary depending on the season so make sure to check to see what is open when you plan to visit.
Visitor Center
The Steamtown National Historic Site Visitor Center is filled with amazing exhibits and things to check out. You could spend all day exploring and still possibly not see it all. There are exhibits inside and outside so be prepared for the weather.
There are trains moving around at times so make sure you keep an eye out for moving trains and know where everyone in your group is. There are multiple areas with signs for trains that may be moving.
Steel and Steam Park Movie
The park auditorium is huge and has super comfy seats perfect for watching the movie. The movie takes you through the history of the steam trains in a really fun way. We found it really enjoyable and would definitely suggest taking the time to watch the movie.
Shown every half hour, at the top and bottom of the hour - the first show is at 9:30 am last show at 4:00 pm.
The movie is 18 minutes long.
Steamtown NHS offers quite a few different Junior Ranger programs based on age. You can pick up the junior ranger program at the front desk of the visitor center.
They even have a not so junior ranger program for people 16 and older.
We did the not so junior ranger booklet and it was great. A fun way to go through the different aspects of the park and learn more.
They also have an archaeology program for the park that you can do to earn a certificate. This junior ranger program does not have its own junior ranger badge.
They also have a Railroad Explorer Junior Ranger Program.
Guided Tour of the Locomotive Repair Shops
Join a Park Ranger or a Volunteer on a 45-minute walking tour for a look at what it takes to maintain and repair steam locomotives.
Departs from the Visitor Center at 10:00 a.m. and 2:00 p.m.
Train Rides
Steamtown NHS offers multiple different train excursions depending on the time of year you are visiting, the length of the excursion you want to take, and what trains are available and ready to go.
Please call 570-340-5200 for details. The best way we found to get information is to call the park.
The information on the website and Facebook page were not as updated as we needed it to be to find out what was happening when we planned our visit to the park.
The cost for both the "Scranton Limited" and "Nay Aug Gorge Limited" short train rides is $6.00 per person, all ages 6 and older.
Scranton Limited - This train ride is 30 minutes round trip and covers 3 miles. You will travel through the rail yards, across the Lackawanna River, pass by the historic Radisson at Lackawanna Station hotel, and then stop at the University of Scranton before returning to the park.
On Sundays the ride can be 45 minutes long and travel to the tunnel which is also called The Gorge, Nay Aug Ltd, or Nay Aug Gorge.
The Caboose Experience - This train ride is 15-20 minutes in a historic caboose within the parks boundaries.
The Caboose Experience is included in the $6 Scranton Limited ticket.
Longer Train Excursions
At times during the year the park will run longer train excursions that cost between $25 to $55 per person.
Roundhouse
The Roundhouse Museum gives visitors the opportunity to learn more about steam railroading. From the mechanics of how steam trains work to the personnel who worked on them.
The Roundhouse dates back to 1902, 1917, and 1937 depending on the portion you are visiting. Today it is a working railroad yard allowing the parks mechanics to care for the locomotives along with a world-class museum.
History Museum
The History Museum gives visitors the opportunity to learn about the history of steam trains.
Starting with early train transportation, canals, and gravity railroads and continuing into the 1960s to 1995.
There is also an exhibit with an amazing Louisville and Nashville Railroad Post Office car, Erie Business Car #3, and an archeology exhibit.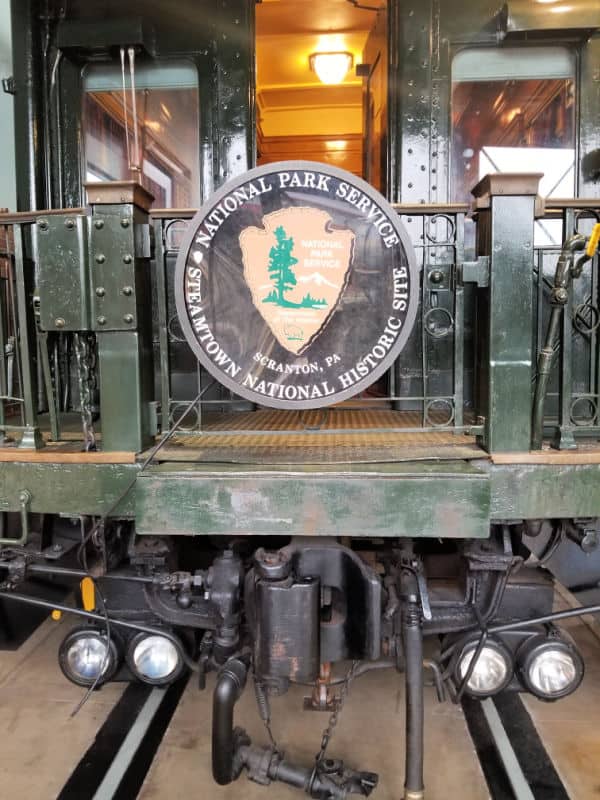 How to beat the crowds in Steamtown National Historic Site?
We did not experience crowds while visiting the park. There is a ton of space to walk around and stay away from other visitors if needed.
Where to stay when visiting Steamtown National Historic Site
There are no National Park Lodges within the park.
Residence Inn Scranton - located just off I-81, 13 miles from Scranton International Airport. It features an indoor pool and free Wi-Fi throughout the hotel. All guest bedrooms at Residence Inn by Marriot Scranton come with a private bathroom, cable TV and a well-lit work desk. In addition, every room features full kitchen facilities including stove, dishwasher and refrigerator.
Scranton Radisson - features Carmen's Restaurant & Wine Bar. It offers fresh seafood, homemade pasta and a large wine list. Trax Bar and Grille serves soups, appetizers and sandwiches along with a martini menu. Next to the University of Scranton, this hotel offers a free shuttle to Wilkes-Barr/Scranton International Airport. It features an on-site restaurant and a fitness center. Free Wi-Fi is offered.
Hampton Inn Scranton - Guest rooms at this Scranton, Pennsylvania hotel offers free Wi-Fi and coffee makers. The University of Scranton and the Montage Ski Area are only minutes away. Hampton Inn Scranton at Montage Mountain provides a free hot daily breakfast. A fireplace is available in the lobby.
Click on the map below to see the current rates for hotels and vacation rentals in Scranton, Pennsylvania.


If you are planning a romantic weekend to Pennsylvania make sure to check out the most romantic hotels in PA!
Camping
There are no national park campgrounds within the park.
For a fun adventure check out Escape Campervans. These campervans have built in beds, kitchen area with refrigerators, and more. You can have them fully set up with kitchen supplies, bedding, and other fun extras. They are painted with epic designs you can't miss!
There are campgrounds nearby including:
Keen Lake Camping & Cottage Resort - Waymart, PA
This campground offers lodging, RV and Tent Sites, beach, waterfront, canoeing, kayaking, and more.
Ponderosa Pines Family Campground - Honesdale, PA
This campground offers Lodging, RV and Tent Sites, waterfront, canoeing, kayaking, a pool, and more.
Kittatinny's K-Camp Campground - Barryville, NY
This campground offers Lodging, RV and Tent Sites, waterfront, canoeing, kayaking, hiking and more.
Check out all of the campgrounds in the area on Campspot.
Parks Near Steamtown National Historic Site
Morristown National Historic Park - 107 miles
Patterson Great Falls National Historical Park - 109 miles
Vanderbilt Mansion National Historic Site - 121 miles
Home of Franklin D Roosevelt National Historic Site - 119 miles
Eleanor Roosevelt National Historic Site - 120 miles
Check out all of the National Parks in Pennsylvania along with neighboring National Parks in Delaware, National Parks in New Jersey, National Parks in Maryland, New York National Parks, Ohio National Parks, and West Virginia National Parks
Nearby Pennsylvania State Parks include Lackawanna State Park, Archbald Pothole State Park, Frances Slocum State Park, Navy Aug Park, Gouldsboro State Park, and Tobyhanna State Park.