Epic Guide to Arkansas Post National Memorial in Arkansas including history, things to so, how to reach the park, and so much more!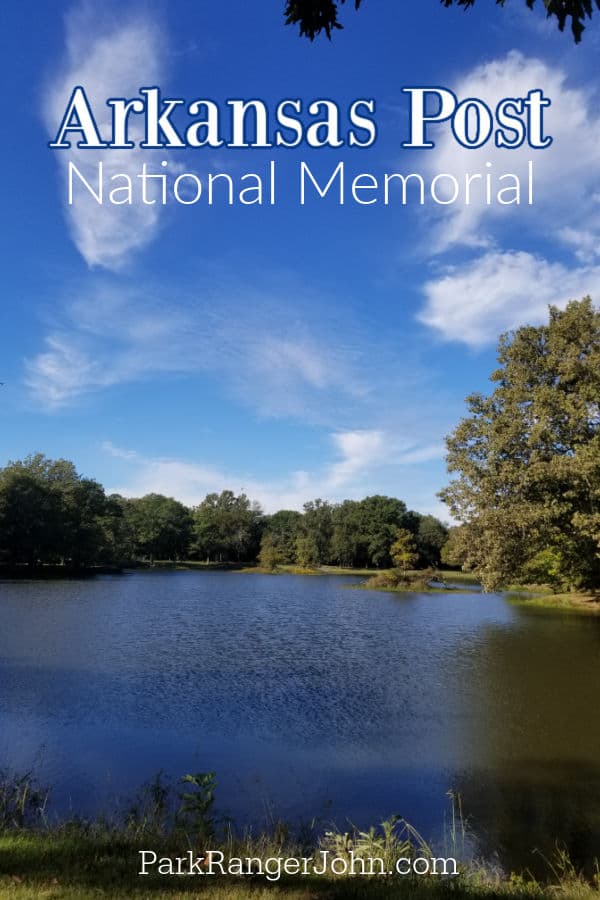 Arkansas Post National Memorial
French Explorer Henri de Tonti established a trading post in the flatlands along the Arkansas River in 1686 which was the first permanent French settlement in the entire lower Mississippi Region.
This trading post was set near a Quapaw Indian Village. This site is the home of the Arkansas Post National Memorial.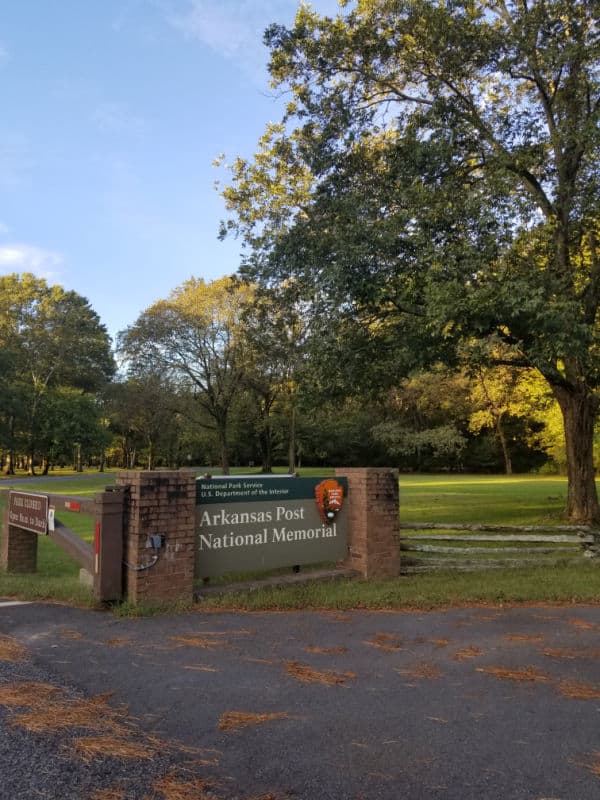 About Arkansas Post National Memorial
This site has quite an interesting history including military clashes between the French, Spanish, British, Americans, and Confederate forces.
By the early 1800s the Arkansas Post became an important river port and the largest town in the region. For a while, it was named the capital of the newly created Arkansas Territory in 1819.
In 1863, Union forces attacked a Confederate fort that was established. The artillery bombardment devastated the community.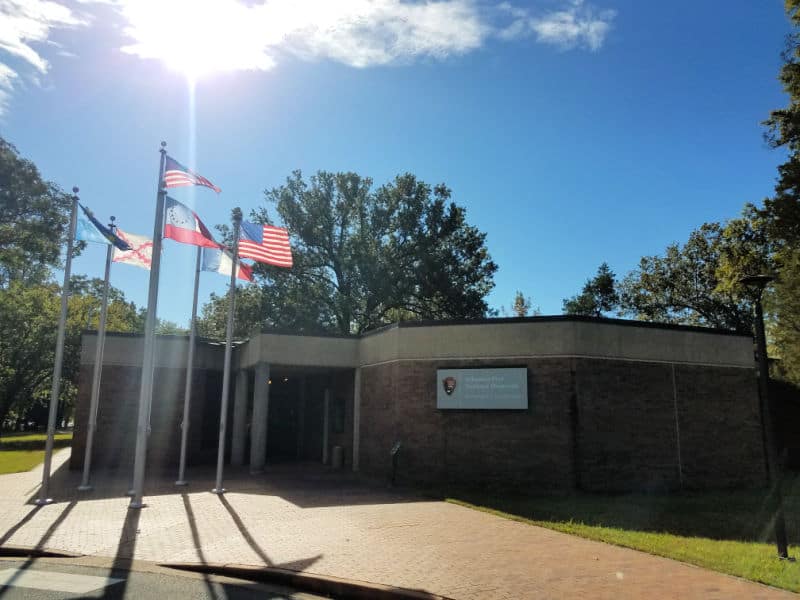 Is Arkansas Post National Memorial worth visiting?
We honestly thought that this park was maybe going to take us an hour to visit and we were truly wrong. This park is absolutely gorgeous.
We ended up spending 3+ hours longer at this park than we thought we would and we didn't feel like we spent enough time exploring.
This is one of those parks that just surprise you! When we read about the park ahead of time we thought for sure it would take maybe an hour to get through everything.
Trust us when we say you will want to plan a minimum of 3 to 4 hours at this park if not all day. There are so many cool places to explore.
From the picnic area with great views of the river to the great walking trails near the lake, this park is well worth exploring.
History of Arkansas Post National Memorial
Arkansas Post National Memorial is located in southeast Arkansas near the city of Gillett. The area marks the first European settlement in what is now the state of Arkansas.
The Arkansas Post was located near the spot just north of where the Arkansas and Mississippi Rivers joined together. A very significant trading location.
In 1686 a French soldier named Henri de Tonti, sometimes referred to as the "Father of Arkansas," and three associates founded the Arkansas Post.
After having served in numerous other expeditions in the New World, Toni was given the land for the post by one of his commanders.
The native Quapaw village made an agreement with Tonti to trade French goods for beaver furs. Relationships such as these, as well as with the Caddo and Osage tribes, helped the Europeans become successful in the area.
Not only was the Arkansas Post the first French settlement west of the Mississippi, but was also the location of the first documented Christian services in Arkansas.
Due to flooding and raids by Native American groups, the post needed to be moved numerous times in order to function. But wherever it was located, the post acted as a significant trading location as well as strategic placement for military over the years.
It was inhabited by the French, then Spanish, then American and, consequently, Confederate forces.
During the Chickasaw Wars in the mid-1700s, the post saw its first military action. In May of 1749, the Chickasaw attacked the rural areas around the post, killing and capturing several settlers.
After these engagements and attacks, the French moved the post further from the Chickasaw territory, about 45 miles from the mouth of the Arkansas River.
This new location was fortified with an eleven foot stockade. Also added to the complex was a chapel, hospital and bake house.
In 1756, after the Seven Years War began, the post was moved 10 miles away and was then located on the southern banks of the Arkansas River instead of the northern. After the Seven Years War, the post was officially handed over to Spain in 1763.
In the late 1770s, flood waters again moved the post. By the end of the 1700s, many Americans from the newly formed United States of America settled near the post after the Revolutionary War.
In 1804, the Arkansas Post officially became part of the United States as was the deal of the Louisiana Purchase from France.
The name of the post was then changed to Fort Madison and was used until 1810 when it was abandoned due to flooding. Successful trading posts were eventually established near the post and this area grew to be a vital location of what is now Arkansas.
The Arkansas Post was selected to be the first capital of Arkansas Territory in 1819. The post became a booming area of trading and settlement for a few years before the capital was moved to Little Rock.
During the American Civil War, the Confederate army recognized the post as a strategic military location. The location was used as a way to keep Union forces from moving towards Little Rock.
In January of 1861, Union forces attacked the post and easily defeated the Confederate army, capturing the post. After this engagement, the post was abandoned and the once bustling location around it became mainly a rural area.
What is still visible and noted at the memorial site are roads the Confederate army used, along with trenches and artillery areas around the post.
Today, the memorial encompasses nearly 760 acres in Arkansas County. The memorial details and memorializes the different periods and cultures that make up the history of the post.
It was declared a National Memorials as well as a Historic Landmark in 1960. In the late 1950s, archeological excavations unearthed colonial evidence of the post as well as nearby homes.
Nearby, Quapaw native settlements were also found. Most of the finds by the archeological teams associated with the post and businesses were found on the northern portion of the historical site.
This is likely because it was less susceptible to the flooding and erosion throughout history.

Things to know before your visit to Arkansas Post National Memorial
Entrance fee
$0.00 - There is no entrance fee to visit the park.
Planning a National Park vacation? America the Beautiful/National Park Pass covers entrance fees for an entire year to all US National Park Sites and over 2,000 Federal Recreation Fee Sites.
The park pass covers everyone in the car for per vehicle sites and for up to 4 adults for per-person sites.
Buy on REI.com and REI will donate 10% of pass proceeds to the National Forest Foundation, National Park Foundation and the U.S. Endowment for Forestry & Communities.
Learn more about National Park Passes for parks that have an entrance fee.
Free Entrance Days -Mark your calendars with the five free entrance days the National Park Service offers annually.
Time Zone
Central Time Zone
Pets
Pets must be on a leash or physically restrained at all times.
Cell Service
Cell service is spotty while in the park.
Park Hours
The park is open daily from 8 am to 5 pm
The visitor center is closed Thanksgiving Day, Christmas Day, and New Year's Day.
Wi-Fi
WiFi is available at the Visitor Center.
Insect Repellent
Insect repellent is always a great idea when outdoors, especially if you are around any body of water.
We use Permethrin Spray on our clothes before our park trips.
Water Bottle
Make sure to bring your own water bottle and plenty of water with you. Plastic water bottles are not sold in the park.
Parking
There is a large parking lot near the visitor center.
Food/Restaurants
There are no restaurants in the park.
Gas
There are no gas stations in the park. Make sure you have gas!
Drones
Drones are not permitted within National Park Sites.
National Park Passport Stamps
National Park Passport stamps can be found in the visitor center.
Make sure to bring your National Park Passport Book with you or we like to pack these circle stickers so we don't have to bring our entire book with us.
Arkansas Post NM is part of the 1993 Passport Stamp Set.
Electric Vehicle Charging
There are no charging stations within 10 miles of the park.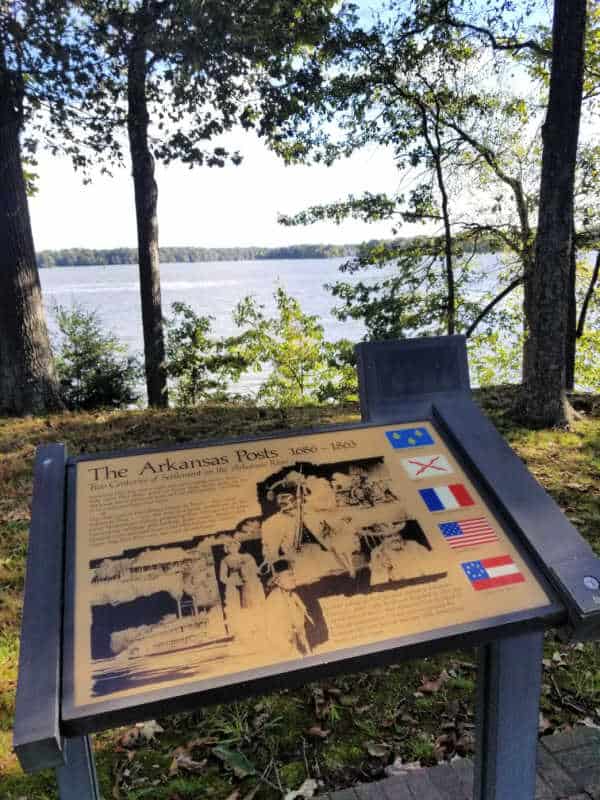 Details about Arkansas Post National Memorial
Size - 757.51 acres
Check out how the park compares to other National Parks by Size.
Date Established
Arkansas Post became a state park in 1929.
July 6, 1960 Congress designated it a national memorial.
Visitation
In 2021, Arkansas Post NM had 26,043 park visitors.
In 2020, Arkansas Post NM had 29,653 park visitors.
In 2019, Arkansas Post NM had 28,519 park visitors.
Learn more about the most visited and least visited National Parks in the US
National Park Address
1741 Old Post Road
Gillett, AR 72055
Park phone number - 870-548-2207
National Park Map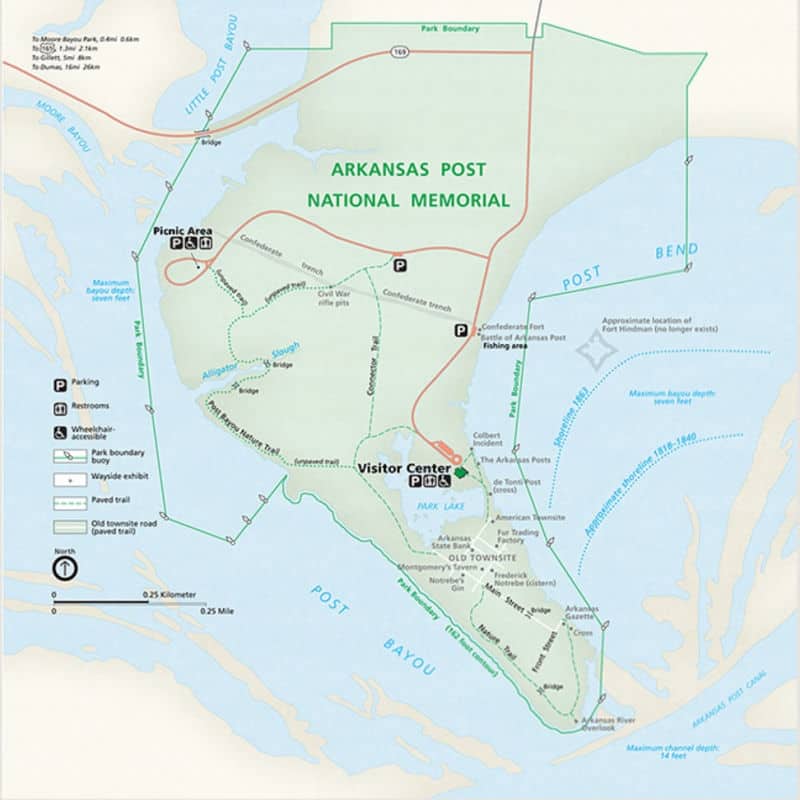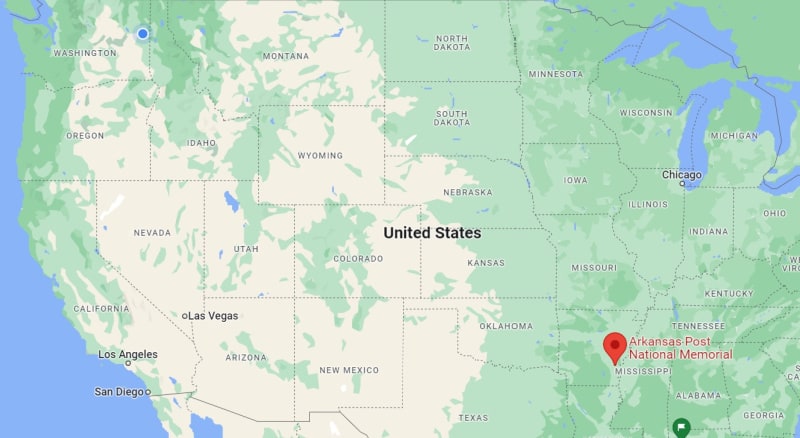 Where is Arkansas Post National Memorial?
Arkansas Post NM is located in southeastern Arkansas approximately 100 miles from Little Rock.
The entrance to the park is on Arkansas Hwy 169, seven miles south of Gillett, via US Hwy 165 (The Great River Road), and about 20 miles northeast of Dumas, via US 165.
Estimated distance from major cities nearby
Little Rock, AR - 100 miles
Memphis, TN - 140 miles
Baton Rouge, LA - 290 miles
Birmingham, AL - 332 miles
New Orleans, LA - 356 miles
Nashville, TN - 348 miles
Tulsa, OK - 368 miles
Dallas, TX - 382 miles
St. Louis, MO - 402 miles
Estimated Distance from nearby National Park
Hot Springs National Park - 120 miles
Great Smoky Mountains National Park - 542 miles
Gateway Arch National Park - 404 miles
Mammoth Cave National Park - 434 miles
Indiana Dunes National Park - 656 miles
New River Gorge National Park - 806 miles
Where is the National Park Visitor Center?
The visitor center is the 1st thing you reach when visiting the park.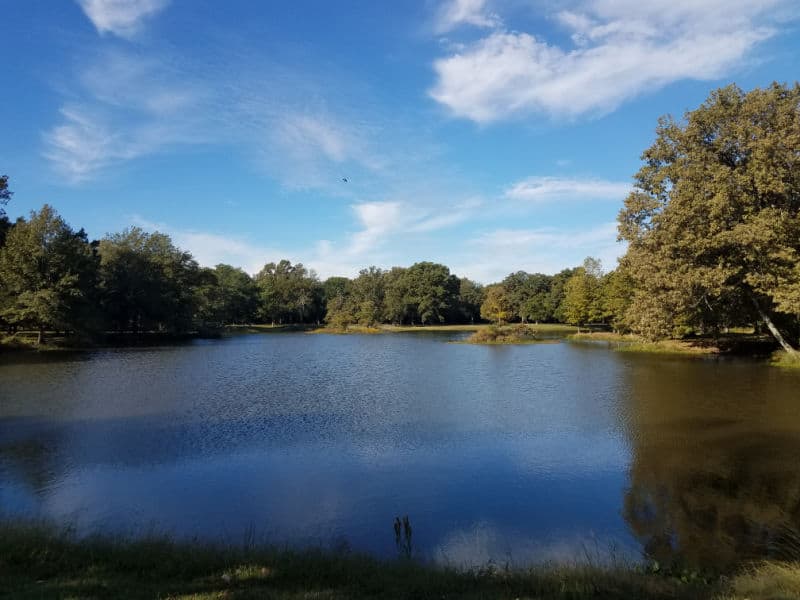 Getting to Arkansas Post National Memorial
Closest Airports
Little Rock Airport - 100 miles
Memphis International Airport - 140 miles
Driving Directions
The park is a drive! Make sure you have gas, snacks, and water with you. There is a Love's Gas Station along the way but not a ton else that we passed. It may depend on which direction you drive in from.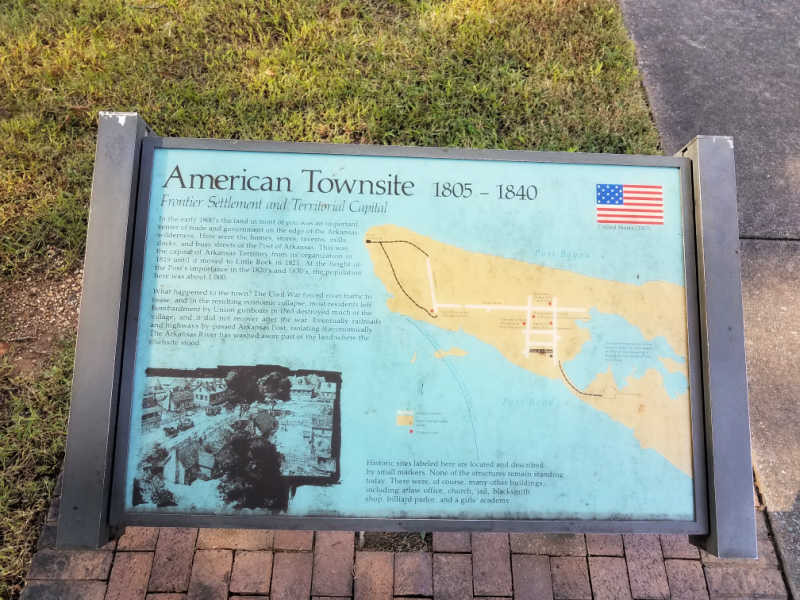 Best time to visit Arkansas Post National Memorial
he best time to visit is mid May to Late September if you are ok with muggy weather.
Weather and Seasons
The summers are hot and muggy while the winters are cold and snowy.
The hottest weather is from June 3rd to September 16th with average temperatures above 80 degrees Fahrenheit.
The coldest weather is from November 27 to February 25th with the average temperature below 54 degrees Fahrenheit.
May gets the most rain with 12.7 days of rain during the month. January gets the most snow with 2.8 inches.
Muggy weather lasts from May 22 to September 22 with July having the muggiest weather.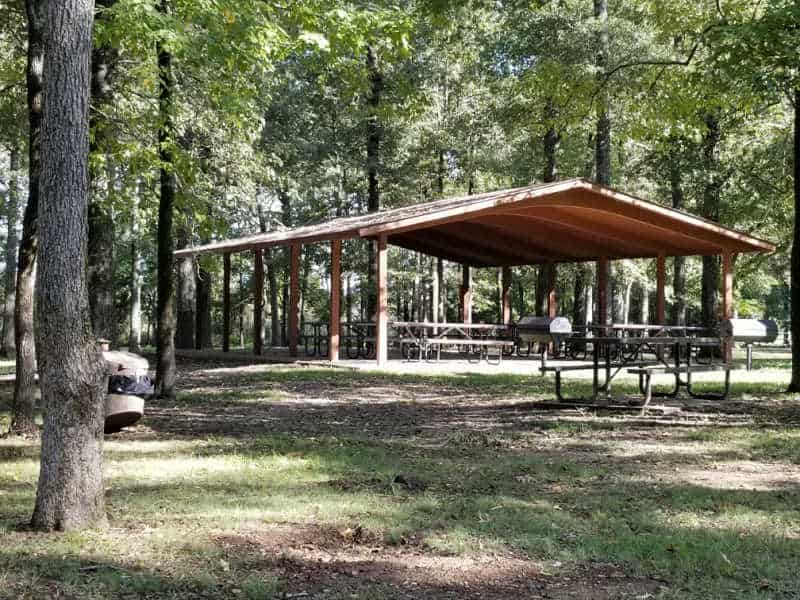 Best Things to do in Arkansas Post National Memorial
We suggest planning a minimum of a few hours for visiting Arkansas Post NM.
Visitor Center
The visitor center is filled with a ton of great information. There are furs you can touch and learn more about fur trading.
There is also a room that explains the different types of boats that traveled to the Arkansas post on the Arkansas River.
The ranger we met was fantastic! He was a wealth of knowledge about the park. He made sure that we truly understood the impact of the Arkansas Post and why it is so important in history.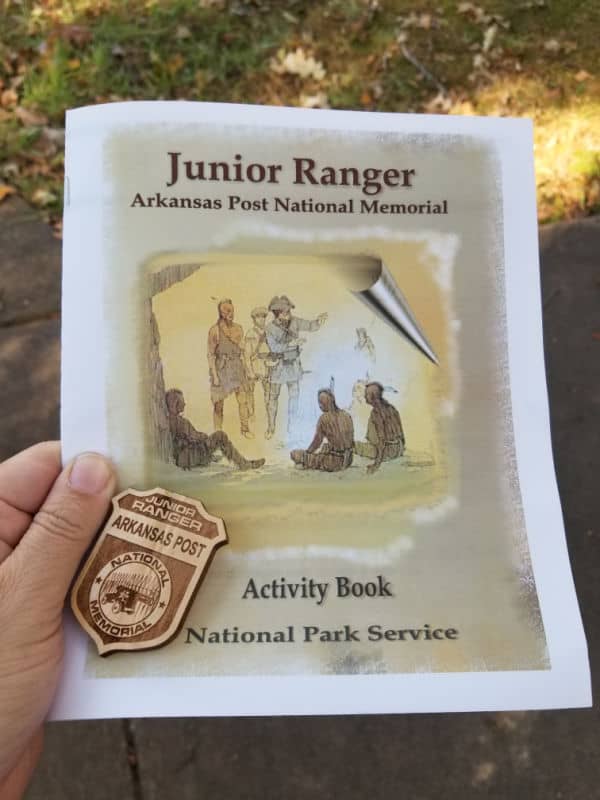 The Junior Ranger program at Arkansas Post includes looking around the visitor center for answers.
Many of the answers are also given during the park movie. The ranger can help younger guests find the best places to look for answers if you are not finding them.
In order to complete the Junior Ranger program you need to watch the park movie and tour the visitor center, take a self-guided tour of the historic townsite or walk the nature trail and complete 5 activities in the pamphlet. Activities include a word search, write a newspaper article about what you learned, a crossword, draw an animal you see and a few fill in the blank activities.
The program can be completed by all ages with a variety of options that are included in the booklet.
You can download a copy of the Arkansas Post National Memorial Junior Ranger booklet at home here. This is a great way to start learning about the park before your visit.
Arkansas Post: Echoes of the Past Movie
The 20-minute movie is available upon request daily from 8:30 a.m. till 4:30 p.m. We truly enjoyed the park movie. It does an amazing job of explaining the history of the Arkansas Post while still being entertaining.
The park also has a 20 minute Trail of Tears video that was really good. Be prepared for this movie to make you really think about our US History and what was done to the local tribes of Native Americans.
Wildlife Viewing
We saw quite a few White-Tailed Deer when we pulled into the visitor center parking lot.
The wooded areas of the park and waterways are great places to look for birds.
Alligators and snakes live here, including three species of poisonous snakes: water moccasin (cottonmouth), copperhead, and pigmy rattlesnakes.
Historic Weapons Demonstration
Musket and Cannon demonstrations are regularly scheduled make sure to check the park calendar for current events.
Fishing
Fishing is allowed in all the waters in and around the park; however, an Arkansas fishing license is required for individuals 16 years of age and older.
Canoe Trips
We heard that on weekends during the summer the Rangers will take groups out on canoes to explore more of the park.
If you are visiting the park make sure and check in at the visitor center and ask if they are offering canoe rides during your visit.
Picnic/Barbecue
Arkansas Post has a beautiful picnic area with barbecues, picnic tables, and a covered shelter.
We were so sad that we hadn't brought lunch with us to enjoy this beautiful picnic area. You can have lunch with a view of the river.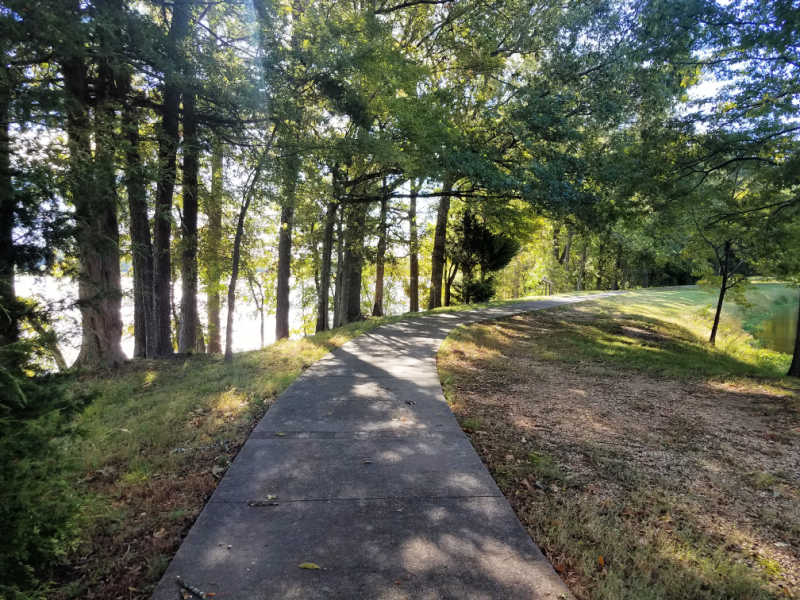 Hiking in Arkansas Post National Memorial
Always carry the 10 essentials for outdoor survival when exploring.
There are 2 miles of trails through the historic townsite.
Wander the 2-miles of trails through the historic town site and hardwood forest. The majority of the trails are paved and easy to maneuver.
There is a grass trail that may get soggy depending on the weather.
The trail that leads around the pond/lake is gorgeous. So easy to walk and absolutely beautiful along the Arkansas River.
How to beat the crowds in Arkansas Post National Memorial?
We did not experience any crowds while visiting the park. There is ample room to move around if you end up near a crowd.
Where to stay when visiting Arkansas Post National Memorial
There are no National Park Lodges within the park.
Lodging near Arkansas Post can be found in Dumas, McGenee, and nearby cities.
Dumas Inn - Dumas Inn provides amenities like free continental breakfast and laundry facilities. Stay connected with free in-room Wi-Fi.
Days Inn by Wyndham Dumas - Free continental breakfast, laundry facilities, and a business center are just a few of the amenities provided at Days Inn by Wyndham Dumas. Guests can connect to free in-room Wi-Fi.
Super 8 by Wyndham McGehee - Super 8 by Wyndham McGehee provides amenities like free to-go breakfast and a business center. Stay connected with free in-room Wi-Fi.
For additional lodging options near the park click on the map below.


Camping
There are no National Park Campgrounds within the park.
For a fun adventure check out Escape Campervans. These campervans have built in beds, kitchen area with refrigerators, and more. You can have them fully set up with kitchen supplies, bedding, and other fun extras. They are painted with epic designs you can't miss!
Escape Campervans has offices in Vancouver, Seattle, Portland, San Francisco, Las Vegas, Los Angeles, Phoenix, Salt Lake City, Denver, Chicago, New York, and Orlando
Nearby campgrounds include:
Hot Springs Off Road Park - Hot Springs, AR
This campground includes lodging, rv and tent sites, a playground, and more.
Yogi Bears Jellystone Memphis - Horn Lake, MS
This campground includes lodging, rv and tent sites, a waterpark, waterfront, and so much more.
The Woodlands RV Resort - Heber Springs, AR
This campground has RV sites and includes a dog park
Check out additional campgrounds on CampSpot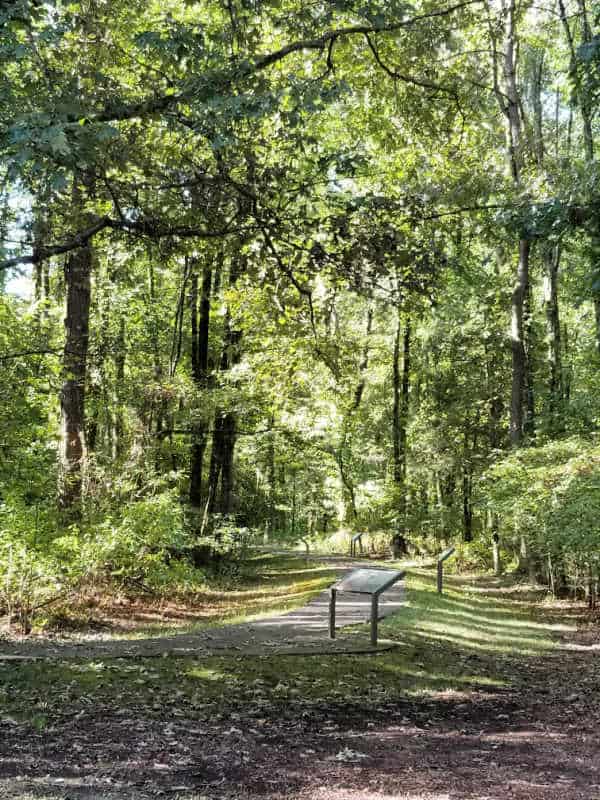 Parks Near Arkansas Post National Memorial
Trail Of Tears National Historic Trail
Little Rock Central High School National Historic Site - 100 miles
Poverty Point National Monument - 120 miles
Vicksburg National Military Park - 140 miles
Natchez Trace Parkway - 150 miles
President William Jefferson Clinton Birthplace National Historic Site - 159 miles
Buffalo National River -229 miles
Shiloh National Military Park - 260 miles
Pea Ridge National Military Park - 300 miles
Check out all of the National Parks in Arkansas along with neighboring National Parks in Louisiana, National Parks in Mississippi, National Parks in Missouri, Oklahoma National Parks, Tennessee National Parks, and Texas National Parks
Check out all 30 US National Memorials overseen by the National Park Service.