Little Rock Central High School National Historic Site interprets the historic events that happened in 1957 including the Little Rock Nine.

Little Rock Central High School National Historic Site
Little Rock Central High School is the only still functioning high school located within the boundaries of a national historic site.
Little Rock Central High School is an active school with an enrollment of over 2,500 students. Out of respect for the school and students, do not try to enter the school on your own.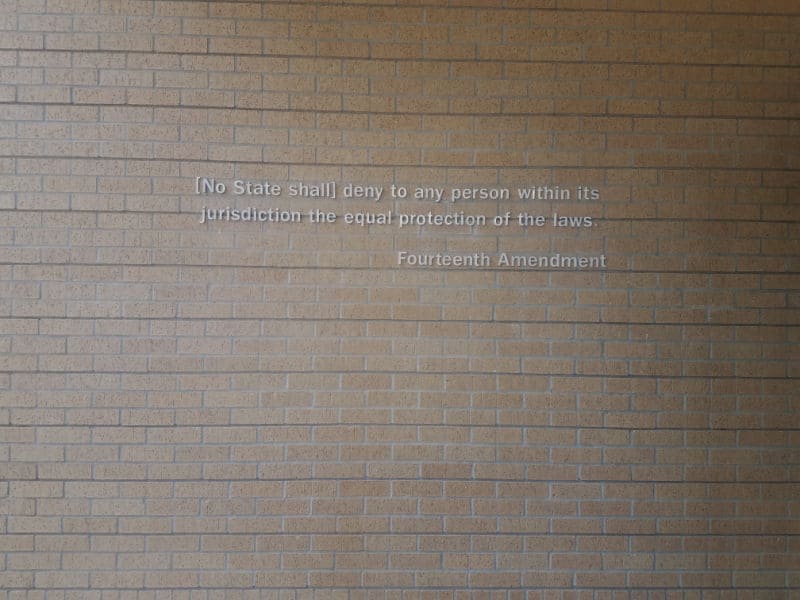 About National Park
In 1954, the U.S. Supreme Court made a landmark decision in Brown v Board of Education. This case declared that state laws establishing separate public schools for black and white students (segregation) to be unconstitutional.
This decision led to a national movement in America that would eventually boil over In 1957,
The crisis at Little Rock High School was a direct result from a decades-long struggle for civil rights in the United States, even after the ratification of the Thirteenth Amendment to the U.S. Constitution abolishing slavery on April 8, 1864.
The threat of violence prompted President Dwight Eisenhower to order federal military troops to escort the "Little Rock Nine" to school.
You may ask yourself why did African American children want to go to school with white children?
The answer is simple, in African American schools, courses included subjects like maintaining lawns, housekeeping, etc.
The white students were being taught English, math, and sciences in school. These courses prepared students to be accepted to college and to be the leaders of tomorrow.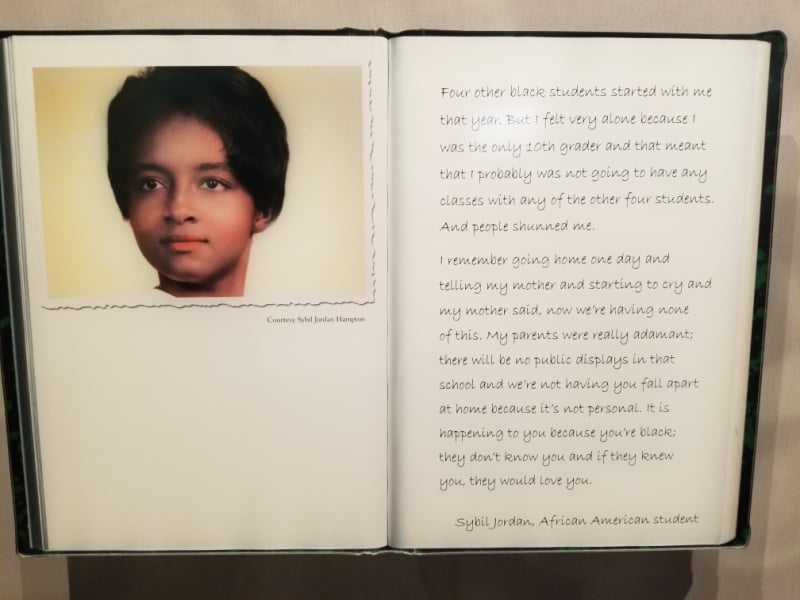 Is Little Rock Central High School NHS worth visiting?
Yes! This National Historic Site is incredible. I took one of the best ranger-led tours I have ever taken.
The Ranger had me in tears as he talked about the history of the Little Rock Nine and what occurred at the high school.
Little Rock 9
The Little Rock 9: Ernest Green, Elizabeth Eckford, Jefferson Thomas, Terrence Roberts, Carlotta Walls LaNier, Minnijean Brown, Gloria Ray Karlmark, Thelma Mothershed, and Melba Pattillo Beals.
These students were the first African American students to become enrolled in the previously all-white school, Little Rock High School for the fall of 1957.
Each student was selected because of their exemplary grades and attendance.
What they, along with the rest of the world was not prepared for was how horrific these 9 courageous teens were treated when they attempted to go to school at Little Rock High School.
The first day of school came and Arkansas Governor, Orval Faubus, decided to call up the National Guard and state police to prevent the Little Rock Nine from going to school at Little Rock High School, stating that he needed to "preserve the peace".
This move was a direct disregard of the Brown vs. Board decision along with attempting to supersede Federal Law with State Law. Crowds of angry protesters lined the street towards the school.
The first day came and all 9 were refused entry into the school. The angry protesters yelled at, even spit on the Little Rock 9. News channels on scene sent video for all to see.
President Dwight D. Eisenhower sent the 101 st Airborne Division and federalized all the Arkansas National Guard and were all directed to protect and ensure the Little Rock 9 got to go to school.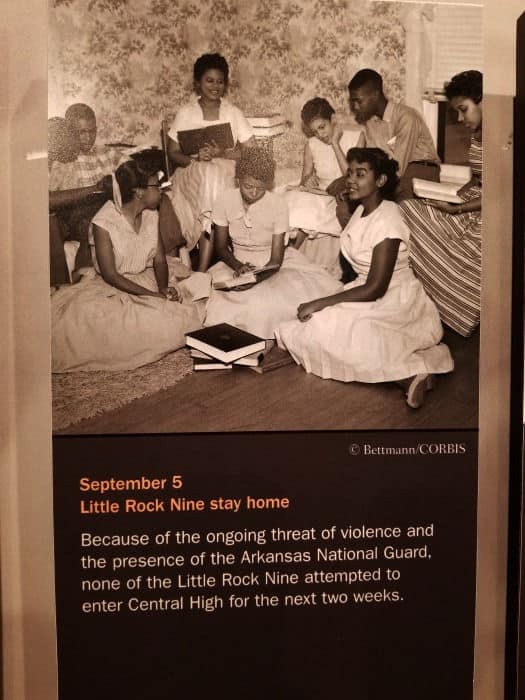 History of Little Rock Central High School
Little Rock Central High School is located on Daisy L. Gatson Bates Drive (formally 14th Street) in Little Rock, Arkansas.
This school was the site of one of the most monumental events in the fight for Civil Rights. The images of what happened at the doors of this school in 1957 are forever engrained in many Americans' minds.
The school, which was originally named Little Rock High School, was built in 1927. The name later changed to Little Rock Central High School. The cost of construction for the school was $1.5 million. (In the year 2022, that would equate to roughly $23 million.)
The architect who designed the building was named John Parks Almand. He was born in Georgia in 1885 and moved to Arkansas in 1912. Arkansas is where many of Almand's famous works are located.
Little Rock Central High School was named "America's Most Beautiful High School" by the National Association of Architects. The style of the structure was called a Neo-Gothic Revival style.
The grand sight of the school was meant to evoke feelings of higher the class learning one might see in Europe at the time. Statues of four figures above the main doors represent ambition, personality, opportunity, and preparation.
At the 1927 dedication service, Lillian McDermott, then the president of the School Board, was quoted as saying that the school "would stand...for decades to come [as] a public school where Ambition is fired, where Personality is developed, where Opportunity is presented and where Preparation in the solution of life's problems is begun."
In 1954, a historical court decision was made that would find its way onto the steps of the Little Rock Central High School.
In 1954, many public schools in America were racially segregated, which was made legal by the 1896 decision of Plessy v. Ferguson. This decision stated that racially segregated schools were acceptable as long as both facilities were of equal status to each other.
Many lawsuits were brought by African American families claiming that facilities in their states were not equal. One such case was Brown v. Board of Education in Topeka, Kansas.
The school district disputed this claim and the case went all the way to the Supreme Court. Because there were so many cases of this nature, the Supreme Court associated all these cases together and reviewed all the information.
It was eventually ruled that segregated schools were not equal for blacks and whites because they created a sense of inferiority for black students.
Studies were done on black female students and it was found that there was a great sense of self-esteem issues associated with knowing that they were being segregated because of the color of their skin.
After Brown won this case, the courts ordered that states must integrate schools. In 1955, the courts had to issue a second decision known as Brown II and instructed school to once again integrate "with all deliberate speed."
As this cause and effect of racial tensions rise, we now fast forward to Little Rock, 1957. Despite the persistent opposition, the state of Arkansas showed to integration, nine students registered to be the first African Americans to attend Central High School.
Their names were: Minnijean Brown, Elizabeth Eckford, Ernest Green, Thelma Mothershed, Melba Patillo, Gloria Ray, Terrence Roberts, Jefferson Thomas, and Carlotta Walls.
The NAACP (National Association for Advancement of Colored People) President, Daisy Gaston Bates, selected these particular students because the organization felt they had the strength to endure what would surely take place as they tried to integrate into the all-white school.
In the years to come, this group of students would be known as the "Little Rock Nine."
On September 4, 1957, eight students showed up for class, driven by Daisy Bates. Elizabeth Eckford did not know of the plan to arrive together and arrived at the school alone.
The eight before her had already been prevented from entering. When Elizabeth tried, she was screamed at and spit on. These images famously spread throughout the country as racial tensions grew.
Governor Orval Faubus had called in the National Guard to prevent the nine from being able to enter.
As the debate ensued, President Eisenhower sent 1,200 members of the U.S. Army to Little Rock. These men were in charge of the 10,000 National Guardsmen there. The troops escorted the nine to their first full day of classes on September 25th.
As political and racial tensions burned on, the nine were daily subjected to insults, harassment, and even beatings. Patillo actually had acid thrown in her face and Ray was pushed down a flight of stairs. The Army and National Guard remained at the school for the rest of the year.
Ernest Green became the first African American to graduate from Central High School in 1958. Civil Rights leader Martin Luther King, Jr. was in attendance to see Green graduate.
After that first year, Governor Faubus closed all Little Rock schools; they did not reopen until August 1959.
Many of the Little Rock Nine grew to secure distinguished careers. Green worked in the Department of Labor under President Jimmy Carter. Brown worked in the Department of the Interior under President Bill Clinton. Thomas was in the Army and fought in the Vietnam War, he went on to work for the Pentagon.
The nine were given the Congressional Medal of Honor by President Bill Clinton and were also invited to attend the inauguration of President Barack Obama in 2009.
The Little Rock Nine, along with the backdrop of the Little Rock Central High School, was a symbol of the Civil Rights Movement during the 1950s and 1960s. The brave determination of those African American students catapulted the spirit and perseverance of freedom and equal rights in America.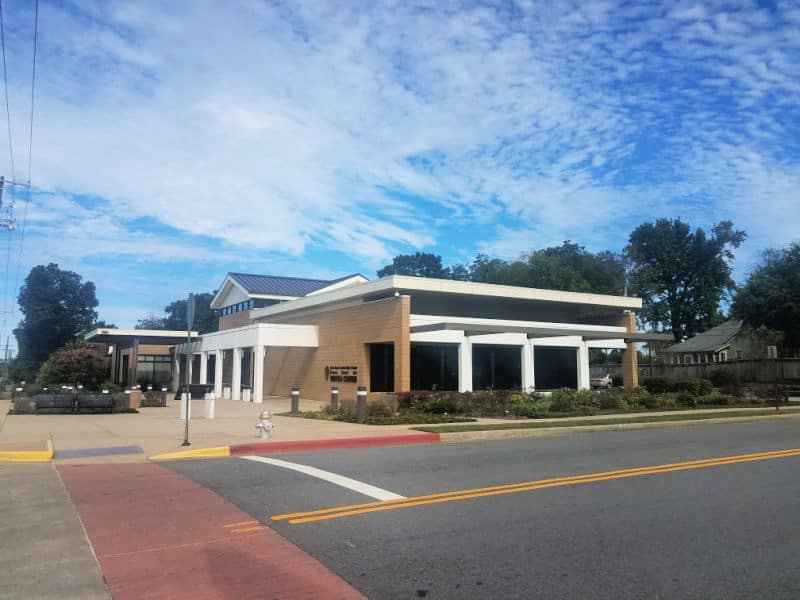 Things to know before your visit to Little Rock Central High School NHS
Entrance fee
$0.00 - There is no fee to visit the park.
Learn more about National Park Passes for parks that have an entrance fee.
Free Entrance Days -Find the five free entrance days the National Park Service offers annually.
Time Zone
CST - Central Time Zone
Pets
Pets are allowed on the Historic Sites grounds as long as they are on a leash.
Pets are not permitted within any buildings.
Cell Service
We had great cell service during our visit to the park.
Park Hours
Open Daily 9:00 a.m. - 4:30 p.m. CST Monday - Sunday throughout the year.
Closed on Christmas, New Year's Eve, and New Years Day.
In cases of inclement weather, please call ahead to confirm (501) 374-1957 or check Little Rock area news stations for closing or altered hours announcements.
Insect Repellent
Insect repellent is always a great idea when outdoors, especially if you are around any body of water.
We use Permethrin Spray on our clothes before our park trips.
Water Bottle
Make sure to bring your own water bottle and plenty of water with you. Plastic water bottles are not sold in the park.
Parking
There is a nice size parking lot near the visitor center.
Bus/RV spaces measure 14 feet wide x 40 feet long.
Food/Restaurants
There are no restaurants within the park. There are great restaurants nearby in Little Rock, AR
Gas
There are no gas stations within the park.
Drones
Drones can not be flown within the National Park Site.
National Park Passport Stamps
National Park Passport stamps can be found in the visitor center.
Make sure to bring your National Park Passport Book with you.
Little Rock Central High School NHS was featured in the 2013 Passport Stamp Set
Passport Stamps available:
Little Rock Central High School NHS, Little Rock, AR
Little Rock Central High School NHS Junior Ranger Stamp
Little Rock Central High School NHS NPS Centennial
Little Rock Central High School NHS Tiger Stamp
Little Rock Central High School stamp - features the architectural facade of the school.
We like to use these circle stickers for park stamps so we don't have to bring our passport book with us on every trip.
Electric Vehicle Charging
There are 90 public EV Charging Stations (Level 2 and Level 3) in Little Rock, Arkansas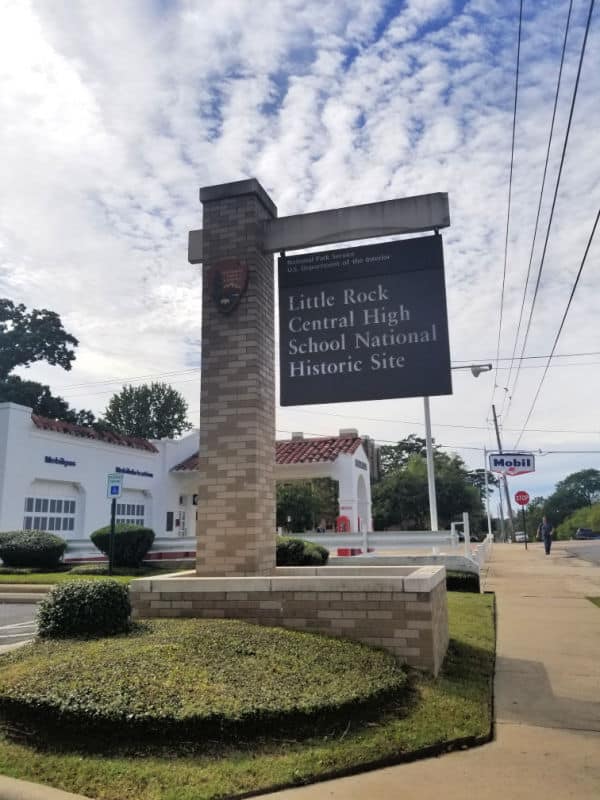 Details about National Park
Size - 17.95 acres
Check out how the park compares to other National Parks by Size.
Date Established
November 6, 1998
Visitation
In 2021, Little Rock Central High School NHS had 84,838 park visitors
In 2020, Little Rock Central High School NHS had 68,498 park visitors.
In 2019, Little Rock Central High School NHS had 168,918 park visitors.
Learn more about the most visited and least visited National Parks in the US
Park Address
Little Rock Central High School NHS Visitor Center
2120 W Daisy L Gatson Bates Dr
Little Rock, AR 72202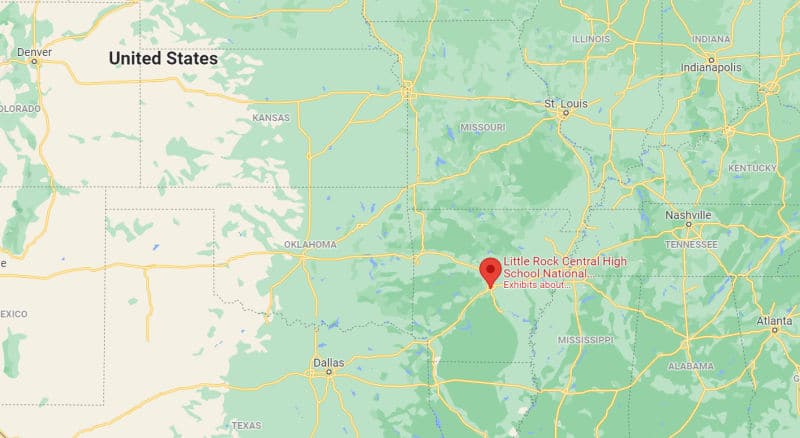 Where is Little Rock Central High School NHS?
Little Rock Central High School NHS is located in Little Rock, Arkansas
Estimated distance from major cities nearby
Memphis, TN - 138 miles
Tulsa, OK - 275 miles
St. Louis, MO - 347 miles
Dallas, TX - 319 miles
Baton Rouge, LA - 344 miles
Kansas City, MO - 427 miles
New Orleans, LA - 428 miles
Estimated Distance from nearby National Park
Hot Springs National Park - 55 miles
Great Smoky Mountains National Park - 572 miles
Congaree National Park - 758 miles
Indiana Dunes National Park - 647 miles
Cuyahoga Valley National Park - 854 miles
Shenandoah National Park - 883 miles
Where is the National Park Visitor Center?
The visitor center is just down the street from Central High School in Little Rock, Arkansas.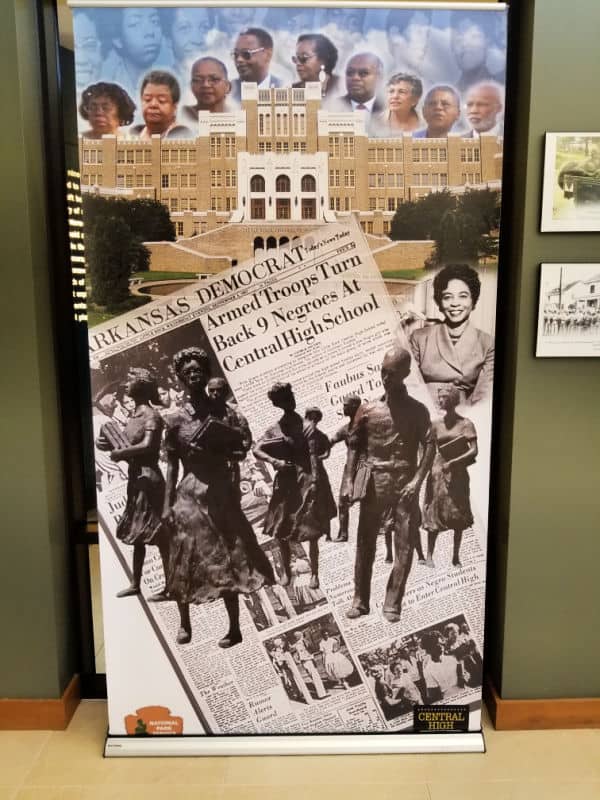 Getting to National Park
Closest Airports
Bill and Hilary Clinton National Airport/Little Rock Airport (LIT)
International Airports
Memphis International Airport (MEM)
Regional Airports
Memorial Field Airport (HOT)
South Arkansas Regional Airport at Goodwin Field (ELD)
Jonesboro Municipal Airport (JBR)
Boone County Airport (HRO)
Driving Directions
From the airport
Interstate 440 W to Exit 138A - I-30 East
Interstate 30 E to Exit 139B - I-630 West
I-630 W to Exit 2B - Dr. Martin Luther King Jr. Drive / Marshall Street
Turn left onto Dr. Martin Luther King Jr. Drive and proceed approximately 0.4 mi to W. Daisy L. Gatson Bates Drive
Turn right onto W. Daisy L. Gatson Bates Drive and proceed approximately 0.5 mi to 2120 W. Daisy L. Gatson Bates Drive, the visitor center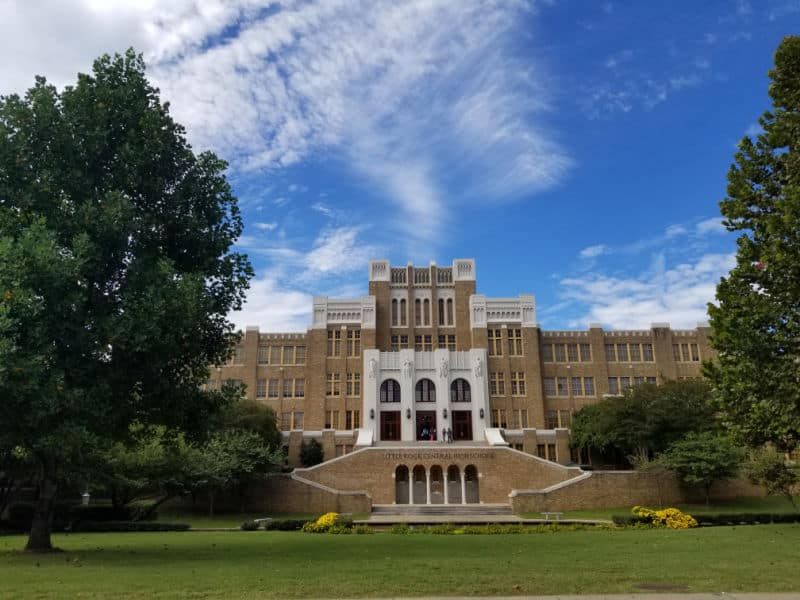 Best time to visit Little Rock
The best time to visit Little Rock, Arkansas is Spring and Fall.
From March through May and September through October the weather ranges from the mid-60s to the low 80s making it really comfortable to explore the area.
Weather and Seasons
Fall is a great time to visit with cooler temperatures and a break from the humidity.
Summers are hot and humid in Little Rock. The temperature can be in the 90s and feel much hotter than that.
The winters are pretty mild with lows in the mid-30s.
Spring brings warmer temperatures and a bit of relief from the humidity.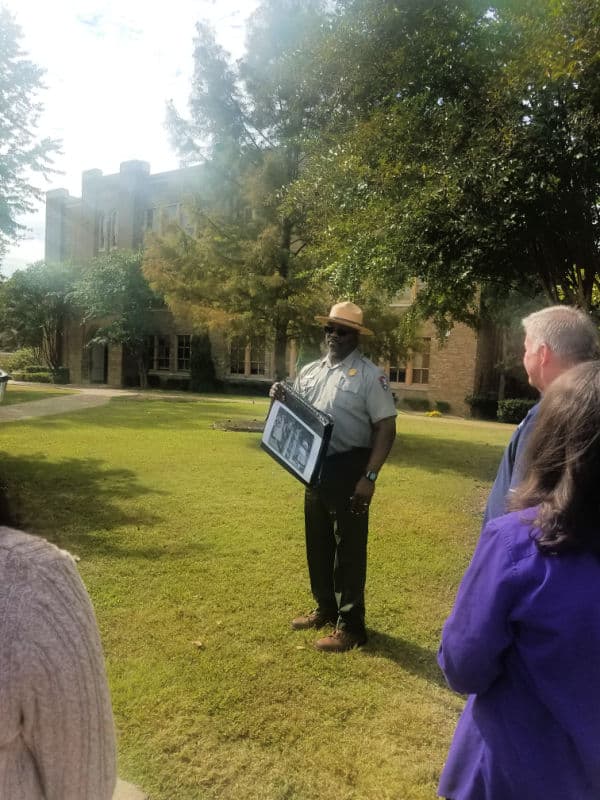 Best Things to do in Little Rock Central High School NHS
The main thing to do at the park is visit the visitor center and take a guided tour of the high school.
Please make a reservation for the guided tours so you don't miss the opportunity to learn more about the events that occurred.
Visitor Center
The Little Rock Central High School visitor center is the place to begin your experience with this park.
Remember to park in the parking lot in the back of the National Park Visitor Center as this is still a fully operating high school and you can't park in front of the school.
It's also where park tours begin. The visitor center has interactive exhibits on the desegregation crisis.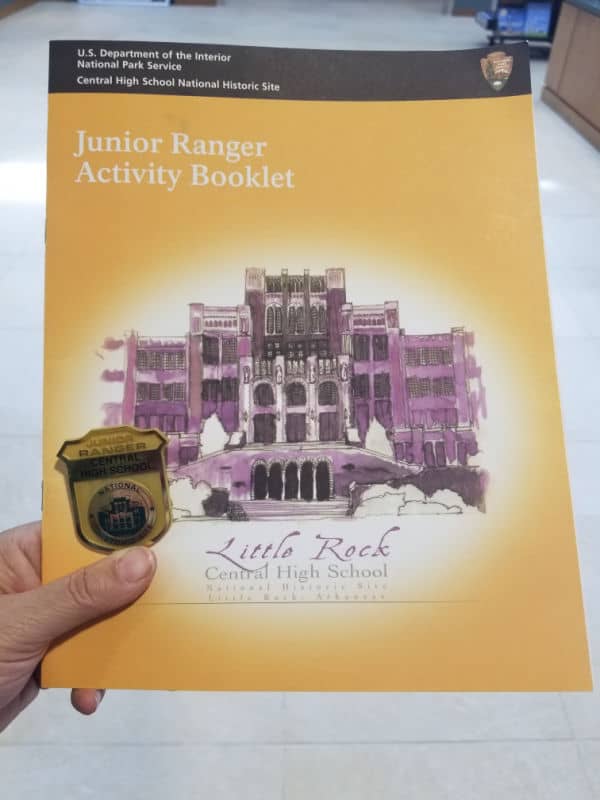 The Junior Ranger program guides you throughout the park and is filled with amazing information.
I would definitely plan for at least 30 minutes if not an hour plus depending on the age of the participant and the activities that you choose.
Guided Tour
Guided tours are offered weekdays only twice a day at 9:00 am and 1:00 pm CDT, except Holidays, Winter Break, and Spring Break.
Guided tours are by reservation only, and must be scheduled at least twenty-four hours in advance; however, reservations two weeks in advance are recommended.
There is no guarantee of tour availability without a reservation.
The typical route will involve ascending two flights of stairs into the auditorium of the high school and descending two flights of stairs into the cafeteria.
An accessible entrance is available that avoids stairs and an elevator can be taken between floors.
For Reservations: Call (501) 374-1957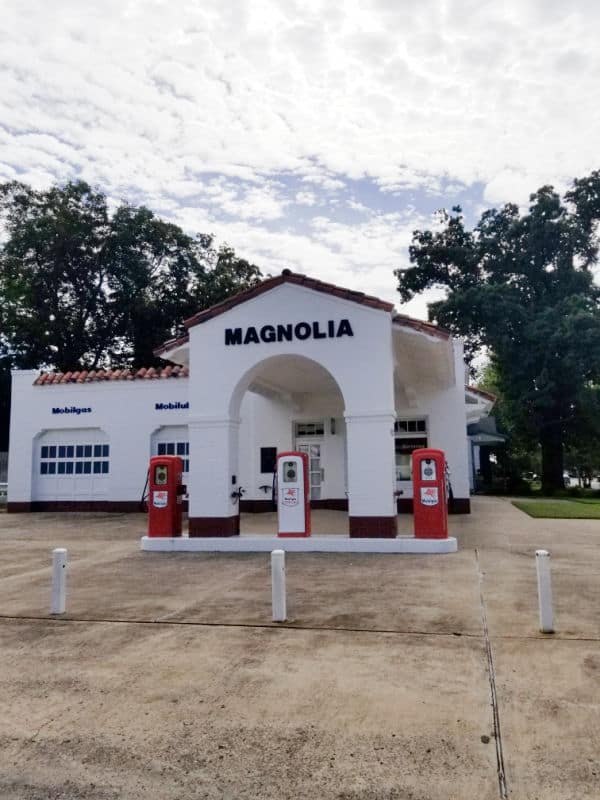 Magnolia Mobil Gas Station
The historic Magnolia Mobil Gas Station is located down the street from the visitor center near the high school.
The Magnolia Mobil Gas Station was the de facto media headquarters during the 1957 crisis.
The pay telephone made this building a place where reporters from all over the world phone in their reports of what was happening.
Elizabeth Eckford Bus Bench
The Elizabeth Eckford Bus Bench sits in the place where Elizabeth first attempted to integrate into Central High School.
The bench and surrounding plaques are part of a student-led project by the Central High School Memory Project.
The bench is a place for reflection, a place to think about history, and a place to remember the non-violence demonstrated by a 15-year-old surrounded by violence.
Commemorative Garden
the Commemorative Garden documents a photo history inlaid on brick and concrete arches.
The garden was created as a reminder of how brave the Little Rock Nine was and the legacy of Central High School.
"The Spirit of Central High" poem is etched into a concrete circle.
The garden was dedicated on September 25, 2001, the 44th anniversary of the Little Rock Nine's successful entrance into Central High School.
Testament Statues
The Testament Statues are a set of bronze statues that represent each member of the Little Rock Nine in 1957.
The statues can be seen on the grounds of the Arkansas State Capitol.
The statues face the former office of Governor Orval Faubus whose resistance to see integration was thwarted by President Dwight Eisenhower and the 101st Airborne.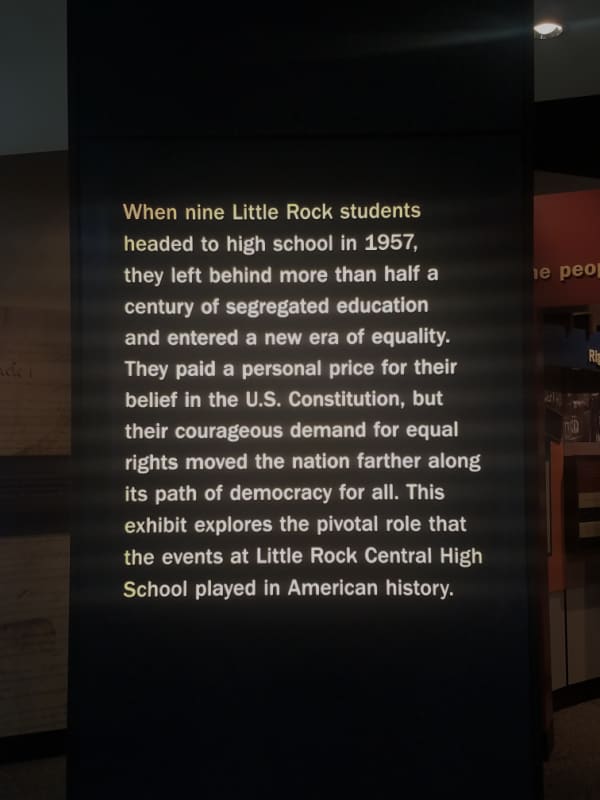 How to beat the crowds?
The best way to beat the crowds is to make sure you reserve your space for the guided tour as soon as you know you are visiting the park.
The park only offers one tour a day so you want to make sure that you have a ticket for a tour.
Where to stay when visiting Little Rock
There are no National Park Lodges within the park.
Click on the map below to see the current rates for hotels and vacation rentals in Little Rock, Arkansas
Camping near the park.
There are no campgrounds located within the park.
There are nearby campgrounds offering easy access to the park.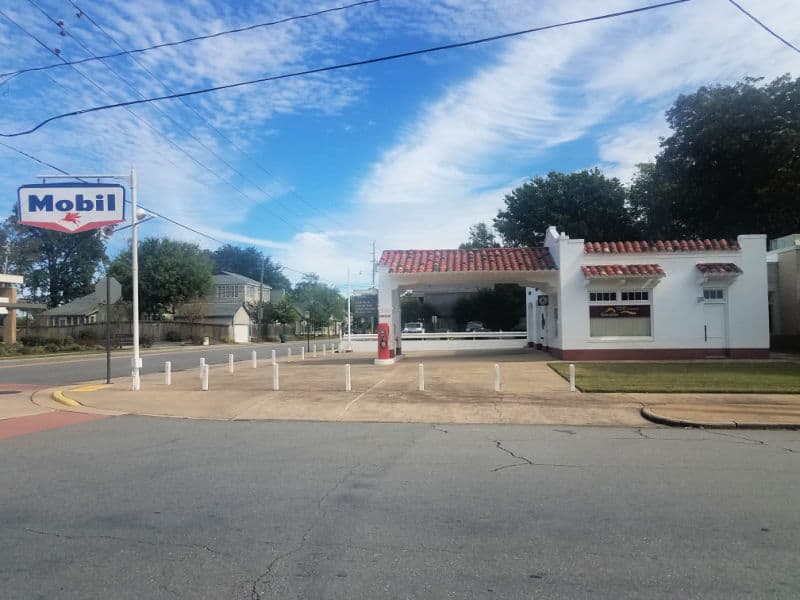 Parks near Little Rock Central High School NHS
Hot Springs National Park - 58 miles
Arkansas Post National Memorial - 99 miles
President William Jefferson Clinton Birthplace Home National Historic Site - 114 miles
Fort Smith National Historic Site - 165 miles
Pea Ridge National Military Park - 224 miles
Buffalo National River - 115 miles
Tupelo National Battlefield - 251 miles
Brices Cross Roads National Battlefield Site - 248 miles
Check out all of the Arkansas National Parks along with neighboring National Parks in Texas, National Parks in Tennessee, National Parks in Oklahoma, Missouri National Parks, Mississippi National parks, and Louisiana National Parks.
National Park Service Website