In 1954, the U.S. Supreme Court made a landmark decision in Brown vs, Board. This case declared that state laws establishing separate public schools for black and white students (segregation) to be unconstitutional.
This decision led to a national movement in America that would eventually boil over In 1957,
The crisis at Little Rock High School was a direct result from a decades-long struggle for civil rights in the United States, even after the ratification of the Thirteenth Amendment to the U.S. Constitution abolishing slavery on April 8, 1864.
The threat of violence prompted President Dwight Eisenhower to order federal military troops to escort the "Little Rock Nine" to school.
You may ask yourself why did African American children want to go to school with white children?
The answer is simple, in African American schools, courses included subjects like maintaining lawns, housekeeping, etc.
The white students were being taught English, math, and sciences in school. These courses prepared students to be accepted to college and to be the leaders of tomorrow.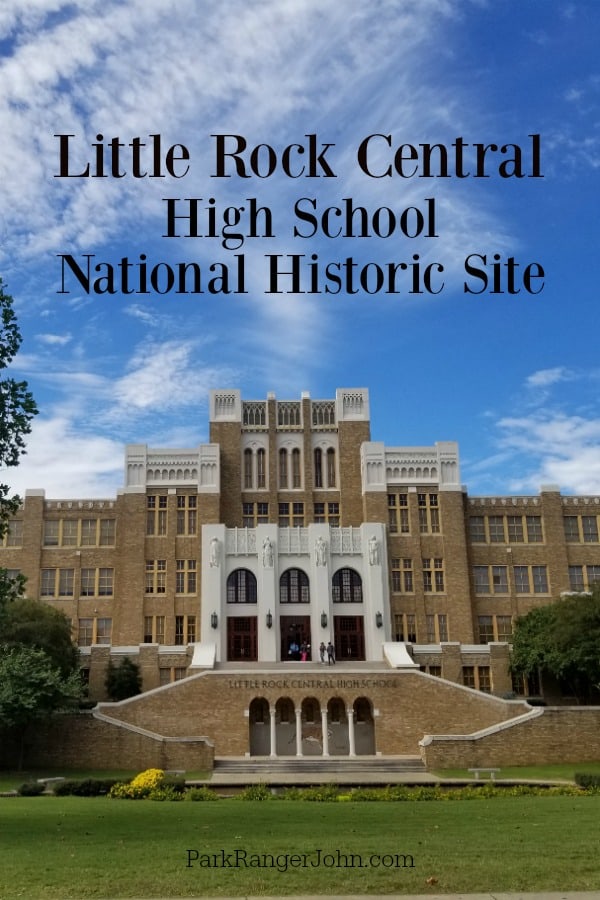 Little Rock Central High School

National Historic Site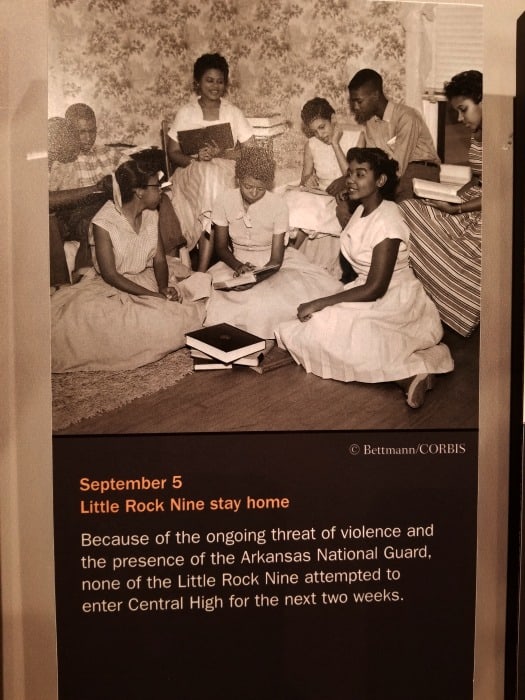 Little Rock 9
The Little Rock 9: Ernest Green, Elizabeth Eckford, Jefferson Thomas, Terrence Roberts, Carlotta Walls LaNier, Minnijean Brown, Gloria Ray Karlmark, Thelma Mothershed and Melba Pattillo Beals.
These students were the first African American students to become enrolled in the previously all-white school, Little Rock High School for the fall of 1957.
Each student was selected because of their exemplary grades and attendance. What they, along with the rest of the world was not prepared for was how horrific these 9 courageous teens were treated when they attempted to go to school at Little Rock High School.
The first day of school came and Arkansas Governor, Orval Faubus, decided to call up the National Guard and state police to prevent the Little Rock Nine from going to school at Little Rock High School, stating that he needed to "preserve the peace".
This move was a direct disregard of the Brown vs. Board decision along with attempting to supersede Federal Law with State Law. Crowds of angry protesters lined the street towards the school.
The first day came and all 9 were refused entry into the school. The angry protesters yelled at, even spit on the Little Rock 9. News channels on scene sent video for all to see.
President Dwight D. Eisenhower sent the 101 st Airborne Division and federalized all the Arkansas National Guard and were all directed to protect and ensure the Little Rock 9 got to go to school.
Little Rock Central High School is the only still functioning high school within a national historic site.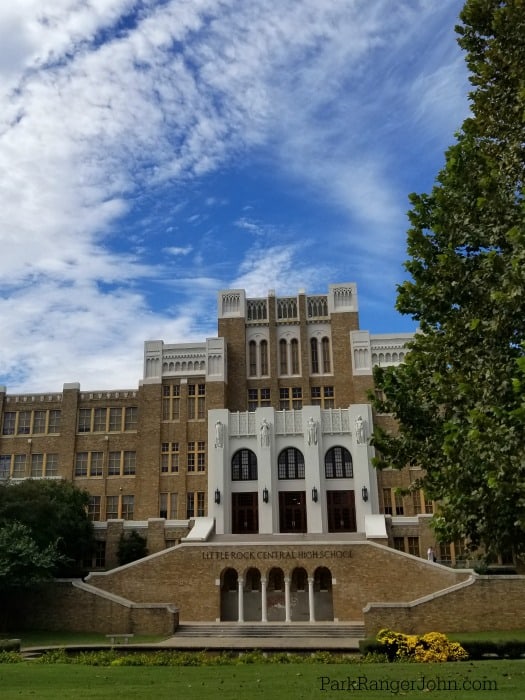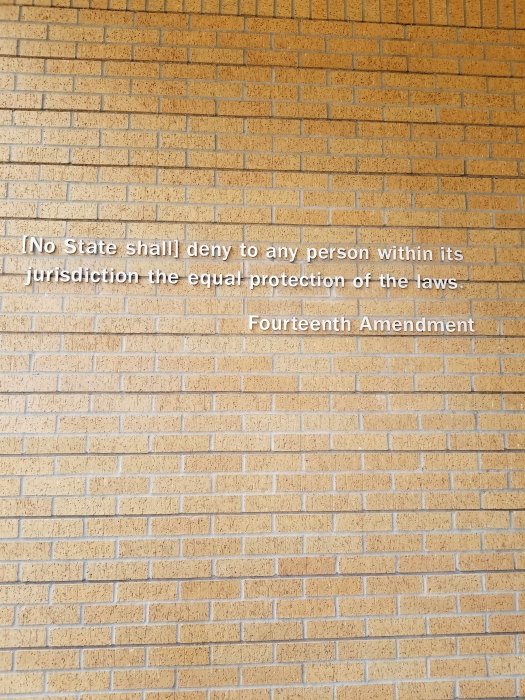 Tour the Little Rock Central High School Visitor Center
The Little Rock Central High School visitor center is the place to begin your experience for this park. Remember to park in the parking lot in the back of the National Park Visitor Center as this is still a fully operating high school and you can't park in front of the school.
It's also where park tours begin. The visitor center has interactive exhibits on the desegregation crisis.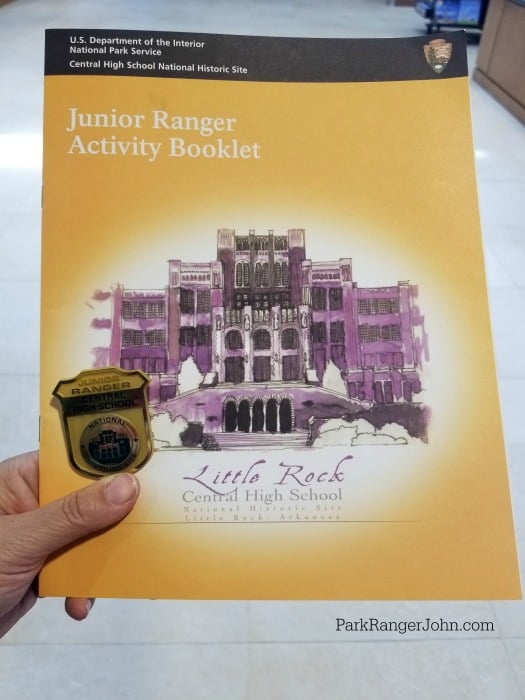 Become a Junior Ranger
You can print the booklet to review before your visit to help learn more about the National Park Site. Print the brochure here.
The Junior Ranger program guides you throughout the park and is filled with amazing information. I would definitely plan for at least 30 minutes if not an hour plus depending on the age of the participant and the activities that you choose.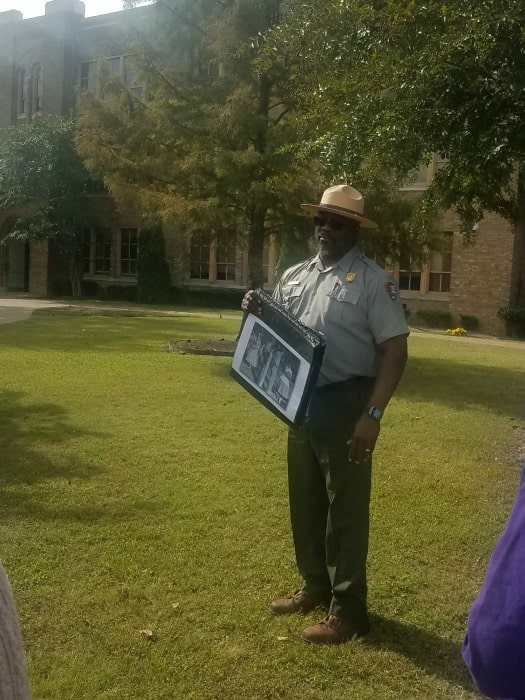 Take a guided tour
Guided tours are offered weekdays only twice a day at 9:00 am and 1:00 pm CDT, except Holidays, Winter Break, and Spring Break. Guided tours are by reservation only, and must be scheduled at least twenty-four hours in advance; however, reservations two weeks in advance are recommended. There is no guarantee of tour availability without a reservation.
The typical route will involve ascending two flights of stairs into the auditorium of the high school and descending two flights of stairs into the cafeteria. An accessible entrance is available that avoids stairs and an elevator can be taken between floors.
For Reservations: Call (501) 374-1957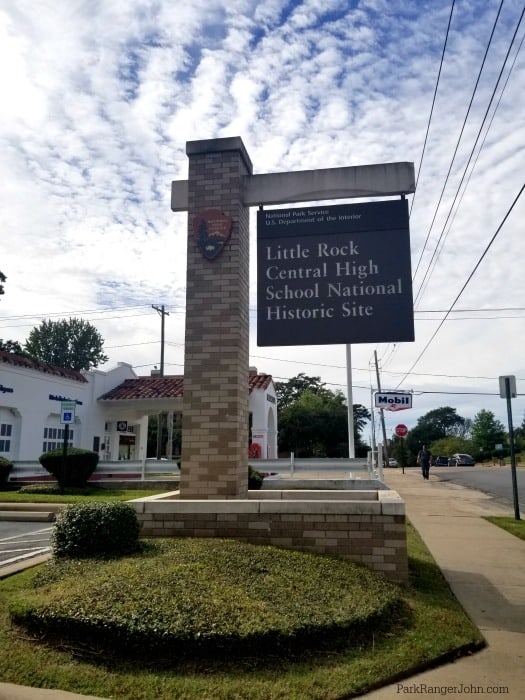 Things to know when planning a visit to Little Rock Central High School

National Historic Site
Little Rock Central High School is an active school with an enrollment of over 2,500 students. Out of respect for the school and students, do not try to enter the school on your own.
Little Rock Central High School National Historic Site Visitor Center
2120 W Daisy L Gatson Bates Dr
Little Rock, AR 72202
Park hours - Open Daily 9:00 a.m. - 4:30 p.m. CST Monday - Sunday throughout the year
Closed on Christmas, New Years Eve and New Years Day.
In cases of inclement weather, please call ahead to confirm (501) 374-1957 or check Little Rock area news stations for closing or altered hours announcements.
Park Entrance Fee - There is no park entrance fee to visit this park.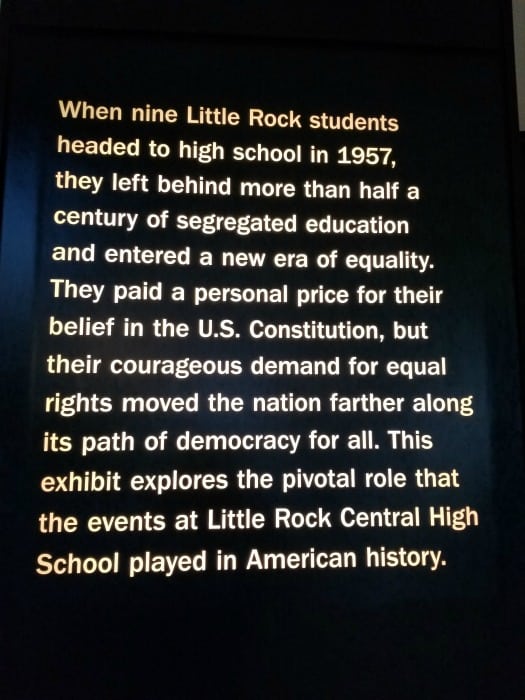 National Park Sites near Little Rock Central High School

NHS
Hot Springs National Park - 58 miles
Arkansas Post National Memorial - 99 miles
President William Jefferson Clinton Birthplace Home National Historic Site - 114 miles
Fort Smith National Historic Site - 165 miles
Pea Ridge National Military Park - 224 miles
Parts of the Trail of Tears National Historic Trail pass through Arkansas.
Check out all of the National Parks in Arkansas and neighboring Texas National Parks.