Tupelo National Battlefield is located in the heart of Tupelo, Mississippi. On July 14th and 15th in 1864 Union and Confederate troops battled at what became known as the Battle of Tupelo.

Tupelo National Battlefield
This park is not large! It is located on about an acre of land next to a car wash and restaurants. The site includes a large monument, a couple of cannons and grave markers for soldiers in the battle.
There used to be interpretive panels but the park service had to remove them due to damage and graffiti. They are hoping to replace the signs at some point soon.
When we visited the park the grass was pretty tall and wet. If you plan on walking around the park make sure you have comfortable shoes that can get dirty.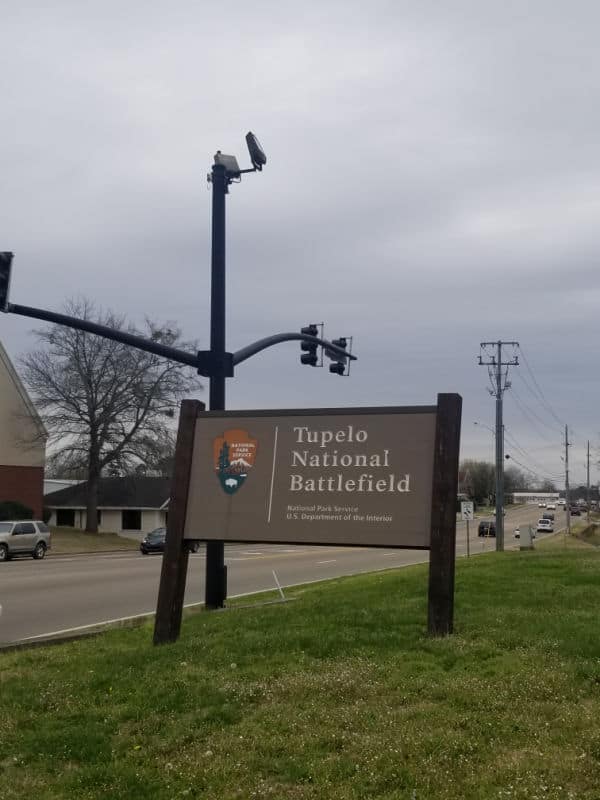 About Tupelo National Battlefield
Tupelo National Battlefield protects the site of a Civil War battle that occurred in July 1864.
Union Forces including men from the United States Colored Troops marched into Tupelo, Mississippi to protect the Union Railroads in Tennessee.
This National Battlefield is located in Tupelo surrounded by urban development. It is a small site that reminds us of the battles that were fought for freedom.
Is Tupelo National Battlefield worth visiting?
Yes especially if you are already in the area. The park is SMALL!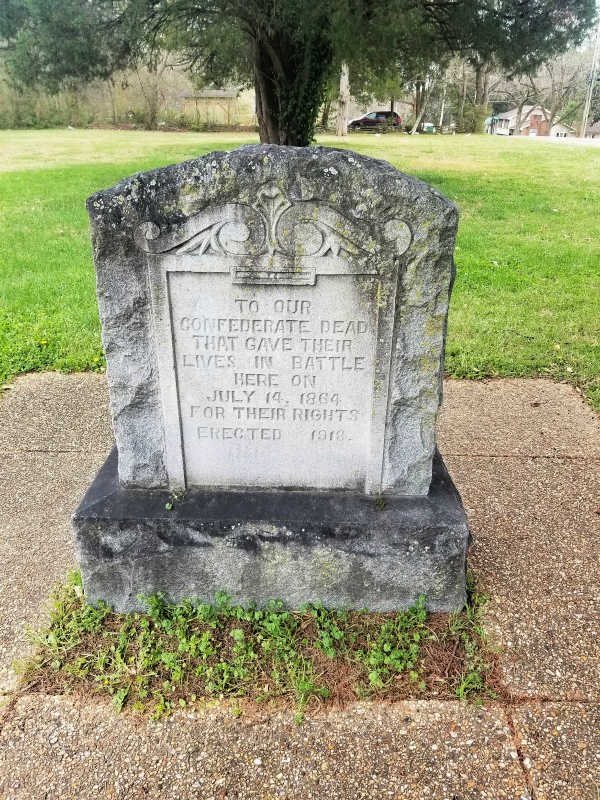 History of Tupelo National Battlefield
The Tupelo National Battlefield preserves the site of the Battle of Tupelo, where 1500 men died in action during the Civil War.
The battle was fought on July 14 and July 15, 1864, lasting for two days, and was the last major battle of the Civil War to be fought in Mississippi.
The Battle of Tupelo, also referred to as the Engagement at Harrisburg, was a fight for the control of the Union railroads supply line in Middle Tennessee.
The Union could not afford for the Confederates to attack the supply line, as General Sherman relied on it to continue his advance to Atlanta.
The Battle of Tupelo was fought by the Union troops Right Wing, 16th Army Corps, under the command of Maj. Gen. Andrew J. Smith.
The Confederates were under the command of Lieutenant General Stephan D. Lee and Maj. Gen. Nathan B. Forrest. Continuous but poorly organized Confederate attacks were successfully repelled by the Union.
The Battle in Context
The Battle of Tupelo took place in the Western Theater of the American Civil War to aid Gen. Sherman in his campaign to take Atlanta.
Sherman's Atlanta Campaign began in May 1864, made possible by the Union victory at Chattanooga, which opened the Deep South to a Union Advance.
Much of Mississippi was already in Union control by July 1864, as was much of Middle Tennessee.
Sherman still feared that the Confederates would strike the railroad line that cuts through Middle Tennessee down to the Coast. A Confederate attack on the railroad would doom Sherman's march to Atlanta.
Before engaging at Tupelo, the Confederate Gen. Forrest had successfully defeated the Union at the Battle of Brice's Crossroads in June.
Sherman planned to keep Forrest occupied with engagements and skirmishes in Northern Mississippi so that he could not push into Middle Tennessee.
Gen. Smith and 14,000 Union soldiers marched from La Grange, Tennessee, towards Tupelo, Mississippi.
The Battle of Tupelo
As Gen. Smith made his way from Tennessee, Forrest was in Okolona with 6 000 men, awaiting reinforcements from Gen. Stephan Lee.
Lee had instructed Forrest not to engage the Union forces nearby until he had received reinforcements.
Fearing a Confederate ambush at Pontotoc, Mississippi, Smith moved his forces toward Tupelo. Here, Smith created strong defensive entrenchments near Harrisburg, ensuring his forces would be ready when the Confederate attack finally came.
On July 14th, 1864, Lee and Forrest attacked the Union forces. The attacks on the Union defensive line were, by all accounts, disorganized but ferocious.
Each time the Confederates attacked, the Union beat them back. The Union inflicted heavy casualties on the Confederate forces, including wounding Gen. Forrest.
By the afternoon, the Confederates had fallen back and were entrenching themselves on the opposite side of the battlefield. There was minimal engagement after nightfall. The Union concentrated instead on destroying the town of Harrisburg and the railroad there.
A Union Withdrawal
On the morning of the 15th, the Confederates once again tried to break through the Union line, but they failed.
Despite this, Smith decided to withdraw from his defenses at Tupelo and retreat to Memphis. Smith stopped the march in the afternoon. Running low on food and ammunition, they made camp at Old Town Creek.
The Confederates launched a surprise attack on the Union camp in the early evening of July 15th. The Confederates positioned themselves on a ridge overlooking the Union camp and opened fire.
The Confederates battered the Union with heavy artillery fire. The attack failed, with the Confederates being pushed back by the Union to Harrisburg, ending the battle of Tupelo.
Smith's retreat was not due to the Confederate attacks but rather his dwindling supplies. Smith was confident that he had inflicted enough damage on the Confederate forces that they would be unable to move into Middle Tennessee.
Therefore they would pose no threat to Sherman and his objective.
The Aftermath
Smith's failure to destroy Forrest and his army infuriated Sherman. As a result of his shortcomings at Tupelo, Smith asked to be relieved from command.
The Union victory at Tupelo ensured the success of the Atlanta Campaign and the success of the Union in the Western Theater. It was a battle of great strategic importance.
It's clear that Smith did not defeat Forrest and his army, but he crippled their forces enough that they would not be able to fight again. They were able to continue with raids and smaller skirmishes but could not engage in bigger battles.
The Tupelo National Battlefield Park preserves the section of the battlefield where the majority of the fighting took place.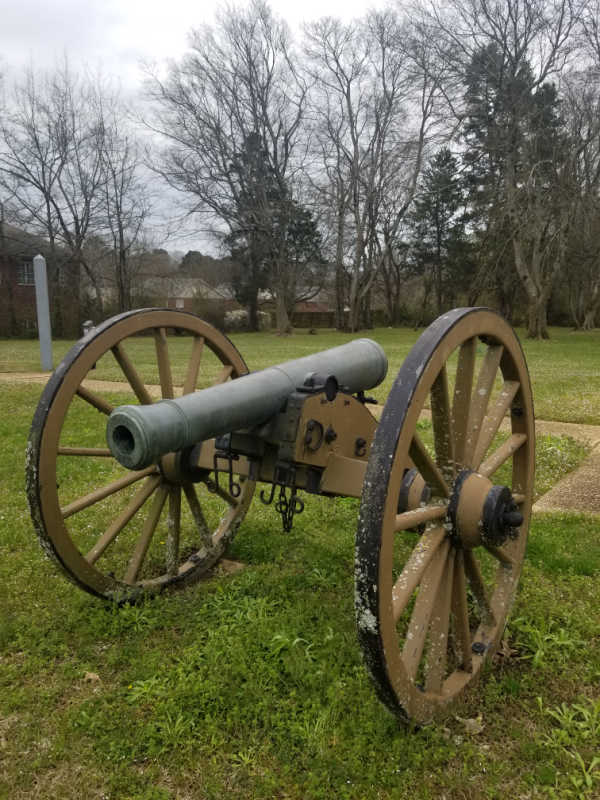 Things to know before your visit to Tupelo National Battlefield
Entrance fee
$0.00, there is no fee to visit this park
Planning a National Park vacation? America the Beautiful/National Park Pass covers entrance fees for an entire year to all US National Park Sites and over 2,000 Federal Recreation Fee Sites.
The park pass covers everyone in the car for per vehicle sites and for up to 4 adults for per-person sites.
Buy on REI.com and REI will donate 10% of pass proceeds to the National Forest Foundation, National Park Foundation and the U.S. Endowment for Forestry & Communities.
Learn more about National Park Passes for parks that have an entrance fee.
Free Entrance Days -Mark your calendars with the five free entrance days the National Park Service offers annually.
Time Zone
Central Time
Pets
The National Park Service says pets need to be on a leash less than 6 feet in length.
One thing to know is there are cemetery markers in different areas of the park. Please be respectful if you do bring a pet with you.
Cell Service
Cell service was great while in the park.
Park Hours
Sunrise to Sunset
Wi-Fi
There is no WiFi at the park.
Insect Repellent
Insect repellent is always a great idea when outdoors, especially if you are around any body of water.
We use Permethrin Spray on our clothes before our park trips.
Water Bottle
Make sure to bring your own water bottle and plenty of water with you. Plastic water bottles are not sold in the park.
Parking
There is parking along the side of the road next to the park.
Food/Restaurants
There are no restaurants within the park. That being said there was fast food restaurants near the park.
Gas
There are no gas stations within the park. There are gas stations near the park.
Drones
Drones are not permitted within National Park Sites.
National Park Passport Stamps
National Park Passport stamps can be found in the visitor center.
Make sure to bring your National Park Passport Book with you or we like to pack these circle stickers so we don't have to bring our entire book with us.
Electric Vehicle Charging
There are 21 public charging stations in Tupelo, Mississippi.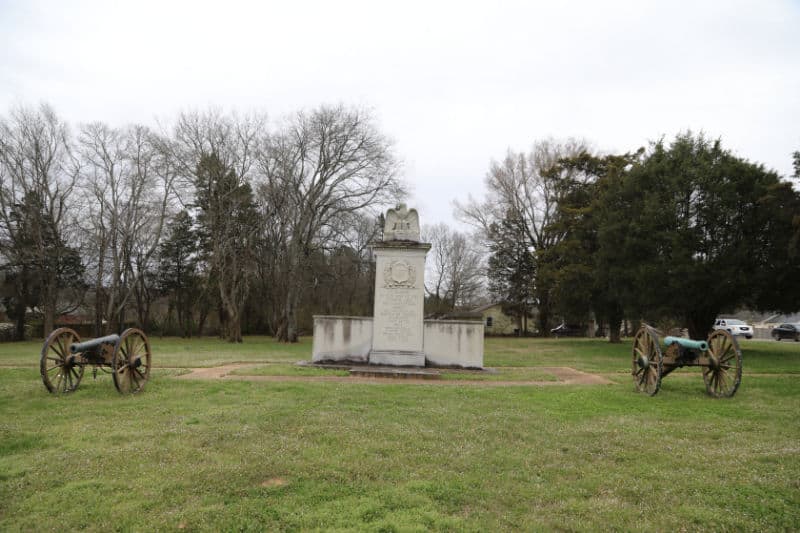 Details about Tupelo National Battlefield
Size - 1 acre
Check out how the park compares to other National Parks by Size. Hint it is tiny!
Date Established
February 21, 1929, by the War Department
August 10, 1933, the park was transferred to the National Park Service
Visitation
The park does not list visitation currently. The last year available is in 1983.
Learn more about the most visited and least visited National Parks in the US
National Park Address
2083 Main St
Tupelo, MS 38801
Natchez Trace Parkway Visitor Center
2680 Natchez Trace Pkwy
Tupelo, MS 38804
National Park Map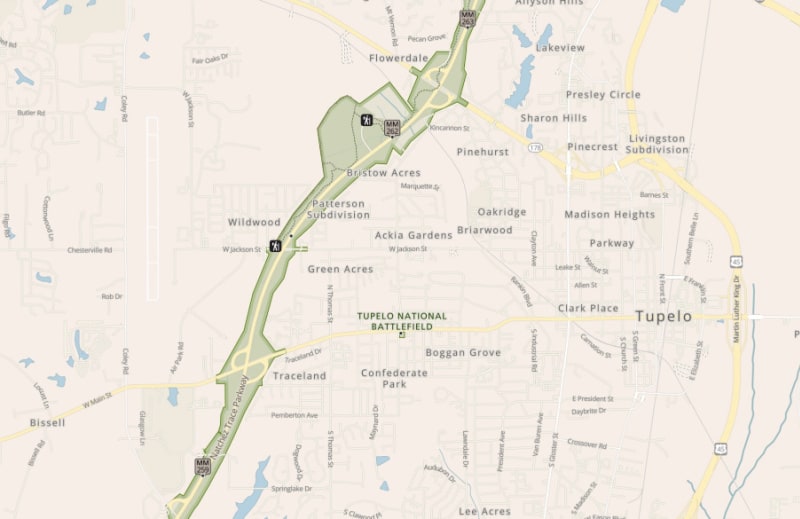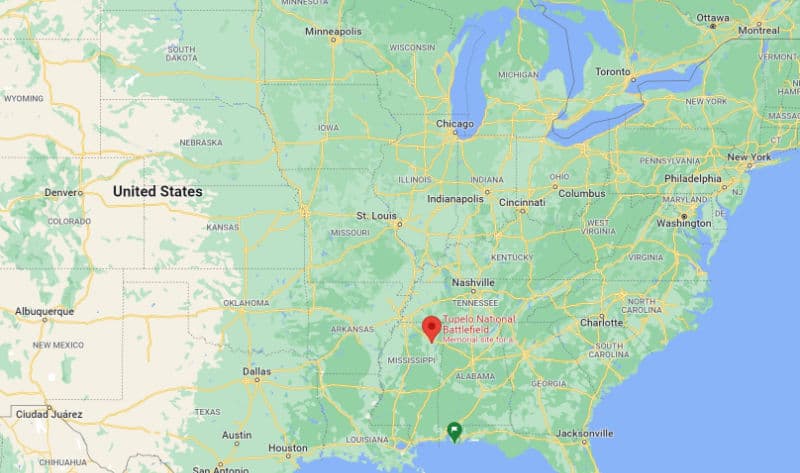 Where is Tupelo National Battlefield?
Tupelo NB is located in Tupelo, Mississippi in the city.
Estimated distance from major cities nearby
Memphis, TN - 114 miles
Birmingham, AL - 138 miles
Nashville, TN - 221 miles
Atlanta, GA - 284 miles
Baton Rouge, LA - 362 miles
New Orleans, LA - 343 miles
St. Louis, MO - 372 miles
Louisville, KY - 393 miles
Estimated Distance from nearby National Park
Hot Springs National Park - 301 miles
Mammoth Cave National Park - 312 miles
Congaree National Park - 515 miles
Gateway Arch National Park - 373 miles
Indiana Dunes National Park - 626 miles
New River Gorge National Park - 637 miles
Where is the National Park Visitor Center?
The Natchez Trace Parkway Visitor Center is open every day from 8:00 am to 5:00 pm (Central Time) except December 25.
Tupelo National Battlefield is administered from this visitor center.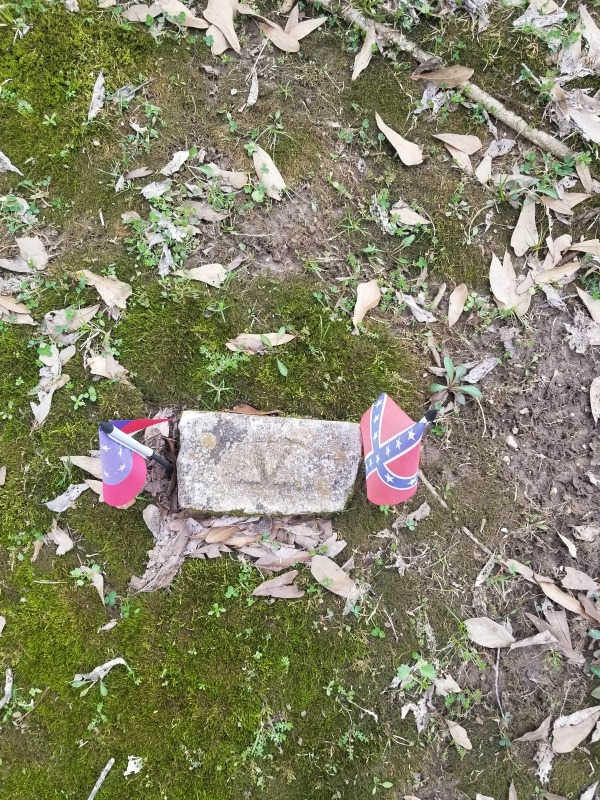 Getting to Tupelo National Battlefield
Closest Airports
Tupelo Regional Airport (TUP)
International Airports
Memphis International Airport (MEM)
Birmingham Shuttlesworth International Airport (BHM)
Nashville International Airport (BNA)
Hartsfield Jackson Atlanta International Airport (ATL)
Regional Airports
Golden Triangle Regional Airport (GTR)
Northwest Alabama Regional Airport (MSL)
McKellar Sipes Regional Airport (MKL)
Driving Directions
Tupelo National Battlefield (NB) is a one-acre monument located on Main Street, Tupelo, Mississippi.
Main Street in Tupelo is also known as Highway 6 and Highway 278. Tupelo NB sits on the south side of Main Street on the west side of Tupelo.
Exit off the Natchez Trace Parkway onto Highway 6 (near Milepost 260), head east, into Tupelo.
Travel one mile east and find Tupelo NB on the right side of Main Street.
There is limited parking available adjacent to the monument.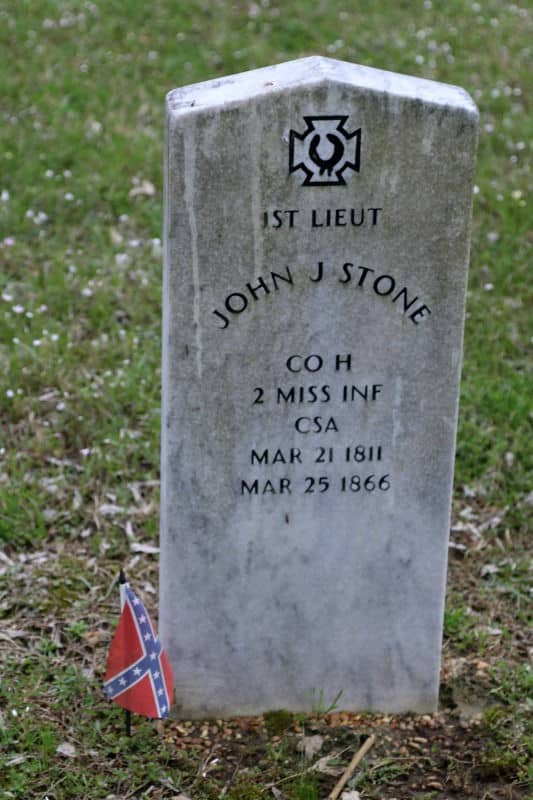 Best time to visit Tupelo National Battlefield
The best time to visit Tupelo NB is Spring and Fall when the weather should be comfortable.
Weather and Seasons
Tupelo, Mississippi experiences hot and muggy summers. Winters are short, cold, and wet.
The hottest weather is from May 25 to September 22 with an average daily high above 83 degrees.
The coldest weather lasts from November 28 to February 24th with an average daily high temperature below 60 degrees.
December receives the most rain with 5.2 inches of rain. January receives an average of 1.3 inches of snowfall.
The muggiest weather is from May 12 to October 2nd.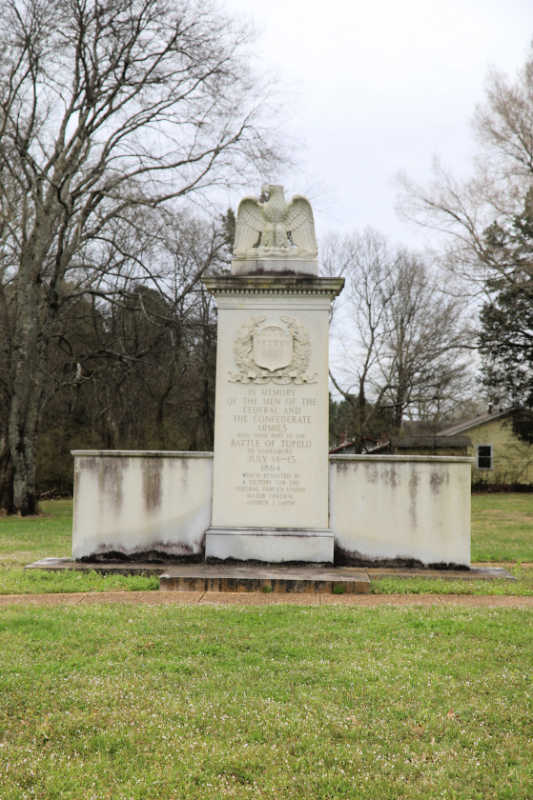 Best Things to do in Tupelo National Battlefield
The top thing to do in the park is to visit the memorial site.
The park did not have any interpretive panels during our visit. There is a monument and cannons to view.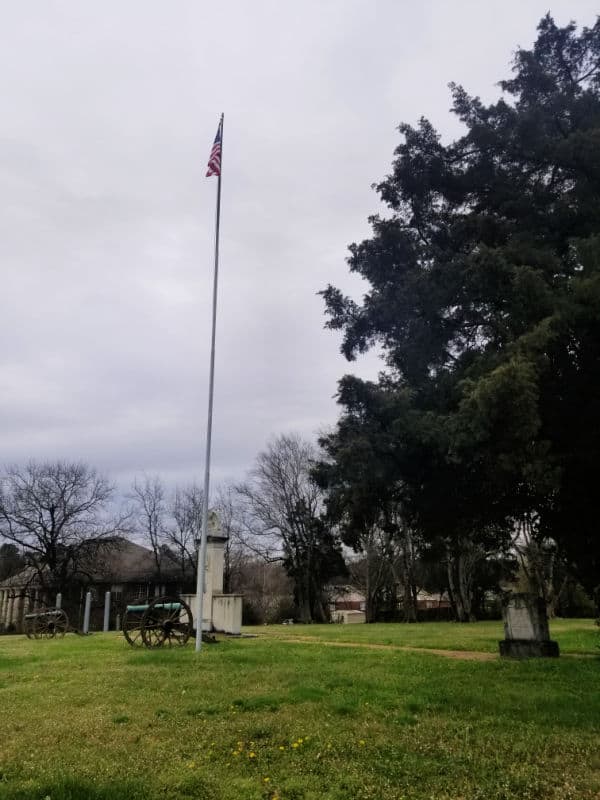 How to beat the crowds in Tupelo National Battlefield?
Honestly, I would be shocked if you encounter a crowd at the park. We did not see another visitor during our time in the park.
Where to stay when visiting Tupelo National Battlefield
There are no National Park Lodges within the park.
La Quinta Inn & Suites by Wyndham Tupelo - A free breakfast buffet, laundry facilities, and a fireplace in the lobby are just a few of the amenities provided at La Quinta Inn & Suites by Wyndham Tupelo. In addition to a gym and a 24-hour business center, guests can connect to free in-room Wi-Fi.
Hotel Tupelo, a Wyndham Hotel - 3-star hotel. You can look forward to a grocery/convenience store, dry cleaning/laundry services, and a bar at Hotel Tupelo, a Wyndham Hotel. Free in-room Wi-Fi, with speed of 250+ Mbps (good for 3–5 people or up to 10 devices), is available to all guests, along with a 24-hour gym and a business center.
Holiday Inn Express Hotel & Suites Tupelo - Consider a stay at Holiday Inn Express Hotel & Suites Tupelo, an IHG Hotel and take advantage of a free breakfast buffet, a free roundtrip airport shuttle, and dry cleaning/laundry services. Stay connected with free in-room Wi-Fi, and guests can find other amenities such as a gym and a business center.
Tru By Hilton Tupelo - Tru By Hilton Tupelo provides a snack bar/deli and more. Stay connected with free Wi-Fi in public areas.
Click on the map below to see current rates for hotels and vacation rentals in Tupelo, Mississippi.


Camping
There are no campgrounds within the park.
For a fun adventure check out Escape Campervans. These campervans have built in beds, kitchen area with refrigerators, and more. You can have them fully set up with kitchen supplies, bedding, and other fun extras. They are painted with epic designs you can't miss!
Escape Campervans has offices in Vancouver, Seattle, Portland, San Francisco, Las Vegas, Los Angeles, Phoenix, Salt Lake City, Denver, Chicago, New York, and Orlando
Here are a few campgrounds you can find in the area.
Cedar Ridge Campground - Russellville, AL
This campground offers lodging, RV and Tent Sites, a playground and more.
Sweethaven RV Park - Waterloo, AL
This campground offers RV Sites
Heritage Acres RV Park - Tuscumbia, AL
This campground offers RV Sites
Yogi Bears Jellystone Park Camp Resort Memphis - Horn Lake, MS
This campground offers lodging, RV and Tent Sites, a waterpark, pool, fishing, and more.
Check out additional campgrounds in the area on CampSpot.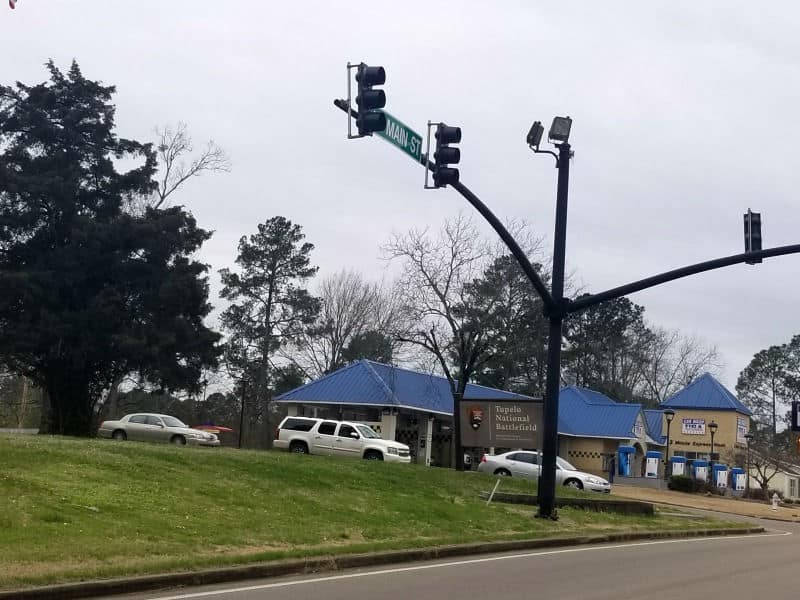 Parks Near Tupelo National Battlefield
Brices Cross Roads National Battlefield Site - 22 miles
Natchez Trace Parkway - 7.7 miles
Natchez Trace Scenic Trail - 7.7 miles
Shiloh National Battlefield Park - 70 miles
Mussel Shoals National Heritage Area - 85 miles
Fort Donelson National Battlefield - 189 miles
Tuskegee Institute National Historic Site - 265 miles
Tuskegee Airman National Historic Site - 265 miles
Check out all of the National Parks in Mississippi along with neighboring National Parks in Alabama, National Parks in Arkansas, Louisiana National Parks, and Tennessee National Parks.