The Gulpha Gorge Campground is the only campground located in Hot Springs National Park. Hot Springs National Park Camping is a fantastic way to get out and enjoy the natural beauty in this park.
Especially as most park visitors focus on the bathhouse row area and miss out on the natural beauty this park has to offer. I have found that the more time you spend here, the more you enjoy Hot Springs National Park!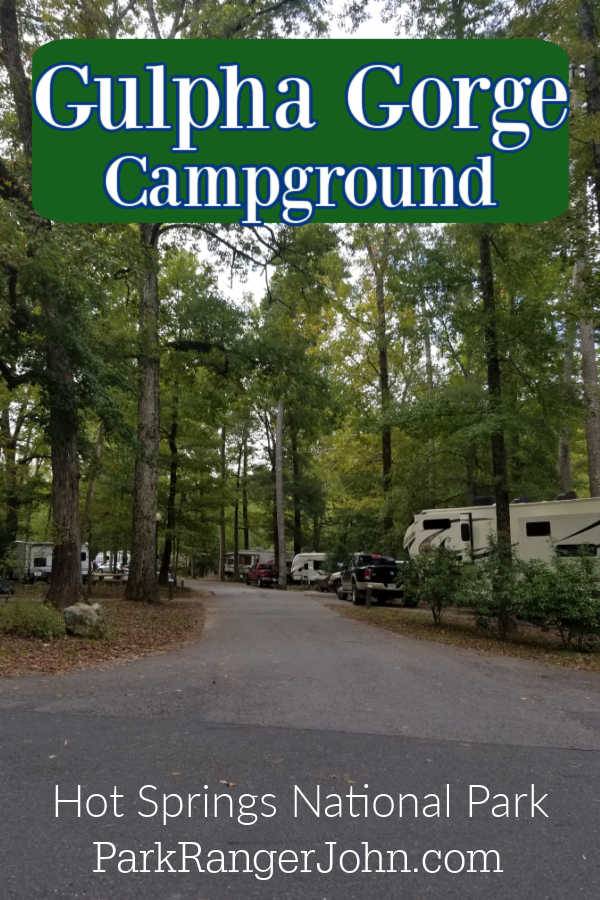 Gulpha Gorge Campground - Hot Springs National Park
The Gulpha Gorge Campground at Hot Springs National Park is a beautiful campground that feels like miles away from the historic Bathhouse Row and the bustle of the city of Hot Springs.
While still close to downtown Hot Springs, the visitor center, and the thermal springs.
Here you will find more traditional park activities like a park amphitheater with ranger programs, hiking trails, and wading in the Gulpha Creek.
The campground is set up for RV's as each site has a paved parking area and full hookups with both 30 & 50 amp service.
You can still have a tent but you will be placing it on the paved parking area as tents are not allowed on the grass.
This means you will definitely need some sort of pad to sleep on. I would consider sites 20-44 to be the premium sites as they are located along the Gulpha Creek while sites 1-16 are located next to Highway 7S and may have a lot of road noise.
During the day this is a very well-traveled road and people could find this very distracting.
Gulpha Gorge is the only Hot Springs National Park Campground.
Planning a National Park vacation? America the Beautiful/National Park Pass covers entrance fees for an entire year to all US National Park Sites and over 2,000 Federal Recreation Fee Sites.
The park pass covers everyone in the car for per vehicle sites and for up to 4 adults for per-person sites.
Buy on REI.com and REI will donate 10% of pass proceeds to the National Forest Foundation, National Park Foundation and the U.S. Endowment for Forestry & Communities.
Number of Sites: 40 Campsites
Location in the park: Gulpha Gorge Campground is off US Hwy 70B on the east side of Hot Springs.
Campsite Cost: $34
Senior/Access Camping Fee: 50% discount. This discount only applies to the fee for the campsite physically occupied by the pass owner.
Reservations: Yes, on Recreation.gov
Campground Address: 305 Gorge Road, Hot Springs AR 71901
Latitude/Longitude:
Latitude
34° 31' 24.6324" N
Longitude
93° 2' 10.6044" W
Accessible Sites: The campground is fully accessible. Restrooms and campsites are ADA Accessible. There is one campsite designated as ADA Compliant.
Pets Allowed: Pets are allowed on a leash less than 6 feet in length.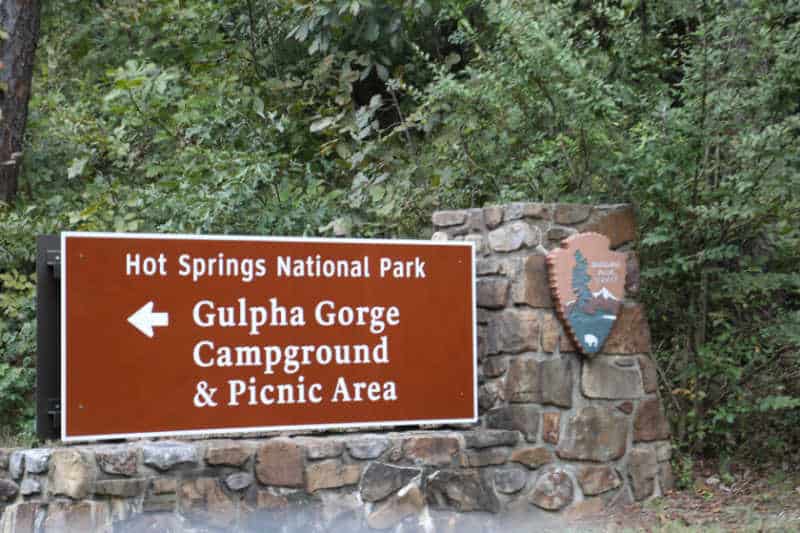 Campground Reservations
Are campground Reservations Available? Yes
Phone Number? 877-444-6777
Online? Recreation.Gov
How Far Ahead can you make a reservation? Campground reservations are available on a 6 month rolling basis.
Campground Elevation: 535 feet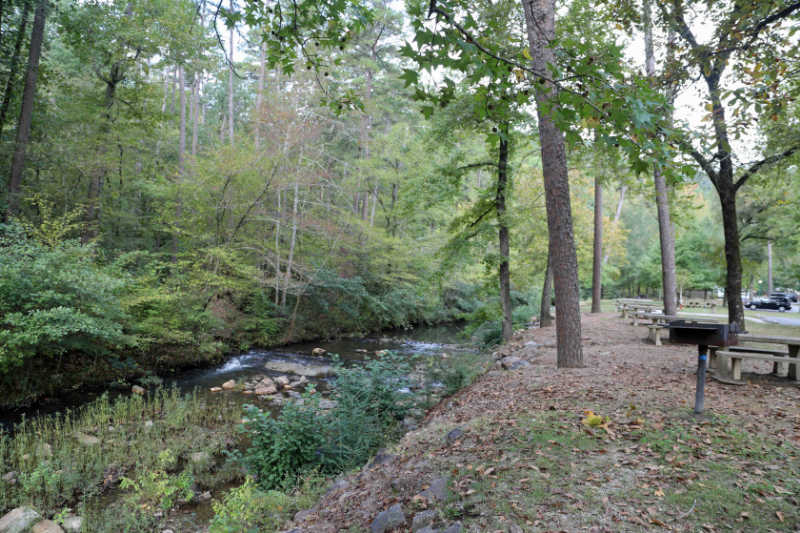 Gulpha Gorge Campground Amenities
Dump Station: Yes, open year round
Bear Boxes: There are no food storage locations.
Flush Toilets: Flush toilets are available year-round
Payphone:
Is wifi available? There is no wifi available in the park.
Is cellular Phone Service Available? Cell service is available within the park.
Is camp host available on site? Yes
Is firewood available for purchase? Firewood is not available in the park.
Amenities at each campsite:
Fire pit in the site? No, There are no Fire Rings in campsites but there is a nice big group fire ring with benches available for use with a permit.
Each campsite does have a pedestal grill.
Self-contained portable stoves or grills may be used when off the ground and away from overhanging vegetation
Picnic Table in the site? Yes
Potable Water? Yes, We suggest bringing thermal water back with you from the main portion of the park.
Showers: There are no showers in the campground.
Insect Repellent:
Insect repellent is always a great idea when outdoors, especially if you are around any body of water. We use Permethrin Spray on our clothes before our park trips.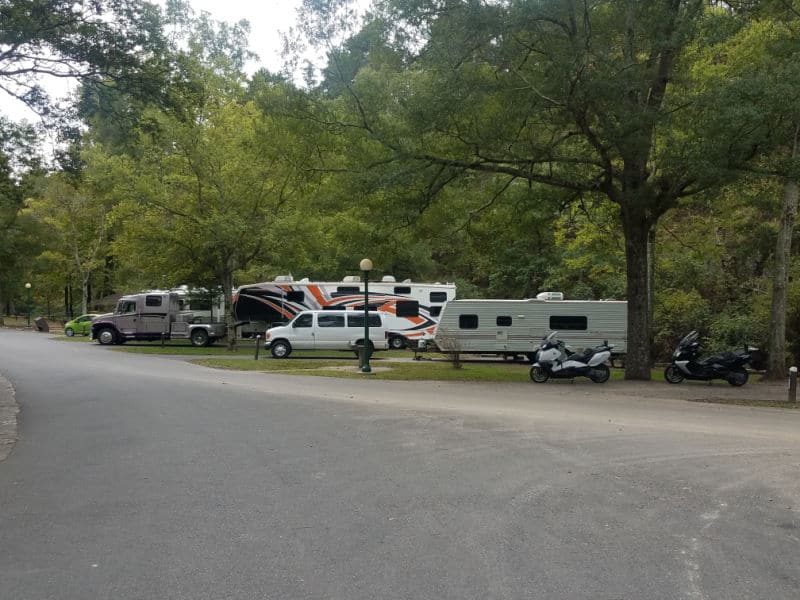 RV Camping at Gulpha Gorge Campground
RV Length: The maximum allowed length is 60 feet, and includes vehicle length.
Hookups: All sites have full hookups: 30 and 50 amp electric, water and sewer connections.
How to get to Gulpha Gorge Campground
Gulpha Gorge Campground is off US Hwy 70B on the east side of Hot Springs. For GPS directions, the physical address is 305 Gorge Road, Hot Springs AR 71901.
Campground Regulations
The maximum number of people in a campsite: 8 people
The number of cars per campsite: 2 cars
Checkout time: 12 pm
Quiet Hours: 8 pm to 9 am. (No generator use, loud music, etc.)
Gulpha Gorge Campground Map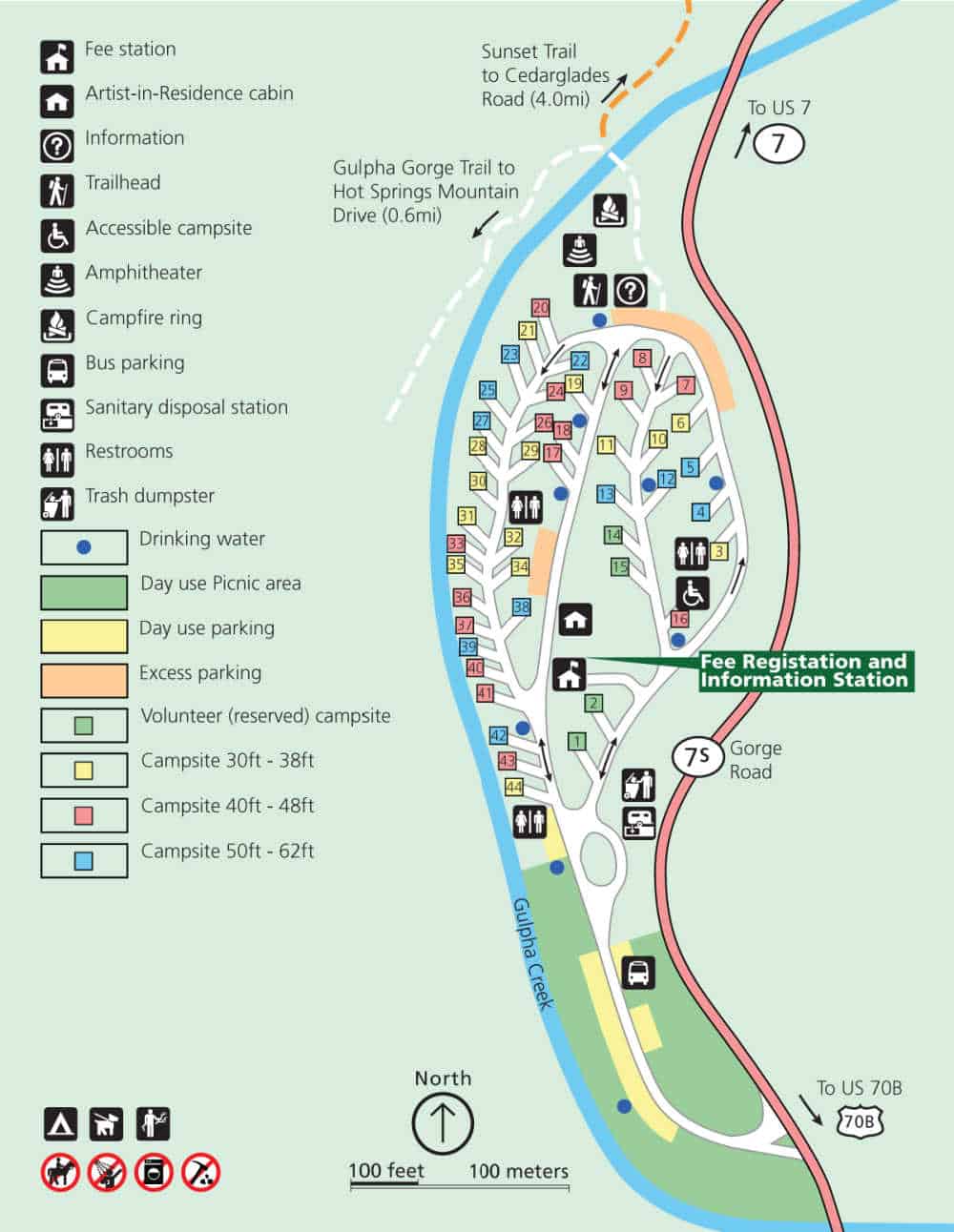 Photos of Gulpha Gorge Campground
Hot Springs Arkansas Cabins
Hot Springs National Park does not have any cabins for rent, however, you can visit Arkansas State Parks for your Hot Springs Cabin Rentals.
You can rent one of 20 cabins or a yurt at Lake Catherine State Park which is only located 20 Minutes away from Hot Springs National Park.
Check out their website for more information and to make reservations.
Campgrounds near Hot Springs, Arkansas
Hot Springs Off-Road Park - 5 miles from the park
This campground offers RV and tent sites, a playground, 1,250 acre trail system, ice cream, and more.
Willows at Watson RV Park - 87 miles from the park
This campground offers RV Sites, canoe and kayaking, fishing, and more.
Yogi Bear's Jellystone Park Eufaula - 92 miles from the park
This campground offers cabins, cottages, RV sites with hookups, a beach, water playground, mini-golf, and so much more.
Check out additional campgrounds in the area on CampSpot
Hot Springs National Park Lodging
There are no National Park Lodges within Hot Springs NP, but Gulpha Gorge Campground and Hotel Hale are both located within the park and offer overnight accommodations.
Click on the map below to see current rates for hotels and vacation rentals in Hot Springs, AR.
Additional Hot Springs NP Resources
Hot Springs Hiking - Check out the amazing hiking opportunities in Hot Springs NP.
Things to do in Hot Springs NP - All the things you don't want to miss in the park.
Superior Bathhouse Brewery - learn more about the only brewery in a national park.
Hot Springs Mountain Tower - Find out how to see the best views of Hot Springs.
Here are a few things to do outside of the park in Hot Springs, Arkansas.
The zip tour includes 10 zip lines through a beautiful old growth forest and over water features.
Interactive and fun guided tour with memorabilia, toys and costumes featuring Star Wars and superheroes. Learn cool movie facts and take as many photos as you want!
They also offer a VIP tour for even more fun.
Now you have the information you need to go camping at Hot Springs National Park. Make sure to also check out my other articles on Hot Springs National Park like Travel Tips, Things to do, and hiking so you can start planning your dream vacation.
Park Sites near Hot Springs National Park
Little Rock Central High School National Historic Site
Arkansas Post National Memorial
President William Jefferson Clinton Birthplace Home National Historic Site
Fort Smith National Historic Site
Chickasaw National Recreation Area
Waco Mammoth National Monument
Check out all of the National Parks in Arkansas along with neighboring National Parks in Louisiana, National Parks in Mississippi, National Parks in Missouri, Oklahoma National Parks, Tennessee National Parks, and Texas National Parks
Also check out the Arkansas State Parks nearby including Lake Catherine State Park, Lake Ouachita State Park, and DeGray Lake State Park Resort.