We loved staying in the Mammoth Cave Cabins located in the heart of Mammoth Cave National Park! The cabins are situated in a semi-circle right up against the woods providing a quiet peaceful evening with spectacular views.
The cabins are perfectly located so that you are in the hub of most of the park's activities including the parks visitor center, shuttles for cave tours, numerous hiking trails, Caver's Camp Store, Engine #4 and the Mammoth Cave Lodge. The Mammoth Cave Lodge has a gift shop, dining, and even ice cream!
Other activities within Mammoth Cave National Park include camping, wildlife viewing, kayaking the Green River and horseback riding.
The Lodge at Mammoth Cave is also close to Cave City and semi-near Bowling Green (42 miles from Mammoth Cave National Park).
There are a few different types of Mammoth Cave lodging options including the historic cabins, Woodland Cottages, Terrace Rooms and the ADA accessible Heritage Rooms in the Lodge at Mammoth Cave.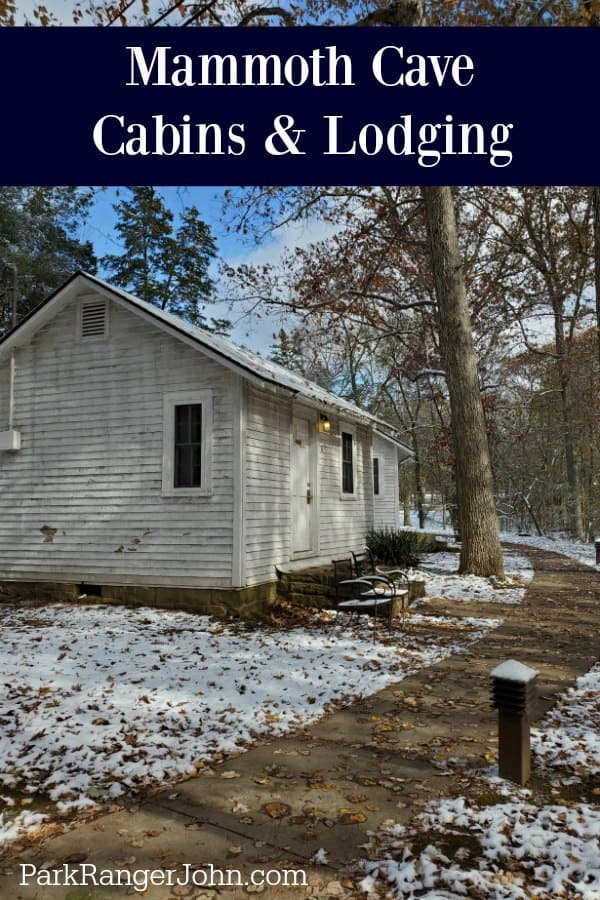 Mammoth Cave Cabins
One travel tip for Mammoth Cave NP is the park is located in the Central Time Zone. If you are traveling from the East Coast make sure your phone and watches update.
We heard from the visitor center than many guests miss their tours because their phones are not set to the correct time.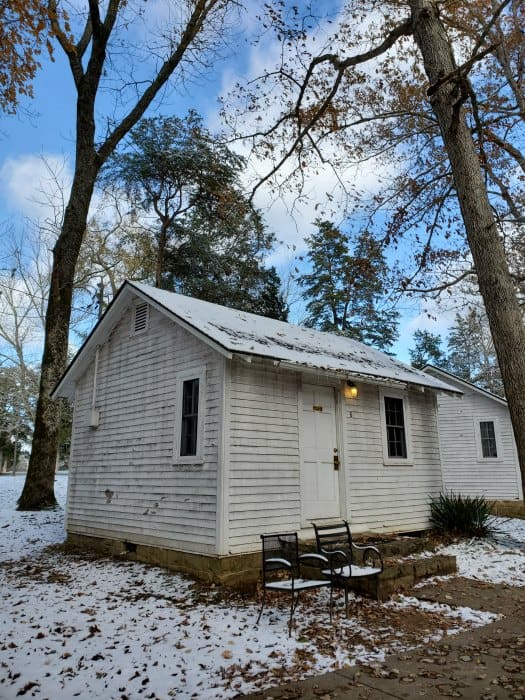 Historic Cottages
The Historic Mammoth Cave Cabins have queen size beds, air conditioning/heaters, a small bathroom, table and chair, coffee maker and small refrigerator.
The cabins are super cute and comfy! They are not huge but they are perfect for staying right in the park.
Check out this video of the cabin we stayed in while at Mammoth Cave National Park.
Here are a few photos from our cabin at Mammoth Cave. It had everything we needed for an easy night stay in the park.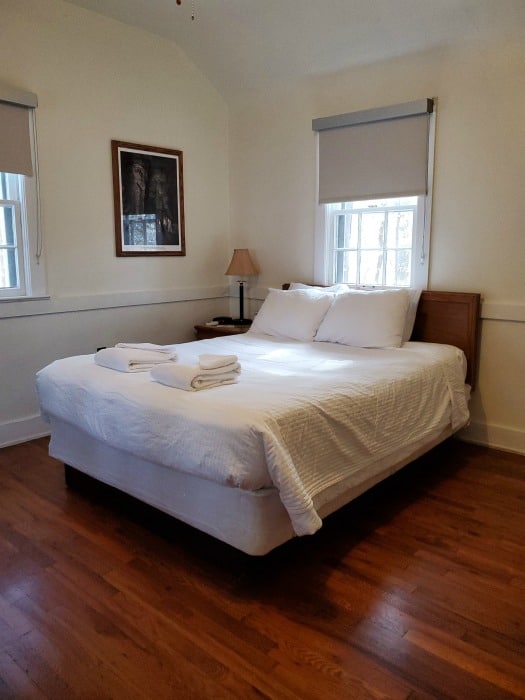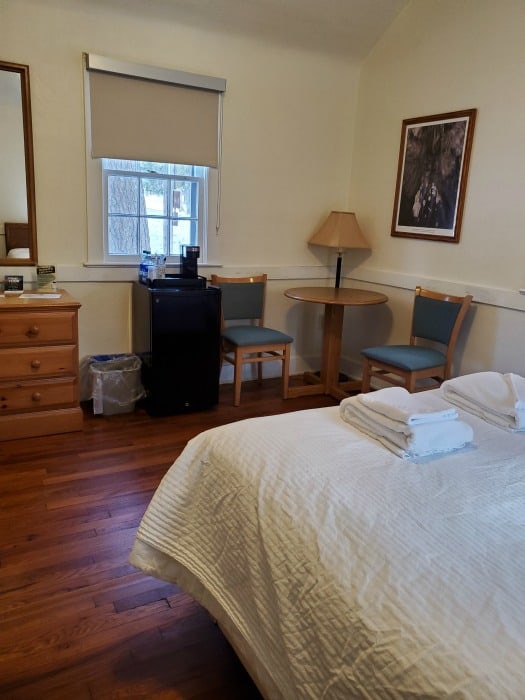 The park also has Woodland Cabins that are available for most of the year except winter.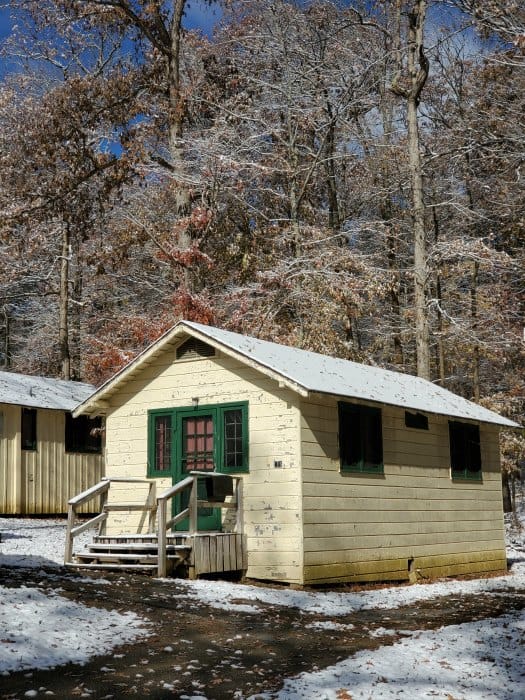 Woodland Cottages
Woodland Cottages are located near the Mammoth Cave Visitor Center. They DO NOT have heat or air conditioning!
The Woodland Cottages are available seasonally depending on weather from Memorial Day to November 30th.
The cabins have One, Two, Three or Four Bedroom arrangements. They do allow pets in Woodland Cottages for a small pet fee.
Even though they do not have air conditioning they do have ceiling fans.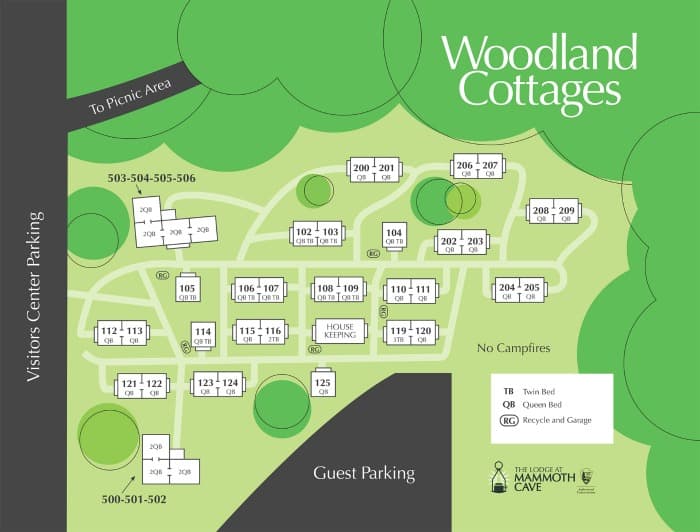 The parking lot for the cabins is one main area and then you will need to walk to your assigned cabin.
The Lodge at Mammoth Cave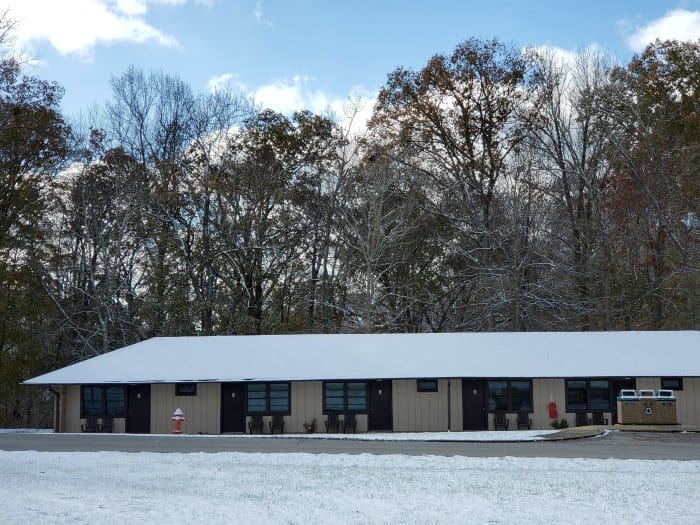 Sunset Terrace
The Sunset Terrace Rooms are located near the visitor center and historic cottages. They offer 2 queen beds, air conditioning, mini-fridge, coffee maker and cable TV/WiFi.
These rooms have been refurbished with modern amenities.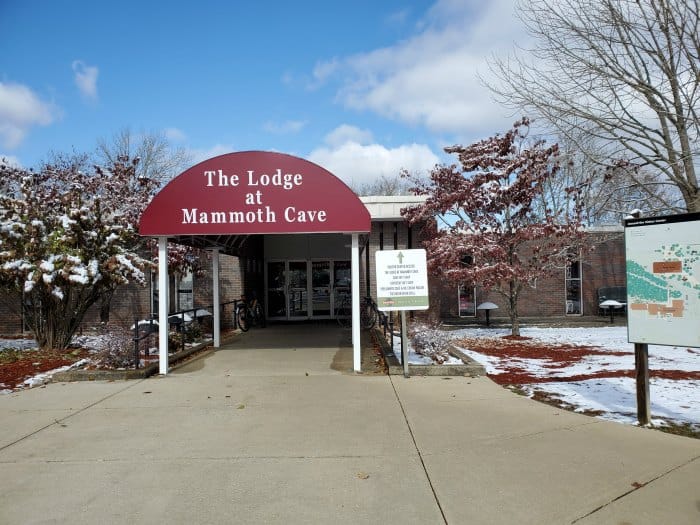 Heritage Trail Rooms
The Heritage Trail rooms are located in the main building of the Lodge at Mammoth Cave. These rooms are ADA accessible.
They can accommodate 4 people. The rooms are right down from the gift shops and restaurants. They have air conditioning, WiFi, Cable TV, mini fridge and coffee maker.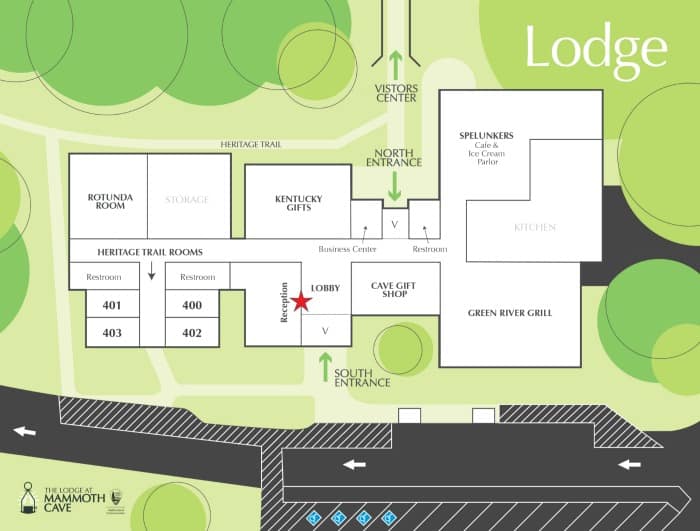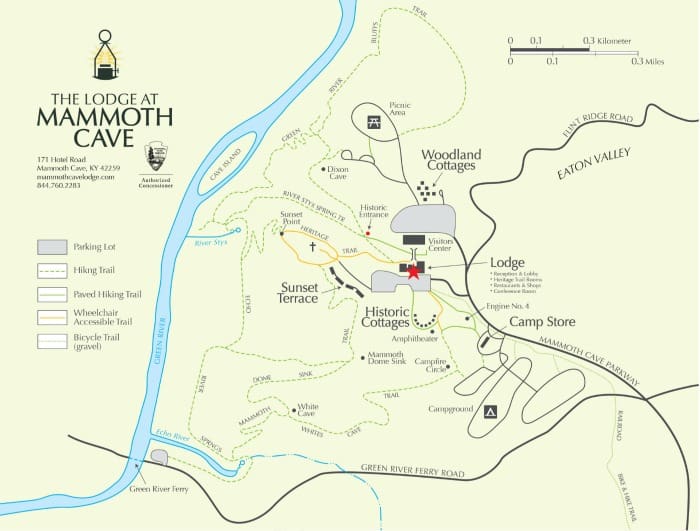 Things to know when planning a stay at Mammoth Cave Cabins
Mammoth Cave Tour tickets must be purchased at the Visitor Center. Cave tours are not included with room reservations.
Check-In time for room guests is 3:00 pm or later.
Checkout time for room guests is 11:00 am.
Room rates include a $1/night voluntary contribution to Friends of Mammoth Cave. Guests may elect to have the $1 contribution removed from their folio at check-in.
Rates are based on single or double occupancy. Additional persons are $9.00 per person, per night for Heritage Trail, Sunset Terrace Rooms, and Woodland Cottages.
A deposit equal to one night's lodging plus 10% tax will accompany each reservation. Cancellation policy requires a 24 hours notice prior to scheduled arrival.
Physical Address: Mammoth Cave National Park, #5 Park Entrance Road, Mammoth Cave KY 42259
GPS Address: 27 Entrance Rd, Mammoth Cave, KY 42259
General Inquiries: 844-760-2283
Dining Inquiries: 270-451-2283
Lodging near Mammoth Cave NP
Additional Mammoth Cave Resources
Things to do in Mammoth Cave - This post details all of the amazing things to do within the park.
National Parks in Kentucky - Check out all of the National Parks you can visit while in Kentucky
National Parks in Tennessee - Check out all of the National parks you can visit in neighboring Tennessee
Mammoth Cave Nat Geo Trails Map - Detailed map of trails within the park.
Mammoth Cave Curiosities - A book detailing all of the fun curiosities