Camp Nelson National Monument is considered one of the best-preserved Civil War-era depots, hospitals, recruiting centers, and refugee campsites in the nation.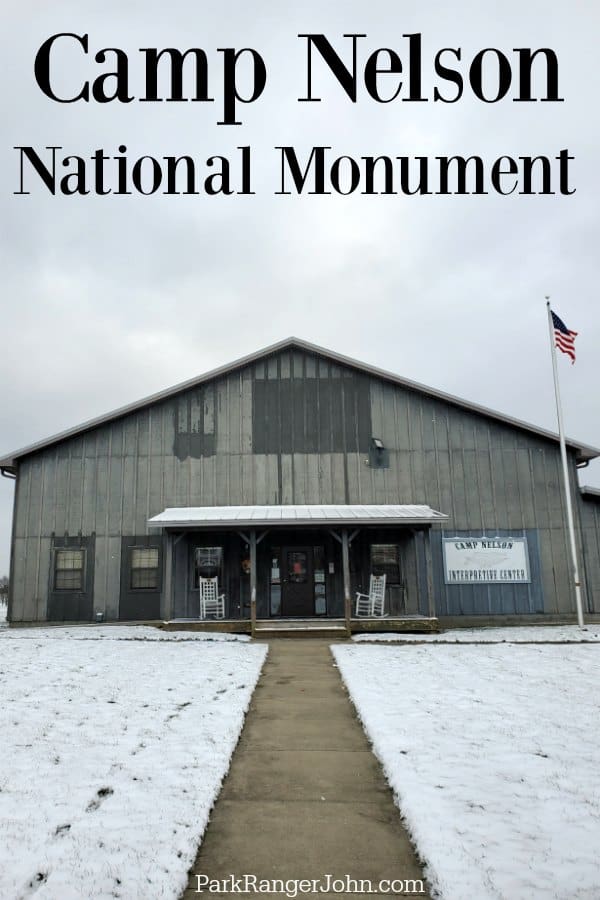 Camp Nelson National Monument
Camp Nelson NM in Kentucky is a new National Park Service site that is still being developed. The park was privately owned before passing to the National Park System.
Camp Nelson in Nicholasville, Kentucky became the 418th unit of the National Park Service on October 25th, 2018.
Camp Nelson National Monument is also recognized as an official site on the NPS National Underground Railroad Network to Freedom.
Camp Nelson History
Camp Nelson was an African American recruitment center during the Civil War. More than 10,000 African Americans came to Camp Nelson where they gained their freedom.
It took courage and determination for African American families to reach Camp Nelson. At the beginning of Camp Nelson's history, enslaved men who wanted to enlist in the army had to have permission from their owners or be freed.
With the Emancipation Declaration becoming a rumor the prospect of freedom from enlistment became viable. Many brought their families with them to Camp Nelson. They feared what would happen in retribution from their owners. They risked their lives escaping slavery.
Army officials did not know what to do with the influx of people to the camp. They ejected approximately 400 people into the brutal Kentucky cold. Over 100 women and children died from exposure after being kicked out of Camp Nelson.
This event caused an outcry across the country. The backlash of this event made the Union Army officials rethink how they would handle enlisted men's families.
A refugee camp was established by the Army for the families of the African American men who came to Camp Nelson in January 1865. Over time the refugee camp grew to 97 cottages and numerous tent and shacks providing housing for more than 3,000 people.
Camp Nelson was a training center for African American soldiers. It also served as a Union Army Supply Depot, Enlistment, and Training Post for the Army of Ohio along with a Refugee Camp for the families of the enlisted African American soldiers.
At one point Camp Nelson contained more than 300 wooden buildings and tents. These included the refugee camp for wives and children of African American men enlisted in the Union Army.
Camp Nelson enlisted over 10,000 African American soldiers to the Union Army making it the third-largest recruitment and training center for African Americans in the nation.
Things to do at Camp Nelson National Monument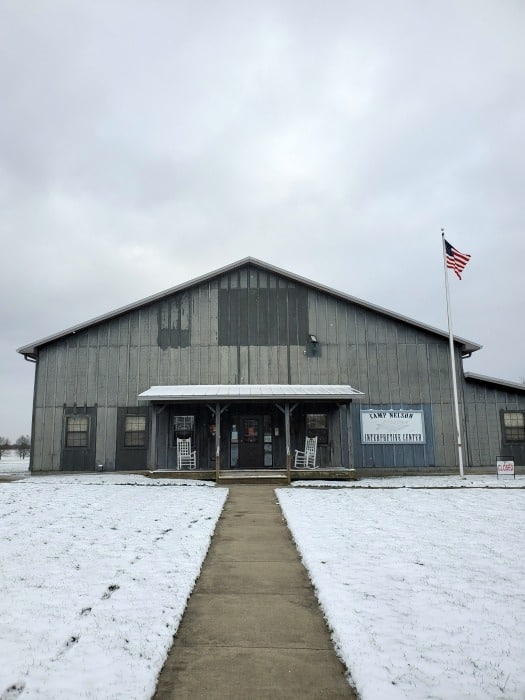 Visitor Center and Museum
The visitor center includes museum exhibits, the park film, and the opportunity to learn more about the impact of Camp Nelson.
Oliver Perry House
Tours of the Oliver Perry House also known as the "White House" are offered on a limited basis. The house tells the story of civilian experiences before, during, and after the Civil War.
The 1855 Greek Revival house was commandeered by the Union army for use as the Quartermaster and Commissary officers' quarters and eventually returned to the Perry family after the war.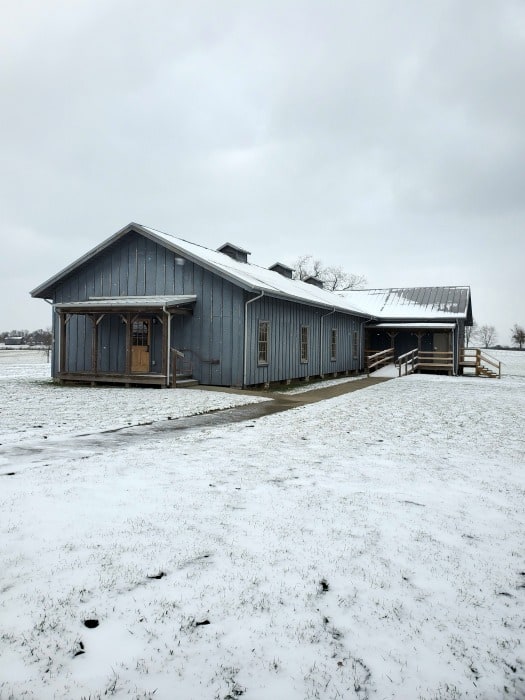 Reconstructed Union Army Barracks
The reconstructed Union Army Barracks depicts camp life for the thousands of Union soldiers stationed at Camp Nelson.
Tours are offered of the barracks on a limited basis. Check with the visitor center for updated tour information.
Hiking Trails
There are over 5 miles of hiking trails for visitors to explore. You can wander through the rolling hills of Kentucky.
The trails have interpretive panels talking about the earthworks and fortifications built to protect Camp Nelson.
Be aware of poisonous plants such as poison ivy on park grounds.
Camp Nelson National Cemetary
Camp Nelson National Cemetary was created in June 1866. The cemetery has 1,615 Union graves. The cemetery is located adjacent to the national monument and is open daily from dawn to dusk. Camp Nelson National Cemetery is administered by the US Department of Veterans Affairs.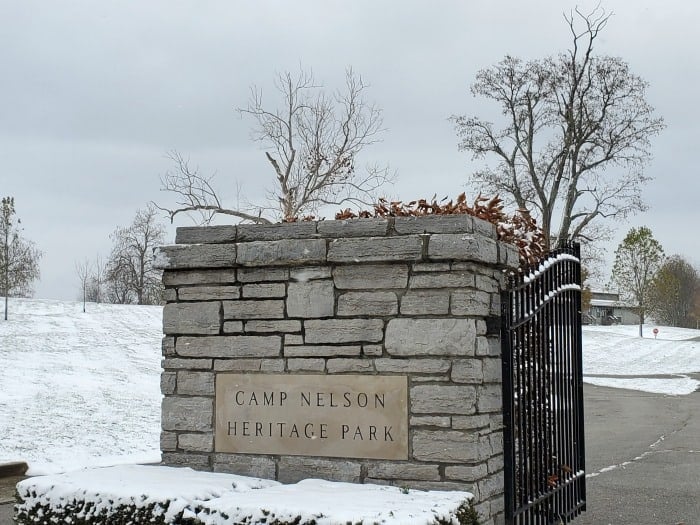 Things you need to know to plan a trip to Camp Nelson National Monument
Park Address: 6614 Danville Road, Nicholasville, KY 40356
Located along US 27 about 20 miles south of Lexington, Kentucky
Entrance Fee: $0.00 There is no fee to visit the park
Visitor Center Hours: Tuesday - Saturday 9 am to 5 pm
We definitely suggest calling ahead of time. We visited the park during opening hours and the park gate was open but the visitor center was closed.
National Park Sites near Camp Nelson National Monument
Abraham Lincoln Birthplace National Historical Park
Lincoln Boyhood National Memorial
Fort Donelson National Battlefield
Stones River National Battlefield
Cumberland Gap National Historical Park
Big South Fork National River & Recreation Area
Check out all of the Kentucky National Parks and neighboring National Parks in Tennessee, National Parks in Indiana, Ohio National Parks, Illinois National Parks, and Missouri National Parks
Check out all the fun things to do in Louisville, Kentucky.