Big South Fork National River and Recreation Area is located in Tennessee and Kentucky. This large park offers a ton of outdoor recreation opportunities.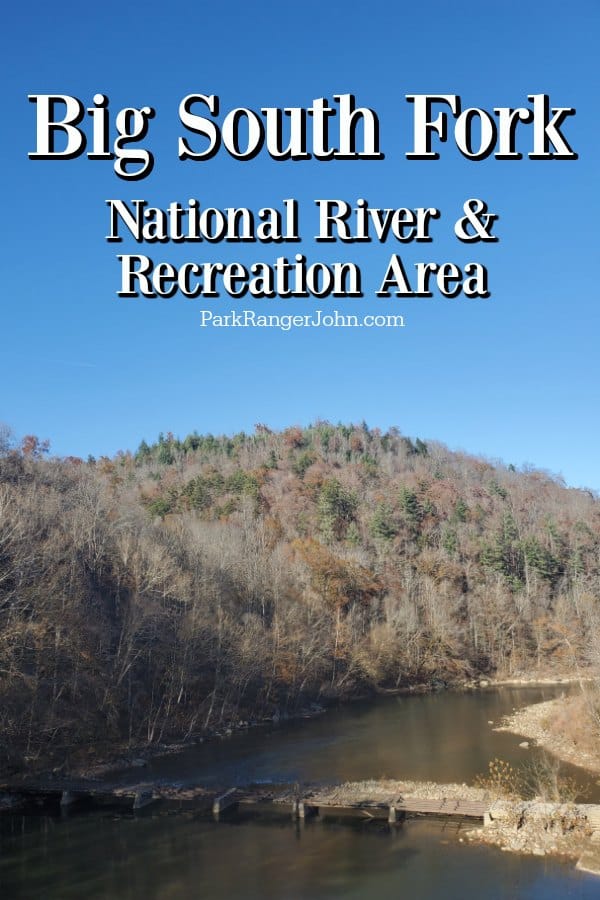 Big South Fork National River and Recreation Area
Big South Fork protects 125,000 acres of the Cumberland Plateau, is located in both Tennessee and Kentucky, and joins or contains portions of six counties.
The Big South Fork River starts in Tennessee at the confluence of the Clear Fork and New Rivers. The river flows north through a 600-foot deep gorge before entering into Kentucky and emptying into the Cumberland River.
Congress authorized Big South Fork NRRA in 1974. The authorization protected an area with few roads and no development so visitors could enjoy a wealth of recreational opportunities.
The Cumberland Plateau lies in the western Appalachian Mountains and was formed over time by continental collisions.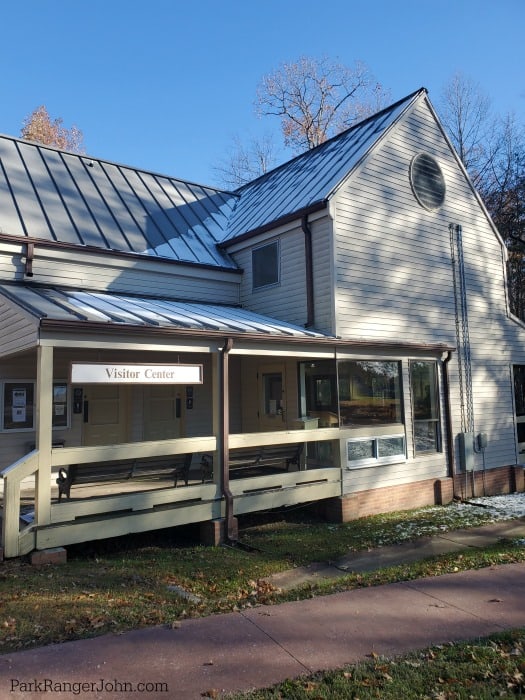 Visitor Centers
Bandy Creek Visitor Center
The Bandy Creek Visitor Center is located Adjacent to Bandy Creek Campground; approximately 15 miles west of Oneida and 24 miles east of Jamestown, off Highway 297.
The visitor center has a park movie, a few displays and you can ask the ranger any questions you may have about the park.
Big South Fork Movie - Generations
Watching this 12-minute movie is a great way to start your visit. Shown daily at Bandy Creek Visitor Center, this new park movie was more than a year in the making, with footage shot across all four seasons and featuring many of the park's most prominent outdoor activities such as hiking, mountain biking, hunting, horseback riding, whitewater paddling, camping, fishing, and rock climbing.
Open year-round, from 9:00-5:00 PM (ET)
Closed December 25
Crossville Visitor Center
Located in Crossville, just off Exit 320, on I-40, across from Stone Memorial High School.
Open 7 Days a Week, 9:00-5:00 pm CT
Rugby Visitor Contact Station
Located in Rugby, off Highway 52, approximately 17 miles east of Jamestown, Tennessee.
Open Saturdays and Sundays from Memorial Day weekend to Labor Day weekend.
9:00-5:00 pm ET
Helenwood Visitor Center
Located in Helenwood, off Highway 27, approximately fifteen miles from the park entrance.
Open Saturdays and Sundays
9-5:00 pm ET
Blue Heron Interpretive Center
Located via Highways 1651 and 742.
The outdoor museum is open year-round.
Blue Heron Interpretive Center and Bookstore are open April 1 through October 31, between 11:00 AM - 4:00 PM (ET), Wednesday through Sunday.
Hiking
Big South Fork has developed a map depicting the trail system, broken into nine detailed maps of all trail uses.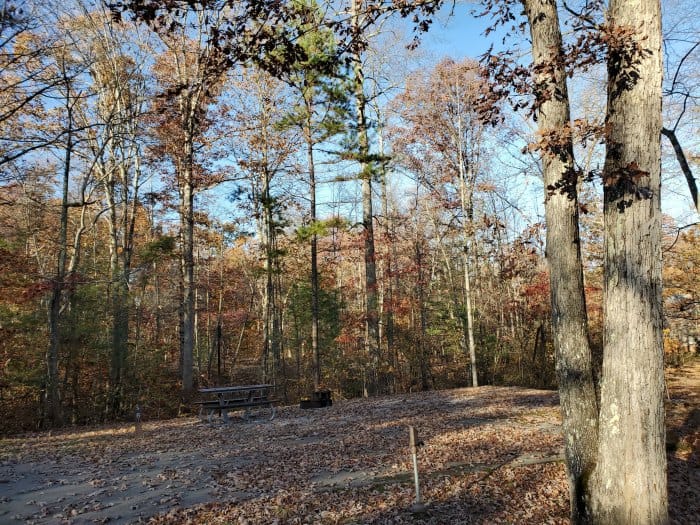 Big South Fork Camping
Big South Fork National River and Recreation Area include five campgrounds:
Bandy Creek (TN) and Blue Heron (KY) are developed sites with many amenities
Alum Ford Campground (KY) offers a limited number of primitive campsites.
Two equestrian campgrounds, Bear Creek (KY) and Station Camp (TN) are both highly developed campgrounds managed by the park.
Firewood from outside of the five counties (McCreary, Scott, Morgan, Fentress, and Pickett) surrounding the park is prohibited.
Campground reservations for sites within Big South Fork can now be made through National Recreation Reservation Service by calling 1-877-444-6777 or online at the National Recreation Reservation Service web site.
Reservations may be made up to 180 days in advance. Group camp can be reserved up to 360 days in advance.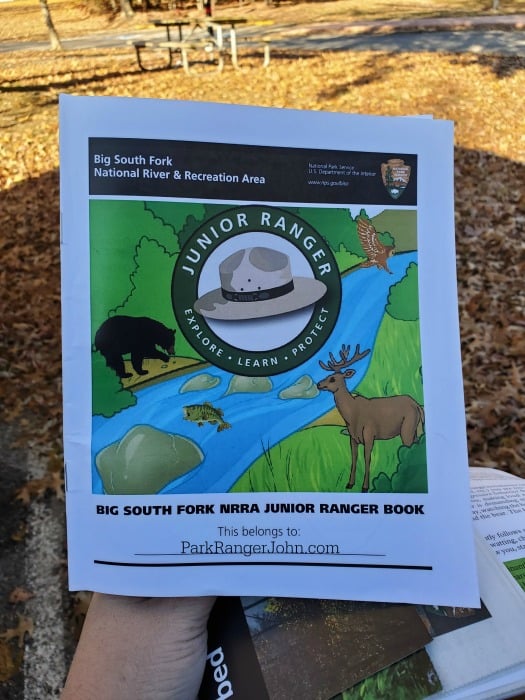 Junior Ranger Program
The junior ranger program can be picked up at one of the visitor centers or you may also download it by clicking here (851 KB). The park's junior ranger book is also available in Spanish.
The program is pretty in-depth. We tried to finish it while we were in the park and were unable to get to a couple of spots for information. The ranger on duty would not give us a badge since we hadn't visited all of the places in the booklet.
If you plan to complete the Junior Ranger program you will want to give yourself enough time to get to all of the destinations listed in the booklet.
Big South Fork Scenic Railway
The Big South Fork Scenic Railway operates seasonally from Stearns, Kentucky to the Blue Ridge Mining Company.
You can take a three-hour adventure on the train to learn more about the Blue Ridge Mining Company and Big South Fork along with the scenic views of the Daniel Boone National Forest.
The train leaves from the depot in Stearns for a trip into the gorge of the Big South Fork National River and Recreation Area.
Blue Heron Outdoor Museum
This area was a coal mining camp and part fo the Stearns Coal and Lumber Companies operation. There is now an outdoor museum managed by the NPS that includes interpretive panels, and information.
Hundreds of people lived and worked in this community from 1937 to 1962.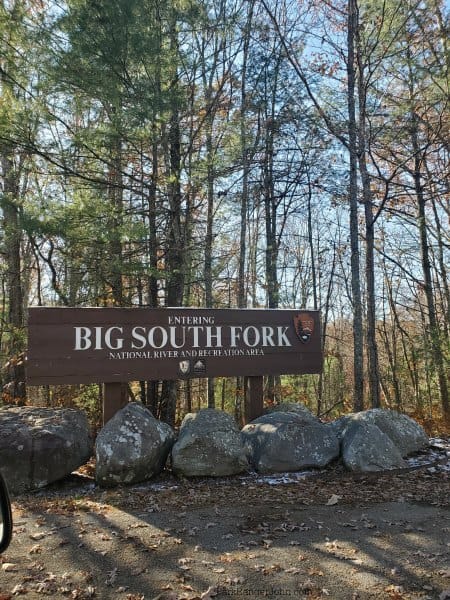 Things to know when planning a visit to Big South Fork National River and Recreation Area
The Eastern/Central Time Line runs through the middle of the park. Most park offices and concessionaires operate on Eastern Time.
When driving HWY 297 through the Big South Fork River gorge, you will encounter steep grades (up to 13%) and sharp hairpin curves. Drive slowly, use a low gear, and check turns before you enter them. Similar steep road conditions also exist when driving into Blue Heron on Hwy 741.
Hunting is allowed within Big South Fork. There are safety zones around most areas of high visitor use, but if you are planning on being in the backcountry, particularly in the fall and early winter, the park recommends wearing bright-colored clothing or hunter orange.
Make sure you are aware there are poisonous snakes including copperheads and timber rattlesnakes in the park.
Entrance Fees - $0.00, There is no entrance fee to visit the park.
Pets - Pets are allowed in the park but they need to be on a leash no longer than 6 feet long.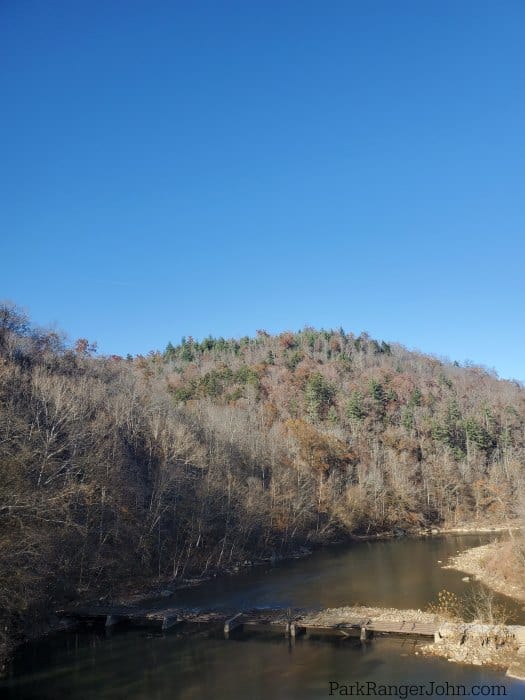 National Park Sites near Big South Fork
Cumberland Gap National Historical Park
Andrew Johnson National Historic Site
Great Smoky Mountains National Park
Stones River National Battlefield
Check out all of the amazing Kentucky National Parks, Tennessee National Parks, North Carolina National Parks, South Carolina National Parks, Georgia National Parks, and Alabama National Parks