Complete Guide to Andrew Johnson National Historic Site in Tennessee including things to do, History, nearby lodging, directions, and so much more.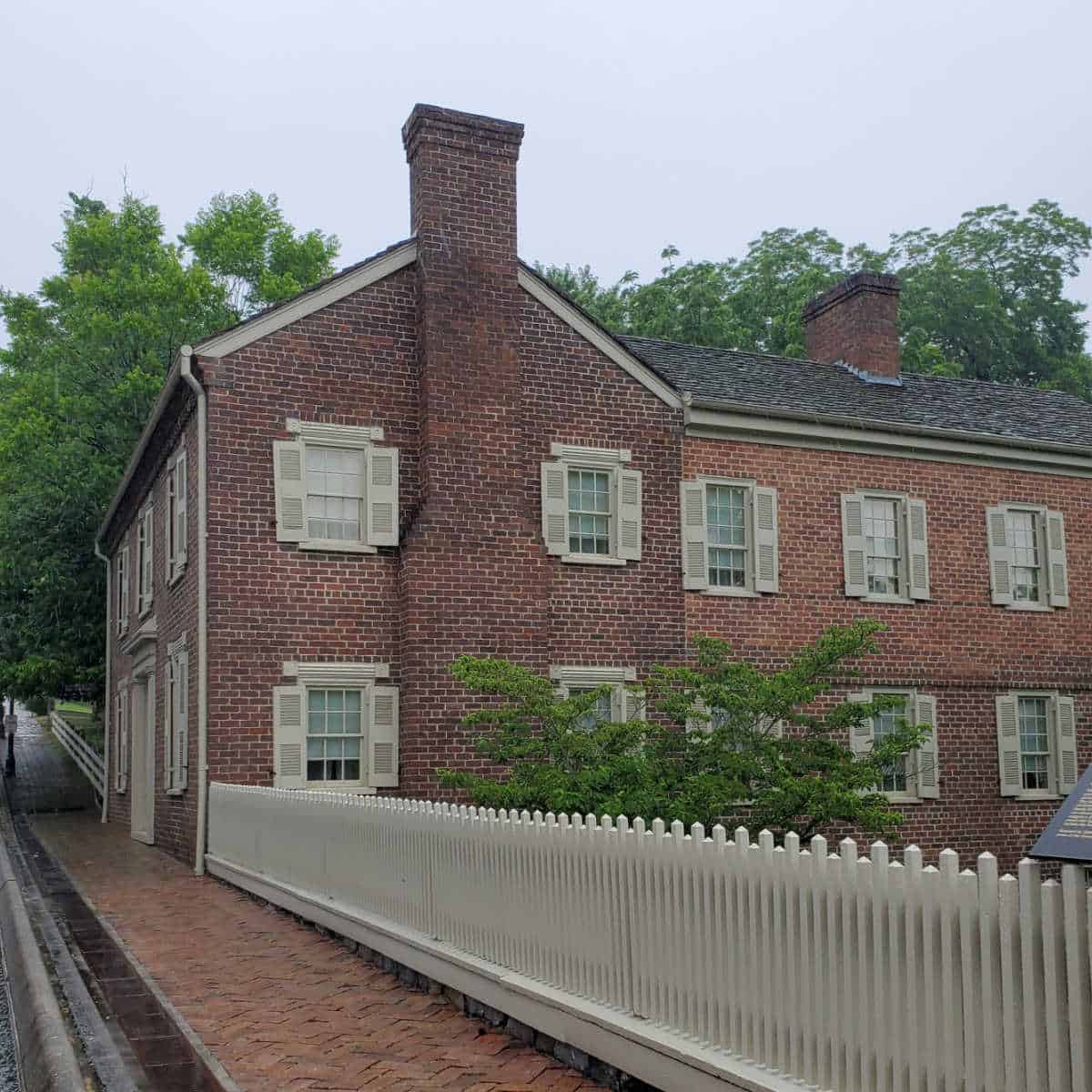 Andrew Johnson National Historic Site
Andrew Johnson was the seventeenth President of the United States. He is one of the least known presidents except for the fact that Congress tried to Impeach him and really to understand the man you need to see where he was coming from.
You can visit the Andrew Johnson National Historic Site in Greenville, Tennessee to learn more about Andrew Johnson.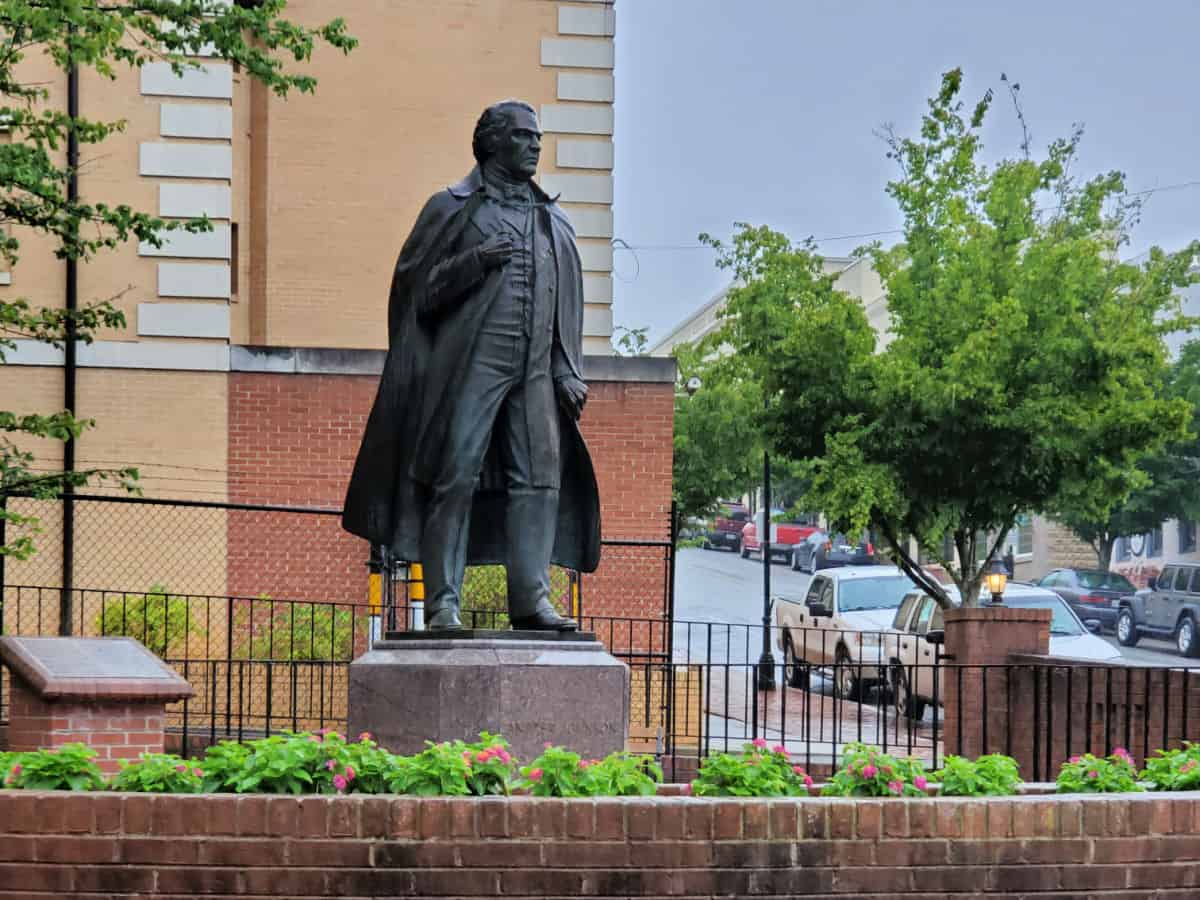 About Andrew Johnson National Historic Site
Andrew Johnson National Historic Site is located in Greeneville, Tennessee. The site honors the 17th president of the United States, who took over after Abraham Lincoln was assassinated.
This site consists of four locations – two of Johnson's homes, his tailor shop, and his final resting place.
He was a Southerner who remained loyal to the Union during the Civil War and somehow that did not make him popular with anyone except Abraham Lincoln.
Andrew Johnson's history in Greenville TN goes back to his childhood. He was born in Raleigh North Carolina in 1808 and apprenticed to a tailor there while still very young. He and his brother ran away from their apprenticeship and ended up in Greenville when Andrew was 17.
He set himself up as a tailor and the next year he married a local girl Eliza McCardle whose father was a bootmaker. They had five children together.
In time Andrews tailor shop became the place to discuss politics in Greenville and thus began his political career. He was a state representative, a state senator, governor of TN and senator from Tennessee.
He was, in fact, the only senator from a Southern State who retained his seat in the Senate after the south seceded from the Union.
In 1862 Abraham Lincoln named him as the Military Governor of Tennessee. In 1864 he was chosen to be the running mate of Lincoln even though he was a Democrat and Lincoln was a Republican.
When Lincoln was assassinated Johnson was thrust in the position of President, a position not to be envied even under the best of circumstances, these were the worst of times.
No president before or after has gone into office with better intentions and ended with such a sense of defeat.
His story is one that deserves to be told and the US Park Department has done a very good job at this location of doing just that.
There are three distinctive and separate buildings that make up this historic site.
There is parking at the homestead and at the Visitor Center. The first Johnson home is located across the street from the National Park Service Visitor Center closest to the parking lot. It is a small house with small rooms, the type of home typical to a successful tailor in the 1830s & 40s.
You then cross the street and enter the Visitor Center. There is a thirteen-and-a-half-minute video that tells the story of Andrew Johnson, this is a very good video and well worth sitting down and watching.
When you exit the movie you are handed a ballot and asked to vote whether you think he should have been found guilty or innocent at his impeachment trial.
Also inside the Visitor Center is the original tailor shop where so many lively political debates took place.
You will also see a wedding suit that was made by Andrew Johnson when he was a tailor. This has to be one of the most unique items ever in a Presidential historic site.
While you are at the Visitor Center you need to sign up for a tour of the Homestead which takes place on the half hour.
While the other locations are about professional life the Johnson Homestead is about personal life. It is located several blocks from the Visitor Center. There is a real sadness that pervades this part of the experience.
Eliza Johnson suffered from tuberculosis and was unable to function as First Lady. All three of the Johnson sons died from the results of alcoholism under tragic circumstances.
During the War, the house was repeatedly vandalized and the tour will show you just a small section of the wall with the graffiti still visible.
There is one last site to visit, the Johnson Family Cemetery. High above the hill overlooking Greenville are the graves of the 17th President of the United States and his family.
He was buried with a copy of the Constitution which he so revered under his head and wrapped in an American flag.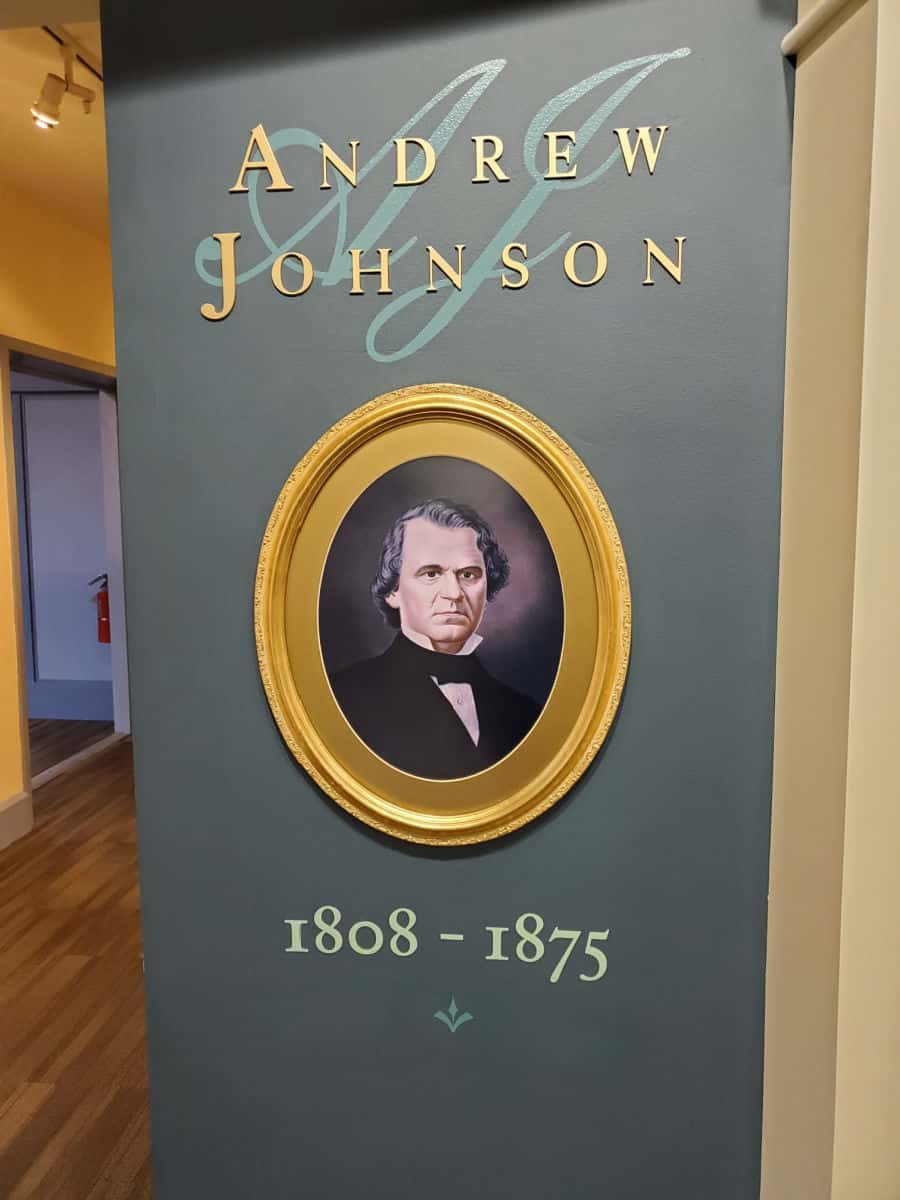 Is Andrew Johnson National Historic Site worth visiting?
Yes, the Andrew Johnson National Historic Site is worth visiting for those interested in American history and the presidency.
It offers an immersive experience into the life and legacy of Andrew Johnson through exhibits, tours, and educational programs.
We really enjoyed learning more about Andrew Johnson's life in east Tennessee and his road to the White House.
History of Andrew Johnson National Historic Site
Johnson became president as the Civil War was ending. A Democrat, Johnson ran with Lincoln on the National Union ticket.
Although the war was ending, the nation was at a great juncture point trying to create a reconstruction plan to unite a country.
Johnson's plan for reconstruction included pardons being granted for white southerners who took an oath of loyalty.
As for the case of loyal Republicans, Johnson strongly disagreed on the status that African Americans should be granted in American society.
This led to much conflict with the Republican-dominant Congress. Tensions rose and when Johnson breached the Tenure of Office Act by removing Secretary of War Edwin Stanton, the House of Representatives impeached him in February of 1868.
In the end, Johnson was acquitted by one vote and he served as president until March of 1869. Johnson was the first president in history to be impeached, as a nation was struggling to agree upon a successful post-war America.
Johnson was born in Raleigh, North Carolina in December of 1808. Johnson was born into poverty to his father Jacob and mother Mary.
Johnson's father died when he was just three and his mother had to support Johnson and his brother as a laundress.
She eventually remarried to a man who was just as poor as she was. Johnson's brother was illiterate and Johnson never attended school.
His mother apprenticed him as a tailor and it was while working in the tailor shop that Johnson developed a love of learning; local residents would come to read to the tailors while they worked.
In 1826, Johnson moved to Greeneville, Tennessee with his mother and stepfather.
Just west of the Great Smoky Mountains in northwest Tennessee, Johnson fell in love with the beauty of Greeneville. Johnson began his own tailor business which grew very successful over the years.
In 1827, at the age of 18, Johnson married 16-year-old Eliza McCardle, the daughter of a local shoemaker who died when Eliza was a young teen.
The couple was married at her widowed mother's home by Mordecai Lincoln, a paternal uncle to Abraham Lincoln.
Andrew and Eliza were married for nearly 50 years and had five children.
The couple bought their first home in the 1830s, a small, two-story brick house on the corner of Water and Depot Street.
Not long after, Johnson bought a small wooden structure which he moved across from the family home to house his tailor shop.
As was the case back in North Carolina, Johnson hired people to read to him while he worked in the shop. The location also grew as a popular spot for locals to visit and debate. Johnson was a master orator and loved debating townsfolk who held opposing views from his own.
Around 1829, the well liked tailor from Greeneville began making a name for himself politically. Johnson went from Greeneville Alderman, to town mayor and then State Representative.
He then served as a U.S. Representative from 1843-1853. Through these years, Eliza, a loyal and supportive wife and mother, was busy raising children, managing the home, and helping her husband study math and reading.
By 1951, Johnson's family numbered seven and he had just bought his first two slaves. The family needed more room so they purchased a larger home on Main Street.
At this point in time, Johnson also owned rental properties and a farm. The home on Main is where the family lived before and also after Johnson served as president.
During the Civil War, Union soldiers had occupied the family home and left it in disrepair. The family renovated the home upon returning from Washington.
Today, the home is as close to the time period as a location can get for being nearly seven decades old. More than half of the items inside the house are original family belongings.
Andrew Johnson died on July 31, 1875 at the age of 66, after suffering two strokes. His funeral was held in Greeneville, and per his wishes, Johnson was buried wrapped in an American flag with a copy of the U.S. Constitution under his head.
His final resting place was on a hill just outside Greeneville. In 1901, Johnson's daughter Margaret willed the burial ground to the federal government for use as a public park and the site was dedicated as the Andrew Johnson National Cemetery in 1906.
After Johnson's death in 1875, the gravesite expanded into a small plot for his immediate family.
Two of Johnson's sons who died before him had to be reinterred so to be laid to rest next to their father. Andrew Johnson's monument, with a towering 28-foot marble statue, is the center of the plot.
It depicts the United States Constitution, an eagle, and the Bible. The cemetery conveys many characteristics of a small country cemetery, with aspects that remind the visitor of architecture during the late Victorian era.
Having had tuberculosis for many years of her life, Eliza struggled with poor health throughout her marriage and spent more of her time as the first lady in her bedroom.
Eliza died less than six months after her husband and was laid to rest in the family plot. The cemetery today is the only National Cemetery controlled by the United States Department of the Interior, accepting new interments to include soldiers of World Wars.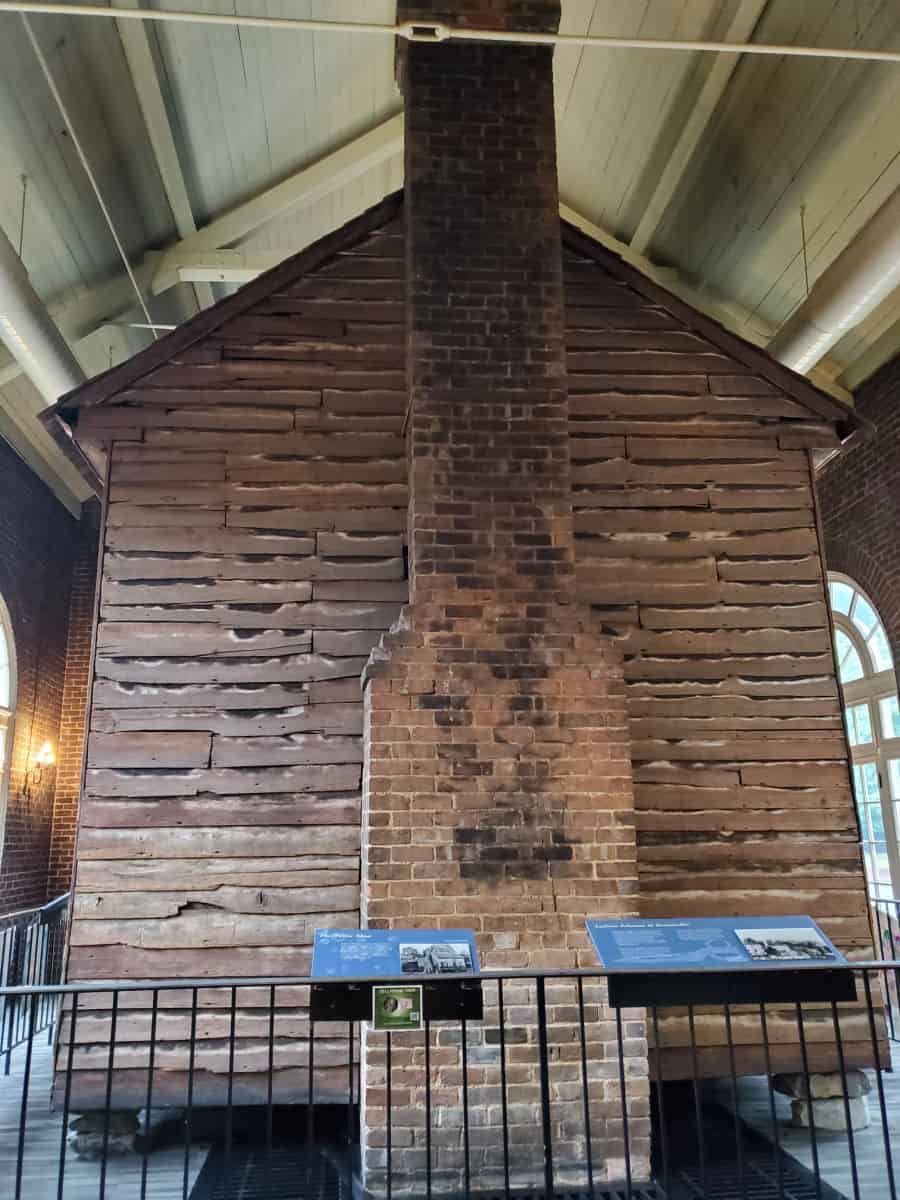 Things to know before your visit to Andrew Johnson National Historic Site
Entrance fee
$0.00 - There is no entrance fee or park pass required for visiting the park.
Planning a National Park vacation? America the Beautiful/National Park Pass covers entrance fees for an entire year to all US National Park Sites and over 2,000 Federal Recreation Fee Sites.
The park pass covers everyone in the car for per vehicle sites and for up to 4 adults for per-person sites.
Buy on REI.com and REI will donate 10% of pass proceeds to the National Forest Foundation, National Park Foundation and the U.S. Endowment for Forestry & Communities.
Free Entrance Days -Mark your calendars with the five free entrance days the National Park Service offers annually.
Time Zone
Greeneville, TN observes Eastern Standard Time (EST) and during daylight saving time, it changes to Eastern Daylight Time (EDT).
Pets
Pets, except service animals, are not allowed in park structures such as the Visitor Center, Early Home, Museum, or Homestead.
Pets on leashes are allowed on the Homestead grounds, as well as on roadways and sidewalks of the National Cemetery.
Cell Service
The availability of cell service can vary depending on the carrier.
Park Hours
Summer Hours: Open daily from April to November at 9 AM to 4 PM.
Winter Hours: Open Wednesday through Sunday from December to March at 9 AM to 4 PM.
Closed on New Year's Day, Martin Luther King Jr Birthday, Washington's Birthday, Veterans Day, Thanksgiving Day, and Christmas Day.
Wi-Fi
There is no public Wi-Fi available at the park.
Insect Repellent
Insect repellent is always a great idea when outdoors, especially if you are around any body of water.
We use Permethrin Spray on our clothes before our park trips.
Water Bottle
Make sure to bring your own water bottle and plenty of water with you. Plastic water bottles are not sold in the park.
Parking
There is street parking near the visitor center.
Food/Restaurants
There are no restaurants within the park.
Gas
There are no gas stations within the park.
Drones
Drones are not permitted within National Park Sites.
National Park Passport Stamps
National Park Passport stamps can be found in the visitor center.
Make sure to bring your National Park Passport Book with you or we like to pack these circle stickers so we don't have to bring our entire book with us.
Andrew Johnson NHS is part of the 2008 Passport Stamp Set.
Electric Vehicle Charging
There are 81 electric vehicle charging stations within a 30 mile radius of Greeneville, TN 37743.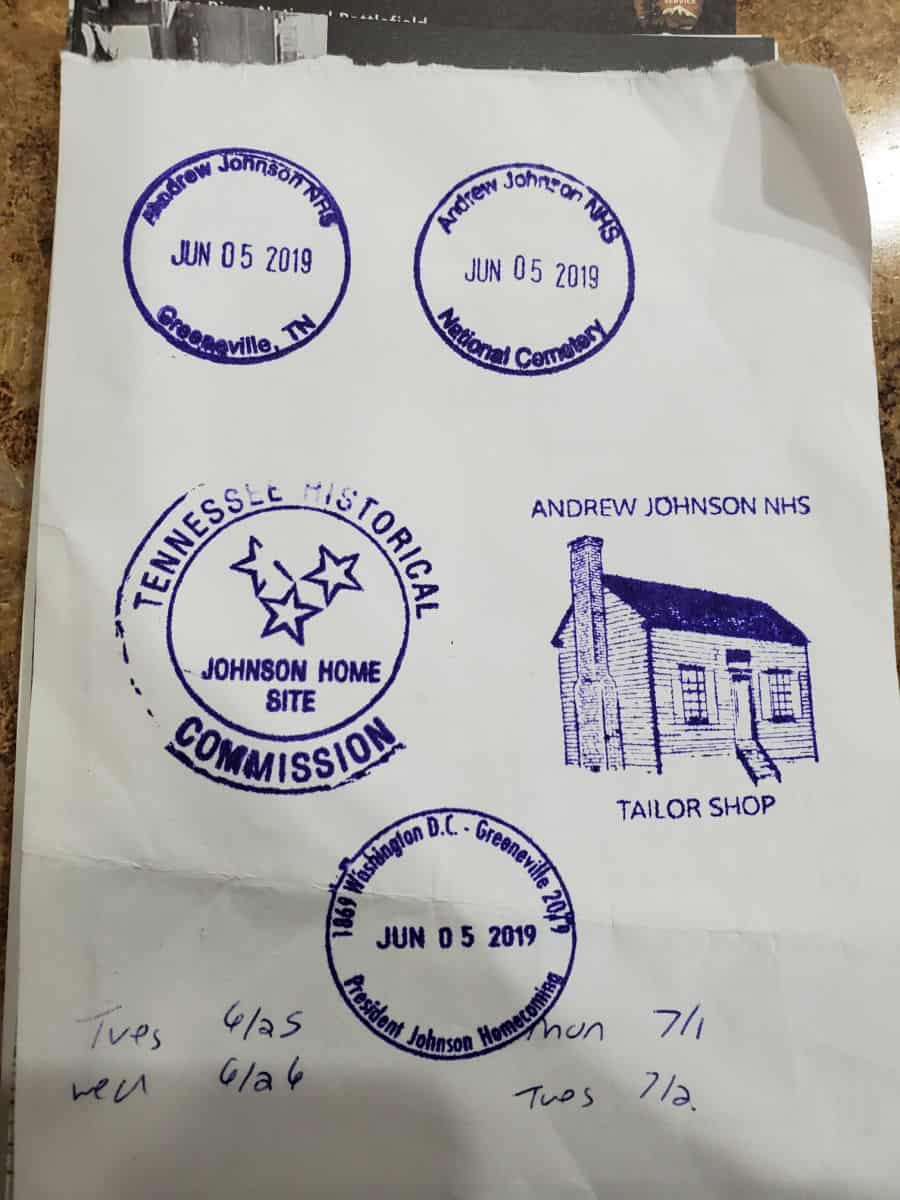 Details about Andrew Johnson National Historic Site
Size - 16 acres
Check out how the park compares to other National Parks by Size.
Date Established
The site was authorized by Congress as a U.S. National Monument in 1935, established on April 27, 1942
Redesignated a US National Historic Site on December 11, 1963.
Visitation
In 2022, Andrew Johnson NHS had 52,873 park visitors.
In 2021, Andrew Johnson NHS had 63,720 park visitors.
In 2020, Andrew Johnson NHS had 46,092 park visitors.
In 2019, Andrew Johnson NHS had 51,189 park visitors.
Learn more about the most visited and least visited National Parks in the US
National Park Address
101 North College Street, Greeneville, Tennessee 37743
Park Phone Number: 423-638-3551
National Park Map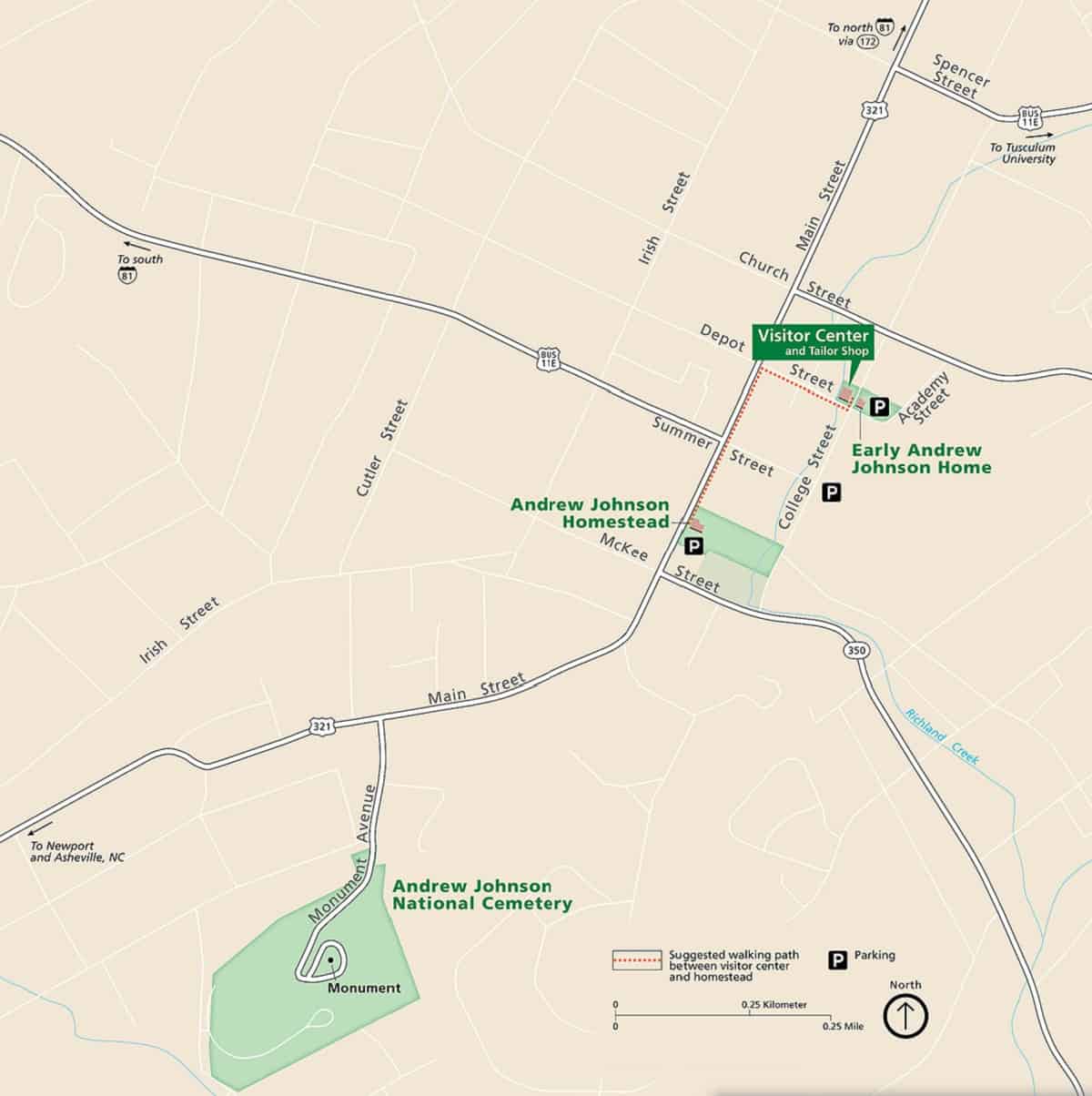 Where is Andrew Johnson National Historic Site?
The Andrew Johnson National Historic Site is situated in Greeneville, a small town in the northeastern part of Tennessee. The site is located at the intersection of College Street and Depot Street, just a few blocks from the town square.

Estimated distance from major cities nearby
Charlotte, NC - 179 miles
Lexington-Fayette, KY - 207 miles
Greensboro, NC - 198 miles
Atlanta, GA - 283 miles
Louisville, KY - 281 miles
Durham, NC - 252 miles
Nashville, TN - 249 miles
Cincinnati, OH - 285 miles
Raleigh, NC - 272 miles
Columbus, OH - 355 miles
Estimated Distance from nearby National Park
Great Smoky Mountains National Park - 41 miles
Mammoth Cave National Park - 258 miles
New River Gorge National Park - 204 miles
Shenandoah National Park - 287 miles
Gateway Arch National Park - 555 miles
Where is the National Park Visitor Center?
The Andrew Johnson Visitor Center is located on the corner of College and Depot Streets in historic downtown Greeneville, TN.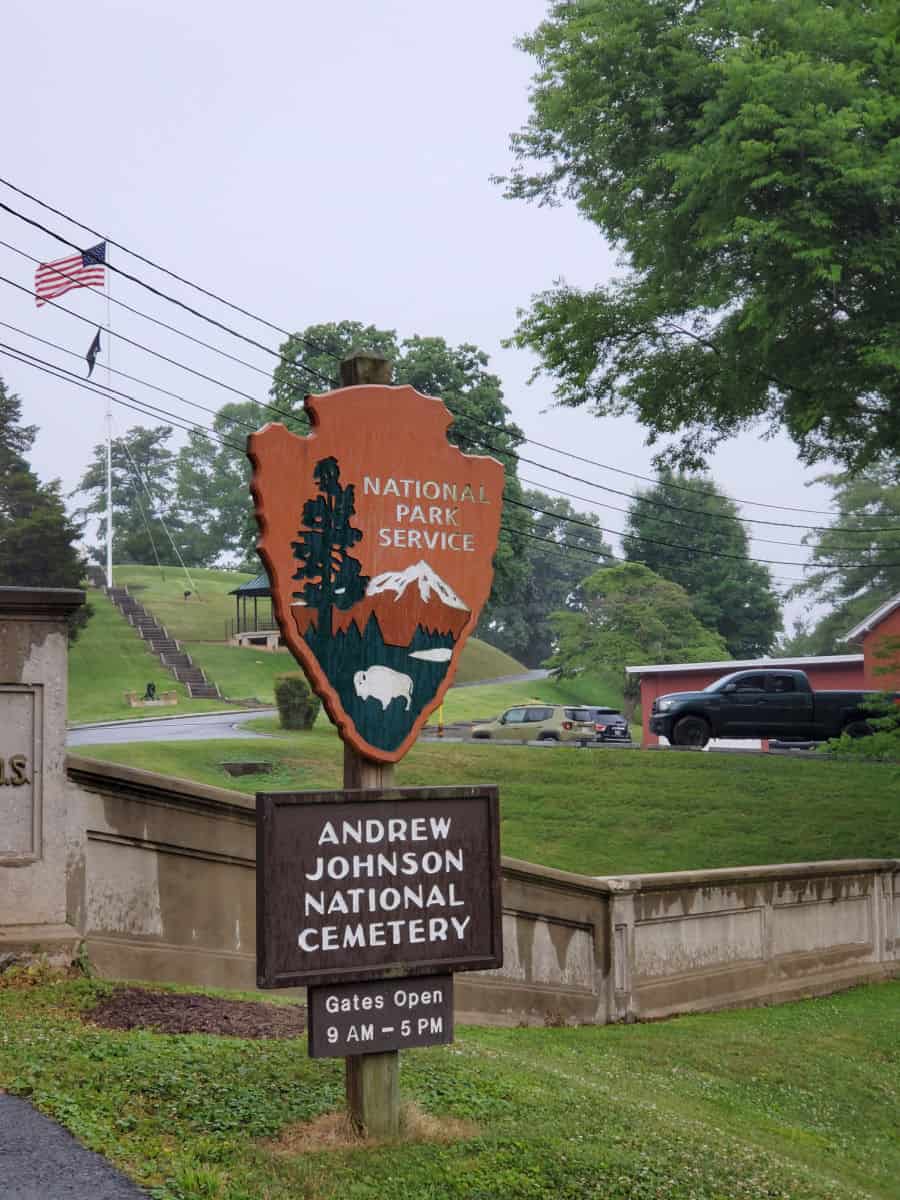 Getting to Andrew Johnson National Historic Site
Closest Airports
Tri-Cities Regional Airport (TRI / KTRI)
International Airports
Greenville-Spartanburg International Airport (GSP / KGSP)
Charlotte Douglas International Airport (CLT / KCLT)
Nashville International Airport (BNA / KBNA)
Regional Airports
Asheville Regional Airport (AVL / KAVL)
McGhee Tyson Airport (TYS / KTYS)
Driving Directions
Be advised that the GPS setting for Andrew Johnson National Historic Site may be listed as 121 Monument Avenue, which is the park headquarter's building located in the National Cemetery.
To arrive at the site Visitor Center, please use 101 North College Street, Greeneville, TN as your destination.
From I-81S take exit 36 to Rt. 172 south to Greeneville. Follow the signs to the Visitor Center.

From I-81N take exit 23 to Rt. 11E north to Greeneville. Follow the signs to the Visitor Center.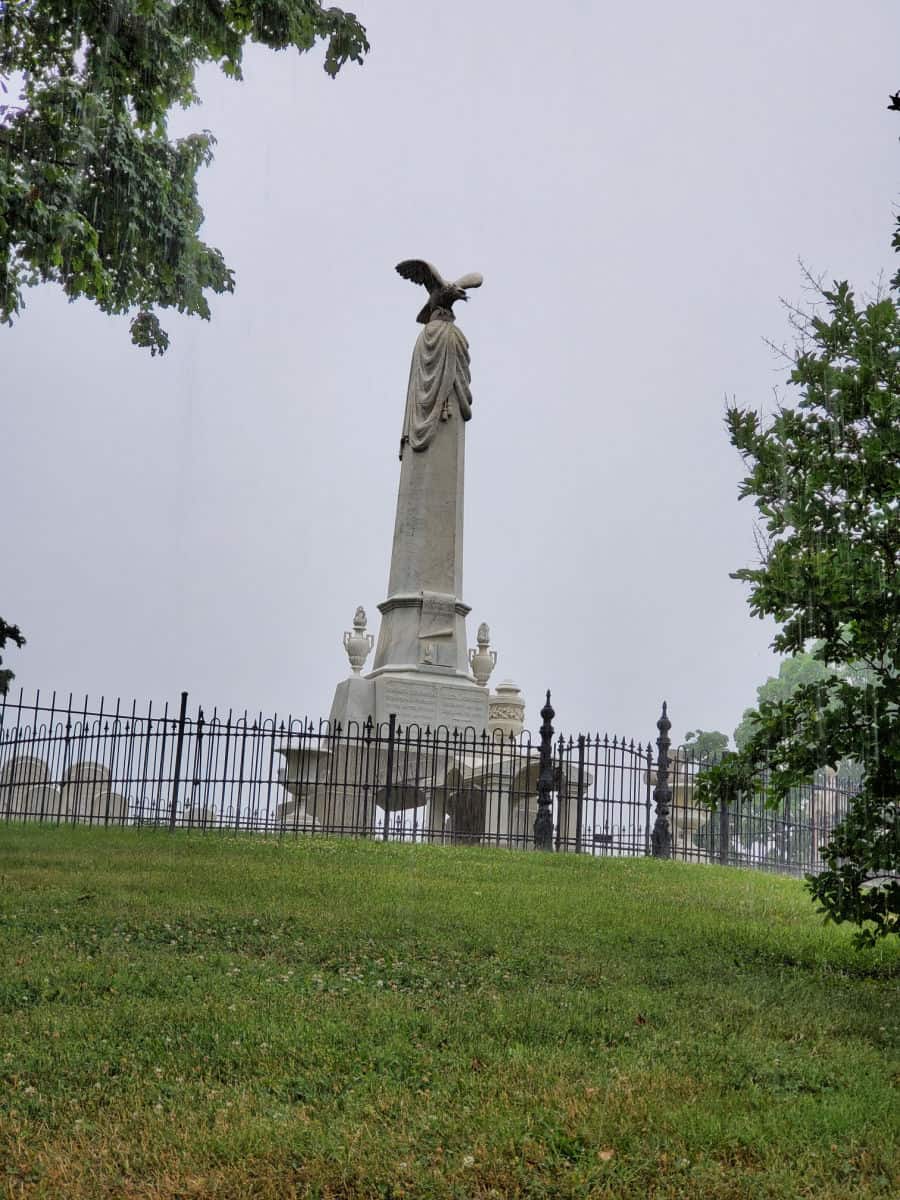 Best time to visit Andrew Johnson National Historic Site
If you're a history buff looking for an immersive experience, the Andrew Johnson National Historic Site is a must-visit destination.
Whether you're a student, a teacher, or just someone fascinated by the history of the American presidency, the site has something to offer for everyone.
The best time to visit is during the spring or fall, when the weather is mild and the crowds are fewer, making it the perfect opportunity to explore the historic sites, take a ranger-led tour, or attend an educational program.
Don't miss out on this incredible opportunity to step back in time and experience the rich history of the Andrew Johnson National Historic Site.
Weather and Seasons
The warmest weather occurs from May 23 to September 21, with an average daily high temperature above 77 degrees.
The coldest weather occurs from December 1 to February 27, with an average daily high temperature below 54 degrees.
The snowiest weather occurs from December 24 to February 28, with snowfall of at least 1 inch a month. January gets the most snow, with an average of 1.9 inches.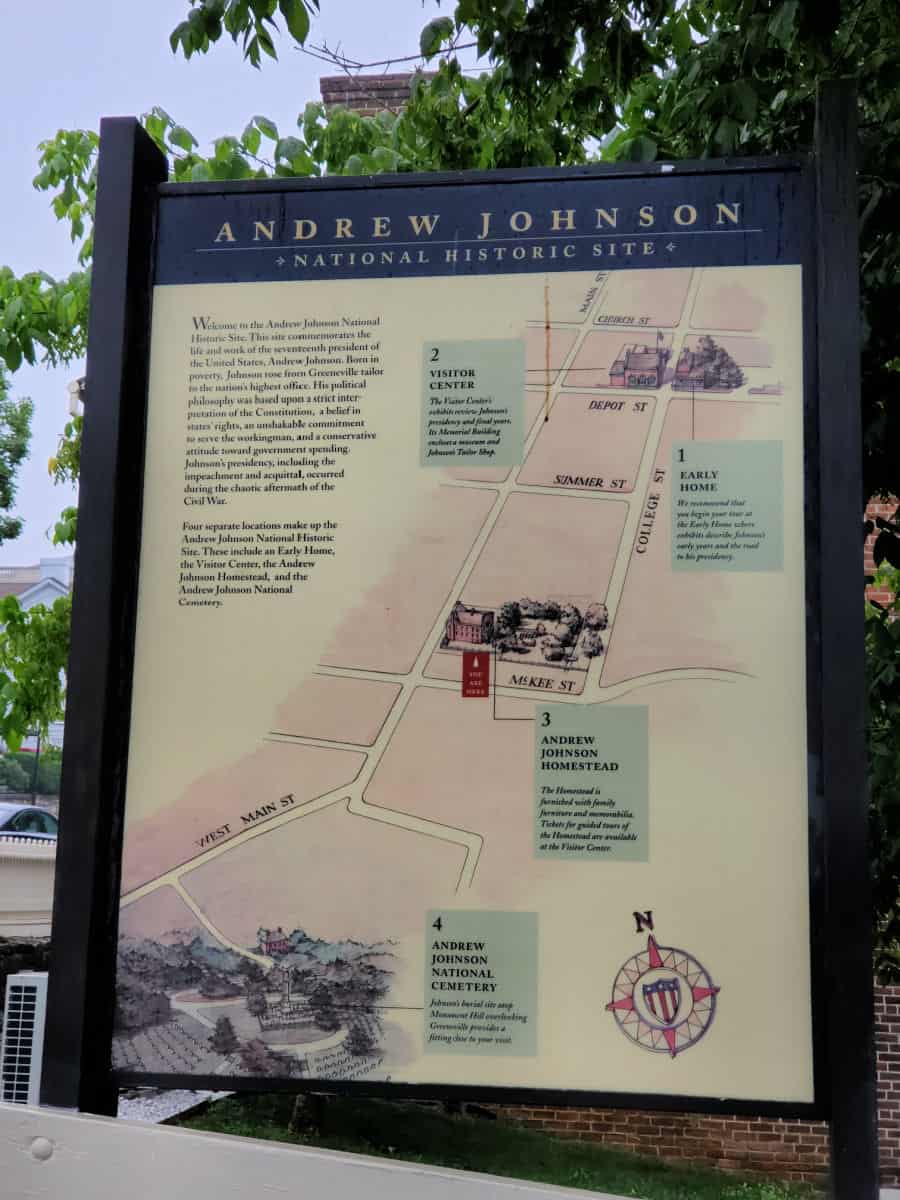 Best Things to do in Andrew Johnson National Historic Site
We suggest planning at minimum a couple of hours to explore the park. Most of the top things to do are pretty close.
Visitor Center
The visitor center includes the early home of President Johnson, his Tailor Shop, and interpretive exhibits.
There is a 13-minute film available anytime. You can make reservations for the guided tour of the homestead at the visitor center.
You can pick up the Junior Ranger packet at the visitor center. They have a great junior ranger kit when you get the booklet.
To earn a Junior Ranger badge you need to complete 5 activities within the booklet. The majority of them can be completed at the visitor center.
Andrew Johnson Tailor Shop
Located in the Visitor Center is Andrew Johnson's Tailor Shop which he bought in 1831.
You can see into the shop and also learn about his life as a tailor and how this led him into politics.
Andrew Johnson Cemetery
At the top of Signal Hill, you can see Andrew Johnson's gravesite along with his wife and descendants.
The Andrew Johnson Cemetery is one of two National Cemeteries run by the National Park Service that is considered active.
Though the park service has said that the cemetery may become inactive in 2019 due to running out of space.
Andrew Johnson Homestead
One of the cool things you can do at this historic site is take a guided tour of Andrew Johnson Homestead.
This is the house that the family lived in from 1851. There are nine rooms which include the original furniture open during the tour.
Andrew Johnson Statue
Located across the street from the visitor center is a statue of Andrew Johnson.
Greeneville is the 2nd oldest town in Tennessee. While you are visiting this National Park Site you can also check out the state's oldest jail, a replica of the Capitol of the Lost State of Franklin,
The Dickson-Williams Mansion, and the Greeneville Greene County History Museum.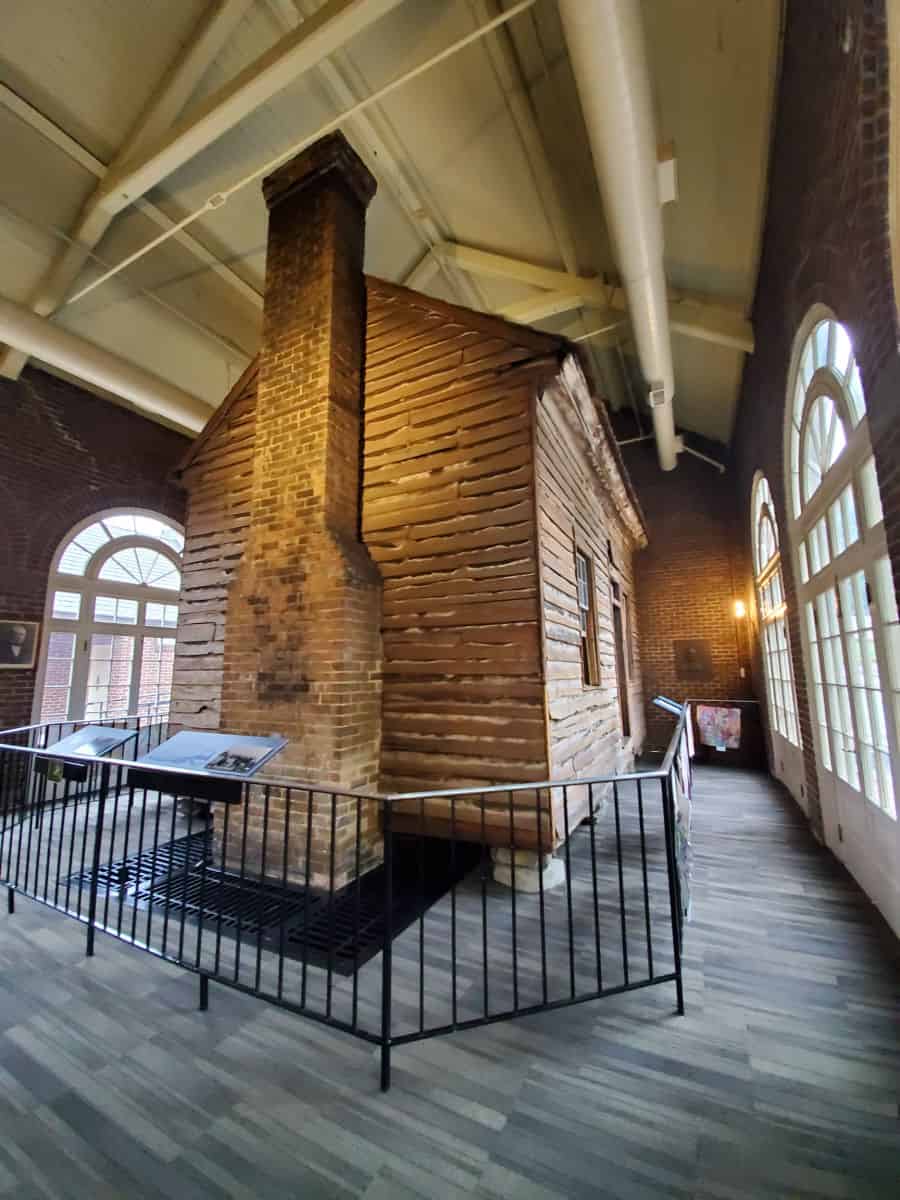 Hiking in Andrew Johnson National Historic Site
Always carry the 10 essentials for outdoor survival when exploring.
There are no designated hiking trails within the park but you will want to be prepared for the weather walking around town.
How to beat the crowds in Andrew Johnson National Historic Site?
We did not experience any crowds while visiting the park.
Where to stay when visiting Andrew Johnson National Historic Site
There are no National Park Lodges within the park.
General Morgan Inn - Located close to The Capitol Theater of Greeneville and Dickson-Williams Mansion, General Morgan Inn provides free continental breakfast, a terrace, and an art gallery on site. Be sure to enjoy a meal at Brumley's, the onsite fine-dining restaurant. In addition to a coffee shop/café and a garden, guests can connect to free in-room Wi-Fi.
Quality Inn Greeneville - provides a free breakfast buffet and more. Stay connected with free Wi-Fi in public areas.
Days Inn by Wyndham Greeneville - provides amenities like free to-go breakfast and laundry facilities. Stay connected with free in-room Wi-Fi.
Country Inn & Suites by Radisson, Jonesborough-Johnson City West - Free continental breakfast, a library, and laundry facilities are just a few of the amenities provided at Country Inn & Suites by Radisson, Jonesborough-Johnson City West, TN. Stay connected with free in-room Wi-Fi, and guests can find other amenities such as a fireplace in the lobby and a gym.
Fairfield Inn & Suites by Marriott Morristown - provides amenities like free continental breakfast and laundry facilities. Guests can connect to free in-room Wi-Fi.
Click the map below to see additional vacation rentals and hotels near the park.


Camping
For a fun adventure check out Escape Campervans. These campervans have built in beds, kitchen area with refrigerators, and more. You can have them fully set up with kitchen supplies, bedding, and other fun extras. They are painted with epic designs you can't miss!
Escape Campervans has offices in Vancouver, Seattle, Portland, San Francisco, Las Vegas, Los Angeles, Phoenix, Salt Lake City, Denver, Chicago, New York, and Orlando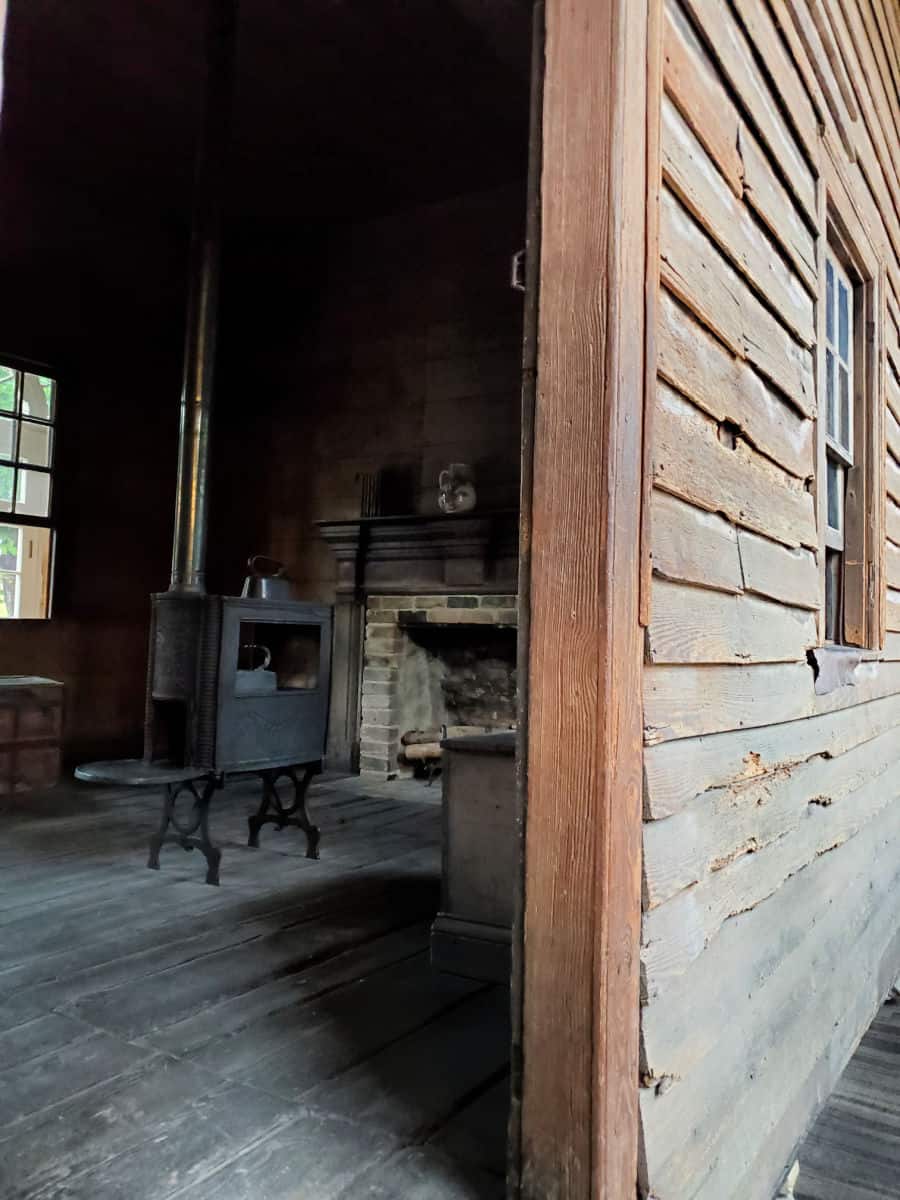 Parks Near Andrew Johnson National Historic Site
Fort Donelson National Battlefield
Stones River National Battlefield
Cumberland Gap National Historical Park
Carl Sandburg Home National Historic Site
Cowpens National Battlefield
Manhattan Project National Historical Park - Oak Ridge, TN
Check out all of the National Parks in Tennessee along with neighboring National Parks in Alabama, National Parks in Arkansas, National Parks in Georgia, Kentucky National Parks, Mississippi National Parks, Missouri National Parks, North Carolina National Parks, and Virginia National Parks