Cumberland Gap National Historical Park is located where the borders of Tennessee, Kentucky, and Virginia converge. Cumberland Gap was a vital route through the Appalachian Mountains.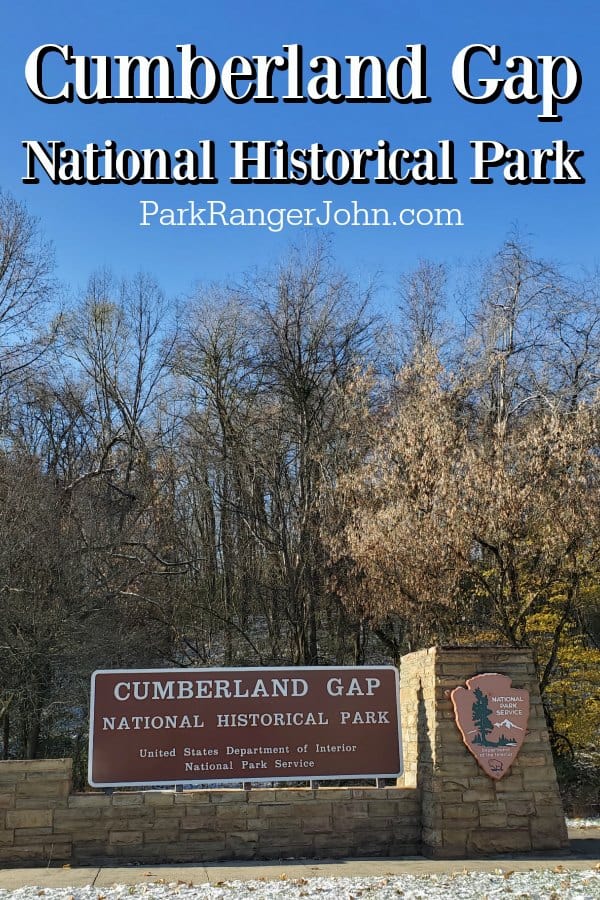 Cumberland Gap National Historical Park
Dr. Thomas Walker of Albemarle County in Virginia is credited with discovering the pass in 1750 while searching for settlement sites beyond the mountains.
Daniel Boone came through this area in 1775 to carve out the Wilderness Road. This area was used by Native Americans, settlers heading to Kentucky and traveling west.
It is hard to imagine that bison used to migrate through this area. The gap in the mountains was named after the Duke of Cumberland, son of King George II by Dr. Thomas Walker.
This area had been used by Native Americans for years before settlers started using it. Fro 1775 to 1820 more than 300,000 people passed through the gap to start their lives in what would become Kentucky and farther west.
The park stretches for 26 miles along Cumberland Mountain including 24,000 acres along the Kentucky, Virginia, and Tennessee border.
In 1996 a tunnel was built under the mountains so the area could return to a more natural landscape. Visitors can explore the park to learn more about the original routes of Native Americans and Pioneers.
You can also learn about and explore Civil War-era earthworks, a century-old iron furnace, and the infamous Indian Rock.
The park is filled with abundant wildlife including black bears, bobcat, white-tailed deer, and wild turkeys.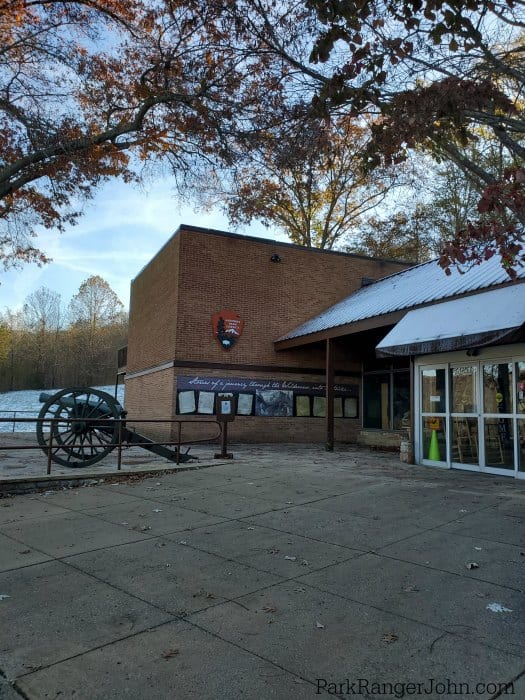 Visitor Center
The Cumberland Gap Visitor Center is the perfect place to start your visit to the park. Pick up a junior ranger program, explore the exhibit, and learn more about the park.
The visitor center is open daily from 9:00 am to 4:00 pm. Closed on Christmas Day.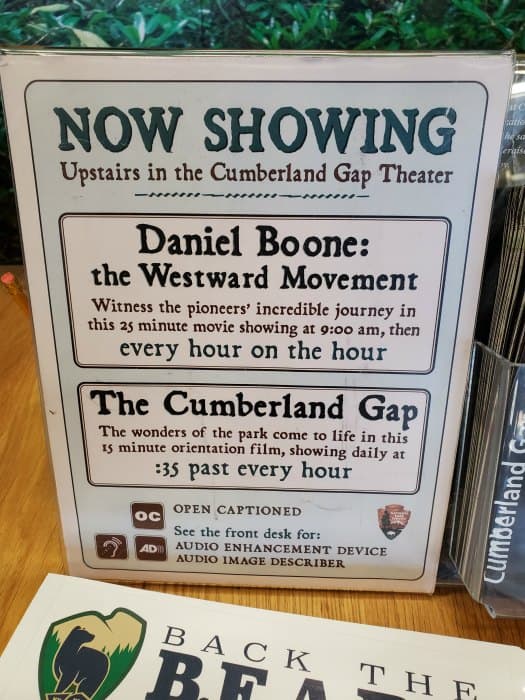 There are two park films available at the visitor center. Daniel Boone and the Westward Movement is 23 minutes long. The Cumberland Gap film is 11 minutes long.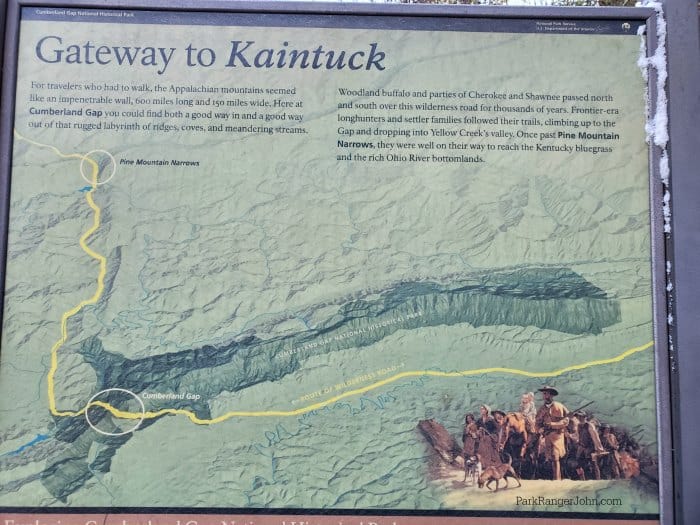 Pinnacle Overlook
Elevation 2,440 feet
The Pinnacle Overlook can be reached by driving a 4-mile winding road to the top. The road is closed when there is inclement weather, ice or dangerous driving.
Visitors can enjoy amazing views looking out over Kentucky, Virginia, and Tennessee.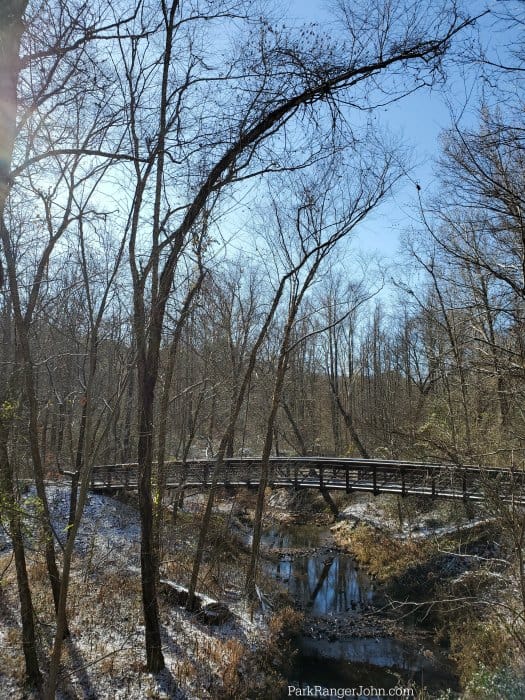 Gap Cave
Gap Cave (formerly known as Cudjo's Cave) Ranger-led tours of Gap Cave are offered throughout the year.
A 1.5-mile tour explores four levels of the cave via 183 steps.
No children under the age of five are permitted.
Tour has limited capacity. Reservations are recommended and can be made up to one month in advance by calling the park visitor center at (606) 248-2817.
Prices
Adults - $8.00
Visitors with Golden Age, Interagency Senior Pass or Access Pass - $4.00
Children five through twelve - $4.00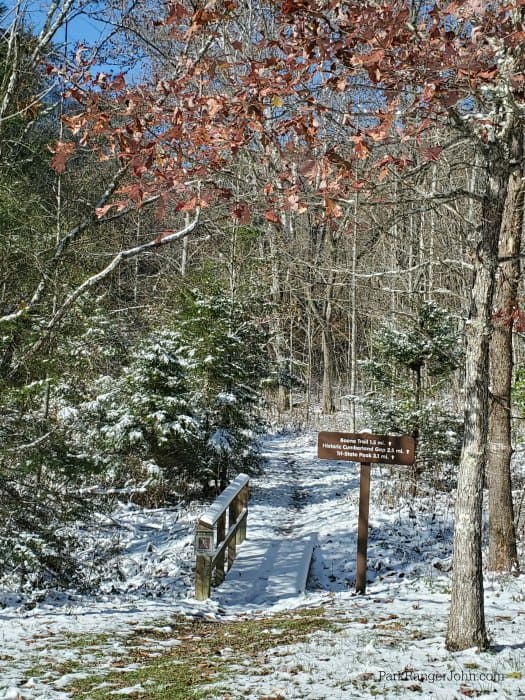 Hiking Trails
There are 85 miles of trails that wander through the park. Everything from easy .25 mile loop trails to the 21-mile long Ridge Trail.

Junior Ranger Program
You can pick up the great Cumberland Gap Junior Ranger Program from the front desk at the visitor center. The program can be filled out while exploring the visitor center.
The junior ranger program can be printed before you head to the park - Junior Ranger Activity Book (8.70 MB)
Hensley Settlement
The Hensley Settlement was established in 1903 by Sherman Hensley and was occupied until 1951.
Hensley Settlement tours have been canceled due to unsafe road conditions. The shortest hike to Hensley is a 9.2-mile roundtrip hike via the Shillalah Creek Trail on the Kentucky side.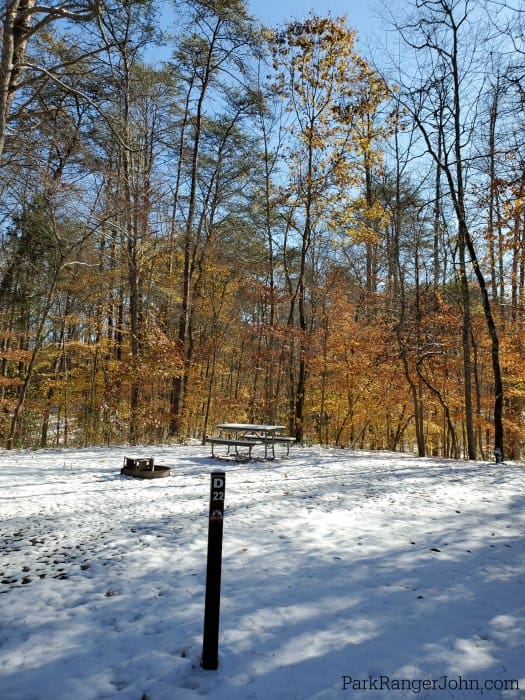 Wilderness Road Campground
Wilderness Road Campground is located approximately 3 miles from the park visitor center off of Highway 58 in Virginia.
Sites - 160
20, 30, and 50 amp electrical hookups are available at 41 of the sites.
$14.00 per night per site for tent sites with no electricity.
$20.00 per night per site for an electrical hookup.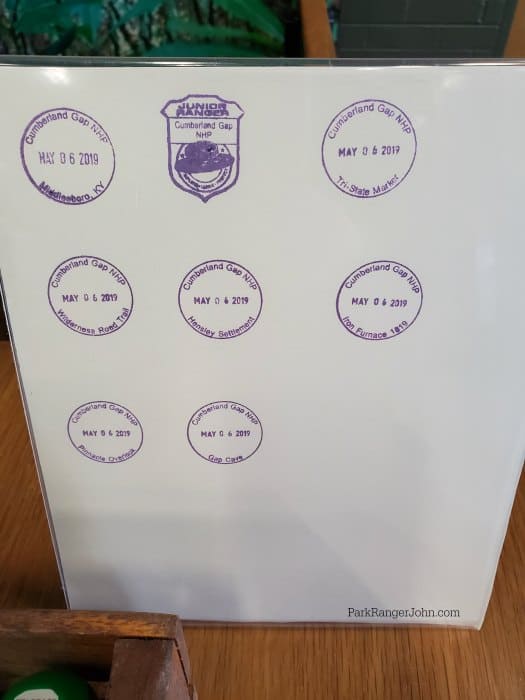 Passport Book Stamps
National Park Passport Book Stamps are located in the visitor center at Cumberland Gap. They have quite a few options for stamps.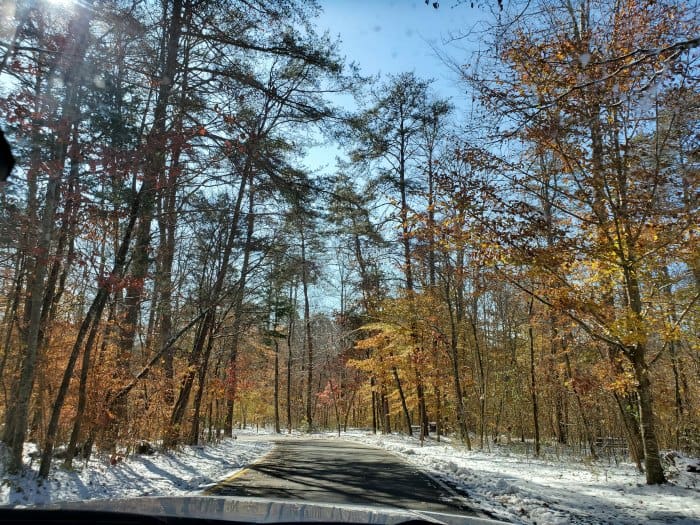 Things to know when planning a trip to Cumberland Gap NHP
Park Address: 91 Bartlett Park Road, Middlesboro, KY 40965
Cumberland Gap National Historical Park Visitor Center is located on U.S. Highway 25E just south of Middlesboro, Kentucky.
Entrance Fee: $0.00, There is no fee to visit this great park.
Closest major airport: Knoxville, Tennessee approximately 85 miles away.
Lexington, Kentucky approximately 130 miles away
Public Transportation: There is no public transportation in Cumberland Gap National Historical Park.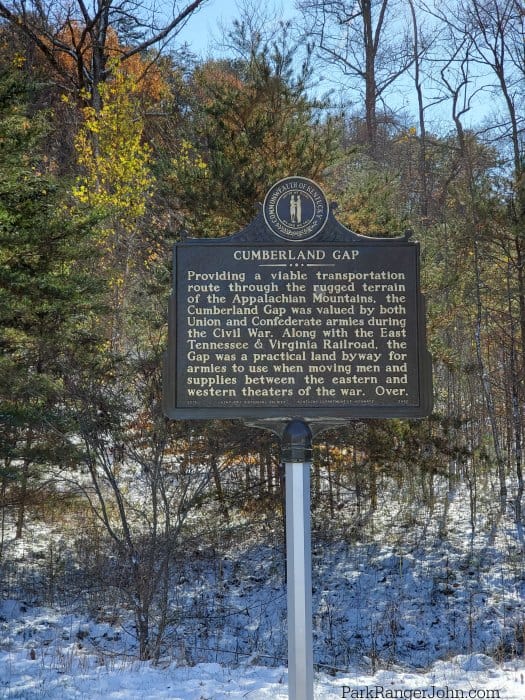 National Park Site near Cumberland Gap NHP
Big South Fork National River and Recreation Area - 90 miles
Andrew Johnson National Historic Site - 80 miles
Great Smoky Mountains National Park - 120 miles
Mammoth Cave National Park - 225 miles
Check out all of the Tennessee National Parks, Kentucky National Parks, Virginia National Parks, Alabama National Parks, Georgia National Parks, and North Carolina National Parks.