Obed Wild and Scenic River is located in Tennessee and offers 45 miles of scenic river. The park has whitewater ranging from Class II to Class IV along with hiking trails, rock climbing, and ranger programs.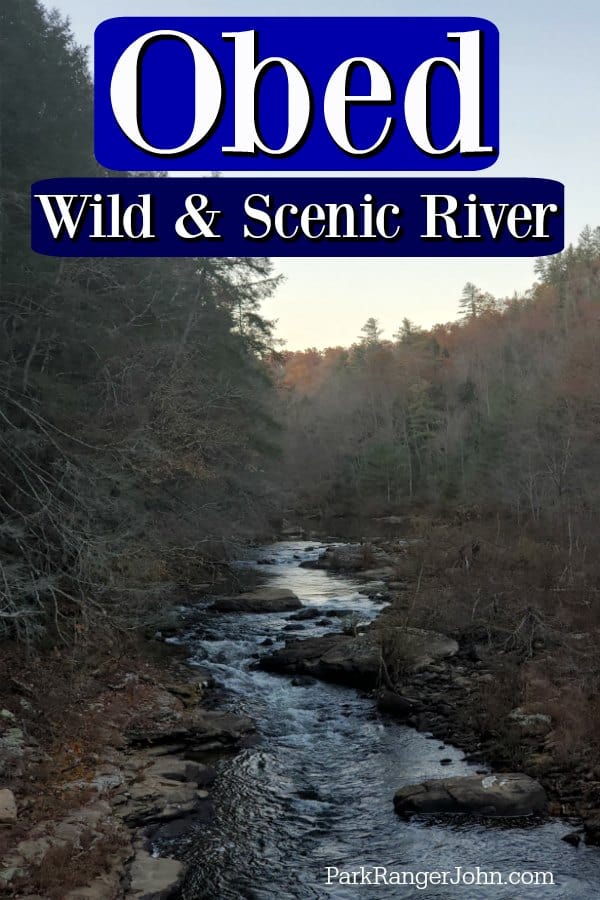 Obed Wild and Scenic River
The Obed River winds through the Cumberland Plateau offering beautiful scenery and amazing outdoor recreation.
There are four principle waterways of the park's watershed, the Obed River, Clear Creek, Daddy's Creek, and the upper Emory River.
The river looks pretty much the same today as it did in the 1700s when the first white settlers explored these river systems.
Obed Wild and Scenic River offers everything from hiking to white water kayaking and exploring.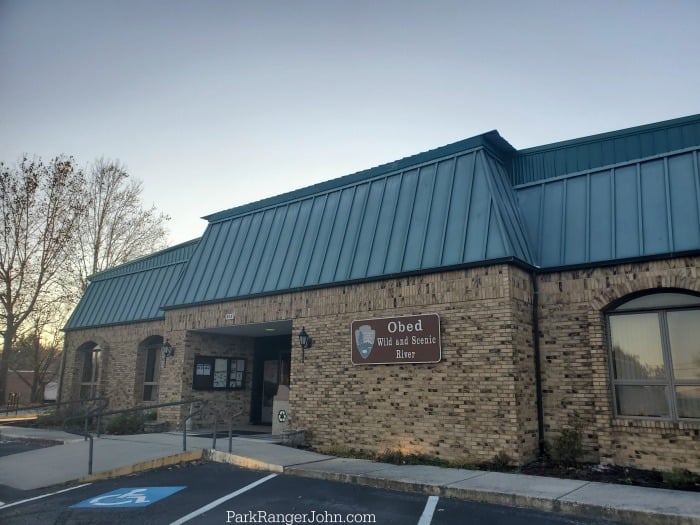 Visitor Center
The park visitor center is located in the town of Wartburg, Tennessee. You will want to stop into the visitor center before heading out to explore the park.
The different parts of the park are fairly spread out so you will want to know which areas you plan to visit.
The National Park Service visitor center has free WiFi and offers exhibits on the river, its inhabitants, the cultural history of the area, and the recreational opportunities that the park provides.
There is a 14-minute park movie available at the visitor center.
Open daily from 9:00-5:00 pm (ET), daily.
The visitor center is closed on Thanksgiving, December 25, and January 1.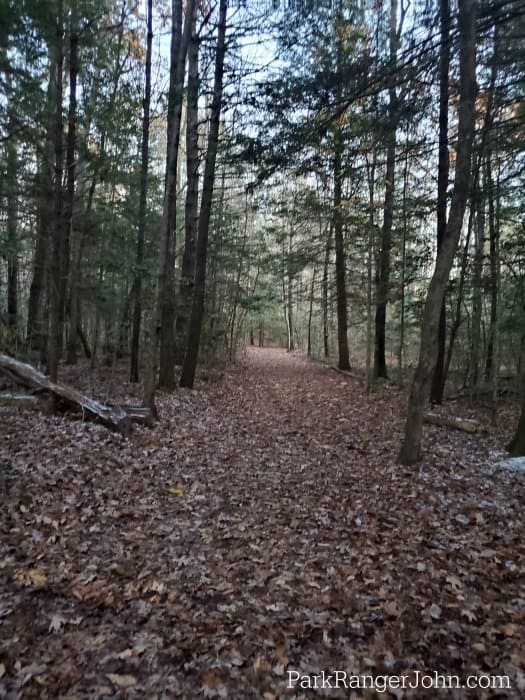 Camping
Rock Creek Campground is located in the Nemo area of the park.
This primitive campground is $10 a night.
Must call 1-877-444-6777 or make a reservation online prior to arriving at the campground.
There is also backcountry camping available in the park. A free backcountry camping permit is
required and can be obtained at the Obed Visitor Center or online.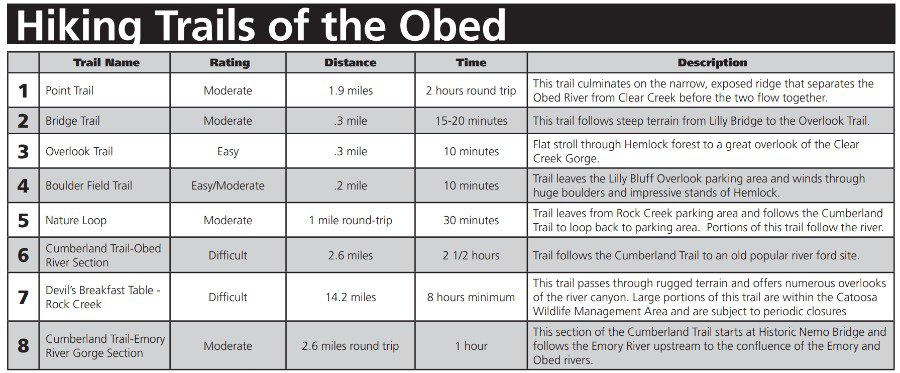 Hiking Trails
Obed WSR has hiking trails ranging from .2 miles to 14.2 difficult miles. The park newsletter has current trail information and distances.
The Lilly Bluff Overlook Trail is on level ground and is handicap accessible.
A portion of the Cumberland Trail can be found within the park.
Ranger Programs
One of the great things about this park is all of the ranger-guided hikes and events that are held each week.
They have everything from coffee with a ranger to night sky programs.
All of the programs are free and normally run from Memorial Day to Labor Day.
International Dark Sky Park
Obed WSR was designated an international dark sky park in 2017.
Birdwatching/Wildlife
More than 100 species of birds can be found within the park. You can also find bobcats, beavers, raccoons, minks, otters, and white-tailed deer.
Rock Climbing
The cliffs of Obed are world-renowned with over 400 named routes that vary in difficulty from 5.7 to 5.13.
Fishing
Obed Wild and Scenic River is home to many species of fish including large and smallmouth bass, bluegill, red eye, crappie, muskie, perch, drum, catfish, shad, suckers, and carp.
Tennessee fishing licensing rules apply.
Junior Ranger program
The Obed WSR Junior Ranger program can be picked up at the visitor center or printed before you head to the park.
This booklet is available in both English and Spanish.
Things to know when planning a trip to Obed Wild and Scenic River
Visitor Center Address:
208 North Maiden Street
Wartburg, Tennessee, 37887
United States
The visitor center is open from 9:00 a.m. to 5:00 p.m. (ET) every day, except Thanksgiving, December 25, and January 1.
Entrance Fee - $0.00, there is no entrance fee to enter the park.
Pets - Pets are allowed in the park but must be on a leash less than 6 feet long.
The park is in both central and eastern time zones.
Obed WSR is spread between Morgan County and Cumberland County and includes 5,000 acres of park.
Obed WSR was Established on October 12, 1976, by President Gerald Ford.
National Park Passport Stamps - Passport stamps can be found in the visitor center.
National Park Sites near Obed Wild and Scenic River
Big South Fork National River & Recreation Area
Cumberland Gap National Historical Park
Great Smoky Mountains National Park
Stones River National Battlefield
Carl Sandburg National Historic Site
Check out all of the National Parks in Tennessee along with neighboring Alabama National Parks, Georgia National Parks, South Carolina National Parks, North Carolina National Parks, and Kentucky National Parks.