Located near Atlanta, Georgia you don't want to miss a visit to Kennesaw Mountain National Battlefield Park.
Kennesaw Mountain NBP includes 2,965 acres that preserve a Civil War Battleground of the Atlanta Campaign.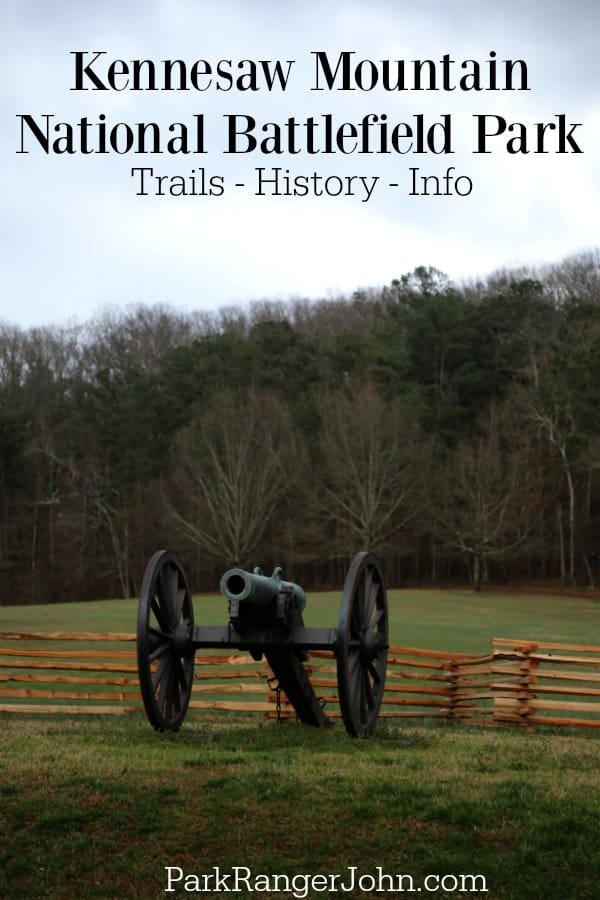 Kennesaw Mountain National Battlefield Park
Kennesaw Mountain NBP is one of the most visited National Park Sites in the country. You can expect the parking lot to be packed most days.
This is because a lot of local residents use the park for walking and hiking on a frequent basis. It is incredibly popular for people to walk up and down the mountain road.
The park includes 22-miles of maintained interpretive trails.
History
Kennesaw Mountain Battlefield was the site of a key Civil War battle during the Atlanta campaign. The battle was fought here from June 19, 1864, until July 2, 1864, some of the bloodiest battles during Union Major General William T Sherman's advance towards Atlanta happened at Kennesaw Mountain and the surrounding area.
During the campaign, the landscape of the area was changed and altered. Thousands of soldiers marching along the grass, soldiers cut down trees and tore apart whatever they could to create historic earthworks for protection.
8 miles of earthworks are still visible today at the Cheatham Hill battlefield location.

Top things to do at Kennesaw Mountain National Battlefield Park
Visit the visitor center
The visitor center is the perfect way to start your visit. You can get up to date information on what is happening in the park, find out if there is any road construction or delays you need to be aware of and ask questions about the park.
There is a museum attached to the visitor center that has artifacts and information about the battlefield.
Drive the park road
The park road is open for personal vehicles Monday through Friday. On weekends and holidays, It is closed but a shuttle bus is available for a minimal fee to take a ride to the top of the mountain.

Become a Kennesaw Mountain NBP Junior Ranger
You can pick up a Junior Ranger program at the National Park Service visitor center. This is a great way to learn more about the park for all ages! If you would like to start the program before your trip you can print it here and have it ready when you visit the park.
Hike/Walk an interpretive trail
There are more than 22 miles of trails maintained within the park.
Go bird watching
The location of Kennesaw Mountain NBP at the southern portion of the Appalachian Mountains makes this area great for bird watching. It is especially great during fall and spring migrations! The park was designated a globally Important Bird Area in 2000.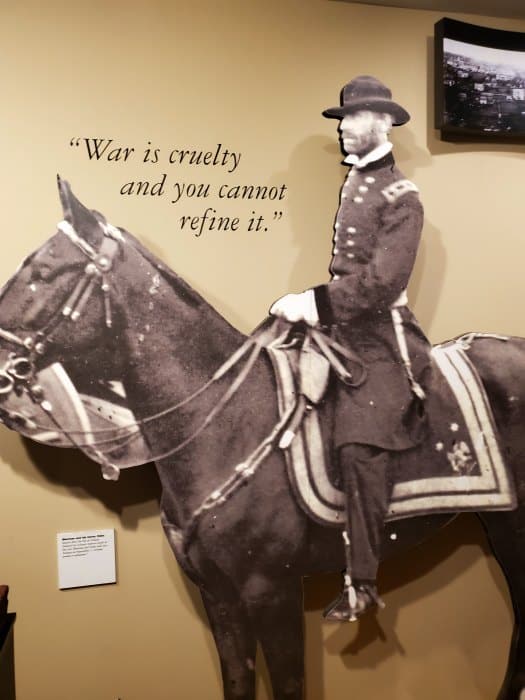 Things to know when planning a trip to Kennesaw Mountain National Battlefield Park
The mountain road is open Monday through Friday excluding major holidays and weather permitting. It is closed on weekends and holidays but a shuttle bus is available for a minimal fee to take a ride to the top of the mountain.
Kennesaw Battlefield Address
900 Kennesaw Mountain Dr
Kennesaw, GA 30152
How to reach the park - Take the 269 exit from I-75, and take Barrett Pkwy. west for approximately three miles and turn left at Old Hwy. 41. Turn right at Stilesboro Rd, the visitor center is on the left
Hours
Visitor Center Hours 9 AM- 5 PM daily (year-round)
Park Hours (Daylight use only)
6:30 AM- 6:30 PM – Standard Time
6:30 AM- 8:30 PM- Daylight Savings Time (March-November)
Entrance Fee/Cost - $0.00 There is no entrance fee to visit the park.
Pets - Pets are allowed in the park but must be on a leash that is less than 6 feet long. Pets are NOT allowed in the Visitor Center, restroom facilities, shuttle bus, or water fountains.
Accessibility - The visitor center is fully accessible including auditorium, exhibits, phone, water fountain and restrooms. The shuttle bus is ADA approved and can accommodate those with special needs. The park trails and the terrain is still natural and has not been altered.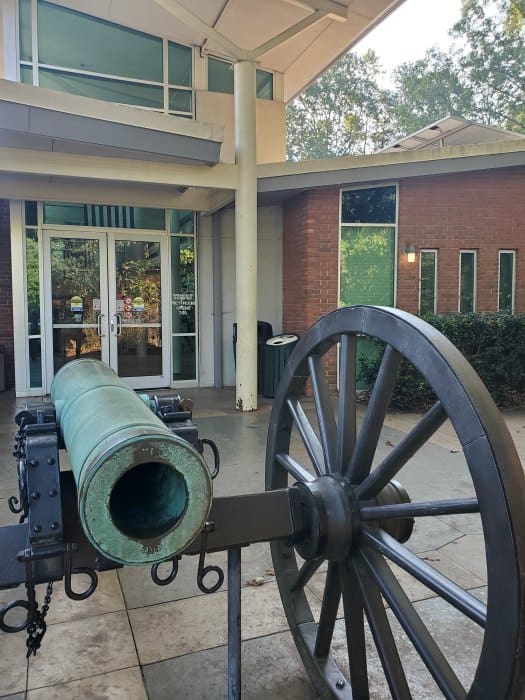 National Park Sites near Kennesaw Mountain National Battlefield Park
Chattahoochee River National Recreation - 15 miles
Martin Luther King Jr National Historic Site - 24 miles
Ocmulgee National Monument - 70 miles
Chickamauga & Chattanooga National Military Park - 92 miles
Jimmy Carter National Historic Site - 150 miles
Andersonville National Historic Site - 153 miles
Fort Pulaski National Monument - 270 miles
Fort Frederica National Monument - 330 miles
Cumberland Island National Seashore - 365 miles
Check out all of the National Parks in Georgia and the neighboring National Parks in Florida and South Carolina National Parks.