Chattahoochee River National Recreation Area is one of the largest urban greenways in America. Located in the Northern part of the Atlanta Metropolitan Area it encompasses 6,500 acres and 14 separate park units on a 48 mile stretch of the river.
There are no entrance fees at any of the park's units though there are parking fees at most sites.
This park has grown from a 680-acre state park to what it has become today through the concerted efforts of the National Park Service, multiple local agencies and environmental groups, with plans to expand the park to over 10,000 acres running from Helen in the north Georgia mountains to Columbus in the west Georgia Piedmont Plateau.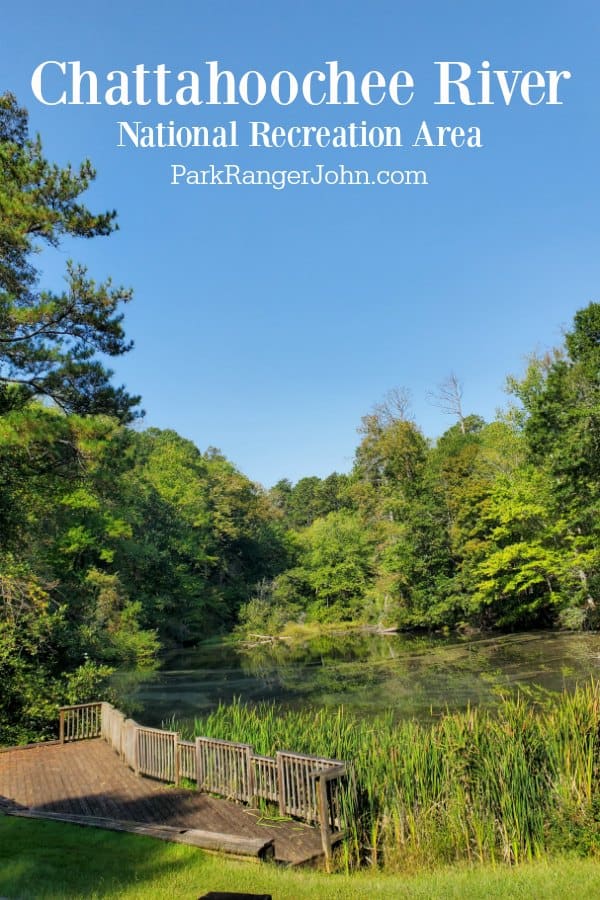 Chattahoochee River National Recreation Area
Chattahoochee River NRA is one of the most visited National Park Sites in the country with over 2.8 million visitors!
Former President Jimmy Carter and former Speaker of the House Newt Gingrich have both shown great leadership in the development of the park. The park was signed into law on Aug. 15, 1978, by President Jimmy Carter.
Whether you live in the area or are just visiting this is a must-do adventure. There are nearly 100 miles of hiking trails, boating, and fishing.
Yessiree Bob this is the furthest south you can match wits with the wily trout. Boat rental and portage transportation are available throughout the park.
You will need a Georgia fishing license to fish in the park. There are 23 species of game fish found in the Chattahoochee River.
Lessons in kayaking, canoeing, and rafting are available. Most days the river is calm enough that boat tours are self-guided.

You have not done Atlanta until you shoot da Hooch. The park does not rent river equipment, but there are a variety of licensed vendors along the river. Daily river quality is posted on the National Parks Chattahoochee site.
The river lies on the Brevard Fault which divides the Appalachians from the Piedmont Plateau. It has been home to humans for about 12,000 years. Humans became well established in the area about 5,000 years ago. In the recreational area, there are 47 prehistoric villages, campsites and hamlets, 16 rock shelters and 23 historic sites pertaining to early European settlers to explore.
There are no overnight accommodations within the park system but plenty of lodging is available near any of the 14 park sites. Plenty of camping is available within an hour's drive of any of the park sites. Reservations are suggested.
Though it is not a part of the park the Chattahoochee Nature Center is a must if there are children around. It is privately funded, located between two of the Park entrances just off Roswell Road and has daily nature programs.
So join us in Atlanta and spend a day shootin' da Hooch. Y'all have fun now.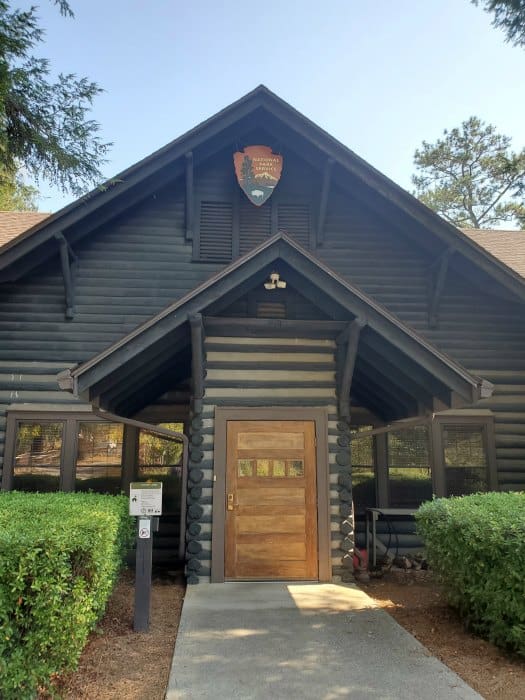 Chattahoochee River NRA Trails
Cochran Shoals Trail - 3.1 mile round trip
This is a great trail that travels along the shoreline of the Chattahoochee River.
East Palisades Trail - 4 miles round trip
This trail is great for watching kayakers take on the class 1 and 2 rapids.
Sope Creek Trail - 1.5 mile round trip
This trail guides you to a stacked-stone Civil War era paper mill.
Vickery Creek Trail - 4.7 miles round trip
This great hike takes you to two historic mills, a covered bridge and a spillway waterfall.
Powers Island Trail - 2.6 mile round trip
This trail is pretty quiet and gives you the chance to explore Powers Island.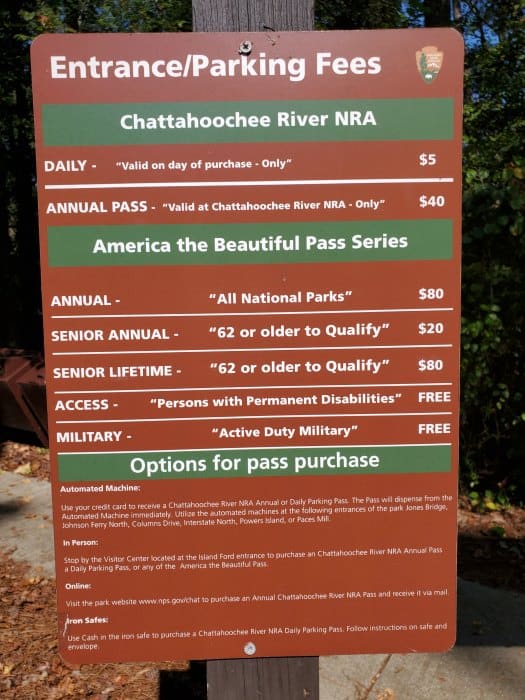 Things to know when planning a visit to Chattahoochee River National Recreation Area
Island Ford Visitor Center
8800 Roberts Drive
Sandy Springs, GA 30350
The parklands and waters are open for day-use only from dawn to dusk year-round.
Visitor Center Hours - Daily from 9 am to 5 pm
Park entrance fees:
Daily Parking Fee - $5.00
Annual Parking Fee - $40.00
Valid America The Beautiful Passes are also valid for parking in the park.
The park is spread over a 48-mile section of the Chattahoochee River and consists of the river and 15 land units beginning downstream from Buford Dam at Lake Lanier and ending at Peachtree Creek in metro Atlanta.
Camping facilities may be found at Lake Sidney Lanier, Allatoona Lake, Stone Mountain Park, Georgia State Parks, or Chattahoochee-Oconee National Forest.
Pets: Pets are welcome in the Chattahoochee National Recreation Area. Pets must be on a leash less than 6 feet in length.
A U.S. Coast Guard-approved PFD is REQUIRED TO BE WORN if you are boating, tube floating, or wading in the following river segments.
between Buford Dam and the GA 20 bridge
between Morgan Falls Dam and the Morgan Falls boat ramp
Please leave all glass containers in your car, they are not allowed on the river.
Check the water release schedule before entering the water. For the Buford Dam water release schedule call 770-945-1466, or toll-free at 1-855-DAM-FLOW (1-855-326-3569), Or visit their Hydropower Generating Schedule website for release times and amounts for the current day.
Visit the Georgia Power's Lake Levels website for the Morgan Falls Dam tentative water release schedule.
Visit the park's Downstream Flow Rate page and use the charts to determine the approximate time it will take for the water to arrive at your location.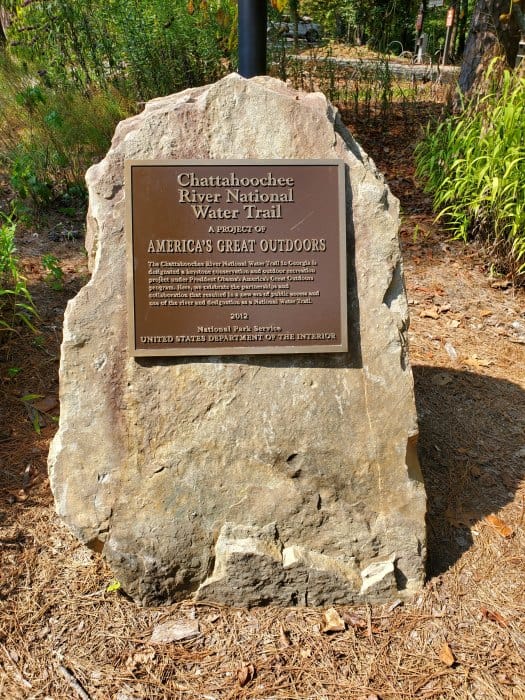 National Park Sites near Chattahoochee NRA
Kennesaw Mountain National Battlefield Park
Martin Luther King Jr National Historical Park
Ocmulgee Mounds National Historical Park
Freedom Riders National Monument (Alabama)
Horseshoe Bend National Military Park (Alabama)
Check out all of the Georgia National Parks and neighboring Alabama National Parks and National Parks in South Carolina