One thing we have found is there are so many things to do at Gulf State Park in Gulf Shores/Orange Beach, Alabama it can be hard to choose what to do.
You can easily spend a week at Gulf State Park and the surrounding area and still find things to do for a return visit.
From spending time soaking up the sun on the sugar sand beaches to learning about snakes and alligators at the Nature Center you will not be bored in Gulf State Park!
These are our favorite things to do in Gulf State Park! Let us know what you love to do and what we have to do during our next visit.
We are so thankful to the Gulf Shores visitor bureau for hosting us during our stay and helping us explore the area. We have fallen in love with Gulf Shores and can't wait to plan a return trip.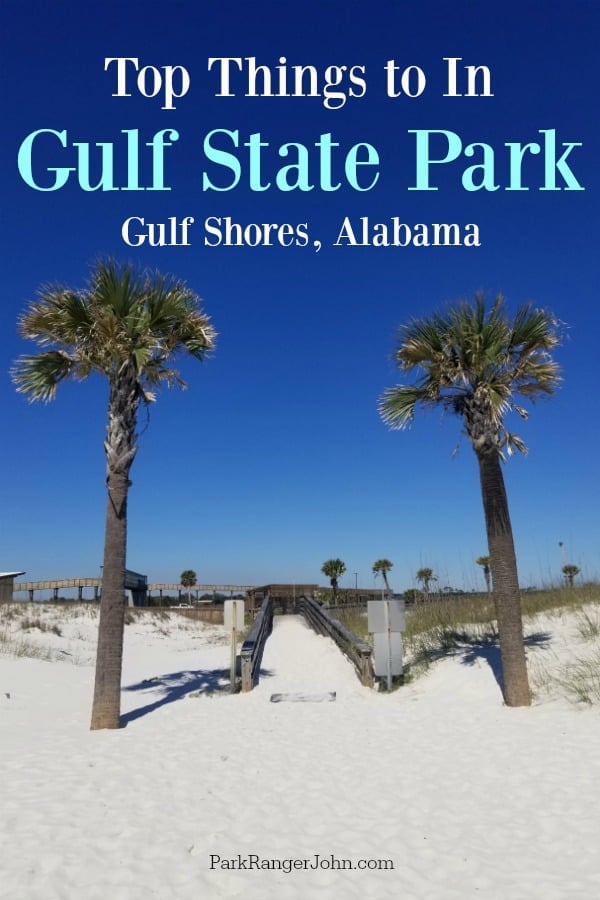 Things to do Gulf State Park
Gulf State Park is one of 21 Alabama State Parks! Don't miss all of the National Parks in Alabama.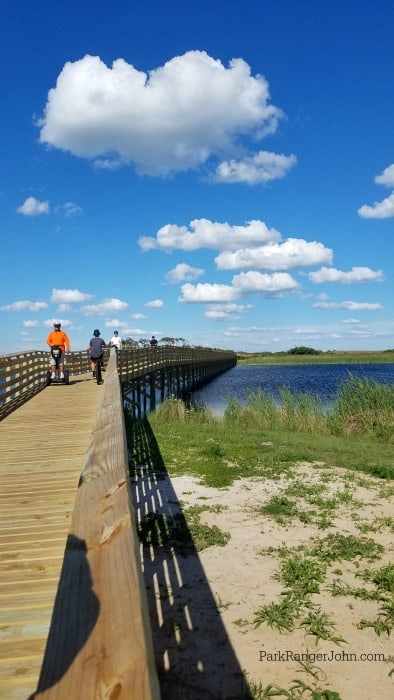 Segway Tours
Want to explore Gulf State Park in a fun new way? Check out the two hours Segway tours offered by Coastal Segway Adventures!
These tours travel through six different ecosystems along seven trails including the Hugh S. Branyon Backcountry Trail so you can see many of the amazing natural sites within the park.
You will see hardwood forests, sparkling freshwater lakes, and dense bogs and swamps as you travel through the park.
Don't worry if you have never ridden a Segway every tour starts with lessons so you are safe and comfortable during the tour.
Riders must be 12 years old to participate in the tour.
Hiking & Biking Trails
There are close to 28 miles of trails that cross through nine ecosystems within the park. The park is home to many rare and endangered species including White-topped pitcher plants, gopher tortoises, and Bald Eagles.
24 miles of trails are paved within the park.
These are some of the popular trails within the park.
Hugh S. Branyon Backcountry Trail
The 14-mile Hugh S. Branyon Backcountry Trail system connects the cities of Orange Beach and Gulf Shores and winds through the Gulf State Park. These trails are the perfect way to get out and explore more of the park.
Alligator Marsh Trail
Distance: .4 miles
Alligator Marsh Trail is a primitive trail that guides you into the park's wetlands.
Beach Mouse Bypass
Distance: 1.1 miles
This elevated boardwalk offers stunning views of the beach and connects to the beach pavilion and new interpretive center.
Gopher Tortoise Trail
Distance: 1.5 miles
The Gopher Tortoise Trail offers a car-free connection between the beach and the park's northern section.
Middle Lake Overlook Trail
Distance: .1 miles
Middle Lake Overlook is accessed via the Armadillo Trail and offers views of Middle Lake in Gulf State Park Campground.
Eagle Loop
Distance: .3 miles
This primitive trail goes through old forests and depending on the time of year you can view nesting Bald Eagles.
You can enjoy hiking and biking in the park easily. If you don't want to pack your biking gear you can rent a brand new beach cruiser bicycle during your Gulf Shore Vacation.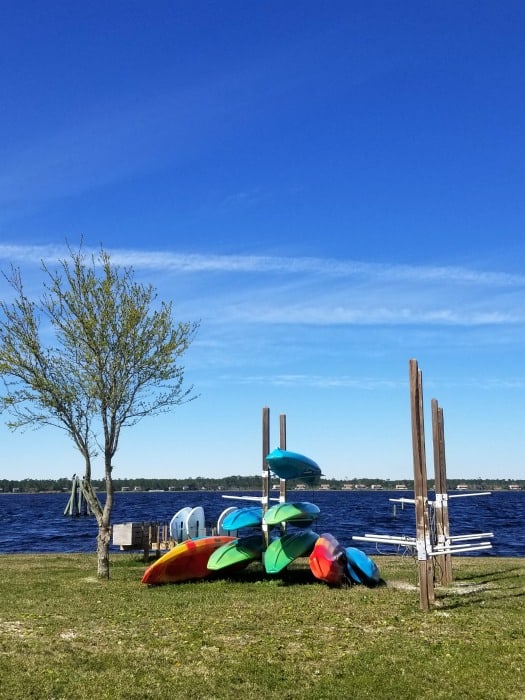 Boat Rentals (Canoe/Kayak)
Coastal Segway Adventures rents kayaks and paddleboards that you can enjoy in the park. They also offer a two hour guided kayak tour.
Nature Center
The Gulf State Park Nature Center is a living museum of plants and animals that are found in the Gulf Coast Region.
Weekly programs include guided nature walks, beach walks, pier walks, and nature time.
Hours - 9:00 am to 4:00 pm Monday through Saturday
Fees: there is an entrance fee of $2 per vehicle to enter the Campground. Lodging and campground guests are exempt from this fee.
Summer Day Camps
If you are looking for a fun way to entertain your kids check out Kidcam Camps that are held at Gulf State Park!
Every week is a different theme giving kids a variety of fun activity choices including art, sports, STEM, water fun, and more!
Contact Phone: 1-877-4KIDCAM

Swimming Pool
When you camp at Gulf State Park or stay in one of the cottages you get access to the swimming pool and splash pad!
This is the perfect way to beat the heat and cool off!
Hours - 9 am to 9 pm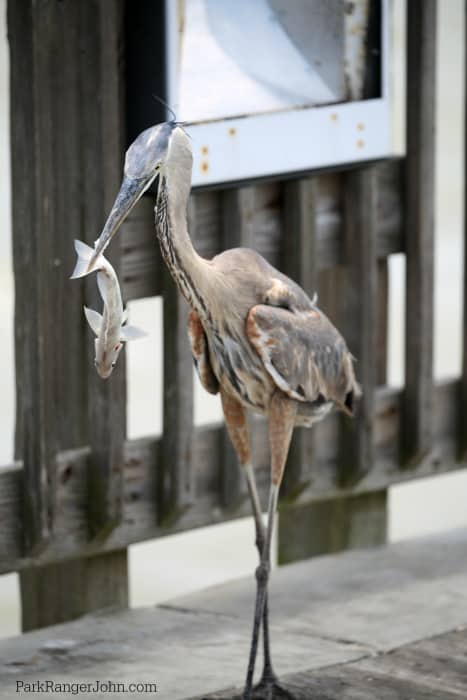 Fishing
You have the opportunity to enjoy both fresh and saltwater fishing in Gulf State Park.
There is amazing saltwater fishing from the Gulf State Park Fishing Pier and freshwater fishing in Lake Shelby.
The fee to fish from Gulf State Park Fishing and Education Pier does not include an Alabama saltwater and/or pier fishing license.
Purchase a fishing license online
Daily: $9.00
Weekly: $41.00
Monthly: $81.00
Semiannual: $161.00
Annual: $321.00
Children under the age of 11 and under fish for free when accompanied by a paying adult.
Click here to view Pier Regulations or here for creel and size limit information.
Angler Academy
Have you always wanted to enjoy saltwater fishing but are not sure what all it entails. You can sign up for the Angler Academy at Gulf State Pier and learn essential skills, rules and regulations, and find out what tools are needed for saltwater fishing.
All equipment is provided for the class so you can focus on learning more about saltwater fishing.
Movie Nights
There is nothing better than a movie night while camping at Gulf State Park except... a movie night in the pool!
Yes! You read that right! Gulf State Park has weekly "Dive-in Movie Nights" where registered guests can float in the park pool while watching a movie.
Check the weekly activity calendar for upcoming dates.
Ranger Talks
There are quite a few different ranger talks and activities you can enjoy in the park including a guided Gulf State Pier tour, discover sea turtles at the beach pavilion, guided beach walks at the beach pavilion, stargazing at the pier, and more!
Check the weekly activity calendar for upcoming ranger talks.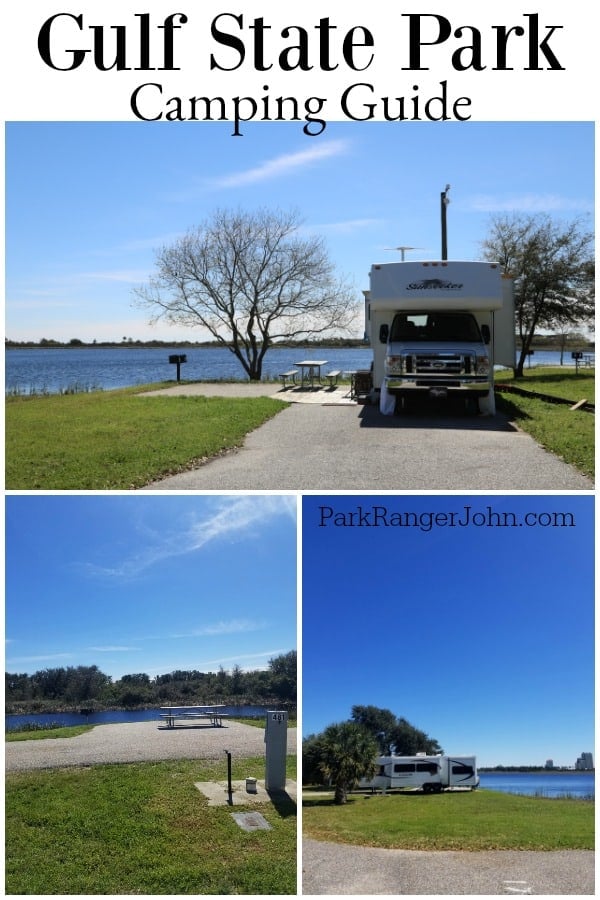 Gulf State Park Camping
Gulf State Park campground is the perfect place to stay and enjoy all of these great things to do! This campground is the heart of the park and provides easy access to the beach, hiking trails and all of these activities.
This is a gorgeous campground! You honestly can't ask for much more from a state park campground! I was in awe the first time we explore the campground and saw all of the amenities offered.
Amenities include picnic tables, full hookups, camp stores, and easy access to miles of beaches. With 496 improved campsites, 11 modern bathhouses, pull-through sites, and more you will find everything you need for an epic camping trip.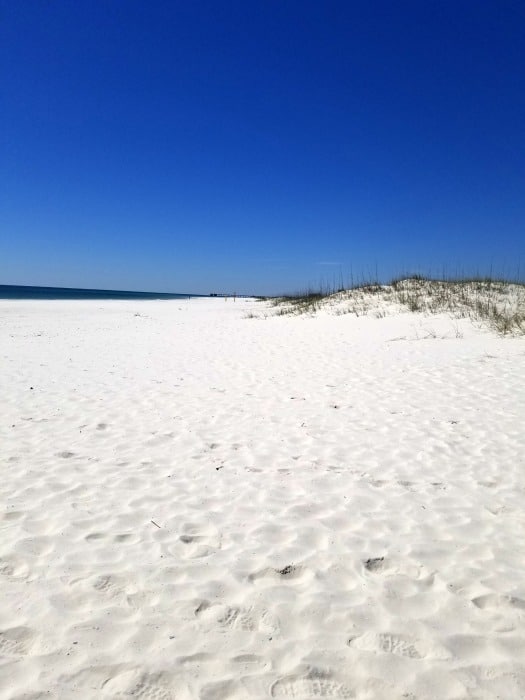 Hit the Beach
Gulf State Park includes 3.5 miles of white sand beaches that are waiting for you to enjoy them. It is time to step into paradise as your toes sink into the sugar sand white beach and the waves gently glide to shore.
If you don't want to pack all of your beach gear you can rent beach gear and have it delivered and picked up from your hotel or beach house! Beach packages include beach chairs, beach umbrellas, Coleman Cooler, and beach tables! Service is offered at Ft. Morgan, Orange Beach, Gulf Shores, and Perdido Key.
If you are traveling with a baby you can also set up a baby beach essentials rental that includes all of the essentials for enjoying the beach with a baby. Essentials include beach toys, baby beach tent, beach table and more.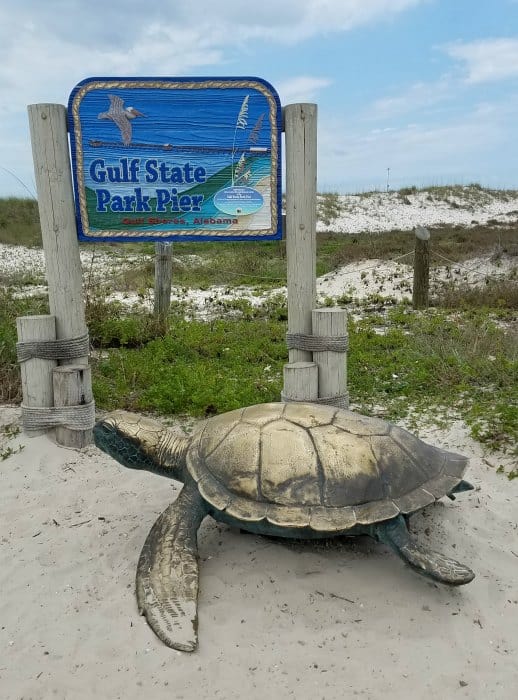 Gulf State Park Pier
The Gulf State Pier was recently redone after being destroyed in 2004 by Hurricane Ivan. The pier offers 2,448 feet of fishing space available along the rails.
Even if you do not enjoy fishing we highly suggest checking out the Gulf State Park Pier! It is a great place to watch pelicans trying to steal fish, look for dolphins out in the gulf, and enjoy the amazing weather in Gulf Shores.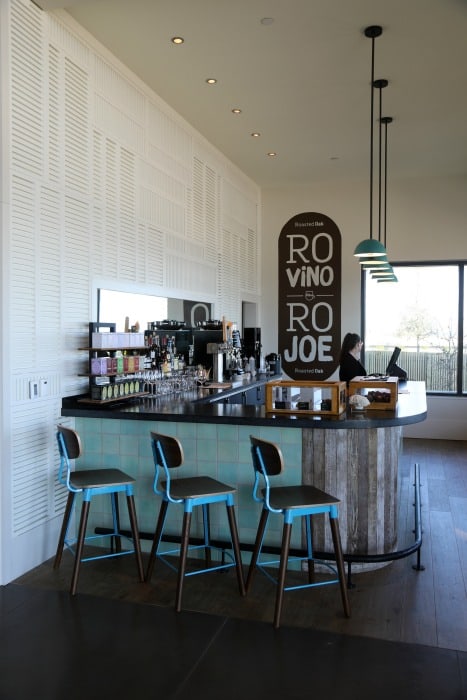 Dine at Gulf State Lodge
Gulf State Lodge is located right on the water and offers a couple of different dining options. From upscale Perch which serves local fish and produce to Food Craft which focuses on family-oriented food.
Roasted Oak is a coffee shop by day and wine bar by night.
Feel like dining poolside and soaking in the epic weather in Gulf Shores check out Firefly for a burger or a quick bite.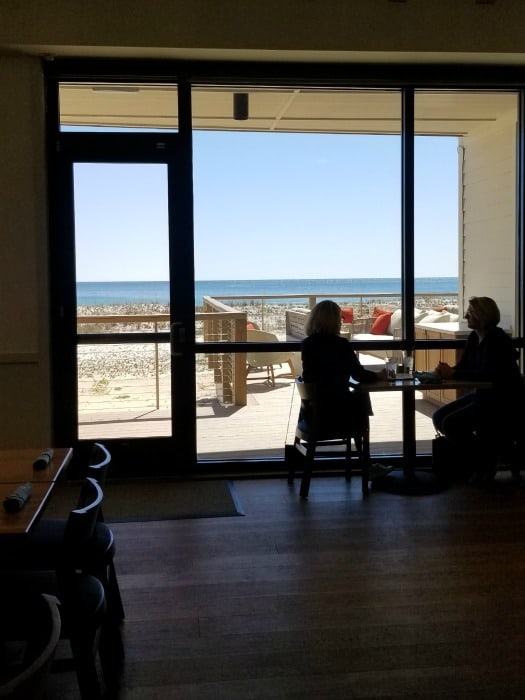 Enjoy local fish at Perch Restaurant (Gulf State Lodge)
Perch at Gulf State Lodge offers an upscale dining environment with fresh fish from the gulf and produce from regional farmers.
The restaurant is modern and truly gorgeous. We enjoyed our lunch at Perch and can't wait to return to try more things.

Bike the Hugh S. Branyon Backcountry Trail
With over 25 miles of paved trails heading out on the Hugh S. Branyon Backcountry Trail is a great way to explore the area.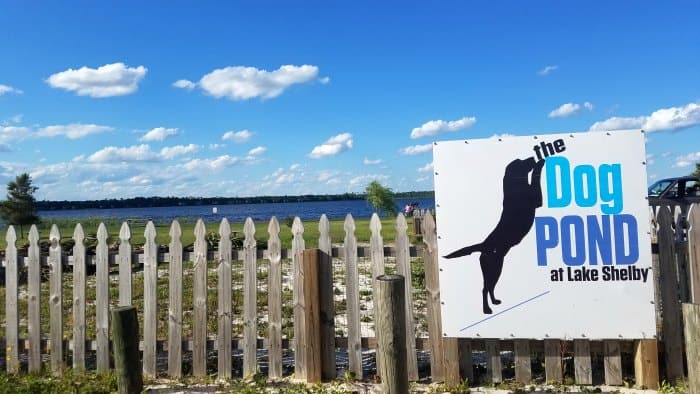 Lake Shelby Dog Park
Do you need to run some energy out of your four-legged friend? Check out the dog park on Lake Shelby.
They have installed dog agility equipment for you to enjoy!
One thing to know is there can be alligators in Lake Shelby so you will want to be aware of the area at all times.
Hours are from 8:00 a.m. to sunset
Para-sail with Ike's Beach Service
Ike's Beach Service offers parasailing from both the beach pavilion and the lodge. They also offer banana boat rides from the beach pavilion.
Geocaching
Geocaching is a great way to explore the park and hunt for caches.
Geocaches in the park must be registered with the park office.
Gulf State Park offers weekly Geocaching 101 events to help anyone who has never been geocaching before.
Stay at Eagle Cottages
If you are looking to get away and relax you will love Eagle Cottages at Gulf State Park!
We honestly did not want to leave the cottage when we stayed there. The three-bedroom cottage had a full kitchen, living room and protected outdoor seating so you don't have to worry about bugs.
Did I mention the two bikes that you can use during your stay and the outdoor fire pit! These cottages are amazing!
These lakeside cabins are great for couples, entire families or work events. You can relax and soak in the views from your back deck.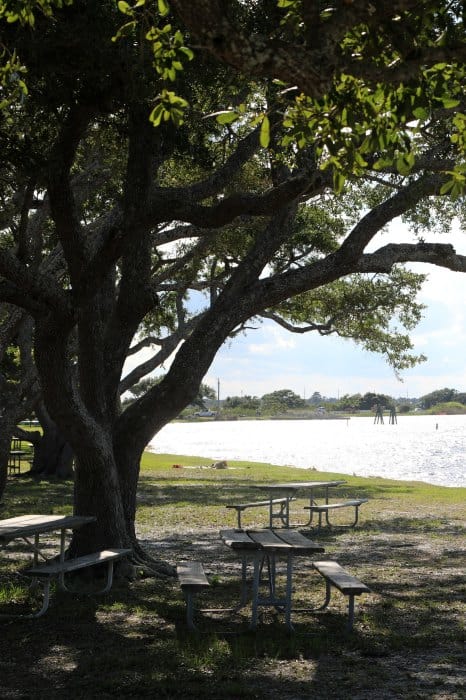 Enjoy a picnic along Lake Shelby
Having a picnic along Lake Shelby is a great way to relax and enjoy the beautiful views of the park. You can pick up a to-go meal at a Gulf Shores Restaurants or bring a cooler of options with you.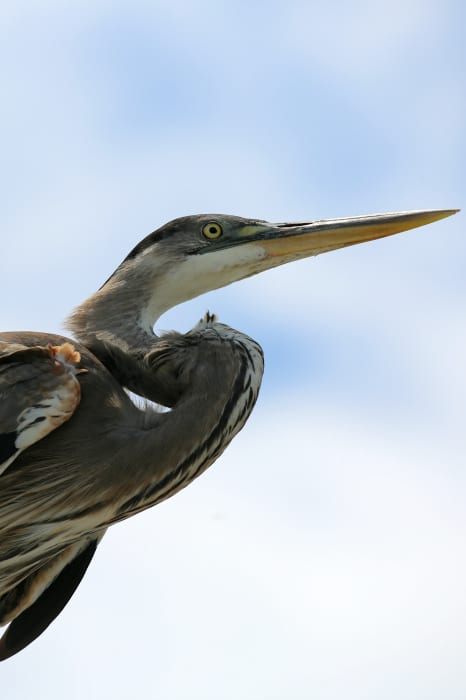 Birdwatching
Gulf State Park offers epic birdwatching! From coastal birding with pelicans, herons, grebes, rails and wading birds to hardwood forest birding with sparrows, wrens, and Bald Eagles.
Bring your favorite binoculars and keep an eye out for great birding.
We love how easy it is to get photos of Great Blue Herons and Pelicans at the Gulf State Pier.

Get Married
If you are dreaming of a beach wedding look no further than having your wedding in Gulf State Park. The park has quite a few different venues perfect for hosting your dream beach wedding.
The Beach Pavillion offers beautiful beach views and can fit a large wedding.
If you want a beach wedding without all of the sand check out the amphitheater. You can also use the education building for an indoor reception setting.
Check out the Gulf State Park Wedding Planner Booklet to view permit requirements, beach access points, wedding planners, and other services.
You must have a Wedding Permit (which is separate from a marriage license) purchased from the park in order to hold your ceremony within the park.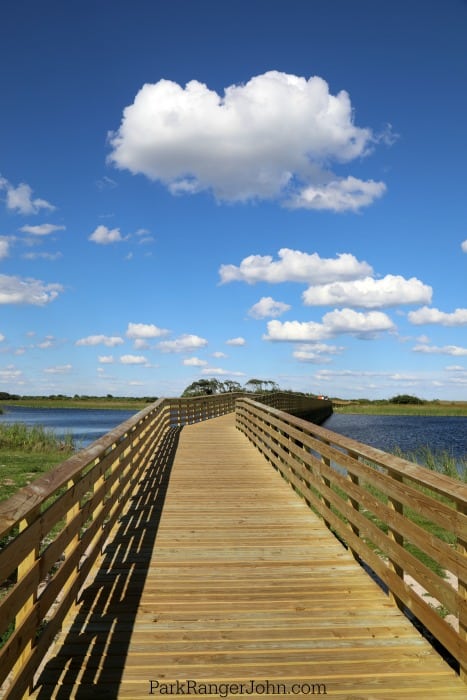 Things to know when planning a trip to Gulf State Park
There are truly so many things to do at Gulf State Park that you can spend an entire week exploring the area and possibly not seeing it all.
Gulf State Park used to have a golf course but it closed permanently in December 2018.
Address: 20115 AL-135, Gulf Shores, AL 36542
Phone: (251) 948-7275
First Aid Stations are located at the park headquarters, Nature Center, Campground, The Lodge, The Refuge, Picnic Area and Orange Beach Municipal Complex
Pedestrian Bridges are available to safely cross the highway.
Don't miss these great things to do outdoors in Gulf Shores/Orange Beach!
We loved the dolphin cruise Gulf Shores that we took during our last trip.
These are our favorite things to do in Gulf Shores for the entire family!
Check out Perdido Key State Park just down the road from the park.
Don't miss all of the great information available on the Visit Alabama Beaches Website!