I was a park ranger for 20 years and I can honestly say I have never seen or experienced cottages in a state park like Eagle Cottages at Gulf State Park in Gulf Shores Alabama! I would have never guessed that you could rent such a beautiful and well maintained three bedroom cottage with epic lake views in what I consider one of the best State Parks in the U.S.
We honestly did not want to leave and could have happily moved into this cottage. I'm sure that I could be easily persuaded to apply for a job and work for Gulf State Park if this was park housing for their employees. I'm pretty sure that my lovely wife would be all in with this decision considering how much she already loves the area.
I have to give a big massive shout out to the Gulf Shores and Orange Beach Visitor Bureau who set us up to stay in the cottages. They promised me that I would not be disappointed and wow were they right.
Eagle Cottages at Gulf State Park
If you are looking for the perfect family getaway, a place to relax and unwind or a romantic weekend away these cottages would be perfect. I have to warn you that once you have stayed here, you will want to go back again!
Tammilee and I are already talking about going back for a few weeks to write and relax.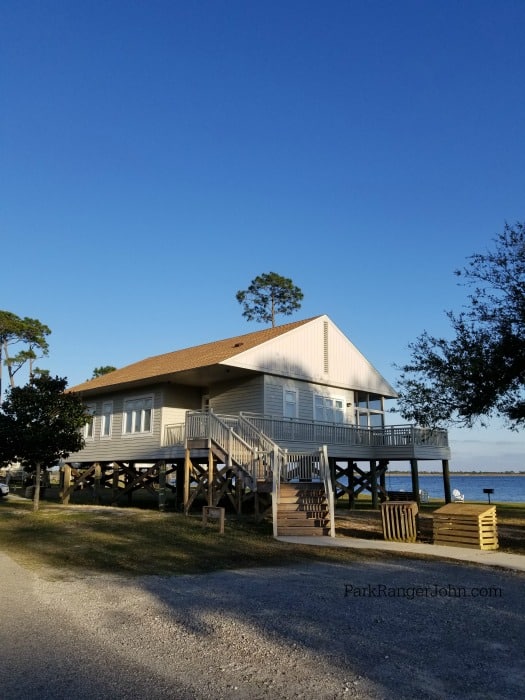 The cottages make life so easy! These cottages are centrally located within Gulf Shores making it easy to get to any of the amazing Gulf Shores Restaurants and several of its beaches in only a few minutes, In fact, the cottages are perfectly placed for easy access to anywhere in Gulf Shores or Orange Beach.
They are located in the heart of Gulf State Park which offers so many amazing outdoor recreation opportunities.
If you are wondering what to do while staying at the cottages or in Gulf Shores check out this article on amazing things to do outdoors in Gulf Shores/Orange Beach.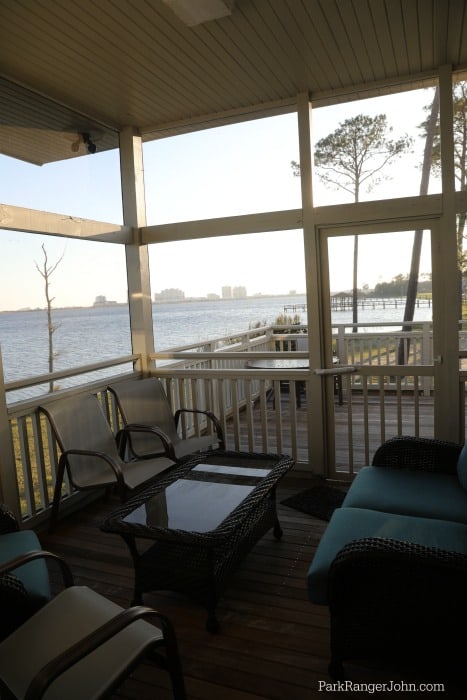 If you don't want to do anything but sip on a cold glass of tea while reading you can easily do that. The cottages have a screened in porch area with comfy chairs so you don't have to worry about bugs while relaxing.
One of the things we loved is it felt like the cottages were set up to help you relax and not worry during vacation. From the guide books of local birds and wildlife on the bookshelf to the two bikes ready to be used for exploring.
There was no chance of either of us saying "I'm bored" or having to worry there wasn't enough to do. In all honesty, the cottages were set up so nicely we didn't want to do a thing but hang out inside the cottage and relax.
We could have easily spent an entire day at the cottage curled up on the porch doing absolutely nothing and loving it.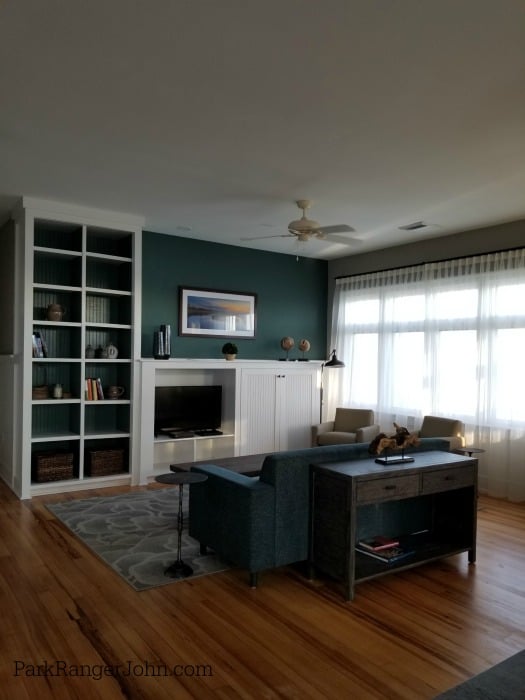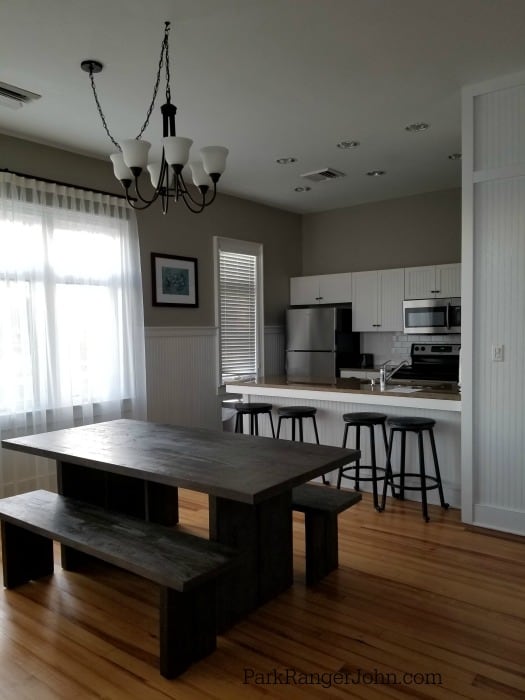 Amenities
3 bedrooms
Kitchenette with a coffee maker, refrigerator, stove, and microwave
45" flat screen TV and DVD player
Private firepit
Two complimentary bicycles for your use
Located along the northern shore of Lake Shelby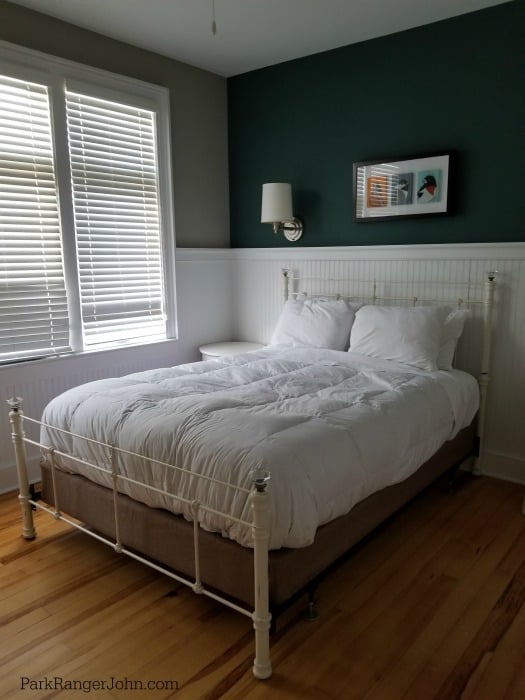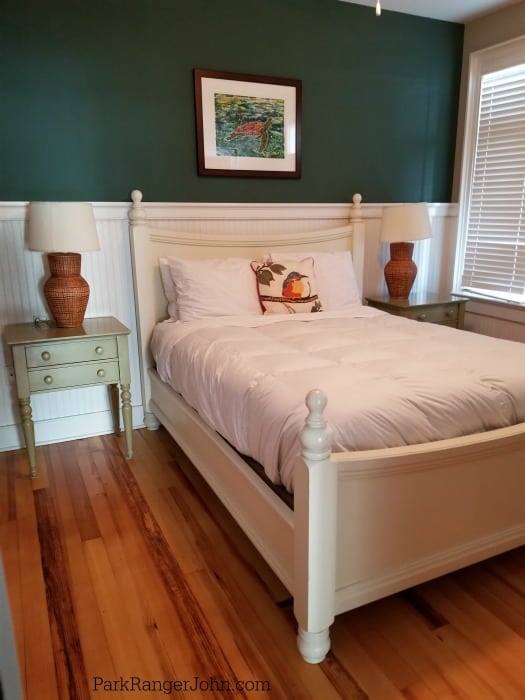 There are three bedrooms in the cottages. Somehow we only have good pics of two of them. I think we were so excited that we missed taking a pic of one of the bedrooms. LOL!
I am going to admit that we were so dang excited when we got to the cottages. They felt like a dream come true after spending multiple days on the road visiting parks. Having an amazing cottage to rest and relax in was paradise.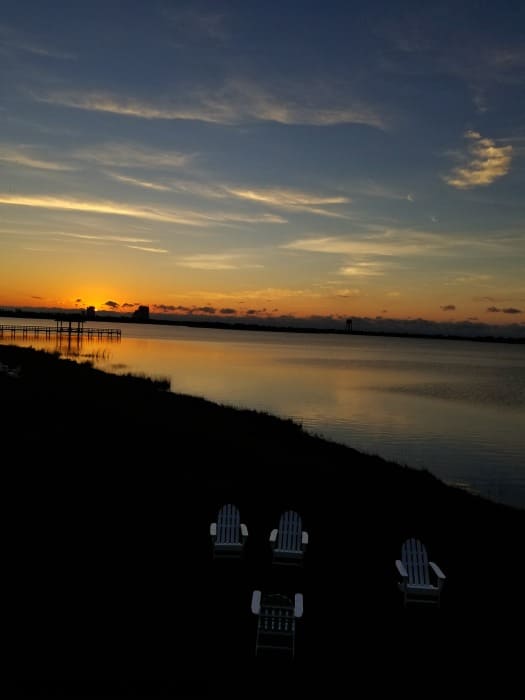 Waking up to this view every morning made it a little easier to start the day and leave the really comfortable bed.
Sunsets were pretty darn amazing too! Next time we will bring smores fixings and enjoy the private fire pit each cottage has along Lake Shelby.
Eagle Cottages at Gulf State Park information:
Phone: 251.923.3900
Find out how to reserve a cottage and more here.
Don't miss all of the great information available on the Visit Alabama Beaches Website!