Although remote, there are plenty of activities and places to explore on a Dry Tortugas day trip. Here is my list of things to do at Dry Tortugas National Park, including the best snorkeling, areas of the park not to miss, wildlife viewing, the best beaches, it is the home of magnificent Fort Jeffers, and so much more!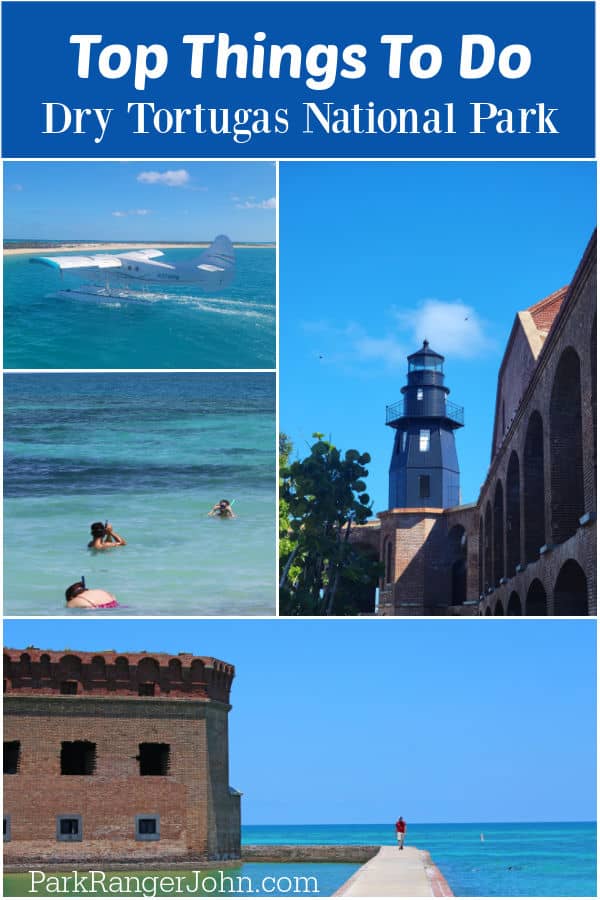 Dry Tortugas National Park is located almost 70 miles West of Key West, Florida. The park consists of a cluster of seven islands that first joined the National Parks System as Fort Jefferson National Monument in 1935, then changed its national park status to Dry Tortugas National Park in 1992.
Things to know before your visit
National Park Entrance Fee
$15.00 per person ages 16+ and is good for 7 consecutive days - Ferry tickets include the cost of entrance to the park, but camping fees are an additional cost.
Planning a National Park vacation? America the Beautiful/National Park Pass covers entrance fees for an entire year to all US National Park Sites and over 2,000 Federal Recreation Fee Sites.
The America the Beautiful National Park Pass covers everyone in the car for per-vehicle sites and for up to 4 adults for per-person sites.
Buy on REI.com and REI will donate 10% of pass proceeds to the National Forest Foundation, National Park Foundation, and the U.S. Endowment for Forestry & Communities.
Learn more about National Park Passes for parks that have an entrance fee.
EST - Eastern Standard Time
Pets
Pets are allowed at Dry Tortugas NP however the commercial ferry and seaplanes do not allow pets onboard.
Visitors who arrive with via private boat are welcome to bring their pets and here are the regulations:
Pets are permitted on Garden Key but not inside Fort Jefferson.
Pets are not permitted on any other key in the park.
Pets must be on a leash and under physical control at all times.
Pet waste must be removed by the owner from the park.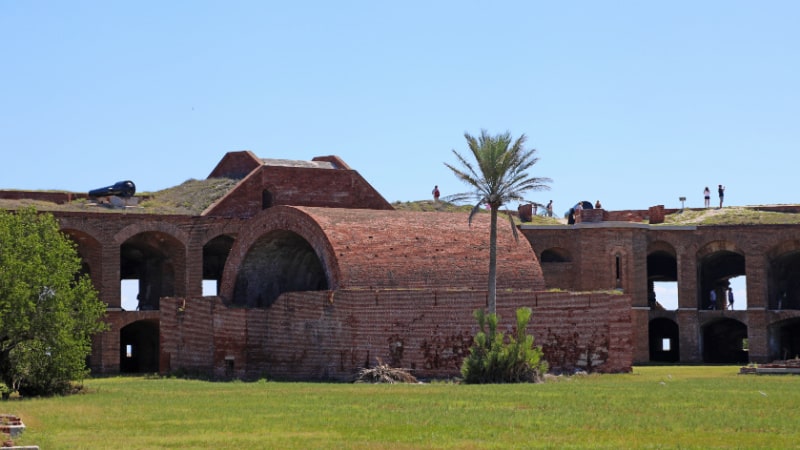 Park Hours
Garden Key is the main island at Dry Tortugas with camping, Fort Jefferson, and a visitor center and is open year-round 24 hours a day
Fort Jefferson located on Garden Key is open year-round from sunrise to sunset
Loggerhead Key was named for its abundance of Loggerhead Turtles is the park's largest island and is open to day visitors year-round from sunrise to sunset
Bush Key is closed seasonally during the Sooty Tern nesting season. Bush Key is usually open from mid-October to Mid-January
East Key, Middle Key, Hospital Key, and Long Key are closed for nesting wildlife
Best time to visit Dry Tortugas
The best time to visit Dry Tortugas National Park really depends on the visitor. There are basically two seasons at Dry Tortugas.
Winter Season
The winter season typically runs from November to April. This is commonly known as the dry season in Southern Florida with much more favorable weather conditions and fewer biting insects during this time.
The downside is that the predominant weather pattern is influenced by strong cold fronts that generate large swells and windy conditions. This oftentimes creates high seas making the trip to the park very rough with five-foot-plus seas.
This can also create poor visibility for snorkeling. I would not recommend this time of year for those who are prone to motion sickness.
Avid birdwatchers will find this time a much more interesting time to visit as these winter storms can blow birds into the park.
Summer Season
The Summer Season typically runs from May through October. The Summer Season in Southern Florida typically consists of higher temperatures, and higher humidity, storms are much more frequent, and biting insects become much more unbearable.
At Dry Tortugas, the weather conditions are generally idealistic during this time as there is little to no wind and excellent visibility for snorkeling.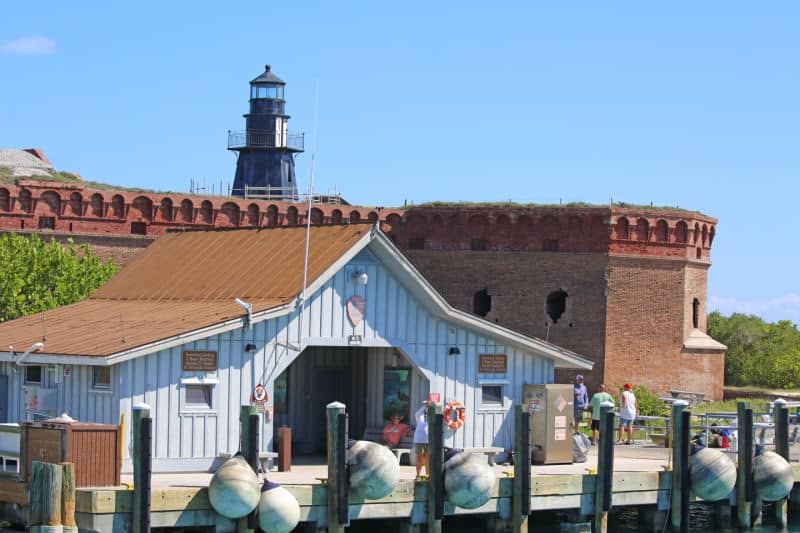 Best Things to do at Dry Tortugas National Park
Part of the fun of visiting the remote island of Dry Tortugas is the adventure of getting there. You can't just drive to this park! The benefit of this kind of remoteness is that you don't have to fight through crowds and search for parking once you arrive.
You just simply reserve a ferry service or a seaplane and get ready for your adventure! There are two options for most people getting to Dry Tortugas which is located 70 miles from the coast of Key West, Florida.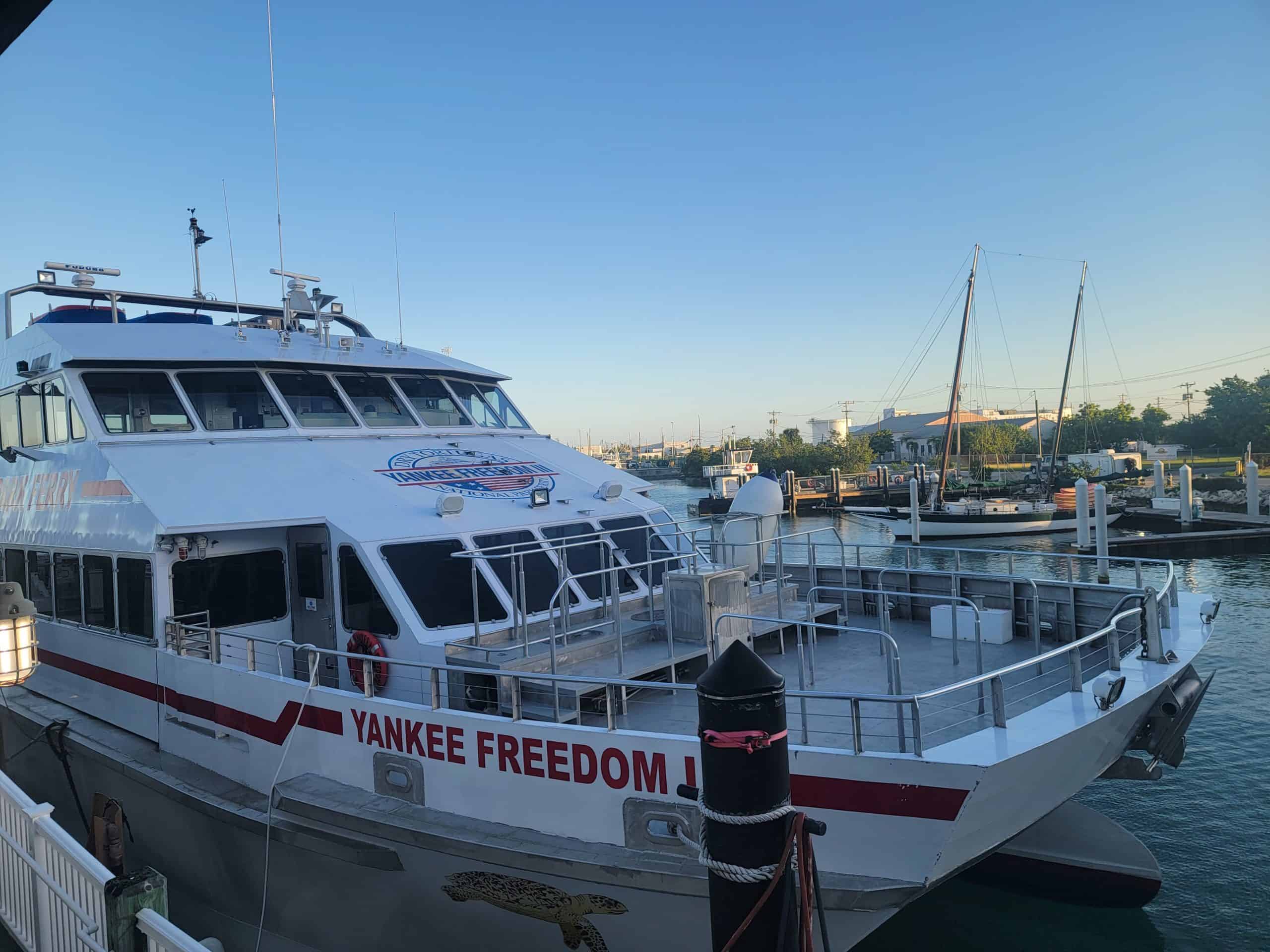 Take the Ferry to Dry Tortugas
The best way for most park visitors to get to Dry Tortugas is by charter boat on the Yankee Freedom iii.
This full-day excursion departs from the Key West Ferry Terminal daily at 8:00 am and returns the same day at 5:15 pm.
This gives you four hours and forty-five minutes to explore this park. This may sound short, but we have found out that this is enough time for most people as most visitors are typically ready to head back at this point, especially those not used to the high intensity of the sun at this tropical destination click here for more information.
Plan to bring a book or take a nap on the return trip. We have found the Dry Tortugas ferry to be a quiet ride back to Key West.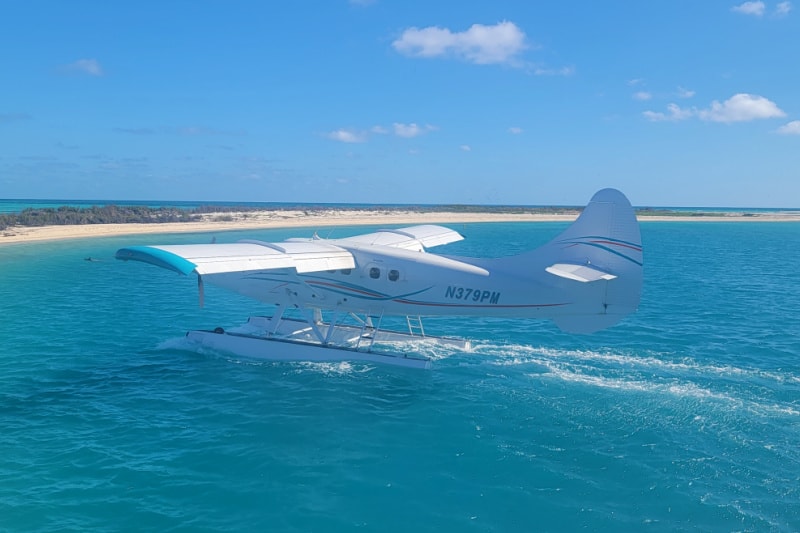 Fly in a Seaplane to Dry Tortugas
For a real adventure book a seaplane that will take you from the Key West Airport directly to Dry Tortugas! It's a short forty-minute flight.
You will get to see marine life, and shipwrecks and even do a flyover of Fort Jefferson, click here for more information on Key West Seaplane Adventures.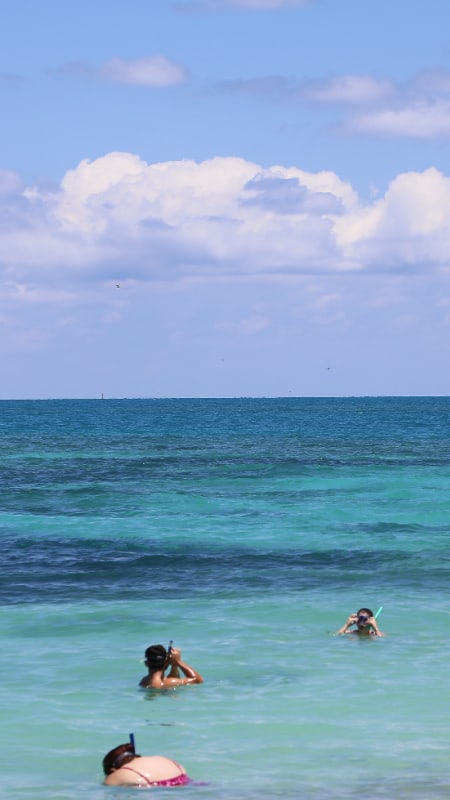 Dry Tortugas Snorkeling
If you like snorkeling, then the breathtaking oasis of Dry Tortugas is a must. Dry Tortugas is a 100-square miles park that is over 99% water and includes seven small islands situated on the Southwest corner of the Florida Keys Reef System, the third largest in the world!
It is also known for having some of the best coral reefs in the Caribbean along with several varieties of tropical fish, conch shells, sea turtles, lobster, and abundant marine life.
For most visitors arriving on the Dry Tortugas ferry, snorkel gear is provided on a first come first-served basis as you disembark the ferry.
I recommend that you first check with the visitor center and check the weather and water conditions before getting in the water.
I also recommend that you always practice the buddy system and know your limits before getting in open water. Remember that the moat was built to protect the fort from the waves!
The best place to go snorkeling on Garden Key is south beach and snorkel along the moat wall. There is even a .4-mile roundtrip underwater snorkel trail with underwater exhibits that help you identify corals, fish, and other underwater marine life that can be seen along the trail.
Be careful as a portion of the moat recently collapsed so make sure to avoid this area. Campers can have a special treat and snorkel at night along this wall and see creatures that you would never see in the day including octopus and basket starfish.
Explore Fort Jefferson
Historic Fort Jefferson is the largest masonry structure in the Western Hemisphere! Although the fort was never completed, it still covers a staggering 11 of the island's 16 acres.
You can take a guided tour of the fort and learn about the history of Fort Jefferson or just walk around and explore the fort on your own. You can even stand on top and see the heavy guns and dramatic views of the entire area!
Look for Dr. Samuel Mudd cell in Fort Jefferson, he was infamously known for his involvement in the assassination of President Abraham Lincoln, who was shot by John Wilkes Booth in 1865,
You can also learn about the parks civil war history.
Learn more about the history of Dry Tortugas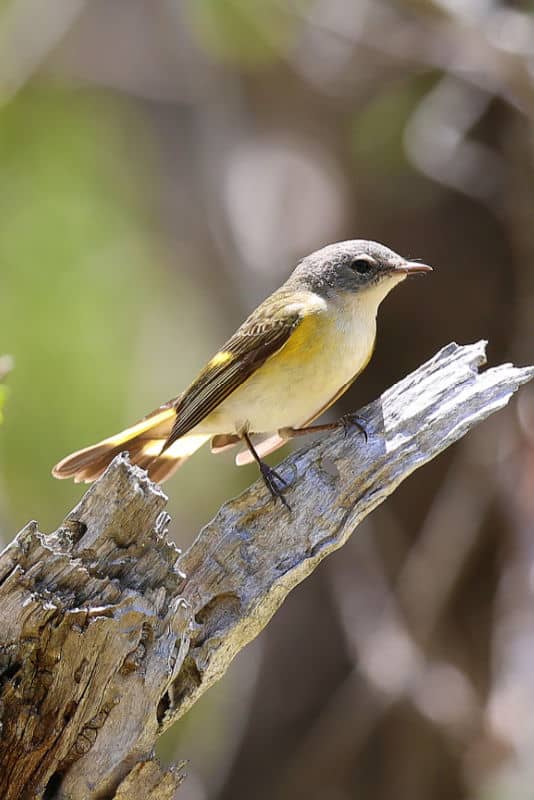 Dry Tortugas Birds & Bird watching
Dry Tortugas NP is a world-class birding destination and will set your inner bird nerd into sheer excitement, especially during the spring migration!
This period occurs between mid-February through mid-May and can bring in as many as 200 different varieties of birds. Inclement weather will bring in a higher concentration of birds as well as more rare sightings.
Almost 300 different bird species have been identified here and the Magnificent Frigate Bird and Sooty Terns nest only in the Dry Tortugas within the continental United States.
A great spot for birding is just as you enter Fort Jefferson, look to the left and you will see several trees with three park benches surrounding a water fountain. I could sit here for hours with my camera waiting for birds to show up!
Spend the day at Dry Tortugas Beach
Let's face it, taking a vacation to a tropical island located in the Gulf of Mexico would not be complete without a little rest and relaxation!
This remote location is 70 miles from the closest city providing lots of autonomy, white sand beaches, palm trees, and crystal clear waters allowing your inner beach bum to live its best life.
Enjoying the beach and the Florida Sun is also the perfect activity after spending time exploring the fort or perhaps taking a guided tour of Fort Jefferson. Now that you are hot and sweaty, find your way to either north swim beach or south swim beach and cool off before getting back on the ferry back to Key West.
Make sure and bring your towel and water shoes with you.
Go Camping at Dry Tortugas
Have you ever wanted to set up a tent on the beach and fall asleep to the sound of the waves? Maybe you want to find somewhere free of light pollution and look up and see an endless supply of stars.
Dry Tortugas is one of the darkest spots on the East coast with some of the best dark skies in North America.
Campers can also bring their kayak and go explore other islands in the park. (There are no kayak rentals at Dry Tortugas.)
You can choose to relax and hang out at a picnic table and play a card game or sit around and do nothing or you can also choose to get to explore everything this park has to offer.
Whatever you choose to do you will be guaranteed a primitive camping trip of a lifetime! Check out our article on Dry Tortugas Camping
Dry Tortugas Kayaking
Kayaking at Dry Tortugas is only for paddlers used to open water and have the necessary equipment in case of emergency.
The closest island is three miles from Garden Key in open water and beginners can easily find themselves in an emergency situation. Make sure to click the link to find out more about kayaking at Dry Tortugas.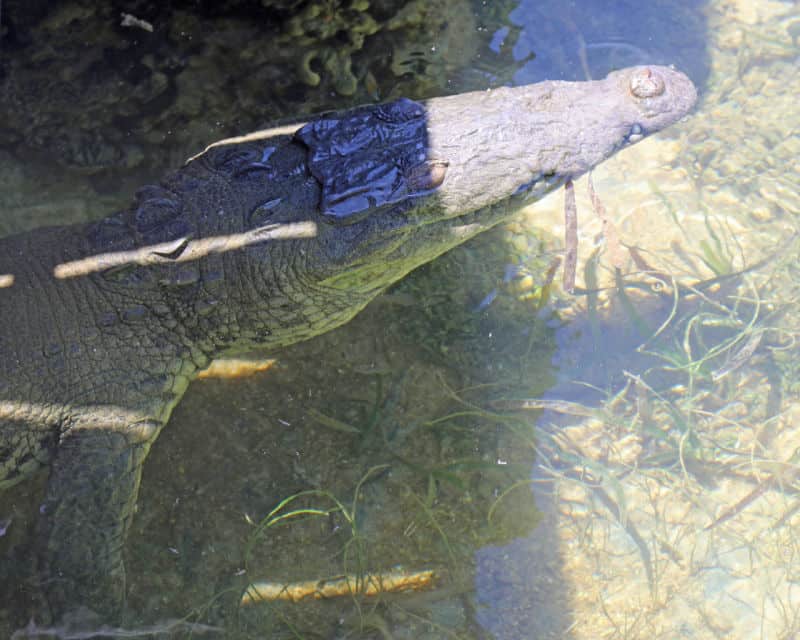 Dry Tortugas Crocodile
Yes, you read right, Dry Tortugas had an American Crocodile. For nearly 14 years one lonely American Crocodile had made this park home. For years, it spent its time around Garden Key and Busch Key.
In early 2017, the crocodile began to be seen around Fort Jefferson and the swim areas.
Park visitors often fail to obey park signs advising them not to approach the Crocodile, so the crocodile was relocated to Everglades National Park which is more of its actual habitat.
The crocodile somehow managed to find its way back home to Dry Tortugas however it was again relocated and has not since returned.
Please remember to always treat wild animals as wild animals. Severe injury could result from approaching certain animals.
Dry Tortugas NP is managed by the National Park Service. Park Rangers are available on site to answer any questions during your visit.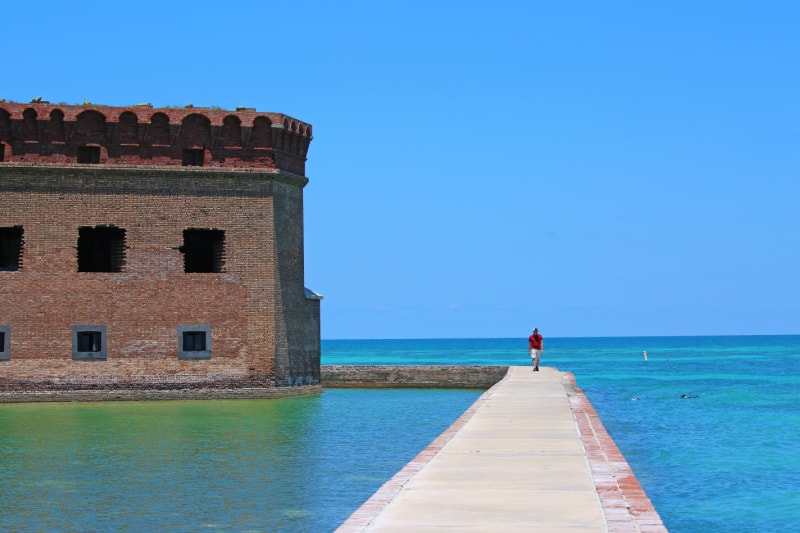 Now you have a few tips for exploring Dry Tortugas National Park. It's time for you to start planning your trip to this fantastic park and see its incredible beauty!
Lodging near Dry Tortugas National Park
There are no designated National Park Lodges within Dry Tortugas NP.
The closest lodging is in Key West, Florida, or nearby.
Pier House Resort & Spa - 4-star resort in the heart of the Key West Historic District. Close to Duval Street, Pier House Resort & Spa provides a beach bar, a poolside bar, and a terrace. With a private beach, beachfront dining, and sun loungers, this resort is the perfect place to soak up some sun. Indulge in a hot stone massage, a body treatment, and a facial at the onsite spa. Enjoy American cuisine and ocean views at the two onsite restaurants. Stay connected with free in-room Wi-Fi, with a speed of 25+ Mbps, and guests can find other amenities such as a garden and a hair salon.
24 North Hotel - 4-star hotel. You can look forward to a poolside bar, a terrace, and a coffee shop/café at 24 North Hotel Key West. Adventurous travelers may like cycling at this hotel. Be sure to enjoy a meal at any of the 3 onsite restaurants, which feature American cuisine and a poolside location. Yoga classes are offered at the 24-hour gym; the property also has a garden, dry cleaning/laundry services, and an outdoor entertainment area. Stay connected with free in-room Wi-Fi, and guests can find other amenities such as 2 bars.
The Conch House Heritage Inn - 3.5-star bed & breakfast in the heart of the Key West Historic District. Close to Duval Street, The Conch House Heritage Inn provides amenities like a garden. Guests can connect to free in-room Wi-Fi.
The Reach Key West, Curio Collection by Hilton - a 4-star family-friendly hotel in the heart of Old Town Key West. The Reach Key West, Curio Collection by Hilton is located close to Duval Street and provides a golf course, a poolside bar, and a terrace. This hotel is a great place to bask in the sun with a private beach, rowing, and sailing. Indulge in a massage at Spa al Mare', the onsite spa. The onsite restaurant, Four Marlins, features local cuisine. Enjoy the gym, as well as activities like boat tours, ecotours, and kayaking. In addition to shopping on-site and at a coffee shop/café, guests can connect to free Wi-Fi in public areas.
Courtyard by Marriott Key West Waterfront - A poolside bar, a coffee shop/café, and dry cleaning/laundry services are just a few of the amenities provided at Courtyard by Marriott Key West Waterfront. Active travelers can enjoy cycling at this hotel. For some rest and relaxation, visit the hot tub. The onsite restaurant, Tiki Bar, features a poolside location and light fare. In addition to a bar and a business center, guests can connect to free in-room Wi-Fi.
Kimpton Winslow's Bungalows, an IHG Hotel - a 4-star hotel in the heart of the Key West Historic District. Near Duval Street, Kimpton Winslow's Bungalows, an IHG Hotel provides a poolside bar, a terrace, and a garden. In-room Wi-Fi (surcharge) and a bar are available to all guests.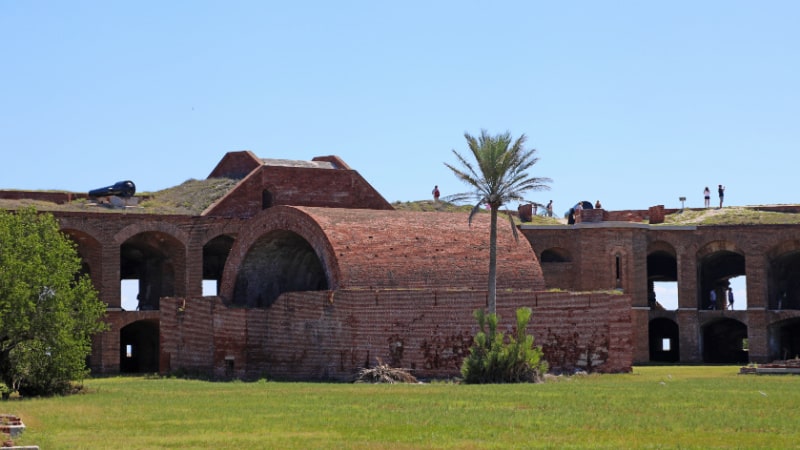 More Information about Dry Tortugas National Park
Dry Tortugas National Park - Our epic guide includes everything you need to know to visit the best places in the park.
History of Dry Tortugas National Park
Yankee Freedom Ferry to Dry Tortugas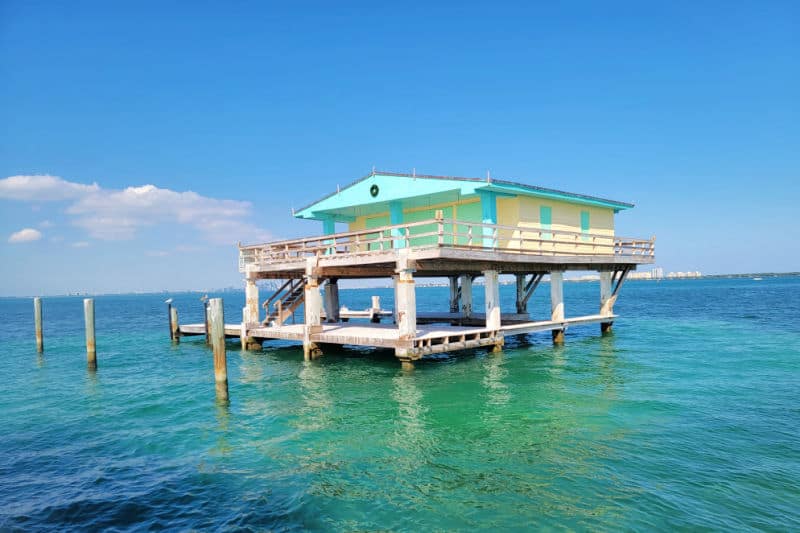 You can have so much fun on a Florida Keys Roadtrip to get to Key West!
Additional National Park Resources
Heading to the Everglades? Don't miss our Everglades National Park Guide - includes everything you need to know to visit the best places in the park.
We recently spent a couple of weeks visiting South Florida National and State Parks, check out our South Florida parks trip report for information on where we stayed and the epic parks we visited.
Top Things To Do Everglades National Park
Everglades National Park Boat Tours
Everglades National Park Wildlife
Everglades National Park Camping Guide
Anhinga Trail, Everglades National Park
Don't miss our Biscayne National Park Guide
Top Things to do Biscayne National Park
Stiltsville Boat Tour
Learn more about the least visited National Parks in the US!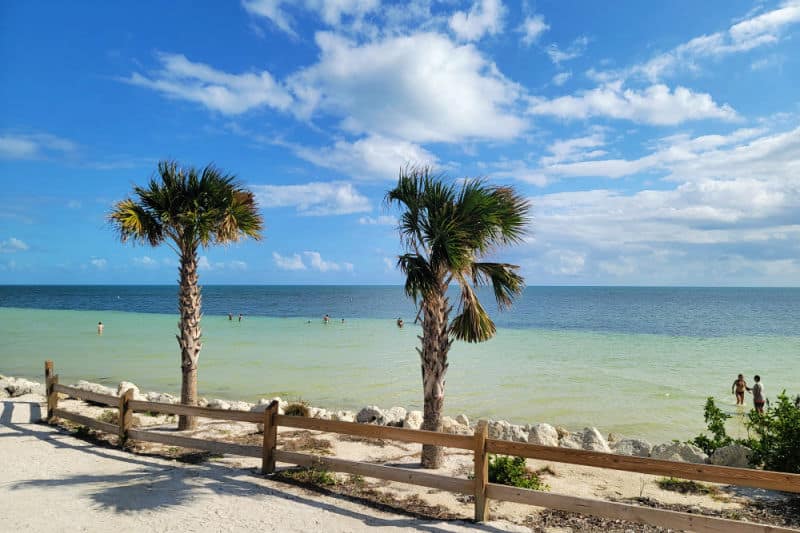 Nearby Florida State Parks
Bahia Honda State Park - This popular Florida beach park is absolutely amazing!
John Pennekamp Coral Reef State Park - Check out the glass bottom boat tours and beach access.
Long Key State Park - This Florida state park offers an amazing boardwalk trail to the beach.
There are so many great things to do in Key West with kids before your trip to Dry Tortugas!
Check out all of the Florida National Parks along with National Parks in Georgia, and Alabama National Parks