Everglades National Park is the third-largest National park in the lower 48 with 1.5 million acres! It has four entrances and it can easily take over two hours to get in-between destinations so make sure to plan more than a couple of hours for all the best things to do at Everglades National Park!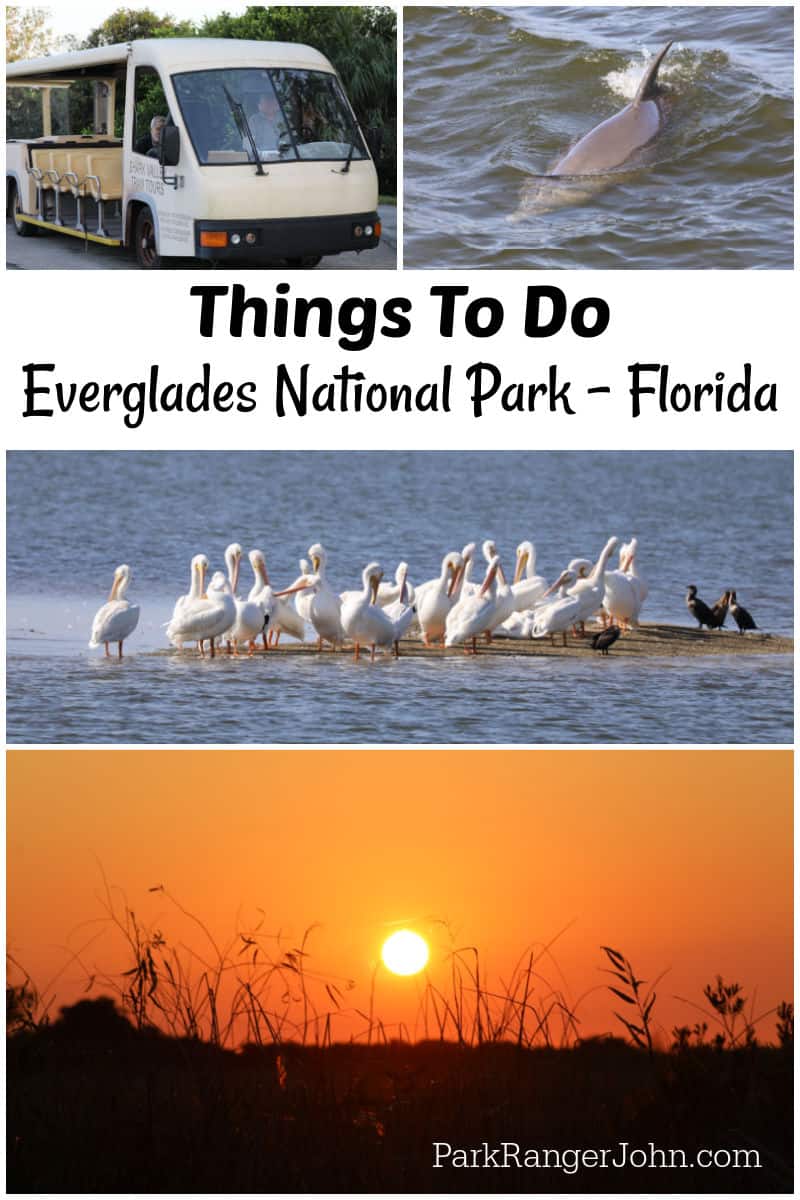 About Everglades National Park
Everglades National Park is the largest subtropical wilderness in the United States and is home to several threatened and endangered species like the American Crocodile, manatee, and the Florida Panther.
Planning is essential before visiting Everglades National Park as it is 1.5 million acres and can be accessed from several areas and boat trips and tram rides may require advance reservations.
Everglades NP is the 3rd largest National Park in the lower 48 states behind Death Valley National Park and Yellowstone NP.
The main entrance of the park is located at the south entrance by Florida City. Here you will find most of the park's activities including three visitor centers including the Ernest Coe Visitor Center, two campgrounds, a soon-to-be opening National Park Lodge, two boat tours, hiking trails, and more. It also includes areas like Royal Palm, Long Pine Key, and Flamingo.
The Chekika Entrance is a small day-use area with a picnic area, a short hiking trail, and fishing access that has been closed since December 2013, and there are no plans of opening this area of the park in the near future. I placed this note here as the entrance is still on the park brochure and states that it is open seasonally but don't expect to make this a part of your trip.
The Shark Valley entrance is also very popular as it is right off the popular Tamiami Road that connects Miami to the Florida Gulf Coast including Tampa, Fort Meyers, Sanibel, Naples, and Marco Island.
The fourth entrance is the Gulf Coast Visitor Center located in Everglades City. This area was hit pretty hard by Hurricane Ian and the visitor center was destroyed but they are back conducting boat tours.
Whether it is your first time in the park or your 100th there is so much to see in Everglades NP!
Things to know before your visit
Entrance Fees
7-day single-vehicle park pass - $30
7-day individual park pass - $15
7-day motorcycle park pass - $25
Annual Park Pass - $55
Valid for one year through the month of purchase. Admits one private, non-commercial vehicle or its pass holder.
Planning a National Park vacation? America the Beautiful/National Park Pass covers entrance fees for an entire year to all US National Park Sites and over 2,000 Federal Recreation Fee Sites.
The park pass covers everyone in the car for per vehicle sites and for up to 4 adults for per-person sites.
Buy on REI.com and REI will donate 10% of pass proceeds to the National Forest Foundation, National Park Foundation and the U.S. Endowment for Forestry & Communities.
Learn more about National Park Passes for parks that have an entrance fee.
Free Entrance Days -Find the five free entrance days the National Park Service offers annually.
Time Zone
EST - Eastern Standard Time
Pets
Pets are allowed in limited areas within Everglades NP.
Pets must be kept on a leash less than 6 feet in length,
Pets are permitted in the following areas:
Roadways open to public vehicular traffic
Roadside campground and picnic areas
Maintained grounds surrounding public facilities and residential areas
Private boats
Pets are NOT permitted in the following areas:
All trails - boardwalk, paved and unpaved
Unpaved roads
Shark Valley Tram Trail/Road
Please always keep in mind that the Everglades are filled with wildlife including alligators who have been known to prey on dogs.
Cell Service
According to Signal Checker, all cell phone services are spotty, but T-Mobile and Verizon seem to work better than others. However, in Flamingos campground AT&T was noticeably better than other services.
Park Hours
The park is open year round.
Insect Repellent
Insect repellent is always a great idea when outdoors, especially if you are around any body of water.
Now if the park's visitor center has a mosquito meter sign posted on Hysterical, I would highly consider insect repellent or indoor activities, just saying!
We use Permethrin Spray on our clothes before our park trips.
National Park Passport Stamps
National Park Passport stamps can be found in the visitors center.
Make sure to bring your National Park Passport Book with you or we like to pack these circle stickers so we don't have to bring our entire book with us.
Everglades NP is part of the 1997 Passport Stamp set.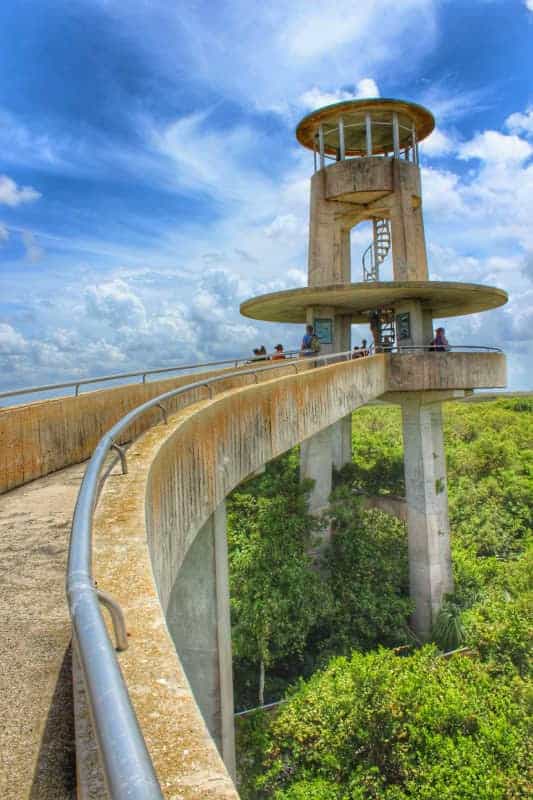 Best time to visit Everglades National Park
Most people visit the Everglades during the "Dry Season" or winter between December through March. This is because the wildlife is more abundant, and the mosquitoes are tolerable during this time.
Anyone who has been to the Everglades in the "Wet Season" or summer can attest to the fact that you may very well donate a couple of pints of blood to the mosquitoes in the wet season.
If that's not bad enough, other places around have no-see-ums (biting midges), and can be completely intolerable to be outside without a gallon of bug spray on. Summer rainstorms are common and wildlife is not as abundant in the wet summer months as well.
Things to do In Everglades National Park
Visit the Ernest F Coe Visitor Center
The Ernest F Coe Visitor Center is the first thing you will come across when entering the Everglades from Florida City.
This visitor center is open 365 days a year and is a great place to get up-to-date information on the park, brochures, educational displays, and orientation films, and sometimes there are special collections by local artists that are on display.
Make sure to walk out behind the visitor center and enjoy the short boardwalk for looking for wildlife.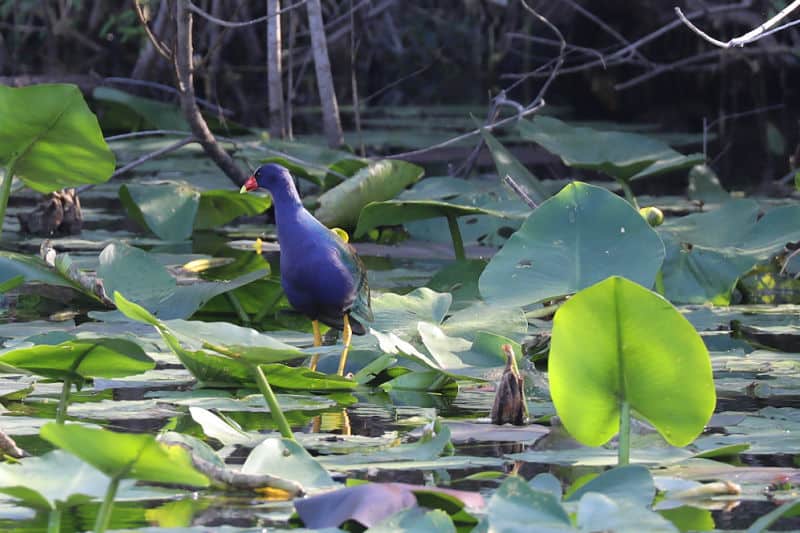 Everglades Hiking
There are several great hikes in the Everglades. There are several short elevated boardwalks as well as some longer hikes that really put you in the heart of the glades.
Taking short walks in the park is a great way to experience the different eco-systems.
The Anhinga Trail is a .8-mile loop trail located next to the Royal Palm Visitor Center and the Gumbo Limbo Trail. The Anhinga Trail is a must for any park visitor to the Everglades.
The amount of wildlife is crazy along this short trail! It almost feels like you are walking in a zoo except there is no barrier between you and the wildlife. For this reason, the park service has had to put up signs warning people not to approach alligators and snakes!
I should not be surprised that there are signs telling people the obvious like staying away from alligators and snakes, I just thought this was common sense.
The problem is that we all get excited to see Everglades wildlife in the wild that we put common sense aside for a closer look or a better photo. Please exercise caution when approaching wildlife. I know it's easy to get excited but this is for your safety and the safety of the animals.
The Anhinga Trail is one of the most popular trails in the park for a reason! One of the best spots for wildlife viewing that has easy access for the whole family.
Pa-Hay-Okee Overlook
This overlook trail has an amazing boardwalk that leads you up to a covered overlook that gives you the opportunity to look out at the river of grass.
We highly suggest entering this trail from the trailhead by the trail map. This will take you up the boardwalk and then downstairs to reach the lower portion of the trail.
One of the great things about this entire trail is it is on a boardwalk so you don't have to worry about were you are walking in this part of the Everglades unique ecosystem.
Mahogany Hammock Trail
Walking this Everglades trail feels like you are walking into a different world. Soon after crossing a boardwalk bridge you enter into a thick mahogany hardwood hammock and are immersed in the ecosystem.
This is a must-walk trail in Everglades National Park. Seeing the largest living mahogany tree is amazing.
Gumbo Limbo Trail
Gumbo Limbo Route is a short, moderately busy loop trail with a lake that is suitable for all ability levels. Walking, nature visits, and bird viewing are all popular activities on the route.
It is a short and pleasant paved walkway that leads through a gorgeous tropical jungle.
This walk is self-guided and runs through a lovely woodland with great native flora and animals. The Gumbo Limbo trees that may be found along the path gave the trail its name.
The trail doesn't take much time but offers amazing views of the park.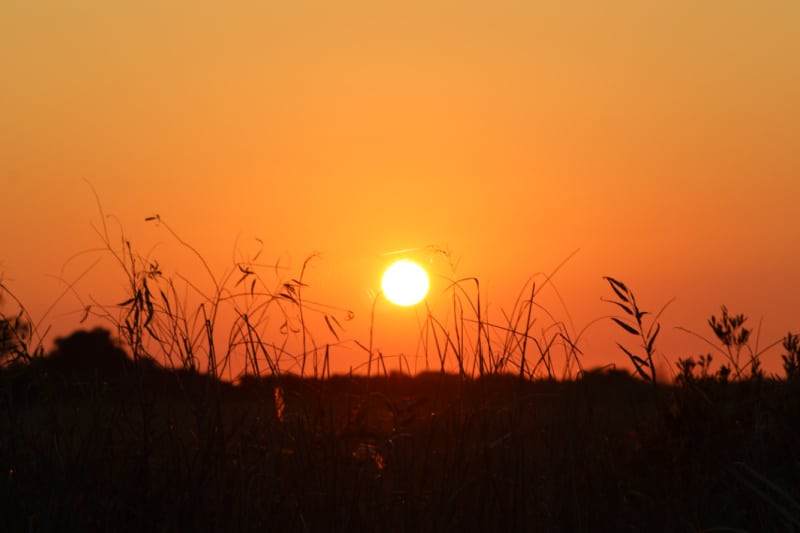 Watch an epic sunrise and sunset
Most people tend to think of the beach for sunrise/sunset. Perhaps these people have never seen the dramatic color in the Florida Everglades during this golden hour. It is something to behold!
The bright orange color fills the sky, and clouds add to nature's masterpiece making for one of the most beautiful sunrises/sunsets you will ever see!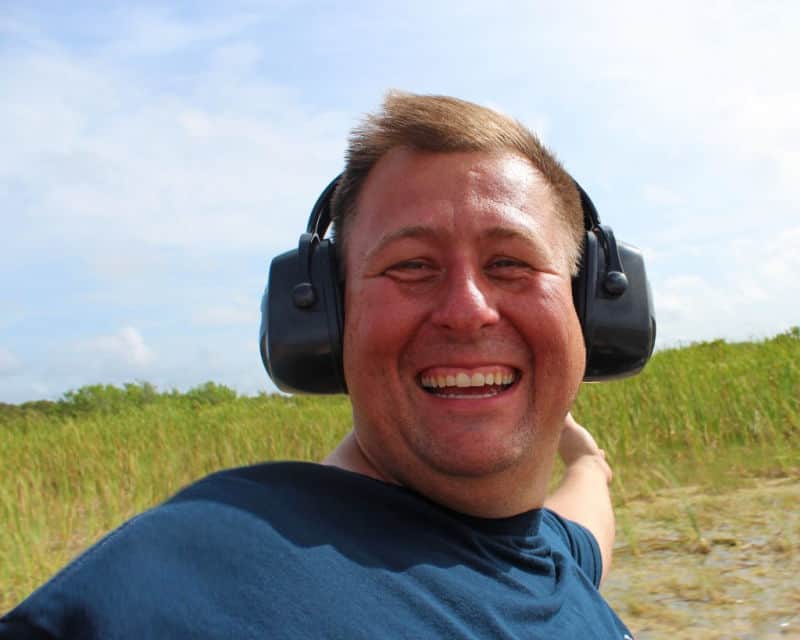 Everglades National Park Airboat Tours
Are you searching for a thrill ride? Something everyone will talk about for years after? I'm guessing the answer is a simple yes based on Google searches. The only thing people search for more at Everglades is the Visitor Centers.
I get it, Airboat rides are fun! These boats are loud, and fast and can skim across the narrow waters of the Everglades with ease. A good airboat driver will maneuver the boat having you holding onto your seat in excitement!
Having said this, I don't think that an airboat ride is the best way to see wildlife and explore the Everglades. For that, I would take one of the boat tours from Flamingo or the Gulf Coast area or better yet, get out on a canoe or a kayak.
The problem with Everglades airboat tour is that they are extremely loud (notice me wearing the large earmuff hearing protectors) and it scares off wildlife including birds from their nests making their eggs vulnerable to predators.
A skilled and knowledgeable boat captain will know the area and will be able to provide their guests with opportunities to see wildlife up close while having the wind blow through their hair. Even the mosquitoes will not have a chance!
If you decide to take an airboat tour I would suggest taking an authorized tour guide permitted by Everglades National Park as this has been a widely unregulated industry for a long time.
There are currently three authorized airboat tour companies authorized by the National Park Service including Coopertown, Everglades Safari Park, and Gator Park, all located on the Tamiami Trail between Shark Valley and the Gulf Coast Visitor Center.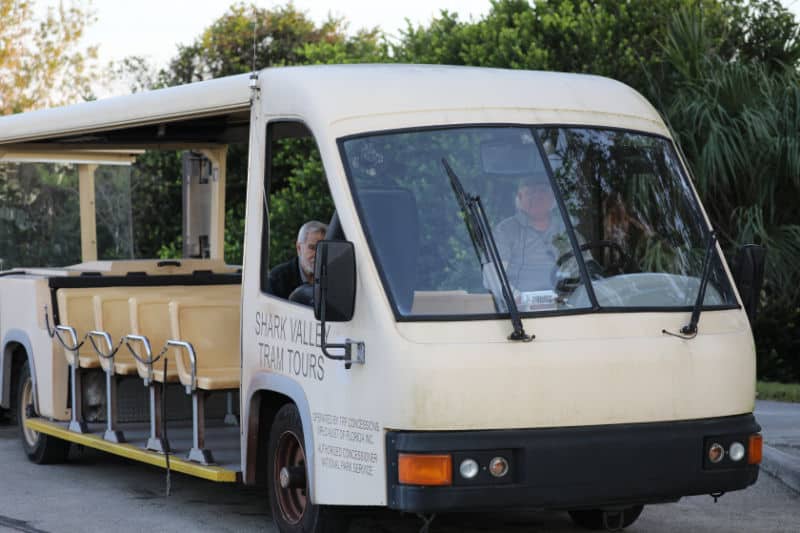 Go on a Shark Valley Tram Tour
The Shark Valley Tram Tour takes you on the 15-mile scenic loop trail. You will have a driver and a guide that will narrate the guided tour with lots of interesting information about the Everglades and Southern Florida along with pointing out wildlife throughout the trip.
The halfway point has an observation tower with incredible views overlooking the Everglades river of grass! You can also see lots of wildlife along the way including alligators and tons of birds.
You can also hike or take a bike ride along this trail instead of taking the tram. There is also a concession on-site that rents bikes and you can purchase tram tickets.
It is recommended to have advance reservations for the tram during the busy winter months as they often fill up. This is one of the most popular things to do in Everglades NP!
There is also limited parking so make sure to show up early enough to find parking.
For reservations, prices, and hours call (305)221-8455.
The Shark Valley Visitor Center has a restroom, small interpretive display area, and gift store.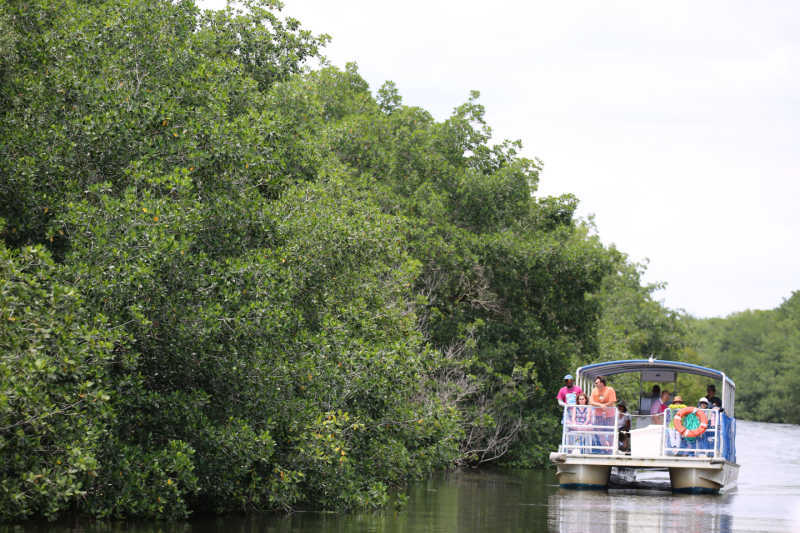 Everglades National Park offers boat tours in both the Flamingo and Gulf Coast areas of the park.
The Flamingo area offers two different boat tours; Backcountry Tour and a Florida Bay Tour. The backcountry tour takes you through the mangroves and the heart of the Everglades.
The Florida Bay Tour takes you out in the bay with a chance to see dolphins and other wildlife. You also get a great view of the Flamingo visitor center.
The Gulf Coast Area offers the Ten Thousand Islands Tour where an experienced guide takes you on a 90-minute tour across Chokoloskee Bay, into Indian Key Pass, and through the mangrove islands of Everglades National Park.
Wildlife Viewing/ Wildlife Photography
Wildlife viewing is one of the special moments at the Everglades. Everglades National Park Animal sightings include alligators, crocodiles, turtles, dolphins, turtles, snakes, and the elusive Florida Panther to name a few.
Everglades is also a Bird watching mecca and is one of the main attractions of Everglades National Park. There have been 366 different bird species identified within the park's numerous habitat types including the Wood Stork, Roseate Spoonbill, Flamingos, Painted Buntings, Purple Gallinules and Anhinga's.
One thing to remember is wildlife viewing in the Everglades is really dependent on the time of year you are visiting.
Wildlife viewing is incredibly different during the wet season compared to the dry season.
The most popular spots for wildlife viewing include the Anhinga Trail, a boat trip through the mangroves or into the bay, or driving the main road from the Homestead entrance to the Flamingo Marina.
We have seen a ton of birds along this hour drive.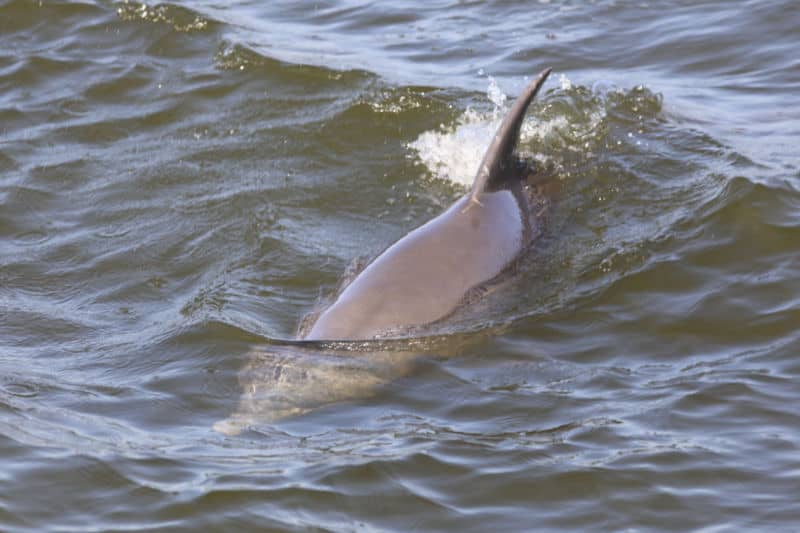 Park Ranger John Pro Tip
Please tread lightly in the Everglades. This is an extremely beautiful and very fragile ecosystem that has and is facing numerous obstacles that could ruin this incredible place.
Did you know that a whopping 90%-95% loss of the bird population in the Everglades? This was due to the widespread slaughter of wading birds for their plumes in the early 1900s and intense water management practices over the past 90 years. The Migratory Bird Treaty Act has helped save these beautiful birds from extinction and making a rebound today.
Some of my favorite bird-watching locations include the Anhinga Trail, Eco Pond, the Gulf Coast Visitor Center, Mahogany Hammock, Mrazek Pond, Nine Mile Pond, Paurotis Pond, Shark Valley, and the Snake Bight Trail.
The non-native Burmese Python has also been introduced to the Everglades most likely in the 1970s to 1980s. It was most likely from exotic pet owners who had these snakes as pets and found that they could no longer manage their pets and released them in the wild. The problem is that the pythons were very suited to the Everglades environment and had no natural predators and they themselves are very proficient predators.
It is estimated that these invaders have dramatically decreased animal populations to the brink of extinction in the Everglades including Raccoons, Opossums, bobcats, white-tailed deer, and rabbits. Now the concern is leaning toward other species as food source including coyotes, and alligators.
Additional factors that are greatly impacting the Everglades are the encroachment of housing developments/cities building right up to the borders of the park. Water loss from urban sprawl threatens the river of grass and even fertilizers used in farming in central Florida have been found leeching south changing the ecosystems of the Everglades.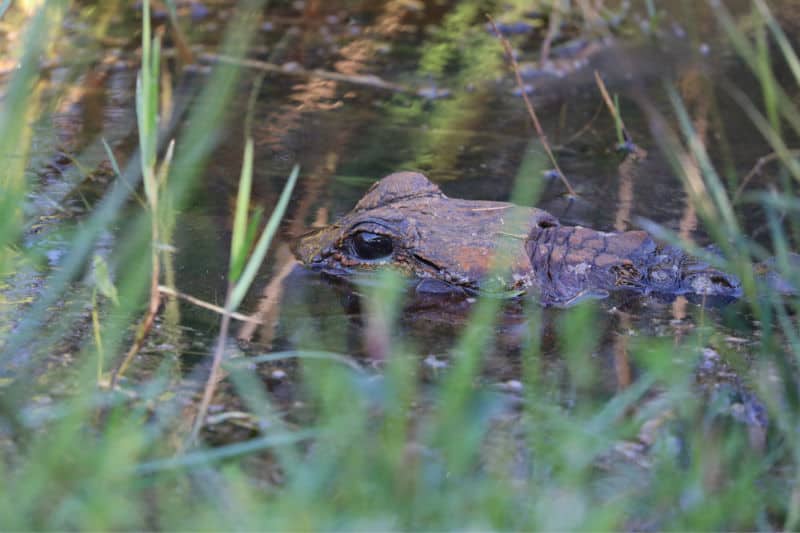 Canoe/Kayak the wilderness trail
Are you an experienced paddler? Do you yearn for an epic adventure? If yes then the Everglades has a trail for you! The 99-mile wilderness waterway is an adventure taking you into the heart of the Everglades.
Most people take at least eight days to complete this voyage with lots of careful planning. You will be required to obtain permits, get a ride back to the area you began and come prepared for anything.
You can expect a lot of solitude and a unique experience that the majority of all people who come to parks will never get. Canoe Trips are a National Park Bucket List experience in Everglades NP.
Don't worry you don't have to paddle 99 miles to enjoy the park. There is a Mangrove Tunnel Kayak Eco Tour that is a great way to experience the mangrove jungle within the park.
Find out more about kayaking in the Everglades and kayaking in the Florida Keys! Get out on the water and see wildlife up close.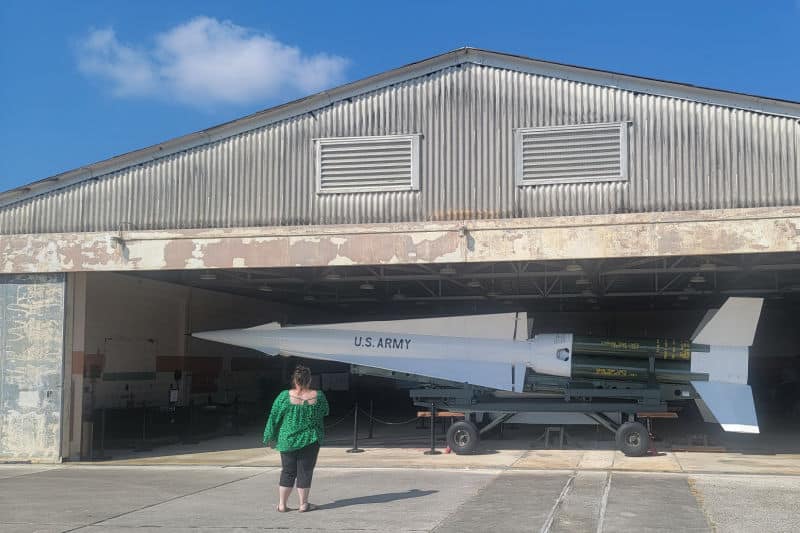 Tour the Nike Missile Base
The Nike Missile Base is a Cold War Era relic that was built in the early 1960s in response to the Cuban Missile Crisis. HM69 Nike Missile Base was strategically placed to protect America's Southern border from a possible Soviet air attack.
The site looks almost like it did the day the base was closed in 1979 and still has three missile barns, a missile assembly building, a guard dog kennel, barracks, and two Nike Hercules Missiles!
Visiting the Nike Missile Base can be a challenge as it is only open seasonally and depends upon staffing levels a d available volunteers. Having said that, the site is open most days between early December to Late March during the park's busy season.
There is an open house program, as well as Ranger-guided tours. Make sure to check with the Ernest F. Coe Visitor Center for hours of operation.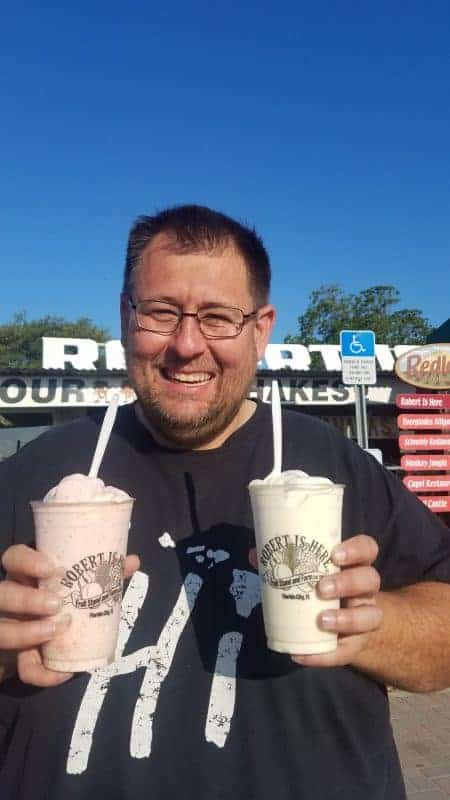 Visit Robert is Here for a Key Lime Milkshake!
I know that a milkshake has nothing to do with Everglades National Park but it is so worth mentioning! We discovered the Robert is Here fruit stand years ago after spending our first day in the Everglades. We were tired, and hungry, and thought let's stop here.
There was a huge line for milkshakes and figured if this is where everyone is going there must be something to it. I got in line and got a Key lime milkshake. After Tammilee and I tried this wonderful creation Tammilee was in line to get her own and has been a ritual for us ever since!
When we go to Miami, we then go to the Everglades and Robert is Here for Key Lime Milkshakes! They make a great treat after a day exploring one of our all-time favorite parks!
Robert is Here is open 7 days a week 8 am-7 pm November through August. If you show up in September or October you will be sad to see them closed.
Click here for more information on their milkshakes.
What to bring with you to Everglades National Park
Anything you can do to stay hydrated and protect yourself from the sun and biting insects will greatly enhance your visit!
Dry bags can prove to be very important if you plan on getting on the water. Having said that, I highly suggest:
Carry plenty of Water
Carry and use sunscreen
Carry and use insect repellent
Dry bag for valuables or anything you want to keep dry
Field Guides for those seeking to identify birds, animals, etc.

Where to stay when visiting the Everglades
There are a couple of lodging options within Everglades NP:
Eco-tents - There are eco tents available near Flamingo Campground.
Flamingo Lodge - This lodge is currently under construction and will hopefully be done soon.
Lodging near Everglades NP
Lodging near Everglades is based in Florida City or farther out in Downtown Miami or Fort Lauderdale depending on the part of town you want to visit.
Holiday Inn Express & Suites Florida City - At Holiday Inn Express & Suites Florida City, an IHG Hotel, you can look forward to free continental breakfast, dry cleaning/laundry services, and a gym. Free WiFi in public areas and a business center are available to all guests.
Fairfield Inn & Suites by Marriott Homestead Florida City - We stayed here during our last visit and it was a great base for our trip to the south Florida National Parks. Consider a stay at Fairfield Inn & Suites by Marriott Homestead Florida City and take advantage of free full breakfast, a grocery/convenience store, and dry cleaning/laundry services. Free in-room Wi-Fi is available to all guests, along with a gym and a 24-hour business center.
Breezy Palms Resort - At Breezy Palms Resort, hit the beach, relax by an outdoor pool, or spend the day at a marina. Each apartment features a kitchen with a refrigerator and a microwave, plus free Wi-Fi and a TV with cable channels. Other amenities that guests will find include a sitting area and a coffee/tea maker. Weekly housekeeping is available.
Islander Resort - Consider a stay at Islander Resort and take advantage of a poolside bar, a terrace, and a garden. This hotel is a great place to bask in the sun with a private beach, beachfront dining, and beach cabanas. For some rest and relaxation, visit the hot tub. The onsite restaurant, Tides Beachside Bar & Grill, features ocean views and al fresco dining. Enjoy onsite activities like basketball, volleyball, and fishing. Stay connected with free in-room Wi-Fi, with speed of 250+ Mbps (good for 3–5 people or up to 10 devices), and guests can find other amenities such as dry cleaning/laundry services and a bar.
Click on the map below to see the current rates for hotels and vacation rentals near Everglades NP.


Camping in Everglades National Park
Camping is a year-round activity in Florida, and inside Everglades National Park, there are two options: Flamingo and Long Pine Key campsites.
Backcountry camping and dispersed camping are also available in the area, but because of all the wildlife you have to prepare very well and follow the "leave no trace" rules.
For a fun adventure check out Escape Campervans. These campervans have built in beds, kitchen area with refrigerators, and more. You can have them fully set up with kitchen supplies, bedding, and other fun extras. They are painted with epic designs you can't miss!
Escape Campervans has offices in Vancouver, Seattle, Portland, San Francisco, Las Vegas, Los Angeles, Phoenix, Salt Lake City, Denver, Chicago, New York, and Orlando
Long Pine Key Campground
This beautiful place is hidden among the long pines, providing a tranquil and private atmosphere. Even though there are 108 campsites here, it will not seem as crowded as Flamingo Campground.
This campground is easily accessible, as it is located just off the highway and has level, paved roads. The Long Pine Key Nature Trail is a short walk away, and there are other fishing ponds in the neighborhood. It's also only a few kilometers from the well-known Anhinga Trail.
If you want to be out in nature, this is the ideal spot to stay. RVs can be reserved ahead of time, but tent camping is on a first-come, first-served basis, so get there early if you want the best places.
The campground is open from November to May, and it has potable water, flush toilets, and showers. Phone service and dump stations are also available.
Flamingo Campground
With 234 drive-in campsites and 64 walk-in sites, Flamingo is the most popular and largest campground in the Everglades. It's on the very southwest extremity of the peninsula, 38 miles from the park entrance, and it is open year-round.
Flamingo Campground's position makes it excellent for sailing along the 99-mile wilderness canal, easy access to Ten Thousand Islands and Chokoloskee Island, and observing wildlife, such as birds, manatees, and dolphins.
All sorts of campers are welcome at Flamingo Campground. Walk-in tent camping, RV spots for rigs up to 45 feet long, houseboat rentals, eco-tents, and cottages are all available.
Flamingo Campground is the place to go if you're searching for a location to stay that's near to nature yet offers a lot of facilities.
There are power connections, picnic tables, a dump station, and hot showers, as well as a fully supplied Marina shop, a food court, and a variety of activity rentals. You may rent a pontoon boat, bicycle, or kayak. Every weekend, there are also daily narrated boat cruises.
Campgrounds near Everglades NP
Goldcoaster RV Resort - Homestead, FL
This campground offers RV Sites, a pool, shuffleboard, internet, laundry, and an arcade.
Sun Outdoors Key Largo - Key Largo, FL
This campground offers lodging and RV sites, beach access, kayaking, a boat launch
Key Largo Kampground - Key Large
This campground offers RV and Tent Sites, a beach, pool, boat launch, and a playground.
Check out additional campgrounds in the area on Campspot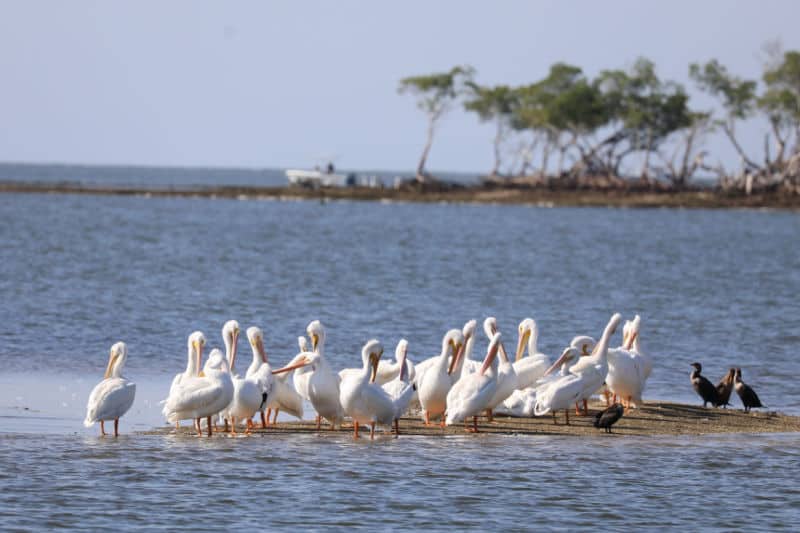 More information about Everglades National Park
Everglades National Park Wildlife - Learn more about the great wildlife you can see in the park.
Everglades Boat Tours are available in both Flamingo and the Gulf Coast Visitor Center.
Anhinga Trail- Everglades National Park - Epic trail guide including photos and video of what to expect along the trail.
The Everglades is one of the Most Visited National Parks in the United States.
Nearby Florida State Parks
Bahia Honda State Park - This popular Florida beach park is absolutely amazing!
John Pennekamp Coral Reef State Park - Check out the glass bottom boat tours and beach access.
Long Key State Park - This Florida state park offers an amazing boardwalk trail to the beach.
Additional Florida National Parks
Big Cypress National Preserve - Some of the best wildlife viewing in Southwest Florida is in Big Cypress!
DeSoto National Memorial - Learn about DeSoto's landing in Florida
Canaveral National Seashore - Epic guide to everything to do in this great park.
Timucuan Ecological and Historical Preserve
Castillo De San Marcos National Monument - Heading to St. Augustine this is the perfect place to stop and learn about the history of the area and explore the fort!
Fort Matanzas National Monument
Dry Tortugas National Park - Everything you need to know to plan a trip to the park.
Things to do in Dry Tortugas National Park - From ranger-led activities to snorkeling we have all the things you need to do while in the park!
Biscayne National Park - This park is the perfect place to enjoy a day trip from Miami.
Things to do in Biscayne National Park
Check out all of the National Parks in Florida along with neighboring Georgia National Parks and Alabama National Parks.