Trunk Bay in Virgin Islands National Park is considered one of the most beautiful beaches in the world. Its breathtaking white sand beach, palm trees, and deep blue skies makes this beach a dream destination. It's also a great place to go snorkeling or just lounge at the beach.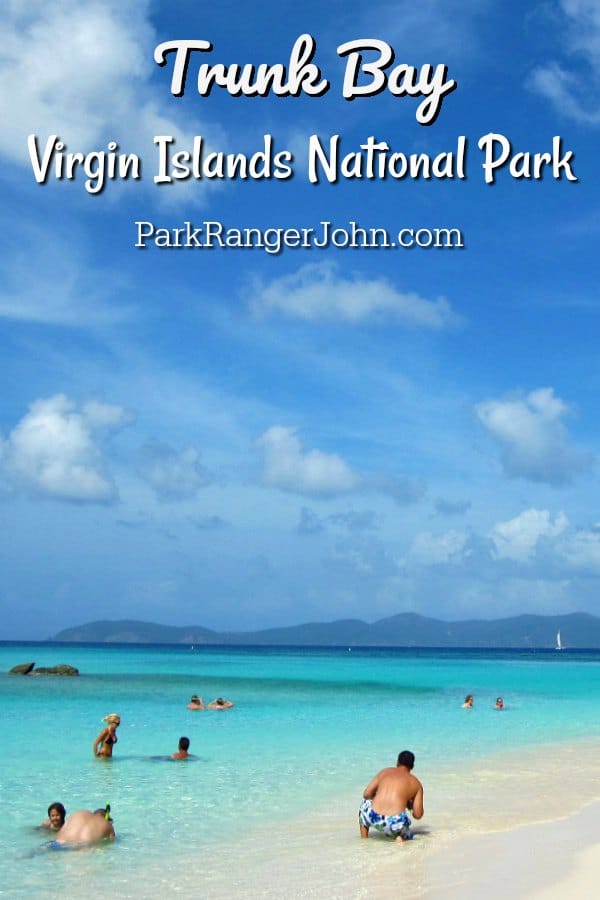 Trunk Bay Virgin Islands National Park
Trunk Bay is located on St John Island in the United States and is one of three of the major U.S. Virgin Islands; St Thomas, St Croix, and St John. Two-Thirds of St. John is part of Virgin Islands National Park and over forty percent of Virgin Islands National Park is underwater creating a true tropical getaway!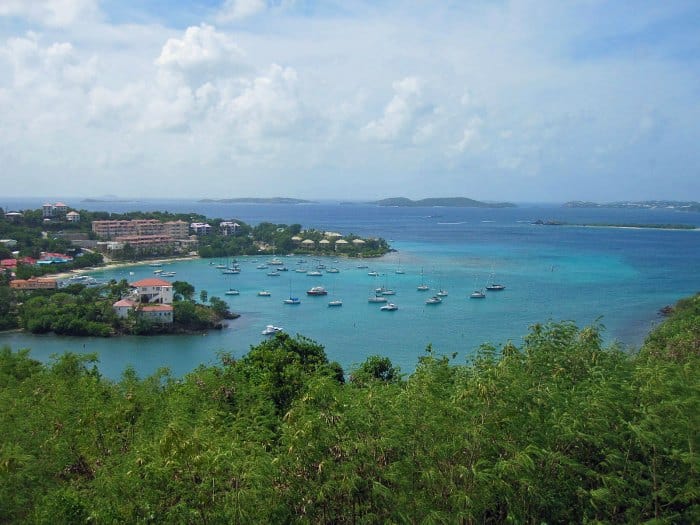 How do I get to Trunk Bay?
There are no airports on St John. Visitors will have to fly to St Thomas (STT) then catch a ferry over to St John. U.S. Citizens do not need a passport as you are going to a U.S. Territory.
Once you arrive to St. Thomas you can rent a car and drive to Red Hook and catch the ferry over. On the island of St. John parking can be very limited so make sure to show up early.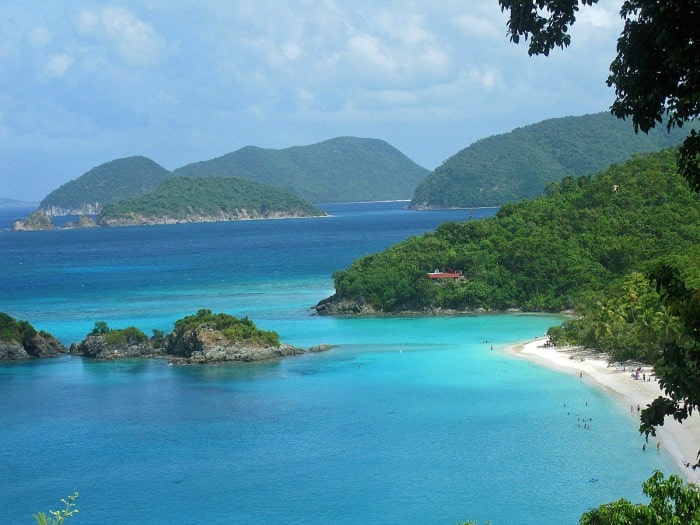 You can also take a cab to Red Hook and take the ferry over. Once on St. John, you can rent a car there or take taxis or the Open air taxis. One thing to note about taxis is that if you get dropped off somewhere, make sure to arrange to be picked up before leaving your taxi as cell service is not reliable and taxis don't wait around at the beaches to take you back.
There are several charter options to take you from St Thomas to Cruz Bay, St John. The pier in Cruz Bay is located next to the Virgin Islands Visitor Center.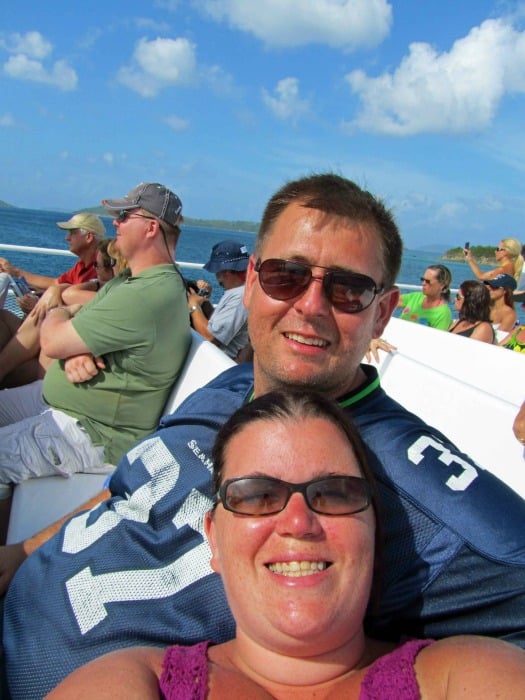 Getting to Trunk Bay from a Cruise Ship
Cruise ship excursions make it simple to visit Trunk Bay! Simply sign up for the tour on the ship and meet the tour at the designated time. They will take you from the ship over to a boat and take you straight to Cruz Bay on St. John.
You will then be picked up by one of the open air taxis and taken to Trunk Bay. You will get approximately one and a half hours at the beach before meeting the taxi to go back to Cruz Bay. You may have enough time to run across and tour the parks visitor center and get your park stamp before getting ready to go back to your ship.
Check out all of the National Parks you can visit on a Caribbean Cruise.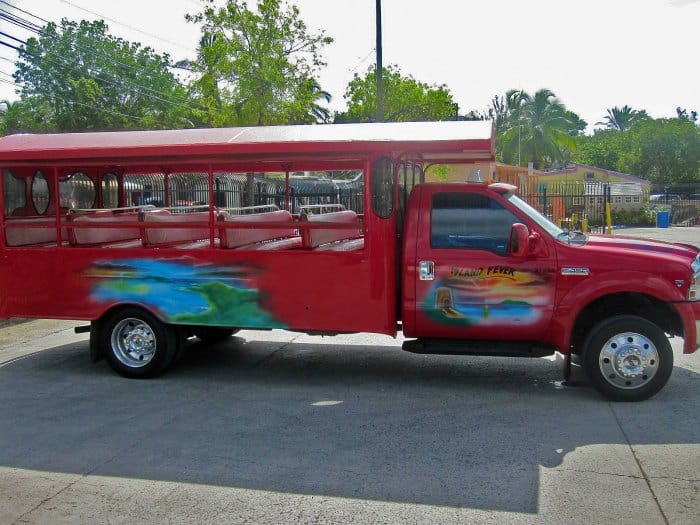 Trunk Bay Snorkeling
All along the North shore has good snorkeling. Each beach has its own positives and negatives. What makes Trunk Bay special is that it is a beautiful white sand beach that is well protected from the oceans waves. This makes it a great place for all visitors including novice snorkelers and swimmers. The snorkeling is great with few waves.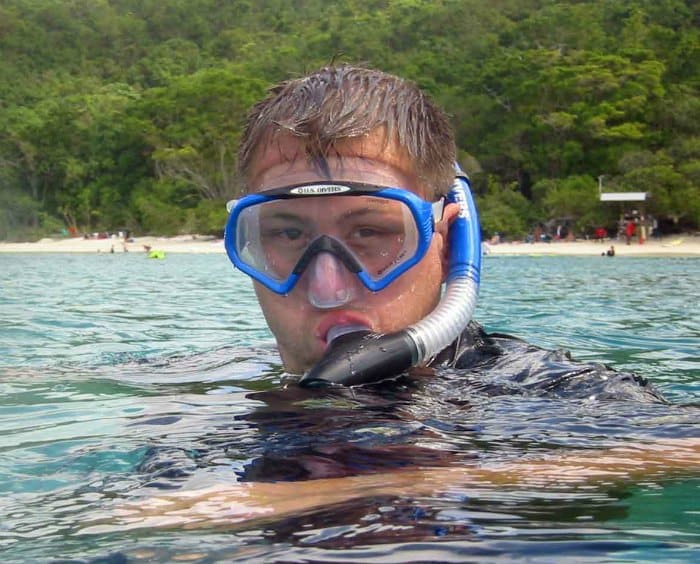 You can rent snorkel gear once at the beach but I highly recommend people to buy their own snorkel gear. They are not very expensive and you will get a much better quality gear making for an enjoyable experience. This includes getting a mask you prefer like one with panoramic views, anti-fog glass and a snorkel that stops waves from going back down in your mouthpiece.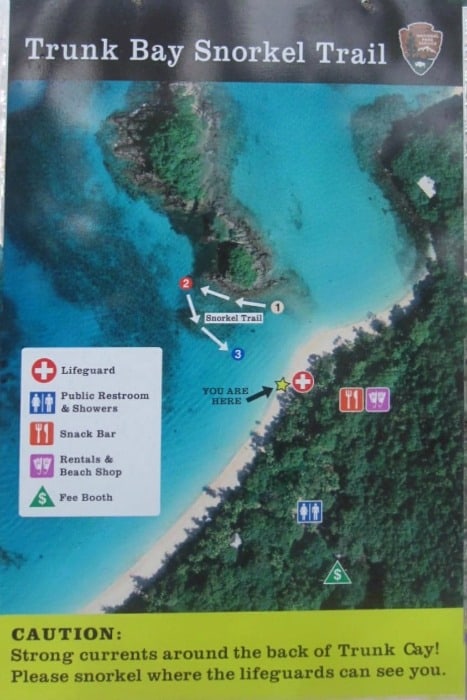 Underwater Snorkeling Trail at Trunk Bay
This was the first and only place that I have been to an underwater snorkeling trail. Leave it up to the National Park Service to come up with such a great idea! The short trail has several interpretative signs underwater talking about sea life and the corals and fish that live here.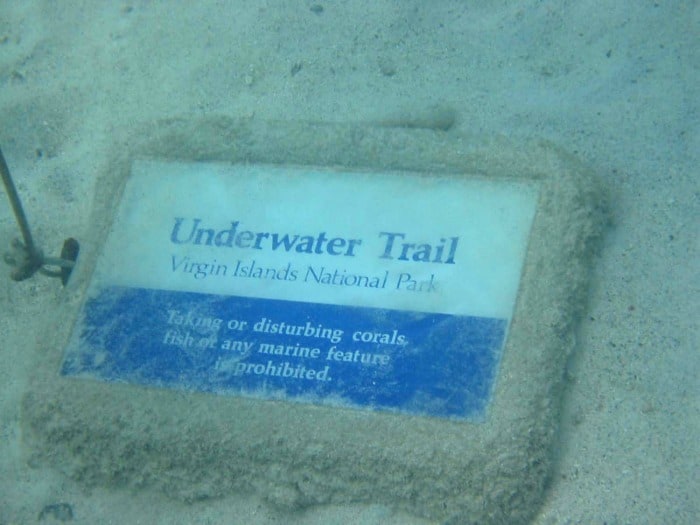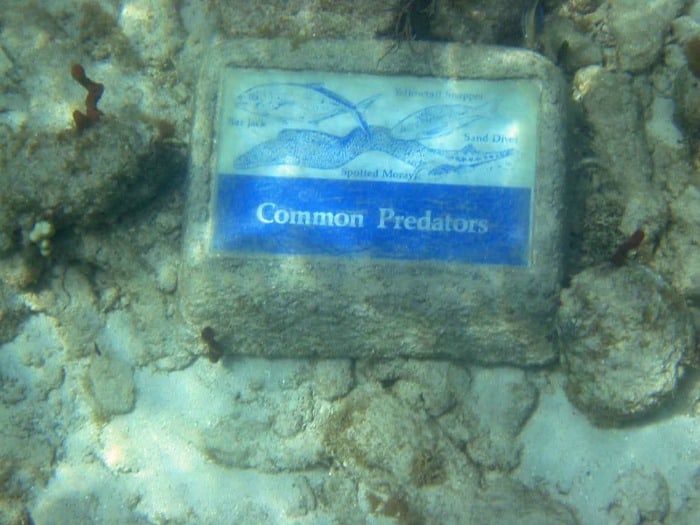 Trunk Bay Beach Bar and Snack Shack
Trunk Bay does include a snack bar and gift shop. The hours posted are 10 am to 4ish. They have hot food, snacks, ice cream, island cocktails, mocktails and beer. There is also retail items for sale including t-shirts and hats.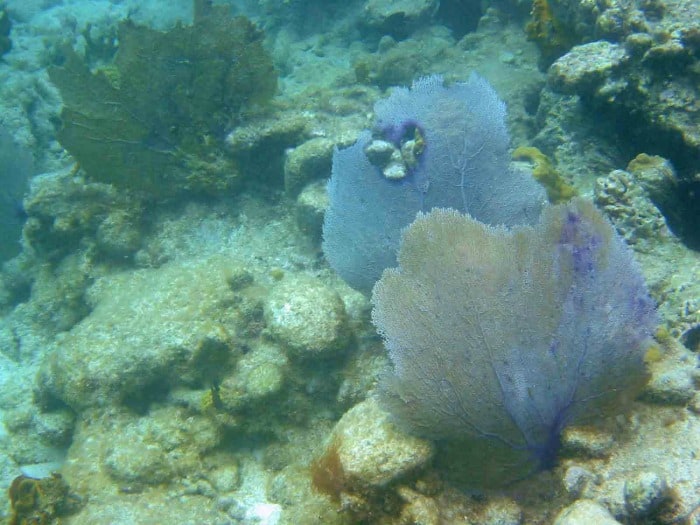 Additional Beaches to visit at Virgin Islands National Park
Salomon/Honeymoon Bay
In the clear water off the rocky point in between the two beaches, you will find several species of coral (brain, lettuce leaf, elkhorn, mustard hill, and pillar corals). Many colonies of finger coral can be found on the fringing reef west of Salomon.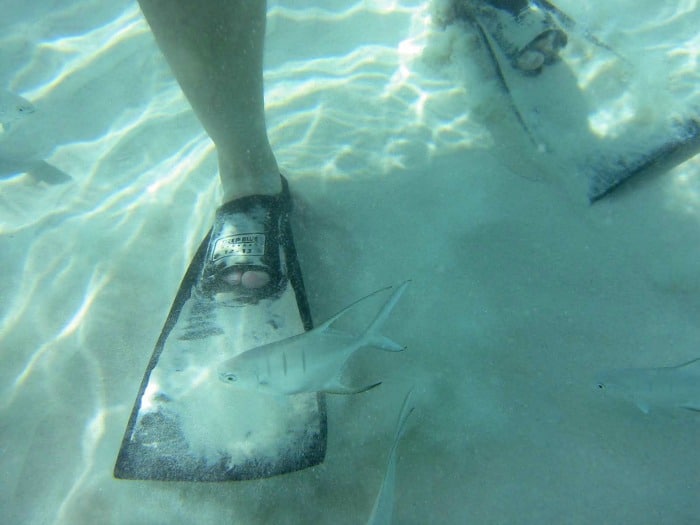 Hawksnest Beach
Hawksnest Beach is known for its Elkhorn Coral Reefs. Elkhorn corals are a federally protected species and extremely fragile so be extremely cautious and don't attempt to swim over the top as they are very close to the surface. The best way to view fish is to the side of the Elkhorn Coral Reefs.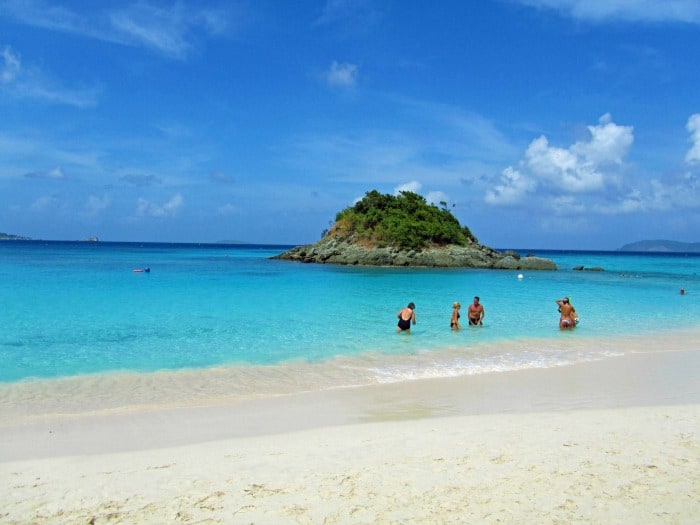 Cinnamon Bay
Cinnamon Bay Beach is the longest on St John. It is also home to the Cinnamon Bay Resort and campground. Unfortunately they received massive damage from Hurricanes Irma and Maria in September 2017 requiring a completely new build. Hopefully they will be up and running in December 2021!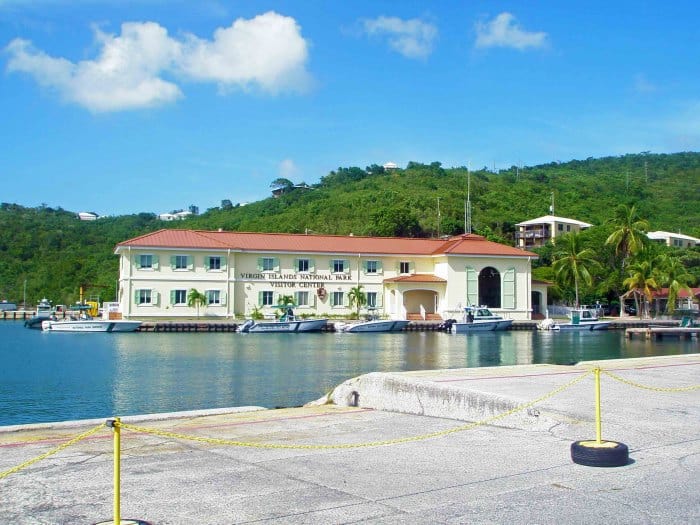 Maho Bay
Maho Bay is best known as the place to see turtles and is a favorite among islanders. Both Maho and Francis Bay can get stirred up reducing visibility when there is a north swell but in general are less affected by winter swells than elsewhere on the North Shore.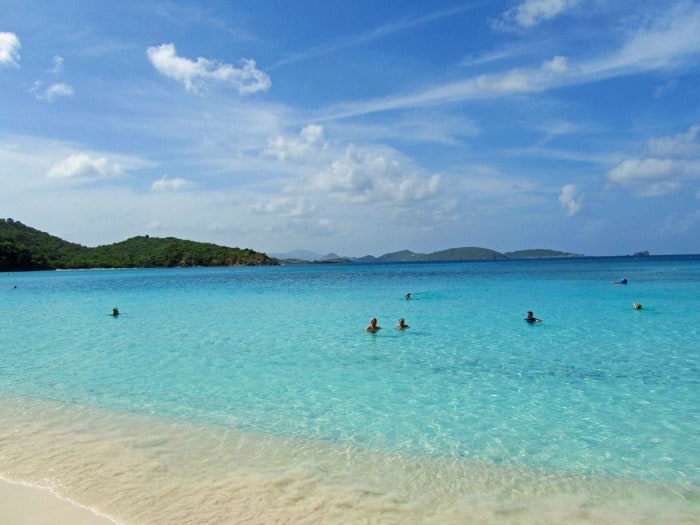 Parks to visit near Virgin Islands National Park
San Juan National Historic Site San Juan, Puerto Rico
Buck Island Reef National Monument St Croix, VI
Christiansted National Historic Site St Croix, VI
Make sure to check out more U.S. Virgin Islands and Puerto Rico National Parks and Florida National Parks.