Cruising can be a great way to see some of America's National Parks! Florida itself has 11 National Park Sites and is the origin of most Caribbean Cruises. There are also National Parks located at several Caribbean ports of call. This makes a great reason to plan ahead and make the most of your cruise vacation.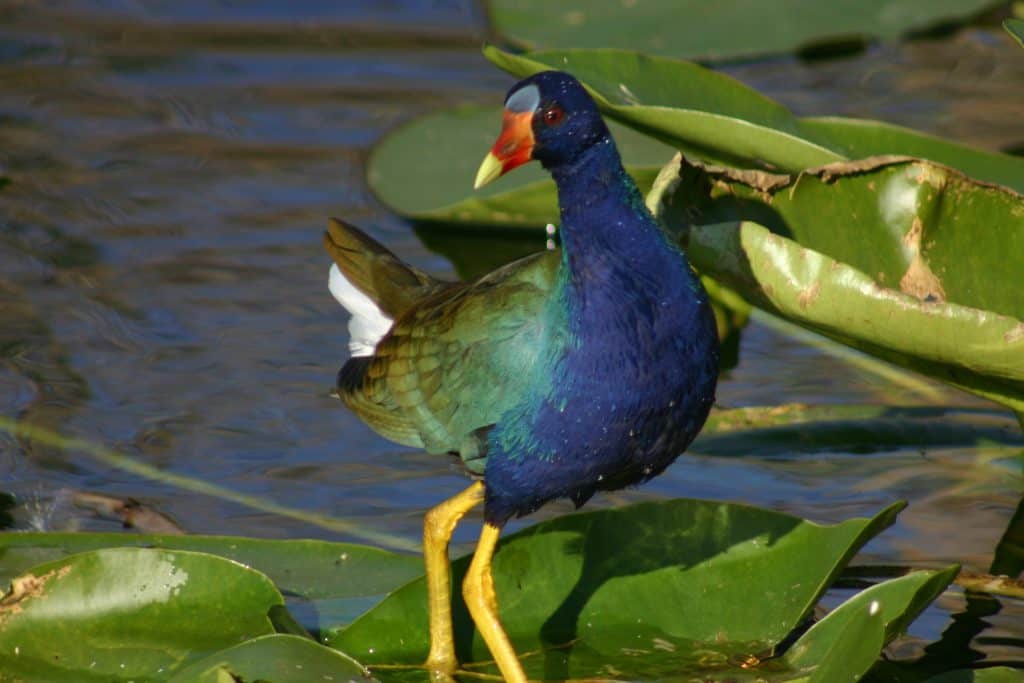 Miami and Ft. Lauderdale Florida
Both ports are the beginning and end for so many Caribbean, Transatlantic and Panama Canal Cruises. They are also within close proximity of several parks not to be missed!
Everglades National Park is one of my all-time favorites! Hiking the Anhinga Trail is a must for everyone who visits here. The Gumbo Limbo Trail is also a fun short hike next to the Anhinga Trail. You can also take a drive down to Flamingo and take a boat ride through the Mangroves provided by a private concessionaire for a fee. The Shark Valley area also has a tram ride and bike rentals provided by a concessionaire also and is a fun way to see the park.
Biscayne National Park is best seen on the water. Don't worry if you don't have a boat as there is guided boat tours that depart from Dante Fascell Visitor Center on select Thursdays, Fridays, Saturdays and Sundays.
Big Cypress National Preserve borders Everglades National Park and a great place to visit if visiting Shark Valley of Everglades National Park. Here you can take a hike, take a scenic drive or perhaps take in a ranger-led tour. They even have Ranger-led canoe trips!
Dry Tortugas National Park is accessed by boat or plane from Key West, Florida. I know what you are thinking, Key West is a cruise ship port of call. This is true but most cruises are in port for a portion of the day, and the boat ride to Dry Tortugas is a long day! Check-in is at 7 am, 7:30 am is boarding, 8 am leave for Dry Tortugas then returns at 5:15 pm. This is okay as it gives you a reason to get a rental car and drive the overseas highway to Key West, have some great Key Lime Pie and enjoy this treasure for a National Park!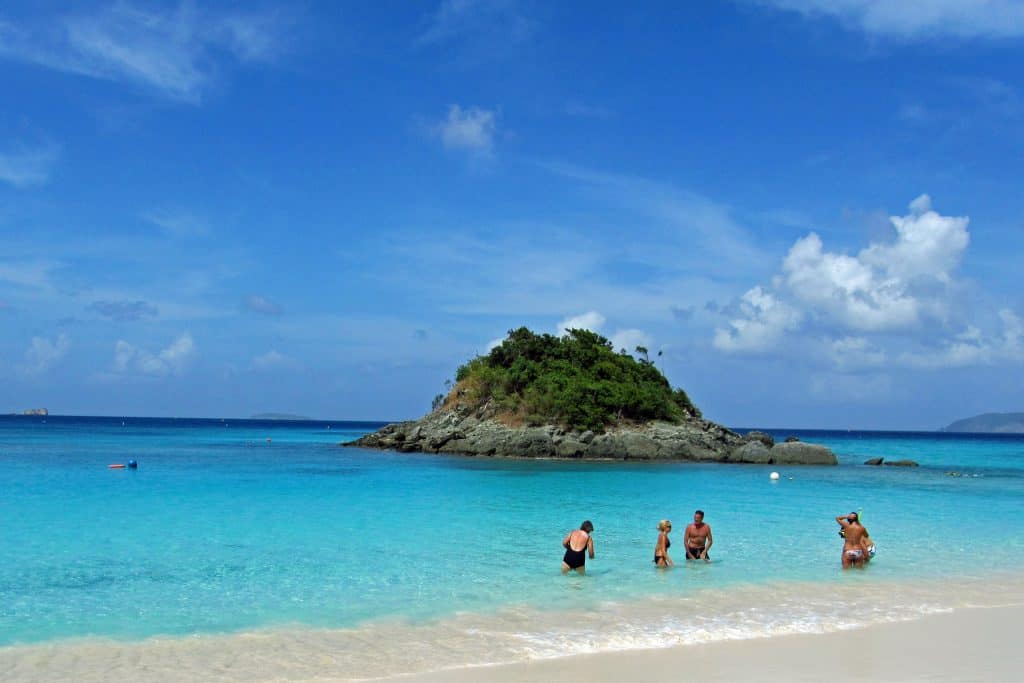 St. Thomas VI: is a very busy cruise port for many Caribbean cruises. It's well known for its shopping and Meagan's Bay, but this is the time to get to a National Park!
Virgin Islands National Park is located on St. John but is easily accessed by boat from St Thomas. In Fact, cruise ships typically have an excursion to Trunk Bay inside Virgin Islands National Park, and we even had time to run into the visitor center for a quick glance and get our stamp in our passport book! This was one of those cruise ship excursions that you will be telling all your friends about! The beach is beautiful, good snorkeling and nice coral plus there is even an underwater snorkeling trail!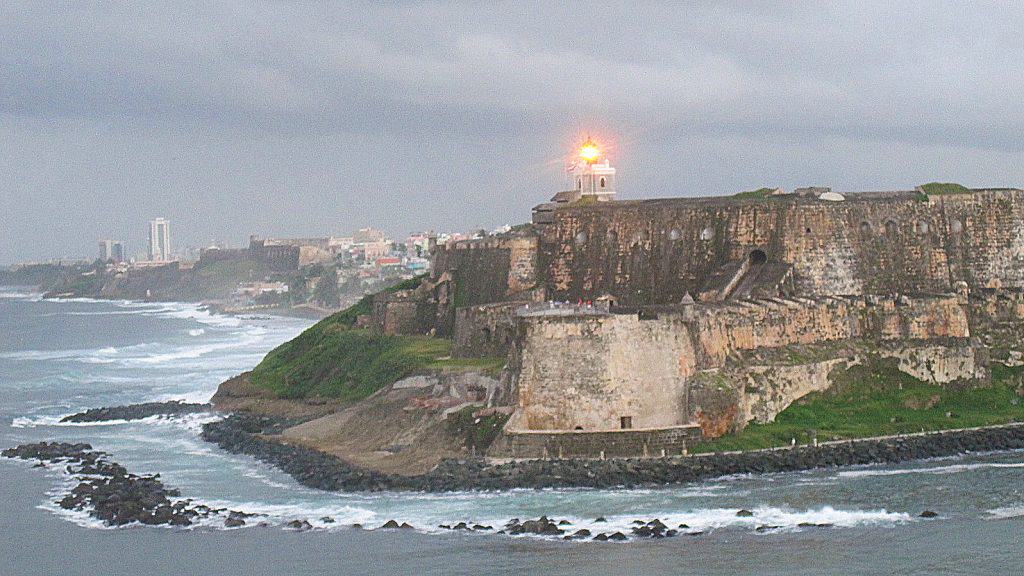 San Juan, Puerto Rico: is the oldest city in the U.S and is full of charm! It's one of those places that is beautiful to just walk through its streets and admire its architecture, colors and its stores.
San Juan National Historic Site is a great park to lay in the grass, fly a kite, discover the fort and it walls or perhaps take in a ranger-led program. The best view by far is to see the fort and lighthouse when you are cruising out of port in the afternoon and get a photo!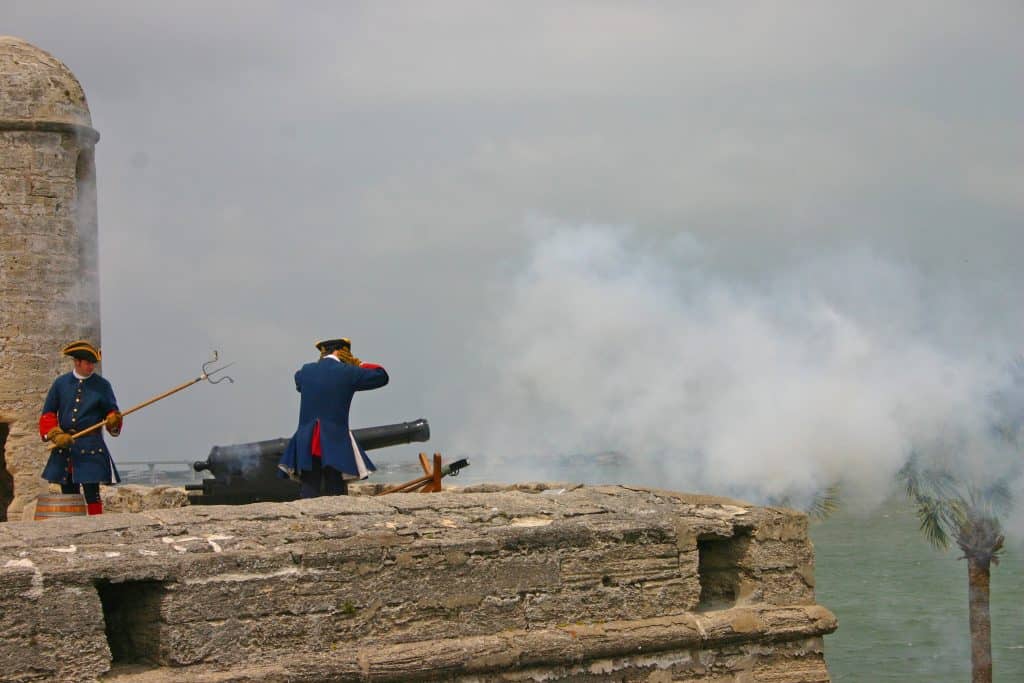 Orlando, Florida: is more than just theme parks, it has become a major port for cruise ships. There are also several opportunities to explore National Park sites in the general area.
Canaveral National Seashore borders the John F. Kennedy Space Center. It also has a Visitor Center, wildlife drive, bird watching opportunities, hiking trails, Manatee viewing area and can even drive a portion of the A1A!
Fort Matanzas National Monument protected St Augustine's southern river approach as Central Florida was a major field of conflict as European nations fought for control in the New World. NPS provides ferry service across the river to the fort. Hurricane Matthew caused major damage and has stopped the ferry service until further notice so please check their website for updated information.
Castillo De San Marcos National Monument is a must if ever in the St Augustine area as you get the opportunity to explore the fort and on Fridays, Saturdays, and Sundays they have Historic Weapons Demonstrations! This means they fire things like cannons and well this is fun to see!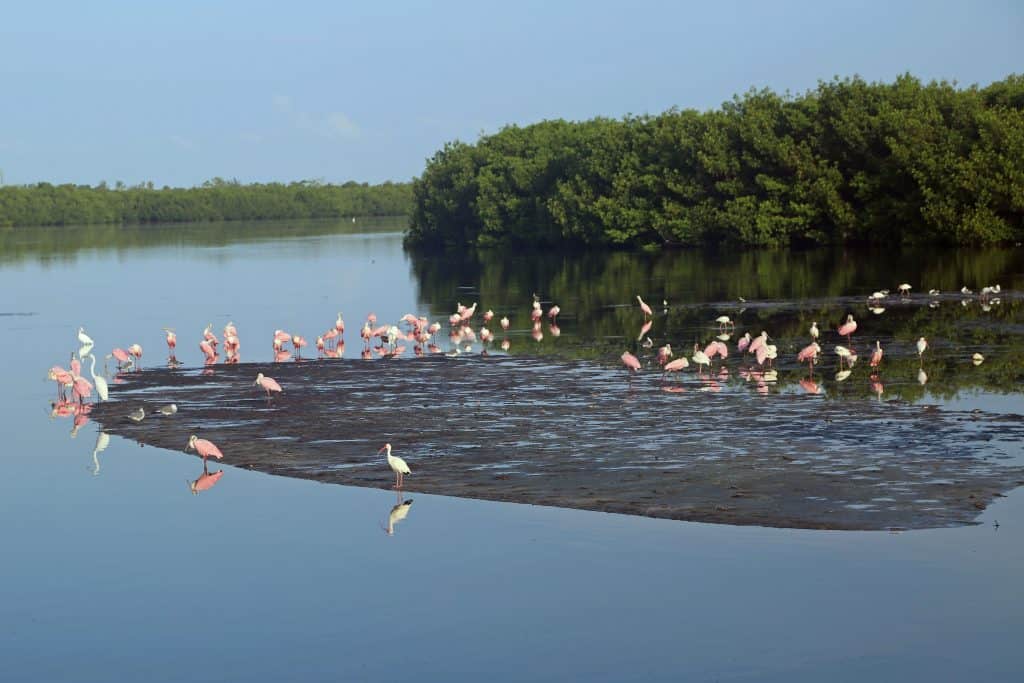 Tampa, Florida: is known as a major business center with museums, nightlife, and cultural offerings. It is also home to Bush Gardens which is an African Themed amusement park. It also has a national monument and a fantastic wildlife refuge a little further south on Sanibel Island!
DeSoto National Monument is where Conquistador Hernando De Soto's army of soldiers, hired mercenaries, craftsmen and clergy made landfall in Tampa Bay and were meet with resistance from the indigenous people protecting their homelands. Make sure to check if there is one of the several special events that are held each year or take a guided kayak tour with a ranger in the summers!
J.N. Ding Darling National Wildlife Refuge is located on Sanibel Island. You may be asking why am I writing about a wildlife refuge in a national parks post, the answer is easy. This place is a must for any bird watcher out there!!! Sanibel is also a beautiful place full of charm and is bound to be a great addition to any vacation.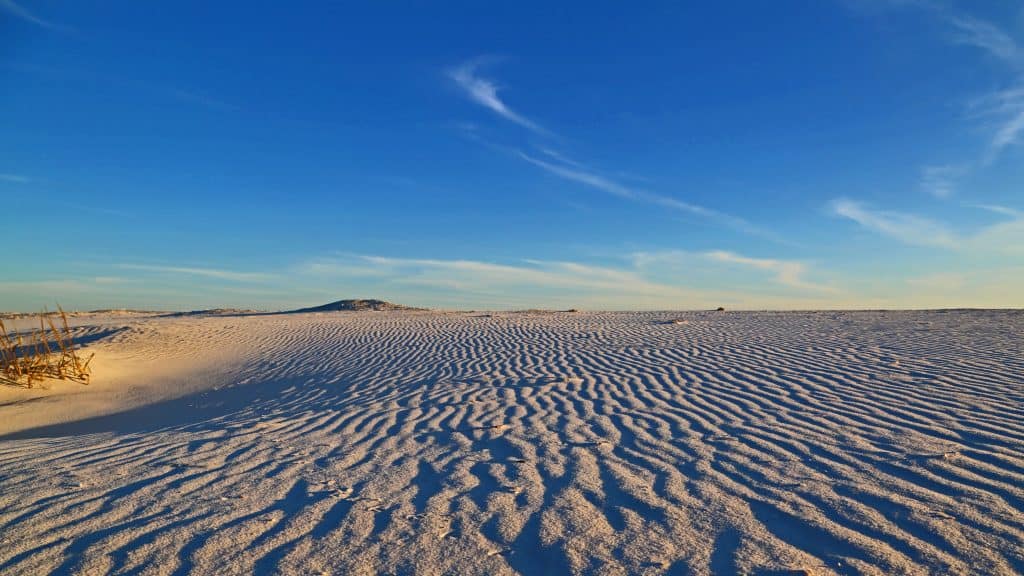 Mobile Alabama: is home to the U.S.S. Alabama Battleship as well as having a botanical garden, Mobile Carnival Museum and the Mobile Museum of Art. It is also only an hour away from Pensacola Beach.
Gulf Islands National Seashore is the cure for anyone suffering from ailments like Vitamin D deficiency or just a lack of beach time. There are several sugar white sand beaches to enjoy and some of the most epic sunsets around! If this is not enough, there is also Fort Pickens to explore and camping too.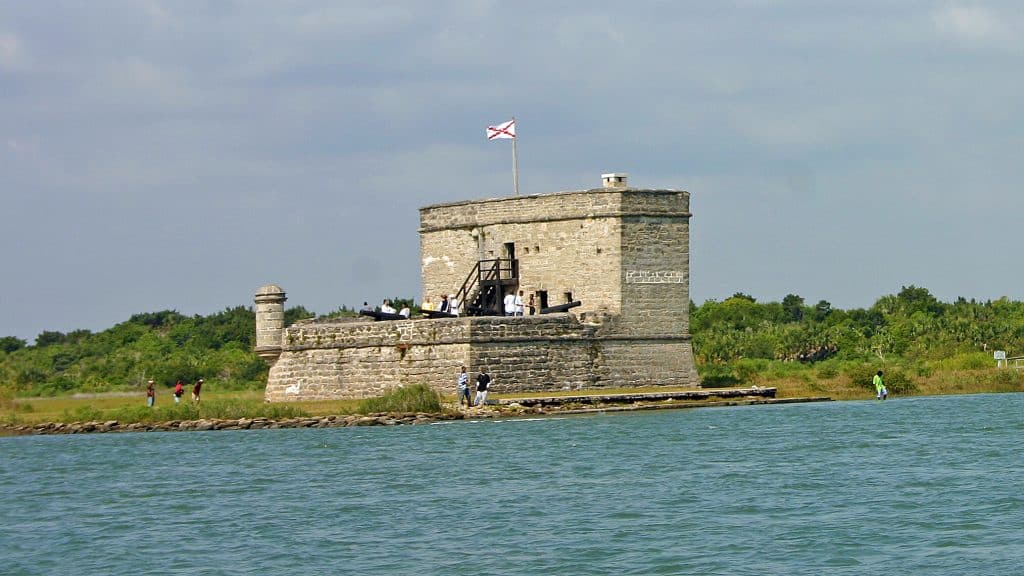 Jacksonville Florida is home to the headquarters of the PGA Tour. There is also a few great National Park Sites to check out as well!
Timucuan Ecological and Historic Preserve is one of the last unspoiled coastal wetlands on the Atlantic Coast. Timucuan also includes Fort Caroline which memorializes the short-lived French presence in sixteenth century Florida while the Kingsley Plantation is where people like Zephaniah Kingsley sought to make their fortunes by obtaining land and establishing a plantation.
Fort Matanzas National Monument: See under Orlando, Florida
Castillo De San Marcos National Monument: See under Orlando Florida
St. Croix VI typically gets two to three cruise ships per month. Danish heritage is evident in the towns of Frederiksted and Christiansted. This Island not only has palm-lined beaches and turquoise waters, but it also has three National Parks Sites! I have yet to visit this island but covet the opportunity to visit these parks and island one day!
Buck Island Reef National Monument is located 1.5 miles off the island of St Croix. The uninhabited 176-acre Island and its 18,839 acres of submerged land and coral reef system make up this unique park!  You can hike to the top of this island at 328 feet, enjoy the beach and follow the underwater trail.
Christiansted National Historic Site is a great place to enjoy the Caribbean breeze while enjoying a picnic or a walk around the grounds. The Park is seven acres centered on the Christiansted waterfront/wharf area with five historic structures.
Salt River Bay National Historical Park and Ecological Preserve is jointly managed by the National Park Service and Government of the United States Virgin Islands and has some the largest remaining mangrove forests in the Virgin Islands.
Boarding a cruise ship provides several opportunities to get out and see some of the 59 designated U.S. National Parks and 400+ total National Park Sites. Hopefully, this has you ready to check out a new cruise and a few National Parks too!