Augustus Saint-Gaudens is considered one of America's finest sculptors. He was the designer of the double eagle gold coin that is considered one of the most beautiful coins minted in this country. Saint Gaudens National Historic Site is the homesite of Augustus Saint-Gauden in New Hampshire.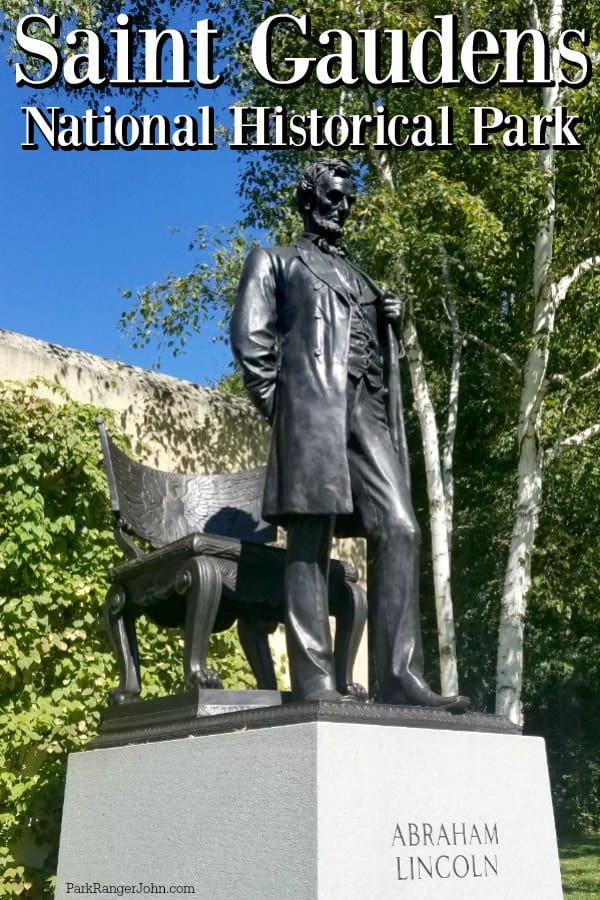 Saint Gaudens National Historical Park
The grounds include his home, Aspet, gardens and over one hundred of his sculptures are on display.
Some of Augustus Saint-Gaudens famous sculptures include
Standing Lincoln in Chicago
Adams Memorial in Washington DC
Robert Gould Shaw Memorial in Boston
Statue of General William T. Sherman in New York's Central Park
1907 $20 gold coin
One thing we learned visiting Saint Gaudens NHS is this park is great for an afternoon of wandering around and exploring. Make sure and wear shoes you are comfortable walking in the grass in and give yourself enough time to explore.
We thought that this park would maybe take an hour or two at most and we honestly could have spent a lot longer wandering the park. There is not a ton of shade so make sure you have sunscreen, a hat, sunglasses, and water with you.
There are Saint Gaudens sculptures spread around the property so it feels like a bit of a scavenger hunt to find them all.

Saint Gaudens NHP Visitor Center
The visitor center is the best place to start your tour of Saint Gaudens NHS. You can pick up the sticker that shows that you have paid or have a pass to enter the park.
You can also sign up for the ranger-guided tours.
You can pick up some works of art and local Vermont maple syrup at the gift shop.
Watch one of the park films
There are a couple of films offered at the visitor center. We watched the introduction to the life and work of Augustus Saint-Gaudens and it was dry but filled with a ton of info.
Children may have a hard time sitting still for the entire film.
An Introduction to Life and Work of Augustus Saint-Gaudens (18 minutes)
- The park orientation film. Shown throughout the day.
Wax Blood, Bronze Skin (25 minutes) * Shown on request.
Explains "lost wax" bronze casting using film of the 1994 casting of the Park's monument to Admiral Farragut.
The Medal Maker (25 minutes) * Shown on request.
Sculptor, Laura Gardin Fraser, demonstrates the process of medallic art.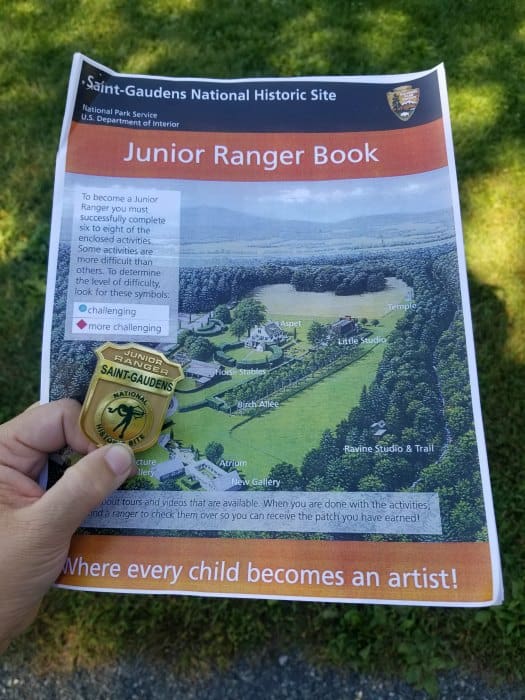 Become a Junior Ranger
Junior Ranger pin depicting the Dianain silhouette, created by Saint-Gaudens in 1892. The Junior Ranger program includes visiting the sculptures found on the property along with some puzzles and matching games.
Take a guided tour
Call ahead if you are coming for a particular tour
Tours include
Civil War Monuments - 2 pm - Tuesdays, Wednesday, Friday
Women's Tour - 11 am Tuesdays, Thursdays, Saturdays
Process of Sculpture - 11 am Sundays; 2 pm - Mondays, Thursdays, Saturdays
Gilded Age Tours - 11 am - Mondays, Wednesdays, Fridays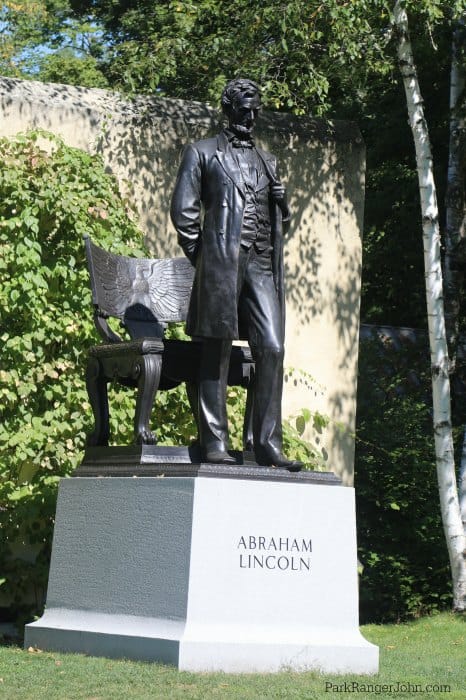 Take a self-guided tour
A free app for iPhone and Androids is available for touring the park.
We wandered around the park and it was fantastic. Make sure to look in between the hedges to see more of Saint-Gaudens sculptures.
Tour ASPET home of Augustus and Homer Saint-Gaudens
Self-Guided Tour of ASPET - 10-11: 45 am & 1-4 pm; Subject to staffing availability. Explore the home of Augustus, Augusta, and Homer Saint-Gaudens at your own pace, with staff present to answer questions. Only 12 people are allowed on this tour at a time.
Aspet is not wheelchair accessible.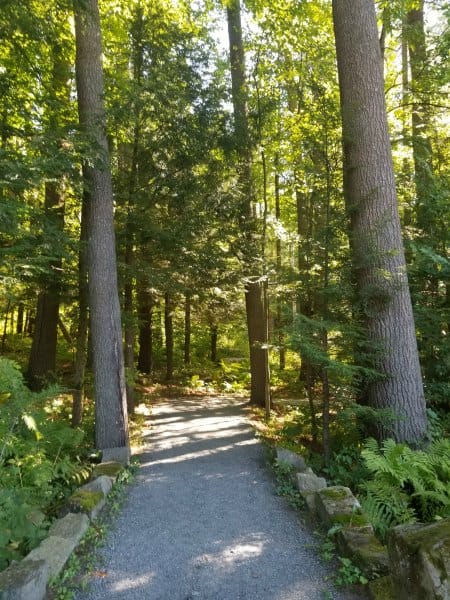 Take a walk on a nature trail
Ravine Trail (1/4 mile) meanders along Blow-Me-Up Brook and by the swimming hole constructed by Saint-Gaudens. There is a steep slope at each end of this trail, though the main section is fairly level.
Blow-Me-Down Trail (1-1/4 mile round trip) takes one down to the millpond and back along the edge of small ravines left by the receding glacial lakes.
The return Trail section of the Blow-Me-Down Trail (an alternate route back to the lower field) can be steep in sections.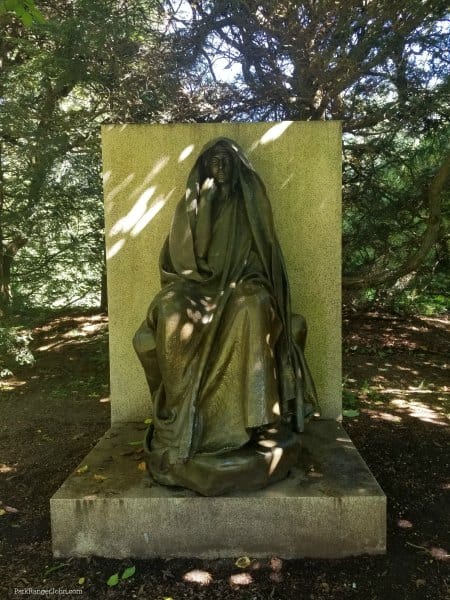 Saint Gaudens National Historical Park Info and Things to Know
You can learn more with this great book - The Life and Works of Augustus Saint Gaudens
There is a short walk/trail from the main parking lot to the visitor center. ADA Parking is available closer to the visitor center. The trail is crushed rock and flat most of the way.
Park Address
139 Saint Gaudens Road
Cornish, NH 03745
This is just off of NH Route 12A, 12 miles south of West Lebanon, NH
Latitude:43.5015993565321
Longitude: -72.36247077584267
Park Hours
Visitor Center 9 am to 4:30 pm daily
The Visitor Center is open daily from Memorial Day weekend through October.
From November through mid-May, the Visitor Center is usually open Monday to Friday for limited hours.
November through late May, the exhibit buildings are closed, but the grounds remain open during daylight hours.
Entrance fees
Entrance Fee - Per Person - $10.00
An entrance fee of $10.00 per person is charged for visitors age 16 and over. The receipt is valid for seven days
Children 15 and under are always free.
Saint-Gaudens NHS Annual Pass - $40.00
The National Park Service offers the following Entrance Fee Free Days this year.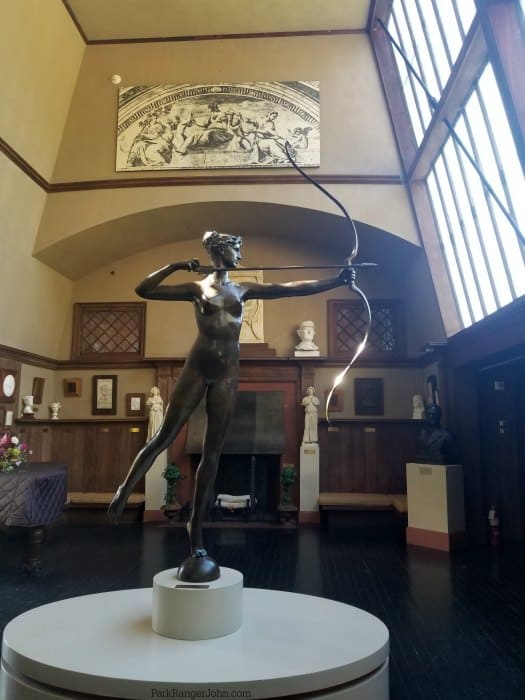 National Parks near Saint Gaudens NHP
Marsh-Billings-Rockefeller National Historical Park (Vermont) - 20 miles
Saratoga National Historical Park (New York) - 103 miles
Martin Van Buren National Historic Site (New York) -136 miles
John F. Kennedy National Historic Site (Massachusetts) - 140 miles
Fort Stanwix National Monument - 220 miles
While this is the only National Park in New Hampshire you don't want to miss the National Parks in New York, Maine National Parks, and Vermont National Park.
Check out all of the best things to do in Lincoln, New Hampshire!