Maine is the least densely populated state east of the Mississippi. There are four Maine National Parks along with two affiliated sites.
Visiting Maine you can expect to see gorgeous forests, rugged shoreline, and beautiful coastlines that are waiting for you to visit. The largest national park in Maine is Acadia National Park located near Bar Harbor, Maine.
The northern start of the Appalachian National Scenic Trail can be found at Mount Katahdin also home to Katahdin Woods and Waters National Monument.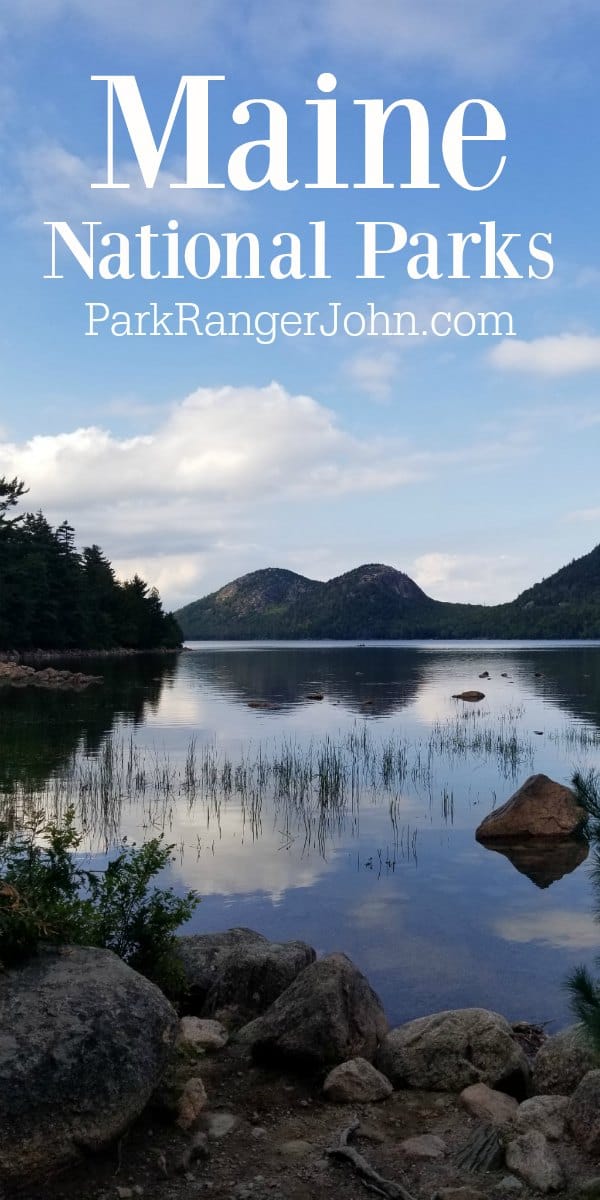 Maine National Parks
Acadia National Park is truly beautiful and so worth a visit! The best time to visit Acadia is honestly whenever you can get there though winters can be rough. Portions of the park do close during the winter for safety and snow.
The majority of the park is located on Mount Desert Island with some of the park on the Schoodic Peninsula and Isle au Haut. You can reach the scenic drive and the Atlantic Coast while visiting the main portion of the park.
Don't miss exploring the carriage roads, nature center, Cadillac Mountain for sunrise, the hiking trails and more. There is so much to see in the park you can easily spend a couple of days exploring.
You will want to plan time to explore the Park Loop Road. This 27-mile road is the most popular activity within the park. The road begins at the Hulls Cove Visitor Center and travels past popular attractions like Sand Beach (you can take a swim if you can handle the 55-degree water in the summer), Thunder Hole (where heavy surf compresses air n a hole in the rocks causing a boom that sounds like thunder), Otter Cliffs, and access to Cadillac Mountain.
A portion of the Park Loop Road is one-way to help with traffic congestion. We suggest arriving early so you can start exploring the park before the crowds hit. Island Explorer Buses are available in the summer if you do not want to drive or want a break from trying to find a parking space.
How far is Acadia National Park from Portland Maine?
The park is 60 miles northeast from Portland, Maine.
What city is closest to Acadia National Park?
Bar Harbor is the closest city to the park.
The Appalachian Trail starts at Mount Katahdin and travels 2,185 miles south to Springer Mountain in Georgia. This trail was the first scenic national scenic trail and is the world's most famous hiking route.
The Appalachian NST covers 14 states which equal out to an approximate five million footsteps! Can you imagine?
One great thing about this trail is you don't have to cover the entire 2,000+ miles you can enjoy one day or even a couple of hours exploring the trail. Within Maine, you can enjoy exploring 282 miles of the trail.
If you choose to explore this section of the trail you will want to be prepared that it is often considered the most challenging section. The Mahoosuc Notch is considered to be the hardest mile of the entire trail!
There is an Appalachian Trail Visitor Center located at 6 Tenney Hill Rd., Monson, ME 04464.
You may want to order the Appalachian Trail Guide to Maine before you head out on the trail. There is also a National Geographic topographic map of the trail in Maine.
Katahdin Woods and Waters National Monument
Katahdin Woods and Waters National Monument is located in Northeastern Maine close to Baxter State Park. The monument is 87,563 acres of mountains and forestland in northern Penobscot County.
Currently, there is no designated visitor center for the park. You can find park stamps at Shin Pond Village (1489 Shin Pond Road, Mt. Chase, ME) and at the Katahdin Chamber of Commerce (1029 Central Street, Miilinocket, ME)
The Katahdin Loop Road is a 17-mile route that gives you the chance to explore the southern portion of the park with pull-offs, hiking trails, and scenic views. Be prepared that many of the roads in this area are logging roads. You will want yield to logging trucks and be prepared for them to be entering the roads.
You can enjoy mountain biking on the parks gravel roads and trails. Camping is available in designated areas. Snowmobiling is allowed in specific areas each winter.
Saint Croix Island International Historic Site
Saint Croix Island International Historic Site is located in Eastern Maine approximately 90 miles east of Bangor. The park is 28-acres that tells the story of the beginning of the permanent French Settlement in North America.
In 1604 a group of 79 French explorers led by Pierre Gugua, and Sieur de Mons settled on a small island located in the Saint Croix River. They hoped to claim the region for France and profit from trades with the local Indian tribes.
From 1604-05 almost half of the men died during the severe winter and were buried in a small cemetery on what is now Saint Croix Island. When spring finally came the survivors abandoned their encampment and founded the settlement of Port Royal which is now part of today's Nova Scotia, Canada.
Samual Champlain who was a famed navigator and part of the explorers went on to found Quebec City. This helps tie the ongoing French presence in North America to these early settlers.
The original settlement was found again in the late 18th century or at least the ruins were. These ruins helped resolve a boundary dispute between the United States and British North America which is now Canada.
The island became an International Historic Site in 1984. There is no fee to visit this National Park Service Site. The Saint Croix Island Visitor Center is open from Victoria Day (Canada), which is the last Monday before May 25th, through Columbus Day.
Roosevelt Campobello International Park (Affiliate Site)
Roosevelt Campobello International Park is located on Campobello Island in Southwestern New Brunswick, Canada. Approximately 120 miles east of Bangor, Maine.
The park is 2,800 acres dedicated to protecting the grand "cottage" of America's 32nd President, Franklin D Roosevelt. Though it is located in Canada the only bridge to the island is located within Maine.
Campobello Island became a favorite summer retreat for prominent families in the lat 19th century. Many of these prominent families built houses they called "cottages" though some are quite large and luxurious for that time period.
James and Sara Roosevelt bought land and built a cottage here. Their son Franklin Delano Roosevelt grew up summering at the cottage and exploring the island. Later Eleanor Roosevelt and Franklin had their own cottage on the island. This cottage was an 1897 structure that they enlarged to 34 rooms.
It was at this cottage that FDR was stricken with polio in 1921. This disease left him partially paralyzed. He was elected the 32nd President of the United States in 1932. After this, he only returned to the island three times before he passed away in 1945.
This international park serves as a memorial to both FDR and the long-lasting close relationship between Canada and the US. You can enjoy historical exhibits, a park video, and tour FDRs cottage which has been restored to its 1920s appearance.
There are also 10-miles of hiking trails, self-guided tours of natural areas, and the 1885 Mulholland Point Lighthouse. Remember to bring your passport since the park is in Canada.
Maine Acadian Culture (Affiliated Site)
The Maine Acadian Culture program was created to preserve/protect the Acadian culture in Maine's St. John Valley.
There is no National Park Fee to visit the Maine Acadian Culture area but individual sites in the St. John Valley may charge an entrance fee.
To learn more about things to do in the St. John Valley, visit the Aroostook County Tourism website.
National Parks in Maine
Affiliated Sites
Maine Acadian Culture
Roosevelt Campobello International Park
How many national parks are in Maine?
There are 4 National Park sites along with 2 affiliated sites.
There are 4 National Parks in Maine that receive over 3.5 million visitors a year. These visitors produce over $571 million in economic benefits.
National Parks in Maine include 1 wild and scenic river, 1 national trail managed by the park service, 1,632 national registers of historic places listings and 45 National Historic Landmarks.
Maine National Parks also includes 14 national natural landmarks, 392 places recorded by the heritage documentation program, and over 1.6 million objects in the Maine National Park museum collection.
There are 204 Archeological sites in Maine National Parks.
For an entire list of US National Parks head over to our list of US National Parks in Alphabetical Order. We also have a printable checklist of all 417 National Park properties in the United States available.
If you have dreamed of working in the National Parks make sure and check out our article on How to Become a Park Ranger. Working in the parks is one of the most amazing jobs you can find. There is just something special about waking up and knowing you are going to work in a beautiful park.
National Parks in the Neighboring States
National Parks in New Hampshire