Complete Guide to Pipe Springs National Monument in northern Arizona including things to do, nearby camping and lodging, history, and more.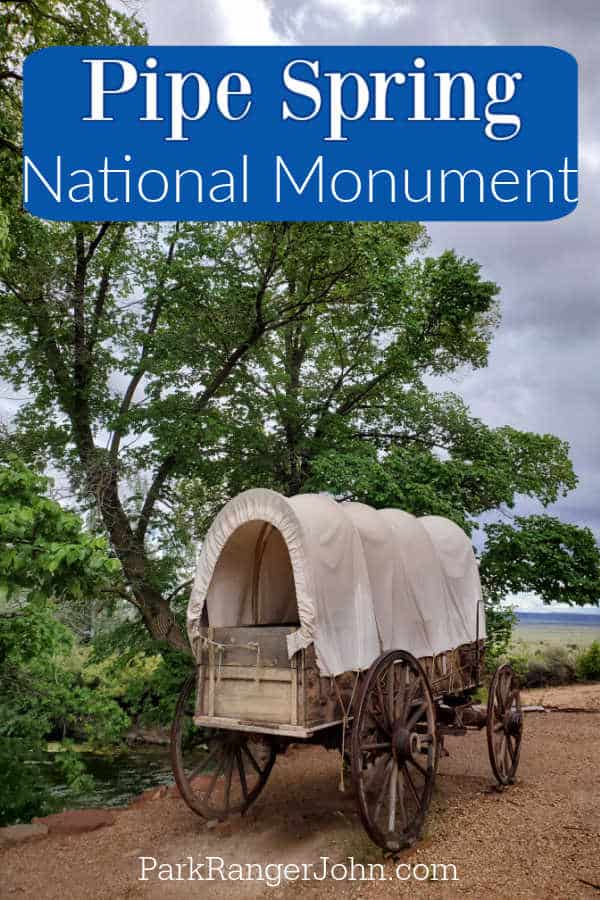 Pipe Spring National Monument
Located in Northern Arizona Pipe Springs National Monument shares the story of the Anasazi Ancestral Puebloan people, Kaibab Paiute Indians, and Church of Jesus Christ of Latter Day Saints Mormon Pioneers.
The water of Pipe Spring has long served as an oasis in this dry arid landscape.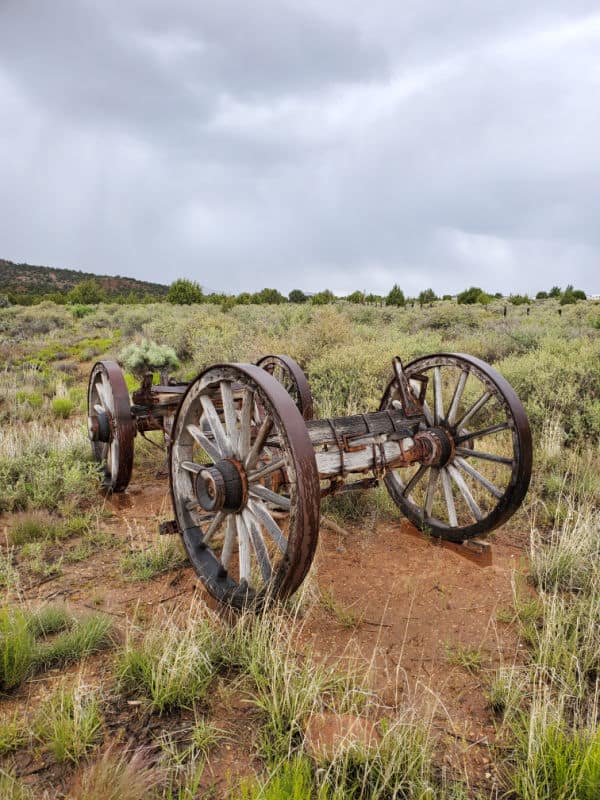 About Pipe Spring National Monument
The Kaibab Paiute Indians raised crops, hunted, and gathered grass seeds in this area for at least a thousand years.
Starting in the 1860's Mormon Pioneers moved into the area and established a fort called Winsor Castle.
The Mormon Pioneers established a large cattle ranching operation and place Winsor Castle over the mainspring in 1872.
In 1907 the Kaibab Paiute Indian Reservation was established surrounding the Pipe Spring Ranch. The US government acquired Pipe Spring Ranch in 1923 and set it aside as a National Monument run by the National Park Service.
Pipe Springs National Monument just squeaked by from being on the Least Visited US National Parks List with 25,179 visitors in 2018. We cut the list off at 25k and less so they just made it past the list. LOL!
Is Pipe Spring National Monument worth visiting?
Yes, The park shares history that we had never heard of before visiting. It is a really interesting site that provides more insight into US history and religious history.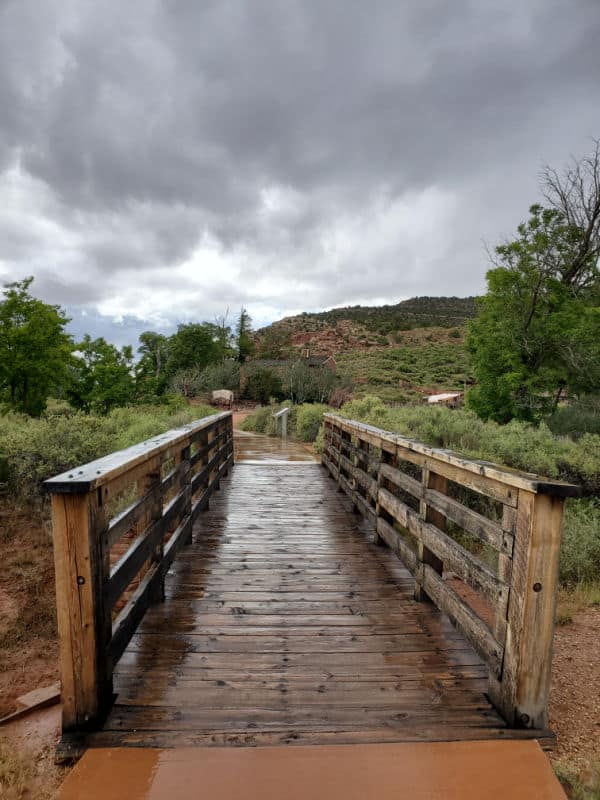 History of Pipe Spring National Monument
Pipe Spring National Monument is located in northern Arizona surrounded by the Kaibab Indian Reservation.
The area of Pipe Springs was home to the native Paiute Indians until members of the Church of Jesus Christ of Latter Day Saints began settling the area in the 1850s.
There is evidence that more than a thousand years ago the semi-nomadic hunters and gatherers, the Pueblan Anasazi, lived in the area.
Between 1000 and 1250 there was a great drought and it is believed that the area just could not support a tribe of the Anasazi's size.
After about 1300AD the semi-nomadic Kaibab Paiutes arrived in the area. This group was better in tune with using the resources of the area.
They were able to farm maize and beans around the flowing springs and moved to follow game like deer, rabbits, and pronghorn. They gathered nuts, roots, and cactus fruit.
By the 1870s, their numbers had declined from nearly 5,000 to 200 after Navajo raids and diseases brought by European settlers plagued the area.
The first Europeans to pass through Pipe Springs were Catholic Fathers Francisco Dominguez and Silvestre Veliz de Escalante while on an expedition through New Mexico, Arizona, and Utah in 1776.
It is believed that had it not been for the natives the Priests would certainly not have returned from that expedition.
As the Priests stopped through the area, the natives gave them food and pointed them toward the safest routes to follow.
In the late 1850s, the Mormon Church based in Salt Lake City, UT, and nearby, were calling on members to branch out and settle in southern Utah. Some went further and ended up in Arizona.
It was not long before Mormons had taken control of the land and the springs where the Paiutes had long-lived.
In 1863, James Whitmore was the first white settler to move livestock to the area. Whitmore built corrals and planted orchards; his livestock numbers soon grew.
During the 1860s, Navajo tribes raided these livestock corals, including one raid which killed Whitmore.
The Mormon and Navajo tension grew from there and attacks took place back and forth. In 1868 a stone building was built as a stronghold against the Navajos.
This large ranch at Pipe Springs was the idea of the second Mormon Church leader Brigham Young.
His predecessor, Joseph Smith, was the founder of the Mormon Church, or the Church of Jesus Christ of Latter Day Saints.
Giving ten percent to church officials was the Mormon tradition and was often done by offering livestock to the church. Young decided that a "tithing ranch" was a smart business decision.
He bought the Pipe Springs area land from James Whitmore's widow and hired Anson Perry Winsor as the ranch manager.
Winsor and Young built courtyards surrounded by gates to keep safe to them the many springs in the area.
A room was maintained where the cold springs ran which kept the temperature around 48 degrees.
This room helped in storing the dairy and making butter. Gun port windows were added to the structure to defend against native attacks but the windows were never used.
They also installed telegraph lines connecting Pipe Springs to Salt Lake City, Utah.
During the 1870s, the Pipe Springs area consistently grew.
Pipe Springs was often referred to by Mormons as "The Honeymoon Trail" because couples often stopped there on their way to or as they were leaving their marriage ceremonies in the Mormon temple at St. George, Utah.
Young's ranch now included dairy cattle and the Mormon establishment even served as a hideout for many years.
In the 1880s and 1890s, the longstanding tradition of polygamy in the Mormon Church was gaining negative attention, and wives of polygamists were hiding from Federal Marshals at Pipe Springs to save their husbands from persecution.
The addition of the Mormon livestock operation greatly impacted the Paiutes ancestral home. It affected their hunting, gathering, and farming lands.
Overgrazing my large numbers of livestock coupled with droughts throughout the years led to starvation.
In 1907, federal concern for the Paiute natives led to the creation of the Kaibab Paiute Reservation which included a small portion of their ancestral lands.
The Mormon ranch was still located in the center of Pipe Springs, which was now surrounded by the Reservation. For many years, conflicts regarding water rights ensued between the Mormons and Paiute nation.
The ranch was sold in 1923, and soon after, two months before his death, President Warren G. Harding created the national monument that is Pipe Springs.
Its intention was to showcase pioneer life and the tools and technique used on the ranch for livestock and dairy production.
The National Park Service showcases the ranch to visitors as it looked in the 1800s and offers demonstrations of pioneer activities.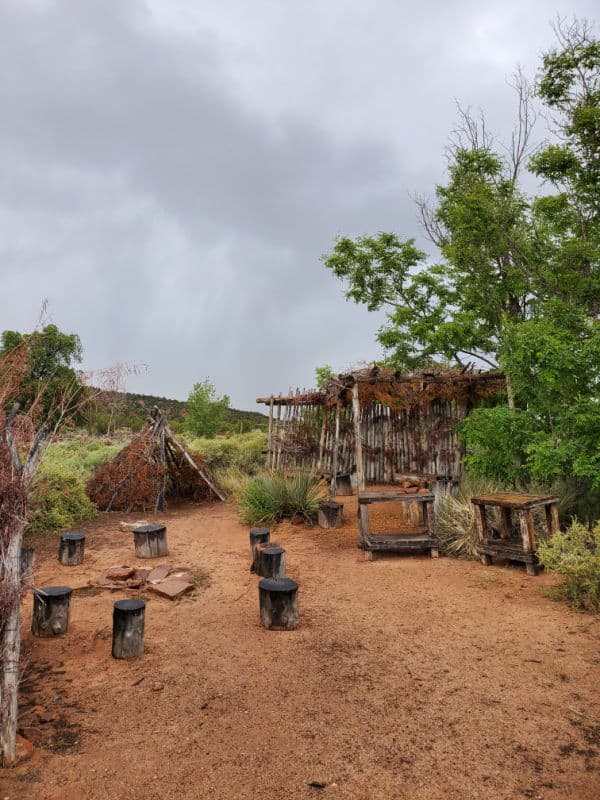 Things to know before your visit to Pipe Spring National Monument
Entrance fee
$10.00 per person for up to 7 days (includes $3.00 tribal use fee)
Children 15 and under are admitted for free.
Planning a National Park vacation? America the Beautiful/National Park Pass covers entrance fees for an entire year to all US National Park Sites and over 2,000 Federal Recreation Fee Sites.
The park pass covers everyone in the car for per vehicle sites and for up to 4 adults for per-person sites.
Buy on REI.com and REI will donate 10% of pass proceeds to the National Forest Foundation, National Park Foundation and the U.S. Endowment for Forestry & Communities.
Learn more about National Park Passes for parks that have an entrance fee.
Free Entrance Days -Mark your calendars with the five free entrance days the National Park Service offers annually.
Time Zone
Mountain Standard year-round.
The state of Arizona does not observe Daylight Savings time. In the summer, it is an hour earlier than in Utah.
Pets
Pets must be on a leash at all times. Pets need to remain on sidewalks.
Cell Service
Cell service is spotty to non-existent at the visitor center.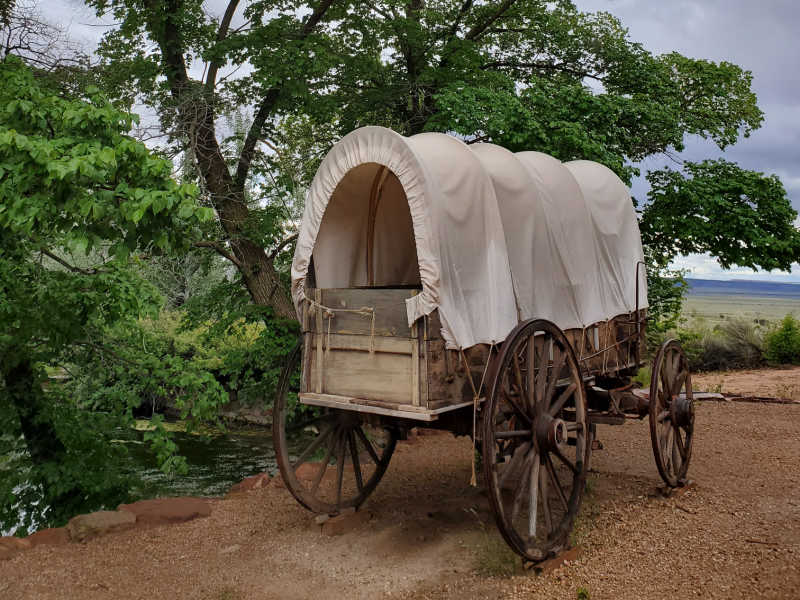 Park Hours
Visitor Center, Museum, and Monument open 8:30 AM to 4:30 PM, 7 days a week.
Closed Thanksgiving, Christmas, and New Year's Day.
Wi-Fi
No Wi-Fi is available in the park.
Insect Repellent
Insect repellent is always a great idea when outdoors, especially if you are around any body of water.
We use Permethrin Spray on our clothes before our park trips.
Water Bottle
Make sure to bring your own water bottle and plenty of water with you. Plastic water bottles are not sold in the park.
Parking
There is a nice size parking lot next to the visitor center.
Food/Restaurants
There are no restaurants within the park.
Gas
There are no gas stations within the park.
Drones
Drones are not permitted within National Park Sites.
National Park Passport Stamps
National Park Passport stamps can be found in the visitor center.
Make sure to bring your National Park Passport Book with you or we like to pack these circle stickers so we don't have to bring our entire book with us.
During our visit we were able to get these stamps:
Pipe Spring National Monument, Fredonia, AZ
Grand Canyon Parashant NM, Arizona Strip, AZ
Old Spanish NHT, Pipe Spring NM, AZ
Grand Canyon National Park, Tuweep, AZ
Electric Vehicle Charging
There are 12 EV Charging stations within 10 miles of Fredonia, Arizona.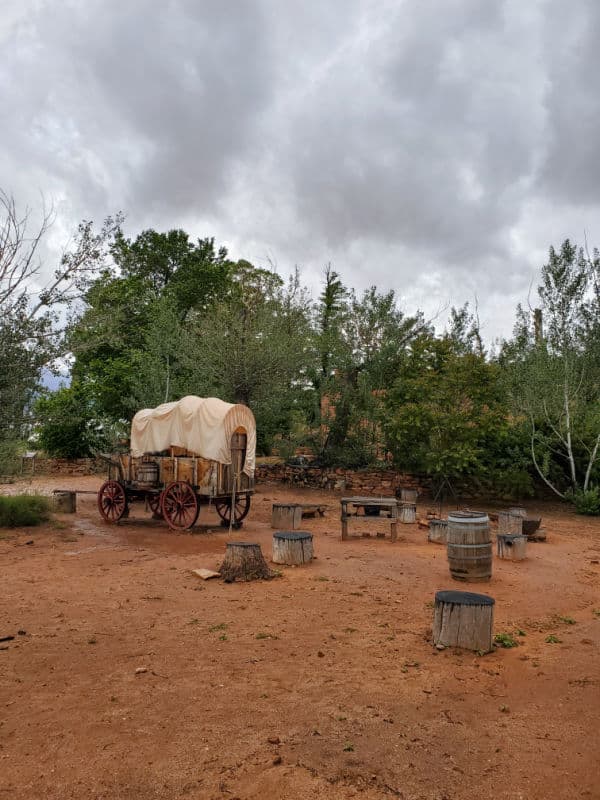 Details about Pipe Spring National Monument
Size - 3 acres
Check out how Pipe Springs NM compares to other National Parks by Size.
Date Established
Pipe Spring has been a US National Monument since May 31, 1923.
Visitation
In 2021, Pipe Springs NM had 24,026 park visitors.
In 2020, Pipe Springs NM had 10,623 park visitors.
In 2019, Pipe Springs NM had 27,482 park visitors.
Learn more about the most visited and least visited National Parks in the US
National Park Address
406 Pipe Springs Road, Fredonia, AZ 86022
National Park Map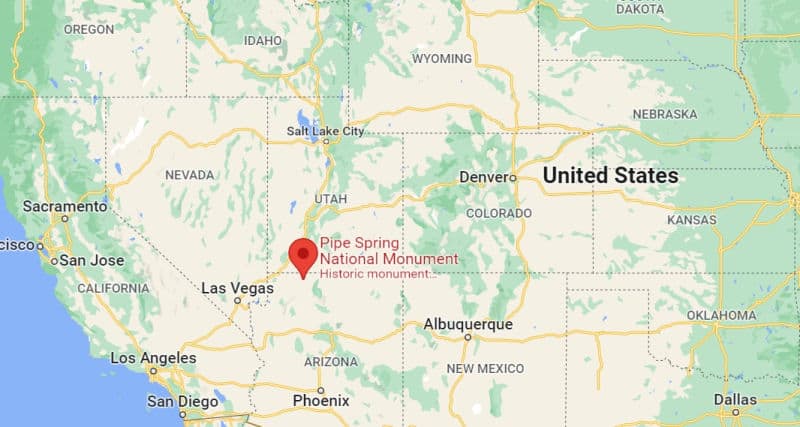 Where is Pipe Spring National Monument?
Pipe Springs NM is 60 miles southeast of St. George, Utah
The monument is eight miles south of Utah's southern boundary
Estimated distance from major cities nearby
Henderson, NV - 194 miles
Las Vegas, NV - 179 miles
Paradise, NV - 185 miles
Glendale, AZ - 445 miles
Scottsdale, AZ - 361 miles
Phoenix, AZ - 352 miles
Chandler, AZ - 375 miles
Estimated Distance from nearby National Park
Zion National Park - 50 miles
Bryce Canyon National Park - 97 miles
Capitol Reef National Park - 195 miles
Grand Canyon National Park - 211 miles
Arches National Park - 344 miles
Canyonlands National Park - 350 miles
Where is the National Park Visitor Center?
The visitor center is located at the main entrance to the park.
Getting to Pipe Spring National Monument
Closest Airports
St. George Municipal Airport (SGU)
Page Municipal Airport (PGA)
Cedar City Regional Airport (CDC)
International Airports
Las Vegas McCarran International Airport (LAS)
Driving Directions
From Interstate 15, turn onto Utah State Route 9 in Hurricane, Utah. Take Utah State Route 59 east out of Hurricane.
This road turns into Arizona State Route 389 at the state line. Pipe Spring is 45 miles east of Hurricane.
From Utah Highway 89 and 89A, turn onto Arizona State Route 389 in Fredonia, Arizona. Pipe Spring is 15 miles west of Fredonia.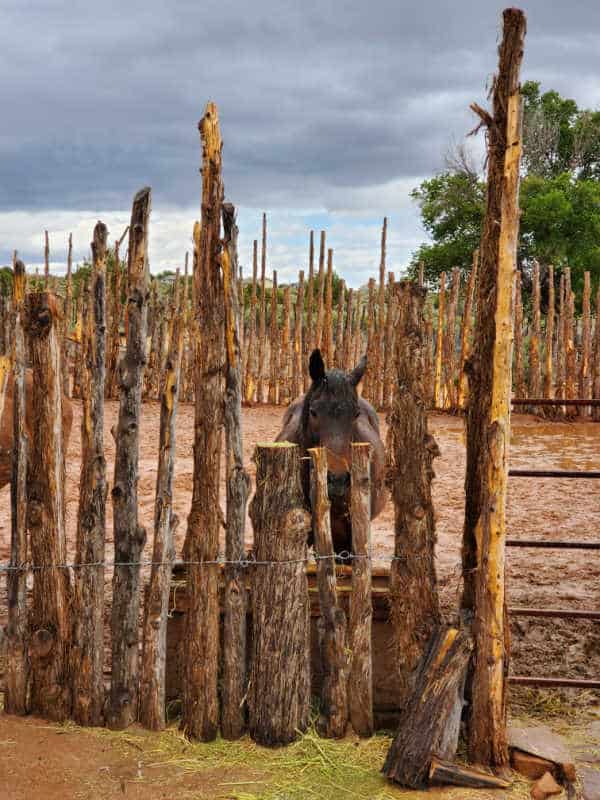 Best time to visit Pipe Spring National Monument
For cooler temperatures the best time to visit is spring and fall.
Weather and Seasons
Fredonia, Arizona experiences hot dry summers and cold snowy winters.
The hottest months are from June 2 to September 14th when the average temperature is above 84 degrees.
The coldest months are from November 21 to February 27th with an average daily temperature below 56 degrees.
August receives the most rain with an average over 1 inch.
Snow is possible from December 28th from February 24th on average with at least an inch of snow.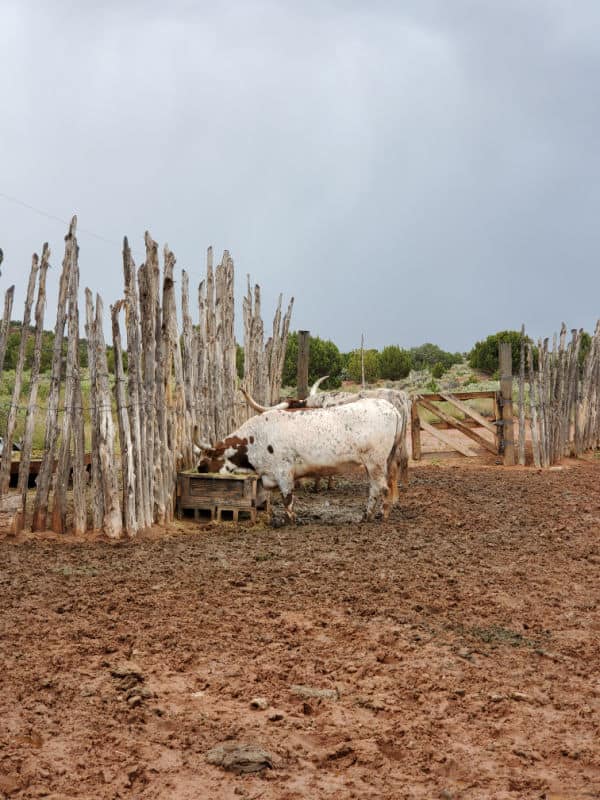 Best Things to do in Pipe Spring National Monument
We suggest planning a half a day to visit Pipe Springs NM! Between walking around the grounds, visitor center, and taking a tour you will need at least a few hours.
Kaibab Band of Paiute Indians Visitor Center and Museum
The visitor center and museum have displays on both the Kaibab Band of Paiute Indians and the Mormon Settlers.
Don't miss the park movie! We ended up watching it almost twice it was so good. We wanted to make sure we didn't miss any of it.
The movie does an amazing job detailing the history of the area and how/why the Mormon pioneers ended up in the area.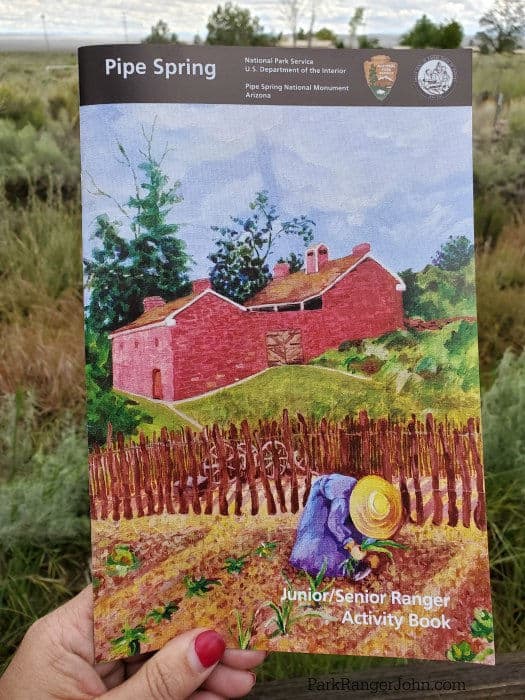 The Pipe Spring NM Junior Ranger program can be completed during a visit to the visitor center and by walking the grounds. It is a great way to learn more about this fun park.
Stop at the Visitor Center and pick up a Pipe Spring Junior Ranger booklet, or download one here. The park only offers Junior Ranger Badges while in the park, they are unable to mail badges.
Explore the Grounds
The grounds have a great paved trail that leads you around the historic fort. Don't miss the longhorn cattle and horses. You can see the water source that drew the American Indians, and Mormon ranchers to the area.
Don't miss the plants, animals, and interpretive panels talking about what happened along the Arizona strip.
If you are visiting during warm weather make sure to watch the trail for rattlesnakes and other desert friends.
Guided Tours
Guided ranger tours of Winsor Castle every hour. You can find out more about them at the visitor center's main desk.
Living History Demonstrations
During the summer there are demonstrations of Indian and pioneer life including crafts.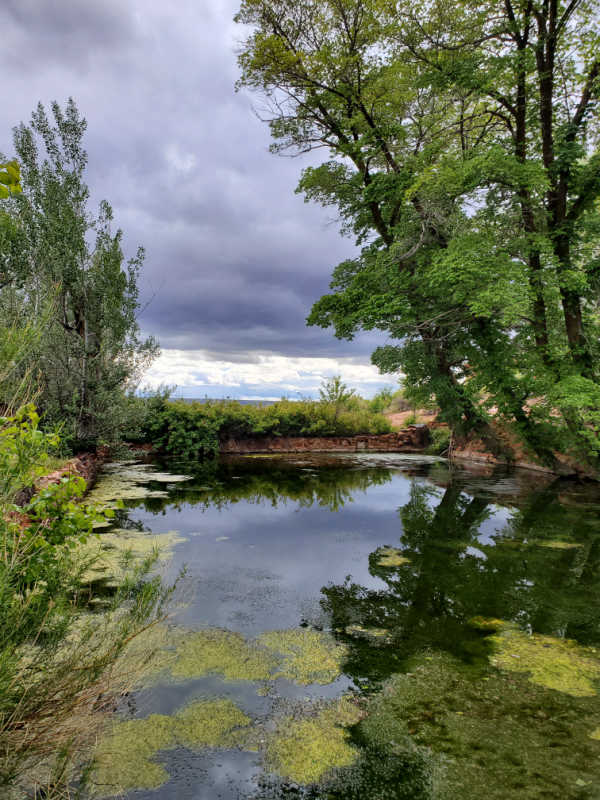 Hiking in Pipe Spring National Monument
Always carry the 10 essentials for outdoor survival when exploring.
Ridge Trail
A half-mile walking trail that takes you uphill a little bit and provides a great view over the park.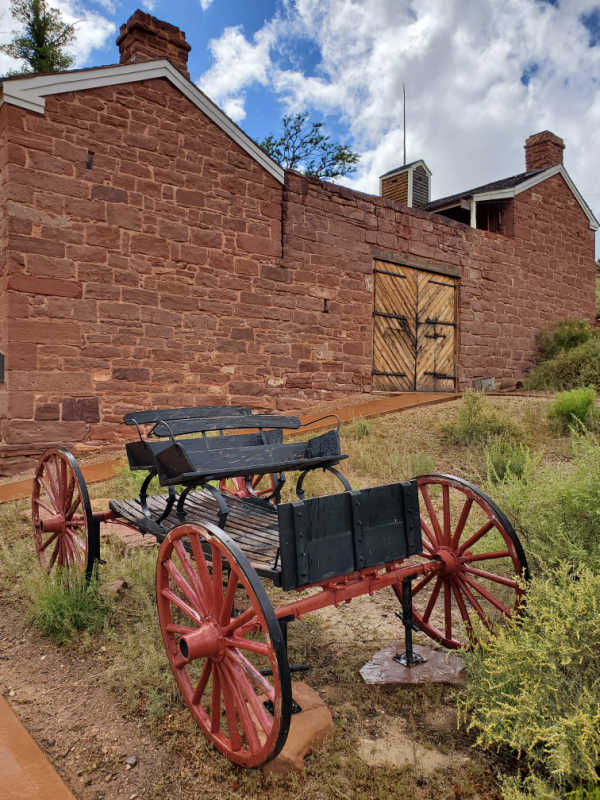 How to beat the crowds in Pipe Spring National Monument?
We did not experience any crowds in the park. We do suggest visiting during the week if you want to visit when there are fewer people.
Where to stay when visiting Pipe Spring National Monument
There are no National Park Lodges within the park.
Zion Glamping Adventures - Along with barbecue grills, this smoke-free campground has a picnic area and free self parking. Wi-Fi in public areas is free. All 6 accommodations boast fireplaces and offer free Wi-Fi and private yards. Showers and free toiletries are also available to guests. Bathrooms are shared.
La Quinta Inn & Suites by Wyndham Kanab - Consider a stay at La Quinta Inn & Suites by Wyndham Kanab and take advantage of free to-go breakfast, laundry facilities, and a 24-hour gym. In addition to a 24-hour business center, guests can connect to free in-room Wi-Fi.
Best Friends Roadhouse and Mercantile - You can look forward to free continental breakfast, shopping on site, and a firepit at Best Friends Roadhouse and Mercantile. Free in-room Wi-Fi is available to all guests, along with laundry facilities and an outdoor entertainment area.
Days Inn & Suites by Wyndham Kanab - At Days Inn & Suites by Wyndham Kanab, you can look forward to free to-go breakfast, laundry facilities, and a business center. Guests can connect to free in-room Wi-Fi.
Comfort Suites Kanab - Consider a stay at Comfort Suites Kanab National Park Area and take advantage of free to-go breakfast, laundry facilities, and a gym. For some rest and relaxation, visit the hot tub. Free in-room Wi-Fi and a business center are available to all guests.
Holiday Inn Express Hotel & Suites Kanab - Take advantage of a free breakfast buffet, a terrace, and laundry facilities at Holiday Inn Express Hotel & Suites Kanab, an IHG Hotel. For some rest and relaxation, visit the hot tub. Free in-room Wi-Fi is available to all guests, along with an outdoor entertainment area and a 24-hour gym.
Click on the map below to see current rates for hotels and vacation rentals near the park.

Camping
There are no campgrounds within the park.
For a fun adventure check out Escape Campervans. These campervans have built in beds, kitchen area with refrigerators, and more. You can have them fully set up with kitchen supplies, bedding, and other fun extras. They are painted with epic designs you can't miss!
Escape Campervans has offices in Vancouver, Seattle, Portland, San Francisco, Las Vegas, Los Angeles, Phoenix, Salt Lake City, Denver, Chicago, New York, and Orlando
There are campground nearby including:
Dark Sky RV Campground - Kanab, Utah
This campground offers RV and Tent Sites, a dog park, and more.
Kanab RV Corral - Kanab, UT
This campground offers RV Sites, a pool, and a dog park.
Duck Creek Village RV - Duck Creek Village, UT
This campground offers RV sites, fishing, a restaurant, and more.
Check out additional campgrounds in the area on CampSpot.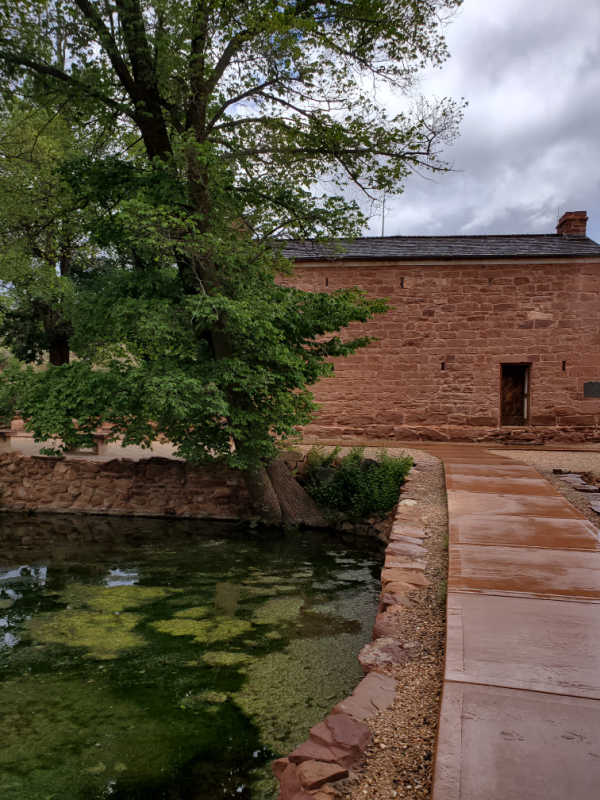 Parks Near Pipe Spring National Monument
Cedar Breaks National Monument
Navajo National Monument
Coral Pink Sand Dunes State Park - Utah
Kodachrome Basin State Park - Utah
Rainbow Bridge National Monument
Glen Canyon National Recreation Area
Check out all of the Arizona National Parks along with neighboring National Parks in Utah, National Parks in New Mexico, California National Parks, Colorado National Parks, and Nevada National Parks