Located in Northern Arizona Pipe Springs National Monument shares the story of the Anasazi Ancestral Puebloan people, Kaibab Paiute Indians, and Church of Jesus Christ of Latter Day Saints Mormon Pioneers. The water of Pipe Spring has long served as an oasis in this dry arid landscape.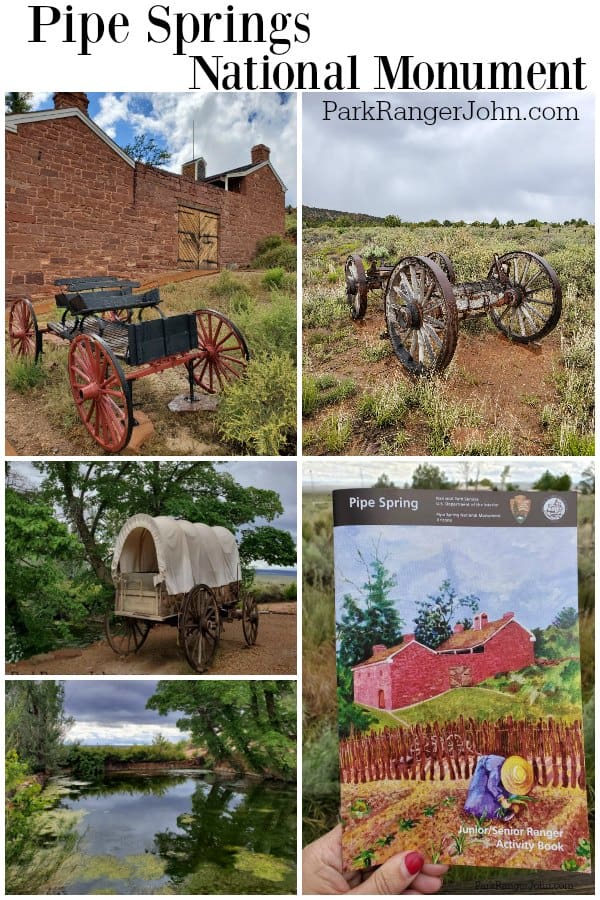 Pipe Spring National Monument
The Kaibab Paiute Indians raised crops, hunted, and gathered grass seeds in this area for at least a thousand years. Starting in the 1860's Mormon Pioneers moved into the area and established a fort called Winsor Castle. The Mormon Pioneers established a large cattle ranching operation and place Winsor Castle over the mainspring in 1872.
In 1907 the Kaibab Paiute Indian Reservation was established surrounding the Pipe Spring Ranch. The US government acquired Pipe Spring Ranch in 1923 and set it aside as a National Monument run by the National Park Service.
Pipe Springs National Monument just squeaked by from being on the Least Visited US National Parks List with 25,179 visitors in 2018. We cut the list off at 25k and less so they just made it past the list. LOL!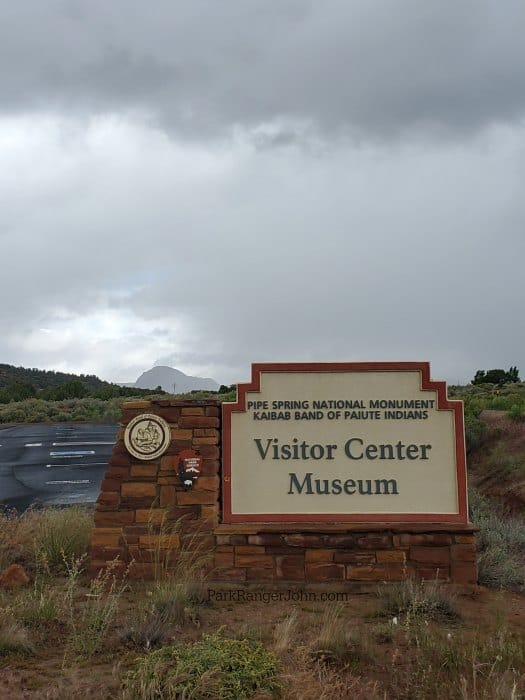 Kaibab Band of Paiute Indians Visitor Center and Museum
The visitor center and museum have displays on both the Kaibab Band of Paiute Indians and the Mormon Settlers.
Don't miss the park movie! We ended up watching it almost twice it was so good. We wanted to make sure we didn't miss any of it.
The movie does an amazing job detailing the history of the area and how/why the Mormon pioneers ended up in the area.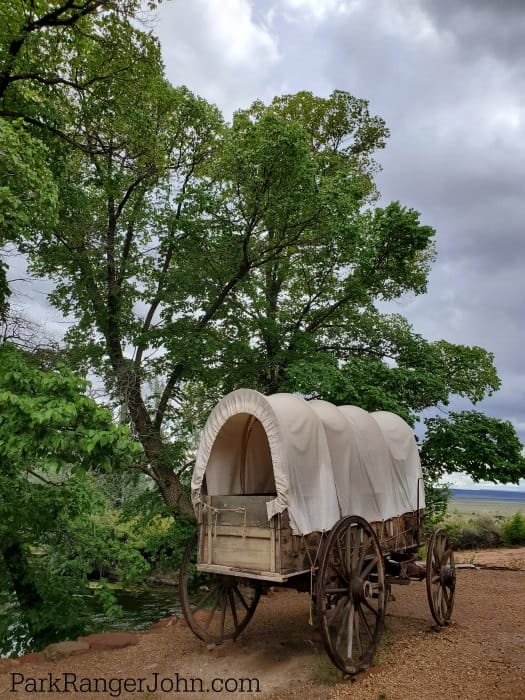 Explore the grounds
The grounds have a great paved trail that leads you around the historic fort. Don't miss the longhorn cattle and horses. You can see the water source that drew the American Indians, Mormon ranchers to the area.
Don't miss the plants, animals, and interpretive panels talking about what happened along the Arizona strip.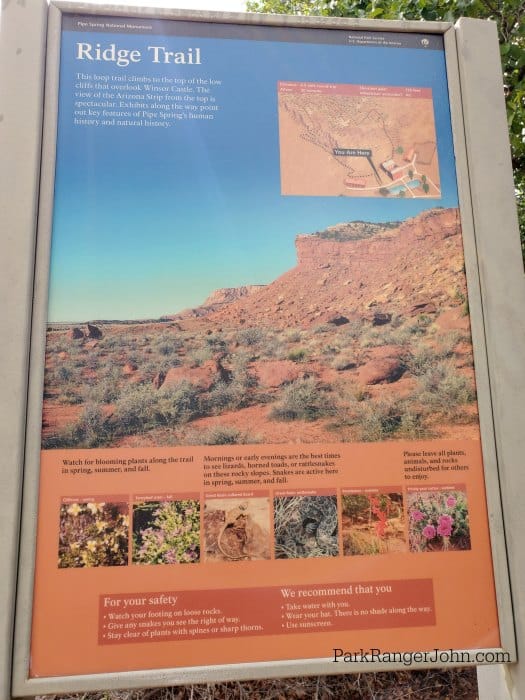 Ridge Trail
A half-mile walking trail that takes you uphill a little bit and provides a great view over the park.
If you are visiting during warm weather make sure to watch the trail for rattlesnakes and other desert friends.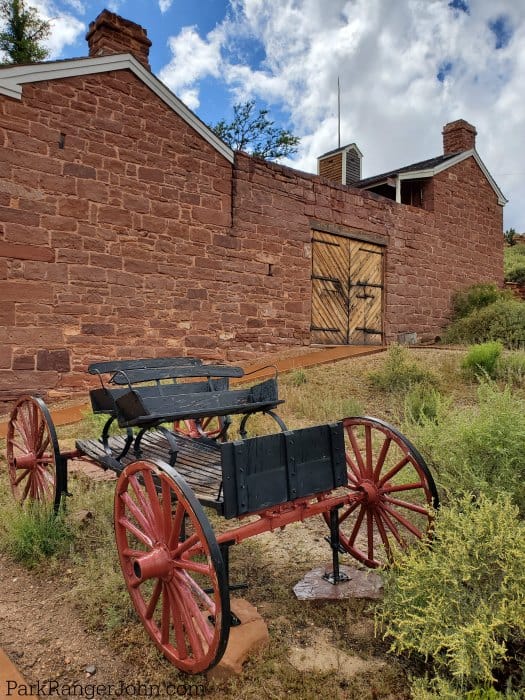 Guided Tours
Guided ranger tours of Winsor Castle every hour. You can find out more about them at the visitor center main desk.
Living History Demonstrations
During the summer there are demonstrations of Indian and pioneer life including crafts.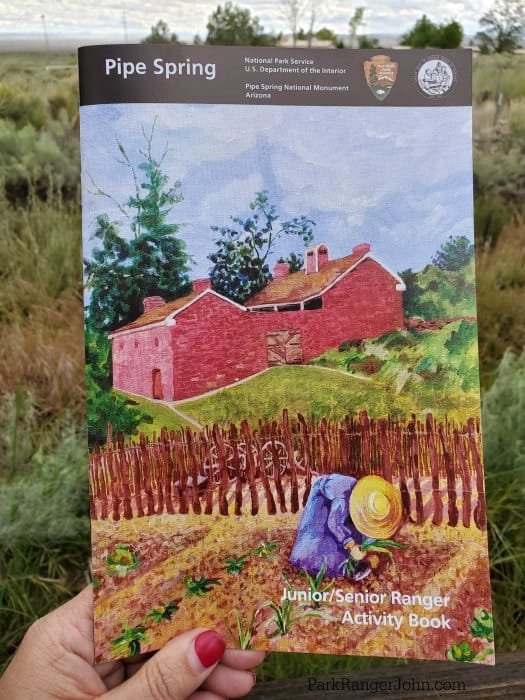 Become a Junior Ranger
The Pipe Spring NM Junior Ranger program can be completed during a visit to the visitor center and walking the grounds. It is a great way to learn more about this fun park.
Stop at the Visitor Center and pick up a Pipe Spring Junior Ranger booklet, or download one here. The park only offers Junior Ranger Badges while in the park, they are unable to mail badges.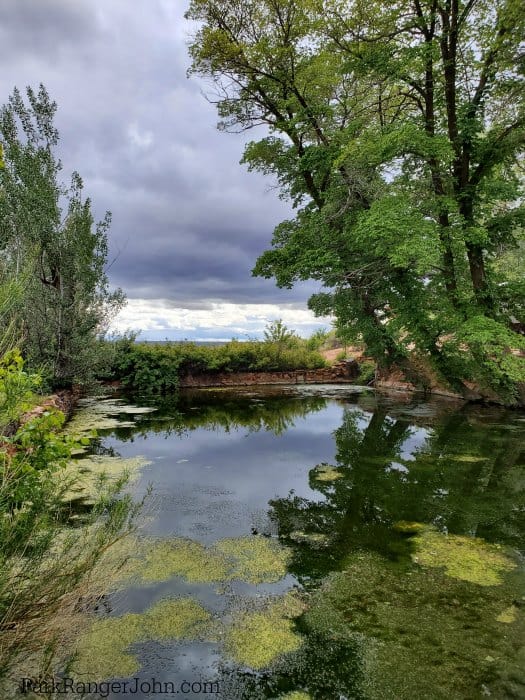 Things to know when visiting Pipe Spring National Monument
Park Address: 406 Pipe Springs Road, Fredonia, AZ 86022
Pipe Springs NM is 60 miles southeast of St. George, Utah
The monument is eight miles south of Utah's southern boundary
Park Hours: Visitor Center, Museum, and Monument open 8:30 AM to 4:30 PM, 7 days a week
Closed Thanksgiving, Christmas, and New Year's Day.
Entrance Fee: $10.00 per person for up to 7 days (includes $3.00 tribal use fee)
Children 15 and under are admitted for free.
What time zone is Pipe Spring in?
Mountain Standard year-round. The state of Arizona does not observe Daylight Savings time. In the summer, it is an hour earlier than Utah.
Pipe Spring has been a US National Monument since May 31, 1923.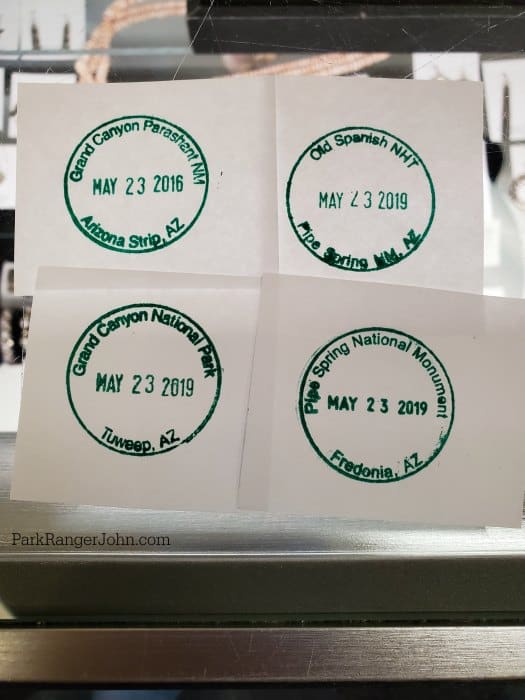 Park sites near Pipe Spring NM
Cedar Breaks National Monument
Navajo National Monument
Coral Pink Sand Dunes State Park - Utah
Kodachrome Basin State Park - Utah
Check out all of the Arizona National Parks and neighboring Nevada national parks and Utah National Parks.