There are several National Park Service sites that do something that very few places on earth can do. They stop you right where you are and they make a lasting memory that you never forget. White Sands was one of those places for me!
I will personally never forget the first time seeing White Sands National Park and it's pure white gypsum dunes that seemed to last forever. This makes me so excited to share my favorite Things To Do White Sands National Park New Mexico.
As of December 20, 2019, White Sands National Monument became White Sands National Park!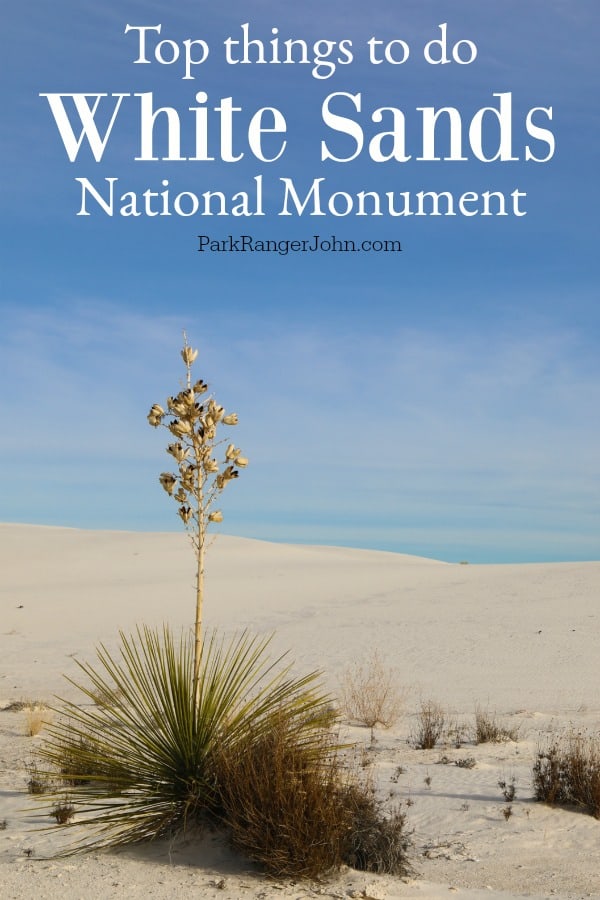 Things To Do White Sands National Monument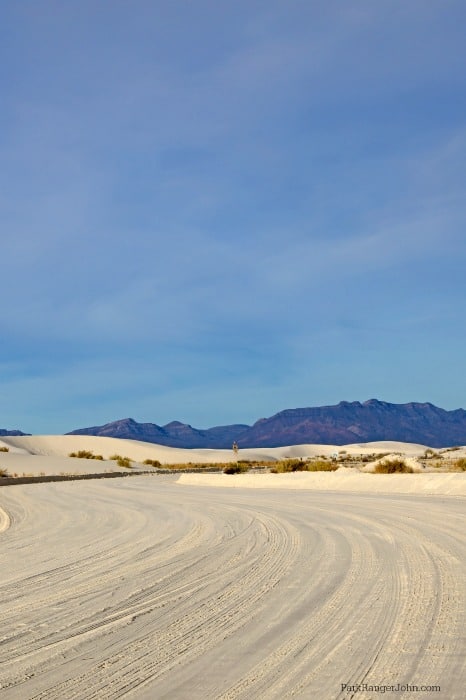 Dunes Drive
The Dunes drive takes you into the heart of the world's largest gypsum dune field at a staggering 275 square miles! The road is 16 miles roundtrip with the first five miles in & out being paved. It's the road past the pavement that you will remember most.
They say it takes approximately 45 minutes but who really just drives through and not stop? There is so much to see and do so take your time and enjoy the park.
Go for a hike
There are 5 trails at White Sands and something for everyone.
The Interdune Trail (in the photo above) is a great ADA accessible boardwalk that is 4/10 mile roundtrip with great views and lots of interpretative panels telling you about the park.
The Playa Trail is a ½ mile easy roundtrip hike
The Dune Life Nature Trail is a 1-mile moderate self-guided nature hike. Here you have the opportunity to hike up and down a couple of steep dunes.
The backcountry Camping Trail is a moderate 2-mile roundtrip hike. This is a great hike to get you out into the gypsum dunes
The Alkali Flat Trail is a strenuous 5-mile roundtrip hike. This hike is constantly hiking up and down gypsum dunes and skirts along the final remnant of Lake Otero.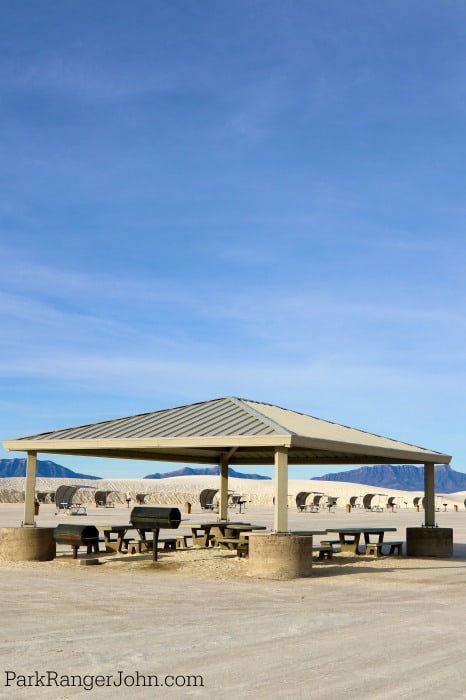 Have a picnic
My first impression was that it felt like I was on another planet. It's okay because you will quickly jump out and start playing in the sand and having fun! Afterward, have lunch and perhaps play some more or try out sledding.
Park Ranger John Pro Tip: Make sure to carry colored plates, napkins & silverware. White blends in very well with the gypsum and can make for a difficult time if the wind picks up and blows things off the table.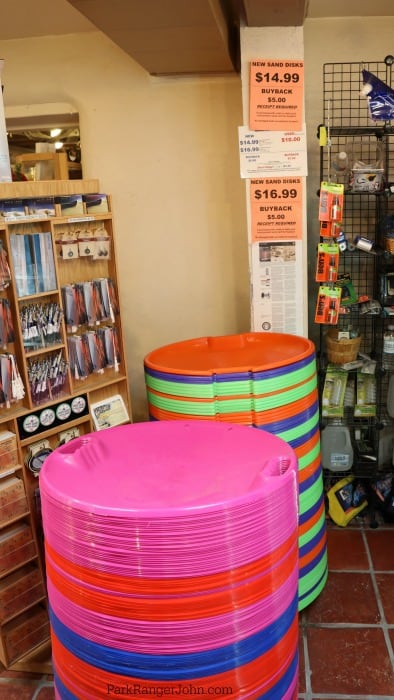 Go sand sledding
This is one of the parks biggest attractions! The best part is that you don't have to bring a sled with you. Just stop by the visitor center when you arrive and get your sled there.
You can either buy one or simply return afterward and make it a rental. This leaves more room in your car for what you need for your road trip and is the perfect way of recycling something instead of another thing cluttering your garage at home.
Here are a few tips for sledding:
never stand on a sled while sledding
always go feet first down (head first gets sand in your eyes and when head injuries occur)
Make sure you are not sledding towards a road or parking lot
Avoid vegetation and hard clumps. The sand is soft but the floor surface can be extremely hard and cause injuries
Supervise children.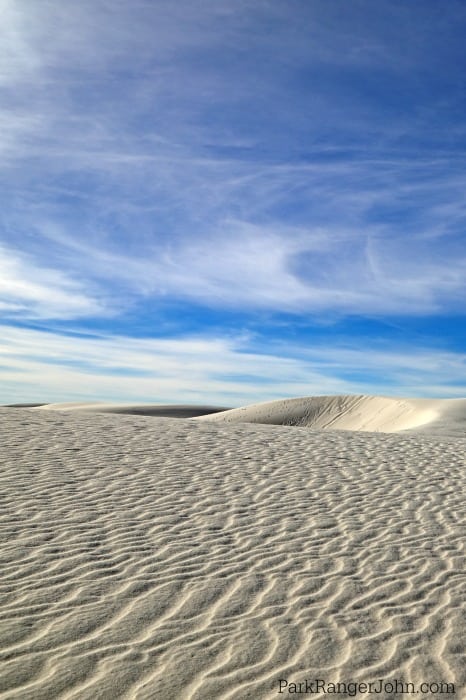 White Sands Photography
White Sands is a photographers dream! You don't have to be a professional to take a great photo either. A few of my favorite tips:
Use the rule of thirds
Try to take photos during the Golden Hours.
Add a subject matter like a Yucca plant
Shadows can dramatically enhance a photo
Make sure to take care of your equipment! Sand does terrible things to cameras and lenses. Blowing sand can get into cameras/lenses just as easy as falling in the sand.
Ranger Programs
White Sands offers several ranger Programs for people to enjoy. You can take a sunrise photography tour and sunset strolls.
Try to visit during a full moon and experience Full Moon Nights; a cultural legacy of New Mexico and Northern Mexico. Full Moon nights offers park visitors Full Moon Hikes, live music, ranger programs, and special guest presenters and artists.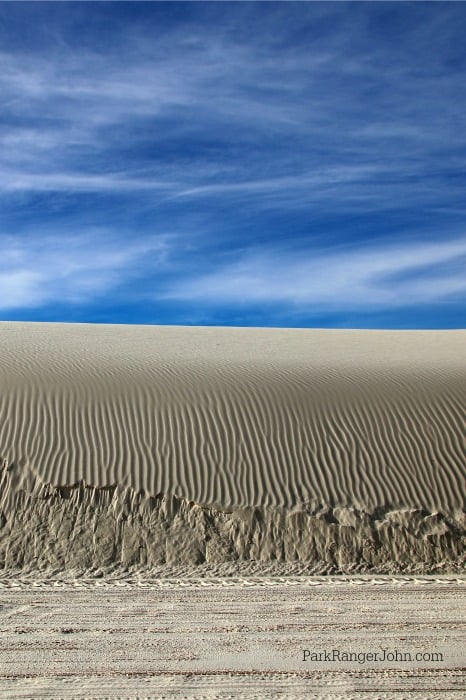 National Parks near White Sands NM
Carlsbad Caverns National Park - 181 miles
Guadalupe Mountains National Park - 192 miles
Saguaro National Park - 325 miles
Chamizal National Memorial - 99 miles
Salinas Pueblo Missions National Monument - 131 miles
Gila Cliff Dwelling National Monument - 212 miles
Check out all of the National Parks in New Mexico and neighboring Arizona National Parks