El Malpais National Monument in New Mexico protects and preserves an ancient lava flow that poured out of McCartys Crater 3900 years ago. The park includes cinder cones, a lava tube system of caves that extend at least 17 miles, and fragile ice caves.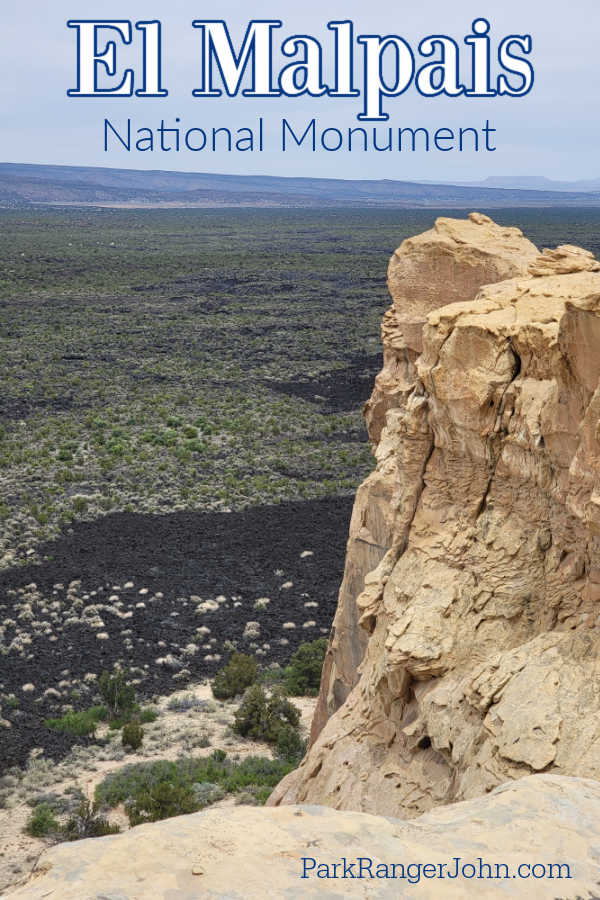 El Malpais National Monument
At times while visiting El Malpais it feels like you are in Hawaii at Hawaii Volcanoes National Park. Especially when you are driving by lava fields on the side of the road.
Many of the lava types and v0lcanic features in El Malpais feature Hawaiian names because early scientific knowledge was developed in the Hawaiian Islands.
If you plan to enter any of the caves in the park you will need to stop by the visitor center for a free cave permit.
This National Monument is interesting to visit. There is an amazing visitor center and scenic drives that take you past the lava flows. When it comes to recreation the main activities are hiking along the lava flows.
If you are looking for scenery the Sand Bluff Overlook provides a great view of the lava flows and surrounding scenery. The La Ventana Natural Arch is just outside of the park in BLM land but very easy to access and worth checking out.
The park is divided between two drives that do not really connect to each other. We headed to the Lava Falls Area because we wanted to see the La Ventana Arch during our visit.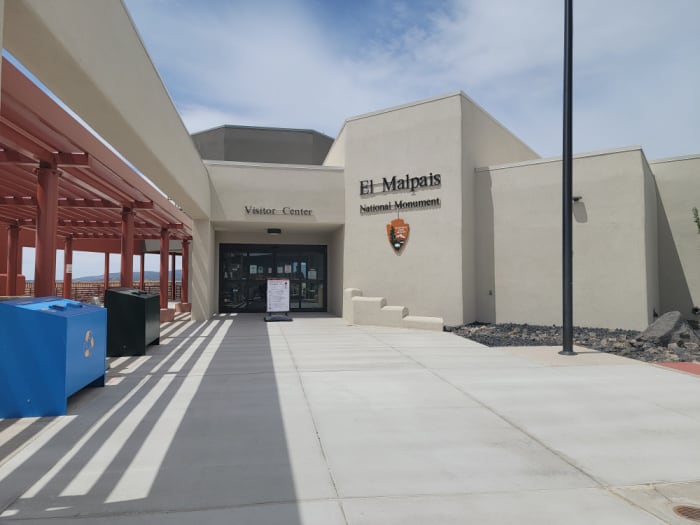 Visitor Center
Located on exit 85 off I-40 in Grants, NM, the El Malpais Visitor Center is staffed by park rangers from the National Park Service.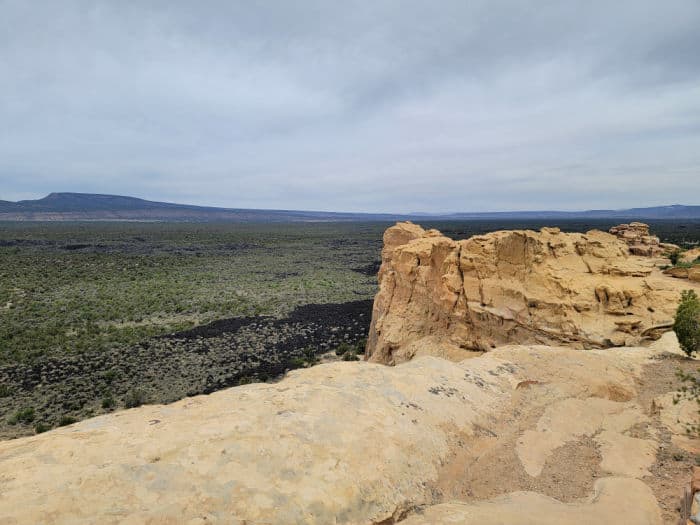 Sandstone Bluffs Overlook
This easy scenic drive takes you up to an overlook looking out over El Malpais and surrounding areas.
Lava Falls Area
The Lava Falls Area includes the youngest lava flow in the region. You can see how plants have adapted to the harsh conditions.
The Lava Falls area is located 36 miles south of Interstate 40 on NM 117. Make sure to check with the visitor center to confirm road and trail conditions.
The lava in this area of the park flowed up from underground just 3,000 years ago. They believe the lava beds were created after the McCartys Crater erupted several times over the course of many years.
The trail through the Lava Falls Area is marked with rock cairns that lead you onto the Pahoehoe lava flow. The trail is marked with rock cairns along the one mile loop hike.
Make sure you do not leave one cairn until you have a clear sight to the next cairn. The cairns are large but can blend into the surrounding rocks making it really important to keep an eye on them.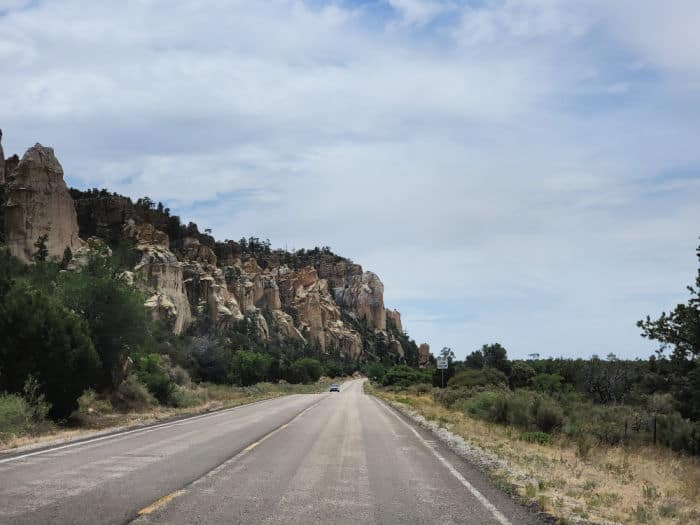 Zuni-Acoma Trail
This trail is 7.5 miles one way and is considered strenuous due to hiking over rugged lava flows. This ancient trade route crosses four major lava flows.
El Calderon Area
This part of the park has the oldest lava flows in a forested area. The caves in this part of the park can not be entered.
The El Calderon Area is located 20 miles south of Grants on NM 53. This area is normally accessible year-round. Make sure to call the visitor center or stop by to confirm trail and road conditions.
There is a moderate three-mile hiking loop that winds past volcanic features along a gravel and dirt surface. The primitive road leading west of the parking lot is accessible to high-clearance four-wheel drive vehicles.
Along this trail you will see Junction Cave a lava tube created by the lava flow from nearby El Calderon Cinder Cone. It is believed that this lava tube is over 115,00 years old and the oldest lava tube in the park.
Double Sinks are two deep pits that are 80 feet dip and were formed when the roof of lava tubes collapsed. You will also come across bat cave and Xenolith Cave that are lava tube caves. During the summer, thousands of bats fly out of the entrance of Bat Cave at dusk.
The bats are Mexican free-tailed bats that use the cave as their summer home. There are also little brown bats and Townsend's big-eared bats that live in the cave year-round and hibernate in the cave.
Other sites in this area include Lava trench, El Calderon Cinder Cone, and great birdwatching.
Big Tubes Area
Here you can see some of the 10,900-year-old Bandera Lava Flow and the 17-mile long lava tube and trench system. Please do not enter the caves in this part of the park.
This part of the park is 4.5 miles off of County Road 42. The road is normally accessible to passengers' cars but may become impassable during wet weather. Please make sure you check the road conditions before heading out.
The trail is only marked by rock cairns so you need to be extra careful on the trail. Make sure you can see the next cairn before heading out.
Chains of Craters Backcountry Byway
This drive is unpaved and follows a rift where lava flowed 200,000 years ago. You will need to be prepared for driving this unpaved backcountry road!!!
Continental Divide Trail
The Continental Divide Trail crosses through El Malpais. You will want to talk with the visitor center before heading out on the trail.
If you plan on hiking please make sure you have sturdy hiking boots. The lava rock is sharp! There are cactus spines and sharp yucca leaves.
Junior Ranger Program
You can receive your booklet in person at the El Malpais Visitor Center or download and print it out at home. The park does allow you to print the booklet and mail it in for a badge.
Camping
The park does not have a designated campground.
Primitive backcountry camping is allowed, but camps must meet the following criteria:
Be at least one-quarter (¼) of a mile from the following:

A road to a trailhead or parking area
Trailhead parking areas
Picnic areas
County Road 42
A building
Any cave or lava tube
Archeological or historical sites and/or structure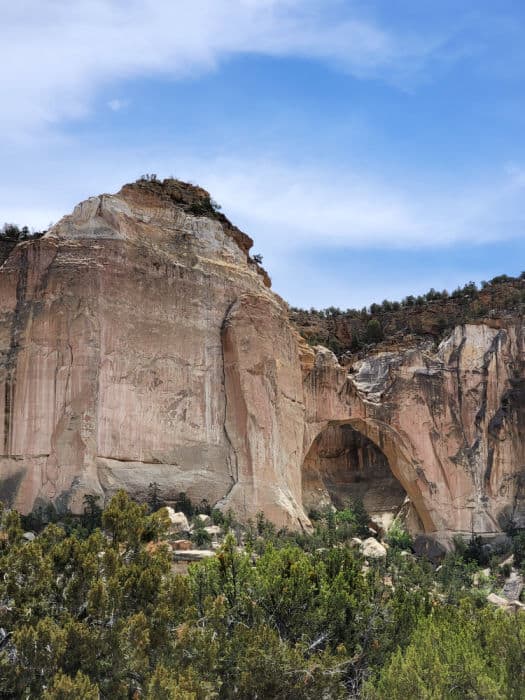 La Ventana Natural Arch
La Ventana Natural Arch is located on BLM land but is easily accessible right off the main road through the park. You can take a short hike to the arch or view it from the parking lot.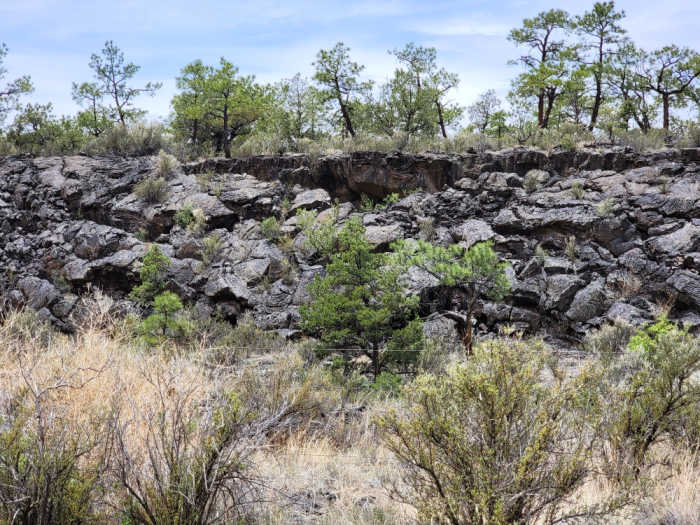 Things to know when planning a trip to El Malpais NM
The name El Malpais refers to both the NPS National Monument but also the El Malpais national conservation area managed by the Bureau of Land Management.
Park Address - 1900 E. Santa Fe Ave., Grants, NM 87020
No roads exist through El Malpais National Monument.
To explore the east side of the park, take exit 89 off I-40 and head south on Highway 117.
To explore the north side of the park, take exit 81 off I-40 and head south on Highway 53.
To reach the visitor center, take exit 85 off I-40 in Grants, New Mexico. After you exit, head south on Santa Fe Ave and continue straight over the freeway overpass. Take a left at the entrance sign for El Malpais Visitor Center and continue 300 yards to the parking lot.
Park Hours - El Malpais NM is open 24 hours a day.
Entrance Fee - $0.00, there is no entrance fee to visit the park.
WiFi - There is no public WiFi available
Cell Service - Cell service highly varies based on carrier and location, and is often not available within the lava flow areas and away from major highways.
National Park Sites near El Malpais NM
Salinas Pueblo Missions National Monument
Chaco Culture National Historical Park
Petrified Forest National Park
Gila Cliff Dwellings National Monument
Check out all of the great National Parks in New Mexico and neighboring Arizona National Parks, National Parks in Texas, Oklahoma National Parks, Colorado National Parks, and National Parks in Utah.